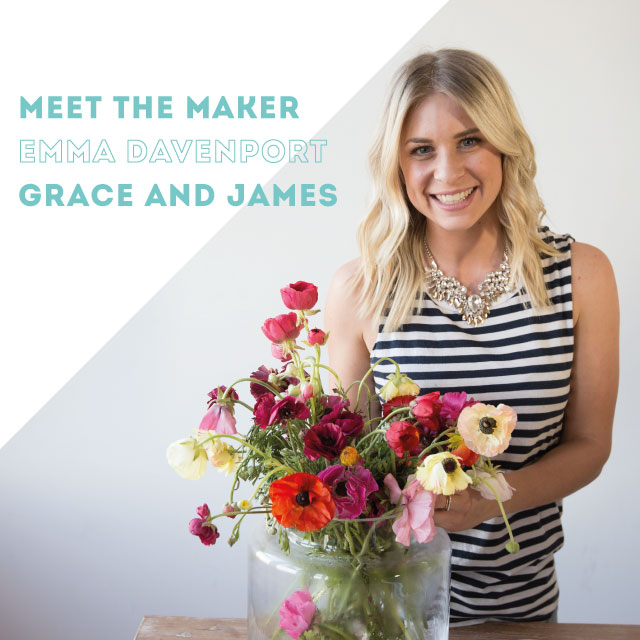 Name: Emma Davenport
Brand: Grace and James
Job Title: Founder and Director
Location: Melbourne

Emma wanted to create a candle like no other. How did she do that? Oh it's simple really, by collaborating with a range of different artists and designers, she had them illustrate all of her TO DIE FOR signature scents that just so happened to be made locally, as well as environmentally friendly, oh and super affordable… yup, that will do it! Here's a sneak peek into the world of Grace and James… filled with scents, flowers and smiles!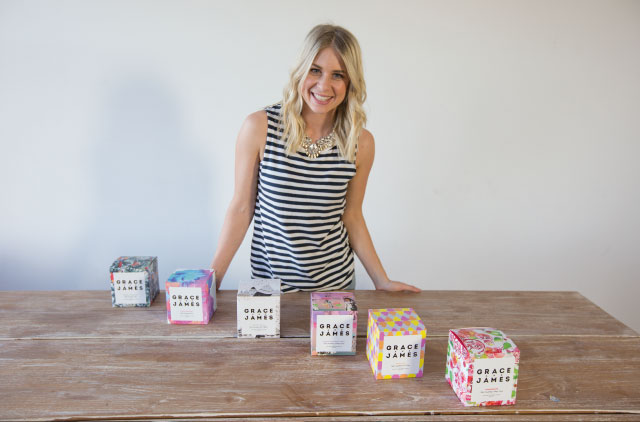 The beautiful Emma with her 6 babies!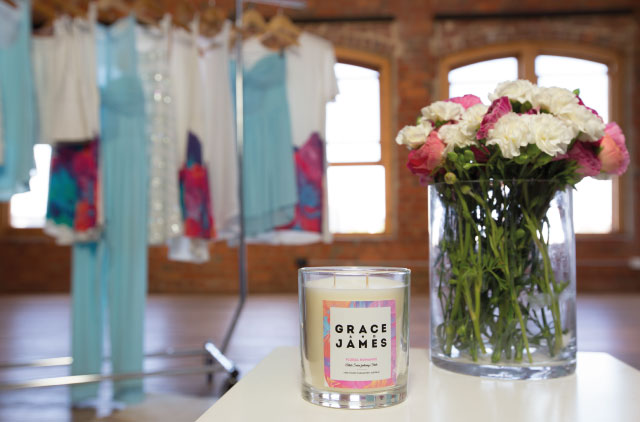 A lifestyle shot of 'Floral Romance' a beautiful floral scented candle designed by fashion queens Steele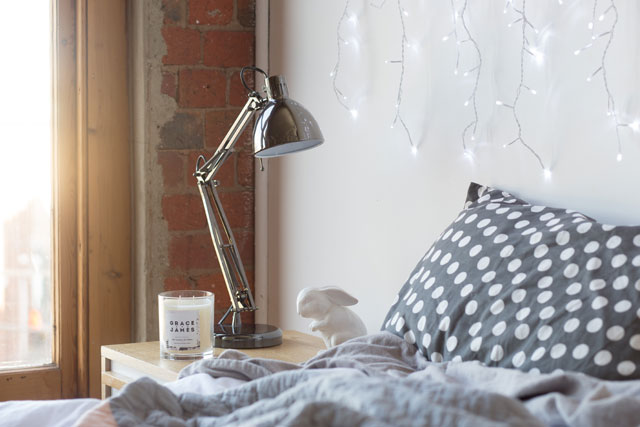 The dreamy world Emma created to portray 'Creamy Vanilla' a soft flavoured candle with artwork designed by Laura Blythman.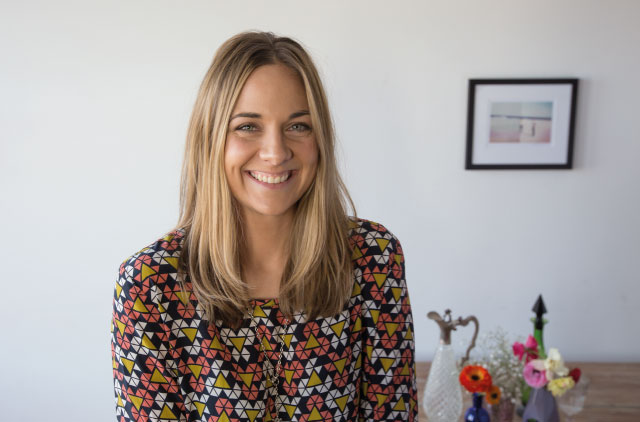 Our very own Hunting for George co-founder, Lucy Glade-Wright designed the artwork that surrounds the delicious Moroccan Mango and Honey scent.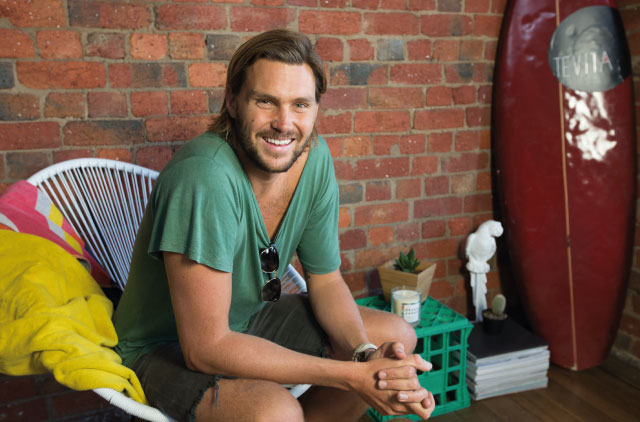 Rhys Uhlich, founder of TEVITA, a lifestyle brand that combines street and surf, put together the artwork for the very popular Coconut and wild lime scent.

1. What did you want to be when you were a little 'un?
I grew up on a horse farm in Country Victoria so secretly I thought I would be 'Jessie' from Toy Story… that lasted all of five minutes. In my teens I wanted to be a Vet or a Flight Attendant.
2. What made you decide to start your own brand?
I always knew I wanted to run my own business but it wasn't until I was really challenged to leave my career that I discovered what I wanted to do. My family has always had a huge love for candles. When I started to research the type of product I wanted I just got more and more obsessed with delivering something that was made in Melbourne. The thought of incorporating local artists for our first range came to mind and everything just developed organically. Now, here we are.
3. How would you describe your style of work?
I'm very passionate and enthusiastic but I'm also a perfectionist and love the fine details, probably thanks to my background in publicity.
4. What is the best and worst thing about being a designer?
Ha, well I don't even think I qualify as a designer so you'd have to ask someone else. I just work hard at producing a product I hope people love. The designers are the amazing people I've collaborated with.
5. What is your favourite creative outlet?
I actually don't consider myself to be a very creative person so in order for me to function at my best I love getting outdoors and exercise. Taking time away and either heading down the coast to Torquay or back out to the farm to relax is the best rejuvenation.
6. There's got to be something you're shit at?
I can't draw and my handwriting is terrible. Honestly, if I wrote you a note you'd think it was an 8 year-old and that's being kind.
7. What are your top 5 websites/blogs at the moment and what makes them stand out?
A site I check everyday and I'm not ashamed to admit it is POPSUGAR.com.au I'm obsessed, it's good to keep in touch with pop culture and you quickly just have a read and you're done. They have the best photo galleries.
Ok now the serious ones,
Love Shop Share is the most beautiful blog run by my good friend Erin Maxwell. It regularly features gorgeous outfits, home wares and style posts.
The Home Journal is the most amazing online magazine run by Dani Wales whom you may remember from The Block and The Block All Stars. I love Dani and The Home Journal is an amazing resource for home inspiration no matter where you are.
Who Loves That is another one for heaps of lifestyle DIY inspiration, interviews and they also have an amazing section into real homes, so fun.
Show and Tell Online is another great one! Brought to you by some amazing women, it's a site that has it all. Home Love, Cooking, Gossip, plus these amazing videos interviews with Australia's favourite ladies. Trust me, visit!
8. Date, Marry, Kill… List any celebrity (dead or alive)
Date: Kanye West
Marry: Justin Timberlake
Kill: Tom Cruise

9. So in the next couple of years your brand takes off like a rocket, multi million dollar offers start coming though the door. Do you stick with it? Sell out? Start again? What and where will you end up in 10 years time?
I hope in the next 10 years we have our own store and are doing so much more than candles. Obviously we have a few exciting short-term extensions of our signature product to come very soon. But long term, there are so many possibilities.
10. What song or album are you currently listening to and is it any good?
Most recently I've been listening to Flume a lot and Lorde (wouldn't they make the cutest teen couple), they're unreal. But you can never go past Girl Talk for a good time.

We instantly fell in love with Emma when we first meet her! She had such a great attitude and was so passionate towards this collaboration. Giving full creative freedom to each and every artist involved, her only instructions were to 'be inspired by your scent'. The result? Six truly original candles. We were thrilled that Emma asked us to be involved with this project and are very chuffed to have them online at Hunting for George. Go check out the full range and find out more about the artists here


"I hope my playlist blows your mind, it was actually a gift from my brother and I'm sharing it with you all. He's the cool kid in the family and I always love it when he is manning the playlist at our parties. It's fitting that I have an opportunity to show it off."
Beach Baby – Bon Iver

Tea for the Tillerman – Cat Stevens

Measurements – James Blake

Creepers – Kid Cudi

High Hopes – Kodaline

Higher – Just Blaz

Play With Fire – Vance Joy

All Me – Drake

1 Train – A$AP Rocky

As Long As I Can See The Light – Creedance Clearwater Revival