On a diet but craving for pizza? Fret not! Make the decision to lead a healthier lifestyle by trying this fresh and heart-healthy pizza. Those who says pizzas are junk food definitely haven't heard of this veggie variant! The Mediterranean Cauliflower Pizza from The Beauty Chef Cookbook by Carla Oates is a simple, fresh choice and a perfect way to eat your favourite snack, less the guilt. Wanna know the recipe? Of course you do!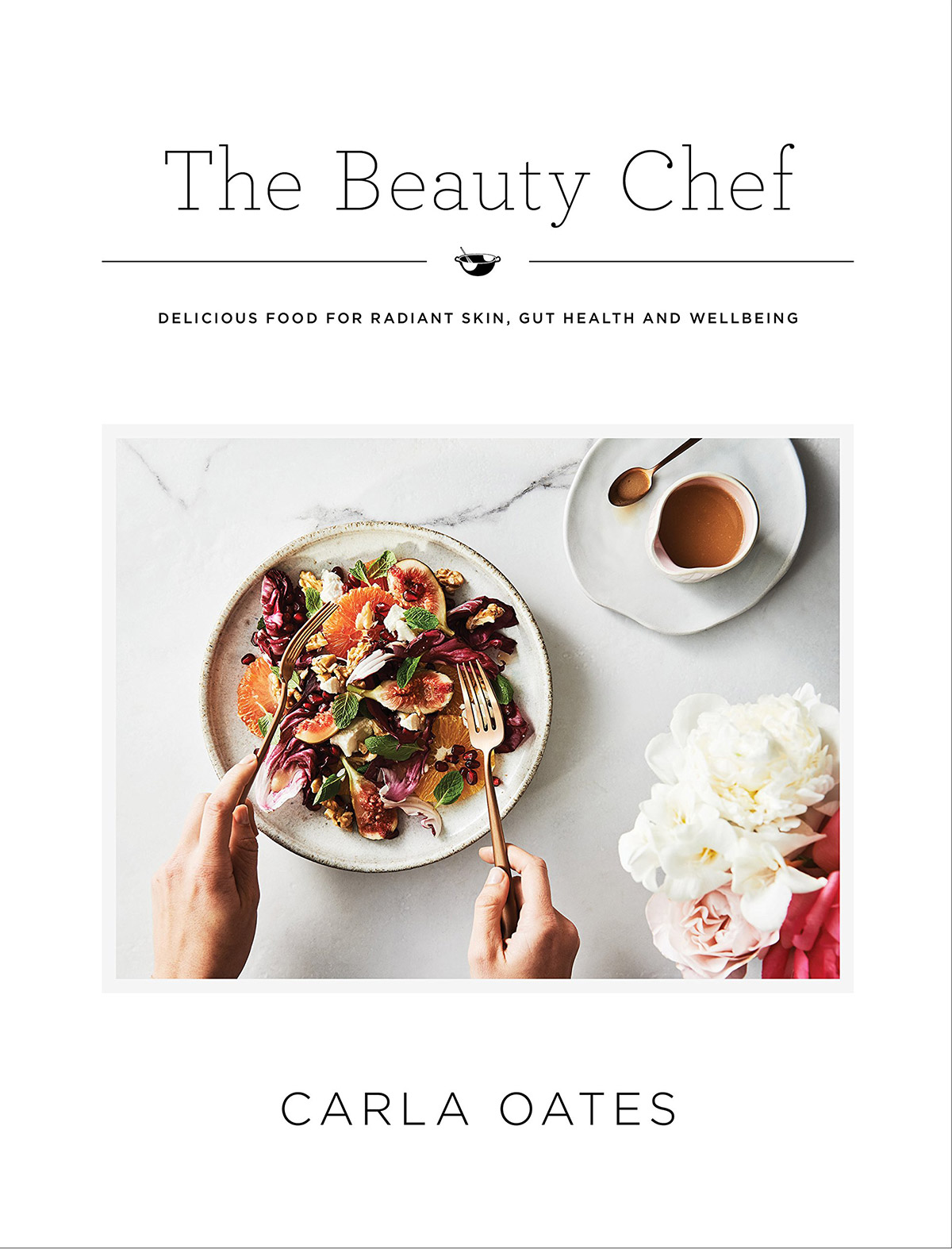 Serves 2
Makes one 23cm pizza
Ingredients:
CAULIFLOWER BASE
1 (600g) head cauliflower
¼ cup (25g) finely grated Parmesan cheese
¼ cup (30g) almond meal
1 large egg
1 tablespoon olive oil
½ teaspoon onion powder
½ teaspoon Himalayan salt
¼ teaspoon garlic powder
PIZZA SAUCE
2 teaspoons extra-virgin olive oil
1 clove garlic
2 small tomatoes, coarsely chopped
½ teaspoon dried oregano or dried basil
Himalayan salt and freshly ground black pepper
TOPPING
½ roasted red capsicum, peeled, seeded and sliced
4 marinated artichoke halves, thickly sliced
150g marinated goat's cheese, broken into lumps
¼ cup (45g) pitted Kalamata olives
1 large handful rocket leaves
1 tablespoon pine nuts, lightly toasted
extra-virgin olive oil, for drizzling
Method:
Place a pizza stone or upturned baking tray in the oven and preheat the oven to 220C. Lightly grease and line a 26cm pizza tray with baking paper.
Bring a large saucepan of water to the boil. Line a colander with muslin cloth or a clean tea towel.
Place the cauliflower in a food processor and blend until finely chopped into tiny grains.
Cook the cauliflower for 1 minute, so it still has a bite to it but is not completely raw. Pour into the prepared colander and set aside to drain and cool slightly.
To prepare the pizza sauce, heat the oil in a small saucepan over low heat. Cook the garlic, until softened. Add the tomatoes and herbs and cook for 15 minutes, or until softened and the liquid has reduced to make a thick sauce. Puree using a stick blender or food processor. Season with salt and pepper.
Bundle the cauliflower up in the muslin cloth or tea towel and squeeze out to remove any excess liquid.
To prepare the base, place the cauliflower and the remaining ingredients in a medium bowl and mix well to combine. Spoon the mixture in the centre of the pizza tray and press out to make an even base.
Place the pizza tray onto the preheated pizza stone or upturned baking tray. Bake for 15-20 minutes, until golden brown and beginning to crisp up.
Spread the prepared sauce over the base. Scatter the roasted capsicum, artichoke, goat's cheese and olives on top. Cook for a further 10 minutes, or until the cheese softens and begins to turn golden brown.
Remove from the oven, top with rocket and scatter with pine nuts. Drizzle with oil. Slice to serve.
Note: Vegans or those avoiding dairy can substitute savoury yeast for the Parmesan in the base and cultured nut cheese for the goat's cheese topping.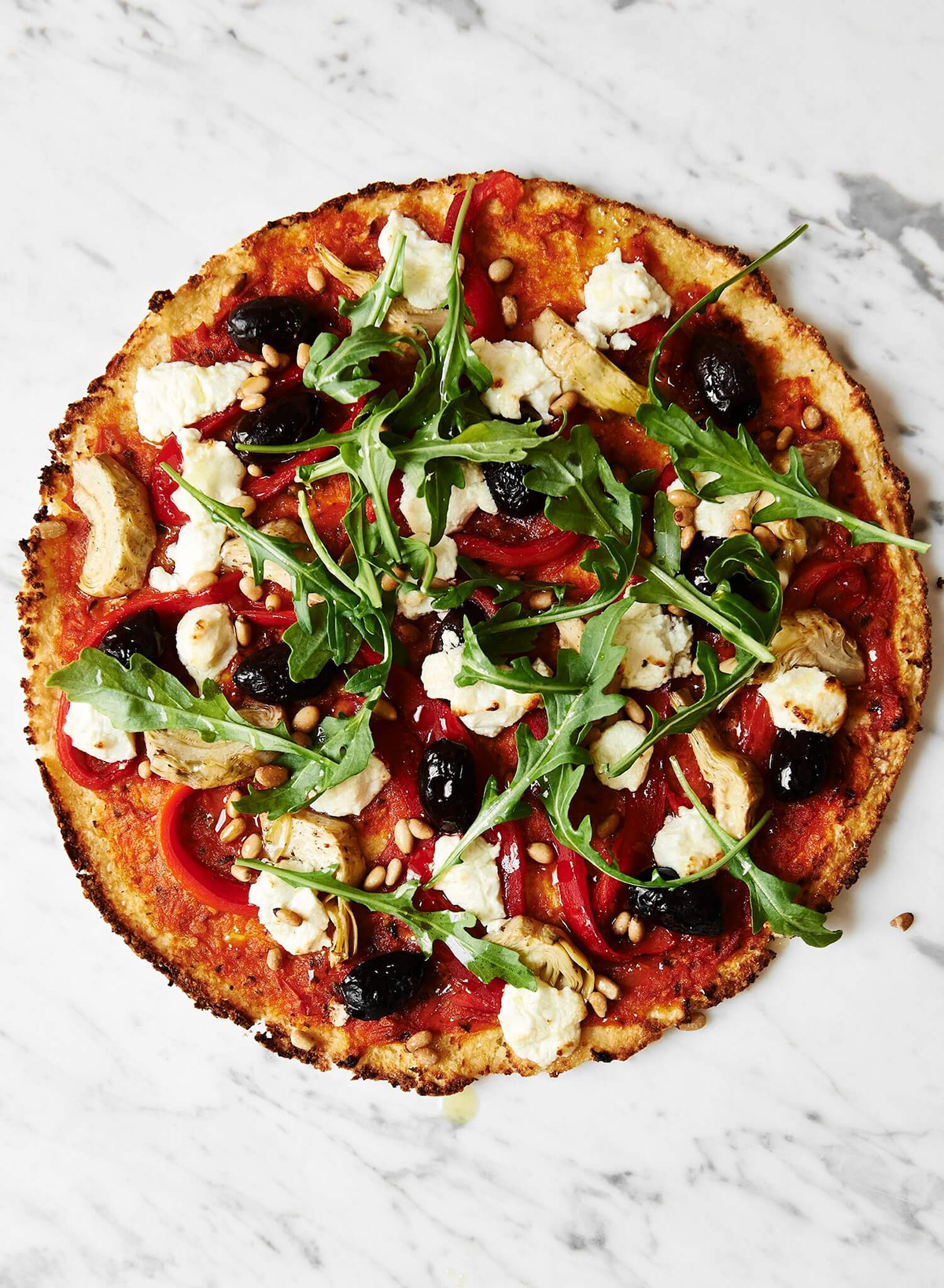 In The Beauty Chef, Carla Oates, founder of the natural beauty company of the same name, combines the joy of cooking with the science of nutrition, offering you radiant skin and robust health. More than 150 delicious and nutritious recipes that are gluten-free and mostly dairy-free recipes will feed both your skin and your gut. Glamorous it may not be, but a well-balanced gut bacteria can be the answer to glowing health and beauty. With every meal you eat, be it breakfast, dinner or a tempting dessert, you will feel and look better inside and out.
Explore more healthy and perfectly flavourful recipes by heading over to our recipes section. Meanwhile, have a peek on some of our fine dishwares below:
You can view a wide range of similar products over at Hunting for George.