We're delighted to give you the first look at our new Hunting for George Art Print Collection titled 'Golden Years'. Filled with Summertime hues and foil for days, this collection is all about colour, nostalgia and good vibes.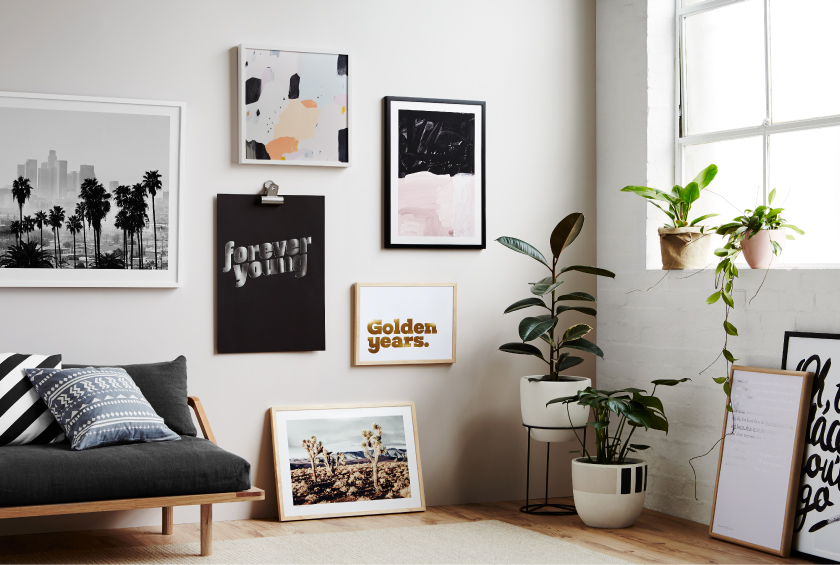 Hunting for George have returned to their roots to launch a new Art Print collection 'Golden Years' that celebrates the warmth and positivity of Summer.
Hunting for George has been making homes awesome since 2010. The first product ever designed and produced by Hunting for George was it's Dr Seuss print, launched in 2010. The minimal typeset poster of the popular Dr Seuss classic 'Oh the Places You'll Go' was very well received and still much loved to this day. The success of this first print, kick started what has now become an extensive collection of Homeware, that includes bedlinen, accessories, clocks and most recently Australian made furniture.
"We were extremely excited to design this new collection of art prints. It's where we first began and art is where my passion lies. My background is in graphic design and I have a strong appreciation for typography. With this collection we experimented with different foil finishes and paper stock to introduce new textures. The beauty of foiling is that the type changes appearance based on how the light reflects from its surface, making it behave a little differently every time you see it." Lucy Glade-Wright, co-founder.
The collection also features photographic prints that embrace the warmth and energy of Summer.
"This photographic series features imagery from a range of different photographers but they all balance and complement one another. With each photographic print we wanted to capture the energy and warmth of Summer, it was such a pleasure curating these images and bringing them to life. We were lucky to collaborate with new photographers and are looking forward to developing these collaborations further." Lucy Glade-Wright, co-founder.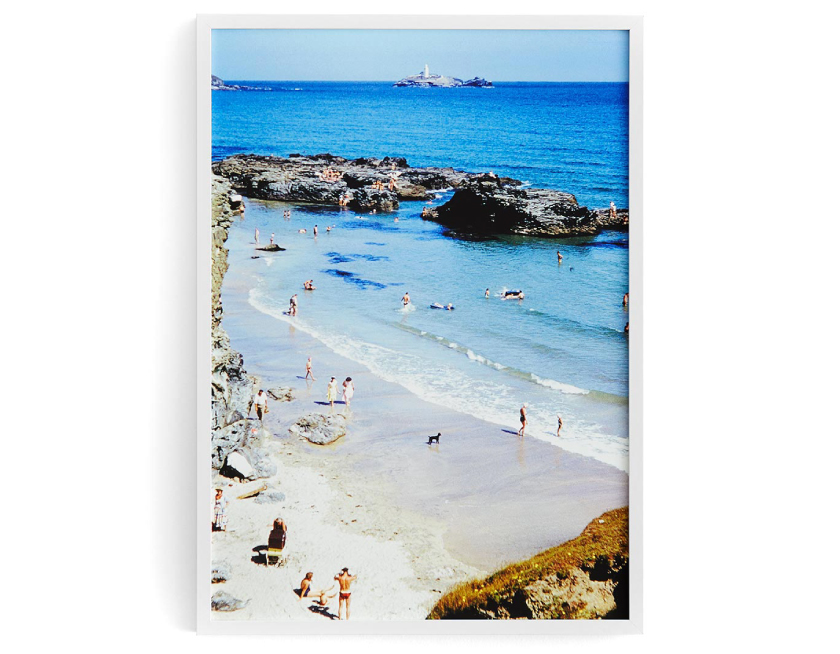 Cornwall Print by Hunting For George
The photographic print captures Cornwall, England in the 1950s during the Summer holidays. This picture tells a thousand stories and you'll become lost in its personality, energy and colour. The Cornwall print looks great styled in a white or timber frame and is the perfect way to bring life and colour to any area of the house.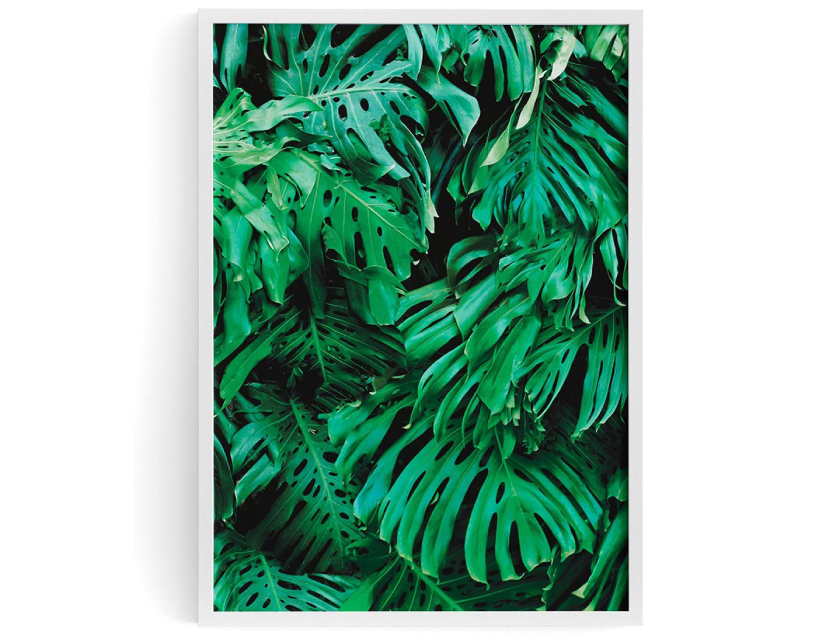 Mr Fancy Plants Monstera Print by Hunting For George
Welcome to the jungle! This photographic print takes you to Monstera heaven (without risk of over or under watering!) Its vibrant green colours work beautifully in a range of different frames. Hang on the wall for immediate tropical garden vibes!
Photography by Mr Fancy Plants, Melbourne.
Mr Fancy Plants Monstera Print $195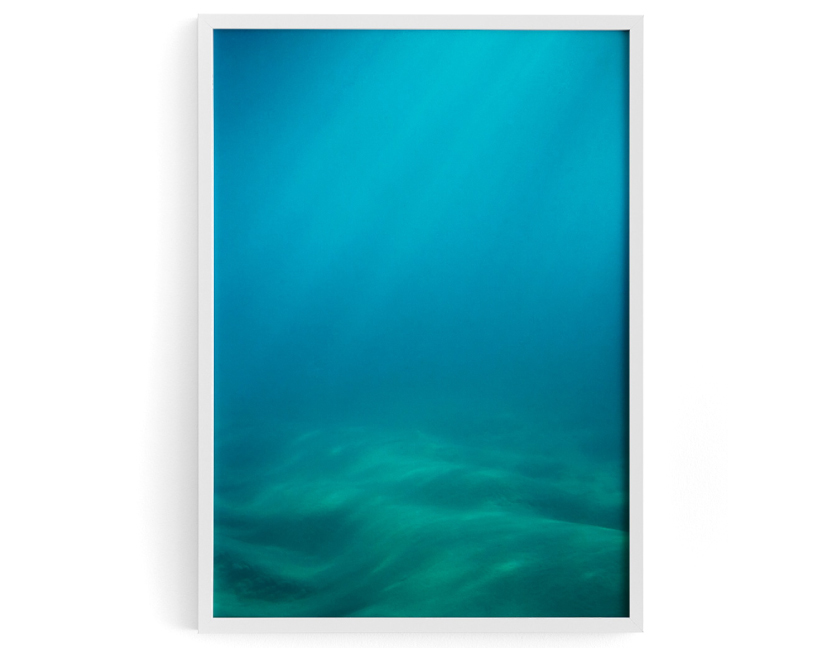 Ocean Floor Print by Hunting For George
Float into the deep and immerse yourself on the bottom of the ocean floor. This spectacular photographic print comes alive with a simple white frame and is a great way to lighten up your home and bring soft and subtle yet vibrant colour to your walls.
Photography by Clare Plueckhahn, 2012.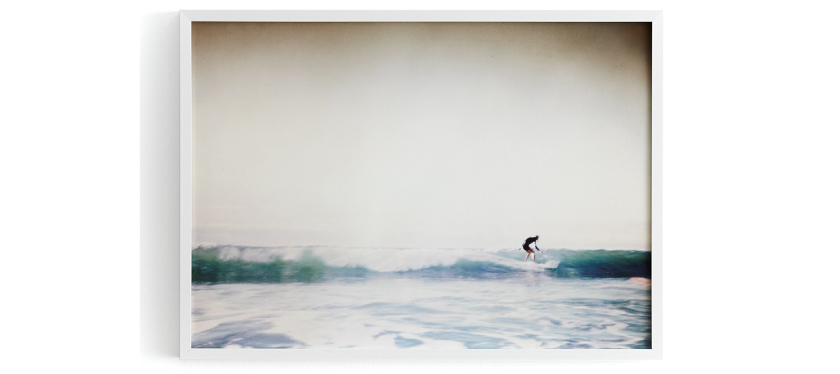 Last Wave Print by Hunting For George
The Last Wave print is a beautiful photographic poster that takes you to a quieter and slower time. This photograph was captured in Noosa in the 1960s. "My brother, a mate and I went on a road trip from Tassie up the east coast of Australia until we got to Noosa where we stayed for a week surfing. There was nothing much on Hastings Street then, for a whole week we parked our Holden panel van on a boat ramp, beachfront. It was rent-free heaven." Rob Glade-Wright, photographer.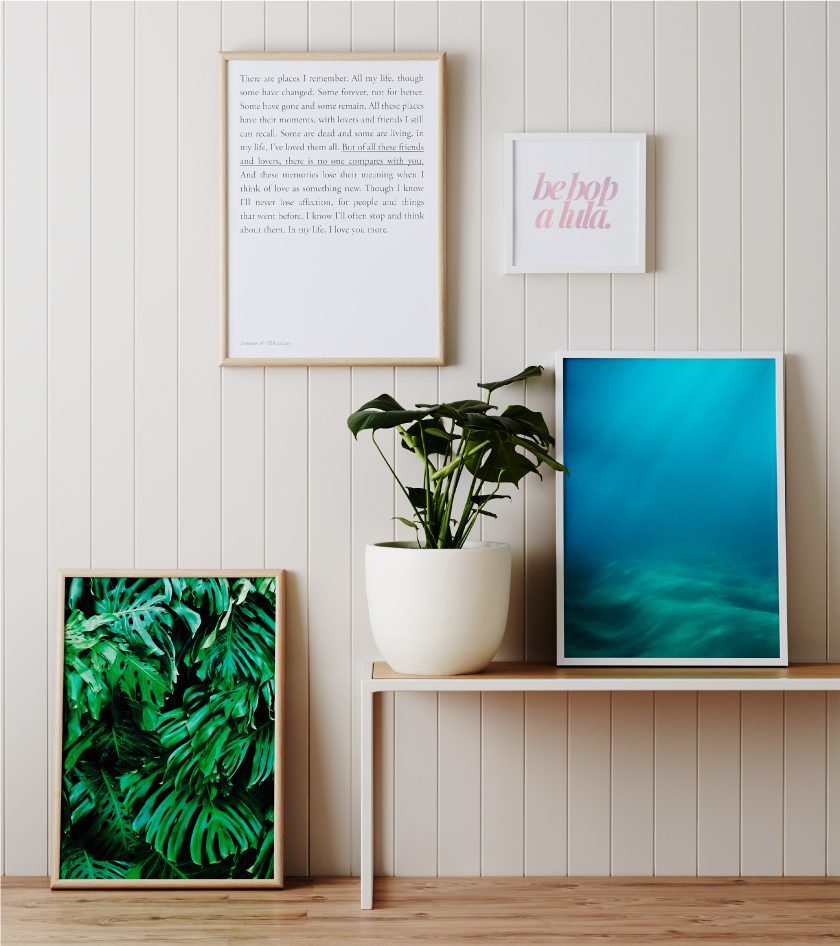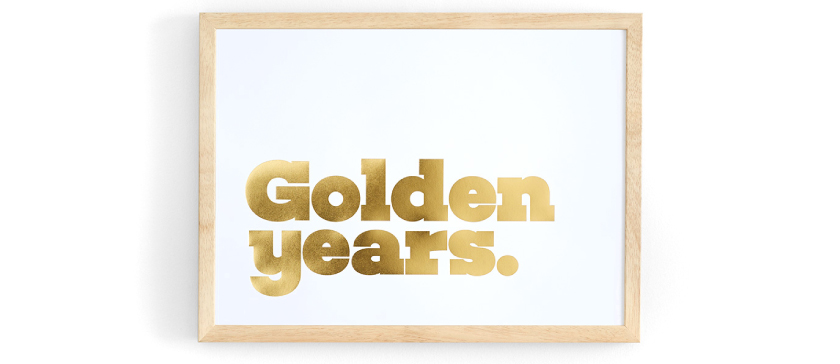 Golden Years Print by Hunting For George
Inspired by the legend that is David Bowie and one of his greatest ever dance beats, Golden Years. The Golden Years print is typeset in gold foil and looks great in a timber or white frame. Perfect for fun loving individuals with a flair for the good times.
"Don't let me hear you say life's taking you nowhere, angel. Come get up my baby. Look at that sky, life's begun. Nights are warm and the days are young"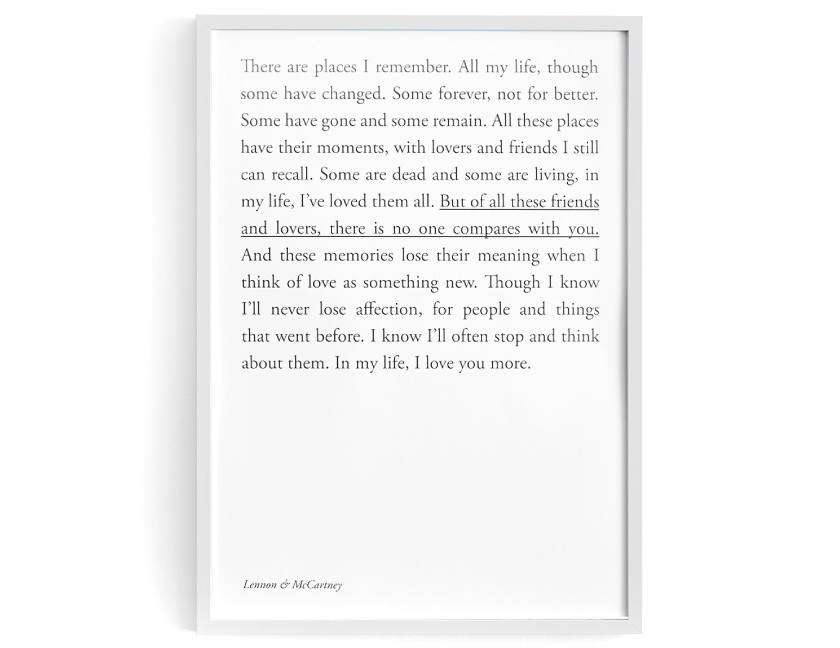 In My Life Print by Hunting For George
Arguably the most beautiful lyrics ever written, In My Life from the Beatles by John Lennon and Paul McCartney. Elegantly typeset in silver foil, the In My Life print looks great in a white or timber frame. Perfect styled in a bedroom or hallway so you can be reminded every day just how lucky you are!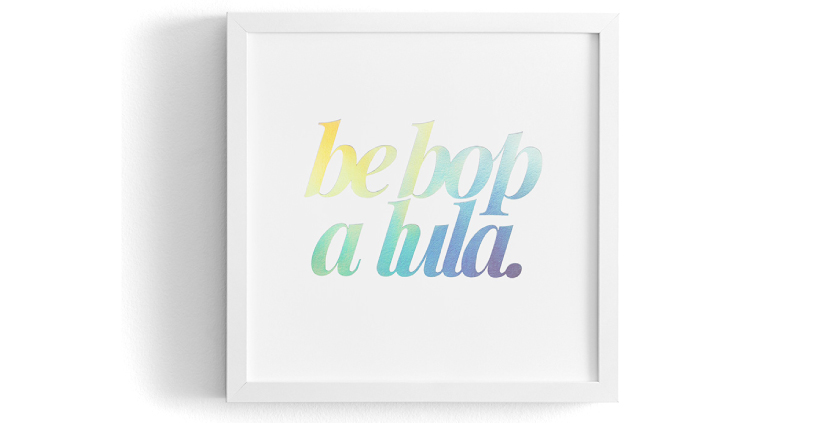 Be Bop A Lula Print by Hunting For George
Be bop a lula, she's my baby! This typographic print is foiled in silver laser. The beauty of this special foil is its hidden colour gradient, so it changes appearance from wherever you look at it – adding a beautiful element of surprise! Perfect for the playful, the music lover and the young at heart.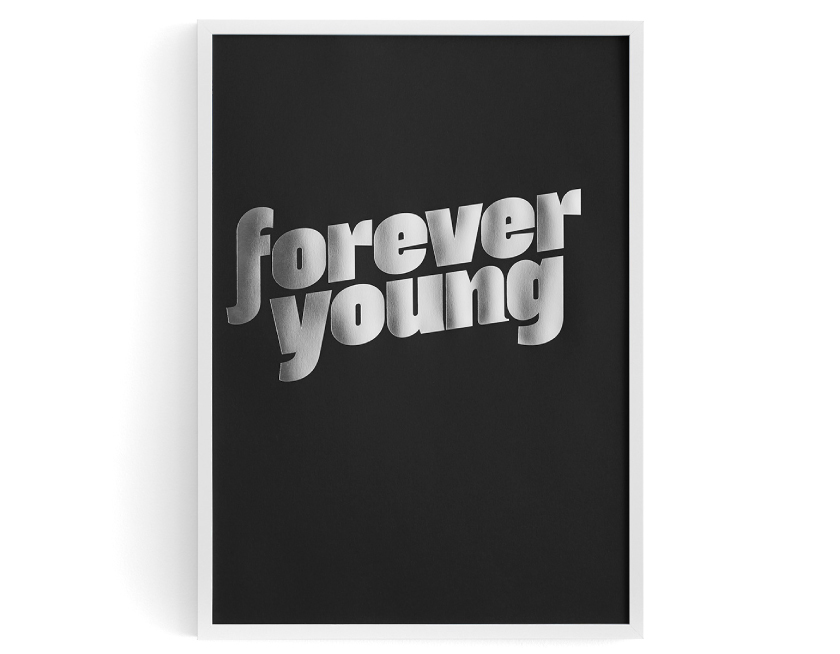 Forever Young Print by Hunting For George
May you stay forever young. Typeset in silver foil on solid jet black 250gsm stock, the Forever Young print is a powerful typographic poster that will bring your walls to life. Perfect for music lovers and the forever young at heart.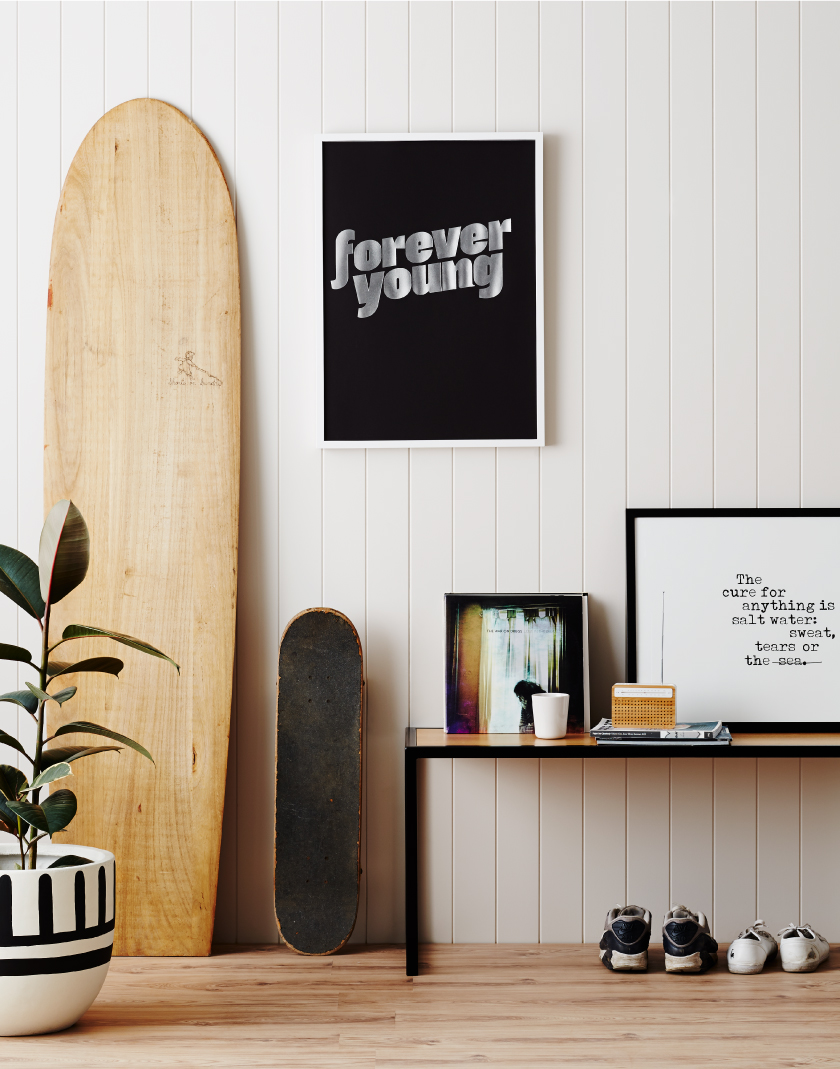 Shop the collection online now.
Image Credits: Art Direction: Lucy Glade-Wright, Styling: Ruth Welsby, Photography: Annette O'Brien