Earlier this week we took you behind the scenes of our DIY Living Room Makeover and we've received a lot of questions about the decor we chose to style in the space. So here it is! Your complete Style Guide to our Living Room… hopefully this gives you a few ideas and inspiration for your own home makeover.
Paint
Colour was very important in this room transformation and it was the first thing that I wanted to decide on, as the hero colour of the room would dictate everything else in the space. I decided on Enterprise from Dulux and matched it with Dulux Lexicon Quarter.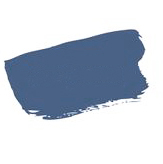 Walls: Enterprise, Dulux Wash & Wear Low Sheen
Trim: Lexicon Quarter, Dulux Aquanamel Low Gloss
Ceiling: White Ceiling Paint Dulux Flat Finish
Floor
We knew that the floors were going to be equally important to change the overall tone of the room. In order to achieve white wash timber floor boards we hired a floor sander and corner/edge sander from Bunnings, bought the appropriate sandpaper and then finished with the Ryobi corner sander. Then we applied 3 coats of the Liming White Floor Finish.
Window Furnishings
We had quite a narrow corner window in our living room with 3 panels. Due to the tight space I opted for the simple, streamlined solution of Timber Venetians in Bright White from DIY Blinds.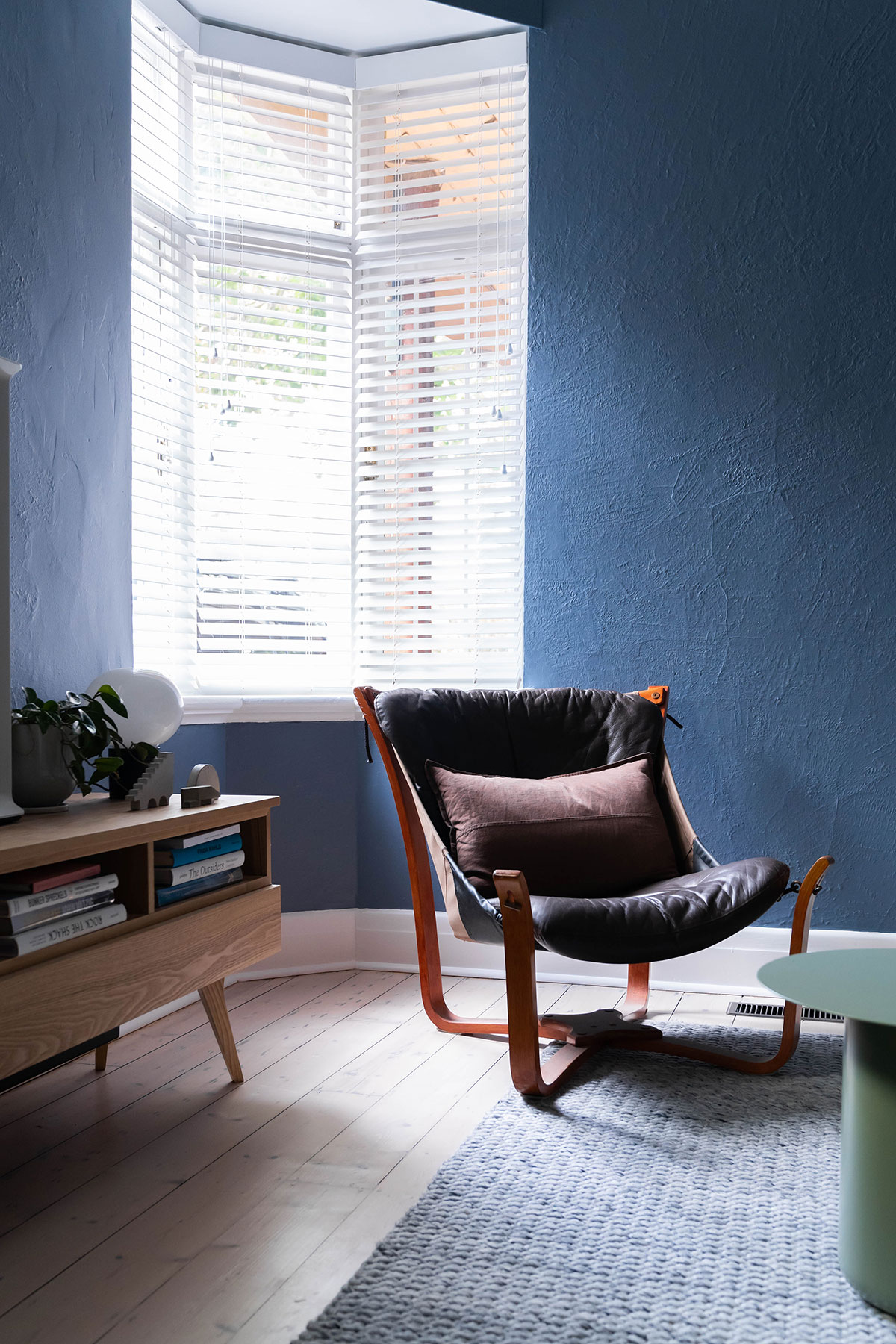 Lighting
Definitely the showstopper in the living room was the pendant light! I selected the Mila 9 Light Pendant in Black from Lights Lights Lights. I chose this style as I really wanted a statement light to draw your attention upwards towards the pressed metal ceiling.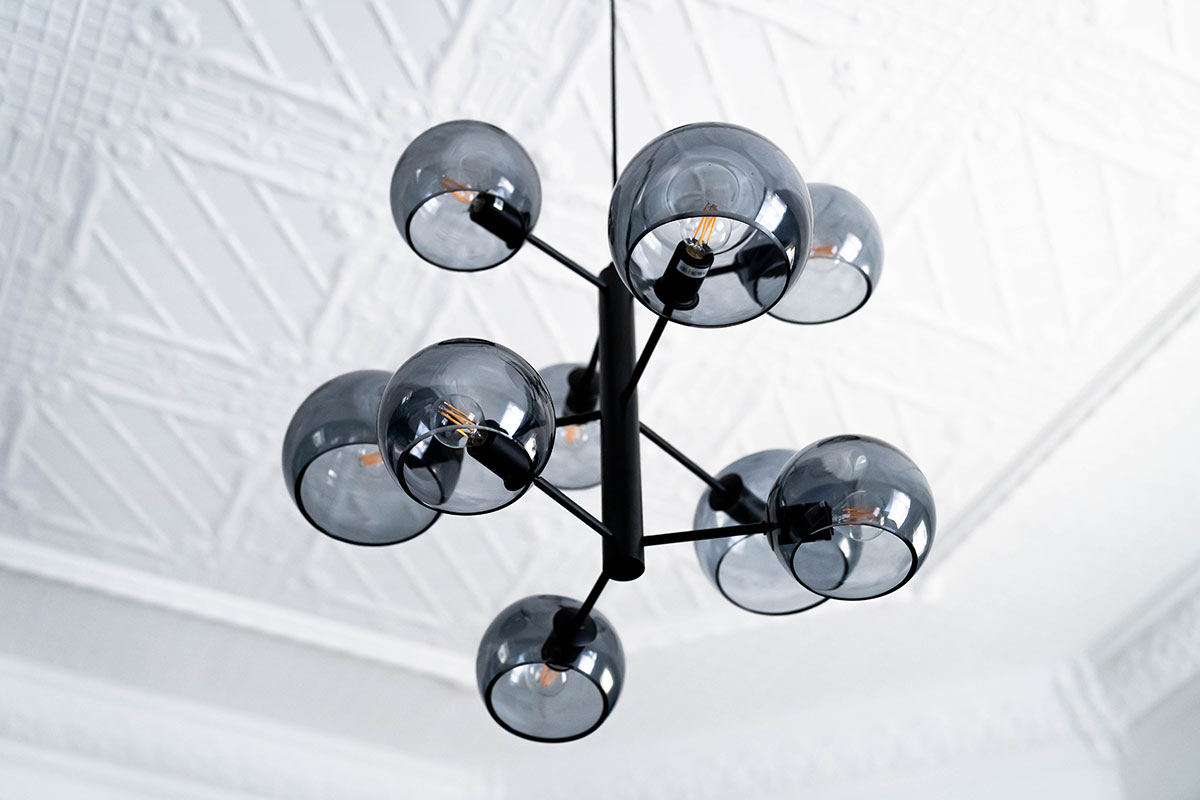 Decor
I already had some great furniture and decor pieces that I wanted to keep. However it was important to me to bring in new pieces that would complement and help create a sophisticated aesthetic. Overall, I chose to keep my styling to a minimum. I paired back my decor, so as not to crowd the room. I felt that with the dark blue on the walls, I needed to declutter as much as possible to help the room feel spacious.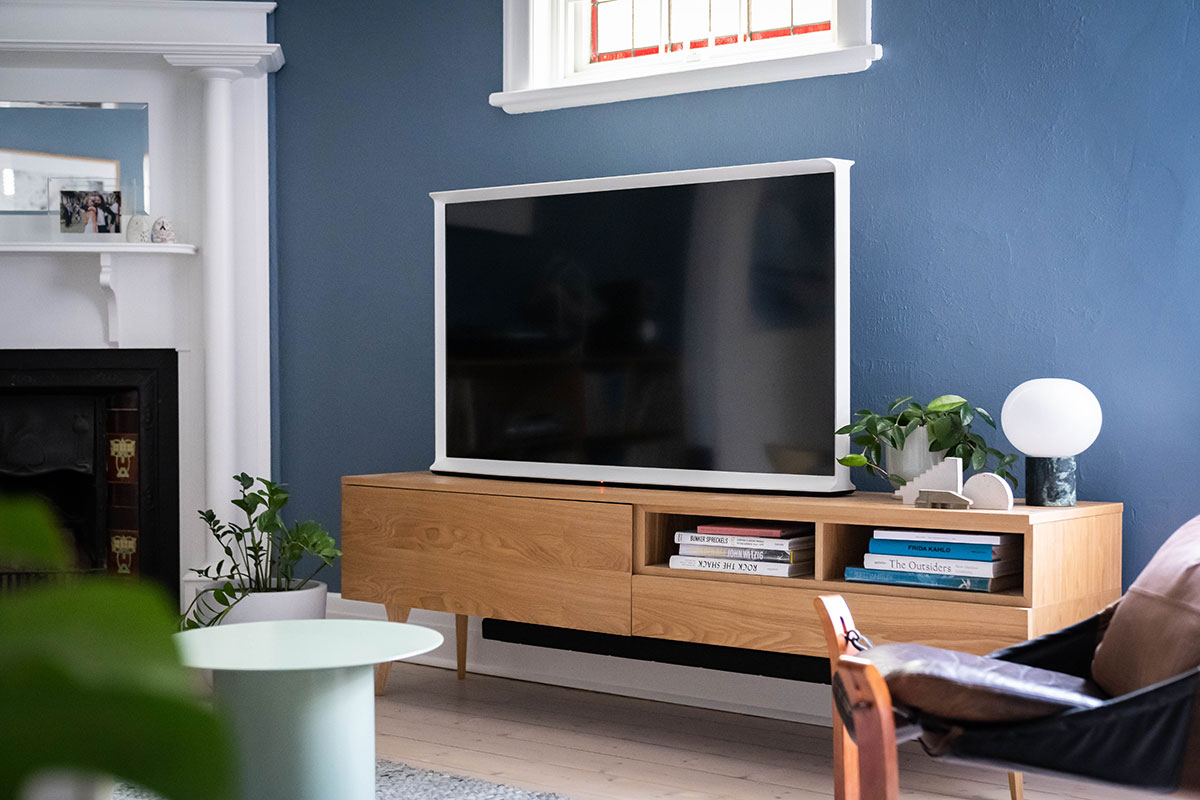 My Splurge
I think it's important to make sure that your home is all about you and your personality! I love it when I can see individual style in a home, whether it be through personal decor items and sentimental trinkets or the way a house might be skewed towards a certain lifestyle, for example: entertaining or perhaps a reclusive sanctuary. My great love is music and for a long time I have been wanting to create a space to store my vinyl collection. Whilst I have tried to find off the shelf solutions, there was nothing that I really liked or that was adequate for my size of record collection. I knew what I wanted but it just didn't exist, so I ending up ordering a custom unit. I spoke with Chris from Kithe Furniture and after a few rounds of changes we were able to put on paper what was in my head… and this was the result!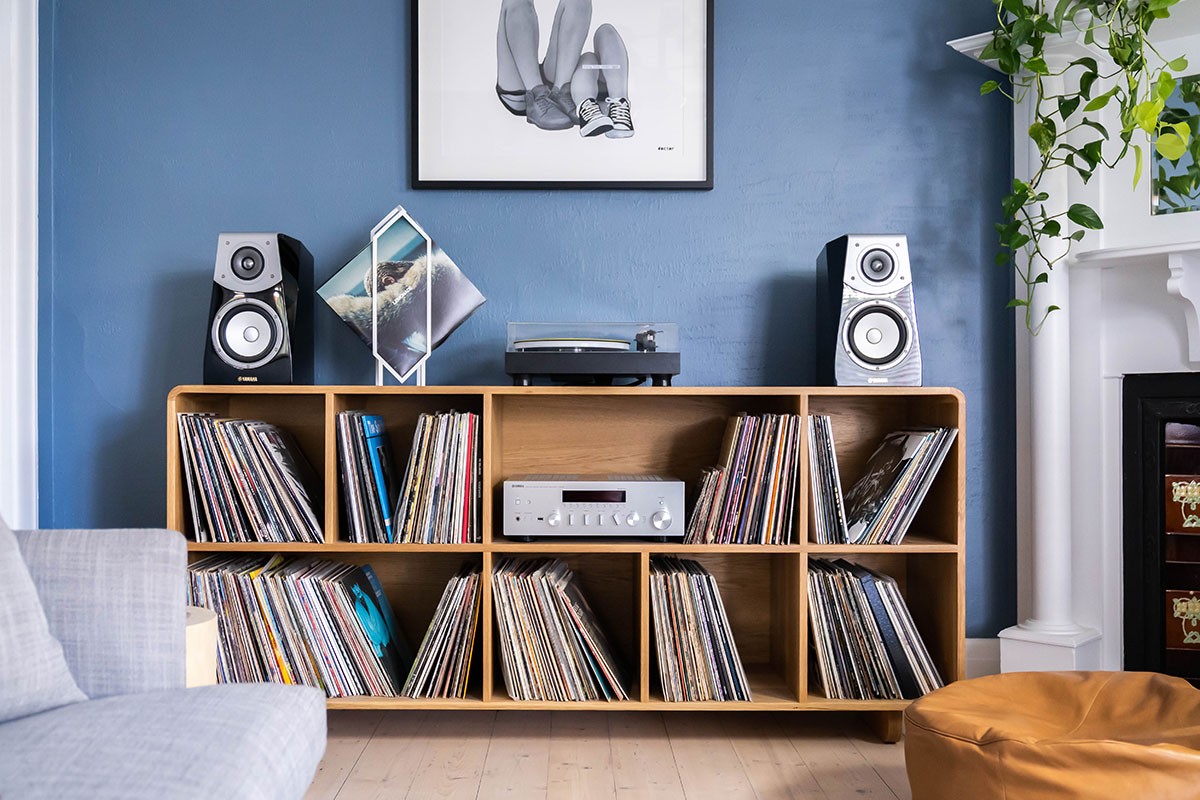 Whilst I can't link you to a product page, if you are wanting something similar for your home head to Kithe Furniture and ask for the Lucy special 😉
Vinyl Set Up
My custom vinyl storage unit was created not only to store my vinyl but also to house my entire vinyl set up. My set up has evolved over time… in my twenties I began with a cheaper, entry level turntable with inbuilt speakers. Then I began to upgrade a few items gradually to improve the sound quality. I absolutely love my set up now, the Yamaha speakers especially, however if you're new to vinyl – please don't feel like you need to blow your budget on the below items. Buy what you can afford and test it out. There are plenty of cheaper options on the market that do the job! I also use the Jex Vinyl Stand to store a smaller selection of LPs, I find this a great way to easily access a pre-selected playlist or my most loved records.
Next week we'll be sharing our Bathroom Makeover with you! Be sure to subscribe to our YouTube channel for the full reveal.