We're taking you behind the scenes of our DIY Home Makeover, one room at a time! All this month we'll be sharing our home renovation stories with you, documenting our process and sharing some tips along the way. This week we are transforming our Living Room! The living room is easily one of my favourite rooms at home. I spend a lot of time here and I really wanted to create a more inviting and moody atmosphere, one that would reflect the Edwardian period of the home but with a modern twist to suit my lifestyle. 
With a great base to work with given the generous layout, this living room was simply in need of a clever cosmetic facelift. Beautiful original features such as the pressed metal ceiling and Edwardian fireplace were being let down by the disjointed interior… so this living room needed to find a new style, one that would enhance its original features and bring it back to its former glory. 
Colour, DIY and key features were all we needed to completely transform our living room and you won't believe the difference!
Colour was a key factor in the living room makeover. I knew that I wanted to paint the walls a feature colour and I wanted to go dark to create a moody aesthetic. After testing a few Dulux samples pots, I decided on Enterprise. For the perfect white to match, I opted for Lexicon Quarter from Dulux to paint the trim. 
Paint
Walls: Enterprise, Dulux Wash & Wear
Trim: Lexicon Quarter, Dulux Aquanamel Semi Gloss
Ceiling: Dulux White Ceiling Paint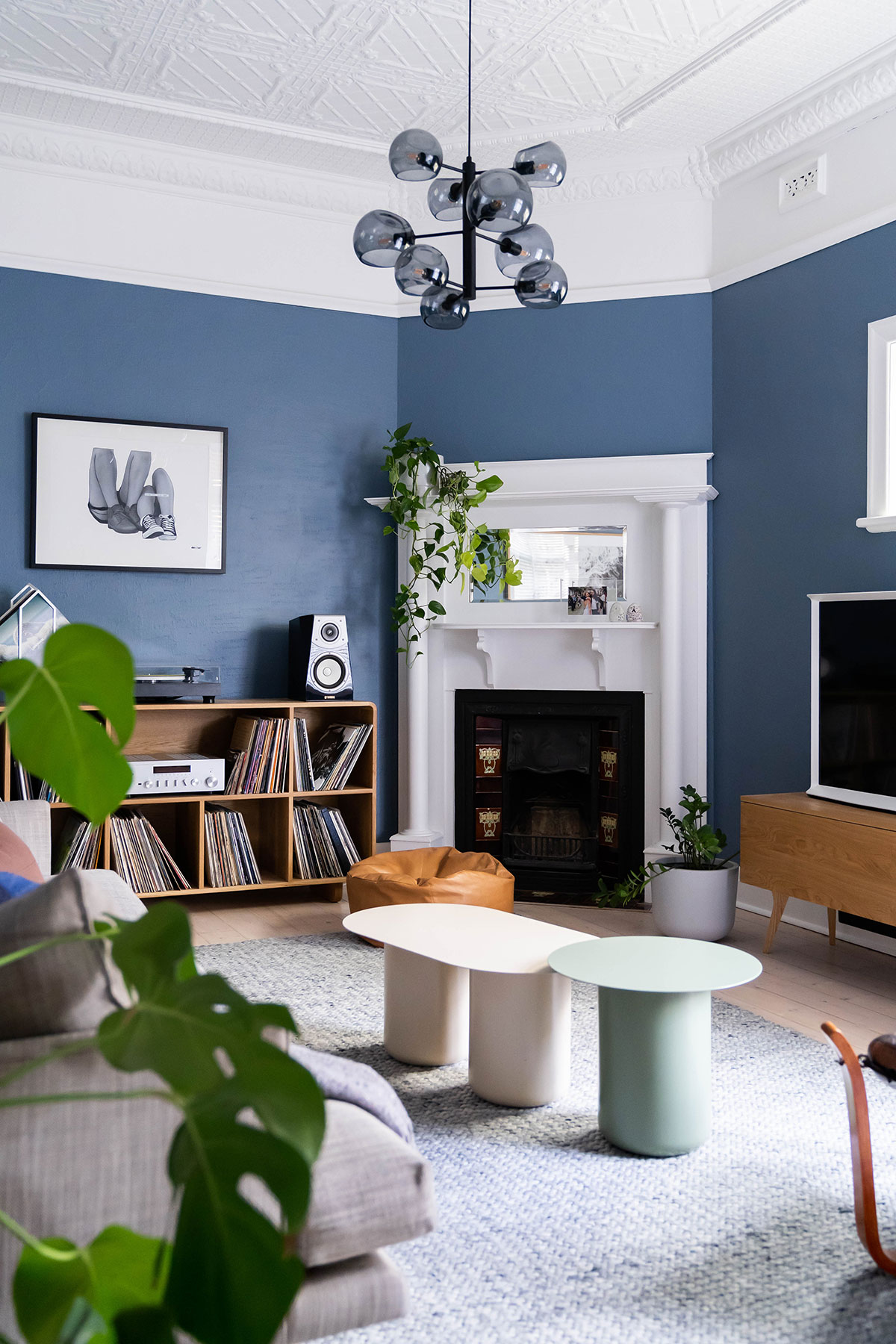 The floors, originally timber boards with warm lacquer finish, were sanded back and stained with a white wash finish. This was crucial to the overall aesthetic, as the fresh white wash effect modernised the interior, brought more light to the room and complemented the dark blue paint on the walls. We hired the sanding equipment and bought the white wash floor stain from Bunnings.
Floor
Sanding equipment: Floor Sander for Hire, Floor Edger for Hire
Ryobi One+ 18V Corner Sander
White Wash: Liming White Floor Finish, Feast Watson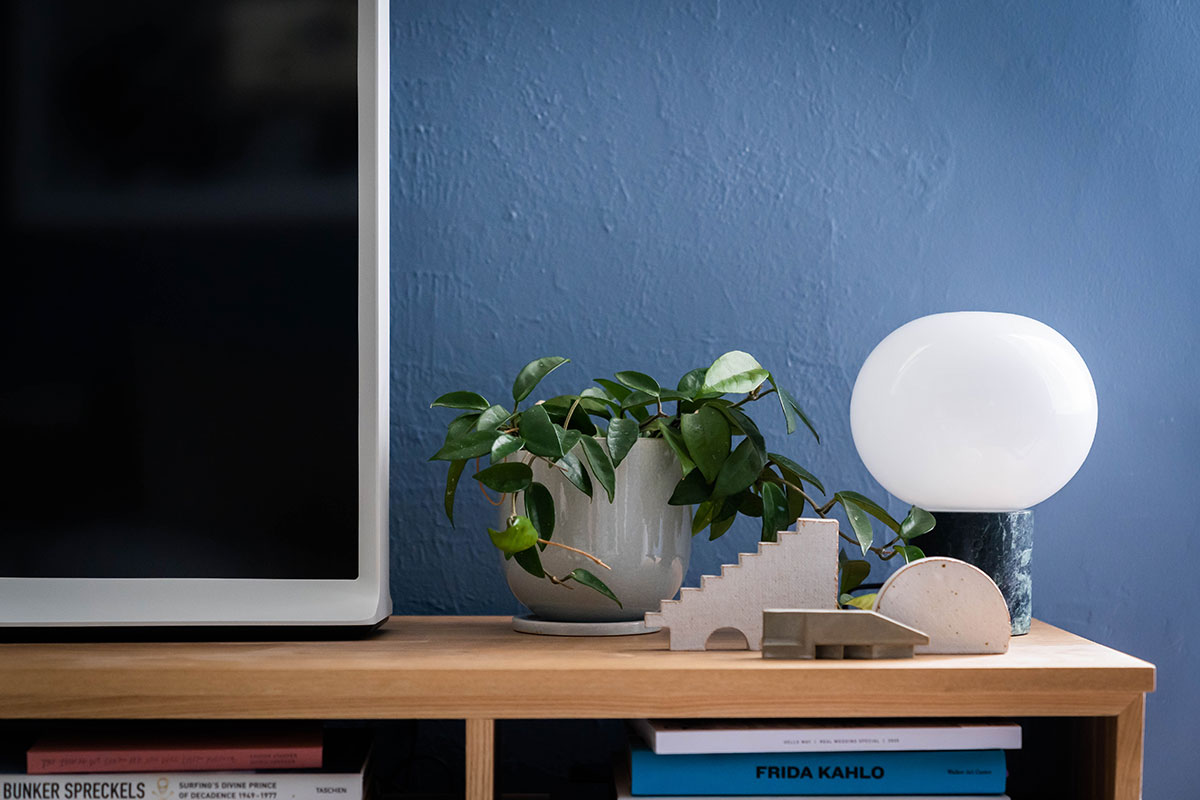 Lighting
With only one pendant light in the room it was important for me to choose a statement pendant, one that would elevate the interiors and set the tone. Considering I only had one light to choose… I decided to choose nine… with the Mila 9 Light Pendant in Black from Lights Lights Lights.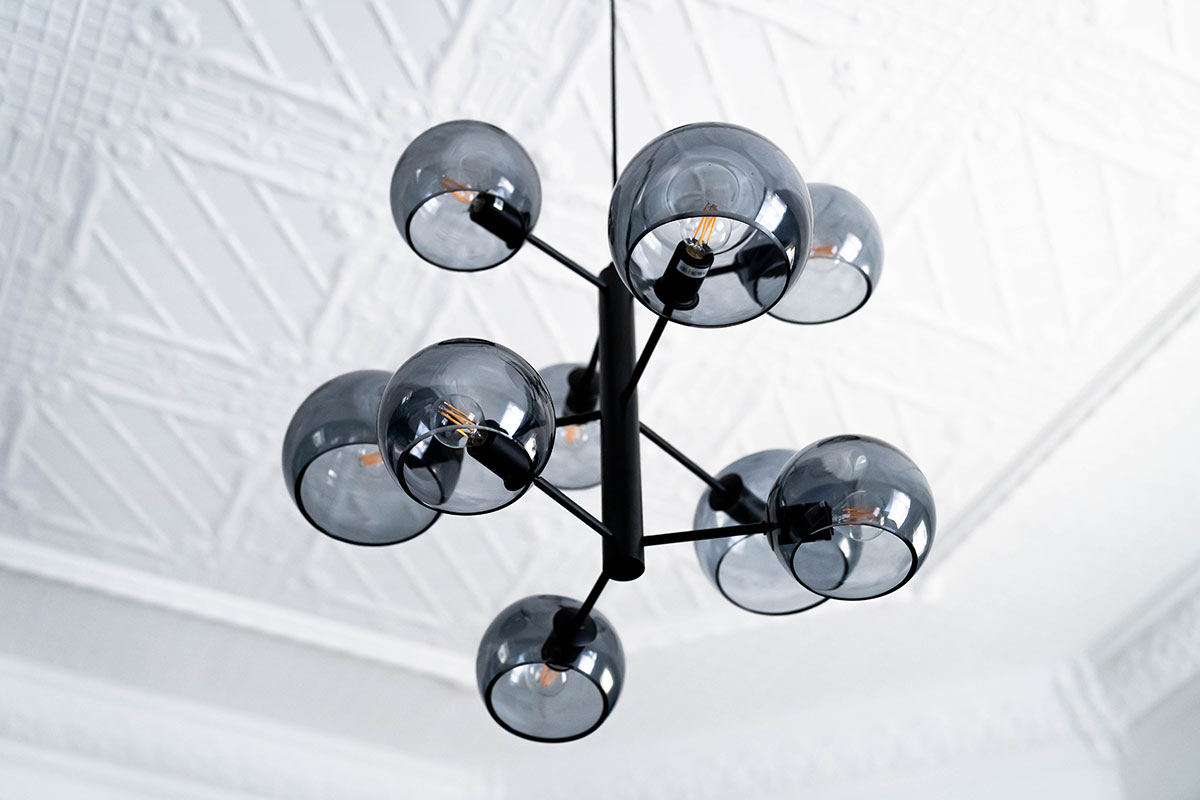 Window Furnishings
The living room only had a narrow corner window that was a tricky space to furnish. I needed to find a simple solution that was both functional and looked great. There were a few options from DIY Blinds and in the end I opted for their Timber Venetians in Bright White. As soon as these were installed it made an incredible difference, creating so much more privacy from the neighbouring apartments but also filtering the natural light enhancing the mood of the interior.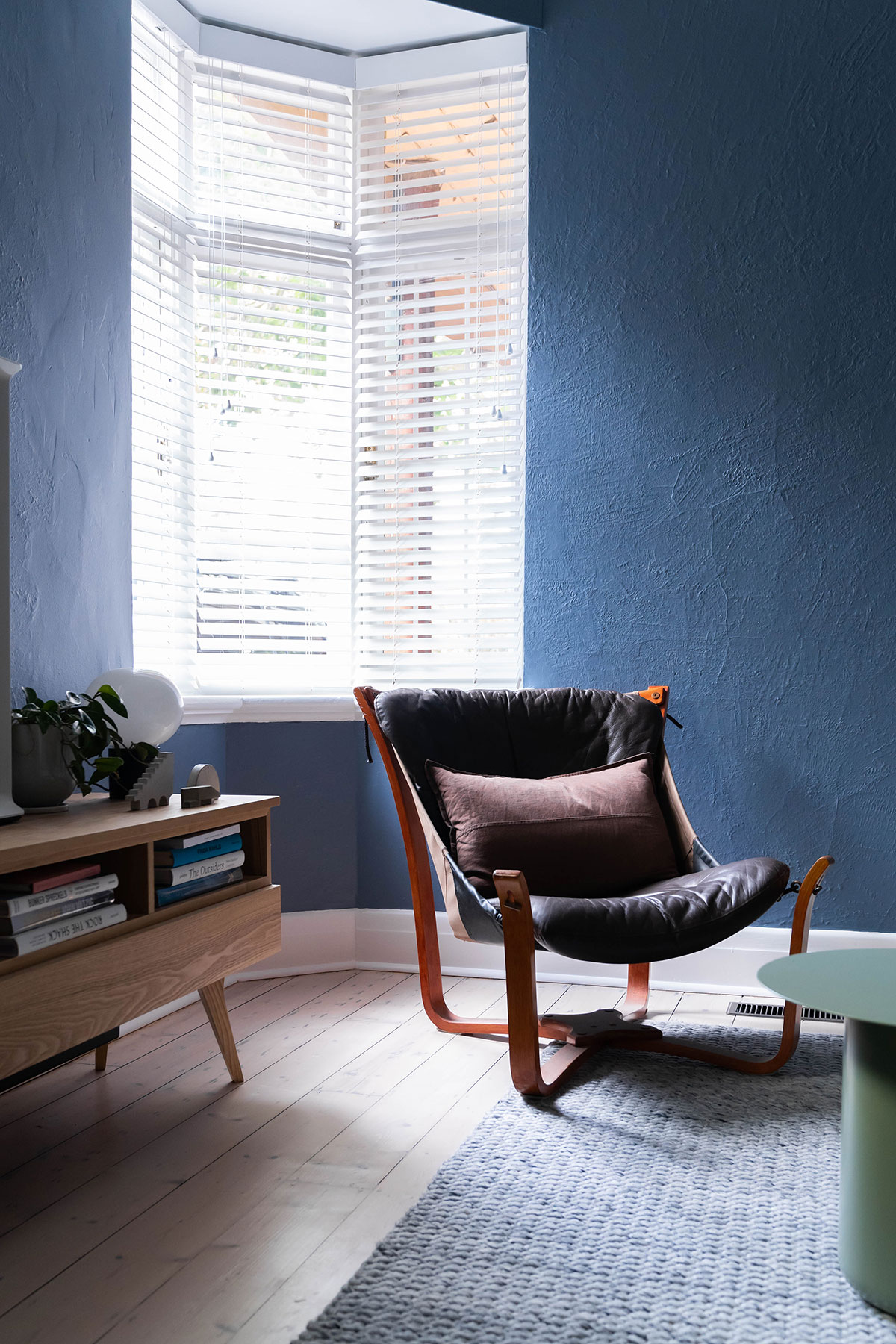 Custom Vinyl Storage
I've been collecting vinyl since I was 18 years old and I have never had anywhere to store them. It was never too much of a problem until my collection began to grow in size and all of a sudden I couldn't walk in and out of my room without knocking into them. So the hunt for the perfect storage solution began… and it ended quite quickly. Whilst there were some cool options out there, most of them were for smaller sized collections. Alternatively there were simple Ikea solutions but I was after something a bit more special. I knew what I wanted… I just needed someone to make it for me. So I decided to go custom. I spoke with Chris from Kithe Furniture and went back and forth a few times until we came up with this… I'm going to call it the 'Lucy' Vinyl Storage unit. Made from American Oak with rounded detailing.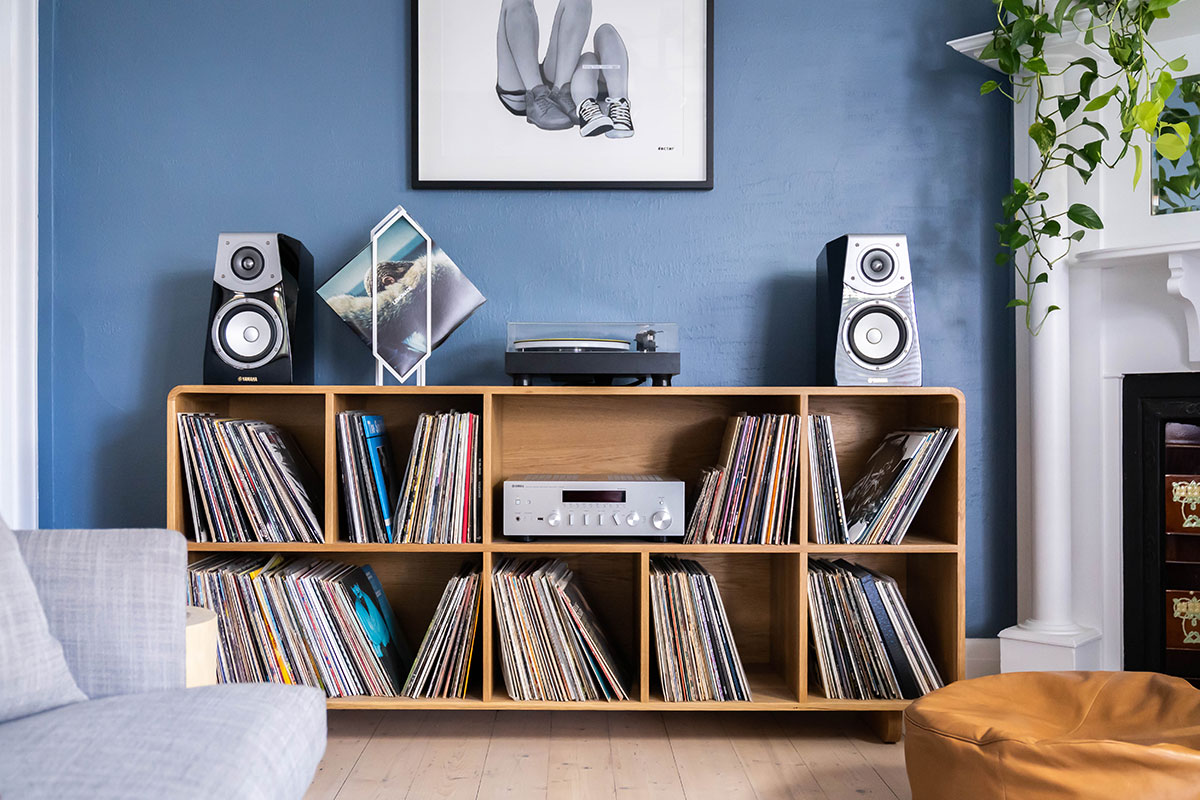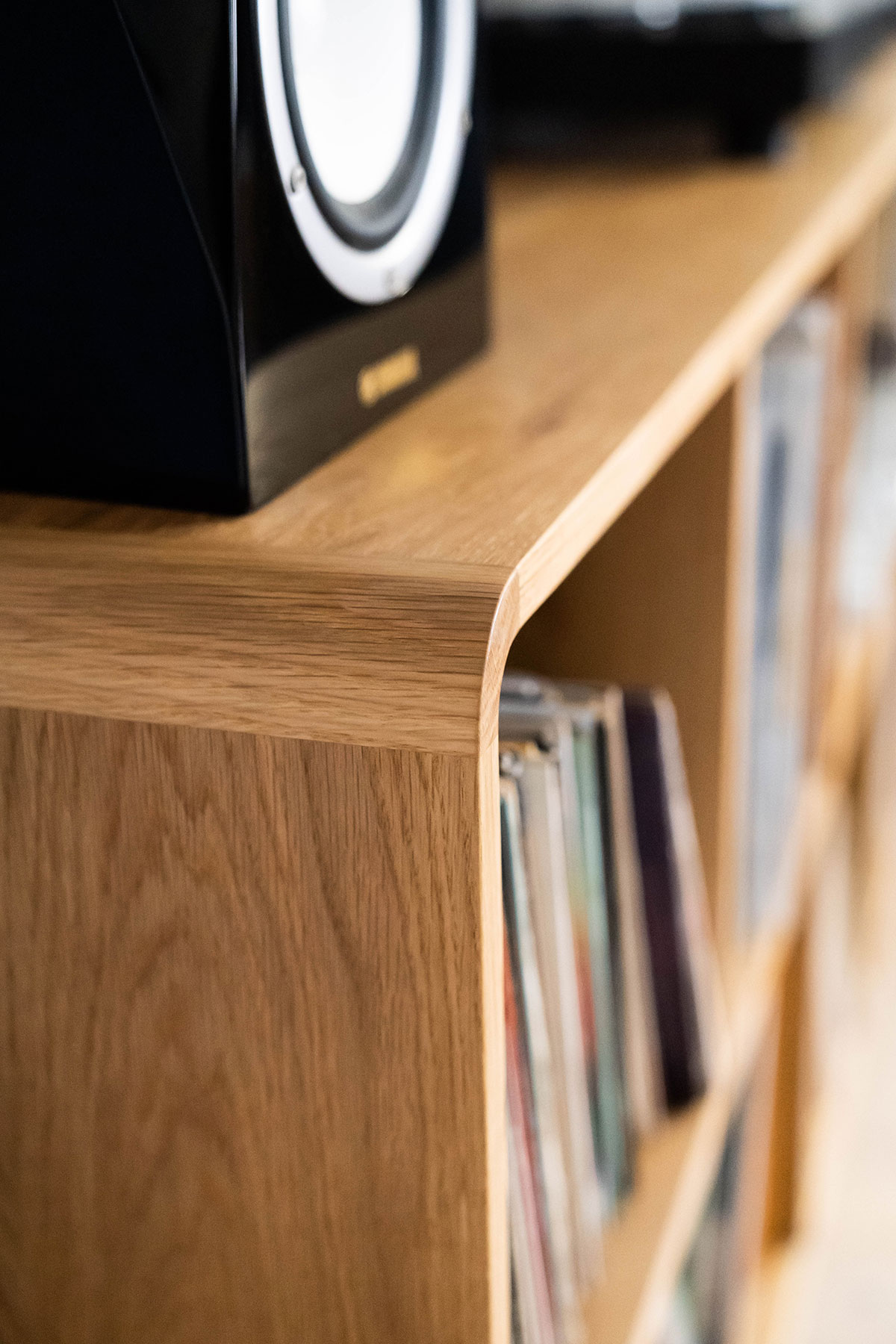 Key Decor Pieces
Rug: Brooklyn Weave Rug, Silver/Marle from Milk & Sugar
Coffee Tables: Sequence Table 01 in Pale Eucalypt and Sequence Table 02 in Paperbark from Coco Flip
Table Lamp: Buddy Table Lamp in Dark Green from Milk & Sugar
Custom 'Lucy' Vinyl Storage Unit from Kithe Furniture
Jex Vinyl Stand from Idle Hands Design
TV: Serif TV in white from Samsung
Cushion: Nutmeg Panelled cushion 40 x 60cm from Milk & Sugar
Blanket: Recycled Wool Blanket from Waverly Mills