Brace yourself home lovers, things are about to get a whole lot more inspiring! Today we take a look through Canning Cottage by Bicker Design, the winner of the 2018 Australian Interior Design Awards for Residential Design. A big congrats to Josh & Jenna Densten from Bicker Design, who are responsible for this beauty.
Their gorgeous Melbourne home is only 4 metres wide and 8 metres deep, but what it lacks in size it definitely makes up for with clever design elements throughout. The Canning Cottage maximises every single space and we mean EVERY SINGLE SPACE! Just check out the curved couch come fireplace nook! So for all those out house hunting this weekend, and every weekend forever more 😉 don't discount the smaller un-renovated place that no one put a bid on… because you may be able to create a little piece of magic just like this! Let's take a look: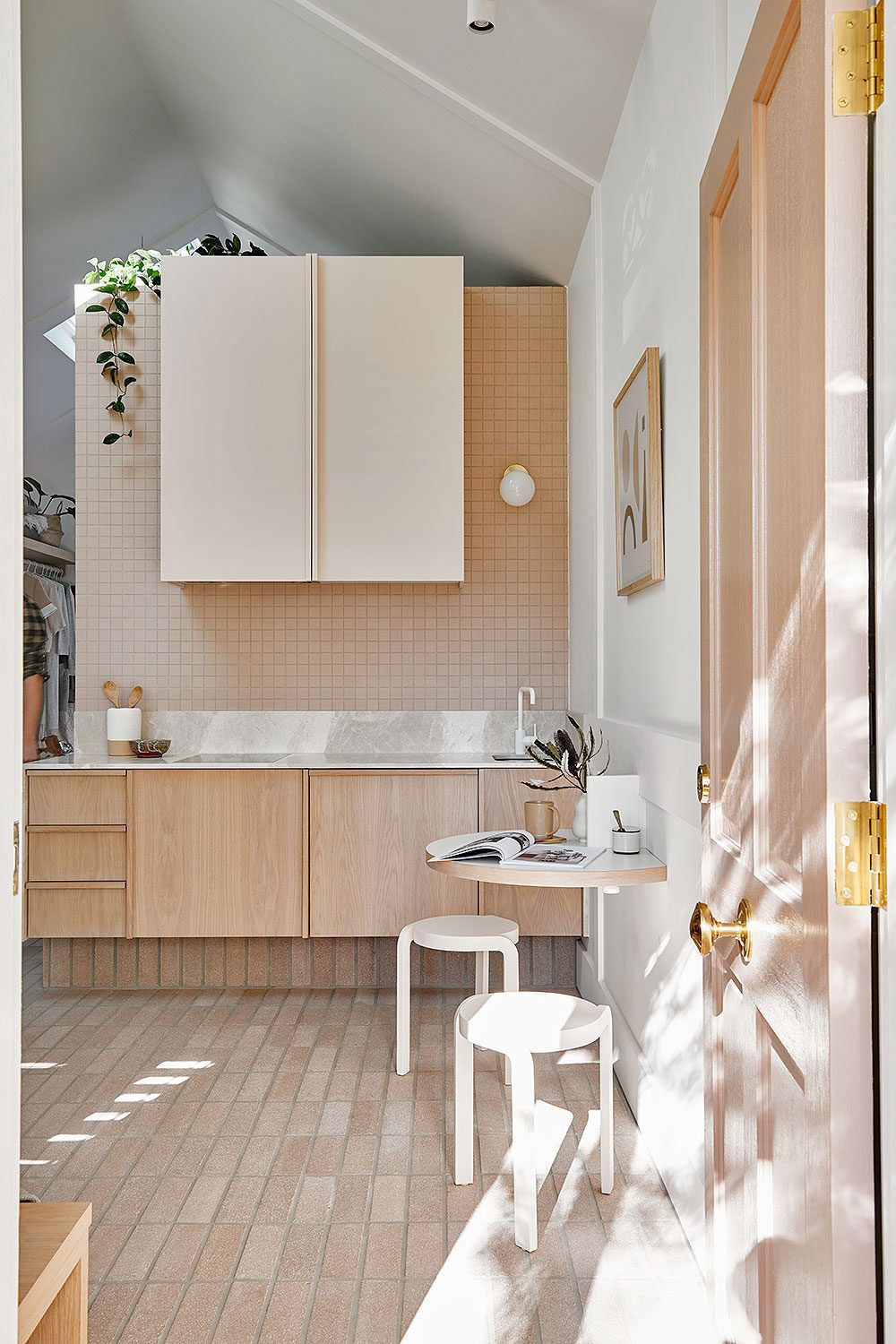 So you may remember Josh and Jenna from their appearance on The Block (2011). Or perhaps you've seen some their stylists coming from their accredited training organisation the Design School. Or perhaps you know them via their very own design studio Bicker Design, which has a number of projects to its name including the Highet House. Phew, exhausted yet? Josh and Jenna don't seem to be… Anyway today we're going to say hello to Josh & Jenna and take a look at their award winning Canning Cottage. 
Originally built in 1874, the 32sqm workers cottage has been transformed into a fully self-contained studio home. Josh and Jenna's attention to detail and experimentation with different materials have created a big impact in this small space, and have made it a functional home for a family of four and two dogs.
Their approach to the redesign was to keep things simple. To achieve an airy look, Josh and Jenna opted for textural brick floors and a neutral palette. And they certainly took this colour palette and ran with it! When introducing colour they opted for muted tones to provide just the right amount of colour. There are hints of mustard, pale peach and blush pink which all work gorgeously together. However it is the way these tones and textures are accentuated through the high end timber joinery, that really elevates the decor and brings an incredible warmth to the interiors.
Vaulted ceilings and natural light (that was achieved through the inclusion of large skylights) helped to make the cottage feel a lot larger than it's actual footprint. Josh and Jenna also added plenty of soft curves throughout the house which helped to create spacial flow, but also throws back to the architecture of the Art Deco period. Giving this modern house a heritage feel.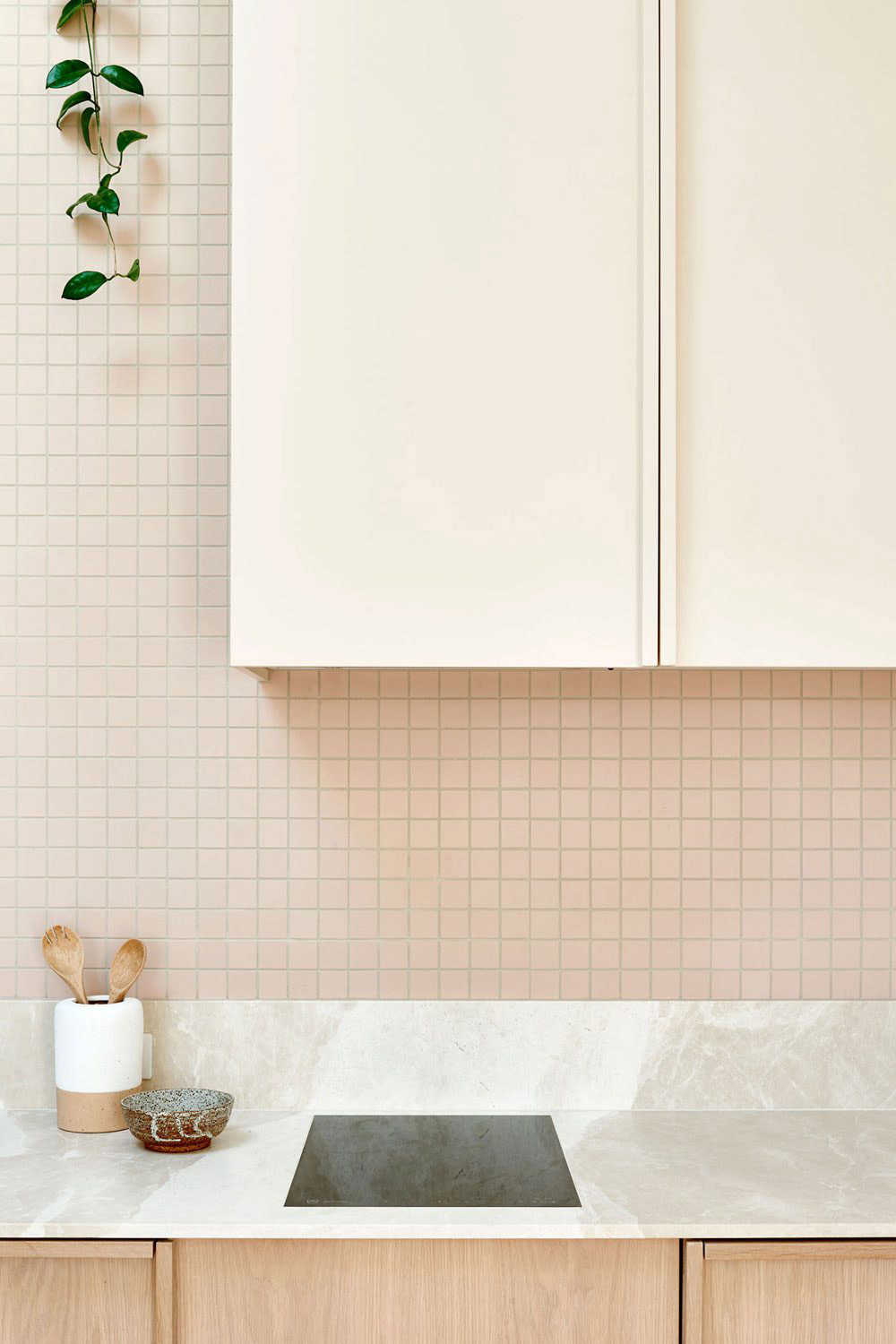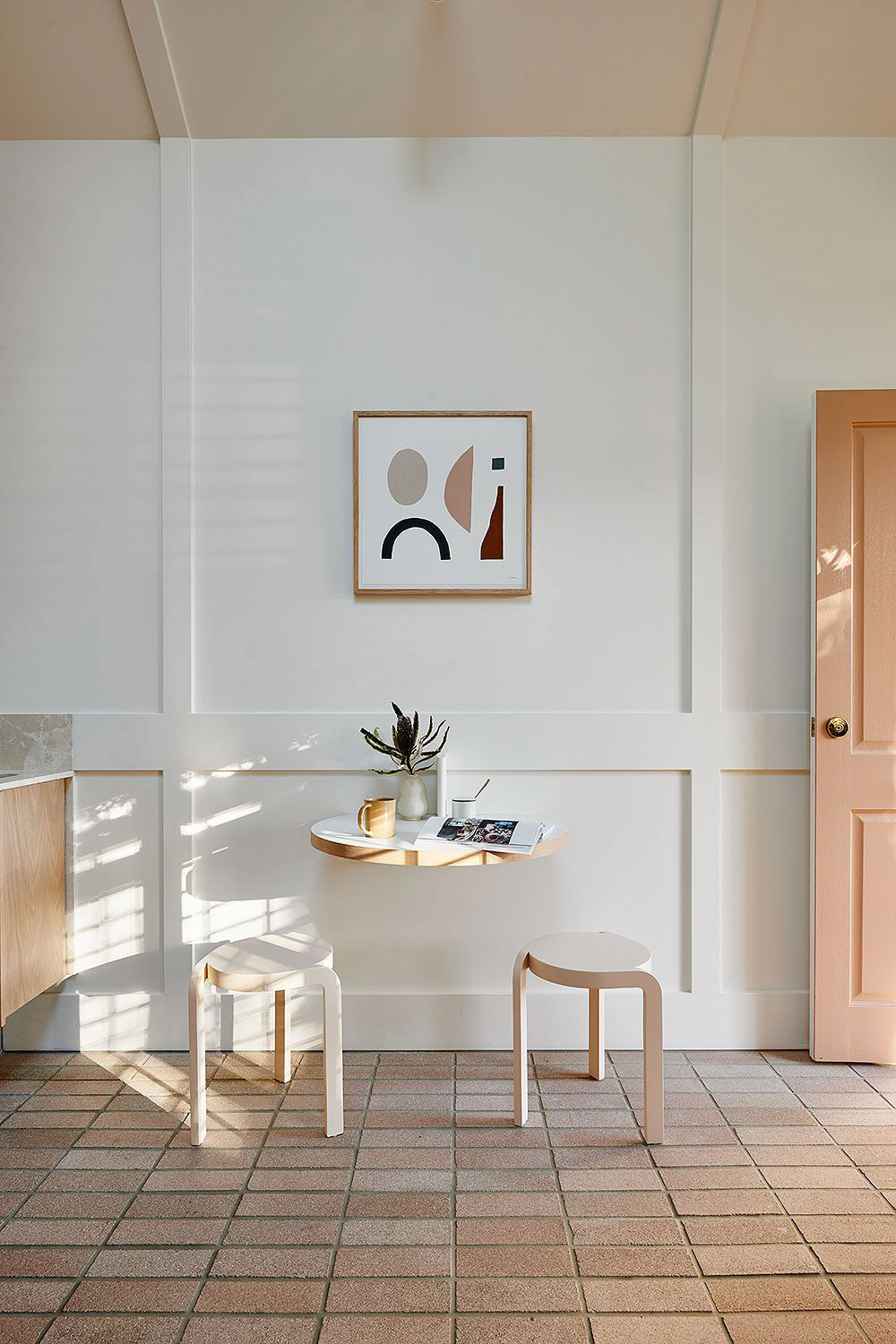 "The kitchen greets you as you walk into the cottage, so we wanted it to look like a gorgeous piece of furniture," says Jenna.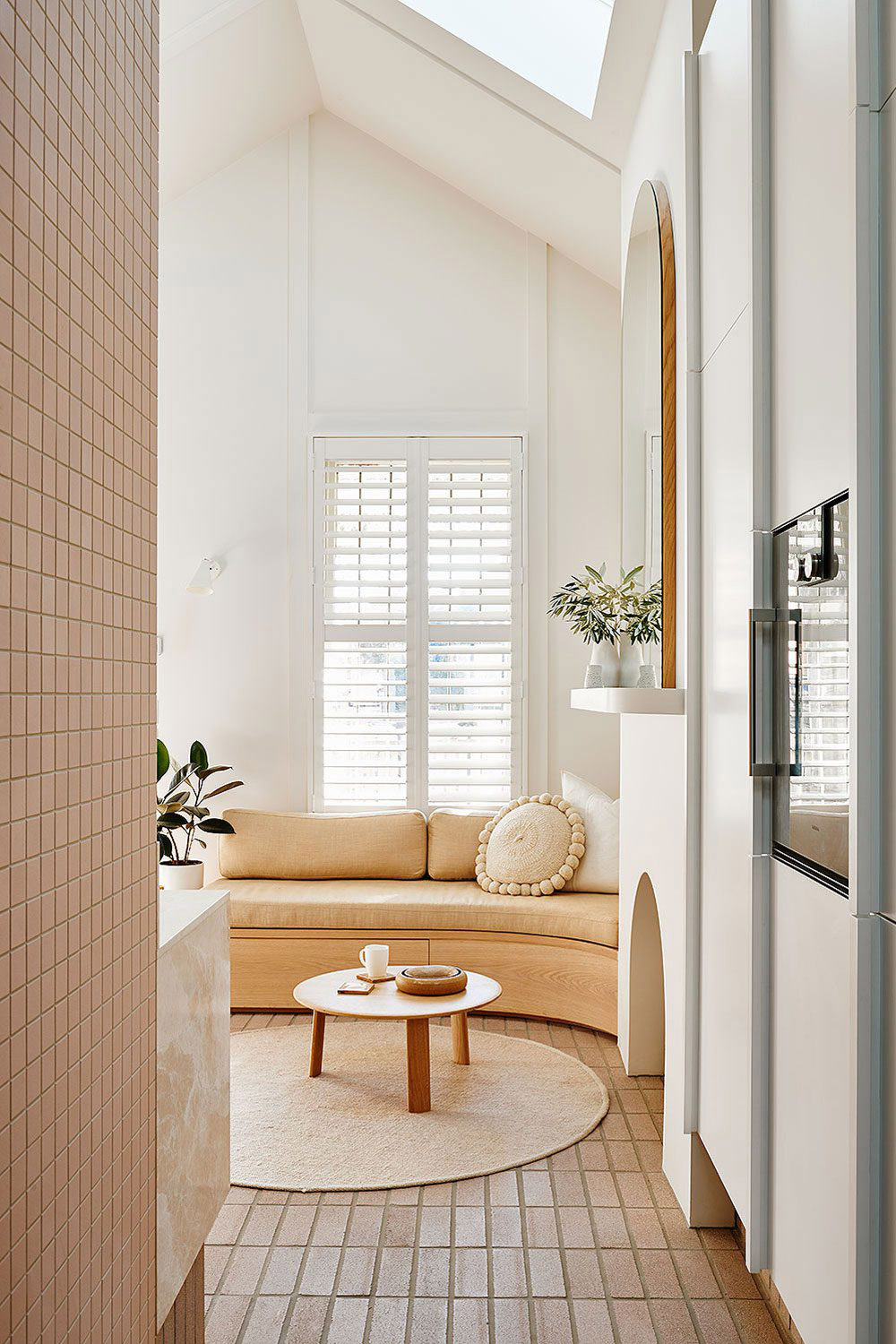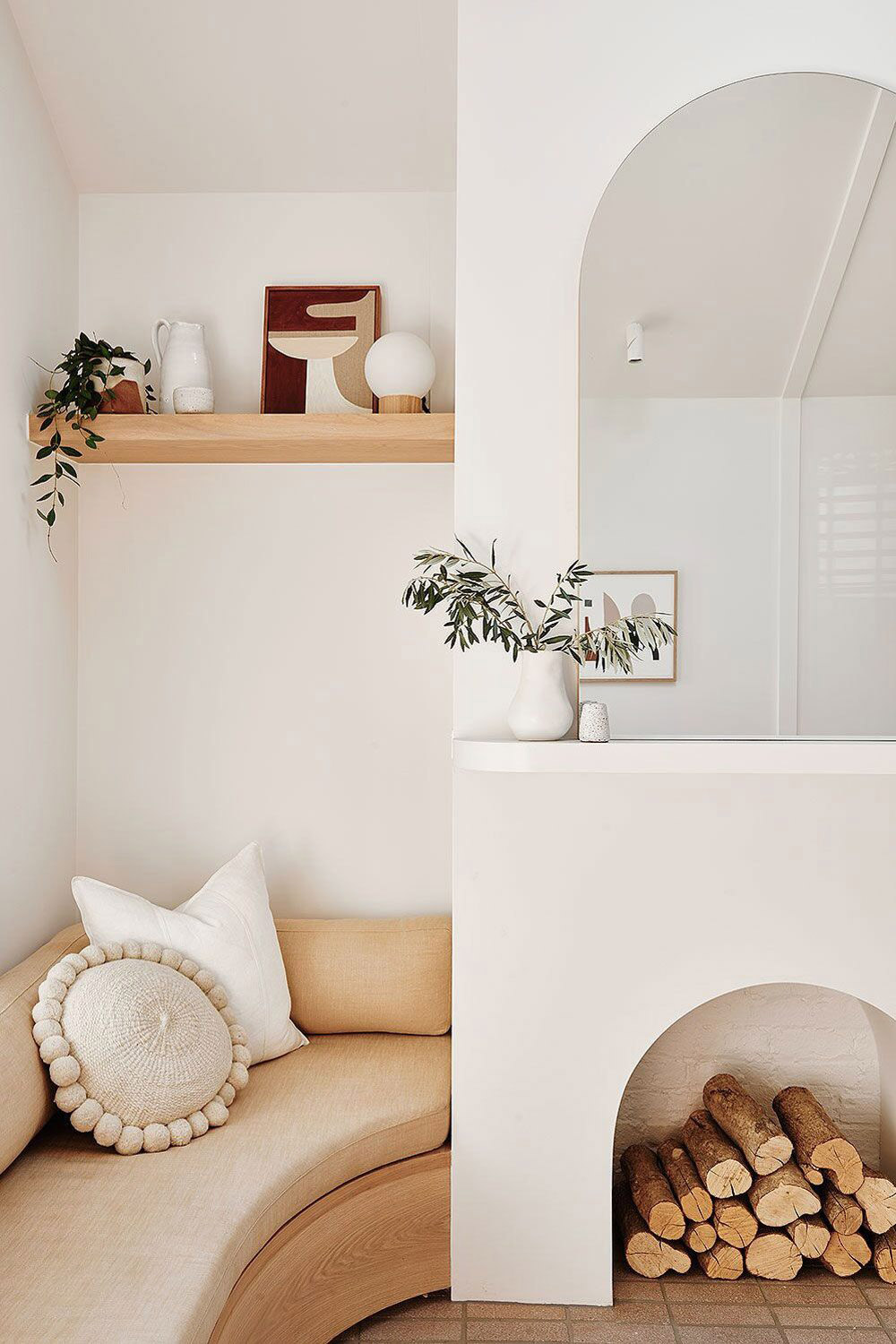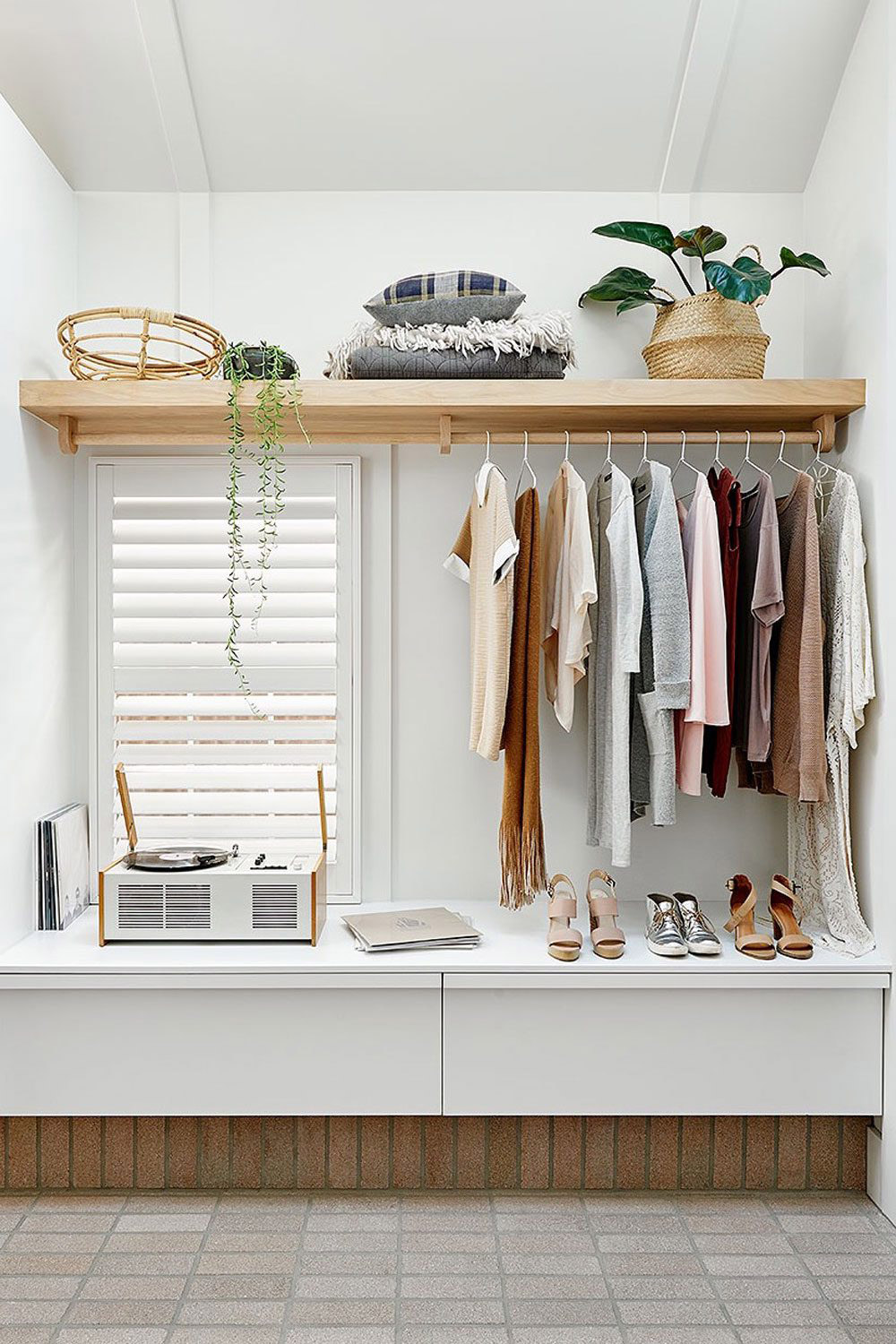 Of course clever storage was paramount, especially in a small space. Built-in shelves were tucked in wherever possible and was the key to making this cottage a functional family home. We must say it is incredibly refreshing to see beautiful houses created within a small space. No corner of this home has been forgotten which makes for a much considered and loved home. With a clever choice of materials and a fun imagination, Josh and Jenna have created a home which is truly special.
"The size challenged us to think about the way we could live, rather than the way we currently live," Jenna says. "Now we only live with what we need, which is refreshing. We don't lose things anymore and we spend more time together as a family."
That sounds a-ok to us!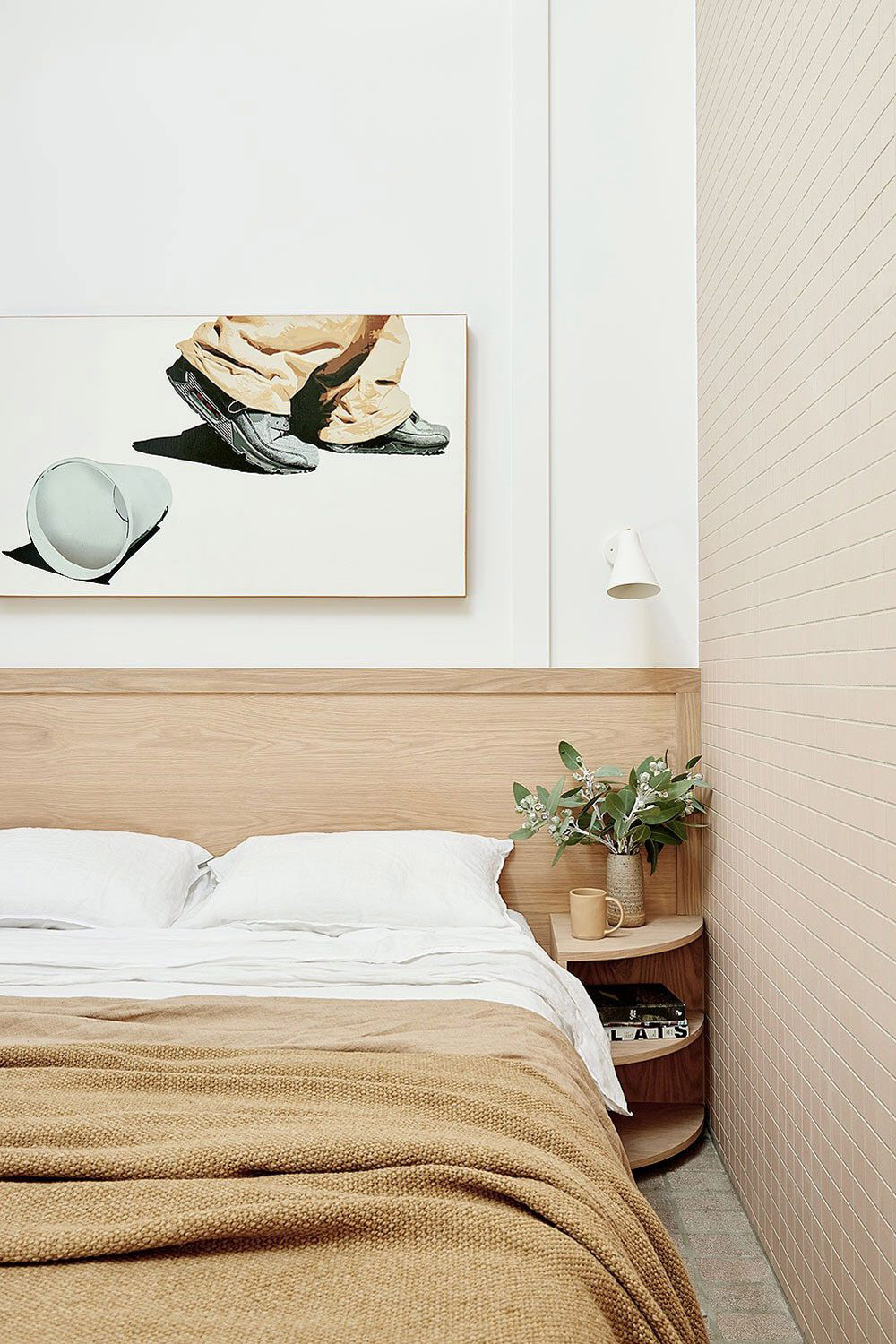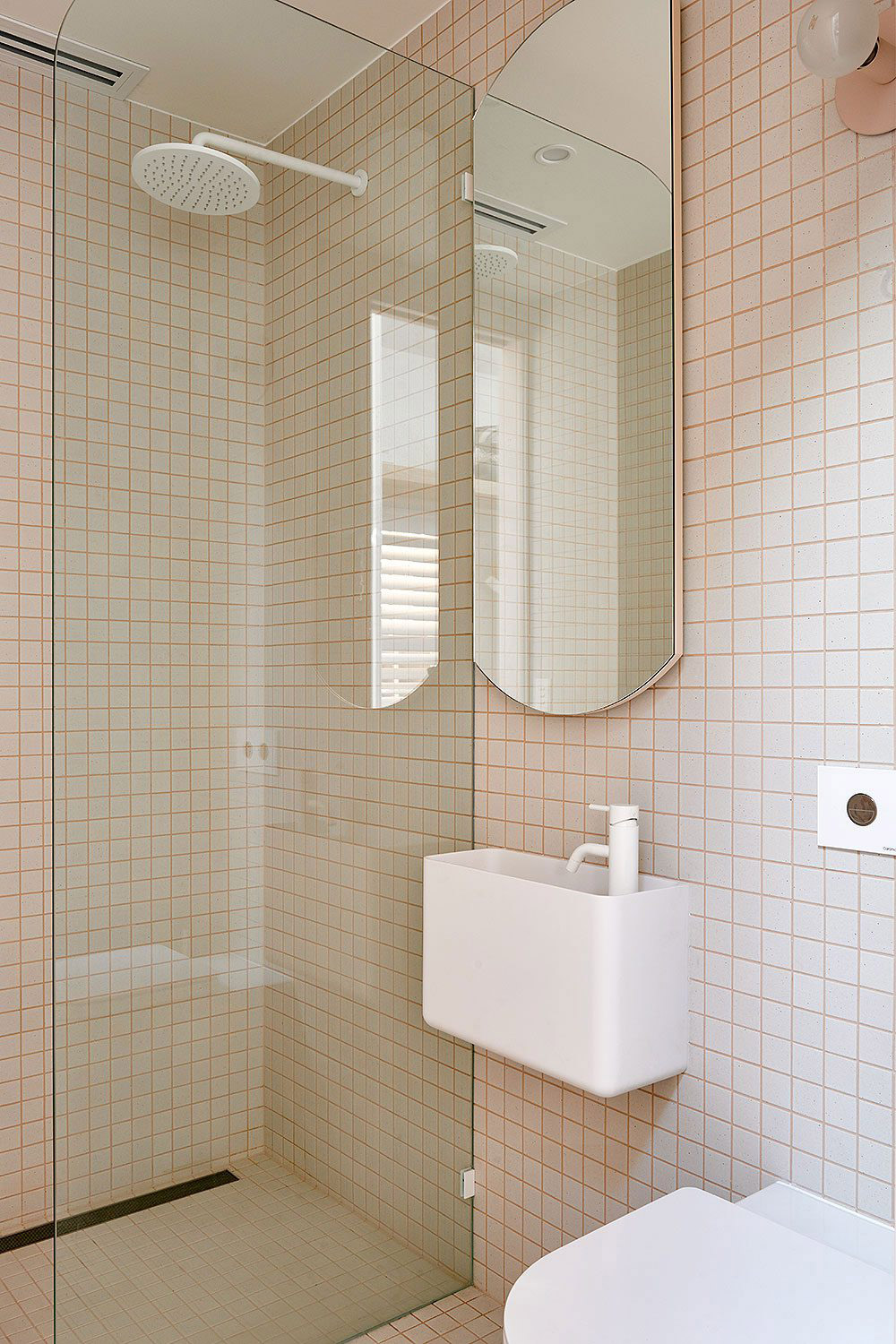 Photography by Nikole Ramsay.