Down for a quick beach house tour? The Blairgowrie Beach House is a black box built with entertaining, scenic views, and longevity in mind. This contemporary double storey beach house was designed by Meraki Creative, a Melbourne based design studio specialising in residential architecture and interior design. The structure was clad in robust and low maintenance materials suitable for the harsh coastal environment while at the same time providing privacy and security for the clients.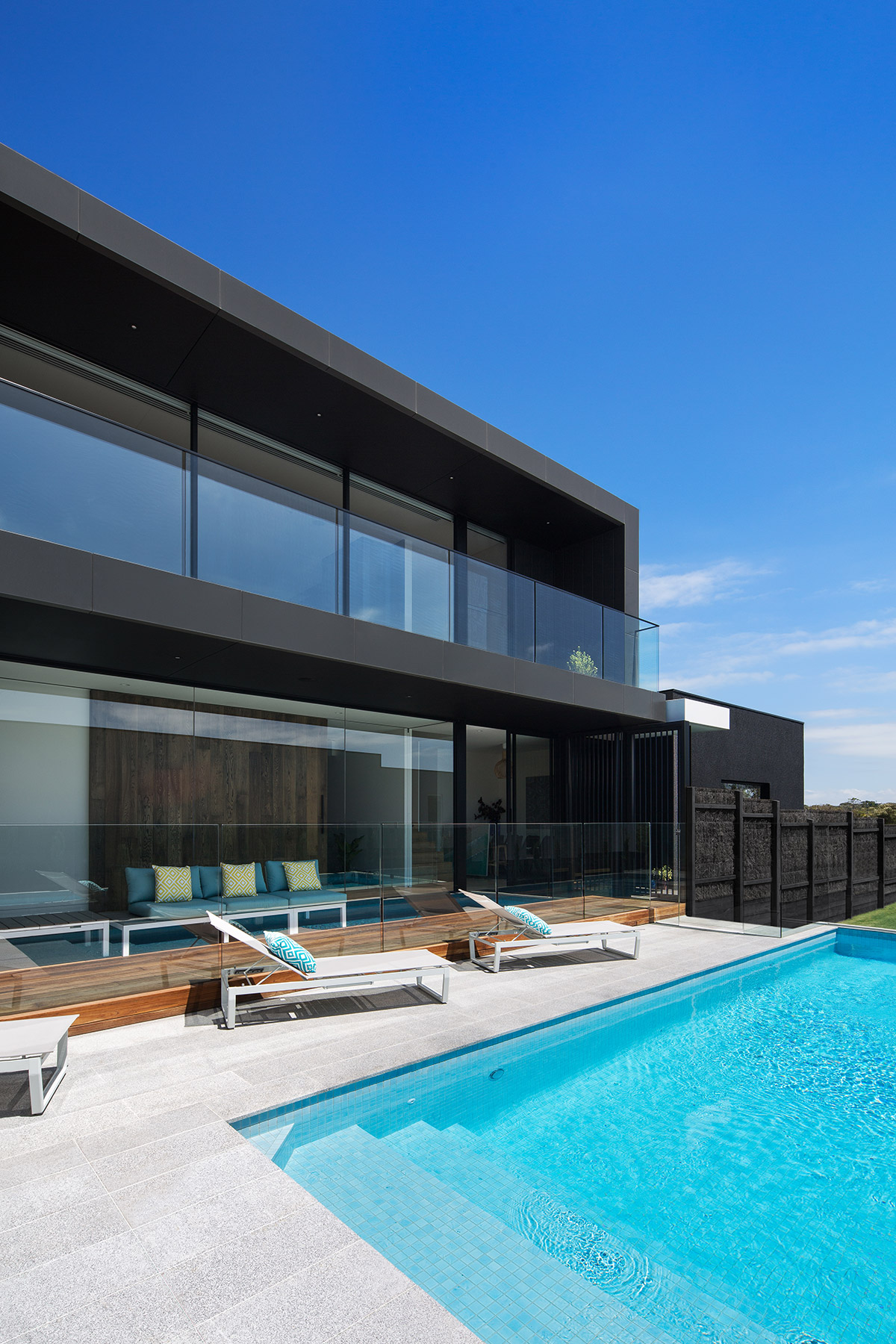 The northern facade of the L-shaped building is entirely glazed and designed to capture northern sunlight and bay views. Black aluminum cladding with white cantilevered canopy accentuates the entry to the beach house, and steel slat screens are utilised to render visual seclusion from the outside.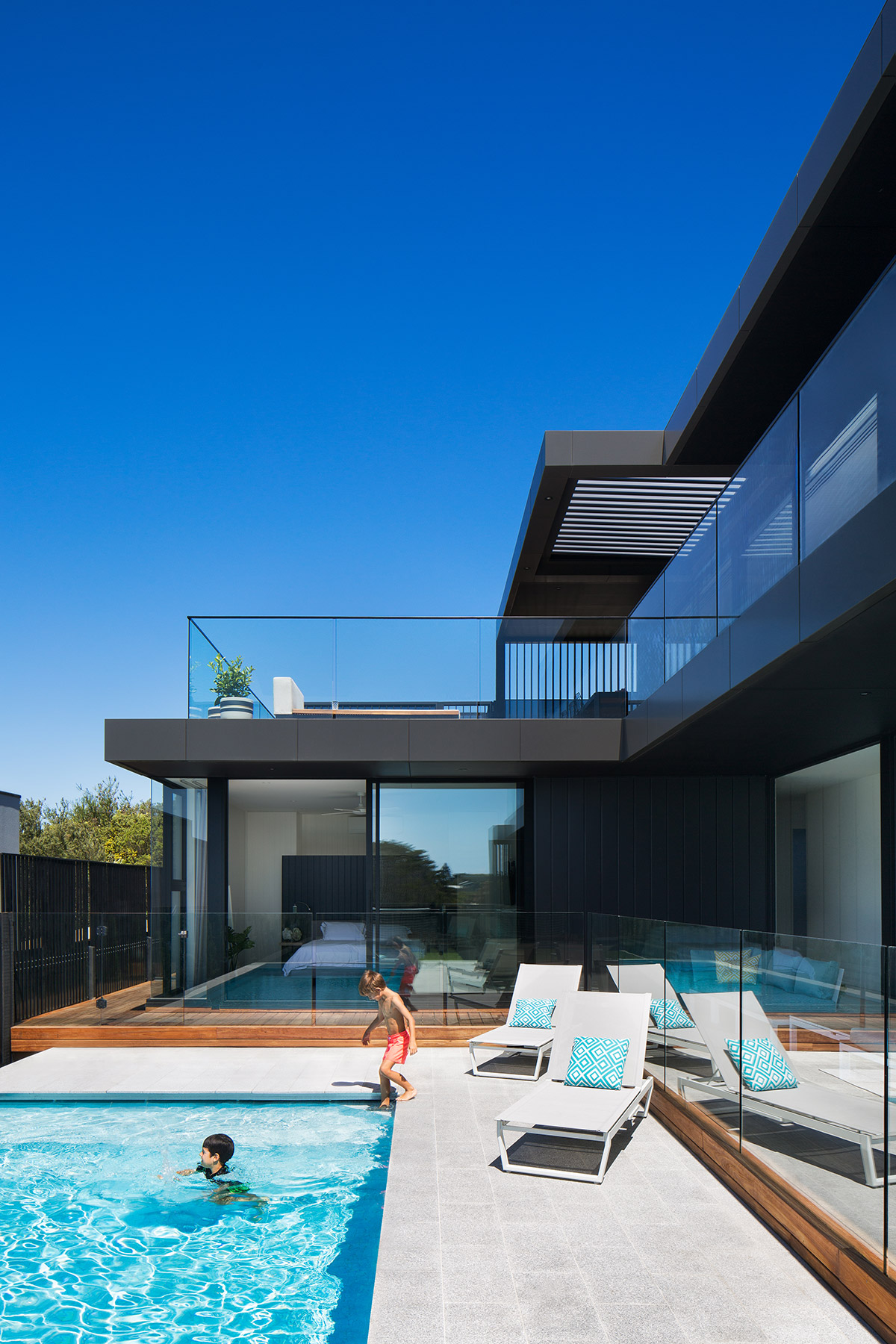 The double garage and storage, bedrooms, and large multi-purpose living room are located on the ground floor and open out to a north-facing deck and pool area. The open plan first floor directs onto a covered deck which offers fantastic panoramic views of the bay. On both levels, adjustable louvres and cantilevered canopies provide shade to living zones and create a secure outdoor entertaining area.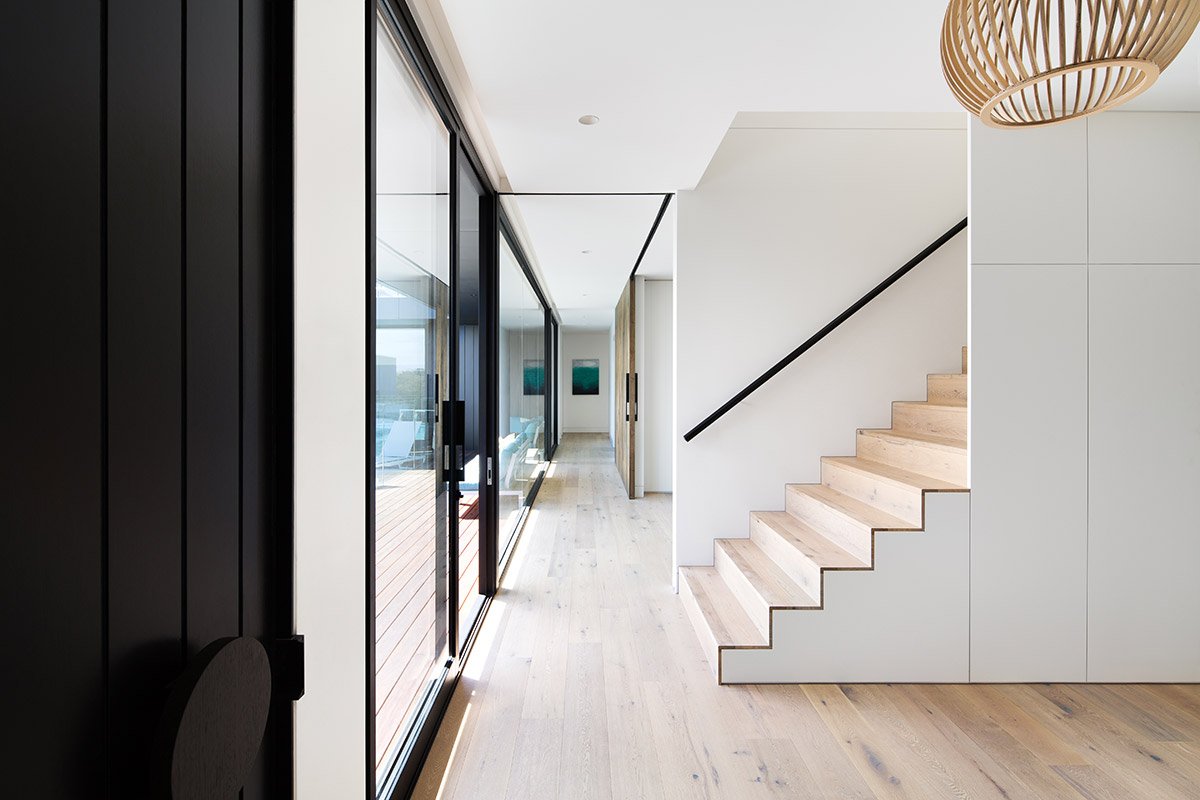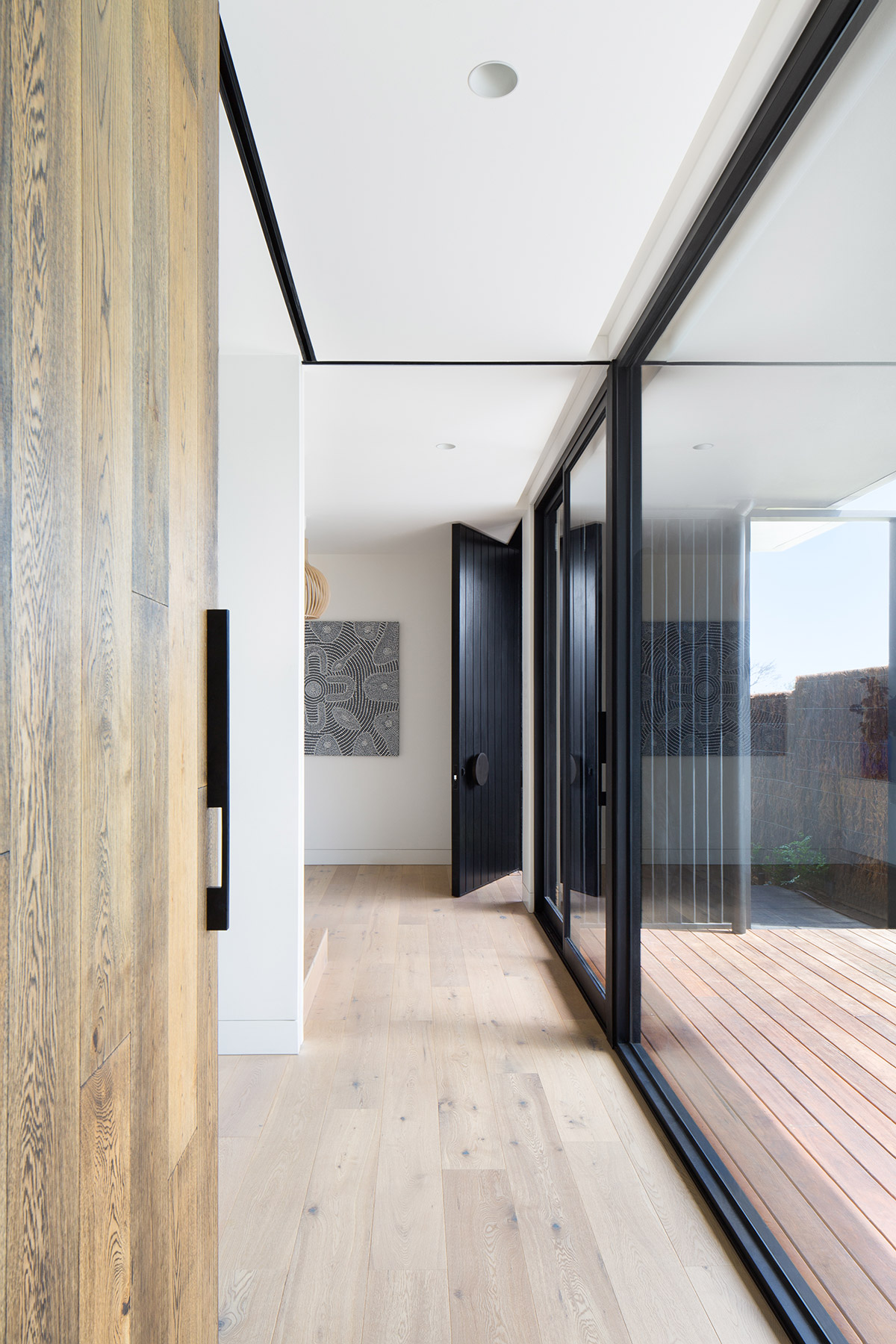 On the inside, full height glazing windows allow the hallway and entry area to bathe in natural light whilst providing a direct connection to the pool and outdoor deck area. The mainly white interior illuminates as the light pierces through the windows, allowing all interior elements to be highlighted and aesthetically prominent.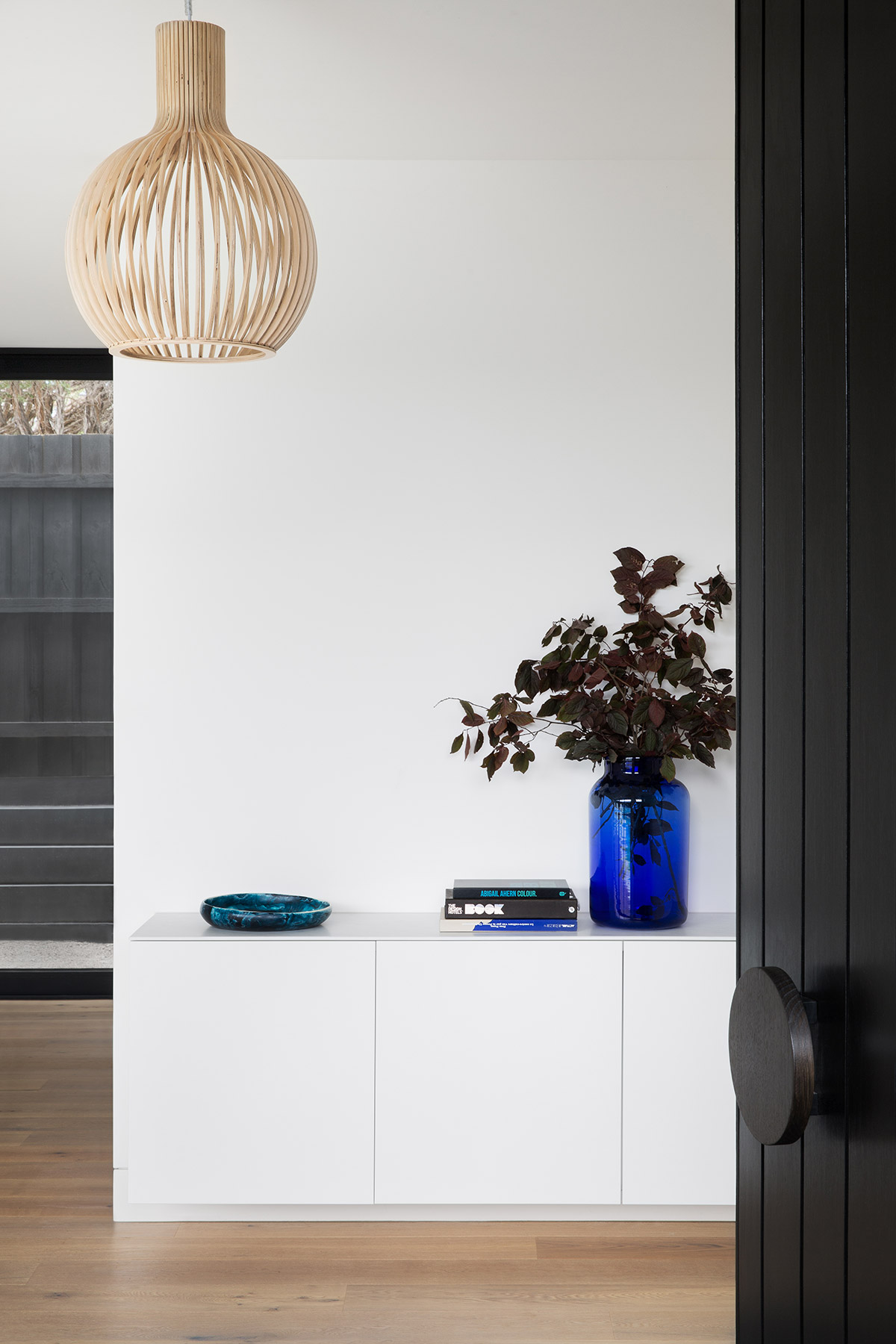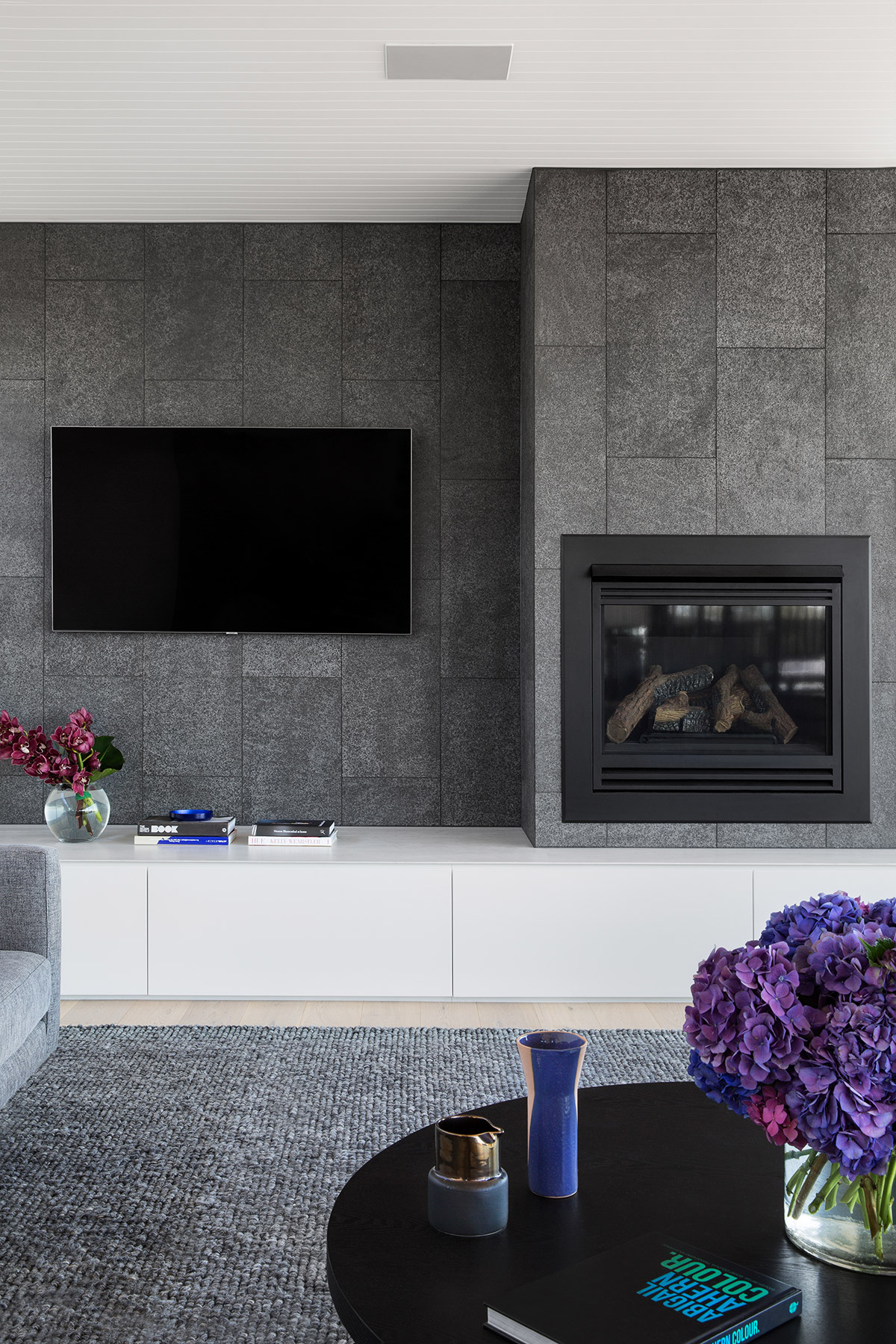 "The white, light-filled interior includes American oak flooring and staircase, porcelain tiles to wet areas, a large stained American oak sliding door and a black stained timber veneer kitchen with textured black stone bench tops." – Meraki Creative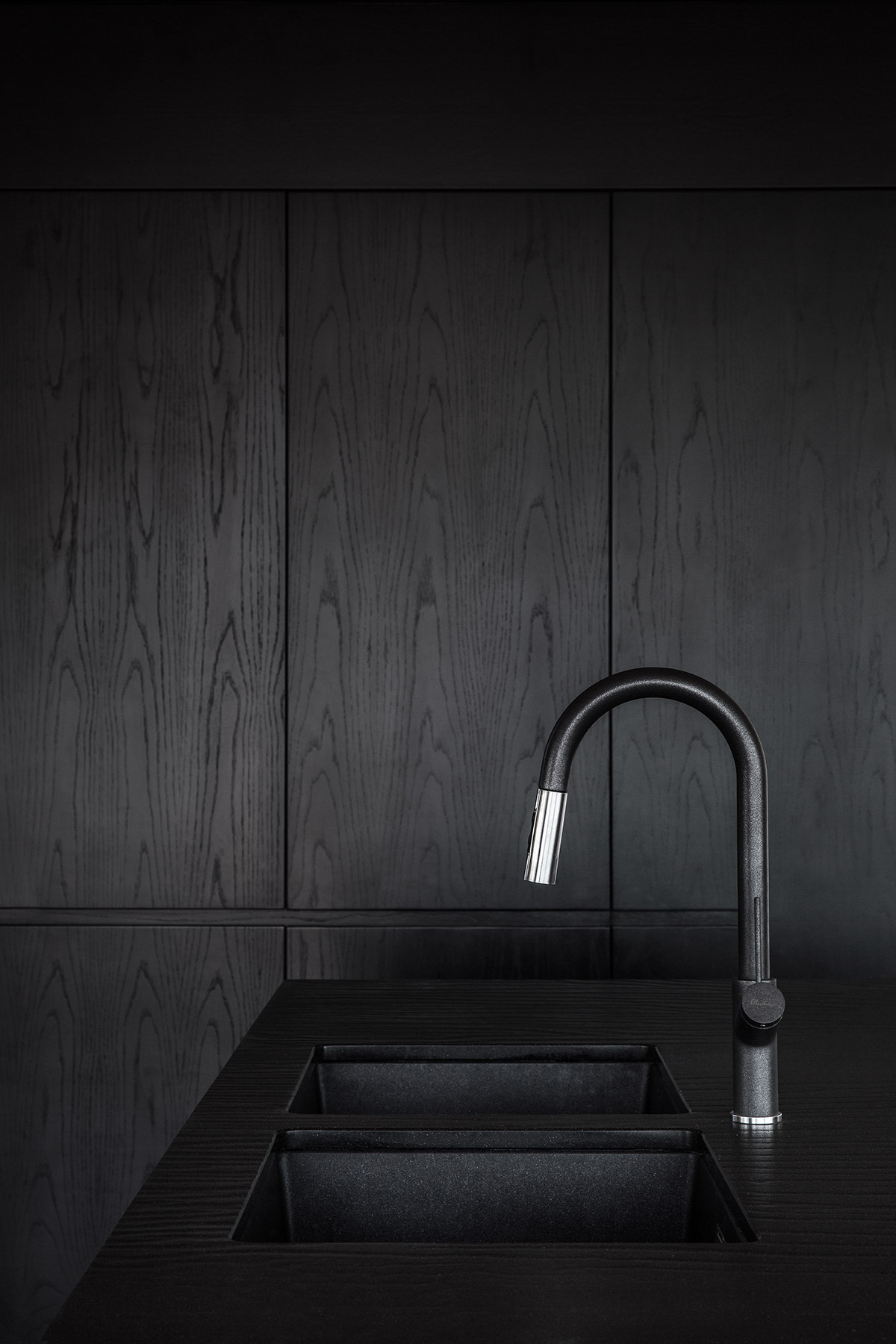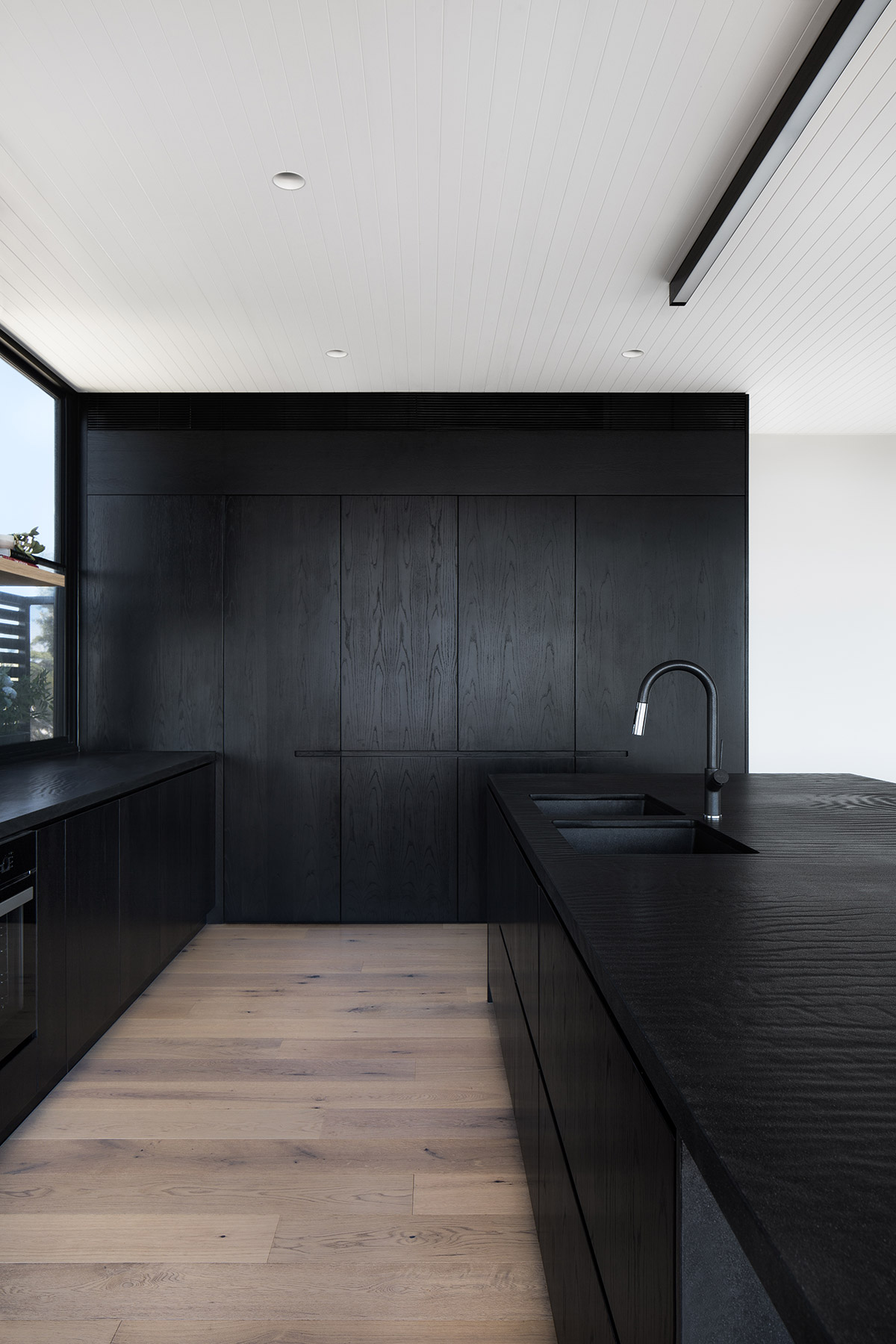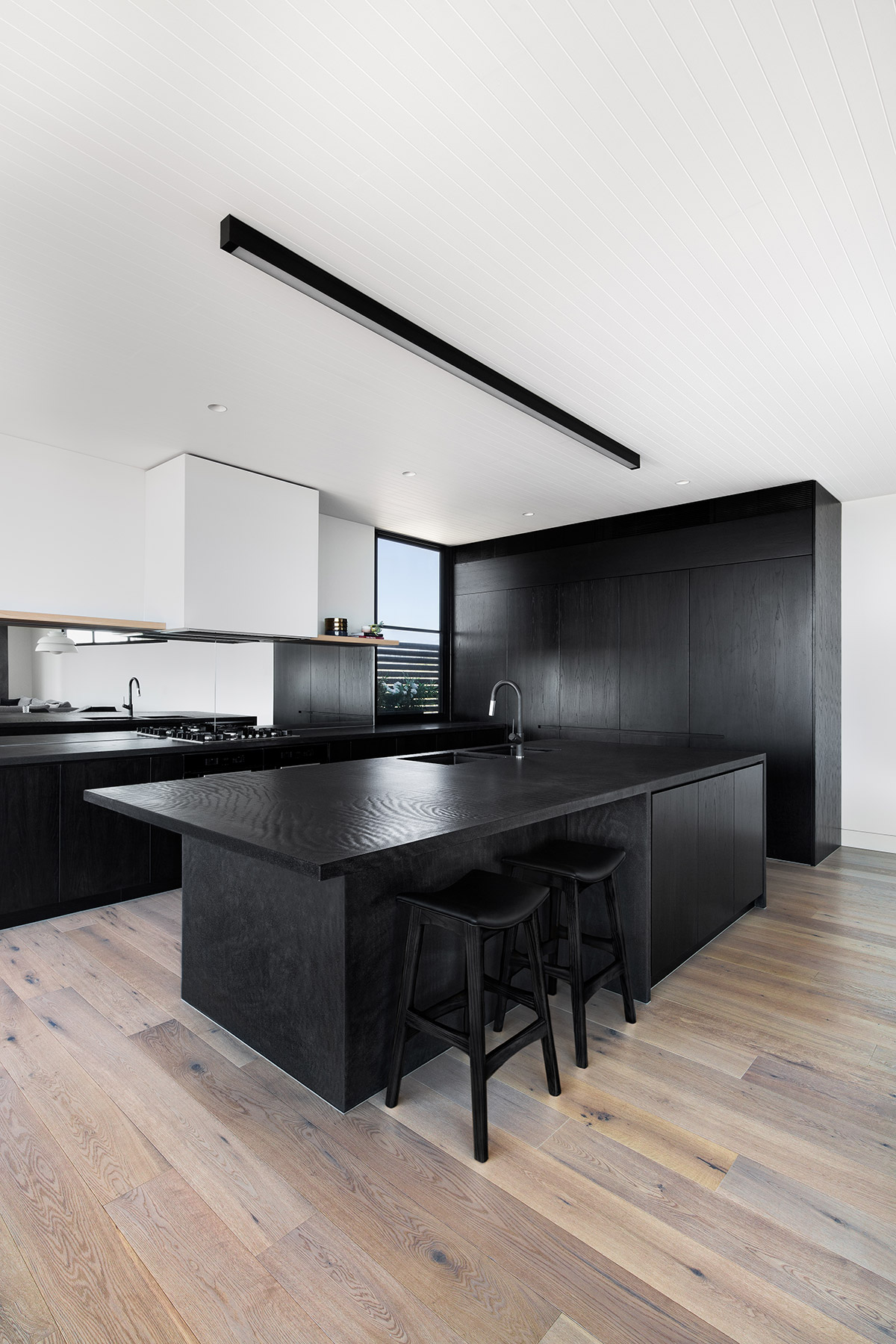 In the kitchen, black timber veneer joinery and black stone bench tops have been used to create texture and warmth. Utilised across the room are 'white smoked' American oak flooring and a white panelled ceiling to create a gleaming palette of tranquility and calmness that resonates across the area.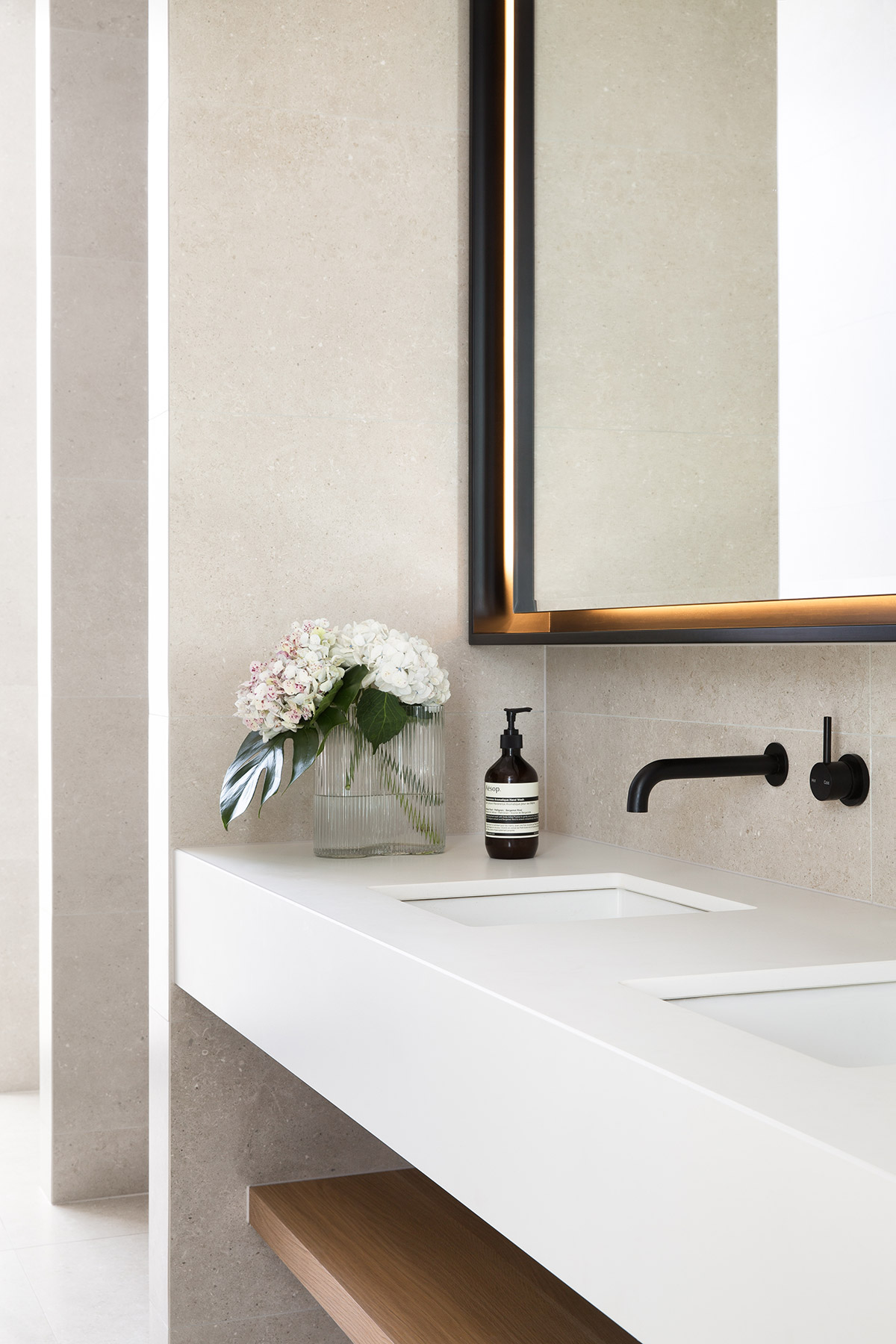 The bathrooms feature patterned grey walls and white fixtures. Trims of black and timber are also evident to create a contrasting aesthetic for the space.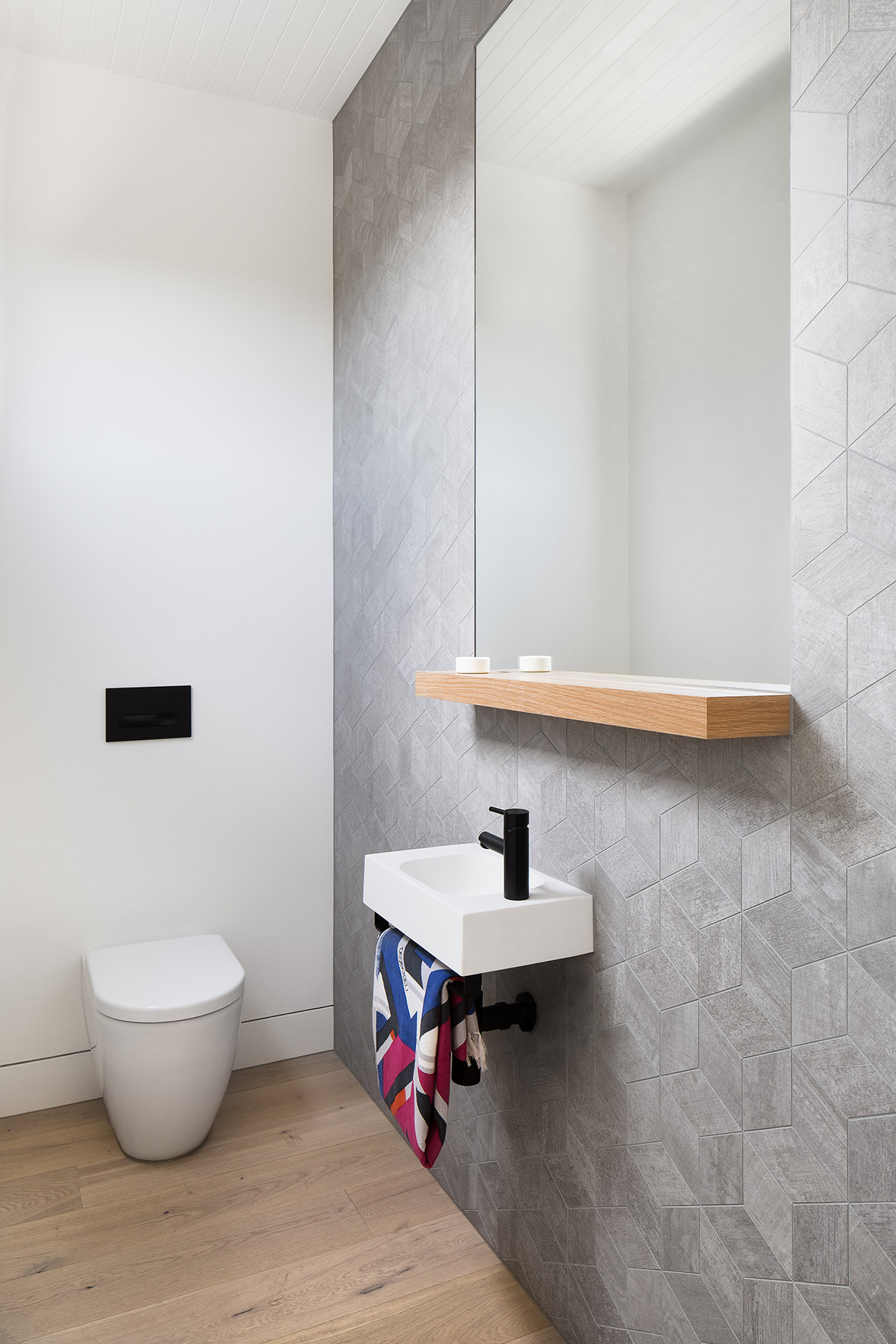 This stunning beach house was built with very high attention to detail, flexibility, team collaboration and coming together of functional design. The client absolutely loved all the elements put together into one high quality product and has been very happy with the design process and overall result. Two thumbs up for Meraki Creative!
House Project: Blairgowrie Beach House
Architect: Meraki Creative
Location: Blairgowrie, Australia
Type: New Homes
Photography: Emily Bartlett Photography