From warmer waters in Queensland comes Balter Brewing Company, a beer brand with the most amazing tinnie you have ever laid your eyes on. Stirling sailed down South with a couple of cases in hand to our Hunting Collective Event the other week and everyone in attendance was intrigued with his beer can – not yet seen in Victorian waters. "6 Aussies and a Yank walk into a bar and never come out… BALTER is born." That pretty much sums up this bunch of surfers who decided they liked beer enough to go and make their own. I'm seriously keen for summer and some better weather to enjoy a couple more of these beers in the Summer sun!
At Hunting for George we have a thing for rad brands, people who know how to tell a story and have an eye for design. We sat down and asked them the who, what, when, where and why it all came about.
WHO
My name's Stirling and I am a Co-Founder and the Brand Director of Balter Brewing Company on the Gold Coast. Our team is a group of mates who came together over a love of beer and decided to start a brewery. This is a picture of our capable but not so pretty heads.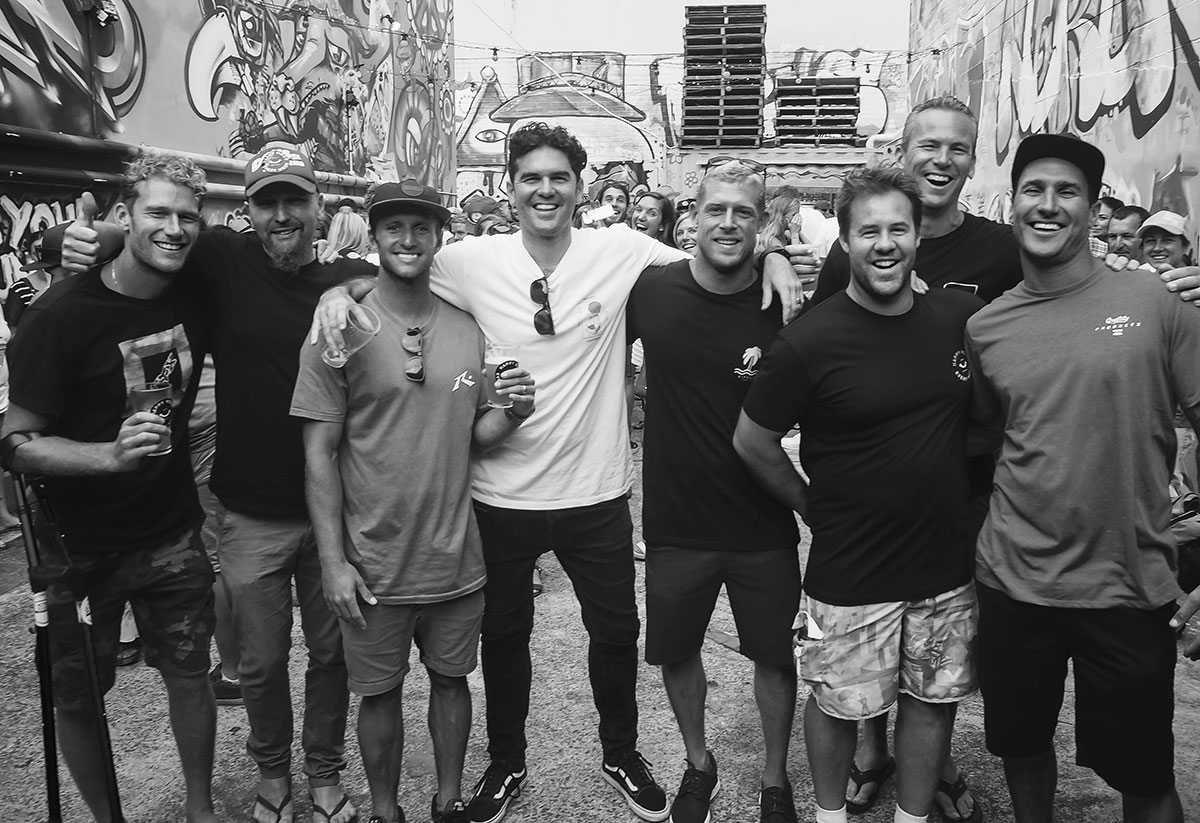 L-R Bede Durbidge, Scott Hargrave, Josh Kerr, Stirling Howland, Mick Fanning, Ant Macdonald, Sean Ronan, Joel Parkinson. Photo Trent Mitchell
WHAT
We make beer, glorious beer and we love what we do.
In regards to what makes us different? For us it's not as much about being different as it is just doing really good work. Scotty our Head Brewer has a saying "beer got us here" and it's so true.
We are fortunate to live and breathe something as rad as beer. It's such a wonderful product to not only make, but to also create experiences and build a brand around because really, in it's simplest form that's all a brand is… the experiences had with it. So whether it's the beer we create, our branding, an event we run, our social responsibility, how we treat our customers, the website functionality or whatever, we care about making those experiences great. It's super motivating for our team and drives us to show up every day and do better… and beer has given us the opportunity to do this.
WHEN
There's two moments. The first being "the idea".
It's December 8th, and four of our founders who happen to surf for a living were watching the sunset on the North Shore of Oahu with way too many beers under their belt and thought it would be great idea to start a brewery on the Gold Coast (a long time dream of one of our founders Bede Durbidge).
The second being "the reality". I think you can have the best idea in the world, create a top product, build beautiful packaging, say all the right things but it's not until you see it's impact on people that you get a sense of gravitas as to what you have or haven't achieved. For us it was the moment we saw somebody drink our beer for the first time. The sense of enjoyment we saw hit their faces was when the penny dropped. It's happened thousands of times since and it never get's old.
WHERE
We are based in Currumbin on the Gold Coast. It's a beautiful part of the world and definitely a good beer drinking climate.
We've been in the market for 5 months and we are sprinkled down the East Coast from the Sunshine Coast to Melbourne, in about 100 venues on tap and 100+ bottle shops.
WHY
We do what we do because we believe beer is good.
The good represents our commitment to the good beer movement and sharing that with the world. It reflects our attitudes towards our community, the environment, how we treat our customers and how we carry ourselves as people and a business. Good is a reminder that our work shouldn't just serve ourselves but it should be a catalyst to do good in the world. It's a simple philosophy but super rewarding and very fun and because beer is good we can do all of the above.
It also guides who we partner with. We are involved with a number of not for profits, social enterprise, galleries, photographers, and artists around Australia. Hunting For George are a melting pot of a lot of those things and we really dig everything Hunting for George do. So to be able to bring our beer into this space just seemed like a really cool fit and we're stoked to be a part of it… and how good is a nice clock! I'm in the market so I may even find what I'm looking for at this gig.