We love Capi, they always keep the sensible, sensible and the not so sensible hydrated. With high quality product and on point design aesthetic in everything they do.
At Hunting for George we have a thing for rad brands, people who know how to tell a story and have an eye for design. We sat down and asked them the who, what, when, where and why it all came about.
WHO
CAPI is a young and dynamic Australian mineral water and natural mixer brand. Founded in 2010, the company is made up of a small and intimate team, led by Pitzy Folk and Emma Evans.
Pitzy Folk, comes from a background of more than 40 years in hospitality, having worked as a restaurateur and hotelier before establishing the first of many ventures, Map Coffee. A foodie at heart, Pitzy is passionate about quality produce and supporting local businesses. Pitzy later established CAPI in response to the gap in the market for locally sourced mineral water and natural mixers. A serial entrepreneur, Pitzy has now invested in five different business ventures from food to retail, to technology and apps, he's done it all.
Emma Evans worked for 5 years at PwC where she obtained her CA, before moving to Map Coffee where she worked as the CFO. After 3 years Emma was heavily involved in the sale of Map Coffee to Tata Beverages. She moved on to be COO and CFO of CAPI Sparkling. Emma is currently CEO of the Folk Investment Group and manages a team of 25.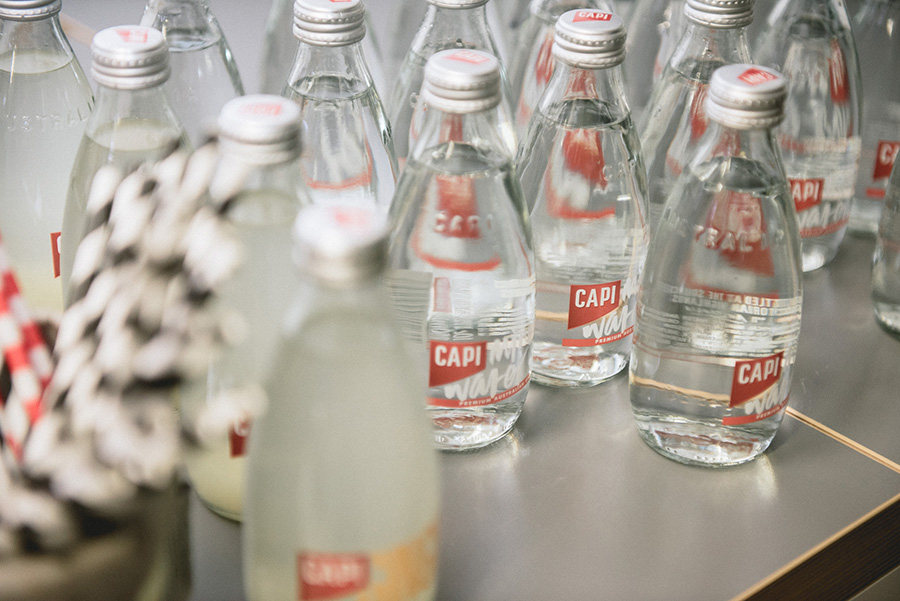 WHAT
With a business model built on the love of hospitality, food, and community, CAPI offers local and 100% natural mineral waters, fruit sodas and mixers. Founder, Pitzy, identified the need for a clean, naturally carbonated refreshments and related beverages using only premium ingredients and mineral water locally sourced.
CAPI offers beverages that are comprised of 100% botanical ingredients. The care and craft that goes into each beverage helps create outstanding finished drinks. CAPI's bold and iconic bottle makes the brand distinguishable and recognizable.
CAPI makes a difference by celebrating the simple pleasures in life. CAPI's mission is to be the drink of choice for all working Australian young professionals. You no longer need an occasion to enjoy the good stuff in life. CAPI aims to be that accessible luxury that will keep you refreshed and remind you it's the simple pleasures in life that should be enjoyed.
WHEN
CAPI was founded in 2010. The brand was formed as a response to a growing demand for authenticity and real flavour in the hospitality industry. As a brand that produces only the highest quality beverages with 100% ingredients, CAPI believes in the importance of never compromising.
With a gap in the market for natural and quality mixers, CAPI's mixers are designed to complement the flavour and complexity of high quality spirits and to deliver an overall, better finished drink. After all why would you taint a beautifully crafted spirit with a synthetic mixer?
WHERE
CAPI HQ is currently based in South Melbourne, Victoria. We bottle our water straight from the source in Kyneton.
CAPI is stocked in some of the best restaurants and cafés, high end hotels and bars, quality provedores and independent grocers in Australia. The Brand has been picked up by liquor retailers such as Dan Murphy's and BWS, and there has been a major pull-through from leading grocery chains where CAPI is sold at a premium price point through its unique value proposition. Since 2015 CAPI has launched a global expansion as a result of increasing demand from Asian export markets.
WHY
CAPI is brand that is built on passion and quality. CAPI empowers the quality-seeking young professional to embrace the attainable luxuries by providing the best quality and beautifully crafted refreshments that can be simply enjoyed with or without a spirit; allowing one to appreciate not just the ordinary but the extraordinary pleasures in life.
Passion for living a good life and enjoying great, quality drinks is part of that. We want people to know that we live and breathe this lifestyle and crafting the best drinks is why we get up in the morning. The value of quality: We only source the best botanical ingredients and never compromise on our craft. This means we produce drinks that are of the best quality, worthy of drinking by themselves or mixing with any premium spirit. Producing our drinks locally in Victoria, Australia and bottling our world class Mineral water at the source is something that we feel our customers appreciate.
By associating with Hunting for George, CAPI aims to drive an aspirational connection and a level of credibility, increasing brand equity and demand. We want people to associate CAPI with enjoyable and aspirational experiences. We believe Hunting for George aligns with this level of aspiration and is the perfect brand to collaborate with. Further, we want to maintain our relationship Hunting for George and continue to grow alongside another unique and iconic Melbourne brand.