Creating a new style for your home can be daunting. Here are our Top 10 Tips on how best to approach your new project…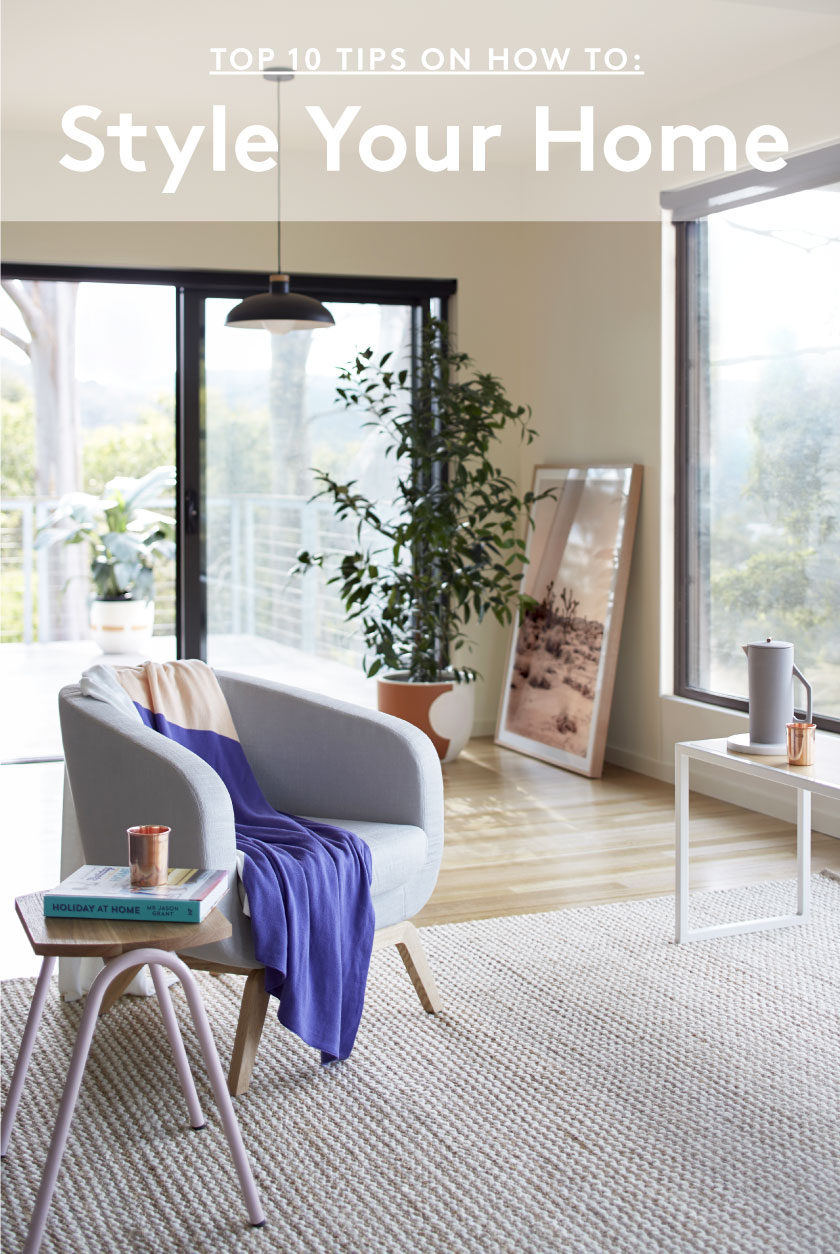 1. LOOK DOWN
Your floor will always dictate the mood of your space. Whether you have timber, concrete, carpet or tiles… Take some time to consider if your current flooring is right for you. If you'd like to change the look of your floor but don't have the budget or you're renting, then a good option is to cover your existing surface with a large floor rug. Otherwise invest in larger furniture items or artwork to bring the attention away from the floor.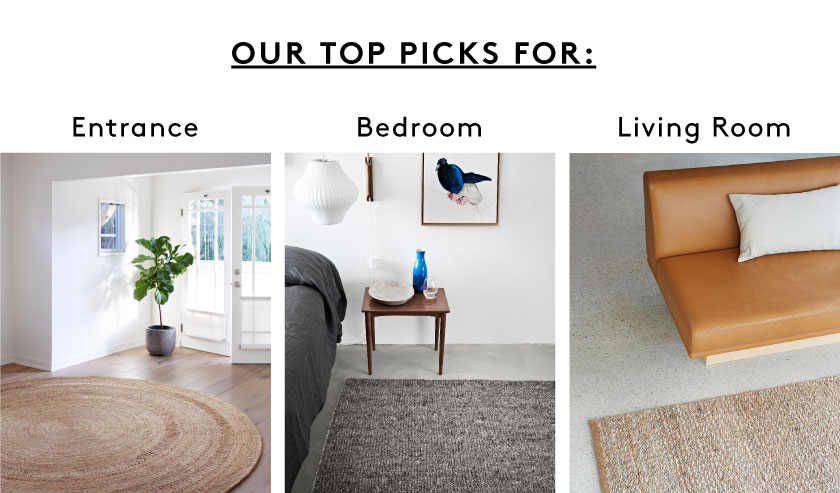 For an entrance way we recommend the warm and inviting Petunia Weave. It is a charming and engaging mood changer – perfect for an entry way to brighten up your day and excite your guests!
For a bedroom go for a softer style rug. We love the Sierra Weave as it is super soft and is a great option for low traffic areas and to comfort bare feet.
For the living room you need a rug that is hard wearing. We opt for the Kalahari Weave that is tough but still soft. It's texture also disguises foot traffic marks well – so it's perfect for high traffic areas.
2. BE A VISITOR
Go outside, talk a walk around the block and enter your home again as if you were a visitor. You'll be amazed at how many different things you will notice when you look at your home with fresh eyes!
3. MEASURE UP
Before you do anything… make sure you have a tape measure!!!! Simple, but vital. You'd be amazed how many people don't check sizes before buying. Be sure to measure up your space beforehand so you can visualise how big the items will be in your home. This is most important when buying rugs, furniture and artwork.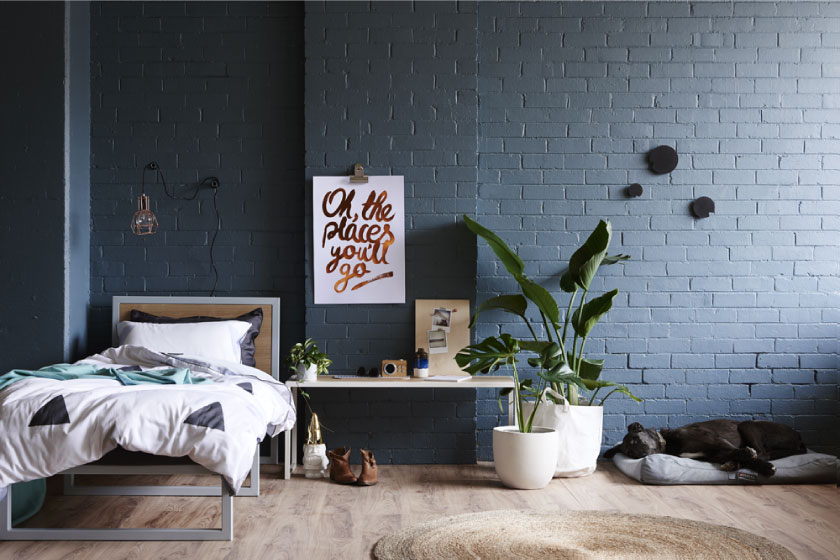 4. FRESH PAINT
Your walls and ceiling dominate the room as much as the floor. If they are looking a little tired or you're just sick of the same old colour – then paint a feature wall to create a new focal point. Be sure to get sample pots made up and try out a test area first to make sure you are happy with the colour beforehand. Remember, colour creates strong emotional responses. For example:
Red is exiting, dynamic and energetic. You often see red used in restaurants and bars to attract attention, but if the right hue is chosen it can be a powerful colour for your home. Although it's not for the faint of heart!
Yellow, people often associate yellow with happiness and vitality – however there are many different shades of yellow. You can tone it down and go for a softer hue. We prefer using pops of yellow in our accessories more than the walls.
Blue is cool, cleansing and probably the most appealing (and safest) colour. We have blue feature walls in our studio space and it creates a relaxed and calm vibe for our busy workers!
Purple is a regal colour that often creates a luxurious feeling within a home and can look great in an office or library.
Neutrals – you don't have to go crazy with colour to get a new look. Neutrals are great to add new life to a room without invoking too much of an emotional reaction. Instead you can let your furniture, artwork and accessories do the talking!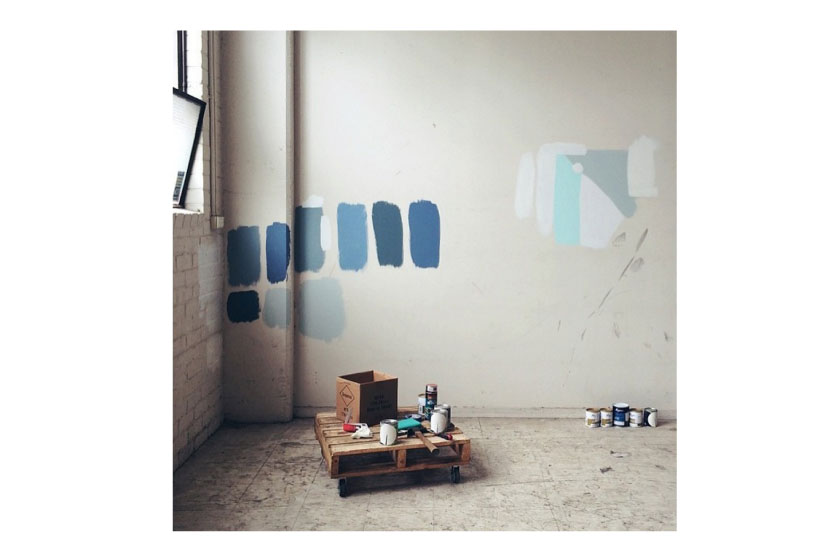 HOT TIP: Paint test swatches on your desired wall area before you decide on the final colour. That way you can see how the paint will look in your own home (as colours can sometimes look very different depending on the available light). Our favourite is Haymes Paint. We chose Florida Everglade for the brick wall above.
5. BE PRACTICAL
Sorry to get all boring and sensible on you, be this is an important one. We'd probably all love a beautiful white linen sofa but if you have 3 small children, or a scratching cat or your beverage of choice is always red wine… then you may want to think again. Think practically when buying new items for your home. Ask yourself: How will it be used? Can it be cleaned? And can I take care of it? 
6. DON'T BE SWAYED
Don't follow the trends. Trust your instincts. Your home is for you to enjoy, so fill it with things that make you happy! Don't be too concerned about 'on trend' items… best rule of thumb: If you don't love it, then don't buy it.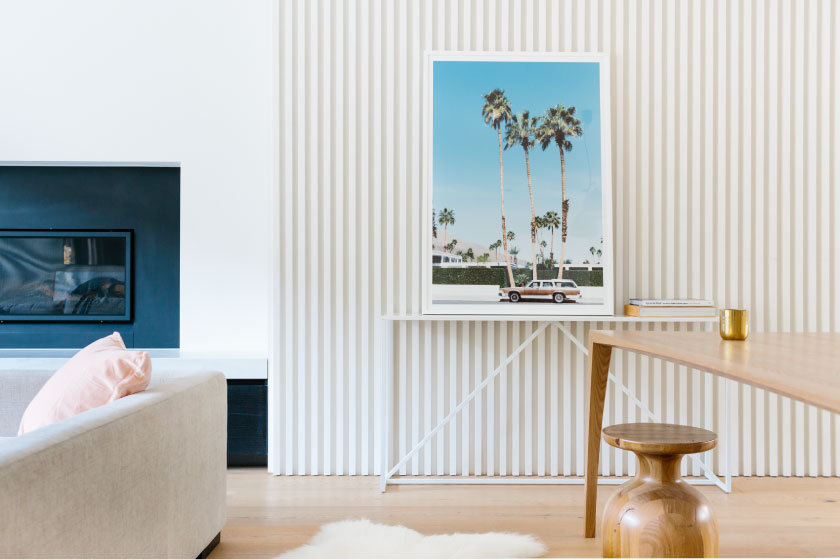 7. DRESS YOUR WALLS
Artwork is a great option if you don't want to paint the walls or if you are wanting to create a strong focal point in the room. Our advice (if you have the space)… go BIG!! Sometimes all you need is a large striking artwork to complete the space.
8. SEEK ADVICE
Don't be afraid to ask for help. There's a lot of products out there which can make it stressful when trying to make a decision. When it comes to buying furniture, rugs or artwork ask the retailer for help. They will generally have more knowledge of the product and will be able to help you make an informed decision.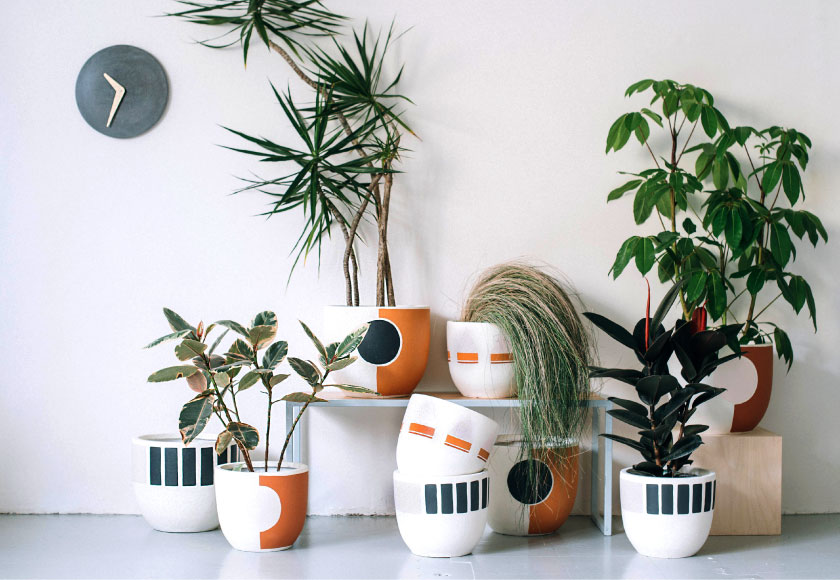 9. GO GREEN
If in doubt, buy a plant. Seriously. Indoor plants can totally transform a room. Plus they will never go out of style and you can take them with you when you move. Just be sure to check what conditions your favourite plant will need to live a healthy happy life. Our favourite place to visit is Glasshaus Nursery, they can always help you find the best plant for your space. 
10. SLEEP ON IT
There's no need to rush!! You can build up a room over time. Start with the bigger furniture pieces and then add the smaller details as you go. You will start to get a better idea for what you need for each room after you've spent more time in them. So chill out, enjoy your home and have some fun.
Hot tip: We suggest collecting samples if you can. Put them somewhere visible so that you get to see them every day. If you are still loving them after a month then go for it!!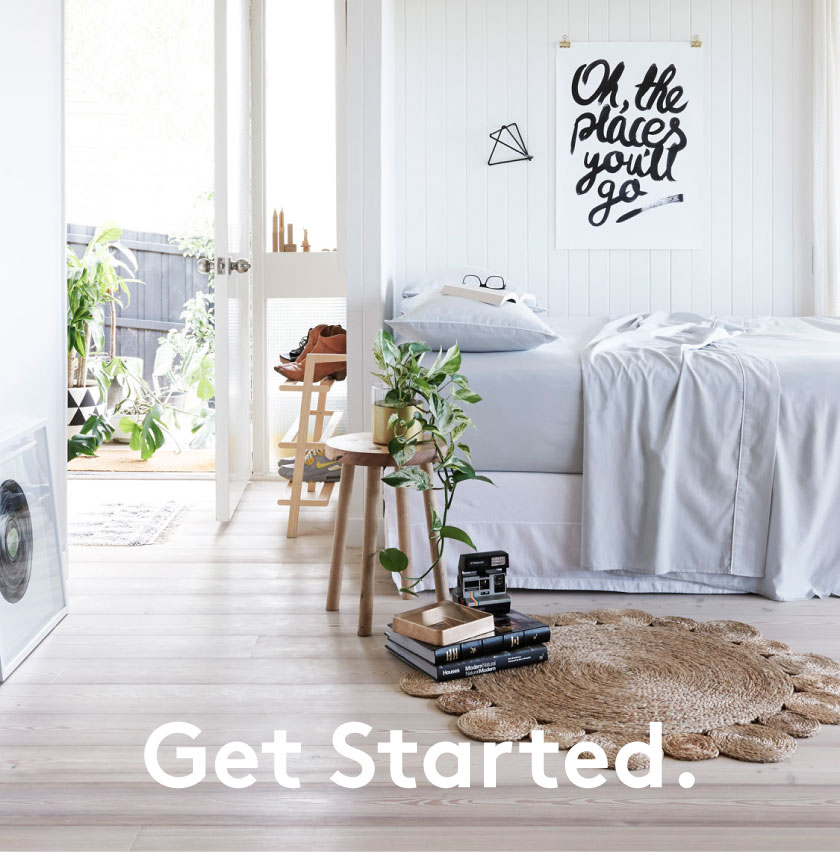 And the most important thing to remember is that your home should be your haven. Don't let it stress you out, styling is meant to be fun! Fill your home with things that you love. If you make it uniquely yours then we promise that you can't go wrong!