Most of us think of our bedrooms as retreats we get to crawl into at the end of a long, hectic day. As such, creating a space that's warm, welcoming and dream-inducing is paramount to the overall aesthetic of a bedroom. Finding the right accents, whether art prints or abstract hangings, can really help emphasise that calm energy.
Selecting art prints in the right sizes, styles and frames can be a bit of a challenge for the untrained eye. So, with the release of our latest collection of art prints, the 'Collector' series, we're here to bring you a few tricks of the trade that'll keep your bedroom walls feeling calm and cosy.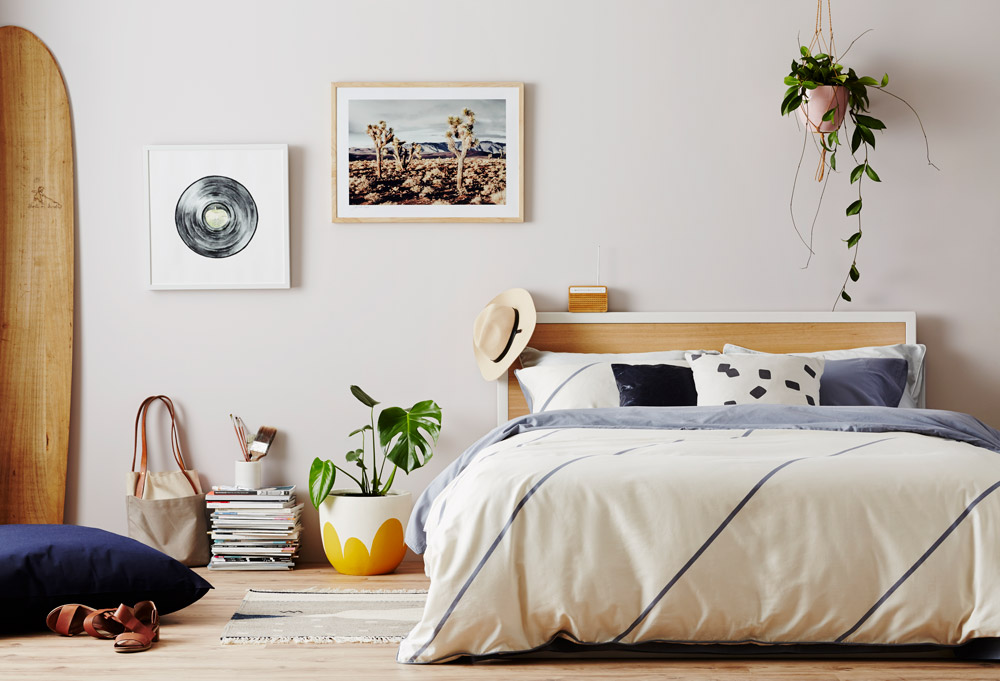 Understanding Scale
The first thing you'll want to do when selecting prints for your bedroom wall is determine the best size or sizes. If you're hanging framed prints over a bed or leaning them by the side of the bed, bigger is almost always better. Small and mid-size prints tend to need buddies to keep them from looking diminutive, so you might consider going with a grouping of two or three frames if you can't find something large enough to make an impact.
Styling Tip: If you're a visual type-A personality (which we can totally relate to), it might be helpful to break out some masking tape, newspaper and a tape measure. Mapping out the prints on your wall can help you visualise how they'll fit into the space without committing to size and placement until you get it right.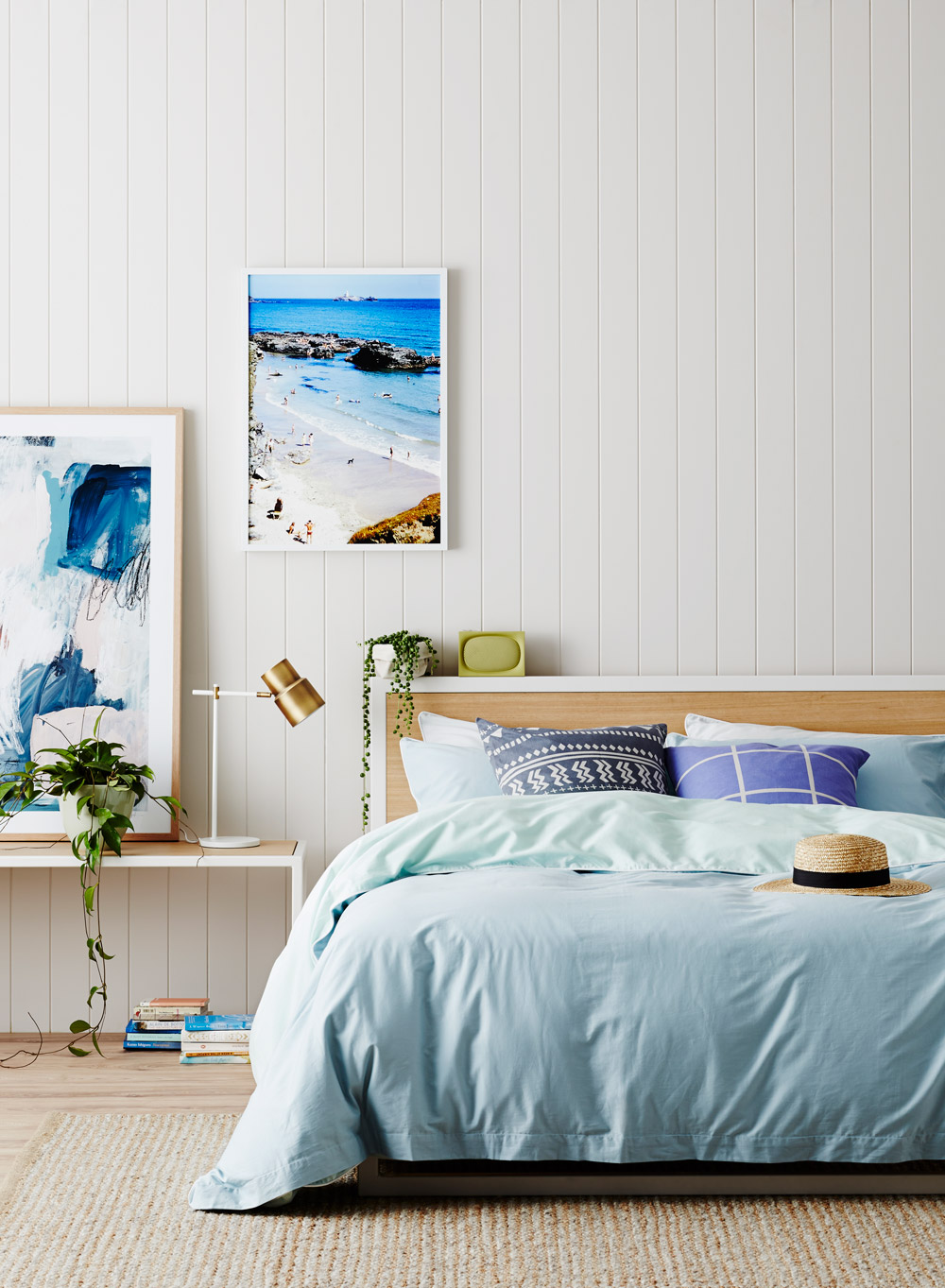 Mainting A Cohesive Colour Palette 
Take a holistic approach to planning the look of your bedroom. You want the space to have a bedroom-specific serenity, but that doesn't mean you have to steer away from colour art prints completely. Take all the colours that already exist in the room into consideration and select prints that accentuate, but don't necessarily match, those colours.
If you have a lot of neutrals in the room, a framed photograph like the Spanish Villa Art Print or a colourful abstract like the Inlet Art Print both add a gorgeous pop of colour. If your bedroom already has a lot of colour going on, you might stick with a print that has more white space, like the Gathering 1 Art Print or a neutral photo like the Palm Springs Art Print.
Styling Tip: With their soothing quality, water and sky imagery are great for bedrooms. Typographic art prints are always good for little nooks and reading corners, or hanging over a bedside table.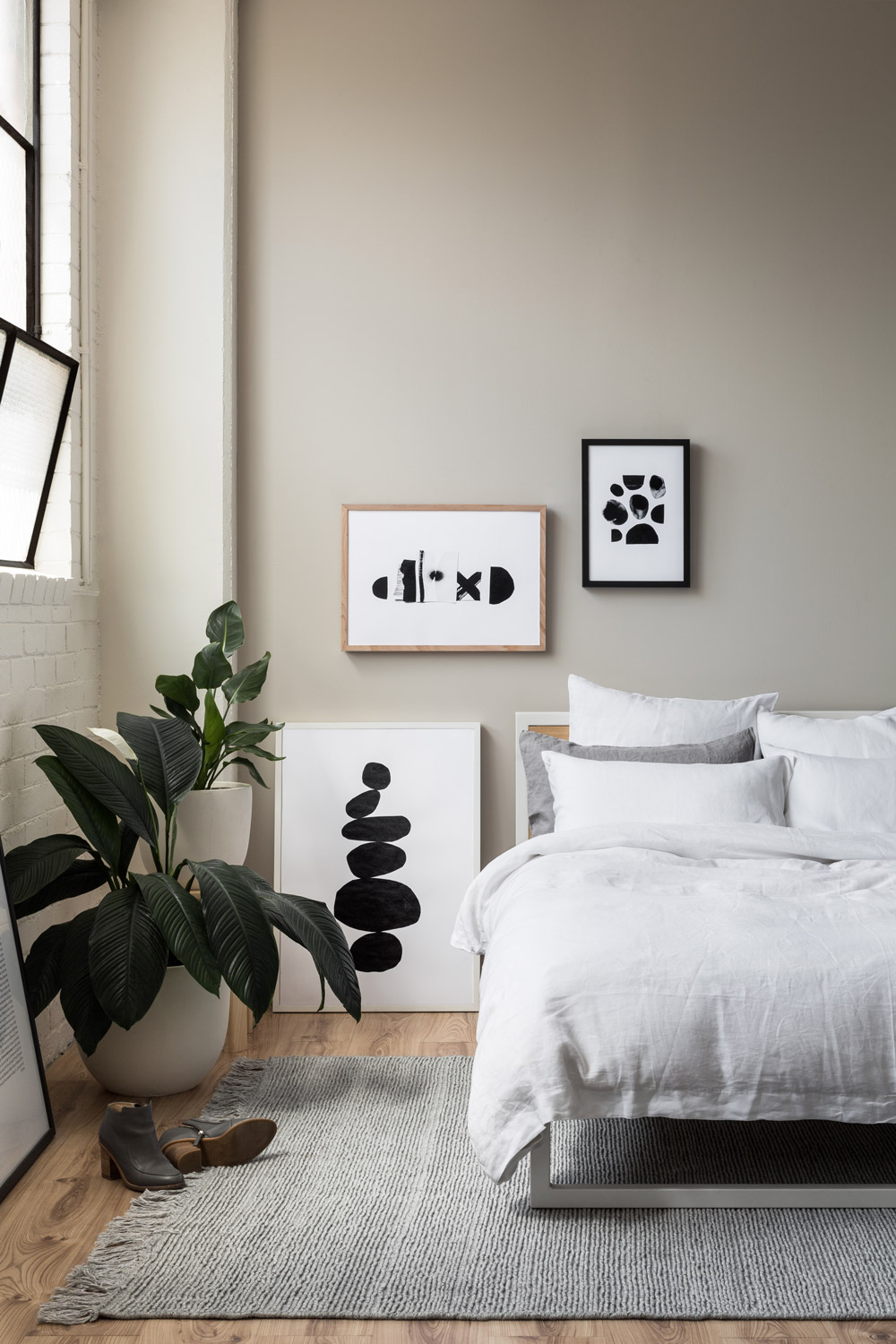 Varying Heights and Frames
Rather than focusing on filling the space just above the headboard, take the whole wall into consideration. You probably have a headboard, bedside tables, plants, and a lamp or sconce to factor into your wall-hanging strategy. While it may be tempting to throw just one print as a central focus right above the bed, you can create a more eclectic feel with a print wall.
Two or three different kinds is ideal. You might go bold with an A1 size photographic print in landscape orientation and complement that with an A2 size abstract print in portrait orientation and throw a small square typographic print over your bedside table. Avoid clumping similar types of prints together, spread the love!  The idea is to have fun with decorating your bedroom walls and bring a little personality into the space.
Frames don't have to be set in a straight line and they don't all have to match. You can play with different heights, orientations, frame colours, and sizes. The general rule of thumb is at least an 8cm gap between each frame. But hey, nobody's perfect and neither should your gaps be, it gives the wall character!
Styling Tip: Hanging artwork at the right height is key. As a frame of reference, most galleries recommend hanging art at eye level for a person of average height. "But there's a bed in the way," you say. The best way to approach hanging over furniture is to have the bottom edge of the frame about a forearm's distance or less from the piece of furniture, or in this case, the top edge of the headboard.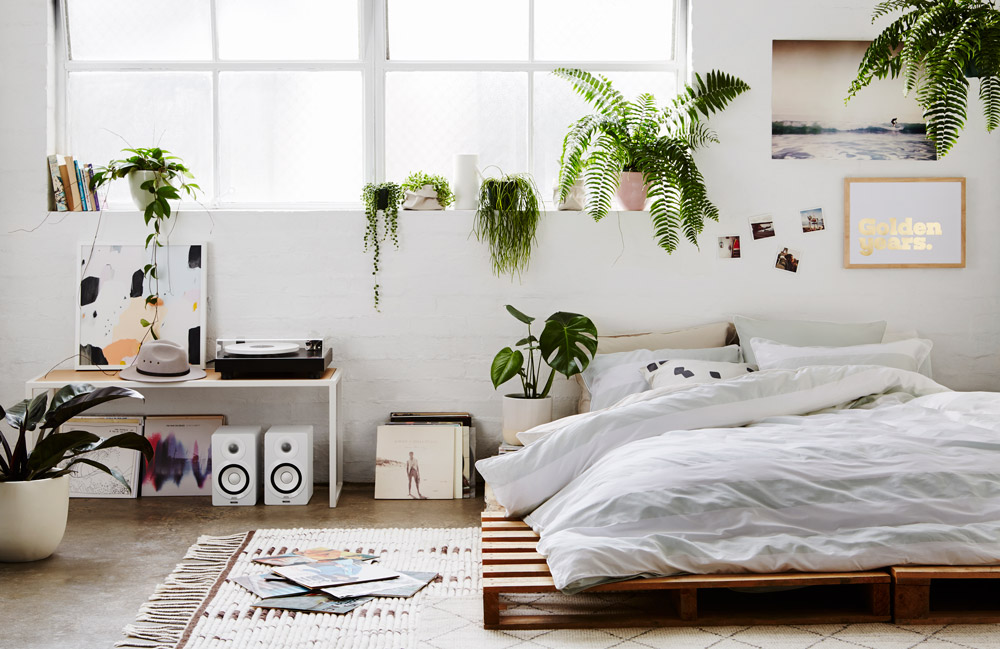 Ask A Stylist's Advice
When in doubt, bring in another set of eyes to help. Alyssa, our shop guru, is available Fridays and Saturdays in the Hunting for George Showroom. With her background in interior styling, she's our go-to for queries about size, colour and style. Feel free to bring in photos of your space so she can talk you through different prints that might work and small adjustments you can make to create a bedroom that's calming and cozy.
If you've nailed a print wall in your own private paradise, we'd love to see it! Find out how you could win a $250 voucher to spend at Hunting for George just by styling your space here.