Today we are sharing the complete DIY transformation of our Master Bedroom. If you've been following our home renovation series, then you know we've nearly finished renovating all the internal rooms of our Edwardian home. We saved our Master Bedroom to last. This room was one of our biggest challenges to date. We changed the layout, added some serious storage, restored the fireplace AND gave it a brand new look. So get comfy and grab the popcorn because our Master Bedroom Makeover is here! We hope you love it as much as we do!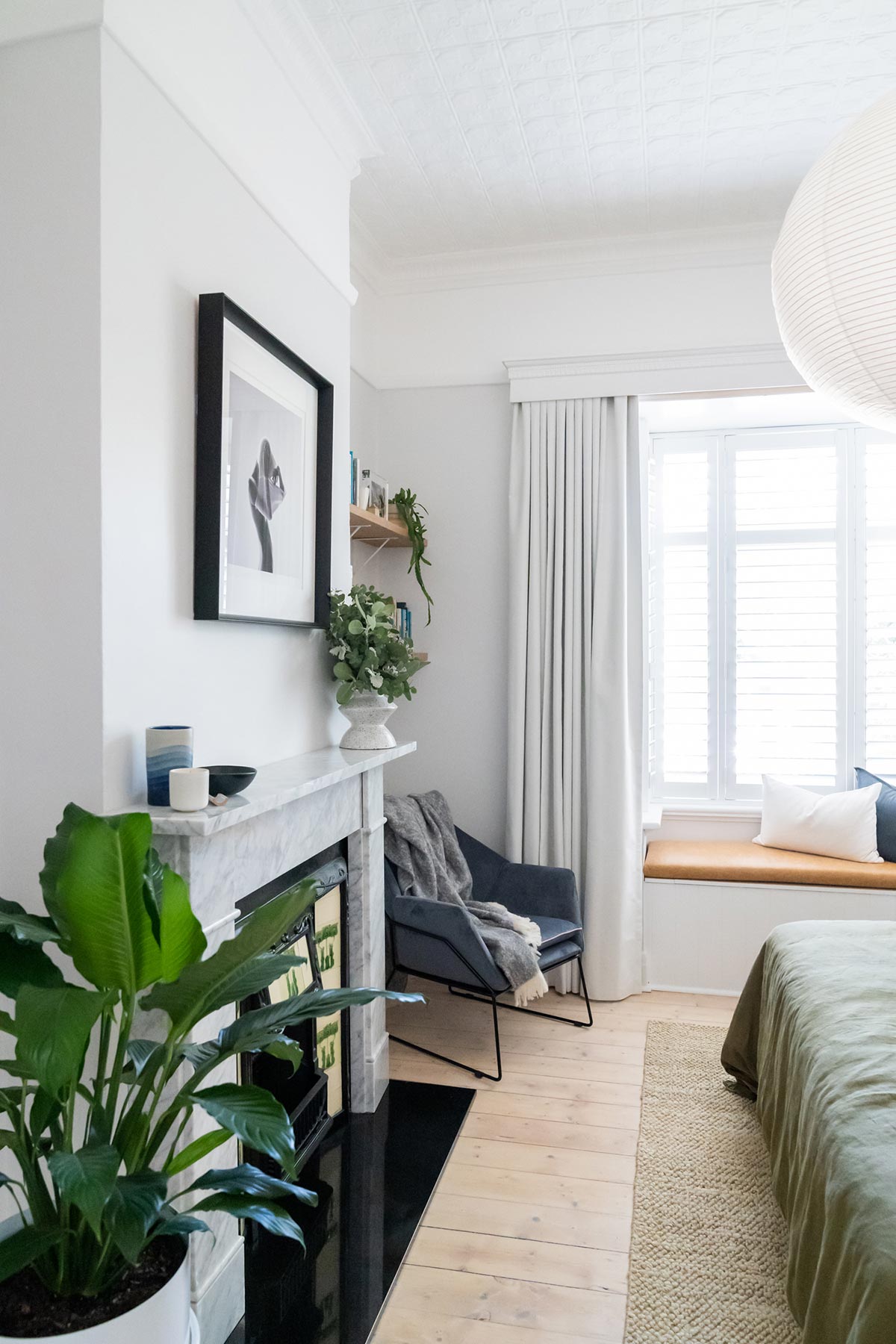 Our Master Bedroom was what I first fell in love with when we saw this home. It has some beautiful features (hello bay window!) but not a lot of efficient storage. So for this makeover I wanted to give it a cosmetic facelift whilst also changing the configuration slightly to introduce more storage. We decided to introduce a walk in robe to utilise the extra floor space of the room. We customised our own storage solution with Multistore after checking out a few ideas on their inspiration page. Designing this space was a lot of fun and being able to customise allowed us to create the perfect walk-in robe for our needs. Multistore do also offer standard storage solutions that you can pick up from Bunnings these are easy to mix and match to create your own look for less. When our cabinetry arrived, we fastened them to an internal wall that we cladded with Easycraft EasyVJ panelling from Bunnings for a consistent look to the rest of our home.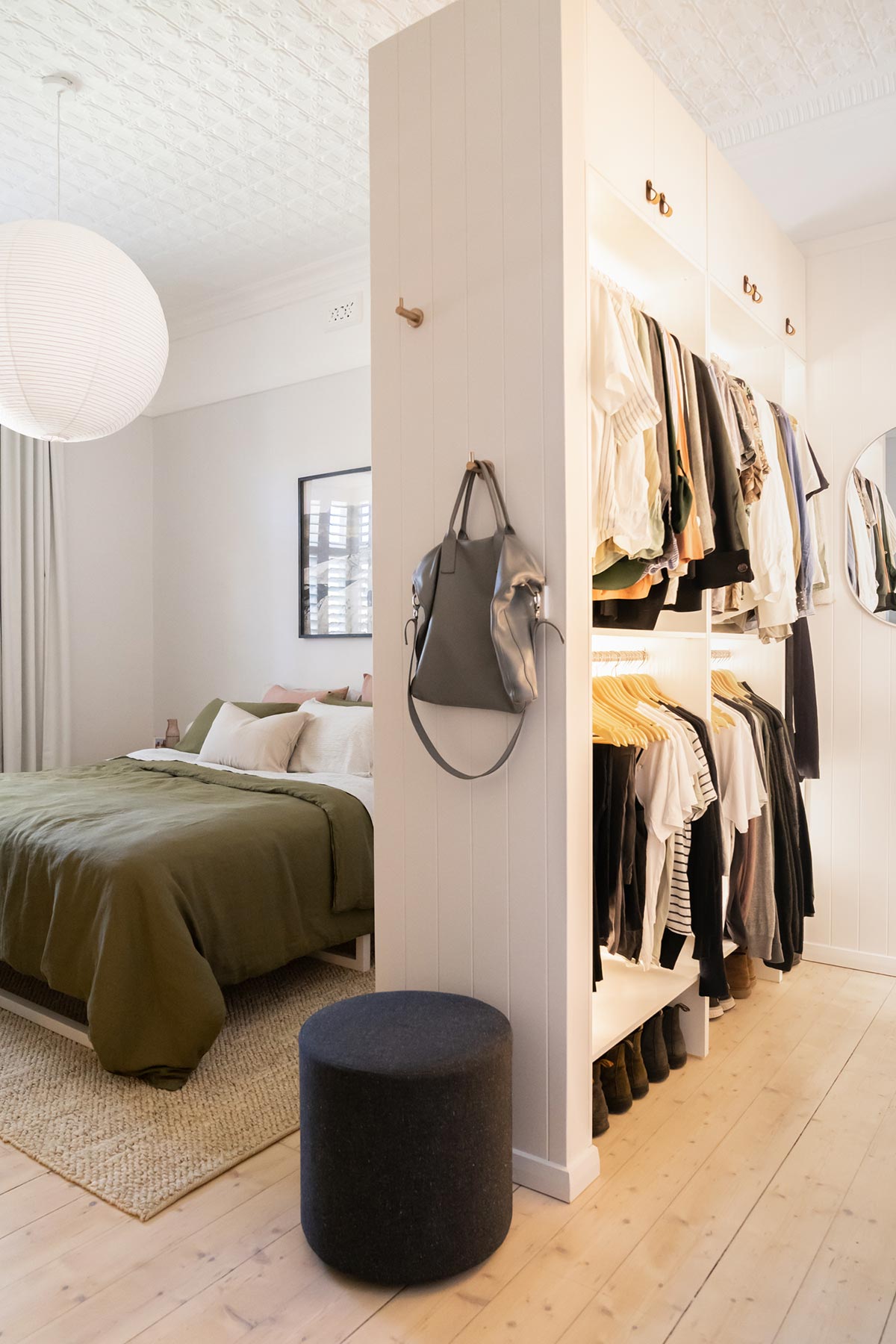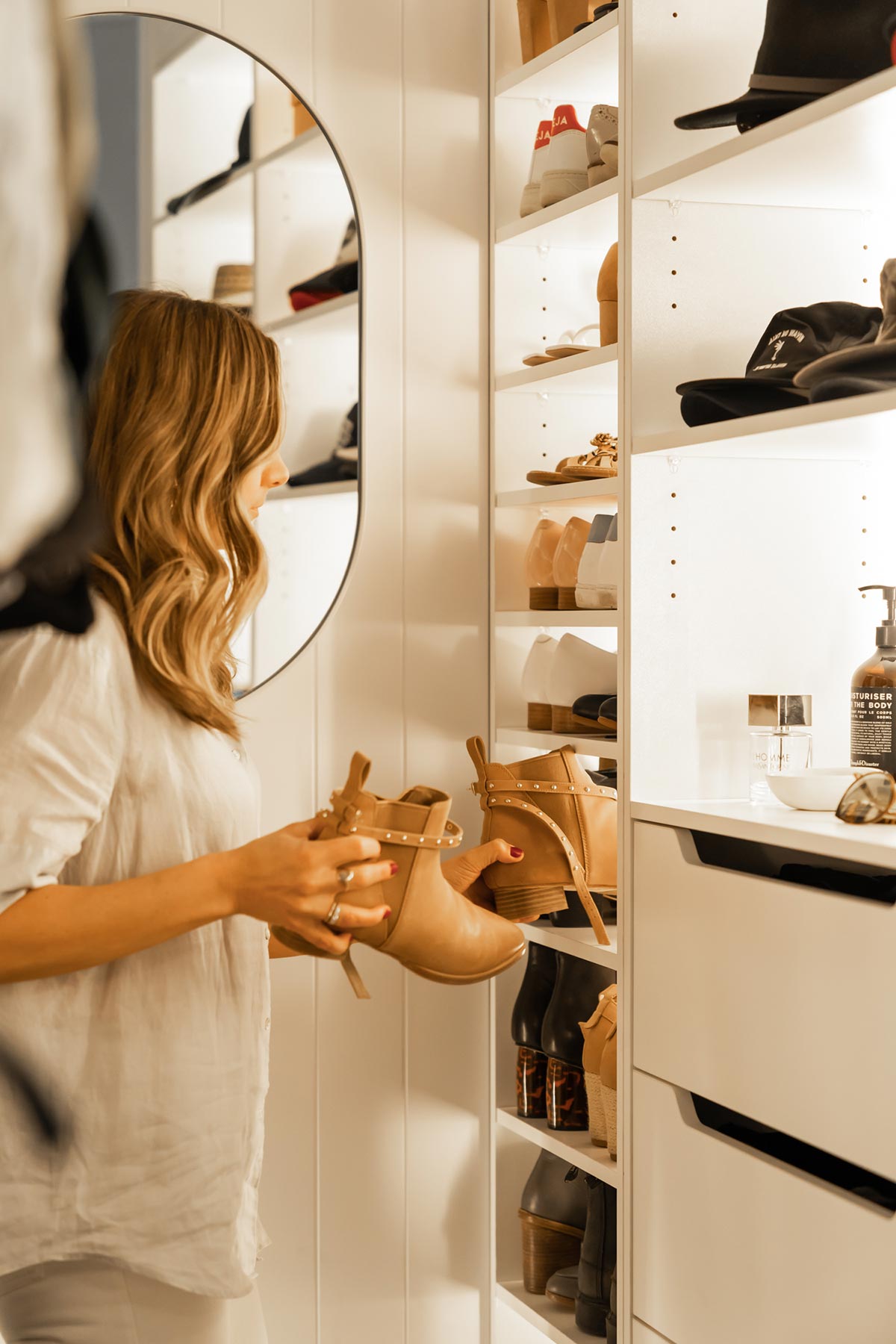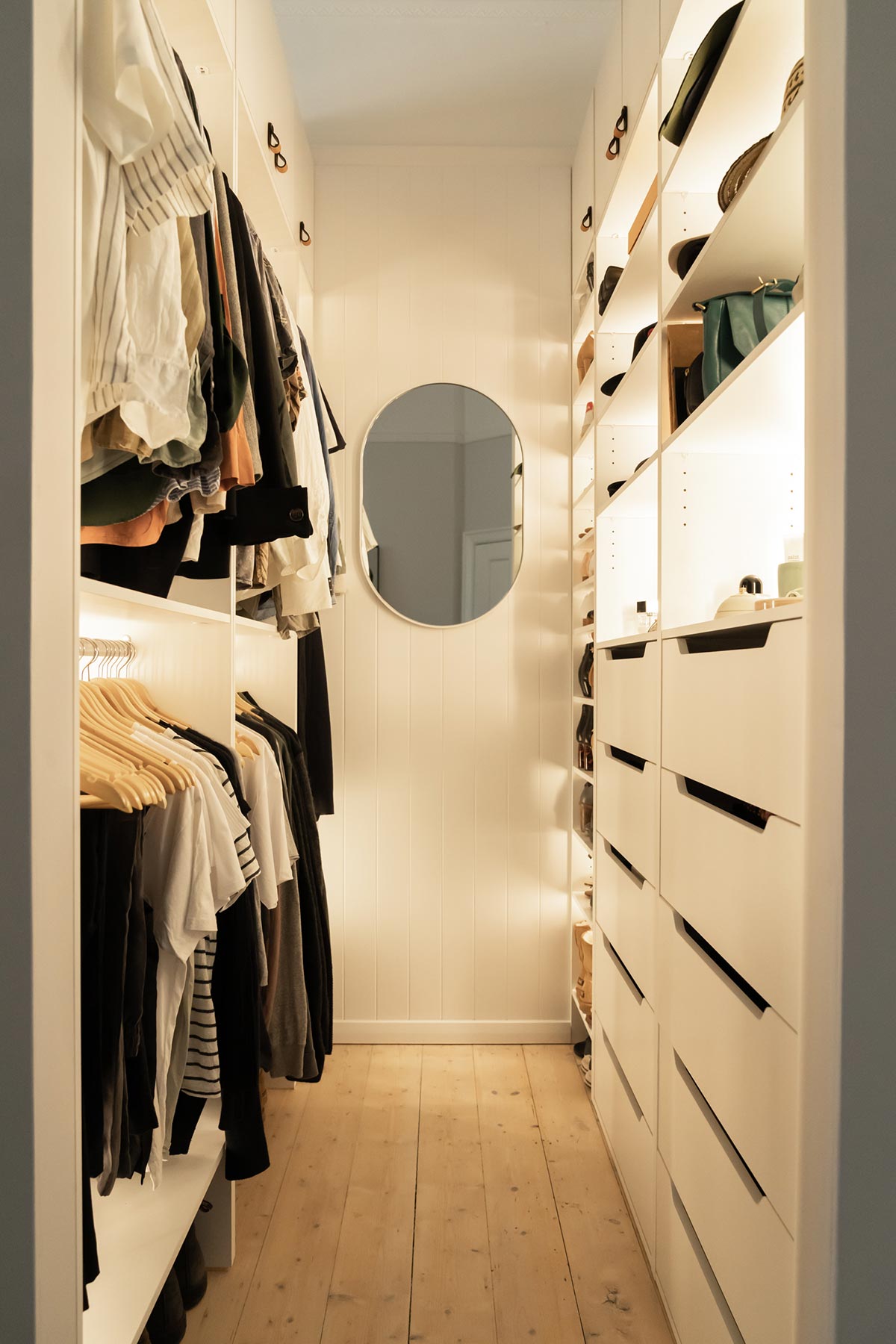 The walls were painted with Dieskau ¼ strength Dulux Wash & Wear and Lexicon Quarter Dulux Aquanamel from Bunnings. The Baltic Pine floorboards we sanded and then finished with 3 coats of Feast and Watson Liming White Floor Finish to match the rest of the flooring in the home.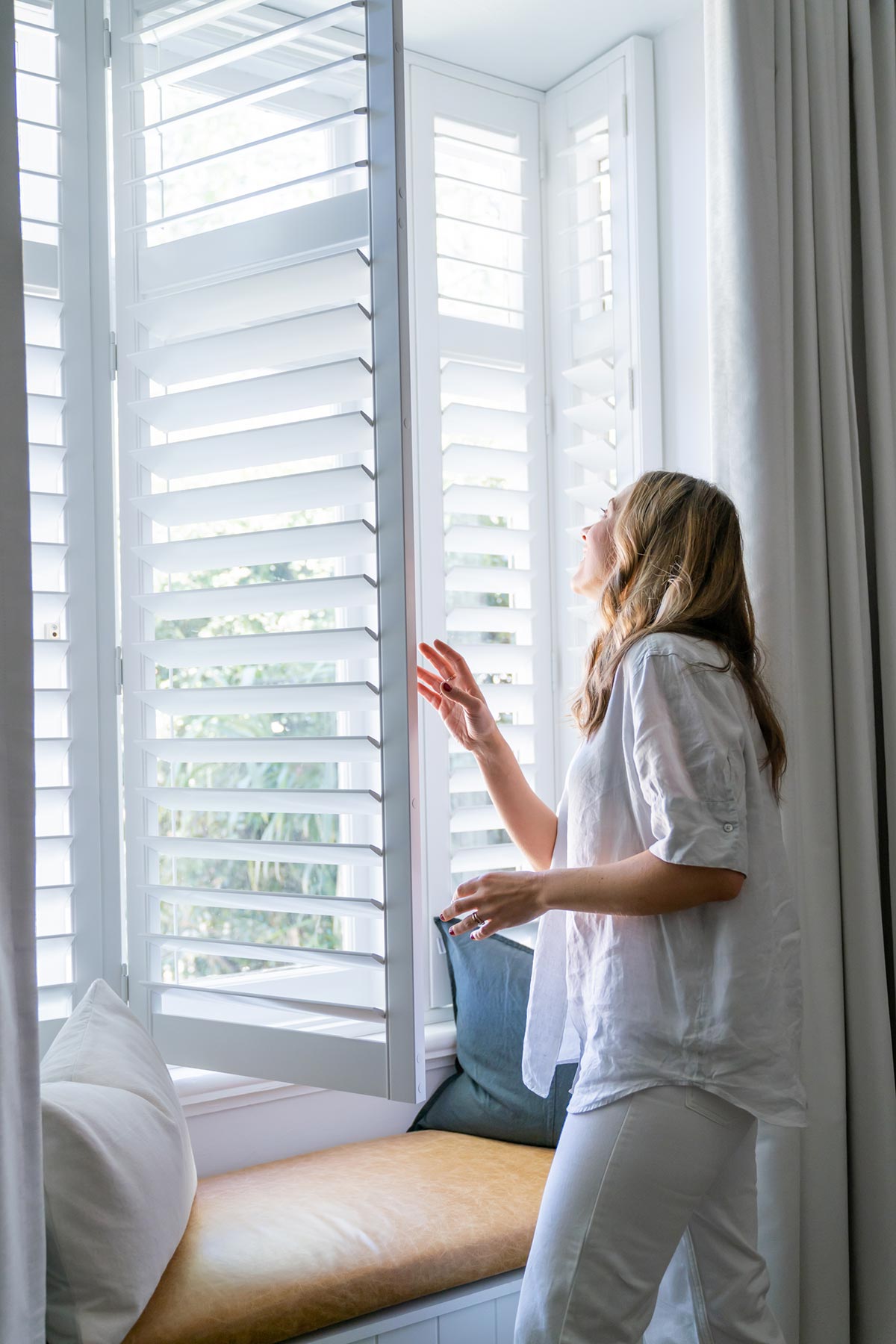 Whilst I have installed sheer curtains in other areas of the home I wanted to bring in blockout curtains in our Master Bedroom. The main reason for this was privacy but their weight also helped to create a more dramatic, sophisticated look. In the end the bay window was given the complete royal treatment with PolyLux plantation shutters and blockout curtains from DIY Blinds.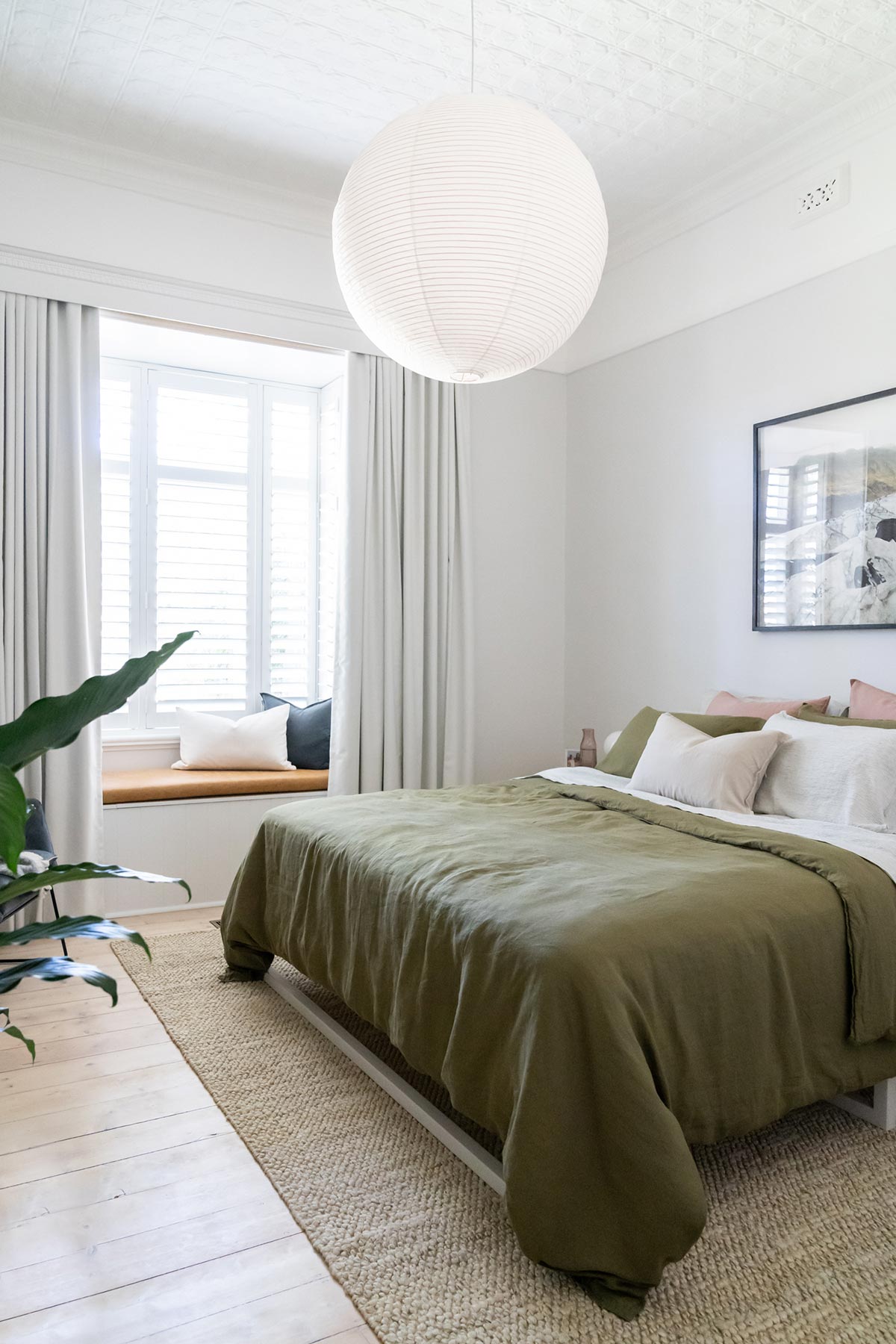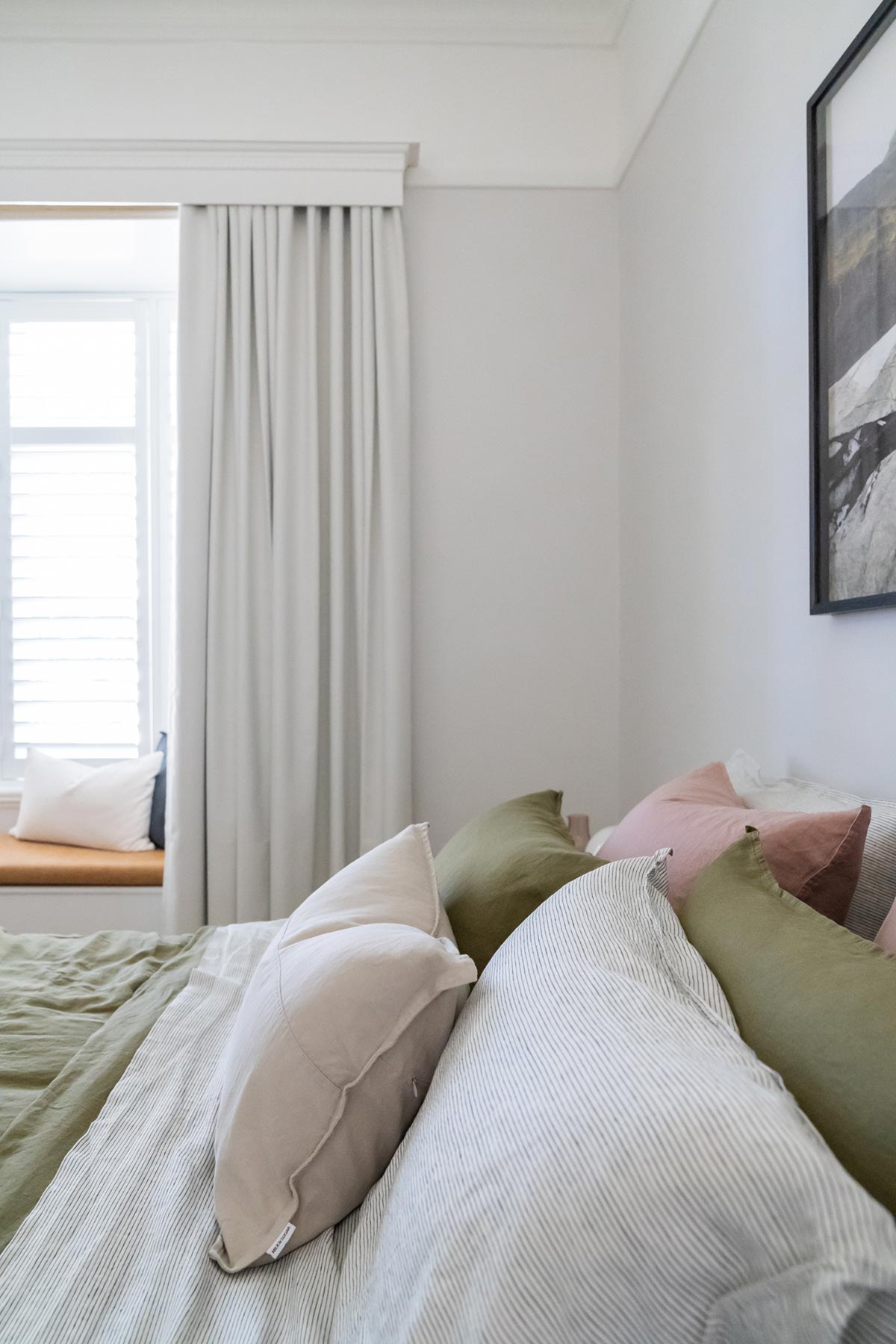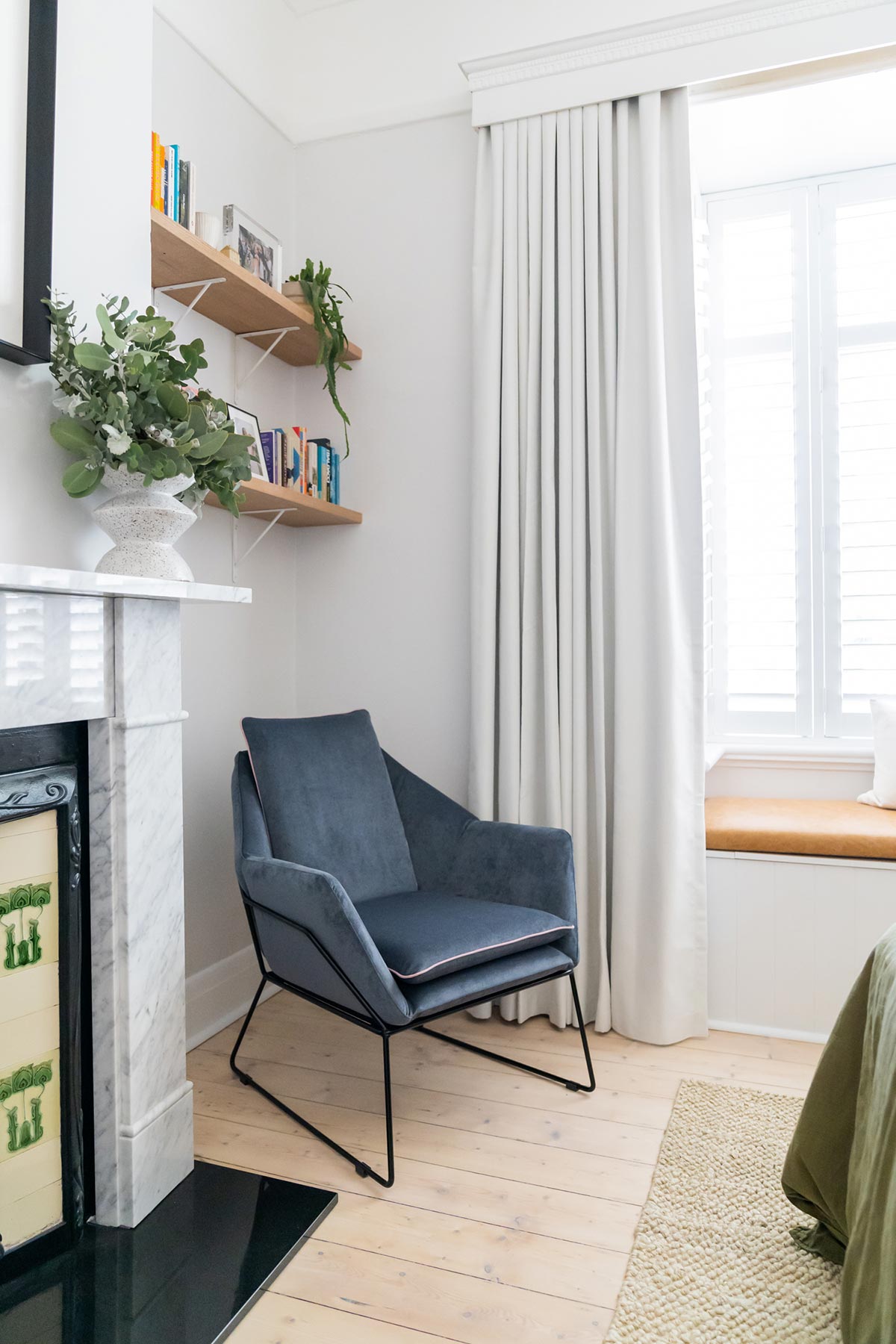 The cushion in the bay window needed some attention, I needed a custom solution here and opted for Harbro furniture to create a tan leather cushion to fit perfectly. I wanted to bring in additional seating with the Bon chair from Baseline that I had upholstered in Galaxy 'Shadow' with Camira Era 'Date' for the piping with a black satin powder coated frame.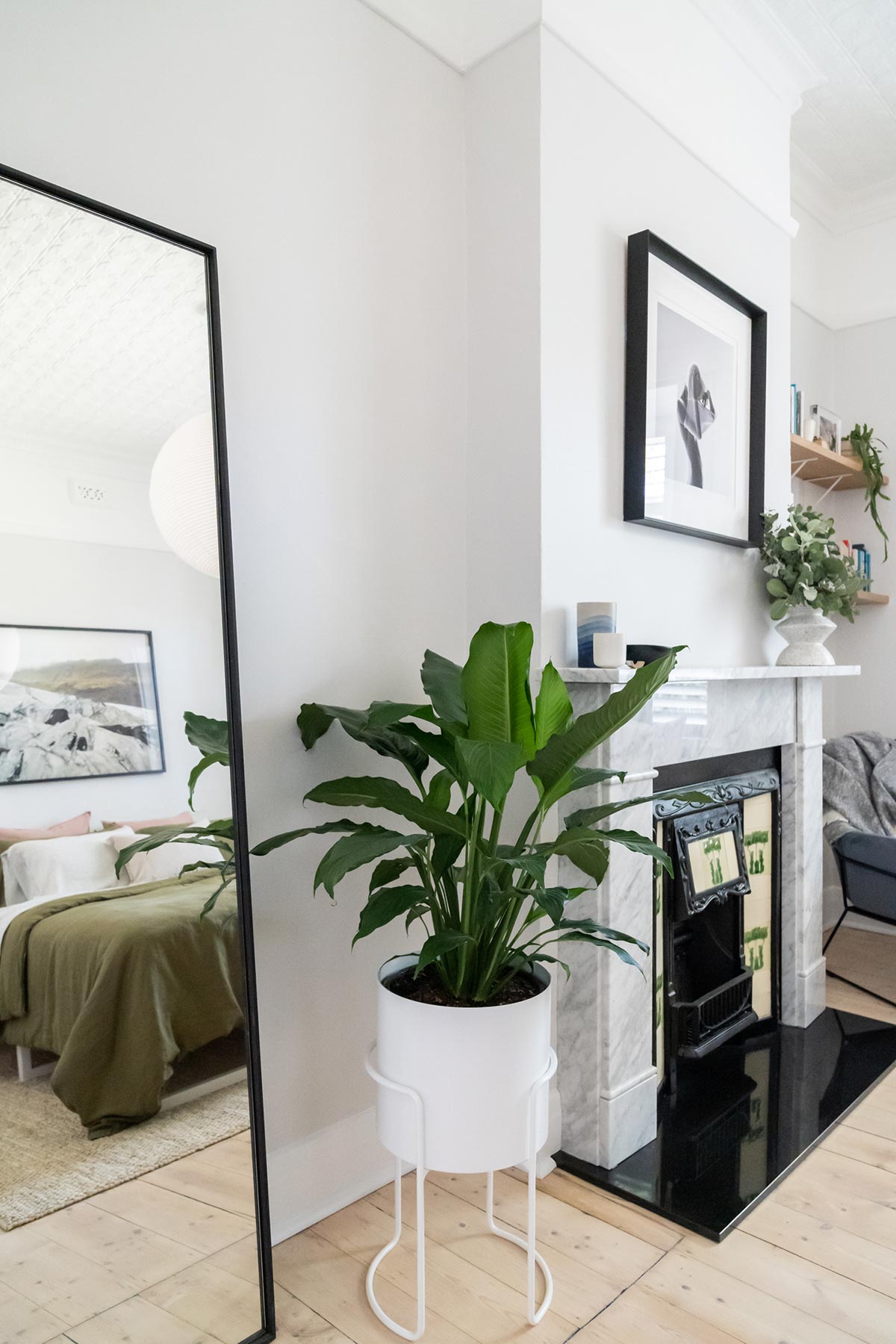 Like in our Dining Room Makeover, we opted to restore the fireplace in the bedroom. We selected the Burford White Marble Mantel and absolute black granite hearth from Schots Furniture. The marble brought in an elegant tone to the space and enhanced the maturity of the interiors. As for mantel styling I kept this to a minimum and of course utilised all the tips from our How to Style a Mantel video.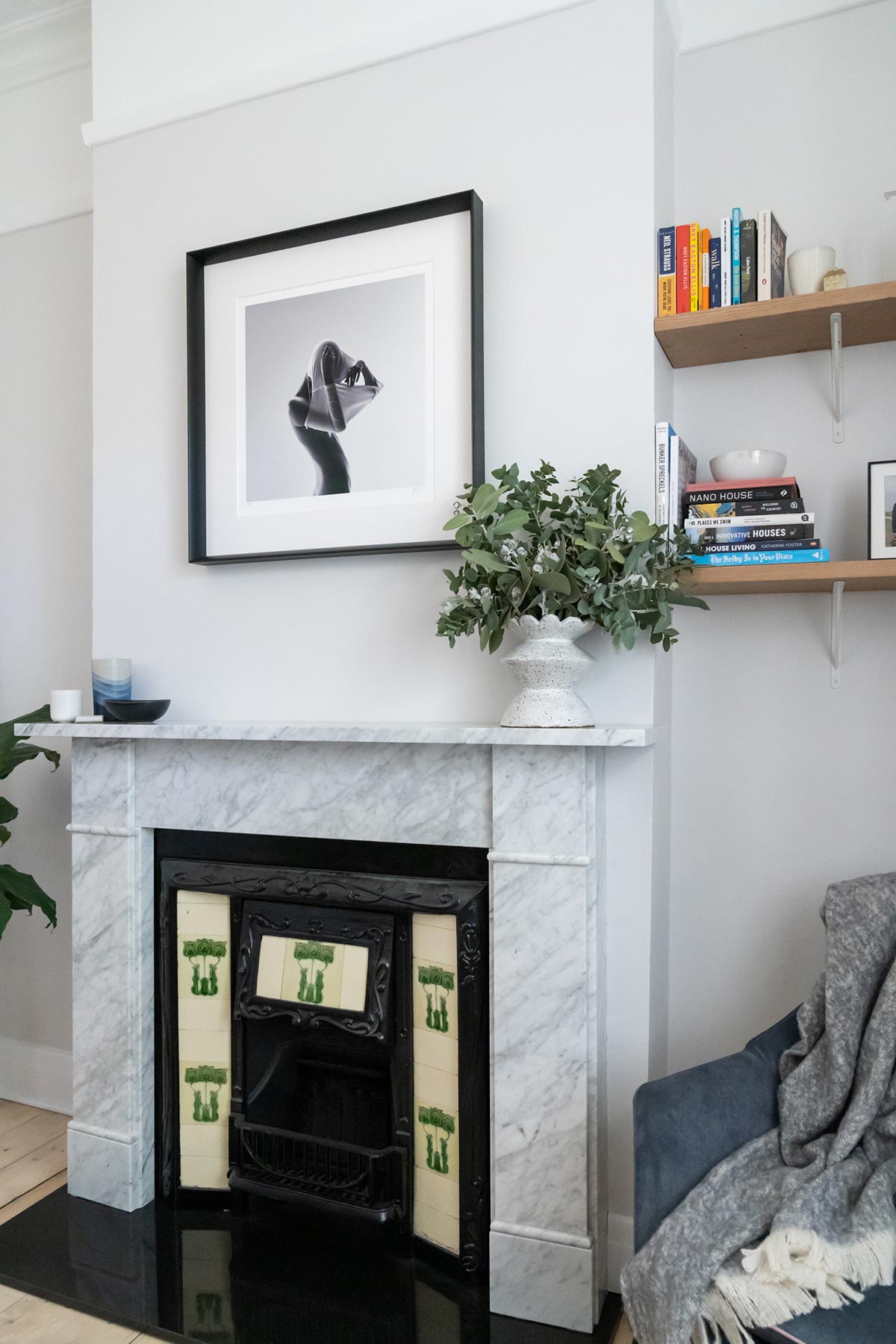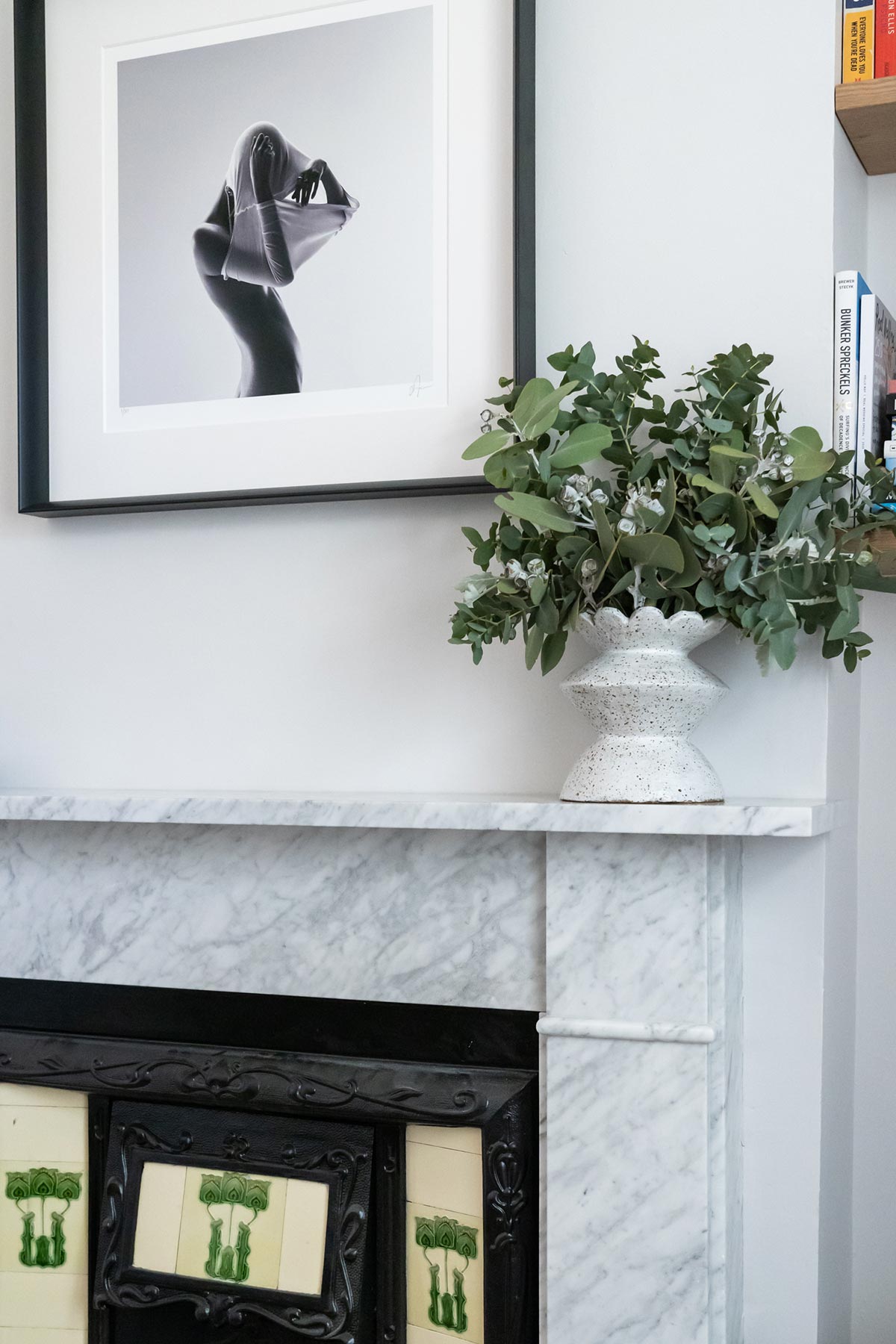 When it came to furnishings I opted for the Bluff Weave rug from Milk and Sugar including their Khaki and Pinstripe bedlinen; a fresh pop of greenery thanks to a peace lily plant and white Chubby Spun pot and Chubby Tower Stand from Ivy Muse; ceramics from Takeawei, Alice Bell Ceramics and Made & More. The walk in featured the Bjorn oval mirror from Middle of Nowhere together with rounded tan leather tabs from Made Measure. Artwork featured was the Tangle Print by Ren Pidgeon situated above the fireplace framed with a new dramatic black frame from Framing to AT. Above the bed, a new Icelandic Clare Plueckhahn photographic print created a moody environment. Stay tuned this Saturday for our complete cheat sheet so you can shop all the products featured.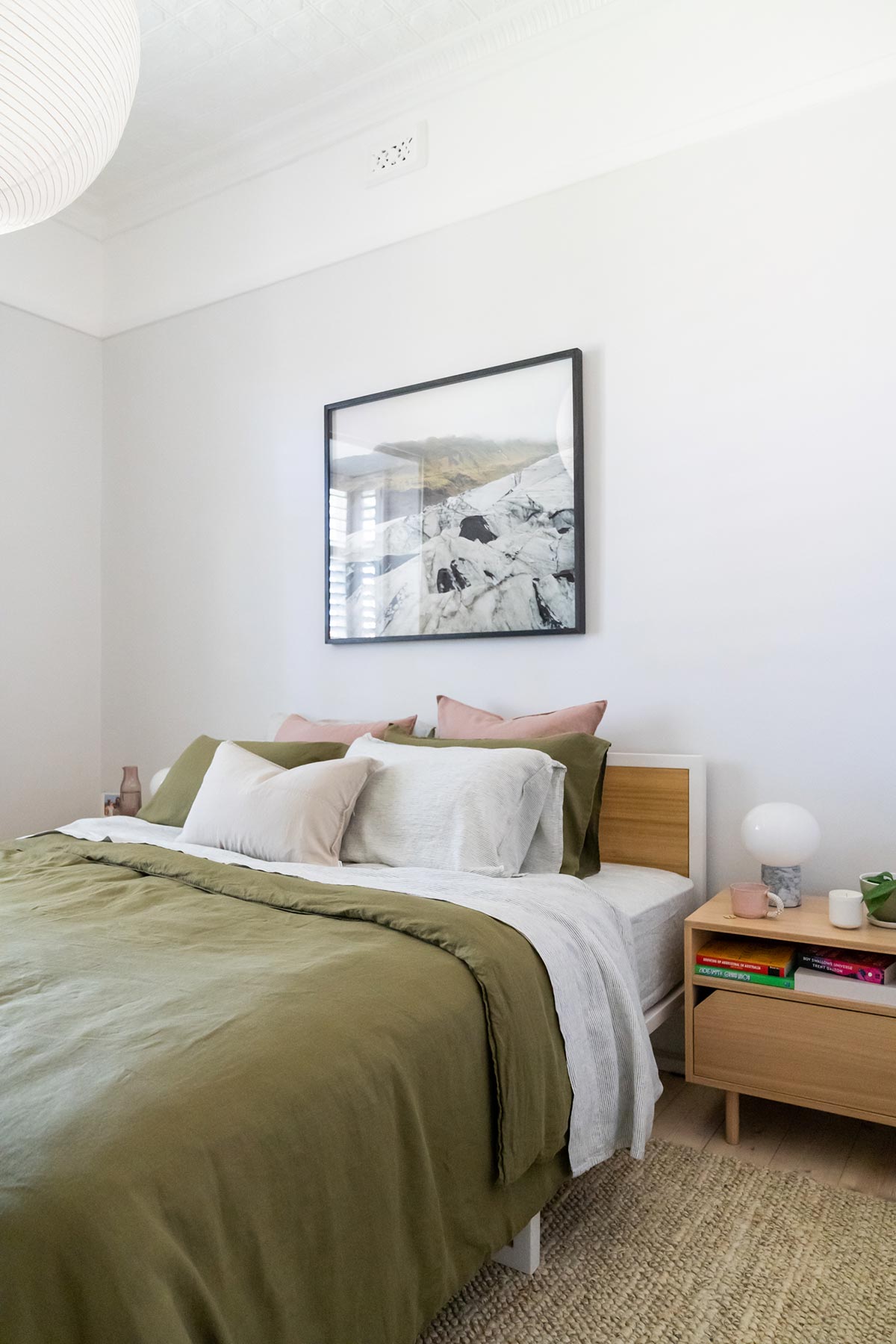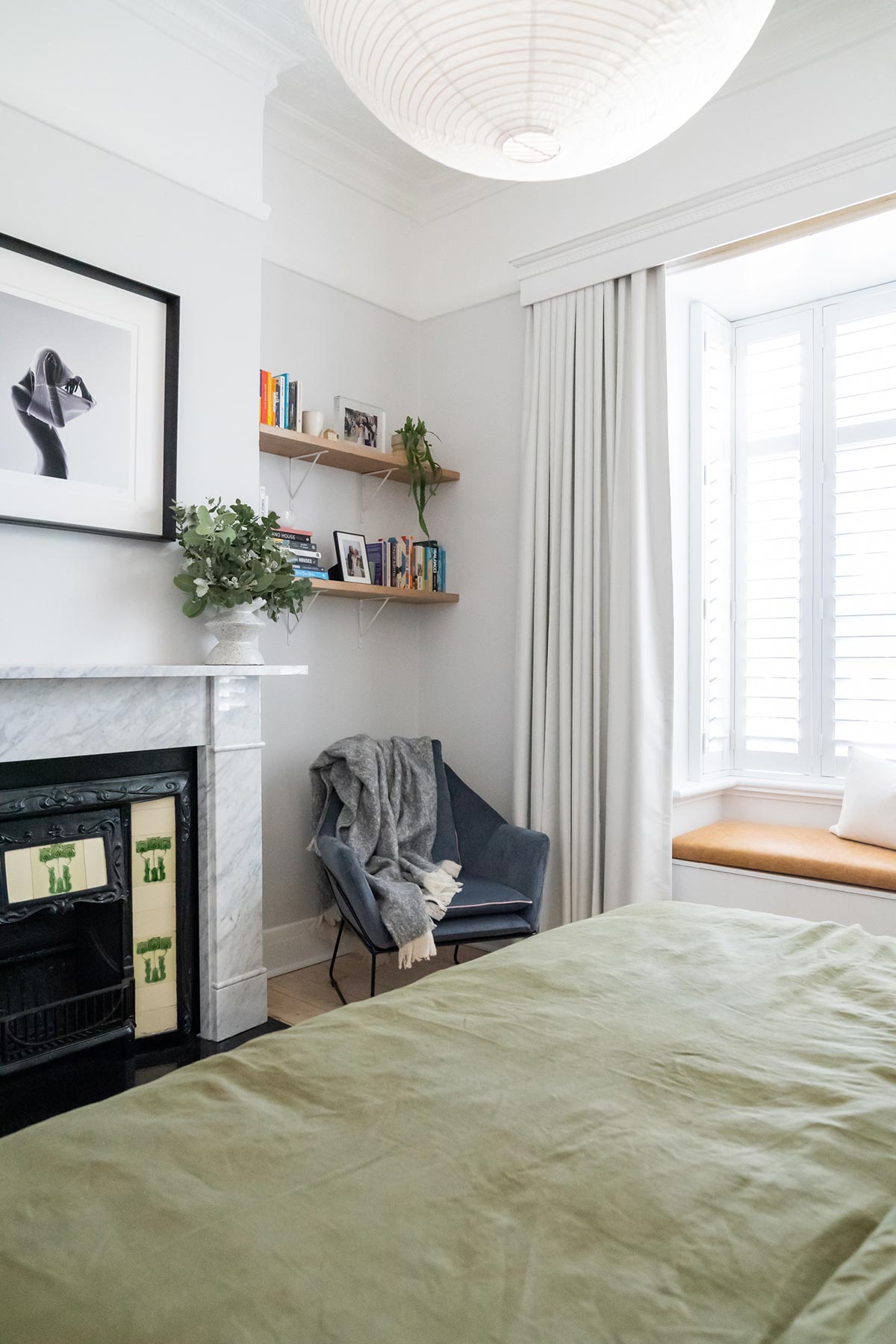 Be sure to tune in next week as our Ensuite Makeover is coming up next! Subscribe to our YouTube channel and hit notifications so you don't miss a beat.
Styling by Lucy Glade-Wright
Photography by Jonno Rodd