We recently chatted with Simon Ancher. Simon has been working, educating and designing in the furniture realm for over 20 years. In 2016 Simon Ancher Studio became a full-time operation. The studio employs four full-time staff, along with his business partner and wife Lisa, at the heart of the operation. Simon Ancher Studio specialises in contemporary clean-lined furniture products and bespoke one-off projects.
George Takes Twelve
1. Pleasantries first… Tell us about who you are and what you do?
My name is Simon Ancher and I'm a furniture designer/maker. I'm married to Lisa and we have 3 boys Jack 16, Charlie 14 and Hugo 12 and a crazy black lab called Ivy. Five years ago Lisa and I decided to take the plunge and started Simon Ancher Studio full time, furniture and object design business.
2. What's something you do every day?
Every day I wake up at 6 am head out to the kitchen and flick the coffee machine on. I enjoy the process, the routine of making and then sharing a coffee in the morning with my wife Lisa to talk about the day ahead.
3. What's been your favourite moment so far in your career?
Making the decision to back myself and leave the security of a full-time University job, you only live once and I didn't want to be a grumpy old man wishing I'd given it a shot earlier. There were plenty of pressures at the time with 3 young boys and the eldest entering high school but in the end, I think that's what makes you work hard and focus on making it work out, you have to make it work!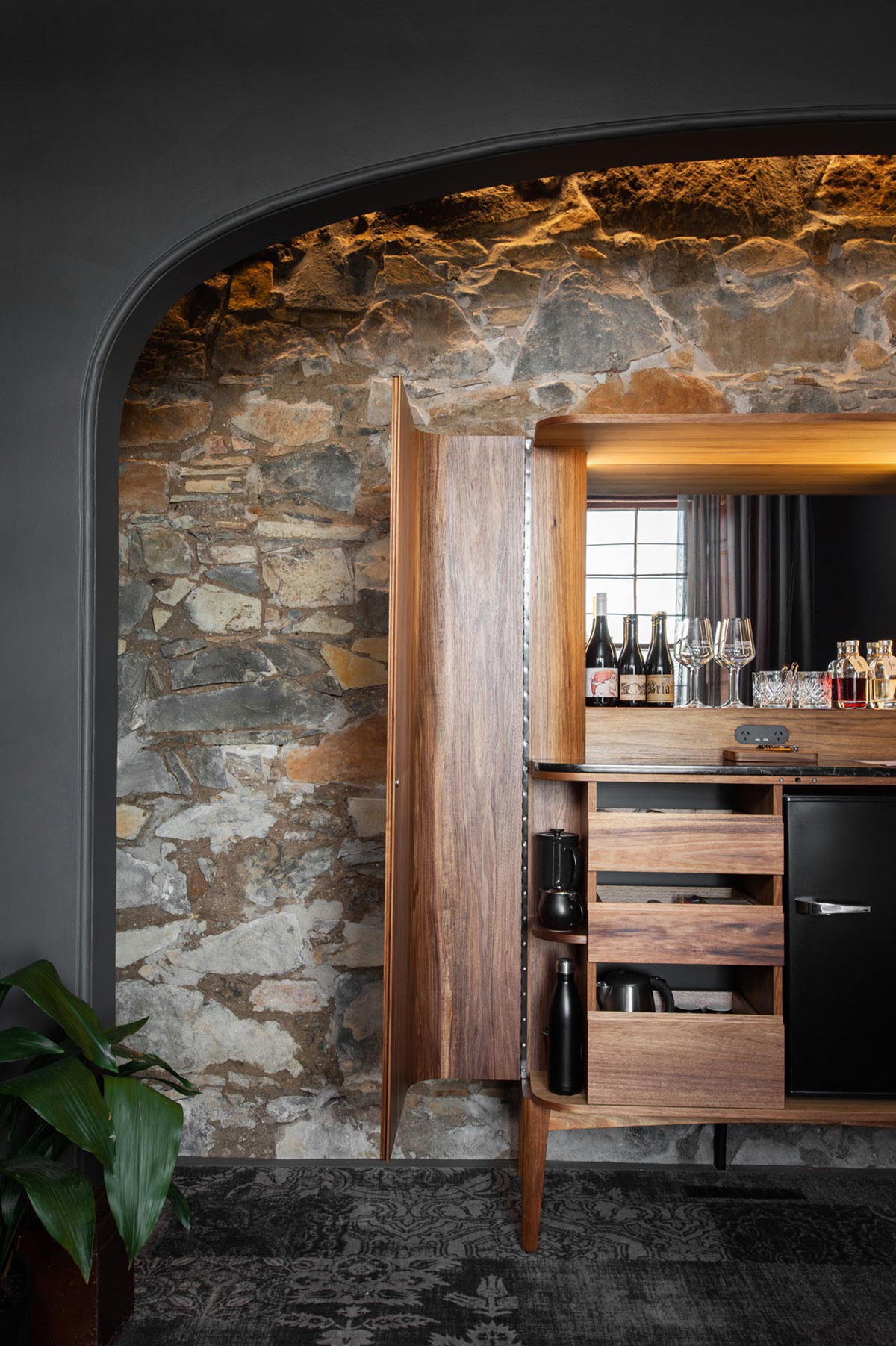 4. What's the most treasured belonging/item in your own home?
Lining our hallway is a collection of timber sculptural 'cards' that I make for Lisa. Each year 2 are produced one for Mother's Day and the other for her Birthday. They have one limitation, they have to be made from off-cuts of projects I'm currently working on. In this way, they have become very special to both of us and track our lives together.
5. What does your average work day look like?
Well, that's a good question there's the day I plan and then there's the day that transpires.
Generally, I get into the workshop at 7.30 am and get the crew up to speed with what projects are the priority for the day/week and then we just get stuck into it. There might be supplies or parts to collect or drop-off and meetings but if I'm lucky I can get on with either the making side of things or designing and these are the sort of days I really enjoy.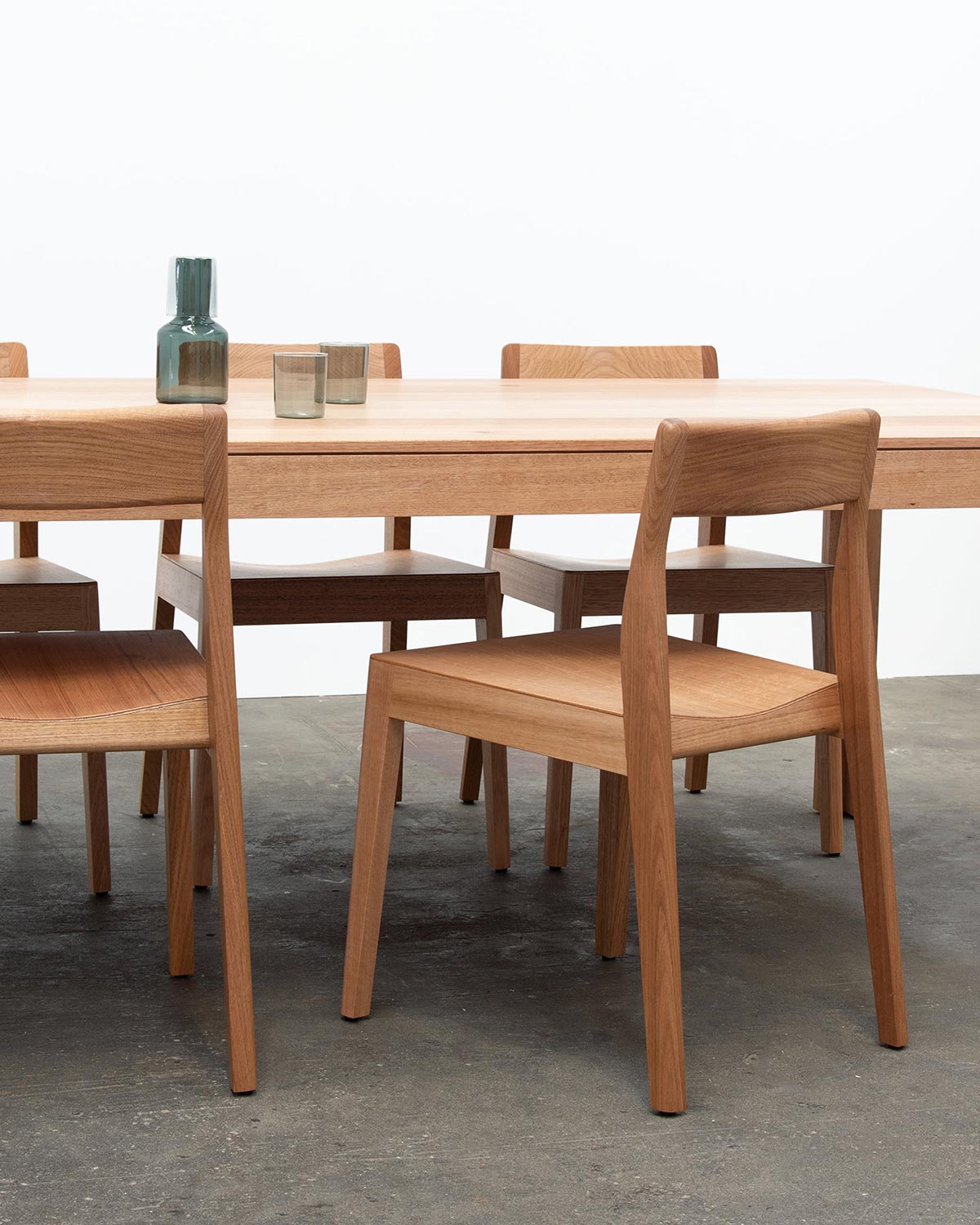 6. Can you pinpoint the moment what you do turned into a profession for you?
Absolutely! The moment I resigned from my job at the University and gave up secure full-time employment. It was a surreal feeling, one of excitement, freedom and potential but I was also bloody nervous, there was no plan B.
7. What's a skill you want to accomplish in 2021?
I want to teach myself a new CAD modelling software program and progress from just standing up on my longboard, I'd actually like to be able to surf!!!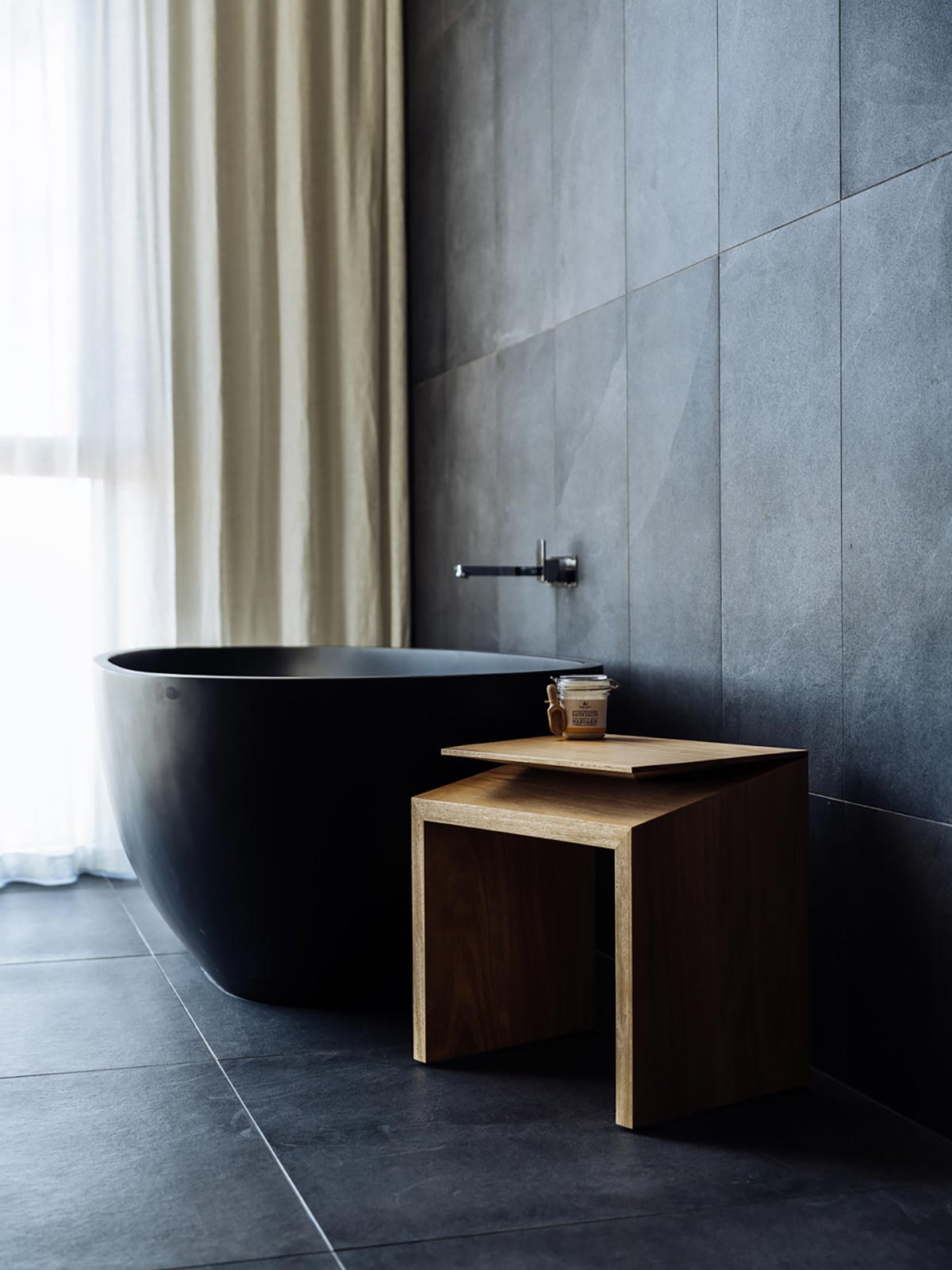 8. If you could collaborate with anyone (brand or individual) who would it be?
Naoto Fukasawa, I have the utmost respect for his work and sensibility.
9. If you could see your work displayed absolutely anywhere, where would it be?
Naoto Fukasawa's living room is one of his prized possessions!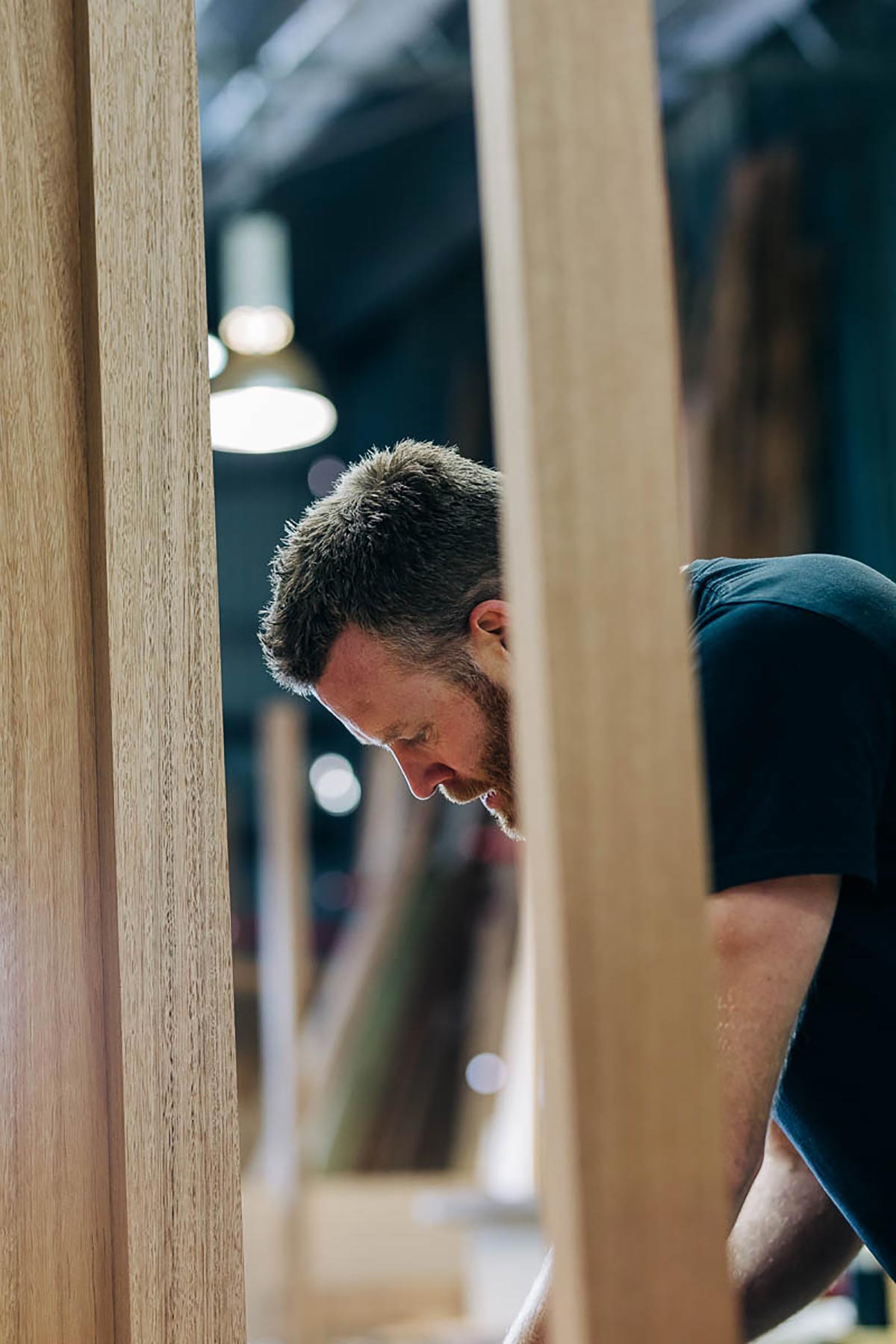 10. You've got a week off… where are you headed?
To our slice of paradise at Falmouth on Tasmania's east coast. We have a block of land there with a simple temporary glamping set-up, it's basic but totally relaxing and enjoyable. I just love getting down there and soaking up the spirit of the place, it's a place I can easily unplug and just be in the moment. Perfect.
11. What's your favourite project/design so far and why?
My Clipped Wing bench is probably my favourite. It's been adapted into a variety of other designs as doors and drawer fronts, desks and stools which demonstrates the design's strength and purity, it's the design I'm most proud of and I think that's because it's so simple and honest.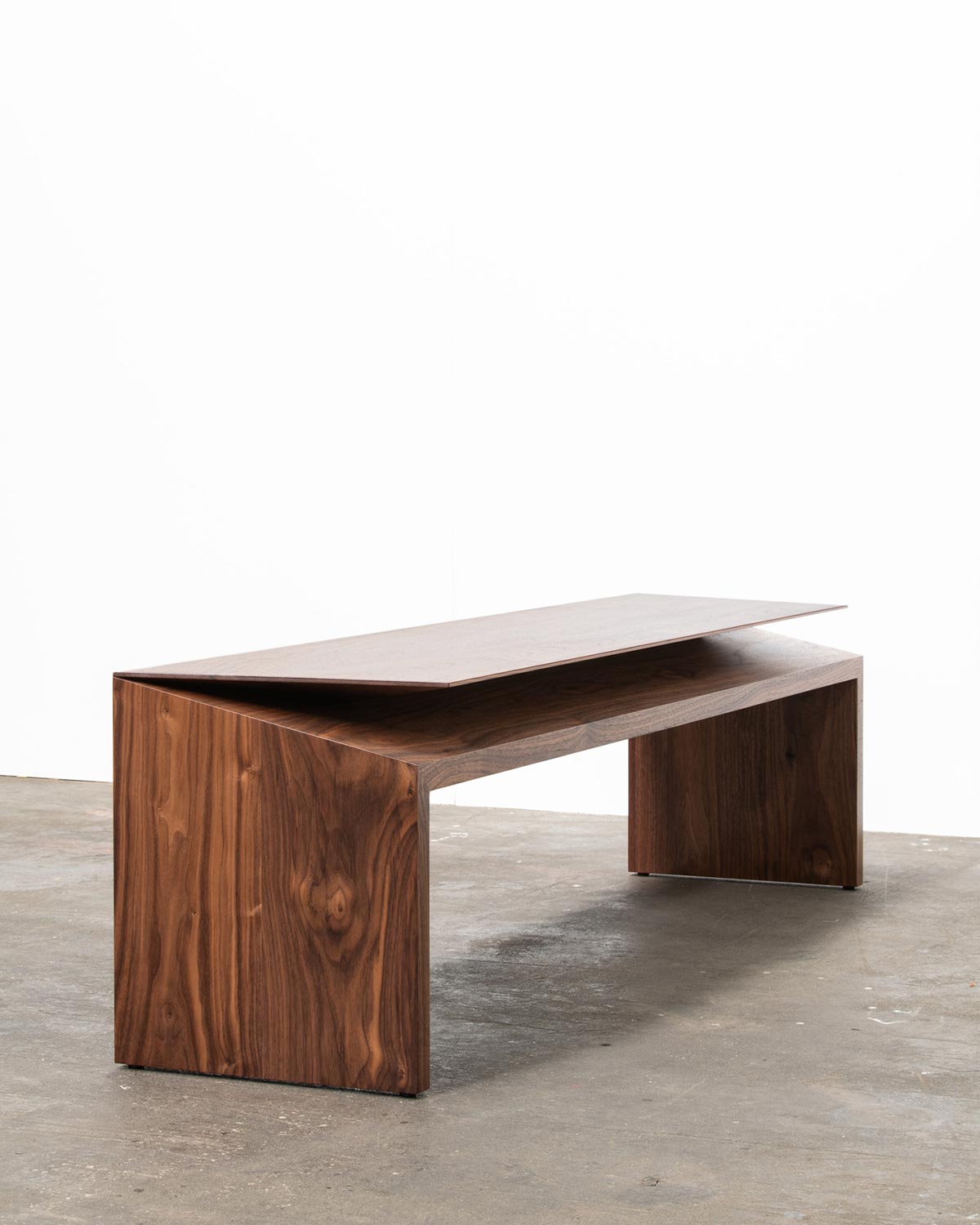 12. What's next for you? Any exciting new projects in the pipeline…
There are always exciting projects in the pipeline and on the horizon! My brother Garth and sister Anna (Ancher Architecture Office) have designed our new house which we are hoping to start building next year. It's a modest house and will require a number of clever built-in furniture solutions to accompany the thoughtful and considered architectural vision.
We are also extending our workshop space and further developing the studio display area.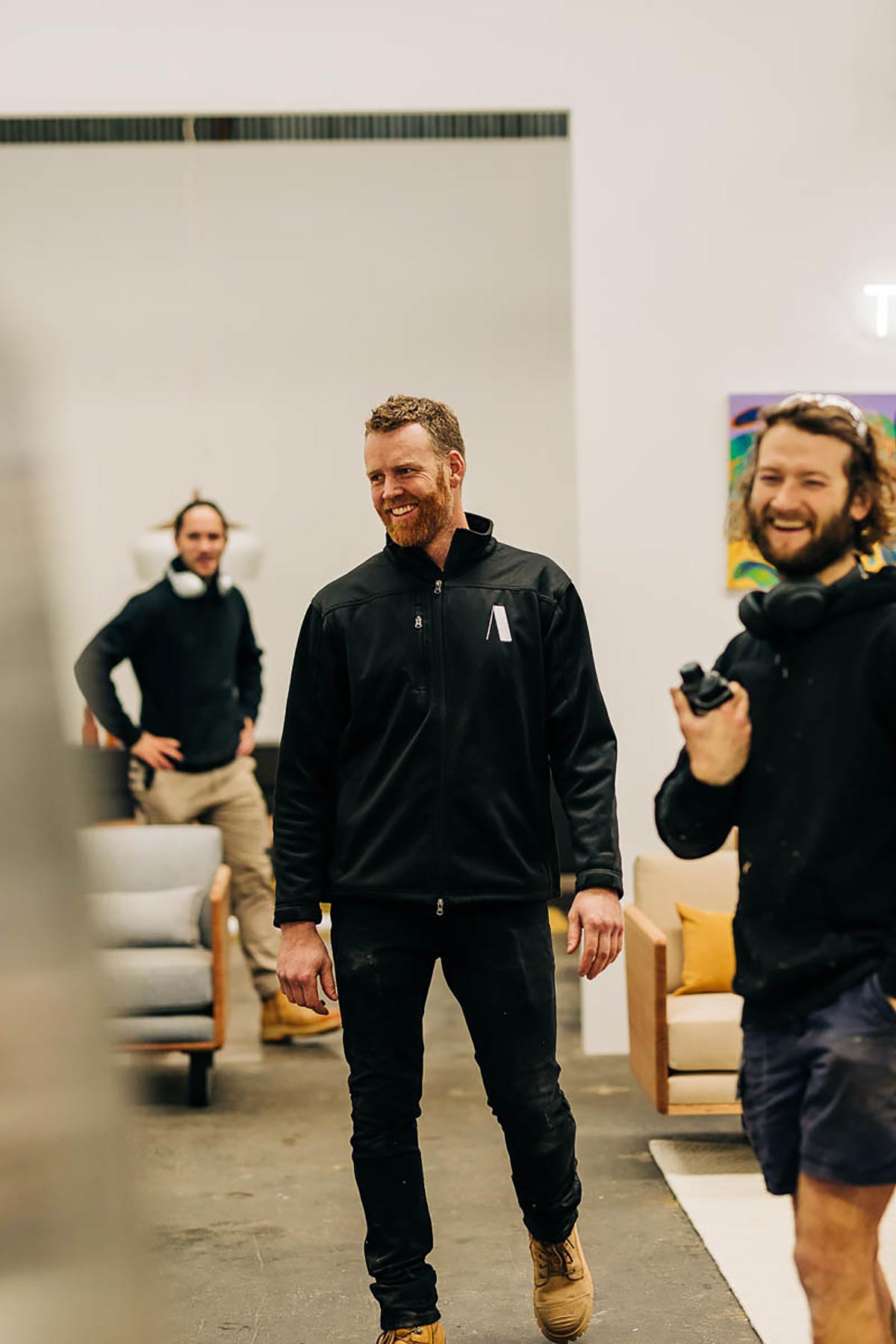 Meet the Maker Radio
Working Flashbacks
"These songs are an eclectic mix that I enjoy listening to when working away in the workshop by myself on the weekends. Some of these songs will inspire me to break out and bust a couple of moves and others are just great to listen to as they are reminders of various stages in life and easily trigger memories." – Simon Ancher
Where to find him/her
Name: Simon Ancher
Business Name: Simon Ancher Studio
Job Title: Furniture Designer
Website: simonancherstudio.com.au
Instagram: @simonancherstudio
Feature photo by Anjie Blair