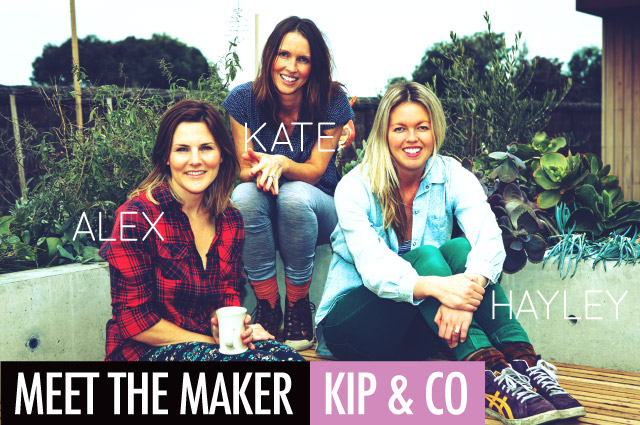 Name: Alex van der Sluys
Brand: Kip & Co
Job Title: Co-founder
Location: Melbourne

A little glimpse into the world of Kip and Co. It's no wonder that these girls are surrounded by beautiful interiors. We love the amazing bed frame… and the toy dinosaurs and skatey make us think a fair bit of fun is had here!
1. What did you want to be when you were a little 'un?
Rock star…actually that was probably until I was a bit older than a little 'un but no shame here!
2. What made you decide to start your own brand?
The three of us have been talking, and talking, and talking, quite literally for years about combining creative forces but we just couldn't decide on what. Then we had this realisation that there was a real gap in the market for some bright, beautiful bedding and it just felt right for us…an opportunity to design something that is both beautiful and functional.
3. How would you describe your style of work?
I want to say its all very calm and relaxed but in truth we definitely have a frenetic energy. I think its probably more correct to say we are passionate, collaborative and instinctive, and always fun.
4. What is the best and worst thing about being a designer?
The best thing is that you get to work with your best mates to challenge and inspire each other and create something that people actually use in their daily lives…thats pretty special.
The worst thing is that there is only 24 hours in a day and that never seems to be enough to juggle the 10 or 20 balls that you inevitably have in the air at any one time!
5. What is your favourite creative outlet?
Ooo I think it would have to be indulging in many many gallery visits around melbourne's lanes and basements…there is just a never-ending stream of awesome stuff coming out of this city.
6. There's got to be something you're shit at? 
So much! Terrible swimmer, my cous cous always comes out gluggy and my eyesight is lousy
7. What are your top 5 websites/blogs at the moment and what makes them stand out?
Hmmm tricky. Obviously the Design Files – Lucy just has her finger so on the pulse that its hard not to love! We are also loving pinterest at the moment, tumblr and instagram because we are social media junkies and they are amazing communities of inspired and beautiful ideas. And last I think the Satorialist for inspiration from the (extremely fashionably) man on the street.
8. Date, Marry, Kill… List any celebrity (dead or alive)
Hmm I would date and marry Mark Wahlberg just because I am sure he is an absolute legend under all those muscles. And I feel like I will get bad karma for saying you want to kill someone but I guess I wouldn't mind if andrew bolt went a way for a while.
9. So in the next couple of years your brand takes off like a rocket, multi million dollar offers start coming though the door. Do you stick with it? Sell out? Start again? What and where will you end up in 10 years time?
Ha! Love that hypothetical! Stick with it! Assuming the multi million dollar offers don't start rolling in, I think in 10 years time we will be having a big phat 10 year anniversary party for Kip & Co reminiscing about the days when it all began..
10. What song or album are you currently listening to and is it any good?
Just bought Boy and Bear's latest and yep, loving it.

We couldn't wait to have the Kip and Co products online (mainly because we just wanted to buy our own to deck out our bedrooms!) Kip and Co's colour choices and patterns are just so spot on it hurts! Each one is a gem on its own but so much more awesome when clashed with another colour, texture or pattern! Take a closer look at the entire Kip and Co bedding range here at Hunting For George
Take a listen to Hayley's "Shake it Kippie's" Playlist. Made when … Sitting at home with a glass of red scrolling through my iTunes for my favourite all times tunes…and these were the ones that jumped out at me!  I've had some special/crazy moments/nights to these tracks.  Kate played the last track at the birth of her little man so we love this one now forever.