What can we say, we're suckers for anything artsy and when it comes to decorating homes especially those blank walls, art prints is our go-to solution. It's just like finding the missing piece in a puzzle! We've shown our love and appreciation for Typographic Art Prints and today we're turning our attention to Abstract Art Prints and how to style them in your home.
First of all, abstract art can take on many different forms. There are no rules when it comes to abstract art, mediums can include paint, illustration, graphic art, collage or photography. The way you can identify if a piece of art is abstract or not, is generally if the composition does not represent reality. For example a painting of a building would not be considered abstract as you would be able to identify the subject matter; however an interpretation of that building painted in a non pictorial way would be considered abstract. For that reason, abstract art generates an emotional reaction as it presents a concept and feeling that leaves itself open to interpretation. This is what all art is about, the different subject matter will resonate with people differently. So all that being said, what is the best way to integrate abstract art into your home in a harmonious way?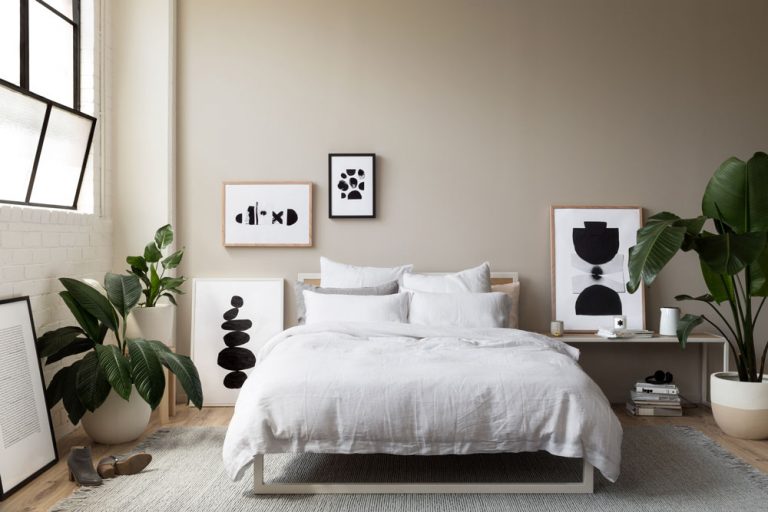 When styling with abstract artwork you need to be aware of the 'feeling' that each piece generates. You don't have to have spent 3 years studying Fine Art to know how an artwork makes you feel. Some works are calm, others are loud. Some complement one another and some need to stand alone.
The great thing about abstract art is that is very easy to style in a home due to its lack of realistic imagery. Instead abstract art focuses more on colour and emotion, so this is what you can focus on. Look at the colours in the artwork and see if these complement other tones in the room. If you are dealing with a monochromatic artwork you can accent this with other black features in the room such as furniture items or windows. If you have an abstract artwork with lots of different colours, don't try to match everything. A good rule of thumb is to pick up on 1-2 colours in the artwork that can tie into your interiors. Use one as the primary colour and another as your accent colour.
What is an accent colour?
When we refer to accent colours we are often talking about one colour that is used sparingly but consistently to create an overall theme. This can be as bold or as subtle as you want. We prefer to keep accent colours subtle, for example let's say we have an artwork that features the colour peach. We then might choose peach to be our accent colour, therefore we might style a peach cushion and bring in some flowers with peachy/pink tones, which then perhaps complement a small peach pot on the floor. This is how we integrate a peach accent colour to create a theme.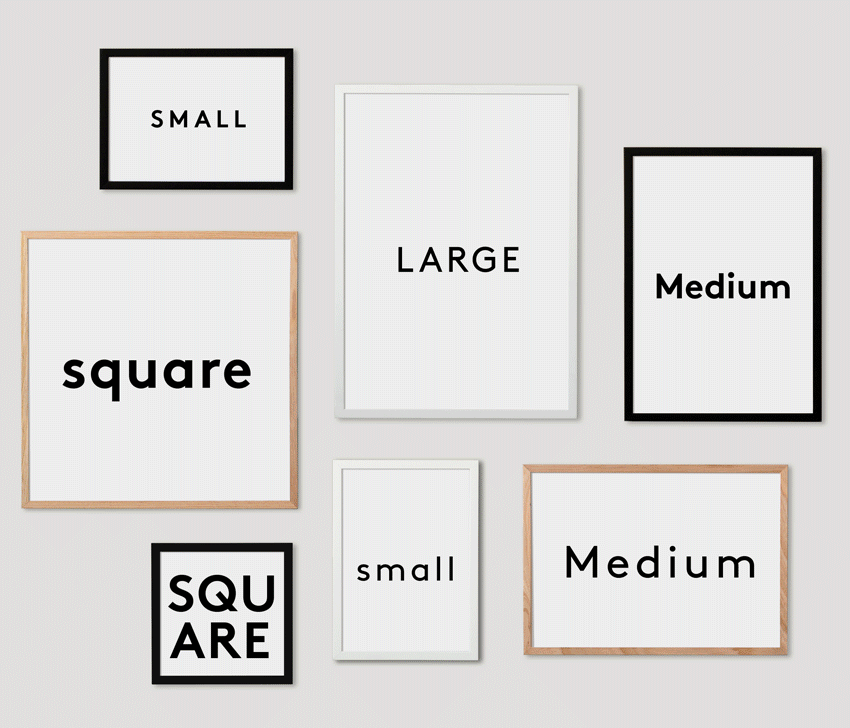 Every room in the house needs a focal point and artwork is a great way to achieve this. The biggest tip we can give you when styling artwork in your home is to think about the size! Scale is incredibly important. A good rule to live by when styling: If you have the space, then fill it. A small artwork on a very large blank wall, will not look good! For starters, there will simply be too much negative space around the work and it will look quite polarising. If you have a small artwork then you're best to find a space or corner that provides a smaller area to hang. This will allow you to focus your attention more on the art and help to integrate the artwork into the surroundings.
When you opt for larger artwork it will in turn help to make your space feel larger. So if you're styling in a small space, your first instinct may be to choose small pieces but forget that, think big! Go as big as you can and I guarantee you, the larger scale will impact the overall sense of scale in the room. Check out one of our latest posts for more tips on how to style small interiors.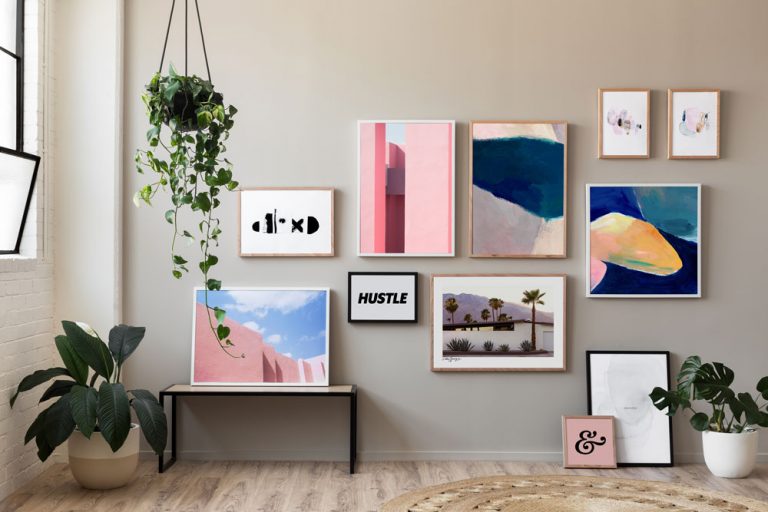 If you want some advice on how to create an epic gallery wall in your home, like the one featured above then check out our guide on How to Create the Perfect Print Gallery Wall. Here are some of our favourite Art Prints that work well with others and on their own:
Pink Blocks 3 Art Print
The Pink Blocks 3 never fails to add a calm bit of colour to your space. Make a blank wall pop with this art print be it in a house or office. Its a perfect pair with either Pink Blocks 1 or Pink Blocks 2 – or hang them all together as a trio.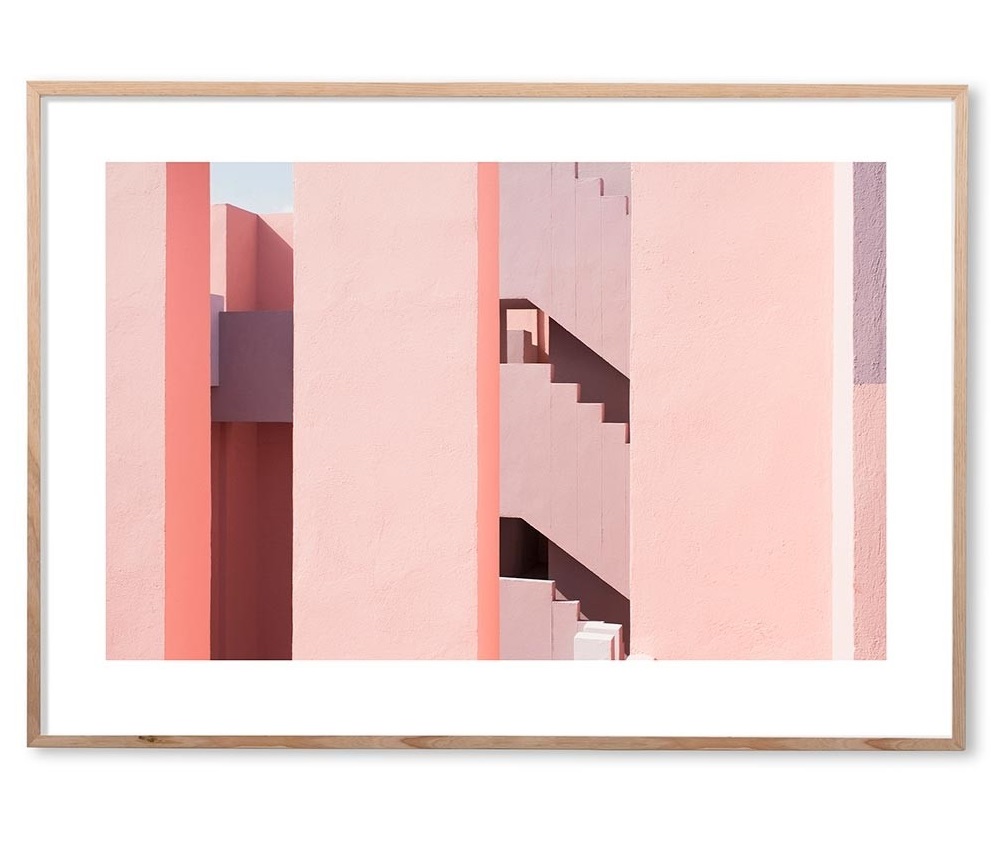 Hourglass Totem Art Print is a monochromatic graphic that is a true stand out artwork. It's generous sized shapes create a bold energy and demand attention! Whilst its abstract nature allows it to be styled in a range of different spaces. Versatile, this print can be hung portrait or landscape, making it a great addition to a print gallery wall. Available in all sizes.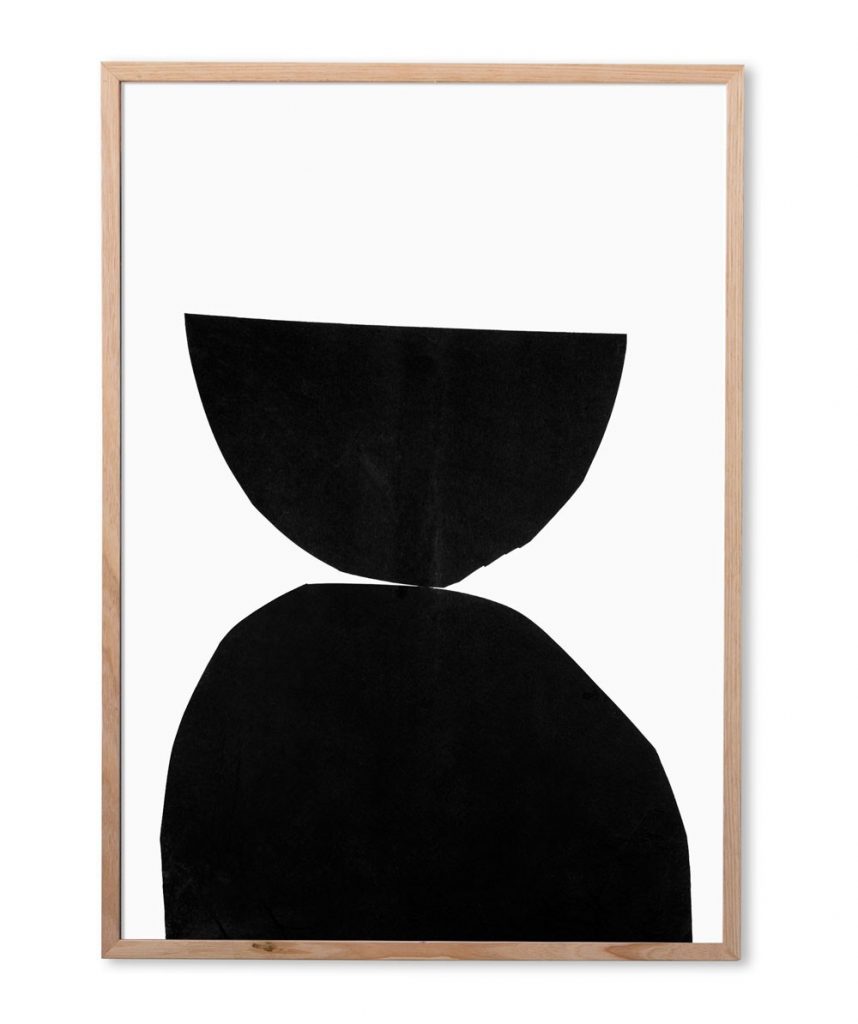 Horizon Art Print
Inspired from the glistening lines of the ocean, the Horizon Art Print features organic lines, hand painted with watercolour. Designed as part of a series of three, the Horizon Art Print also works beautifully as a solo artwork. With a subdued colour palette of both warm and cool tones, this artwork adapts easily to any environment. It's perfect pair is the Gathering 1 Art Print. Available in 2 sizes.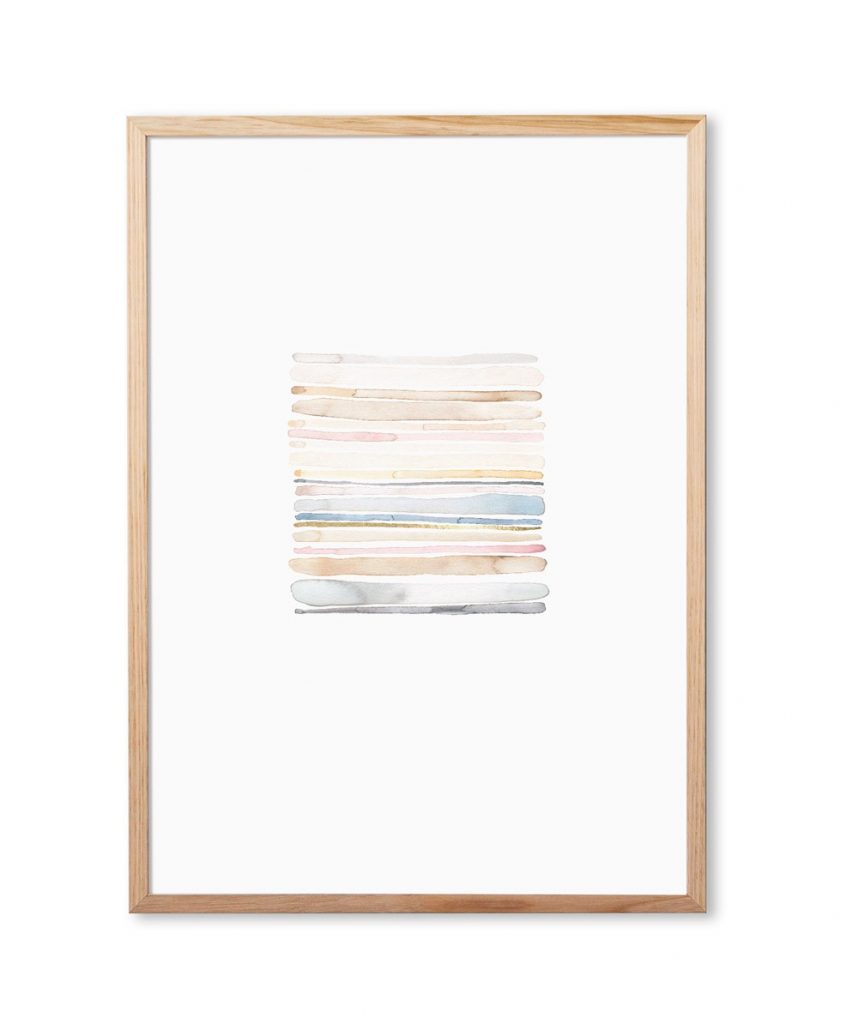 Amulet Art Print
A collage merging charcoal line drawing and striking acrylic shapes, the Amulet Art Print brings with it fresh energy and its abstract nature allows it be to styled in a range of different spaces. Designed as part of a series, its perfect pair is The Great Unknown Art Print.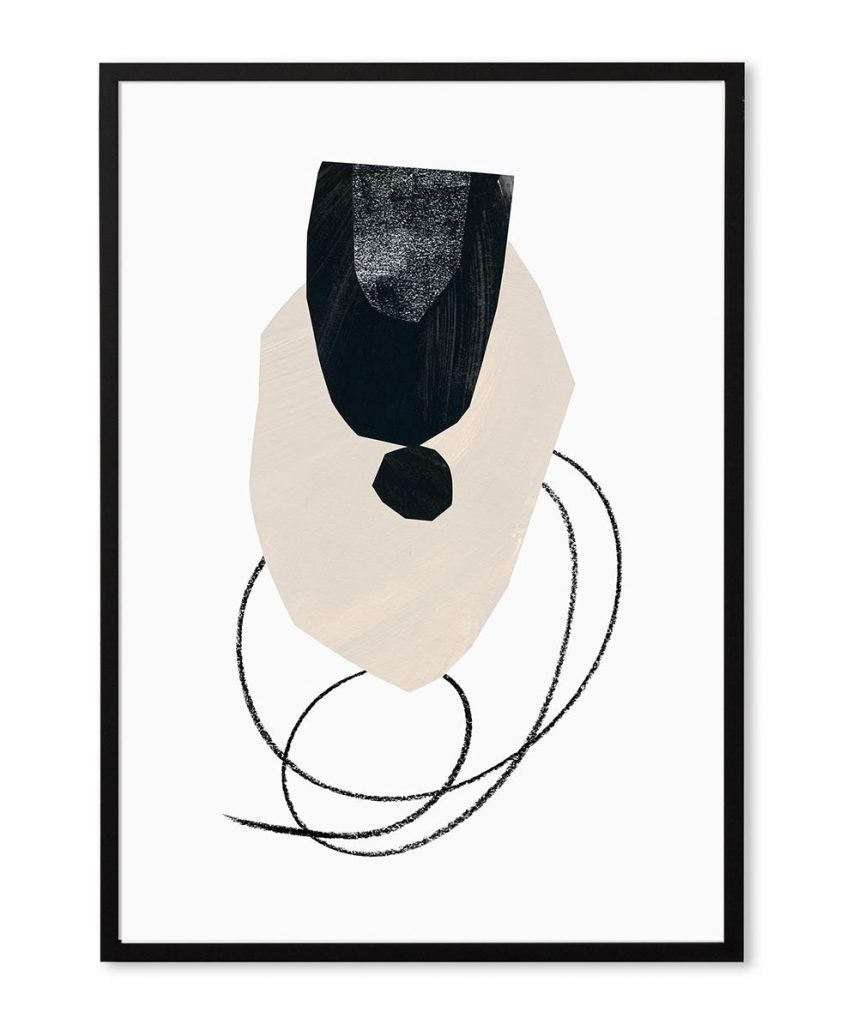 All Hunting for George Art Prints are created by our in-house design team or in collaboration with local Australian Artists and Photographers. We absolutely love art but more than that we love affordable art. So it has been our mission to create and curate an inspiring range of Affordable Art Prints because we believe that art is for everyone to enjoy!
What about the frame? No worries, our ready to hang frames fit our prints perfectly helping to make life just a little bit easier.
Shop the full range of Hunting for George Art Prints here.