Have you ever seen a house so bathed in the landscape that it looks like it just grew out from the garden? If you haven't yet, we'll show you one. The owner of Five Yards House in Hobart, Tasmania wanted a house designed around their passion for gardening, so every aspect of the house needed to revolve around the lushness of the garden. Designed by Archier, a dynamic and versatile architectural and design practice in Melbourne, the concept was to have views which are vignettes of an expansive garden, with each room connecting with an outside courtyard.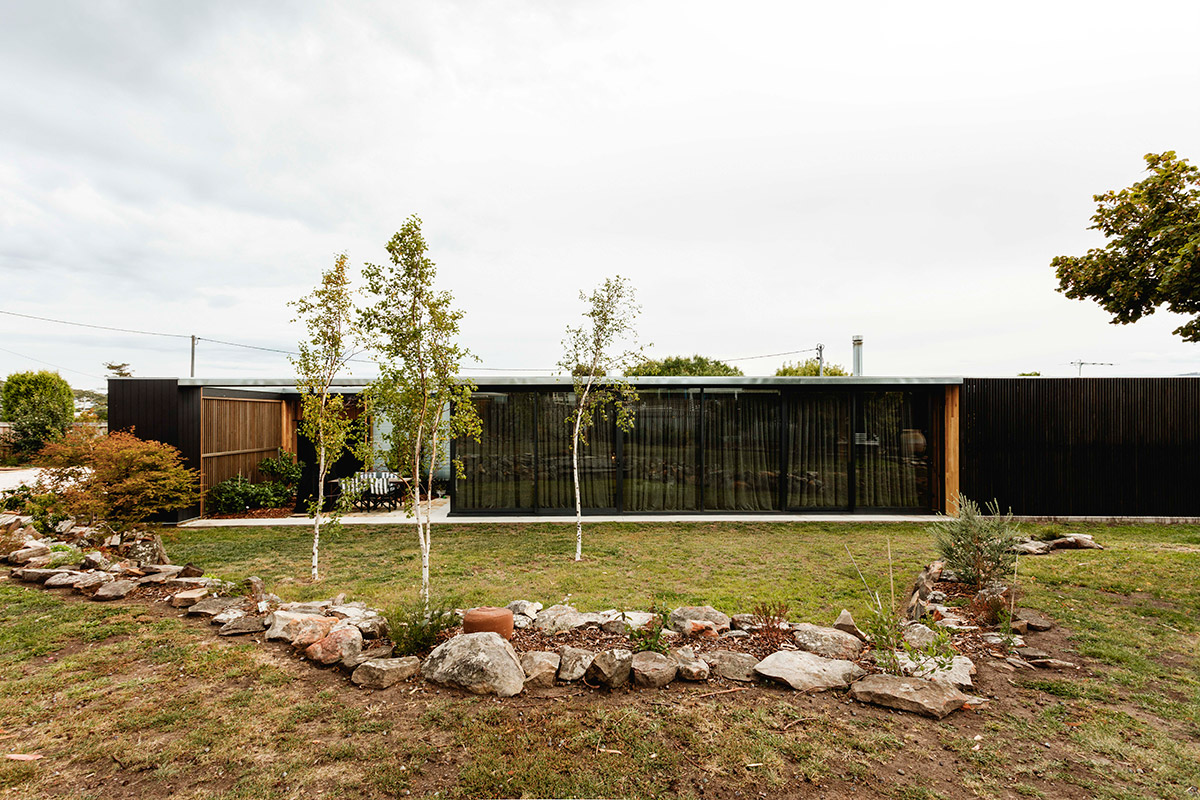 With everything linking to the garden, the single-storey house was covered with a black-finished exterior from the walls to the window frames which was supposed to hold the space and 'bring the outside in.' The resulting views are vignettes of a sweeping garden, making the interior seem notably more spacious than it actually is.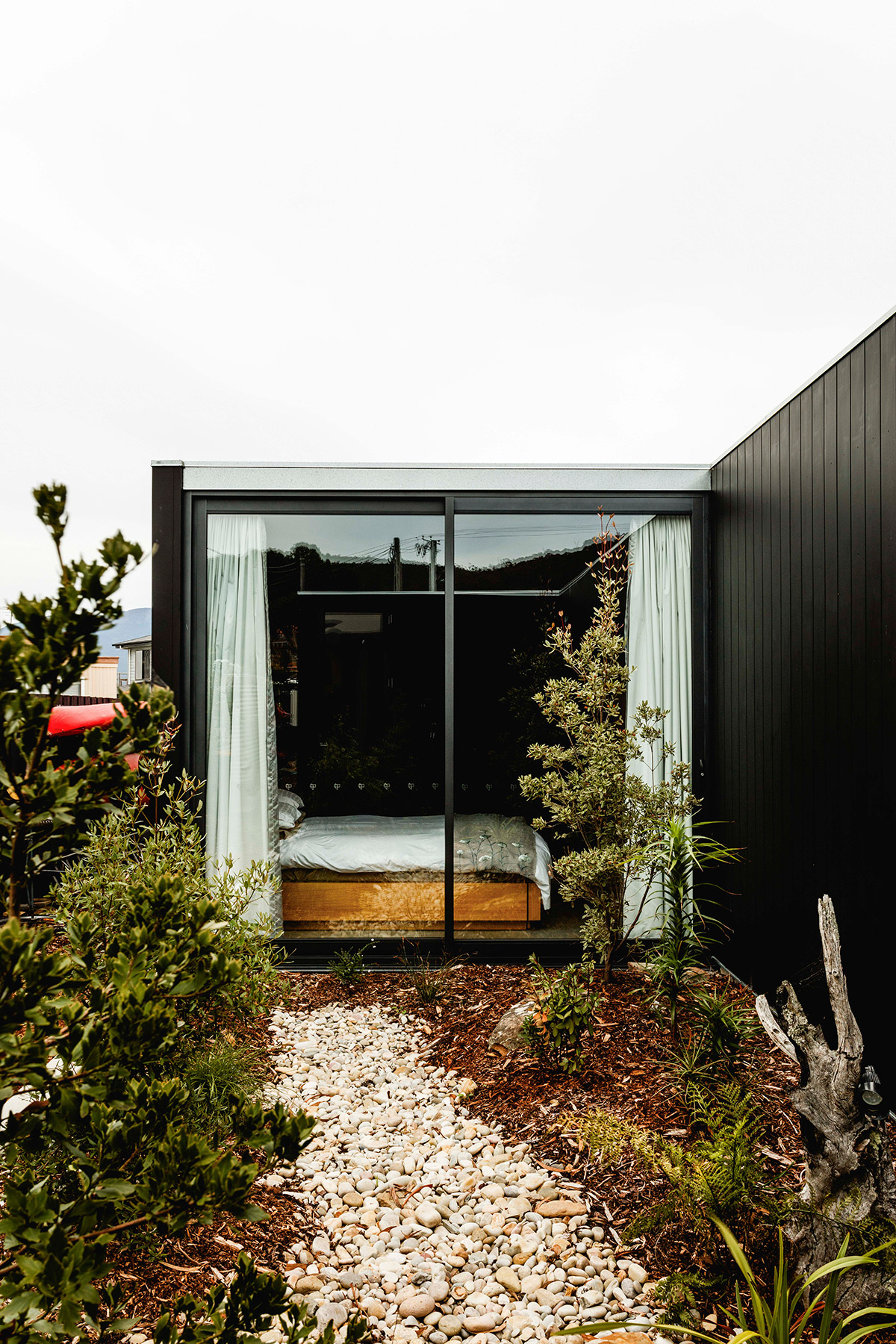 For the exterior walls, Archier proposed a SIPS (Structurally Insulated Panel System) which greatly reduced the use of heavy machinery as these panels are light enough to be handled and installed by hand. The use of these highly efficient products not only provided structural, insulating and aesthetic solutions, but also resulted in rapid installation time and minimal on-site wastage.
An open outdoor entryway is built with recycled Tasmanian Oak timber wall lining which fuses perfectly with the robustness and texture of the SIPS structural frame. It also enhances the material quality of the building in a cost-effective manner. The patchwork done on the timber adds character to the internal finish of the house.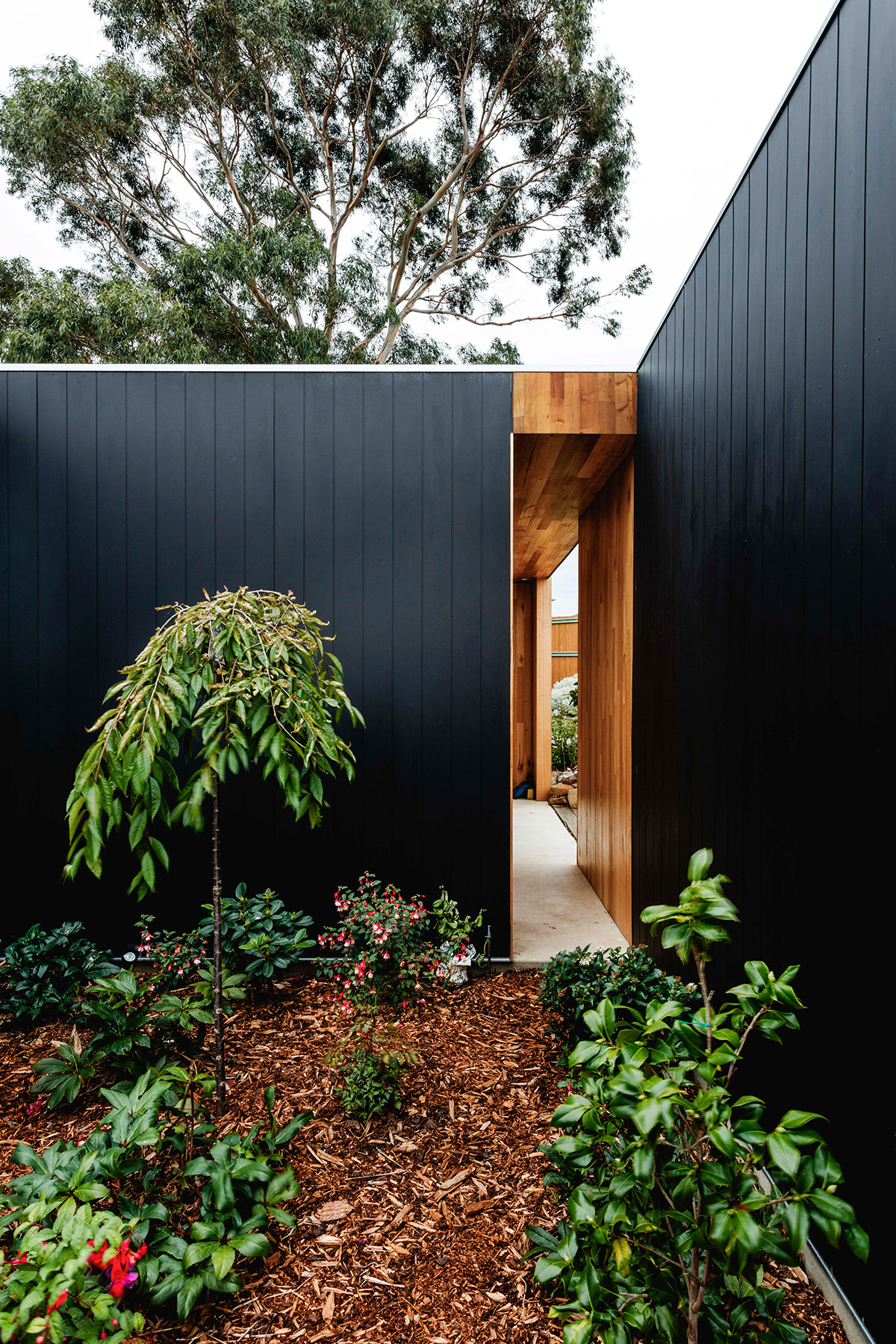 "It's phenomenal to watch the house over the day, it plays with the environment, creating little pictures and moments." – Carmel, Client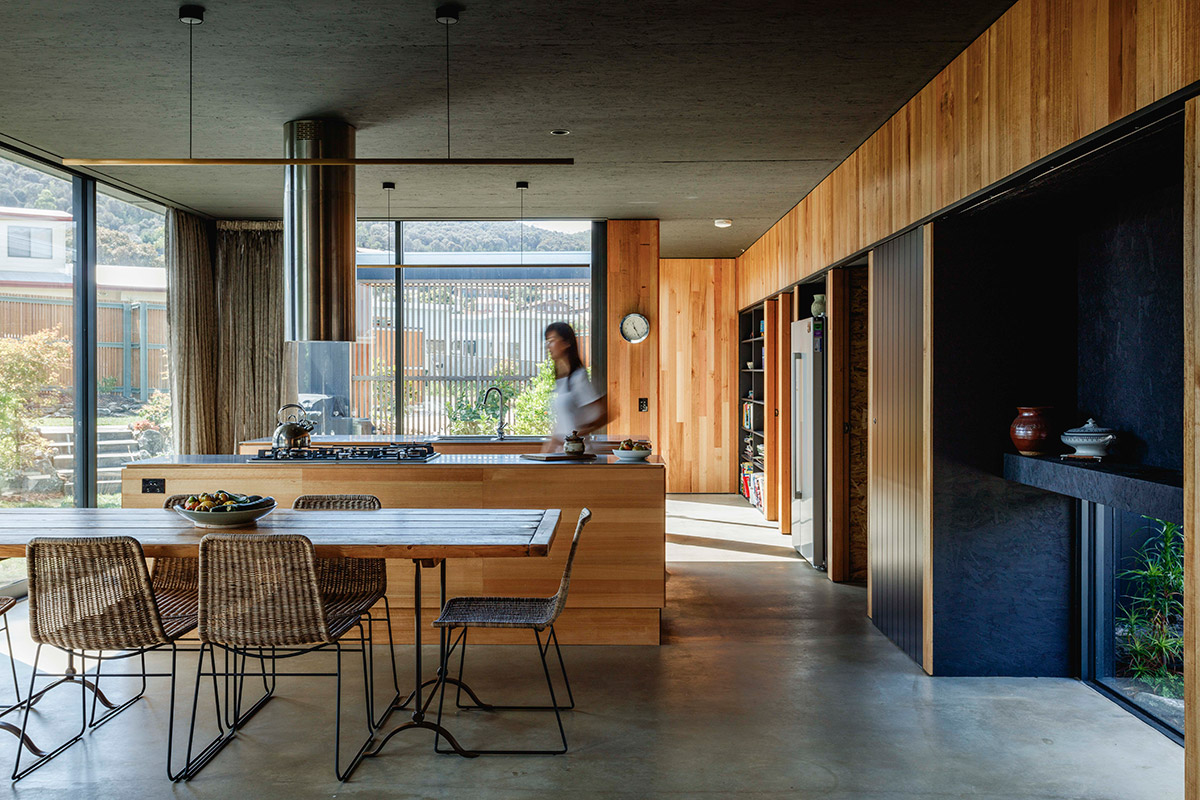 The kitchen was constructed from Ikea carcasses wrapped in Victorian Ash timber with laser cut stainless steel bench tops. Black ceilings and cabinetry give variance and definition to the raw palette of timbers in the kitchen.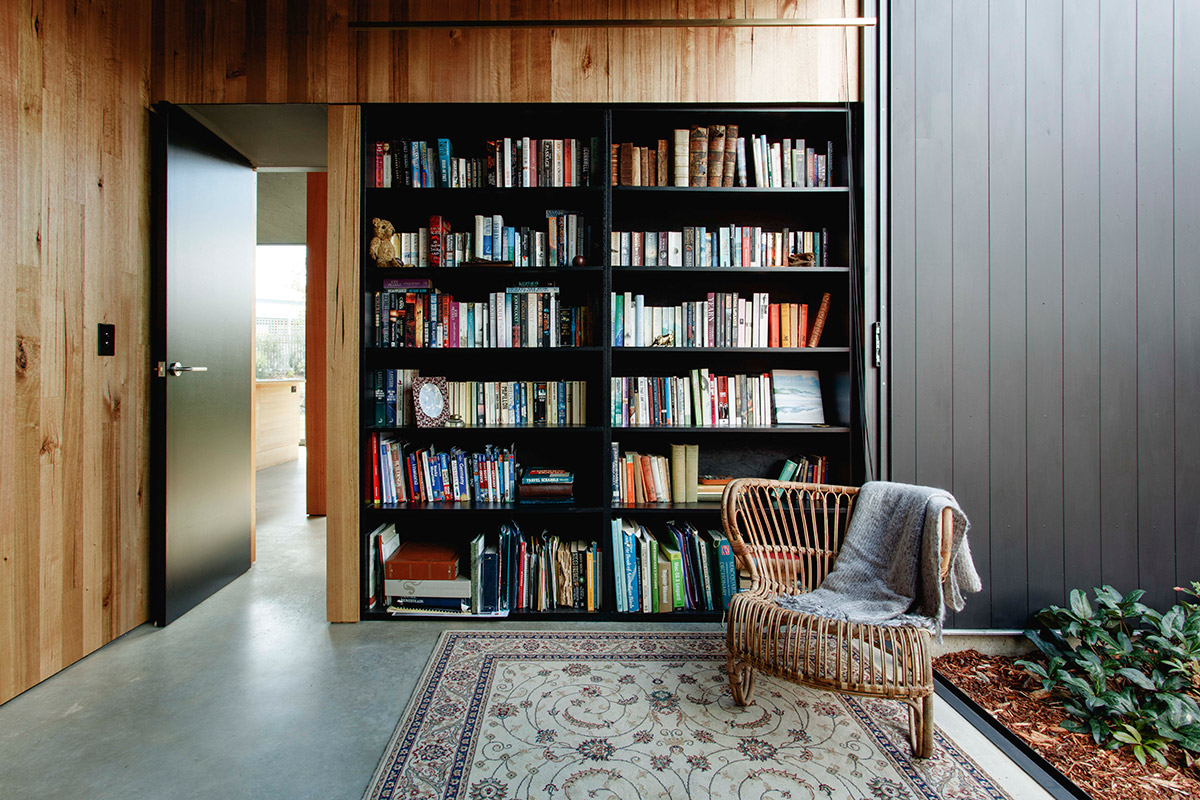 "While a modest budget determined the pared-back material palette, its robust aesthetic was informed by our client's newly inherited antique book collection. The Tasmanian oak's rich caramel tones are in contrast with the built-in storage units and shelving systems, which are finished in black (like the ceiling and exterior cladding). These dark features interrupt the patchwork arrangement and prevent each space from appearing overly cluttered." – Archier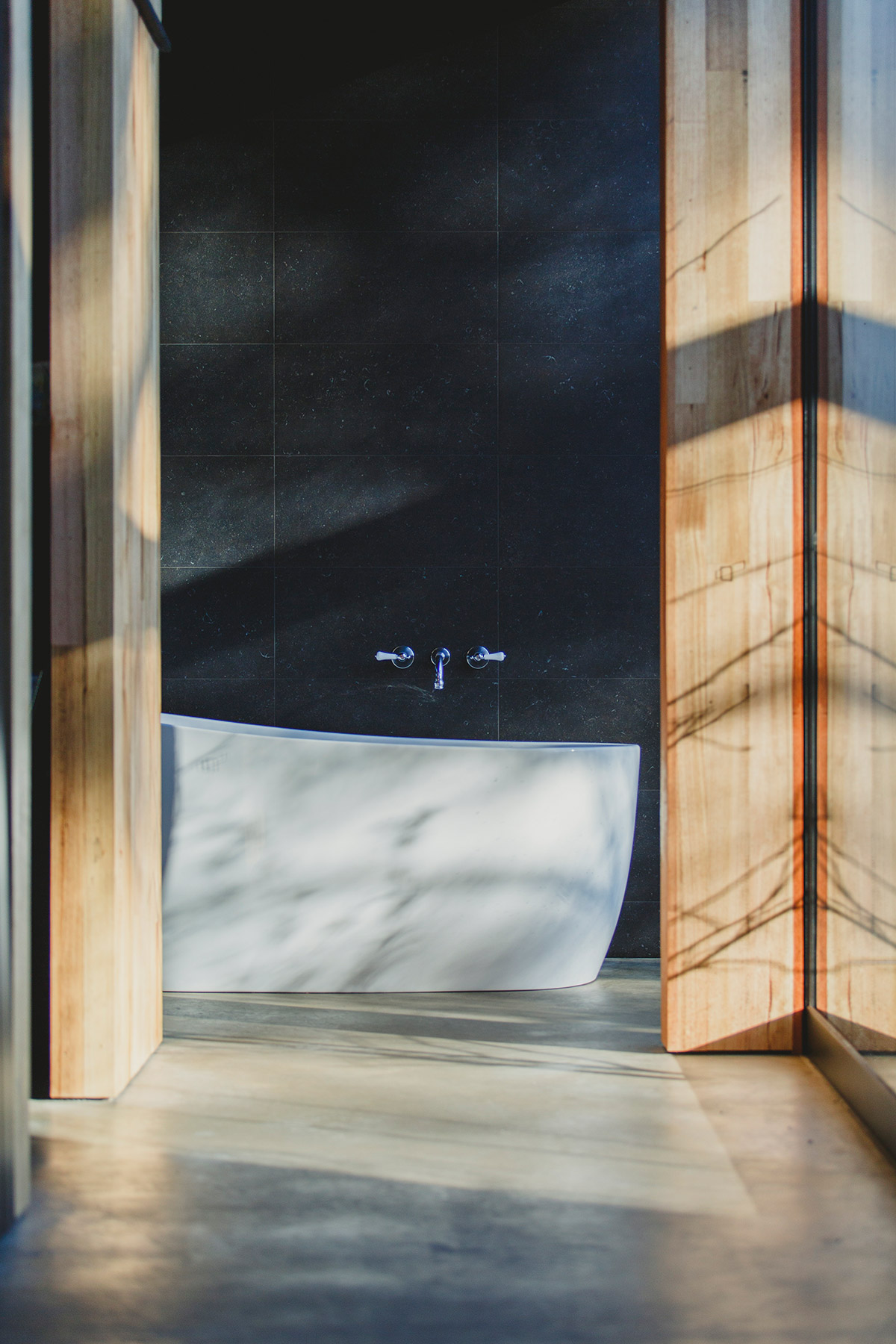 "I have never had more baths in my life, honestly I bathe now as much as I shower. I can just sit there and watch the shadow of the trees flicker over the courtyard screens." – Richard, Client.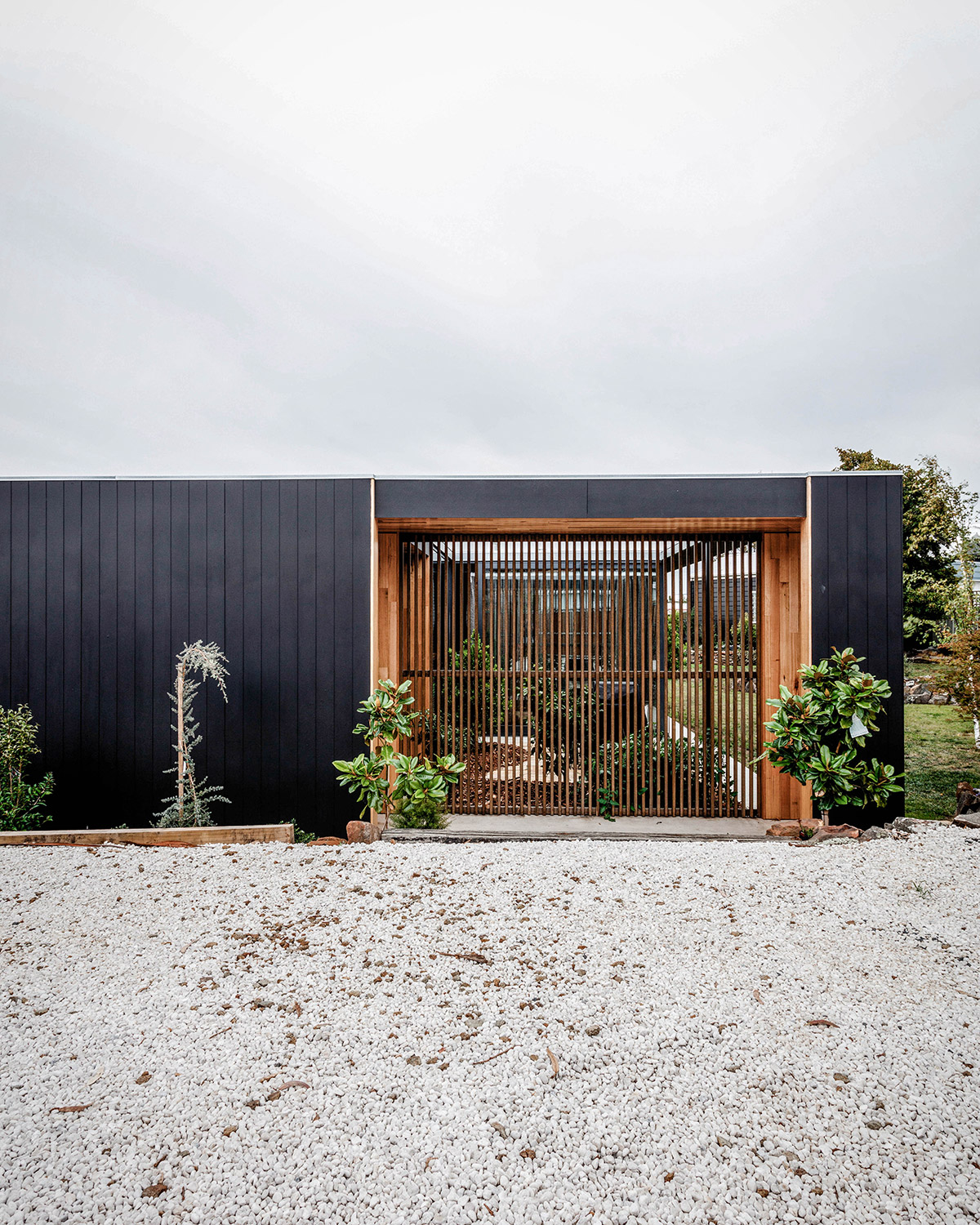 While most of the houses in Tasmania often have views of the ocean or a mountain. Archier has successfully brought the Five Yards House its own identity which broke down stereotypes. The design has got each room in the house a corresponding garden with its own aesthetic and composition, which is just a perfect house to retire to, as per the client's request.
House Project: Five Yards House
Architect: Archier
Builder: Building Edge
Location: Hobart, Tasmania
Type: New Build
Project Size: 131 m2
Photographer: Adam Gibson