Today we're having a closer look at a new home that exhibits calm and timeless elegance. Set in the leafy suburb of Elwood, the Elwood Residence by Adele Bates is one of two townhouses nestled on an expansive site. It features a bold architectural palette of grounded dark tones, textural brickwork and render, offset by generous glazing hints at the internal character of the home. Shall we take a closer look?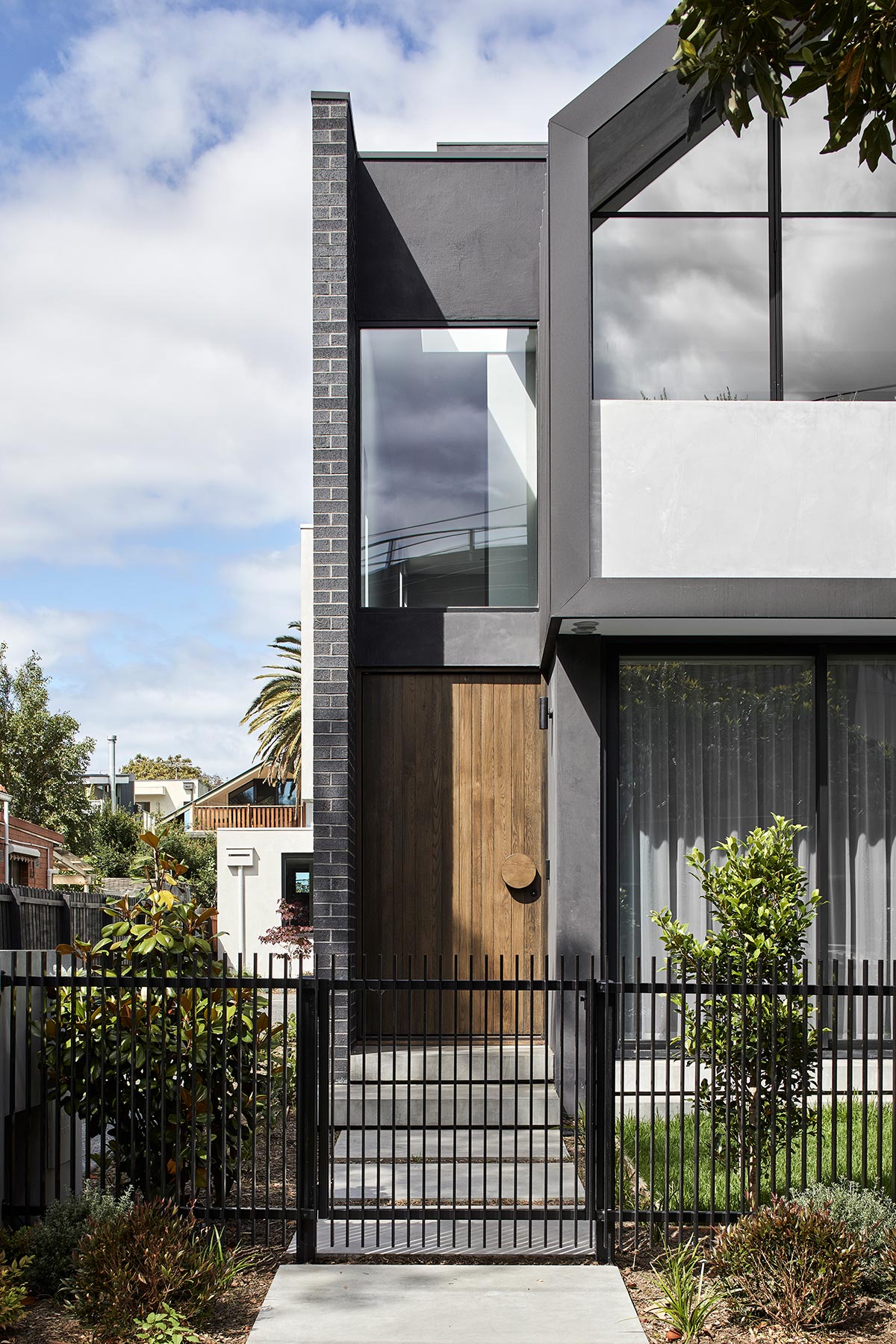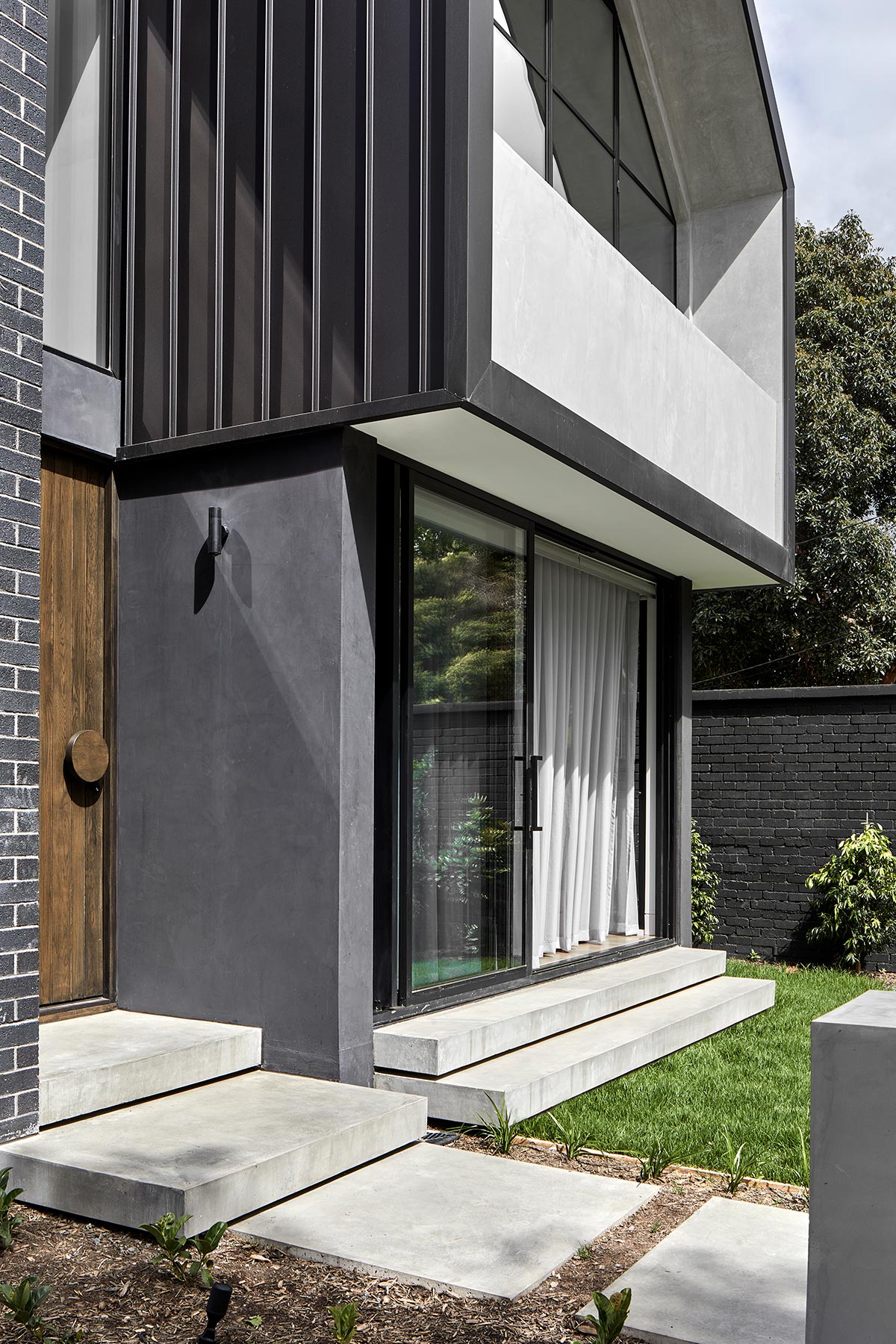 "Stepping inside the home through a bespoke planked timber entrance door, dark yet warm French grey floorboards add tactility as they flow through the ground floor into the open plan living, dining and kitchen areas. The open plan living area is bright, airy, and light-filled with floor to ceiling glazing to both sides. A central element grounds the living area, composed of two horizontal forms of natural stone and soft polished plaster, framing the fireplace and
creating a focal point to the room." – Adele Bates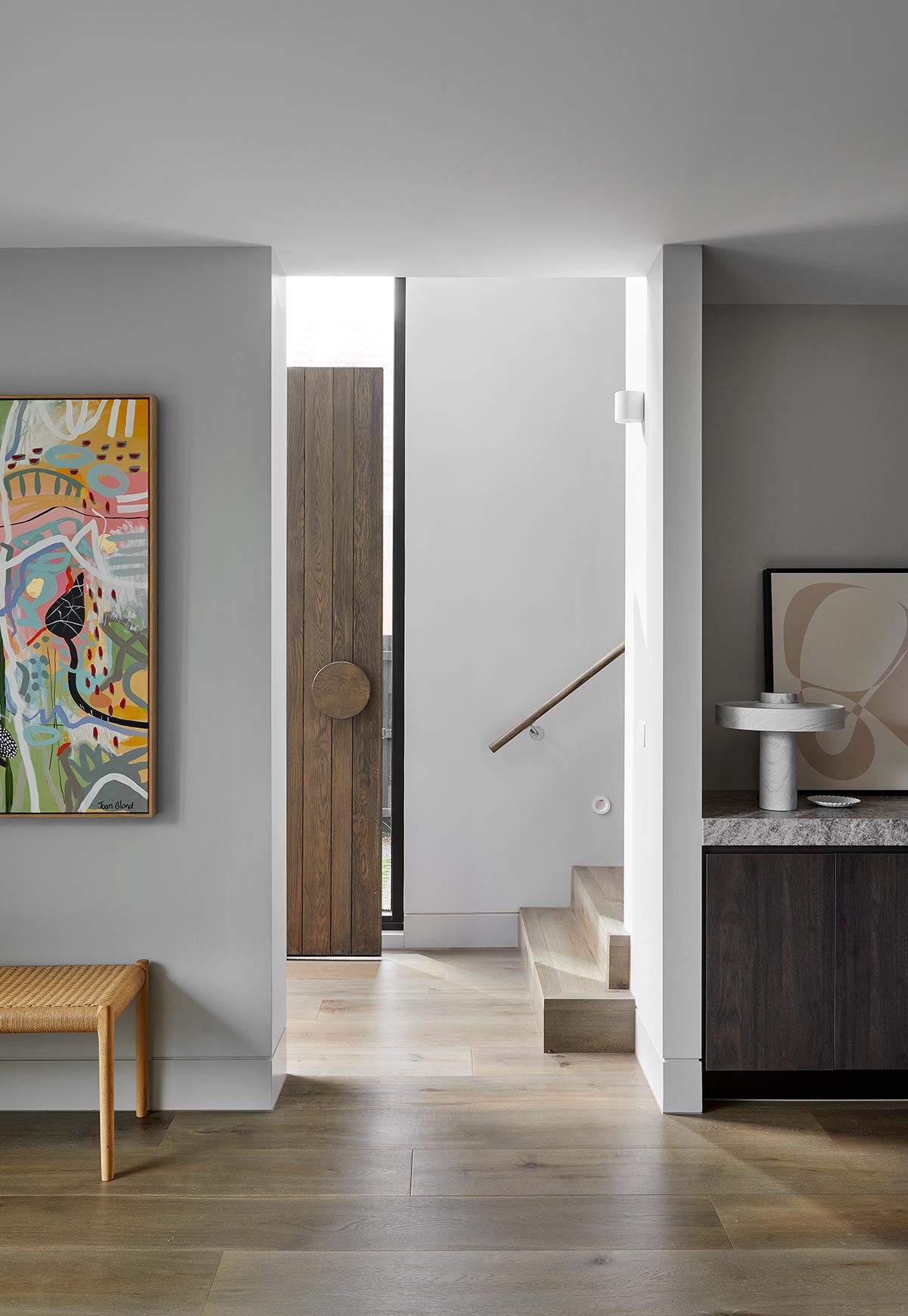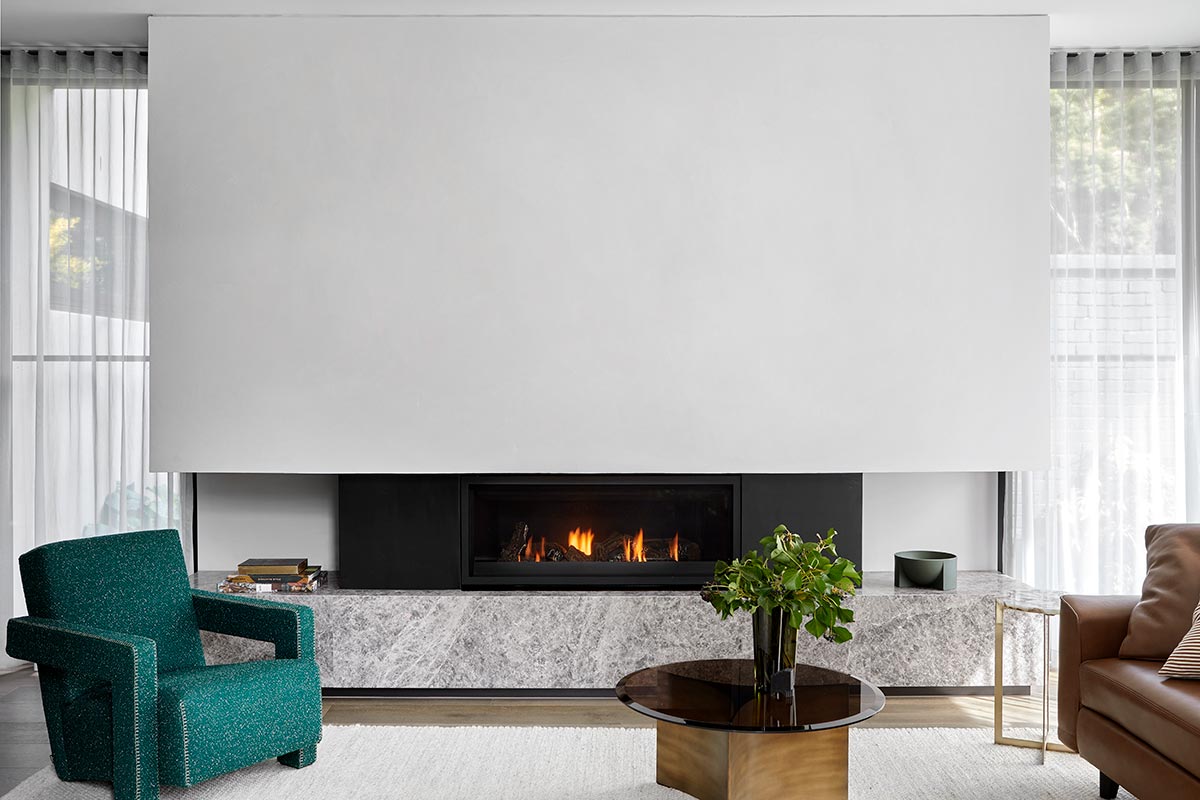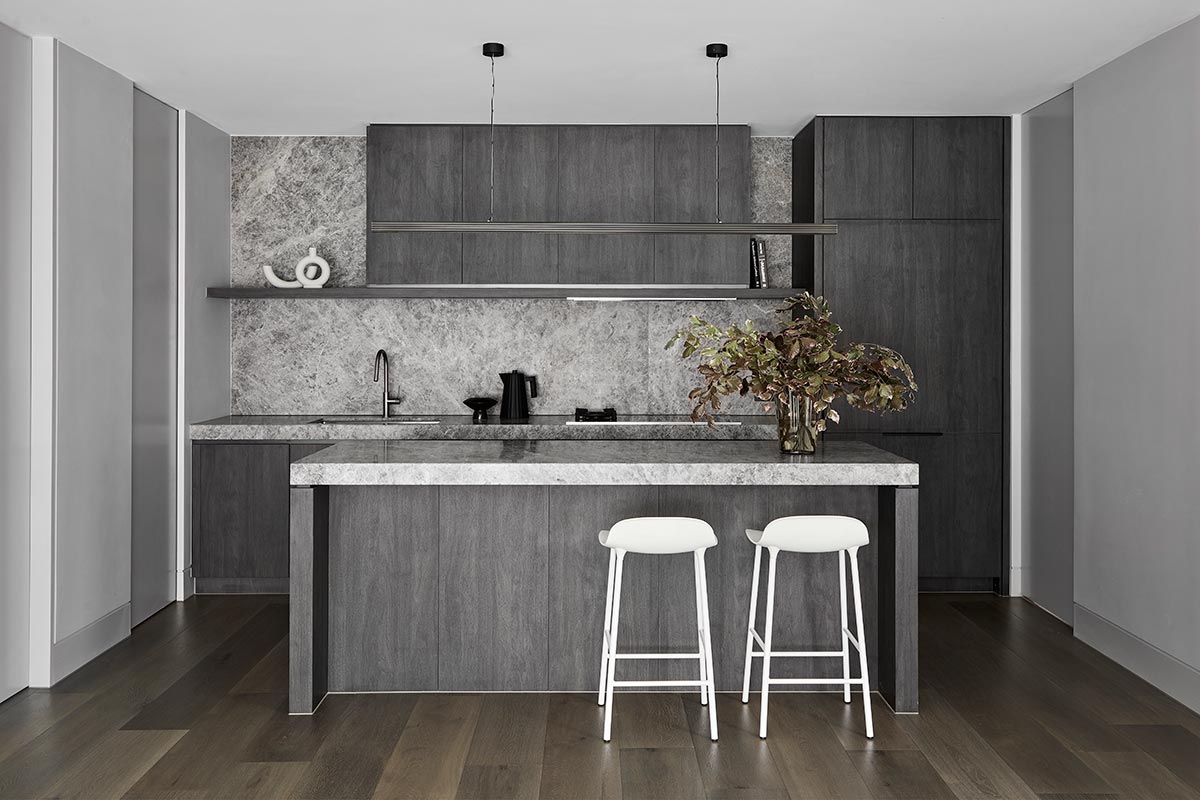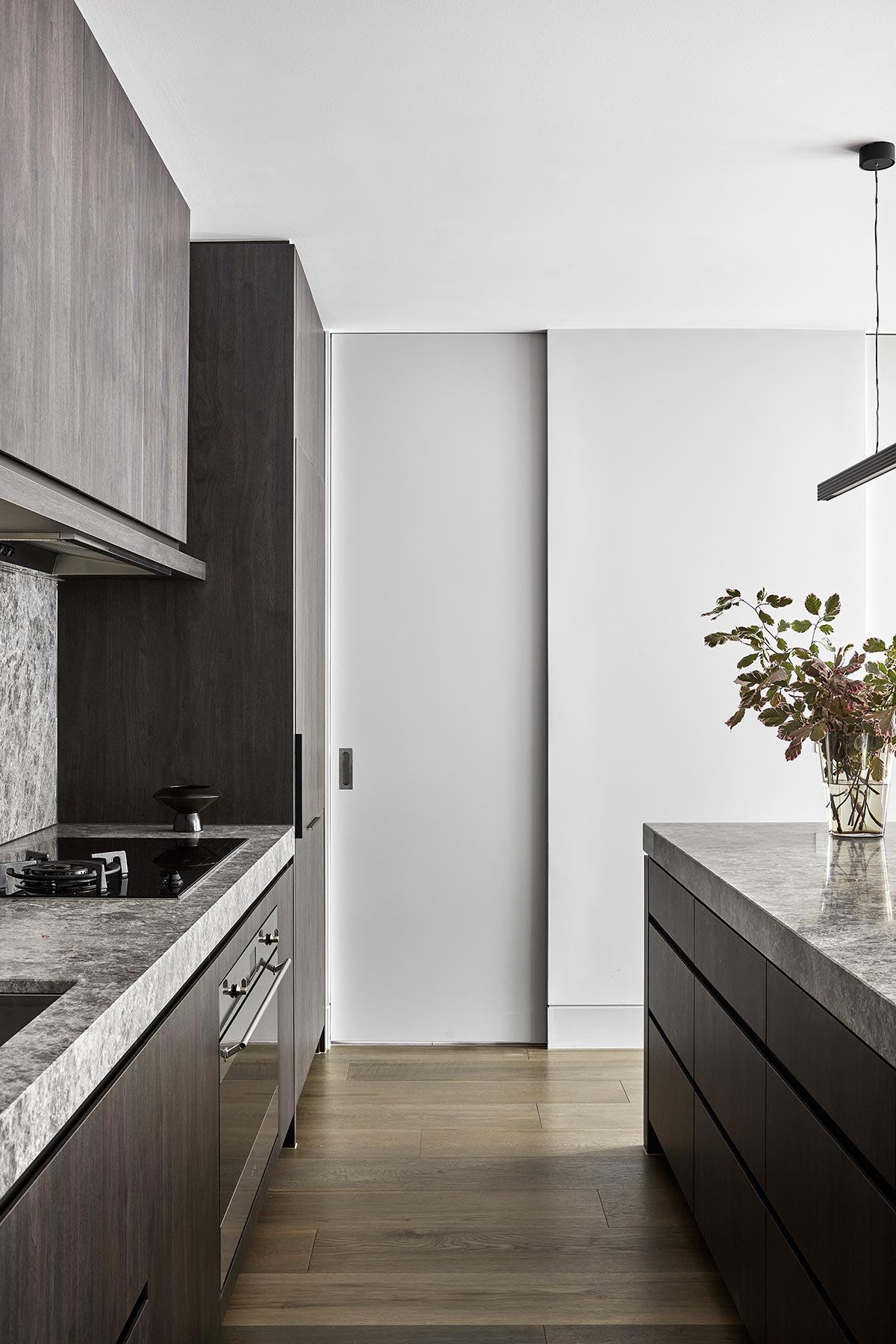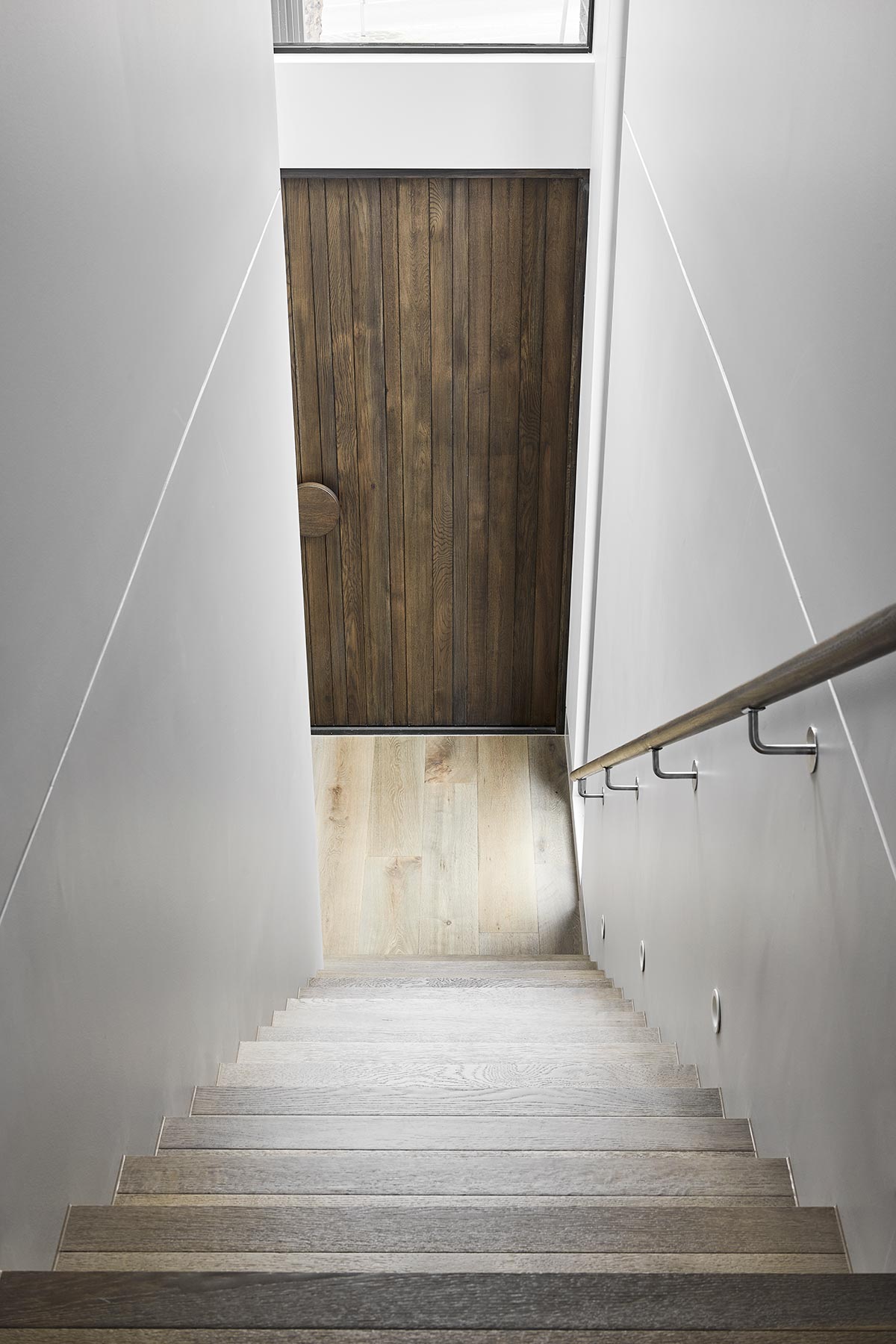 Intended to create a secluded sanctuary, the interior design of this home creates a unique balanced aesthetic without compromising the underlying functionality of every space. Dark, textural timbers, characteristic natural stone and grounded forms can be found throughout the home that contrasts beautifully with the predominantly white walls. The light afforded by the generous architectural glazing is offset by the darker joinery palette as one moves through the residence, creating a considered balance of tones.
"The distinct gable form of the first floor creates the expansive spatial character of the master bedroom with high angled ceilings and tall industrial framed glazing. A luxurious walk-in-robe is cleverly concealed within the form of a textured timber lined box centrally placed in the bedroom, with cavity sliders to close it off as well as provide an easy thoroughfare to the master ensuite. The timber box form doubles as a bed wall, complete with a custom velvet panelled bedhead and unique directional wall lights." – Adele Bates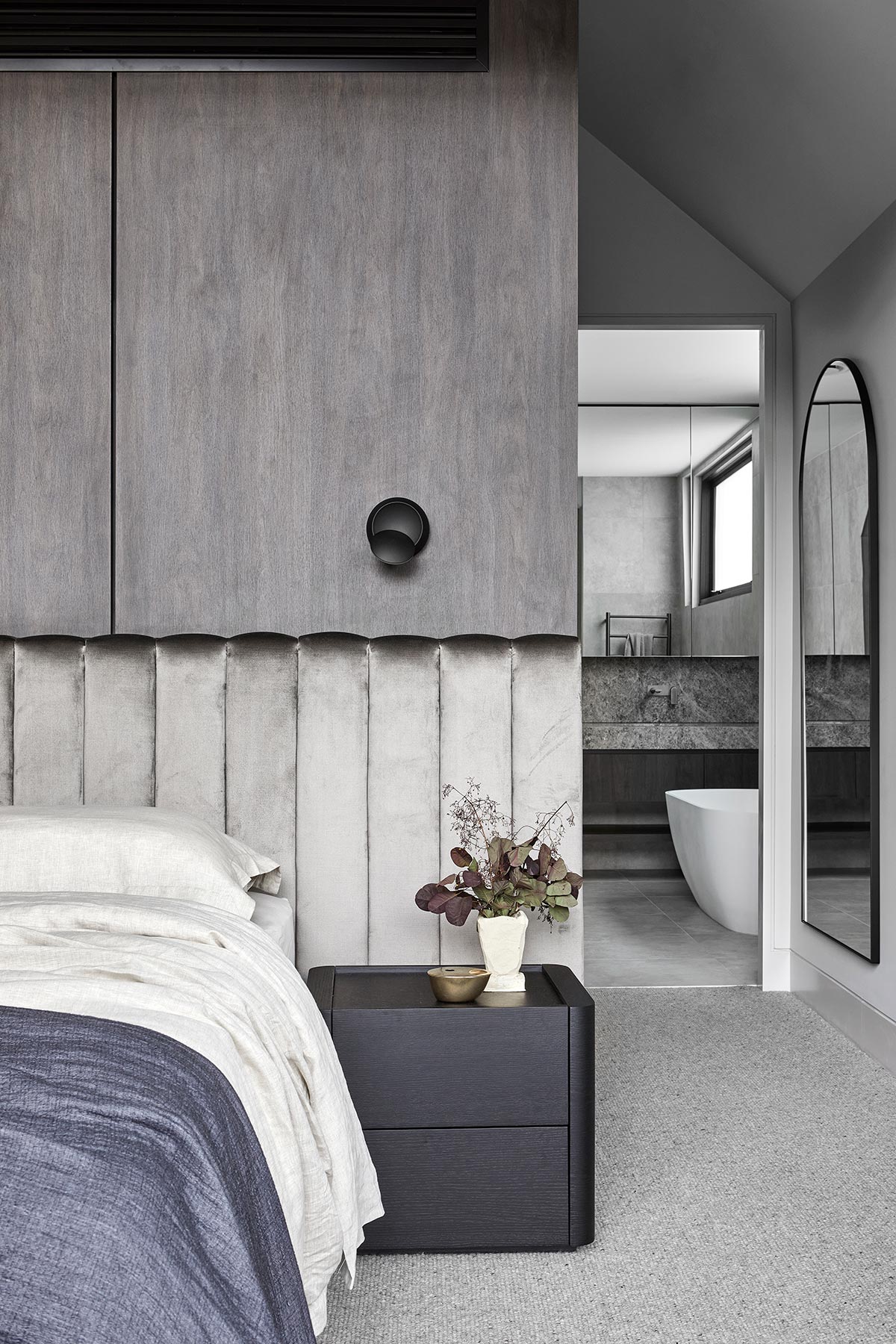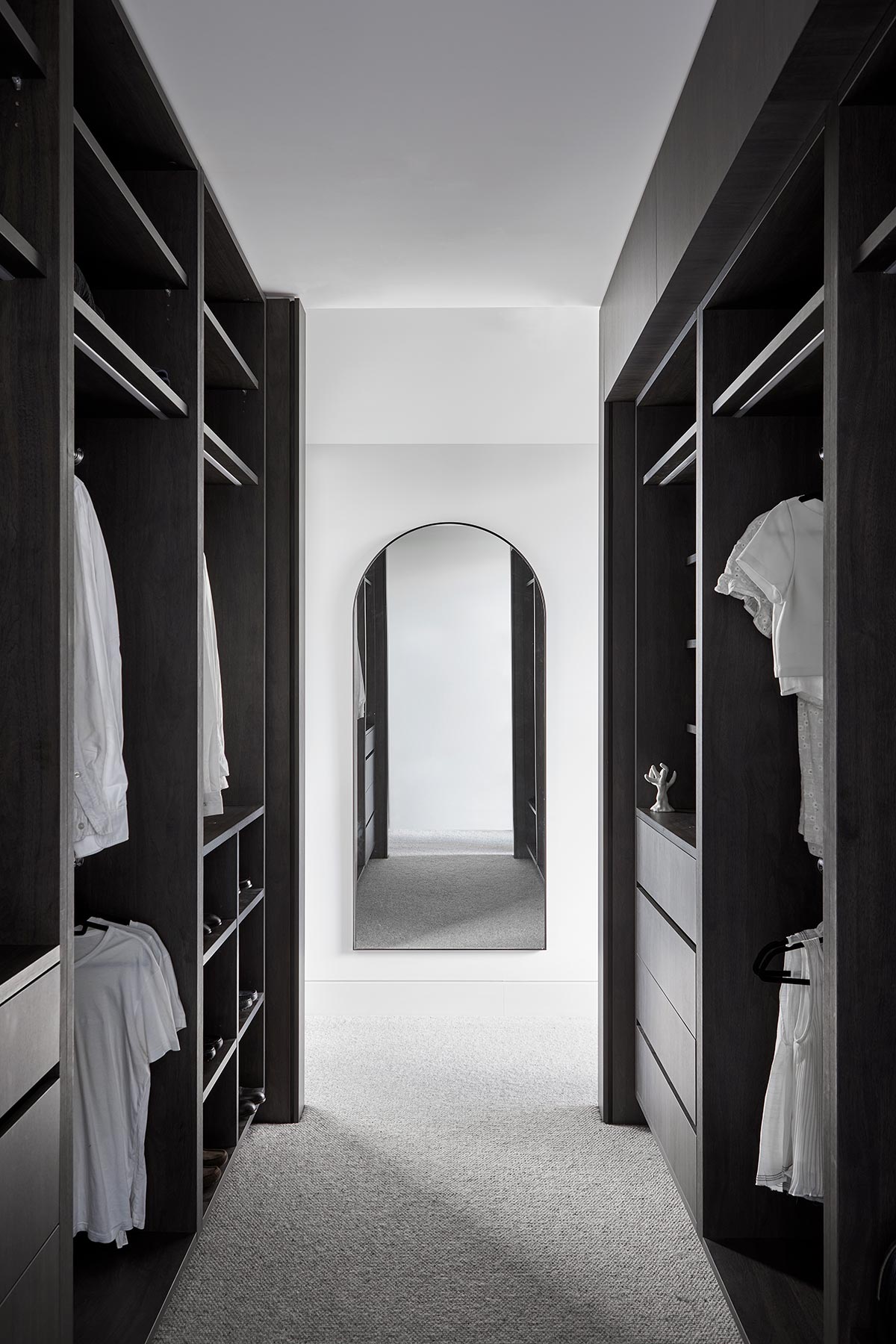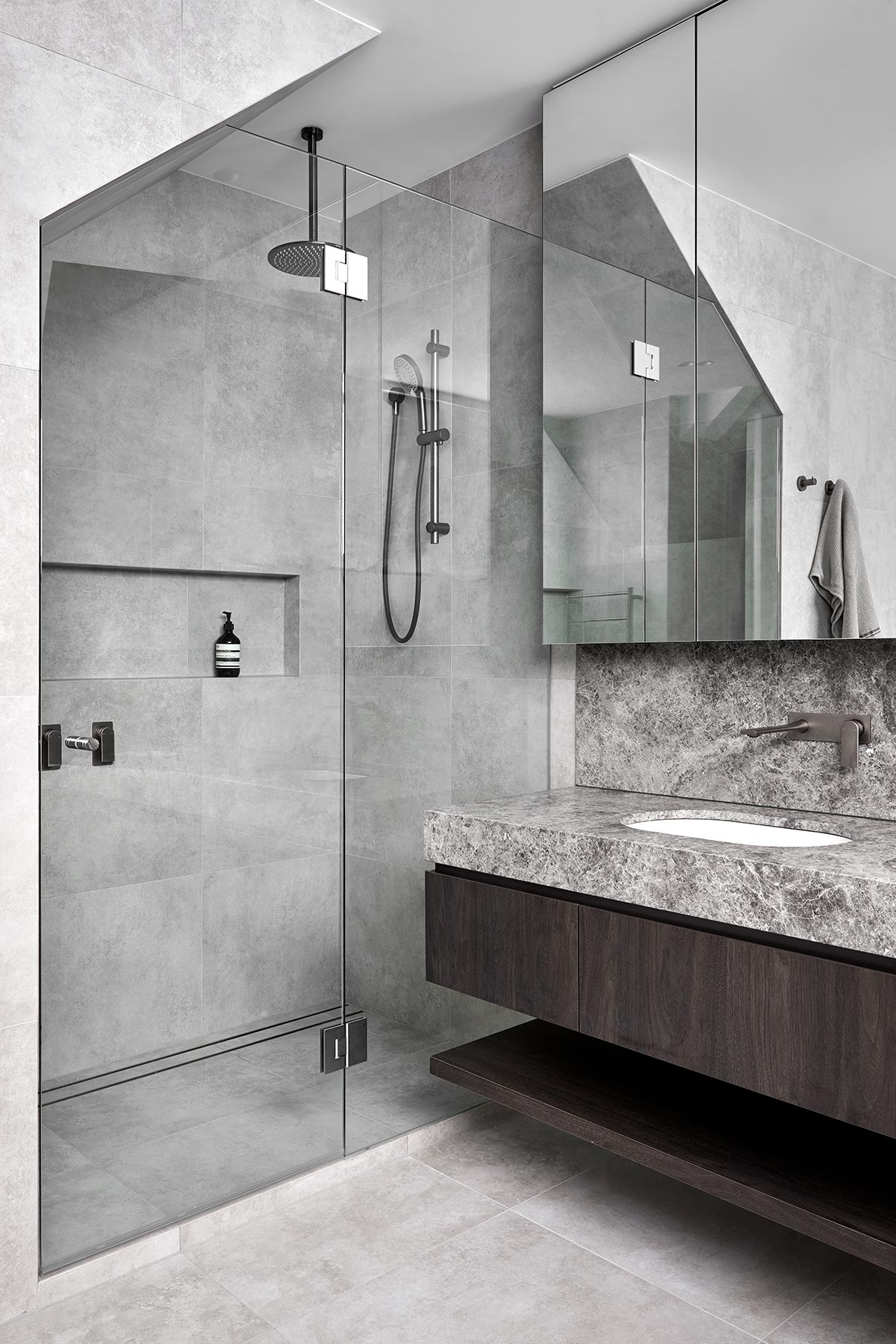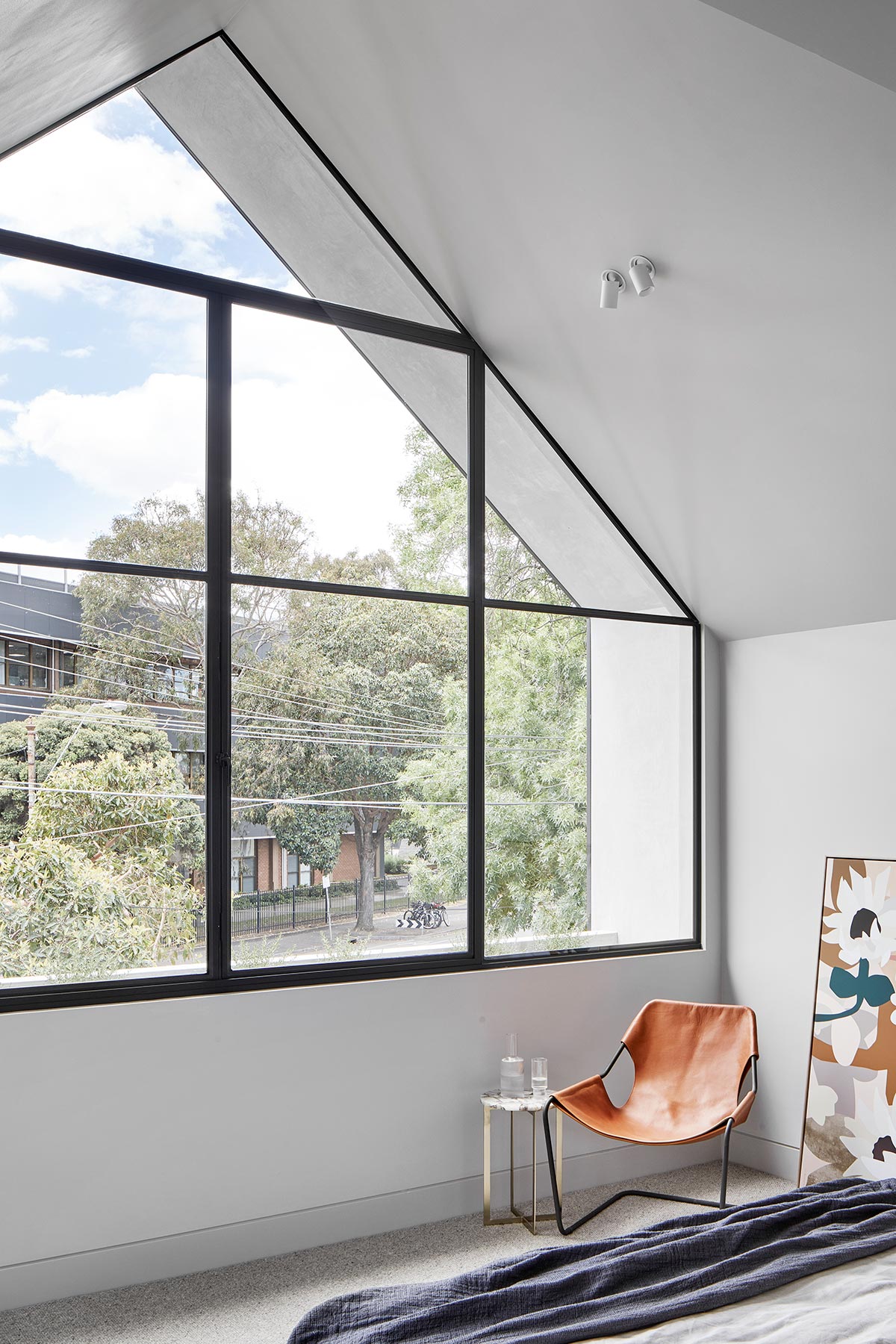 Interior spaces and exterior details are cohesive, both with bold dark features, clean white lines, and textures that are rich in both warmth and luxury. This home has all the essentials and more, and was delivered in a beautiful and distinctly functional package. Two thumbs up for Adele Bates!
Project: Elwood Residence
Studio: Adele Bates
Architect: Designworx Architects
Location: Melbourne, Australia
Type: New Build
Developer / Builder: Mascobuild
Stylist: Bea & Co
Photography: Dave Kulesza