Designed by FMD Architects, the Dowel House is an internal refurbishment to an existing single fronted terrace located in Melbourne. The clerestory skylight has undergone an enchanting transformation to become a point of focus over the dining area, utilising multi coloured dowels to create a beautiful feature point in the house. Let's take a closer look…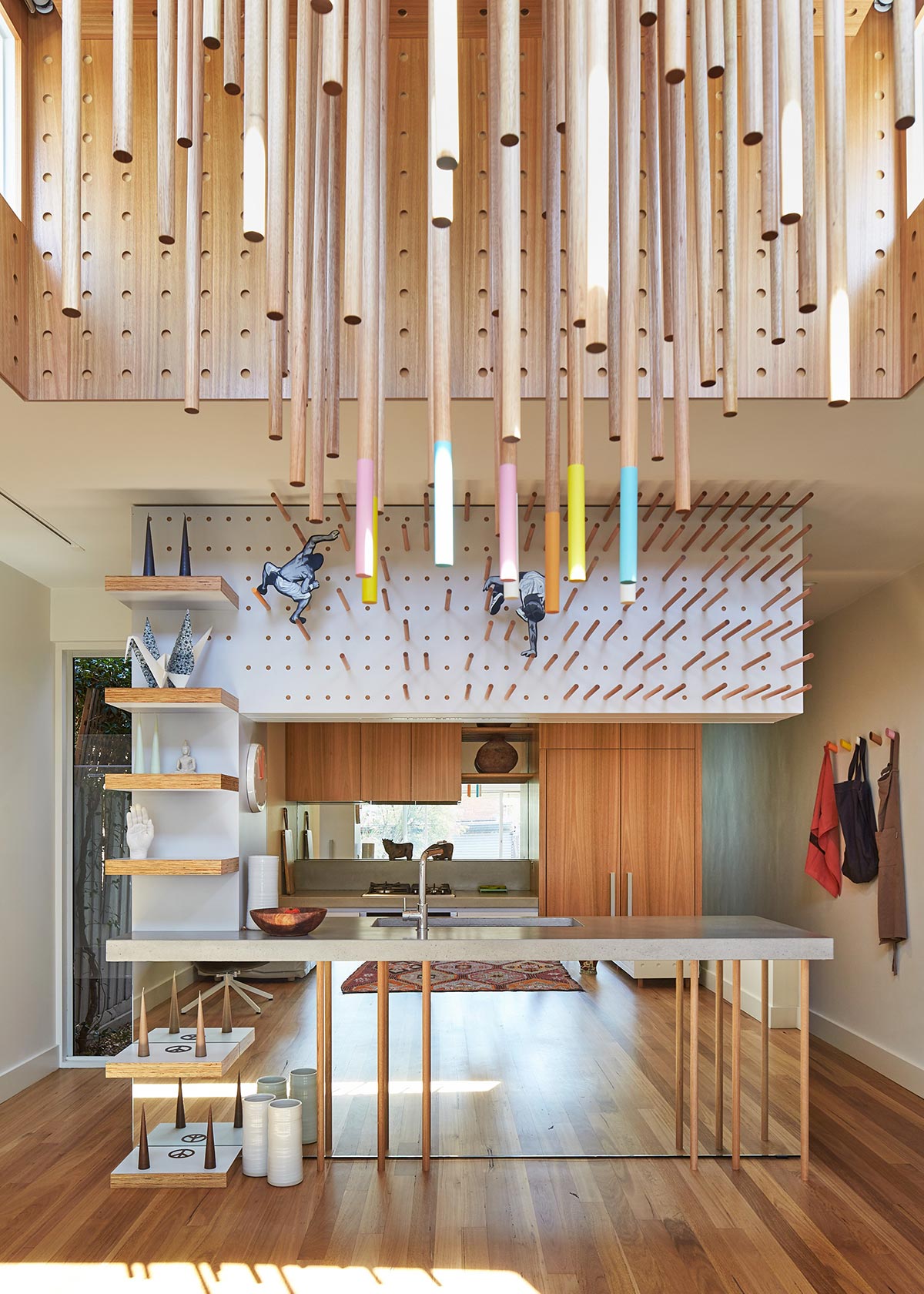 These dowels were also used as display ledges for the client's extensive art collection, doors pulls, towels rails and wall hooks amongst many other things; and are also featured within the kitchen as an art display device, shelving and support legs for the concrete benches.
The colours selected within the interior have been drawn from the collection to personalise the design response. These colours are applied to the dowels within the chandelier as well as dowel elements which punctuate the space.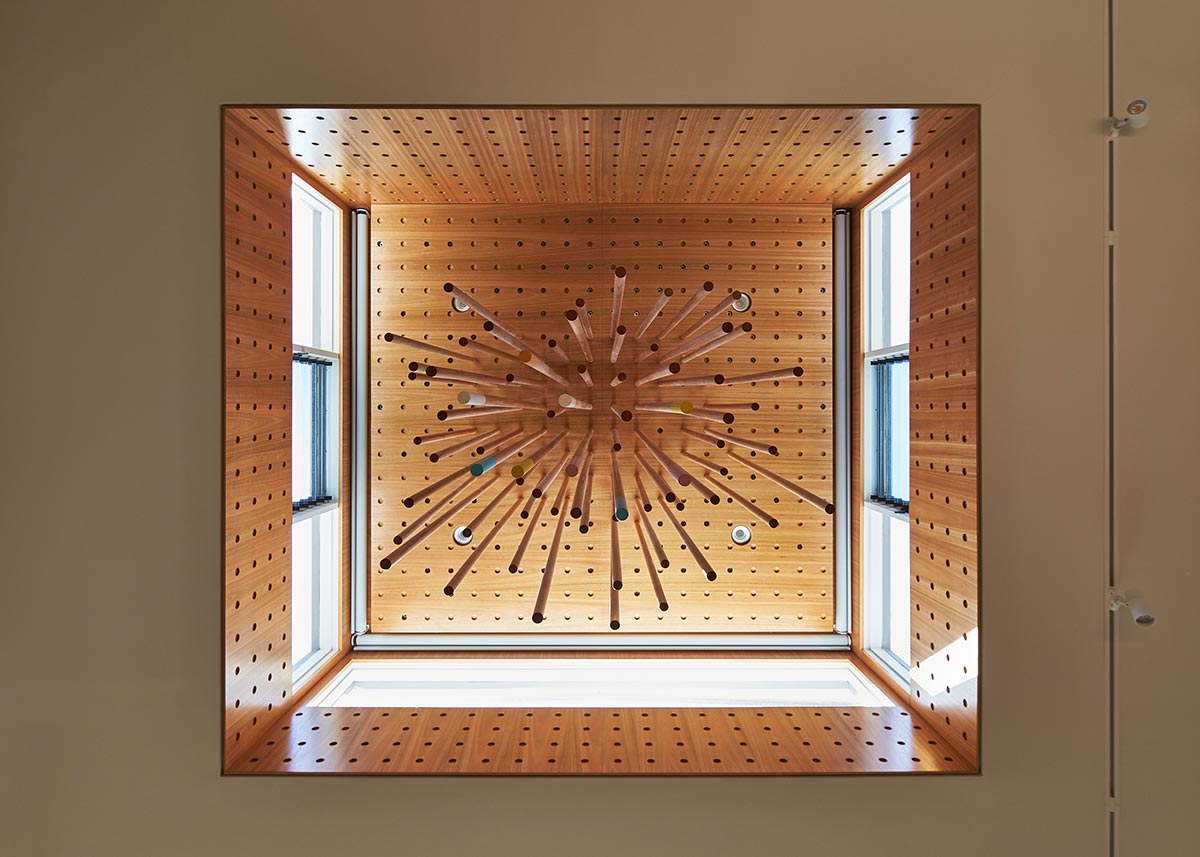 "Our design strategy is always to celebrate the particularities of the project. While exploring the functional opportunities of opening and closing the windows in the skylight as well as incorporating shading devices, the use of the timber dowel offered an opportunity to become the rod to open the louvres as well as a decorative chandelier over the dining table. The chandelier can be reconfigured, with the coloured elements highlighting which dowels can be removed and repositioned to change to dowel display." – FMD Architects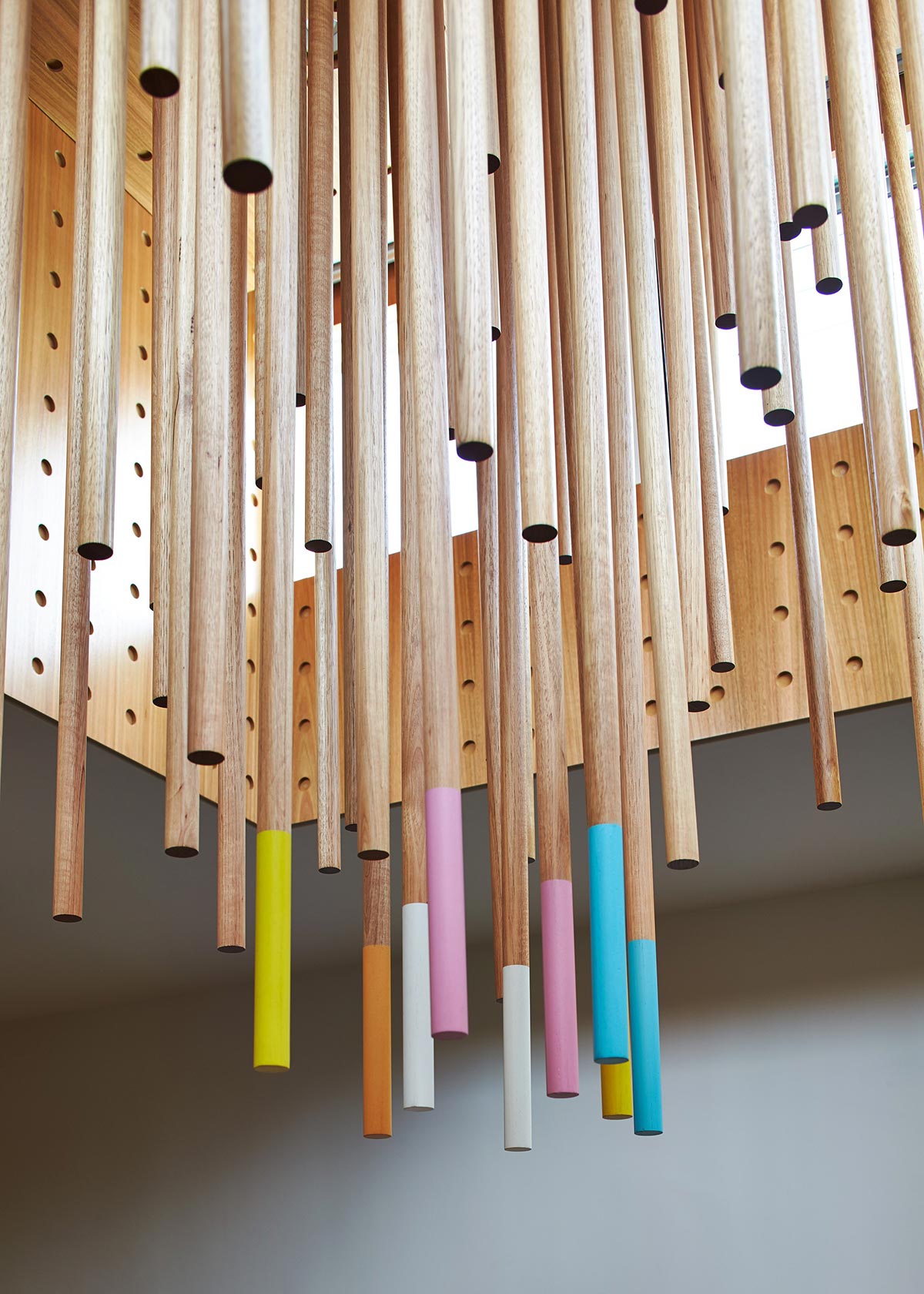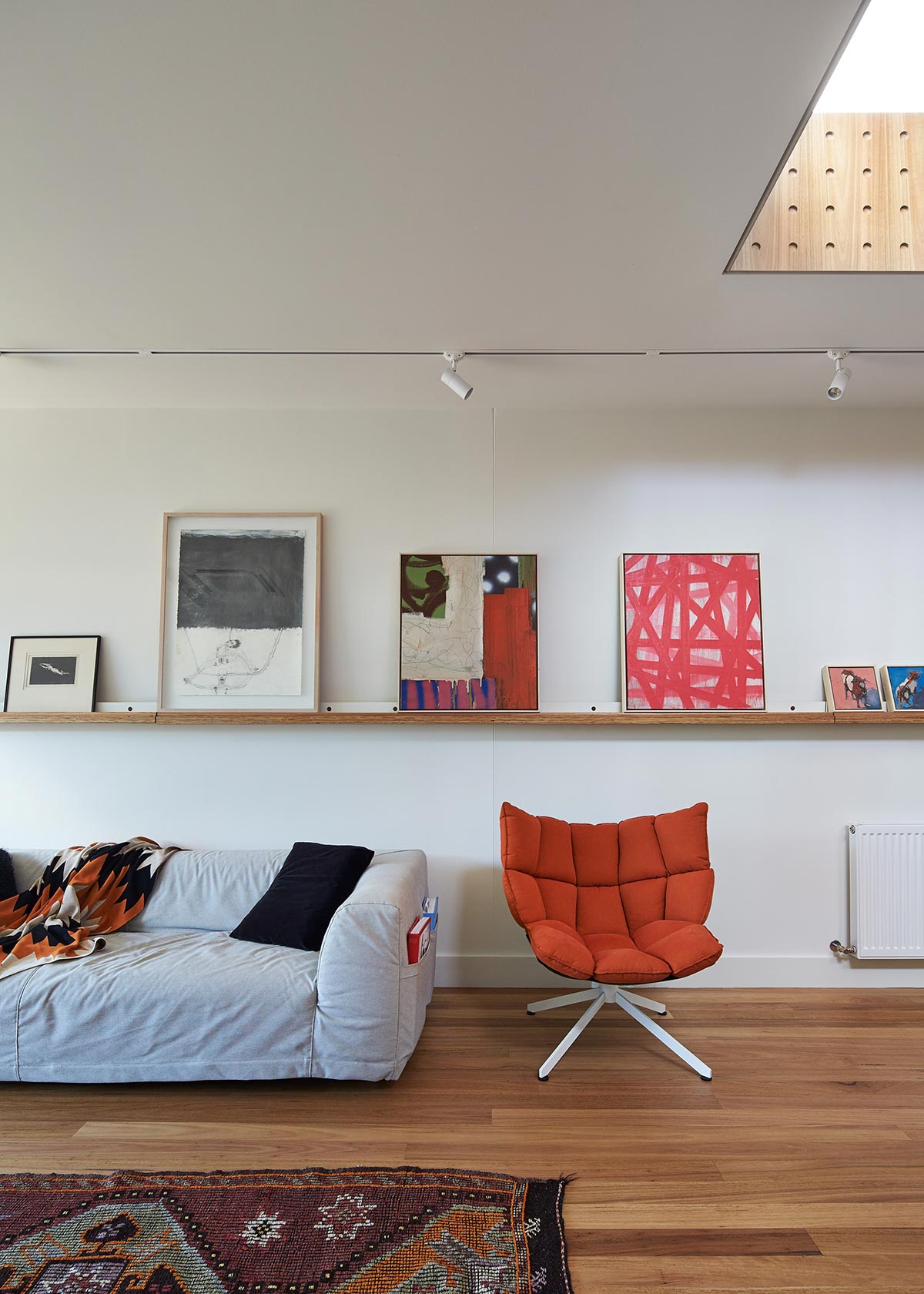 The spatial layout remained the same throughout the house, with the central study to be flexible as third bedroom or study. The circular cut-outs featured in the sliding study wall panel, robes and panelling to the skylight and the TV cupboard also repeat the dowel motif throughout the spaces.
"The dowel establishes a consistent design approach through each space, while varying its function in each and every space. This humble material is elevated to higher level, as it blurs the boundaries between the functional, the decorative and art. The series of spaces create a holistic yet diverse experience between each other in constant dialogue with the ever changing art collection on display." – FMD Architects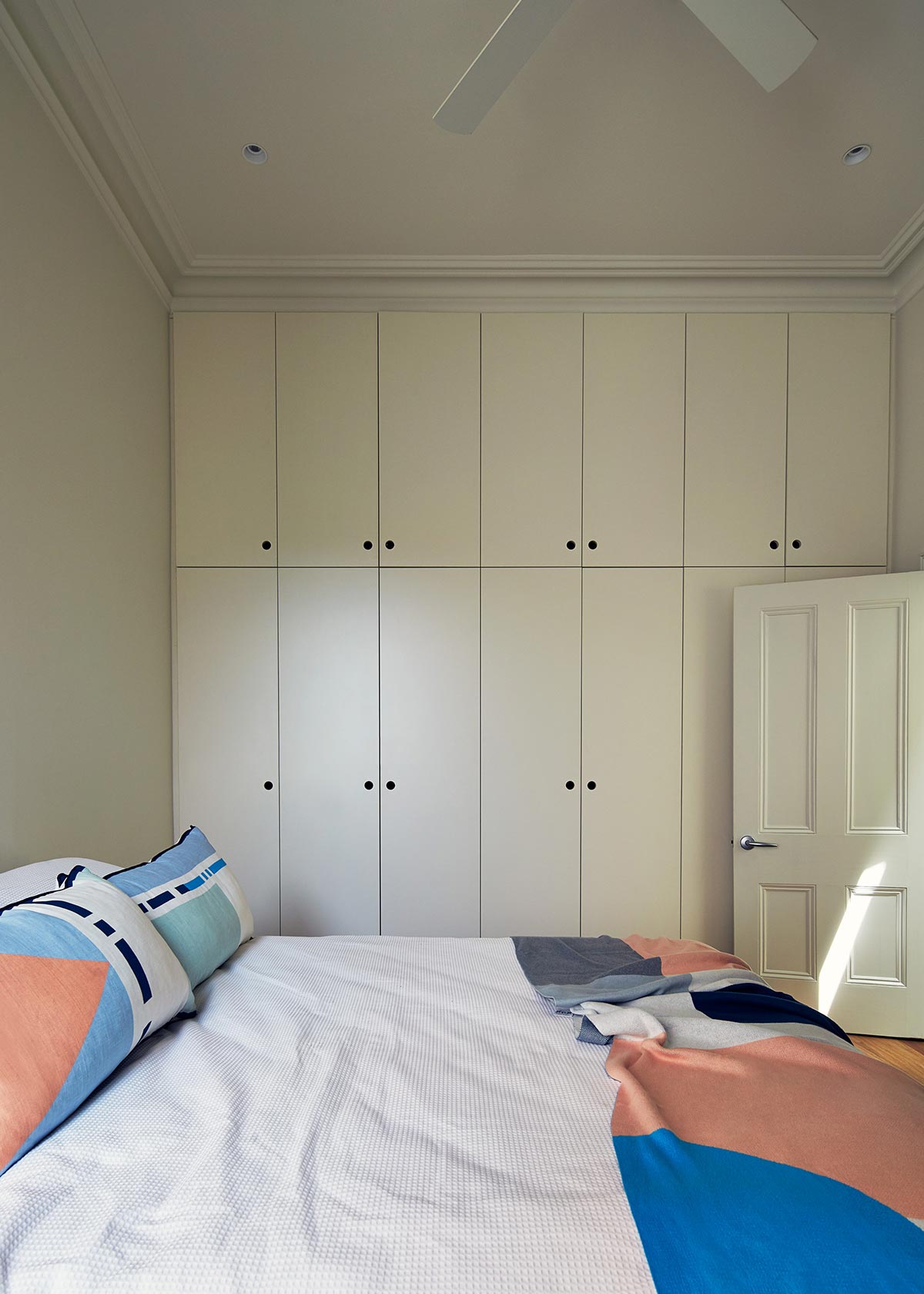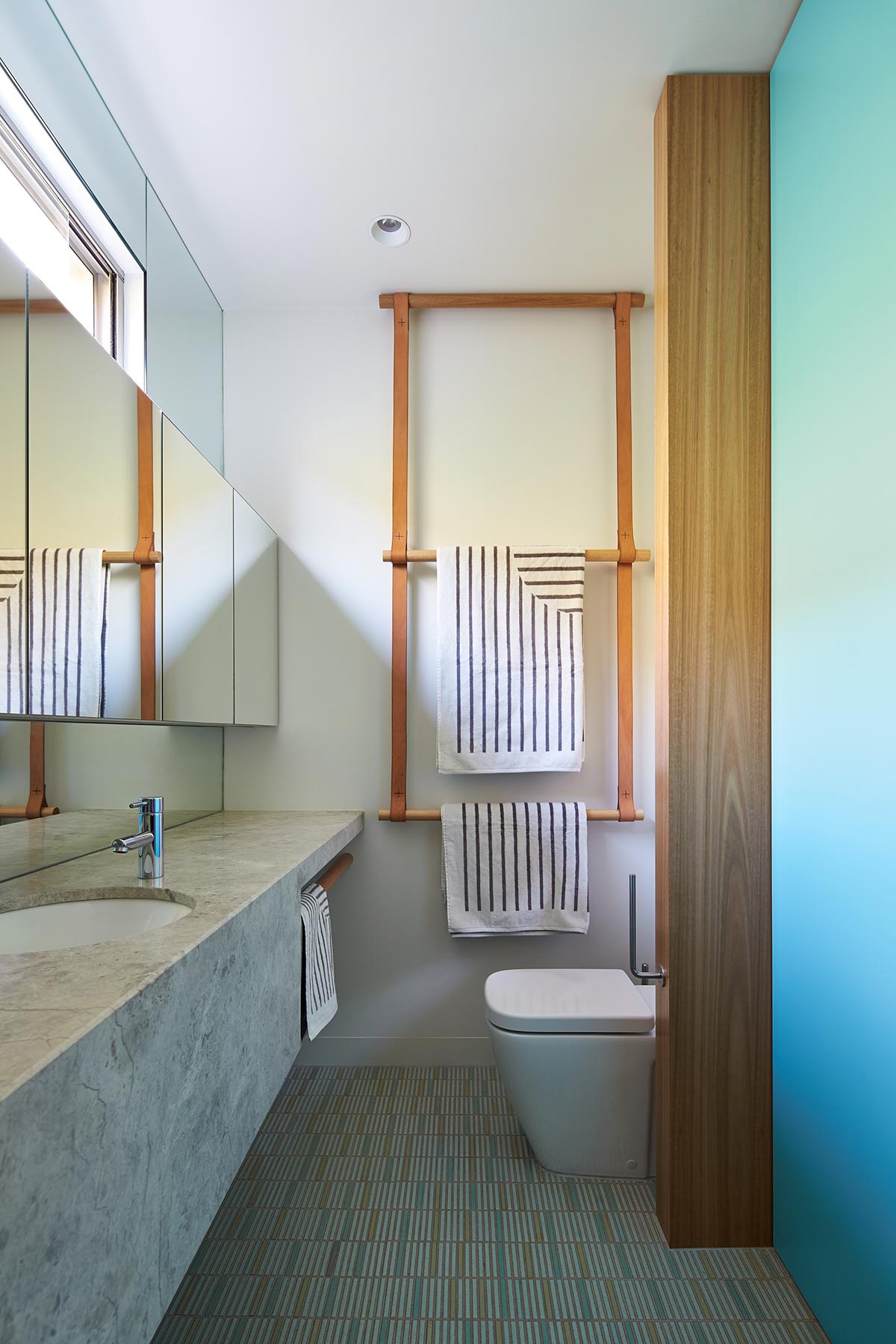 It's not everyday that we get to see a house with such a unique feature! Come to really think of it, nothing challenges our creativity more than knowing we have a solid reference to improve yet preserve, all at the same time. Our hats are off, FMD Architects!
House Project: Dowel House
Architect: FMD Architects
Location: Melbourne, Australia
Type: Renovation
Photography: Peter Bennetts