Last night Jo and Lucy were honored to attend the awards presentation for the 2018 Houses Awards at the Ivy Ballroom in Sydney, if you haven't seen all the action from the night jump onto our Instagram story to watch as each winner was revealed. Over the last month we have highlighted a number of the Australian Houses Awards finalists, lots of insta worthy homes in the mix this year. There are dreamy new homes, creative small extensions, as well as sustainable and heritage projects that took our fancy. Start scrolling because there is a lot of house porn to peruse as we run through all the category winners below…
The top honor of Australian House of the Year was taken out by Peter Stutchbury Architecture, Bayview, NSW, for their amazing Cabbage Tree House. This house really is something else, built into a steep rocky face, the amazing angled brickwork really blends into the surrounding bushland. Those views from the rooftop garden really must be something else in the flesh, with multiple entertaining areas both inside and outside this really is a unique entertainer's dream home. Blending inside with outside and the creative use of lightwells this large home is nothing but spacious whilst still maintaining plenty of warmth, no wonder they also took out the best new house over 200 square metres category.
A hillside sanctuary in the Northern Beaches, New South Wales, has been crowned the 2018 Australian House of the Year. Selected by a panel of distinguished industry experts, Cabbage Tree House by Peter Stutchbury Architecture is a unique, cave-like abode that responds to the landscape and defies residential norms.
Cabbage Tree House is joined in its accolades by an outstanding collection of architectural works including a sloped roof residence in a former paddock, an alteration inspired by a hole in the roof, a restored 1920s Queenslander and a micro-domestic apartment. Each year, the Houses Awards uncover the best Australian residential architecture and design.
The program recognises how existing and emerging professionals embrace architectural challenges while developing the meaning of 'home.'
This year, the venerable jury consisted of Kerry Clare (Director, Clare Design), Albert Mo (Director, Architects EAT), Jennie Officer (Director, Officer Woods Architects),
Stuart Vokes (Director, Vokes and Peters), and Katelin Butler (Editor, Houses magazine). Stuart Vokes, 2018 juror and winner of the 2017 Australian House of the Year, explained, "Australia is witnessing a growing diversity of housing product as a consequence of changing social and economic forces. Architects are responding with exciting examples of innovative typologies, diverse spatial scales and socially responsible models evident amongst this year's awarded projects and practices."
"Cabbage Tree House is wonderfully aspirational, beautifully made, and a joyful expression of landscape and one's place in nature," Stuart continued.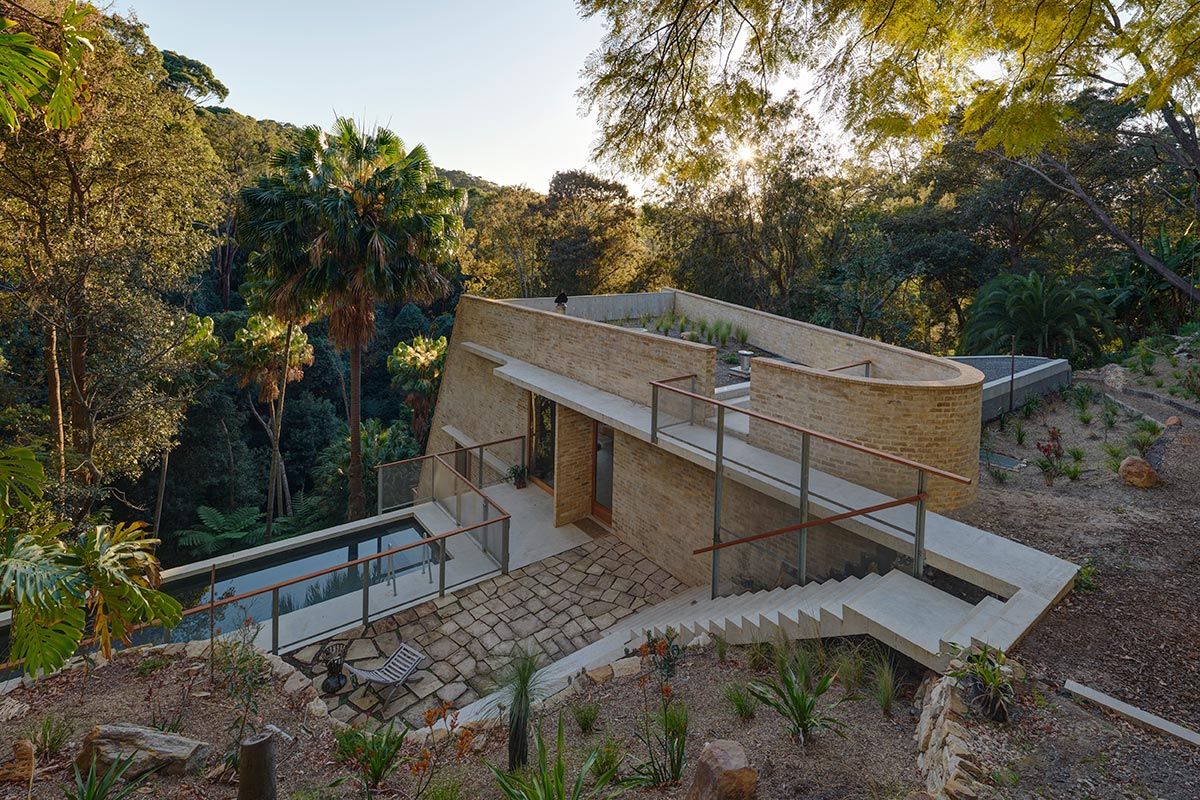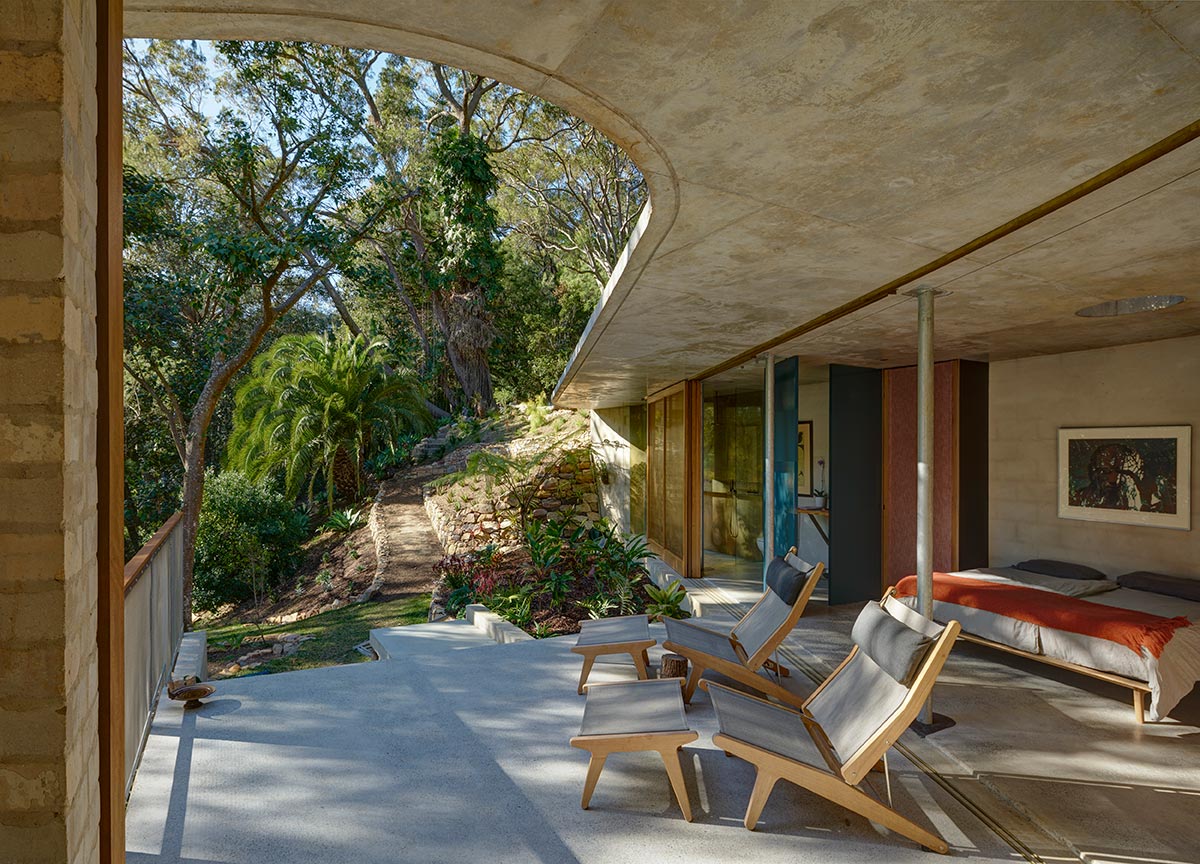 WINNER: AUSTRALIAN HOUSE OF THE YEAR
AND
WINNER: NEW HOUSE OVER 200 SQUARE METRES
Cabbage Tree House by Peter Stutchbury Architecture (Bayview, NSW)
Architect: Peter Stutchbury, Instagram
Photography MICHAEL NICHOLSON, Instagram
JURY CITATION
The Cabbage Tree House is a remarkable, complete Australian house that authentically and poetically embraces its landscape setting on Sydney's northern beaches. Anchored in a rock shelf, the masonry structure leans back into the hillside as a "physical manifesto of the character of its place."
Internally, the home has cave-like qualities. It is a sanctuary away from city life and is connected to the landscape. The scale of the building is broken down into smaller spaces of retreat and seclusion – all with views into vast bushland. Exposed concrete, steel and brickwork gives the impression of permanence and longevity, as well as having thermal mass benefits. The home is intended for comfort in all seasons: it captures cool breezes from the east in summer and is splayed to the north toward the winter sun.
Although this house is undeniably an impressive piece of architecture, it has the warmth, layers and inhabitation of a welcoming home. Every design detail is considered – from the circular skylights that give glimpses of blue skies above, to the handcrafted timber handrail to the stair. It is a house through which one can reconnect with nature – not as a museum piece, but as a home to be lived in. This home is the Australian House of the Year for it timeless qualities, impressive sculptural forms and connection to place.
Sited on and leaning back into a dramatic north-facing escarpment, Cabbage Tree House powerfully anchors inhabitation and mass. With stepping volumes and a plan that expands broadly to the north, the house offers a variety of spaces for activity in, around and under it. Large sliding openings admit the surrounding landscape and adjacent terraces orchestrate a compelling way to inhabit the striated rocky ledges of the site. A limited palette of materials and an acceptance of as-found finishes means the house is animated by texture, sunlight and landscape.
Luxury is found in voluminous, expansive rooms and openings rather than lavish appointment or finish. Thermal comfort is prioritized by careful orientation and ample earth-connected mass. Privacy and communality are deftly managed in the plan of the house, with a central elevated living area and vertically separated, or horizontally splayed, bedrooms and bathrooms. A study at the rear of the main living area opens to a court that has been subtracted from the hillside, allowing both ends of this remarkable room to be naturally lit and ventilated. The Cabbage Tree House impressively exploits architectural opportunities and expresses a striking sense of permanence.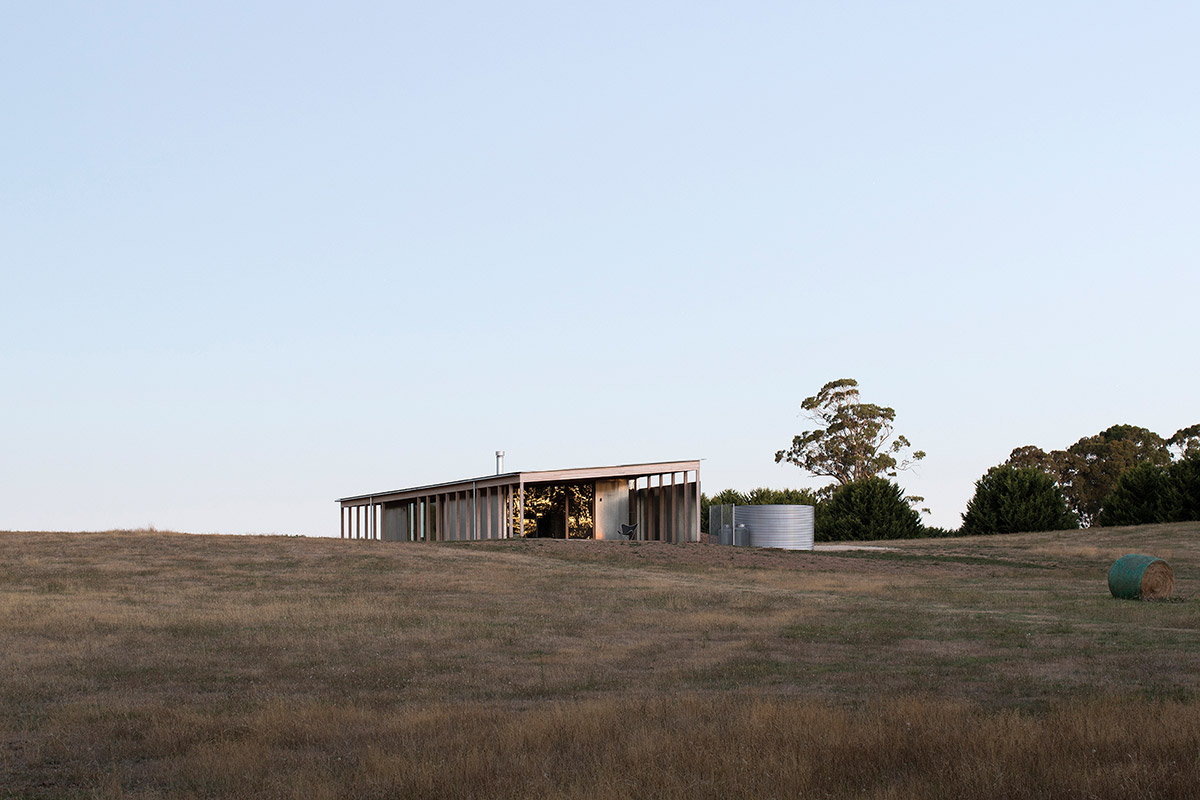 WINNER: NEW HOUSE UNDER 200 SQUARE METRES
Springhill House by Lovell Burton Architecture (Springhill, VIC)
Architect:  Lovell Burton, Instagram
Photography: BEN HOSKING, Instagram
JURY CITATION
Springhill House makes a significant contribution to residential architecture in Australia. It responds to its setting, brief and budget with utility, clarity and rigour. Sited on a north-facing slope in a disused agricultural paddock, this house for an author is both economical and delightful. The canny, efficient plan is organized by a rhythmic linear form that relates to structural bays. Slender timber portal frames allow for clear spans and a large, single-pitch roof that provides shade of varying depth around the house, which is broadened or contracted according to orientation and strong solar passive design principles.
The structural rhythm is broken on the north side to mark a large opening to living areas, and is sheathed on the southern arrival side by galvanized sheet cladding, which gives the house a taut, sheer expression – tough, yet gleaming and mirage-like. Internally, the house is planned to avoid circulation space, with open living areas and a tight service spine, flanked on each end by a study with framed but expansive views. Springhill House demonstrates that designing within limits, minimizing material and spatial excess and building on tradition can lead to unembellished yet exceptional occupation.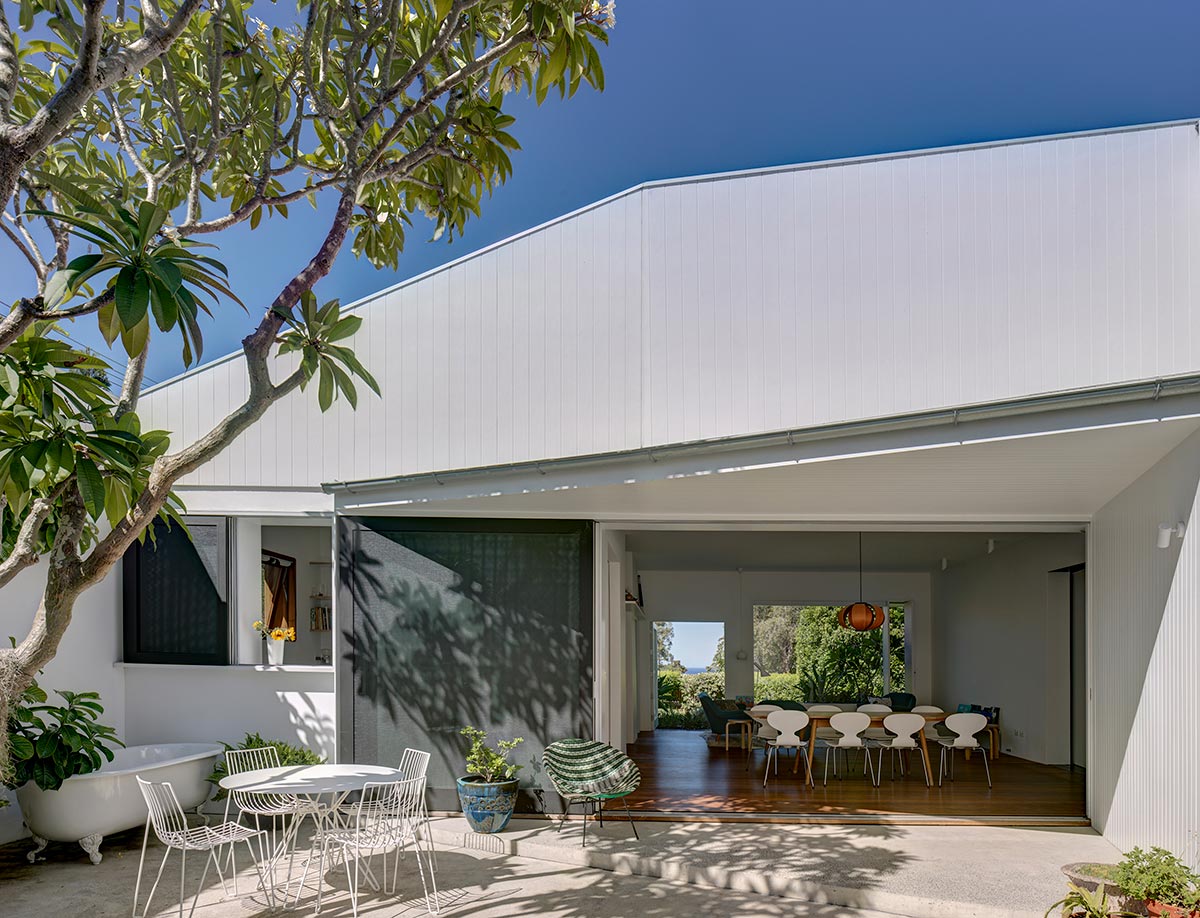 WINNER: HOUSE ALTERATION AND ADDITION UNDER 200 SQUARE METRES – JOINT WINNER
Hole in the Roof House by Rachel Neeson and Stephen Neille (Bronte, NSW)
Architect: Neeson Murcutt, Instagram
Photography BRETT BOARDMAN, Instagram
JURY CITATION
Hole in the Roof House is a delightful alteration and addition to a suburban bungalow, located on a noisy road close by to Bronte Beach.
The originally unremarkable home has been transformed into a "domestic sanctuary" by cutting a hole in the roof to make way for a courtyard with a mature frangipani tree. The planning of the home revolves around and engages with the carved-out space, located on the naturally quietest part of the street. This courtyard, paired with the indoor living area, becomes the heart of the dwelling. The courtyard demonstrates the positive attributes of negative space; as well as being a quiet, peaceful focus for the house, it brings light to the centre and enables cross-breezes without loss of privacy – and there is no need to lock up and air-condition the home. Rich spatial experiences are achieved through a layering of the plan, long and short vistas, changes in scale, landscape and the curation of light.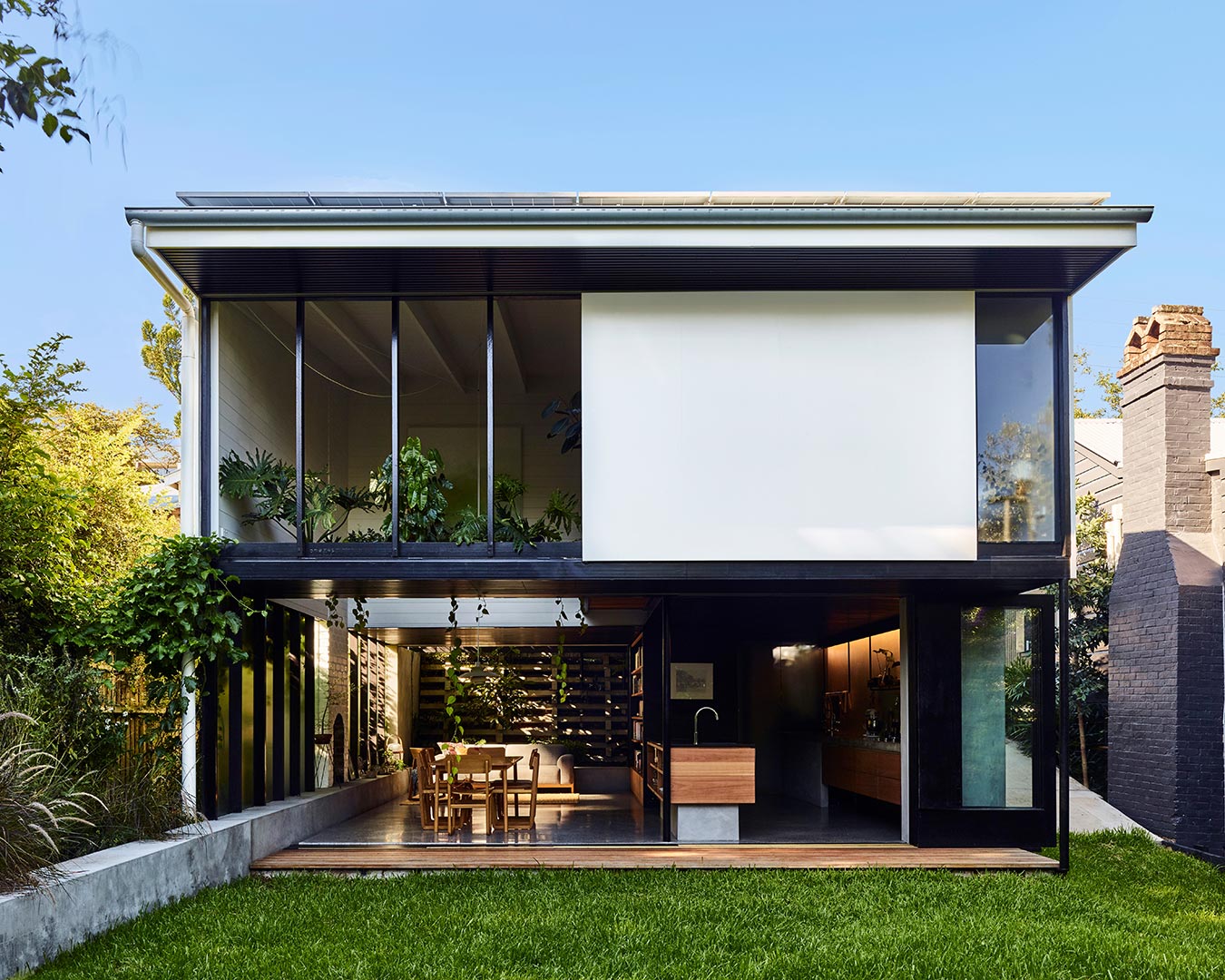 WINNER: HOUSE ALTERATION AND ADDITION UNDER 200 SQUARE METRES – JOINT WINNER
Terrarium House by John Ellway (Highgate Hill, QLD)
Architect: John Ellway, Instagram
Photography TOBY SCOTT
JURY CITATION
A familiar Queensland worker's cottage has been transformed into a luscious, planted oasis. John Ellway has deftly exploited the site's natural fall by inserting living spaces underneath the raised original cottage. This move has deconstructed the classic verandah arrangement to create a wonderful, breezy and vine-covered entry and external vertical circulation.
The design of the Terrarium House is attuned to its subtropical climate, promoting cross-ventilation with a sunken living space protected from the harsh Queensland sun. The compactness of the house is its triumph; circulation flows seamlessly from one space to another and not one inch is wasted, with notable Japanese influences. A double-height space above the dining area gives the impression of space, without deterring from the intimacy and warmth of the home.
This alteration and addition has been put together with care and finesse in a careful contextual response. There is restraint in its execution, and the design enhances the delight taken in everyday rituals.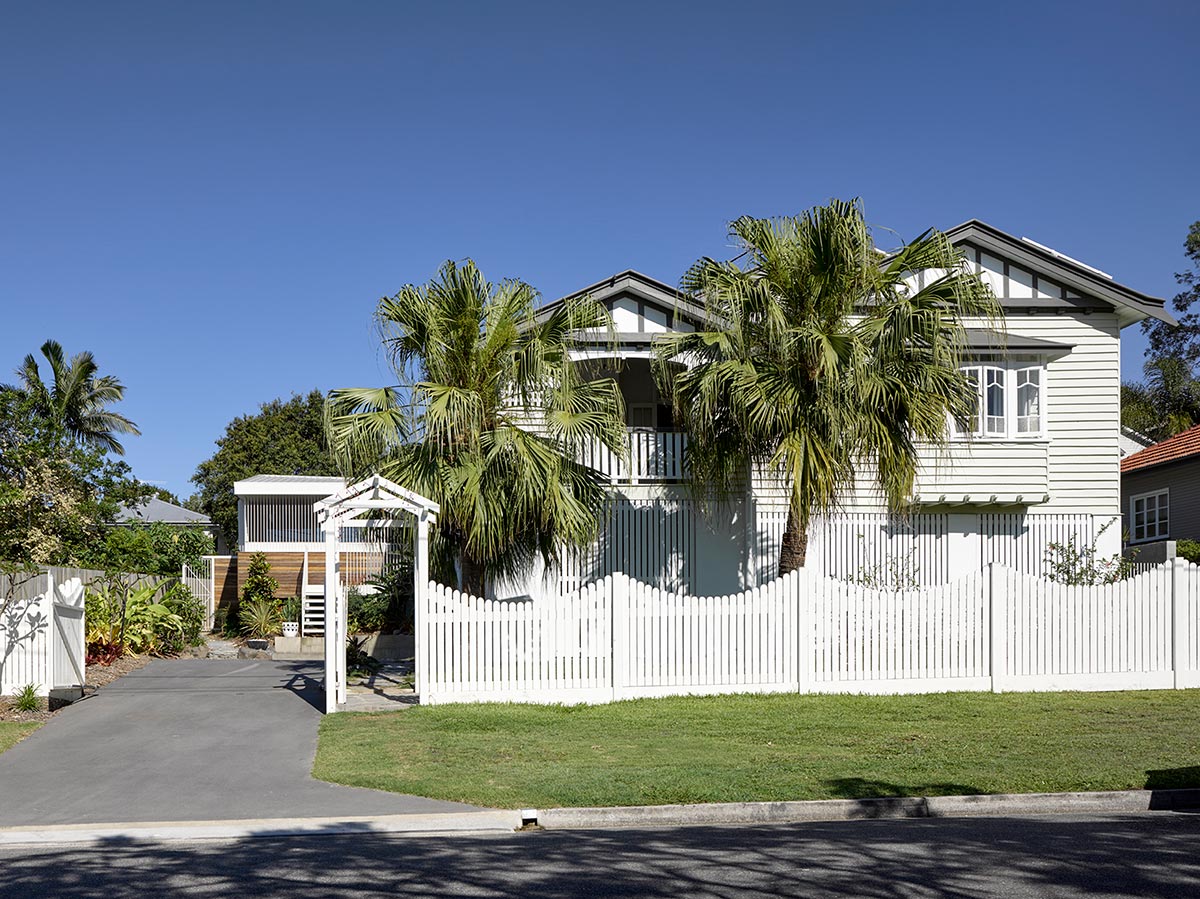 WINNER: HOUSE ALTERATION AND ADDITION OVER 200 SQUARE METRES
Morningside Residence by Kieron Gait Architects (Morningside, QLD)
Architect:  Kieron Gait, Instagram
Photography CHRISTOPHER FREDERICK JONES, Instagram
JURY CITATION
Morningside Residence is a quiet, respectful and poetic addition to a 1920s Queenslander house. The original Queenslander has a story of craft and care; the new addition works subtly in the same way, with simplicity of plan and a focus on the art of making.
With a small, elongated footprint the new pavilion defines a generous north-facing outdoor living space – a simple strategy that creates high livability with an economy of means. The pavilion serves contemporary open-plan living, responds to climate and context, and preserves the original house as a quite retreat, more inwardly focused and with sleeping areas.
At a time when Brisbane is losing significant numbers of its historic housing stock to demolition or unsympathetic makeovers, the Morningside Residence provides an enduring alternative that is more true to culture and place.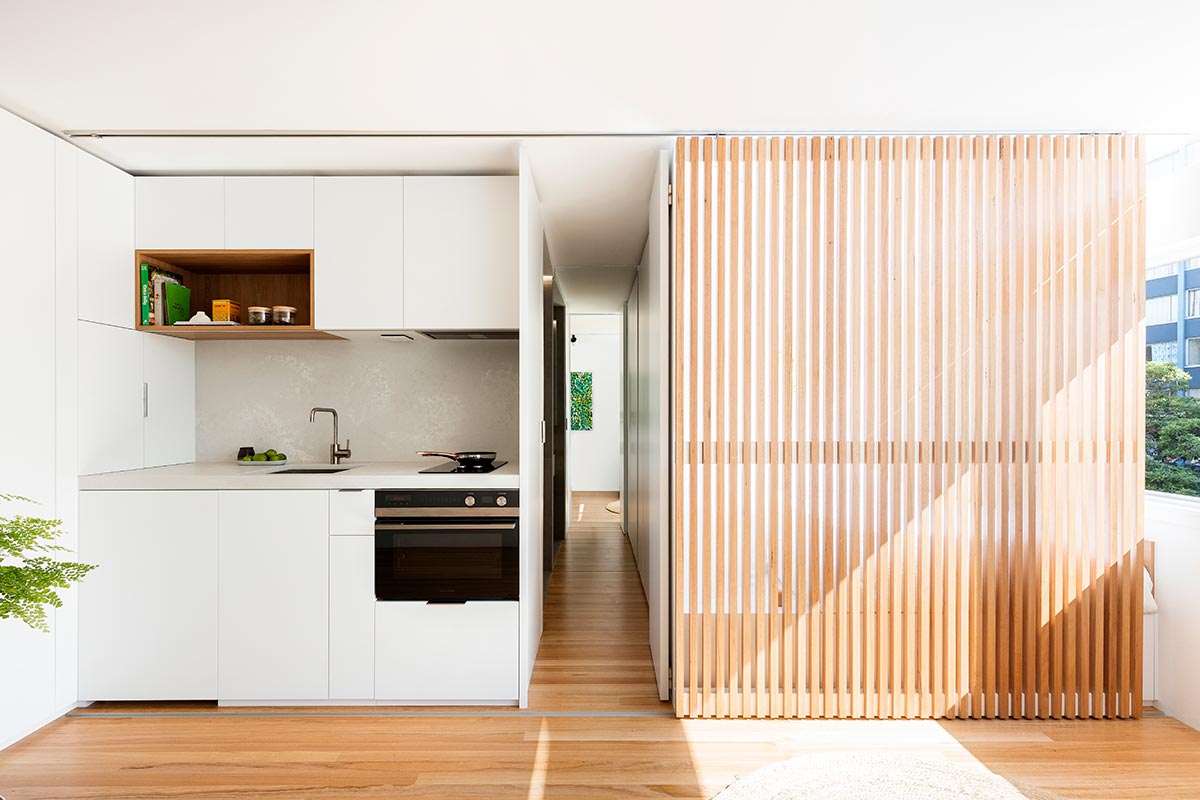 WINNER: APARTMENT OR UNIT
Boneca Apartment by Brad Swartz Architects (Rushcutters Bay, NSW)
Architect: Brad Swartz, Instagram
Photography TOM FERGUSON, Instagram
JURY CITATION
With a growing appetite for micro-domestic space in the residential market, this tiny renovated apartment is a timely reminder that the division and articulation of territory in the home is essential, no matter the scale. In this instance, the clear delineation between the functions of rooms and the public and private character of rooms is supported by the miniaturization of known spatial devices and practices.
While making its moves look simple, this subtle and sophisticated re-thinking of an existing 24-square-metre apartment is an essay in comfort, luxury and unexpected spatial depth.
Here, a singular and familiar architectural element, a sliding slatted timber screen, defines the function of the apartment at any given time. The position of this screen – there are only two – determines either a private room for sleeping or lounging, or a public room for cooking and socializing.
All the programmed spaces – bathroom, kitchen, robe, sleeping alcove – are clearly arranged into a single integrated core, yielding a living room comparable in scale to that found in a regular one-bedroom apartment.
This solution for thinking and living small is elegant, surprising and ambitious.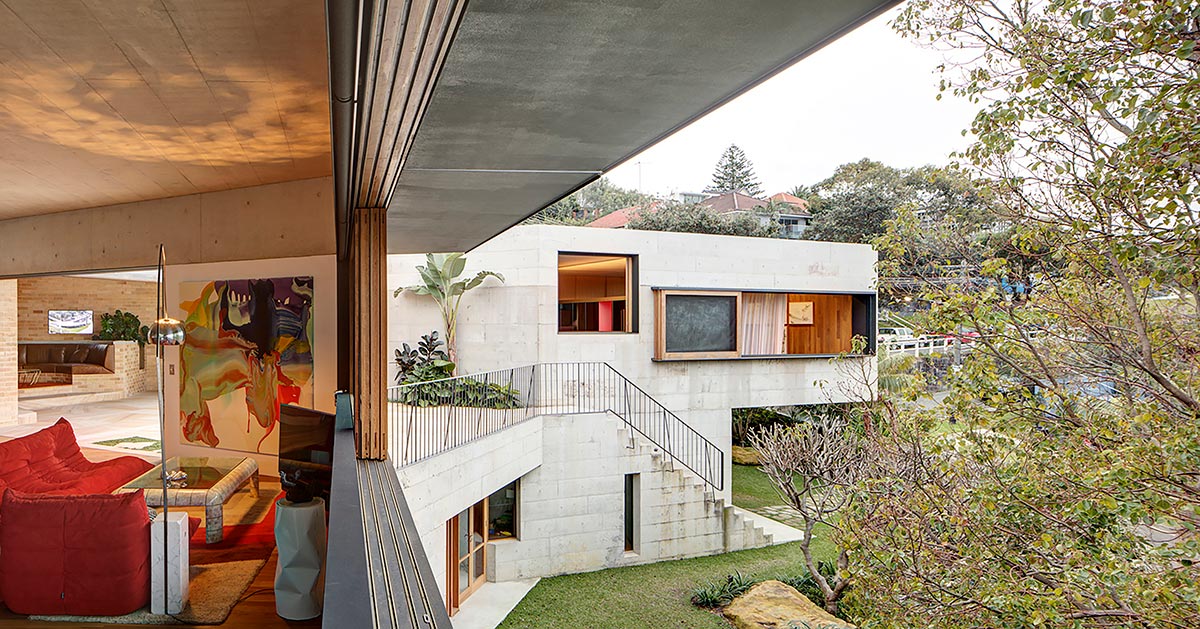 WINNER: GARDEN OR LANDSCAPE
Coastal Garden House by Neeson Murcut Architects with 360 Degrees (Bronte, NSW)
Architect: Neeson Murcut Architects
Landscape Architect: 360 Landscapes
Photography BRETT BOARDMAN PHOTOGRAPHY, Instagram
JURY CITATION
A garden is one of the most compelling symbols of home. The design brief for this project was a large house, however, the architects responded with a strategy for a large garden. Here, a new flamboyant family home is set in an exotic coastal garden that preserves and intensifies a former domestic garden on the site, grounding and immersing the family and their domestic rituals in a terraced, episodic sandstone rock terrain.
The house is designed to be engulfed by its garden, but it is also seen as an extension of it – archaic, cave-like, a re-occupied ruin – with aspects of nature finding their way inside through random stone floors, planted roofscapes and creepers negotiating its exterior walls.
There is also an allusion to the larger landscape gesture of its place; the epic spatial quality of nearby Bronte Beach, with its natural amphitheatre of sandstone and verdant gullies, is found miniaturized in the form of the house and its cantilevered, weathering concrete surfaces, and a slow, meandering descent to the swimming pool. It is an ambitious idea for a garden, at the scale of the home.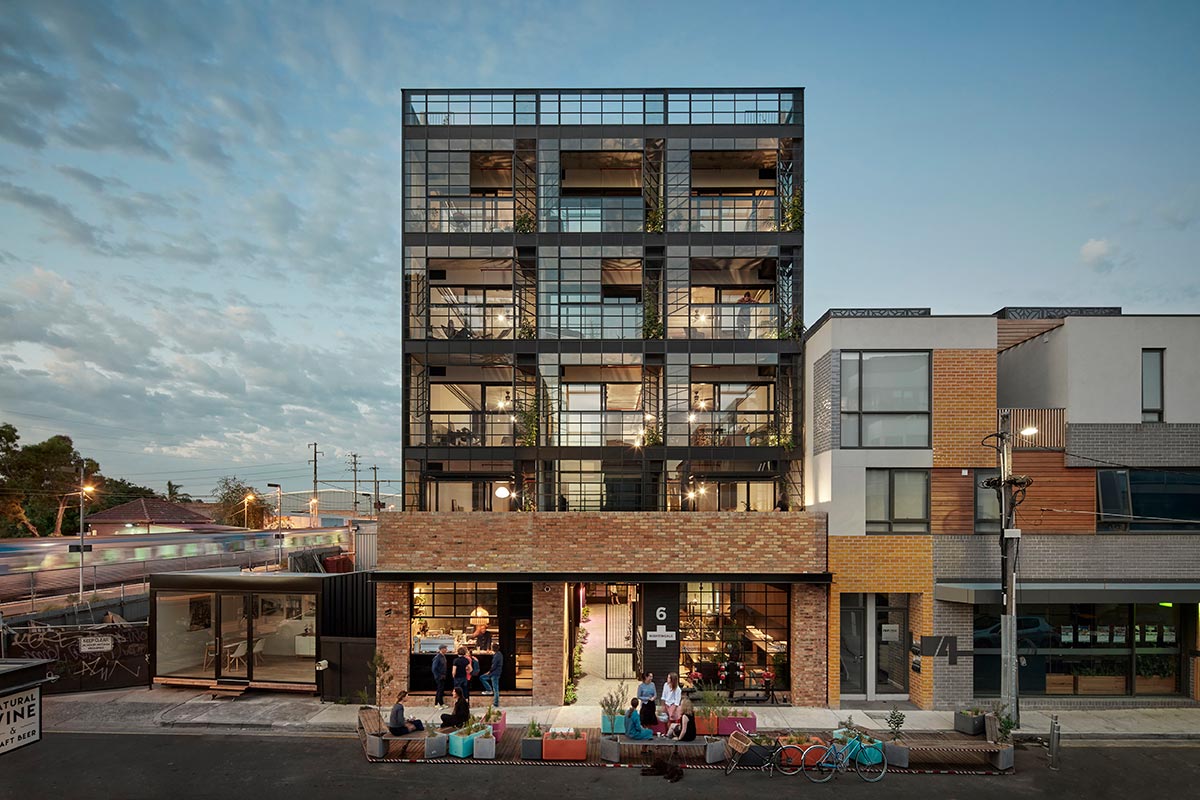 WINNER: SUSTAINABILITY
Nightingale 1 by Breathe Architecture (Brunswick, VIC)
Photography PETER CLARKE
JURY CITATION
Nightingale 1 is the beginning of an ambitious experiment that aims to shift the status quo of apartment design in Australia. It is the commitment and self-belief, plus the tireless campaigns that make this project so successful, sustainably.
Nightingale 1 achieves all the standard environmental sustainability benchmarks, however, it is the social and economic elements that make it a sustainability masterpiece: generous communal amenities, useable public space, alternative finance structure and clever and efficient construction techniques. The project also attains carbon-neutral operation using a fossil fuel-free embedded network.
In addition to all its design and sustainability credentials, the building and its apartments are elegantly designed and comfortable. The glam-without-the-glam detailing is omnipresence – there is delight in the rawness of the materials and textures as soon as you enter the ground-floor lobby.
The building encourages its inhabitants to lead a more sustainable lifestyle through the sharing of laundry facilities, growing vegetables, learning to work together as a community rather than as just a household, and taking the train or riding a bike to work. Nightingale 1 aims to use architecture "as a catalyst to building community." For this reason, it is an undoubtedly impressive example of sustainable architecture.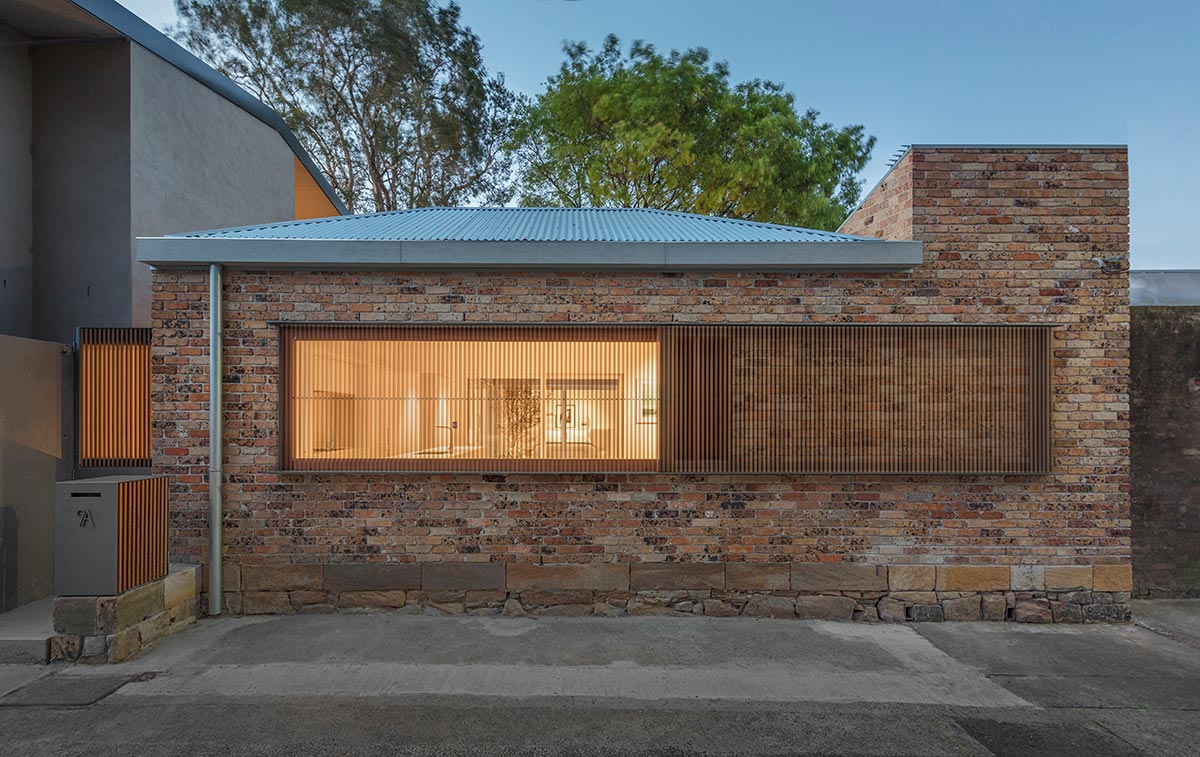 WINNER: HOUSE IN A HERITAGE CONTEXT
Bolt Hole by Panov Scott Architects (Woollahra, NSW)
Architect: Panov Scott, Instagram
Photography MURRAY FREDRICKS, Instagram
JURY CITATION
While the site and existing building aren't noted for their individual heritage contribution or significance, they fall within the fine-grain precinct of the Woollahra Heritage Conservation Area C15 of inner Sydney. Accordingly, this project was subject to precinct and form controls. The building's neighbours are the outbuildings of larger, individually noted heritage buildings fronting major streets either side of the lane. The original building (C. 1980) has been carefully considered and predominantly reused by the architects in a confident manner, but with a light touch.
The architects stated that their aspiration was to forge a small piece of country in the city. The principal changes were the insertion of a central rectangular courtyard into the modest 113.3-square-metre floor area, coupled with the deliberate positioning of enclosed living areas to the laneway frontage and the location of the more private bedroom and bathroom accommodation to the rear of the site, away from the laneway. Skilful design has delivered a straightforward working plan of openness, charm and finesse.
By turning the project to the laneway the architects and the owner have made a contribution to the life of the lane, reciprocated in turn to the occupants of the dwelling. The enormous pressures due to the current rates of growth in the major cities in Australia and the associated challenges of providing quality housing of various types in inner and middle suburbs, often in heritage contexts, is amply addressed in this small but significant design.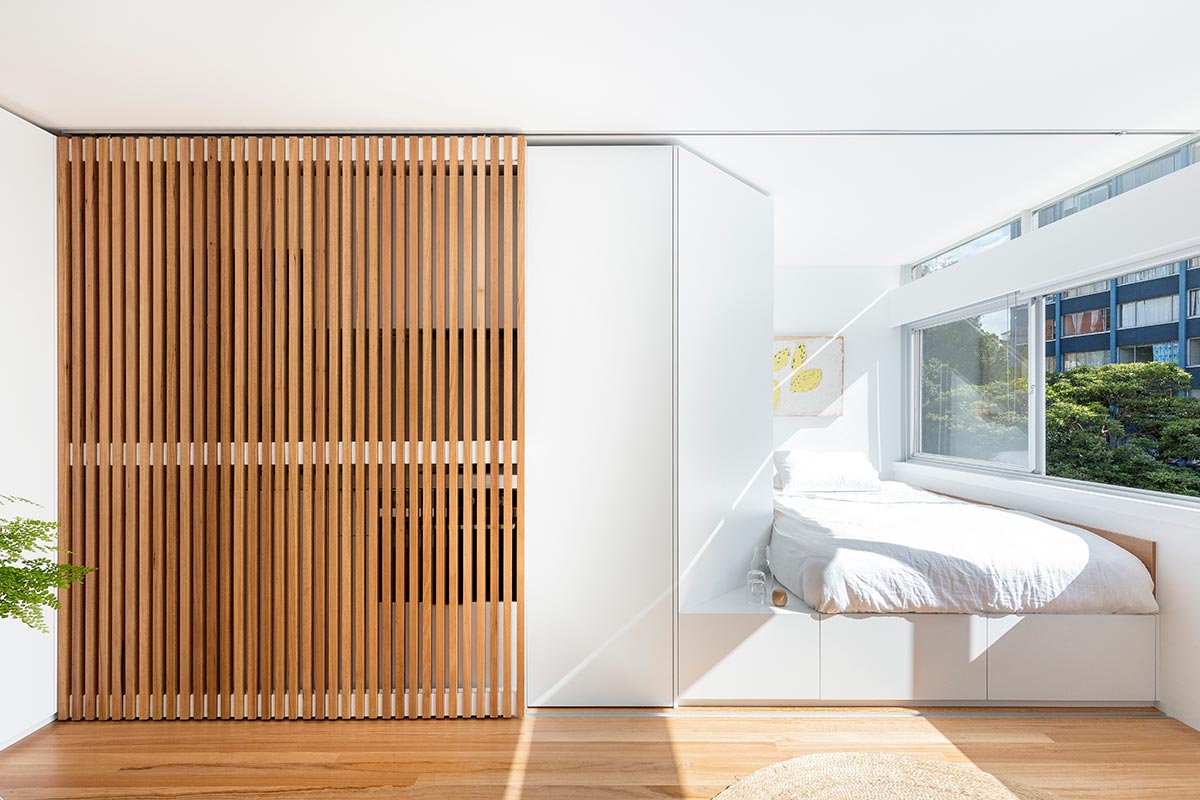 WINNER: EMERGING ARCHITECTURE PRACTICE – JOINT WINNER
Brad Swartz Architects, Instagram
Photography TOM FERGUSON, Instagram
JURY CITATION
Sydney-based Brad Swartz Architects won the Apartment or Unit category of the 2015 Houses Awards with the twenty-seven-square-metre Darlinghurst Apartment, in the same year that the practice was established. Since then, this emerging practice has continued to refine the art of the Tetris puzzle that is small-space design, and this year is again the winner of the Apartment or Unit category. By making the most of clever joinery, demonstrating spatial innovation and using cost-effective design strategies, Brad Swartz Architects reminds us that good design can be made available to all.
The practice's body of work to date is concerned with making better use of existing spaces and the need to achieve rich amenity within the increasingly confined footprints of our capital cities. The Loft x2 is an example of infill housing that doubles the density of a set of Sydney terrace sites. Boneca
Apartment and Darlinghurst Apartment are examples of the reuse of existing building stock that no longer suited contemporary lifestyles. Each project is refined, with a real sense of delight at what is possible. The jury is excited to see what's next for this inspirational young practice.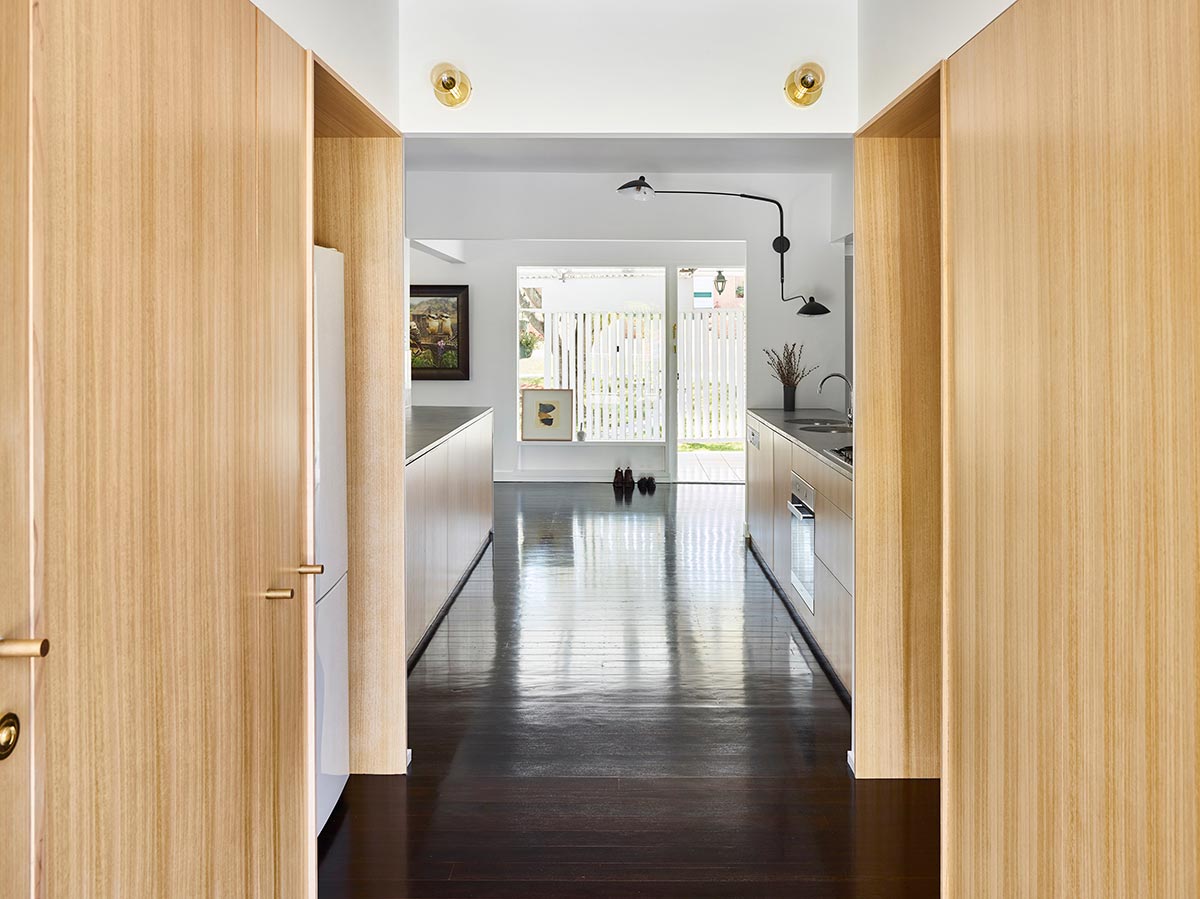 WINNER: EMERGING ARCHITECTURE PRACTICE – JOINT WINNER
Photography TOBY SCOTT, Instagram
JURY CITATION
Nicholas Skepper and Zuzana Kovar established Brisbane-based Zuzana and Nicholas in 2013. With both directors having completed PhDs, this practice has an emphasis on research, testing architectural ideas and how things are made. There is a multi-modal approach to practice, from writing and exhibitions to commissioned architectural work. There is a subtlety to the residential projects by Zuzana and Nicholas that stems from considered restraint and a genuine understanding of context and site.
Commended in the Alteration and Addition under 200 m2 category, the Monash Road House involves the clever reconfiguration of an existing postwar Queenslander house through minimal interventions and new insertions. The series of considered and in-depth design responses are promising of an exciting trajectory for this emerging practice.
And last but not least a big shout out to the Judges in sorting through so many amazing projects this year.
Kerry Clare Director, Clare Design (NSW)
Albert Mo Director, Architects EAT (Vic)
Jennie Officer Director, Officer Woods Architects (WA)
Stuart Vokes Director, Vokes and Peters (Qld)
Katelin Butler Editor, Houses magazine (Vic)
ARCHITECTURAL ADVICE IN HERITAGE CATEGORY
Peter Williams Founding Director, WilliamsBoag Architects (Vic)