I stumbled upon Andrea Shaw at an art exhibition in Geelong's Boom Gallery one very cold Friday night. I had been eyeing off this incredible artwork tucked in amongst the rest, I checked out its detail and took a mental note of its artist – Andrea Shaw. Like all good art exhibitions, I found myself at the bar where I was introduced to the artist herself. I was so excited to meet the talent behind the painting and equally excited to discover how incredibly lovely she was at the same time. I put my cards straight on the table and told her I wanted her to be involved in this upcoming collaboration. We switched business cards and the rest is history. 
Visiting Andrea in her studio based in Torquay, made me want to quit city life and move to the country. In amongst rolling hills, sheep and plenty of dogs sit these simple artist cabins. Andrea's was a temporary space she shared with friend and fellow artist Rowena Martinich and it was filled with colour. Andrea comes from an analytical background and notes influence from the Bauhaus movement and twentieth-century modernism. 
Her work is considered yet fluid, both playful and peaceful – reflecting the way Andrea feels when she creates. Her clock is a colourful creation inspired from maps and ponders what is happening in the streets around that moving blue dot. 
Andrea Shaw's clock is made with acrylic paint. To bid on Andrea's clock click here.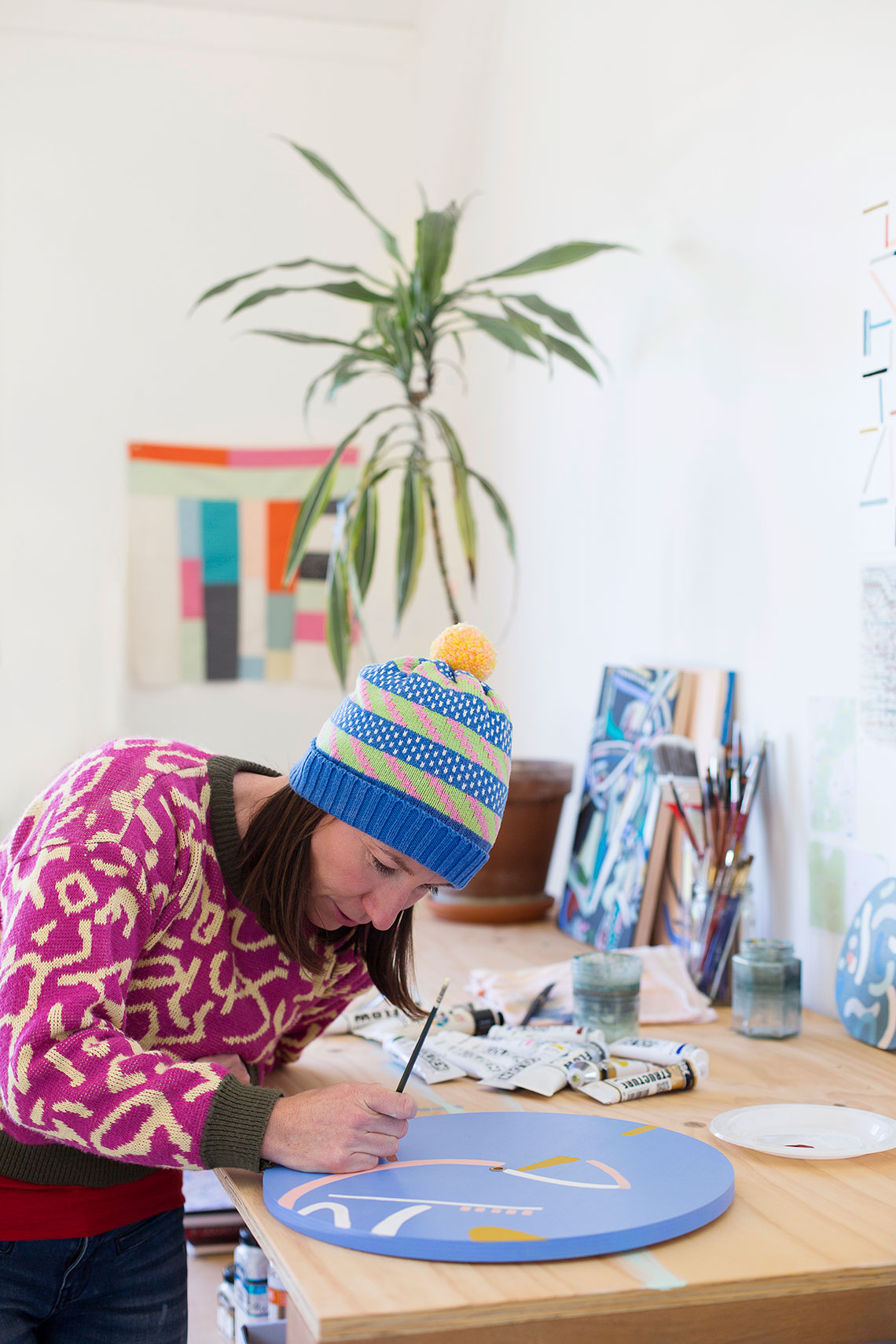 Can you describe the feeling you get when you're creating?
When I'm creating, I feel peaceful. I guess there is fluidity and peacefulness there. Sometimes it can be playful, but I think it's more often than not quite an introspective, quiet kind of feeling.
When did you realise you were creative?
It took me a little while to find my creative path. I came from quite a science background. My Dad is a Surveyor and my mum was really crafty. I very much had a sports and science kind of upbringing through school. I ended up at uni doing engineering, then landscape architecture before realising I needed to take a break, as I wasn't sure what I wanted to study.  I decided to go travelling for a few years and moved to the UK, which is where I met Dunc. Visiting a lot of galleries in London and around Europe started to fuel something within me. I guess I just realised there was far more out there than what I'd grown up studying and then looking back I always loved art through school. I drew all over my maths books. Whilst in London I did a couple of short courses at London College of Art doing textiles and stuff and I loved it, I then came home and studied Textiles at RMIT.
Where do you draw inspiration?
I draw inspiration from lots of different places. Travel and being exposed to things that are new always inspire. The natural landscape and Maps, I'm really obsessed with maps. I think that shows through in the graphic nature of my work. It's funny because thinking back to all my science and landscape studies and my dad being a surveyor, having worked for him I think sometimes that feeds back into my work in interesting ways. The ocean, movement, pattern, travel; all of those things inspire me most.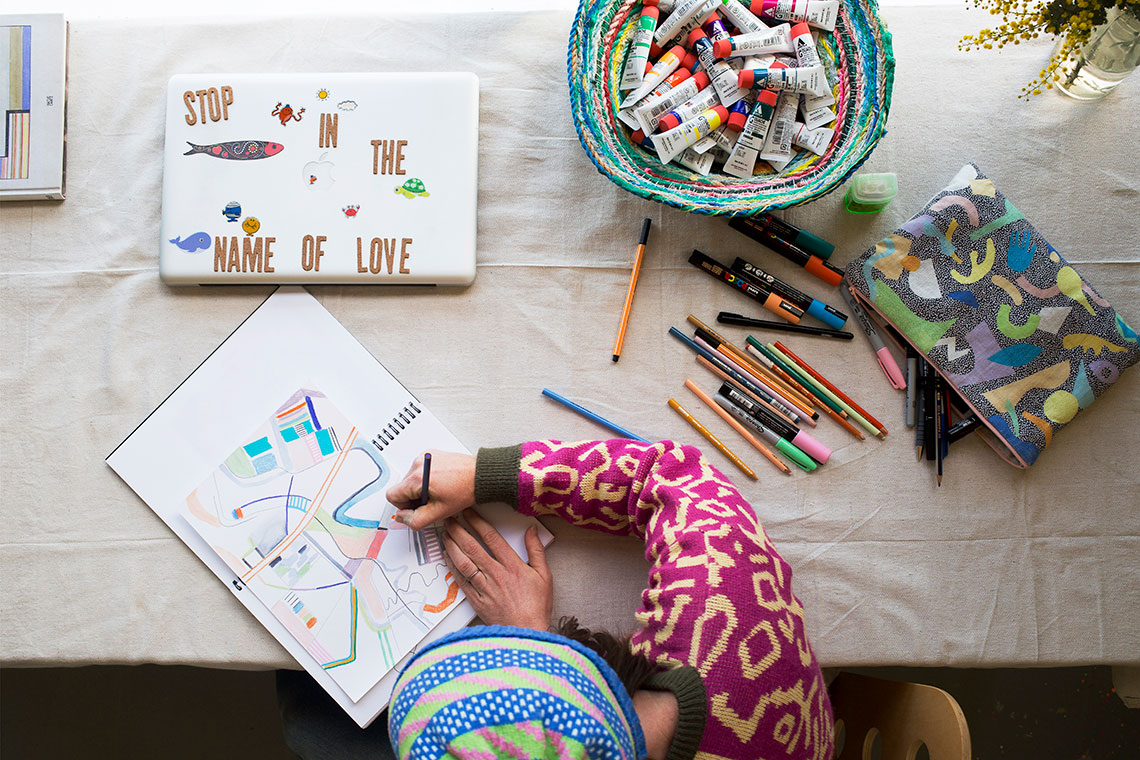 How do you start a new artwork?
I start a new artwork by usually collecting images that inspire me and then I quite often just do lots of drawing. Those drawings may or may not directly influence a work, like I won't go carbon copy what I've drawn to what I end up painting, it's normally just used as sort of a first stage reference. The drawings are often refined and often become something new in the process of creating a work.
How would you describe your work?
It's tricky. I guess it's fairly graphic in nature. Being a textile designer definitely influences my painted works; they're quite heavy in pattern and repetition. The motif is not normally representational, but I'm starting to play around with that a little more, they are abstracted landscapes.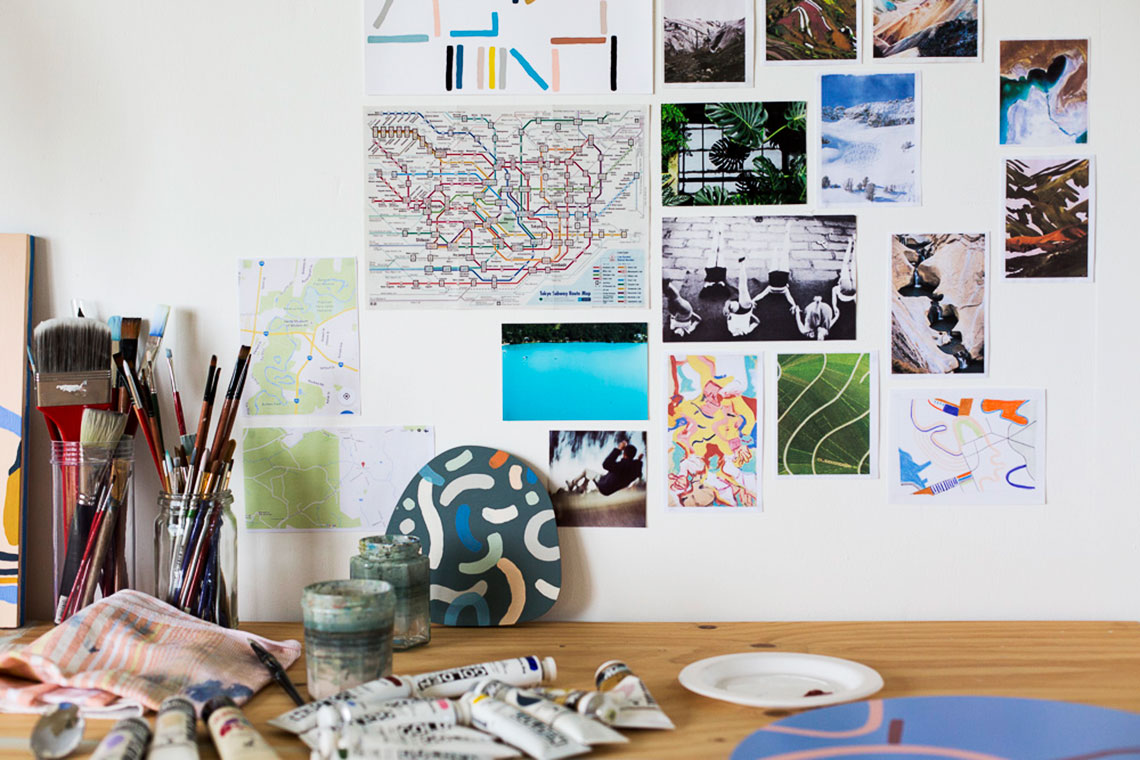 Who or what has been a major influence to your art?
I think if we're talking about people who have influenced my artwork, I would have to say artists from the 20th century, from the Bauhaus movement and before hand so Josef and Anni Albers, Gunta Stölzl and Paul Klee just to name a few. I remember going around Europe and just gushing over all of their works around the galleries. Then I'm really interested in where that went after the 20's and the movement at Black Mountain College in America, so modern artists of the 50's in America as well.
What is most important part of your creative process?
I don't know if I could pinpoint one specific point in my process. I think they all kind of come together in their stages as a whole. One feeds to the next, to the next. I think pulling back and refining things is my biggest challenge, so for me that is probably the most crucial stage in the process.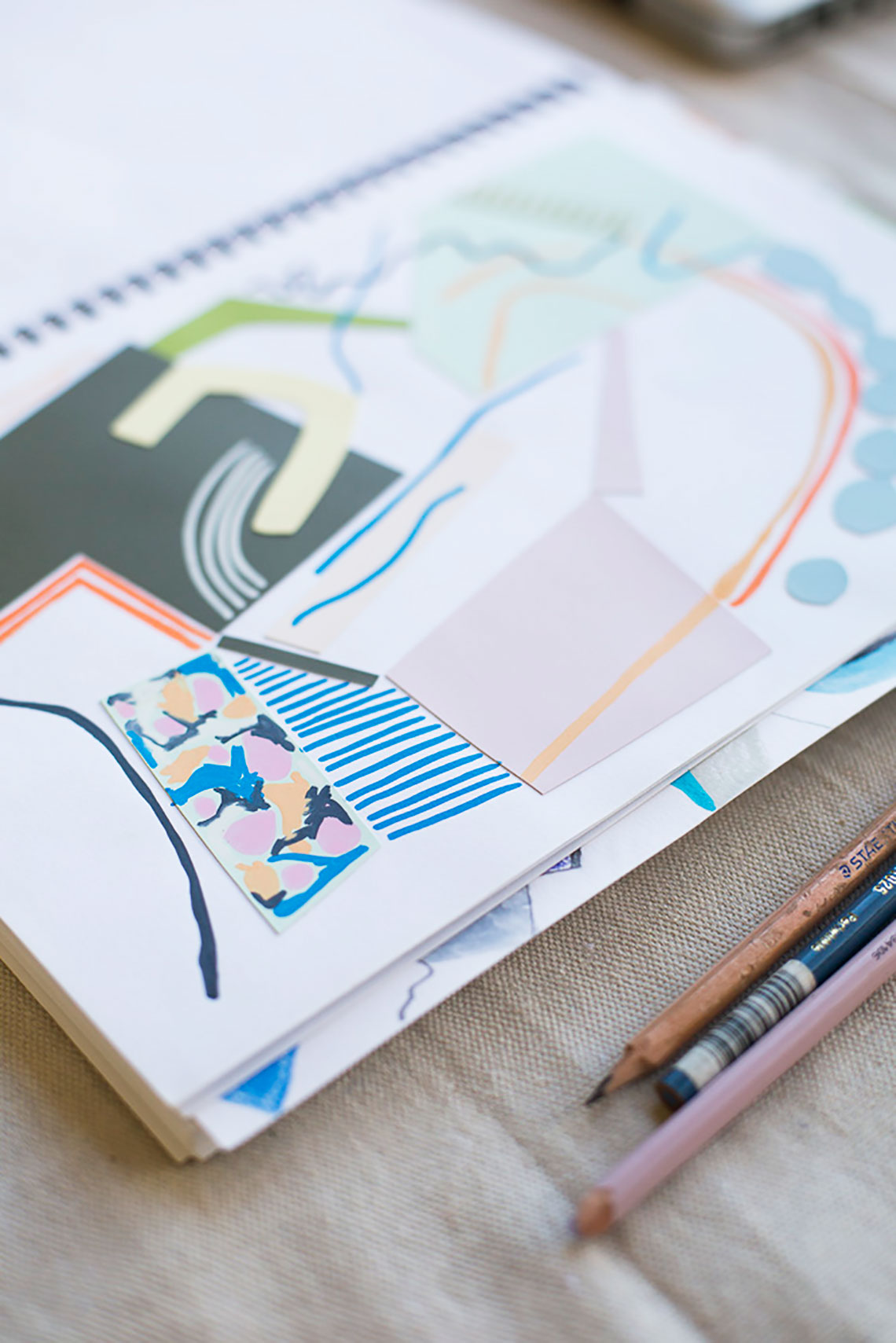 How do you actually know when a painting is finished?
I'm learning how to tell when a painting is finished. Quite often I feel like I do overwork things a little, but I'm getting better at restraining myself. I think that comes from doing textile design and creating all over prints. Creating an artwork is a completely different thing.
Do you have a favourite medium?
I don't really have a favourite medium at the moment. Painting with acrylics and oils is still fairly new to me so I'm enjoying this process. I also like to construct works from wood and fibres.
Is there something that not many people know about you?
People may not know that I'm a yoga teacher and I also have a pretty unhealthy relationship with weightlifting. It doesn't agree with my body, but I really love to do it. They're kind of counter productive, they really don't go hand in hand.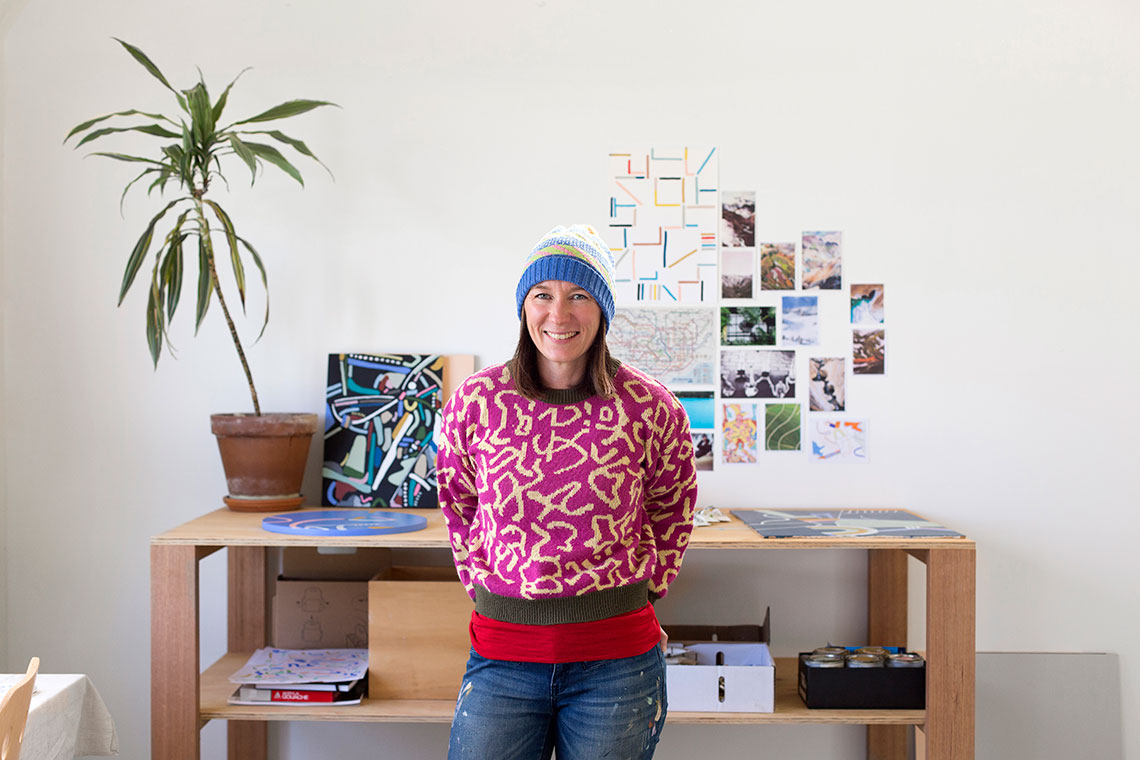 Why you said yes to this collaboration.
Because who wouldn't want to paint a clock? I said yes to this collaboration because I really love the idea of surface art across all mediums and it would be awesome to paint a house, paint some shoes. I want to paint our old beat up car, so why not a clock as well? It's an awesome project to be a part of.
What is the inspiration behind your clock?
The inspiration for the clock I'm painting comes from looking at a lot of maps. We just got back from travelling and I was chief navigator. I find the details within maps really interesting, we all use Satellite Navigation systems and Google these days, we're all so obsessed with that little blue dot and don't look beyond it. Things get missed. I think that's probably what's influencing my work a lot at the moment. That's what came from this clock… and it is a blue dot. I didn't even think about that!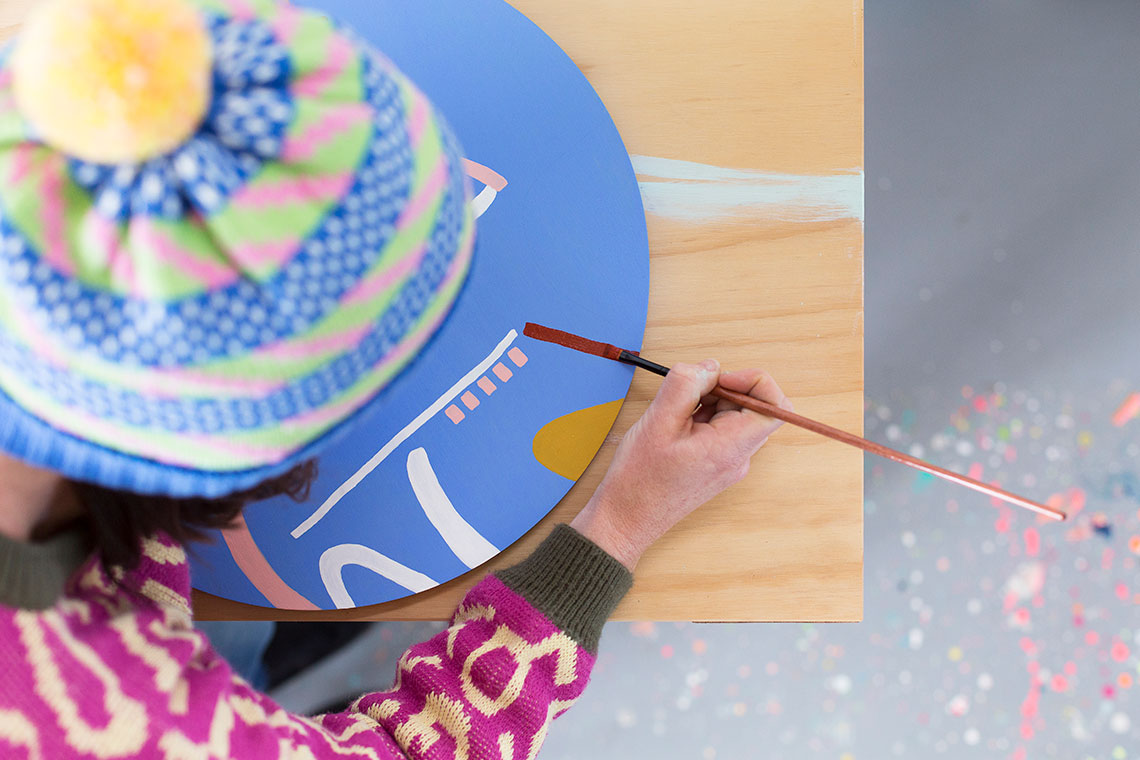 What type of person will be drawn to your clock?
My colours are fairly girly and I think the palette will probably speak to a lady's sensibility more than a guy. I don't know, I could be wrong with that. Someone who likes pattern, a colourful palette, playful. I don't think I can't put a persona on it.
Where would you want your clock to live?
In a unique environment. I think it would work well in someone's house that has a lot going on. I think it needs to be a point in someone's crazy house.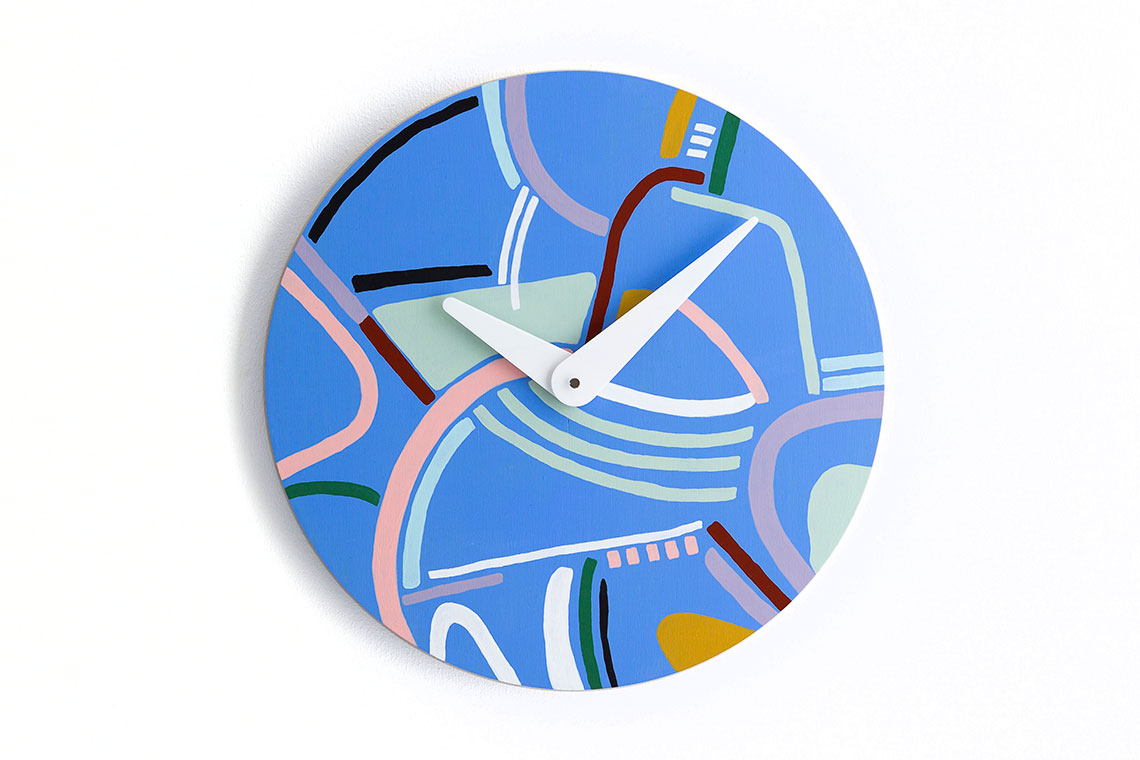 Andrea Shaw's Clock for the Hunting Collective.
Andrea's clock is available via online auction. To bid, click here.
All photography by Martina Gemmola for Hunting for George