Last week we armed you with all the goodness of King Island, this week, we're heading to Flinders Island, also in Bass Strait. With incredible mountains, beaches, sweeping views, and more fresh seafood than you could ever dream of, there's a LOT to love about Flinders Island. Here is our hit-list of must-do sights and tastes on Flinders Island
Mt Strezlecki 
If you're into bushwalks and nice views, it's worth packing your walking gear, and something very warm for the summit! The Mt Strezleki peaks dominate the southern end of Flinders Island and reward walkers with sweeping views across Bass Strait and as far as mainland Tasmania on a clear day.  The walk isn't for the faint-hearted, with an elevation of over 750 metres. You'll be walking through granite landscapes, wildflowers and sheoak stands.  The stunning views over the bays, beaches, and islands are your reward for your 4-5 hours of walking.​
Wildlife
While Flinders Island is teeming with a wonderful abundance of native wildlife, there's no doubt wombats are the stars of the show, to the point that tourists now visit the island just to visit one passionate local wildlife carer and her wombat charges. Kate Mooney, aka 'The Wombat Lady', takes in sick and injured wombats and rehabilitates them back to health. You can book in to feed the wombats with Kate, though it's subject to Kate and the wombat's availability. 
The Flinders Wharf
Set right by the ocean in Whitemark (its name gave that one away, right?) 'The Wharf Shed' As the locals call it, is the perfect place to grab a bite. They're open Wednesday to Saturday for afternoon takeaway, sundowners and dinner from 3pm to 8pm and on Sunday you can grab brunch from 11am to 3pm. The menu heroes local produce, with a particular focus on seafood and meats from the island.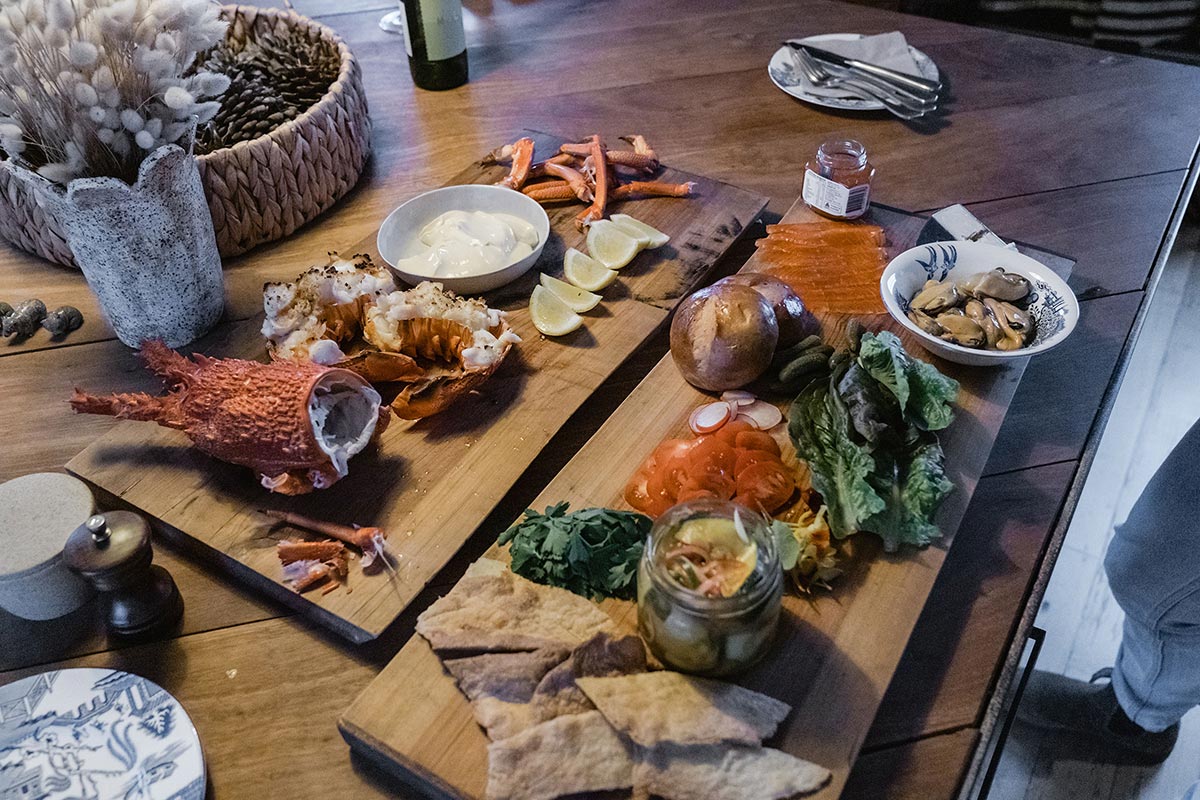 Beaches
It'd be wrong to go to an island and not enjoy a little beach time. Obviously Flinders isn't short of a sandy patch, but if you head to Trousers Point on the west coast, you'll find two to choose from. Trousers Point Beach is the popular beach on the Island, with clear waters and white sand, and views of Mt Strezlecki rising above. On the other side of Trousers Point is Fotheringate Bay with granite caves and rock formations.
Stay
There are plenty of good places to stay on Flinders Island, but our favourites are owned and run by the same good folks behind The Flinders Wharf. They have four accommodation options, all in Killiecrankie. Ranging in size, price, and outlook, you can choose between Killiecrankie Beach House, The Cray Shack, Wombat Lodge, and Dwarfs Cottage; we're pretty sure you'll find something to suit your needs. 

Furneaux Distillery
Sitting alongside The Flinders Wharf the Furneaux Distillery produces and serves world-class whiskies, which came about after a visit to Scotland and the realisation that elements of the rugged environment on Flinders Island had distinct similarities to the home of whisky. 
"We use 100% Tasmanian malt barley, pure rainwater, and a unique local peat which is at once earthy and briny. It is a sustainable and renewable resource which spends a good portion of the year submerged in the salt lakes and lagoons of the wild east coast of Flinders Island. We then complete the production of our spirits from start to finish at The Flinders Wharf, from the peat smoking of the barley in a mobile malt kiln to the bottling and distribution." – Furneaux Distillery