As we say goodbye to Richmond, it's an end of an era. Richmond has been home to Hunting for George for the last 6 years. We first moved in to Richmond back in 2012, it was our very first studio, previously we were working out of Jo's spare room at home. It was a very big thing to move out of the home and to actually start paying rent. It was a turning point in many ways and the moment that both Jo and I took the business seriously. After all now we had to make it work, because we had bills to pay!
Located on Stewart Street, our first studio was 80m2 and wedged in amongst a warehouse full of creatives. It was on the second floor and at the end of a very dark, ominous hallway. But when you opened the door to the studio you were greeted with oodles of light, with large warehouse windows that looked out over Richmond hill and the MCG. We thought it was huge, perhaps even bigger than we needed! After all we didn't have any staff, it was just Jo and I, and our products. To settle in, we went out and bought sets of 2 of everything. 2 mugs, 2 plates, 2 bowls, 2 desks, 2 chairs… we've always kept to a budget 🙂 But within a couple of months we had our first employee and then another came on board, then another. Safe to say we had to buy more chairs…
During our time at our first Richmond studio, we designed, produced and received our very first collection of bedlinen. And had our very first major campaign photoshoot there!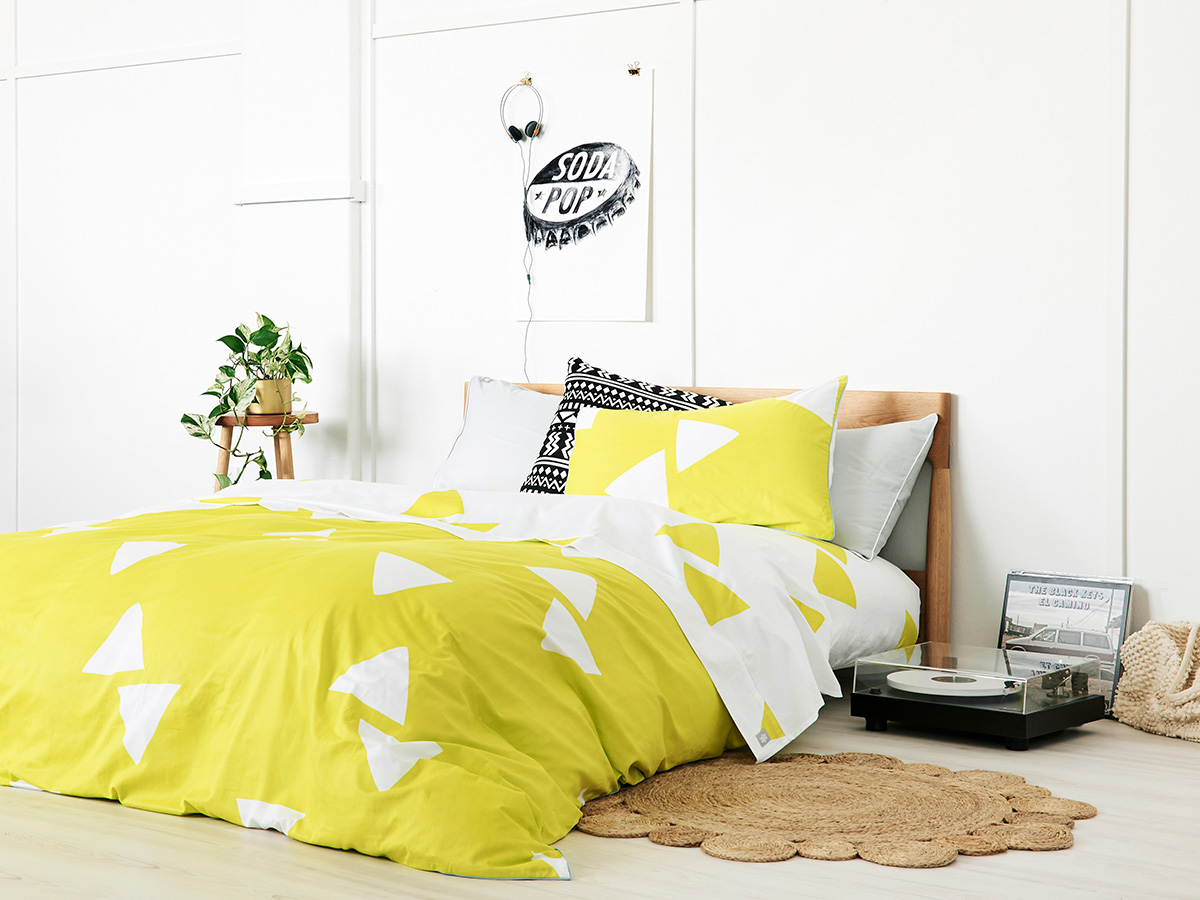 Our business experienced a huge amount of growth during our time there and after 2 years, we were bursting at the seams and also very sick of having to lug products up a flight of stairs as the lift was almost always broken.
So, we admitted to ourselves that we needed to move and in 2014, during a midday coffee run, we spotted a 'For Lease' sign that was hovering above an old brown brick building just around the corner. It was a 450m2 building and we told ourselves that we could never afford it but we'd have a look anyway. During the inspection, we found mail that dated back to 2010. The space had been empty for 4 whole years! It was a DUMP, or what some might call a renovator's delight. The rent was more affordable than we first thought, although still a very big step for us, we decided to bite the bullet and take the plunge. 'It's meant to be' and 'It's now or never' we told ourselves and with that we packed up our first studio and moved into our second.
This second warehouse space was 31 Wangaratta Street and has been our home for the last 4 years in business. We turned what was a filthy, old worn out dump of a building into a pristine showroom, office and warehouse. We built everything ourselves by hand. Constructed walls, installed the kitchen and bathrooms and nearly went insane painting the floor (heads up, epoxy floor paint is very difficult to paint with!) But after we were done with it, it was magnificent. So much so that we shot our second photoshoot there, which was the first of many more to come.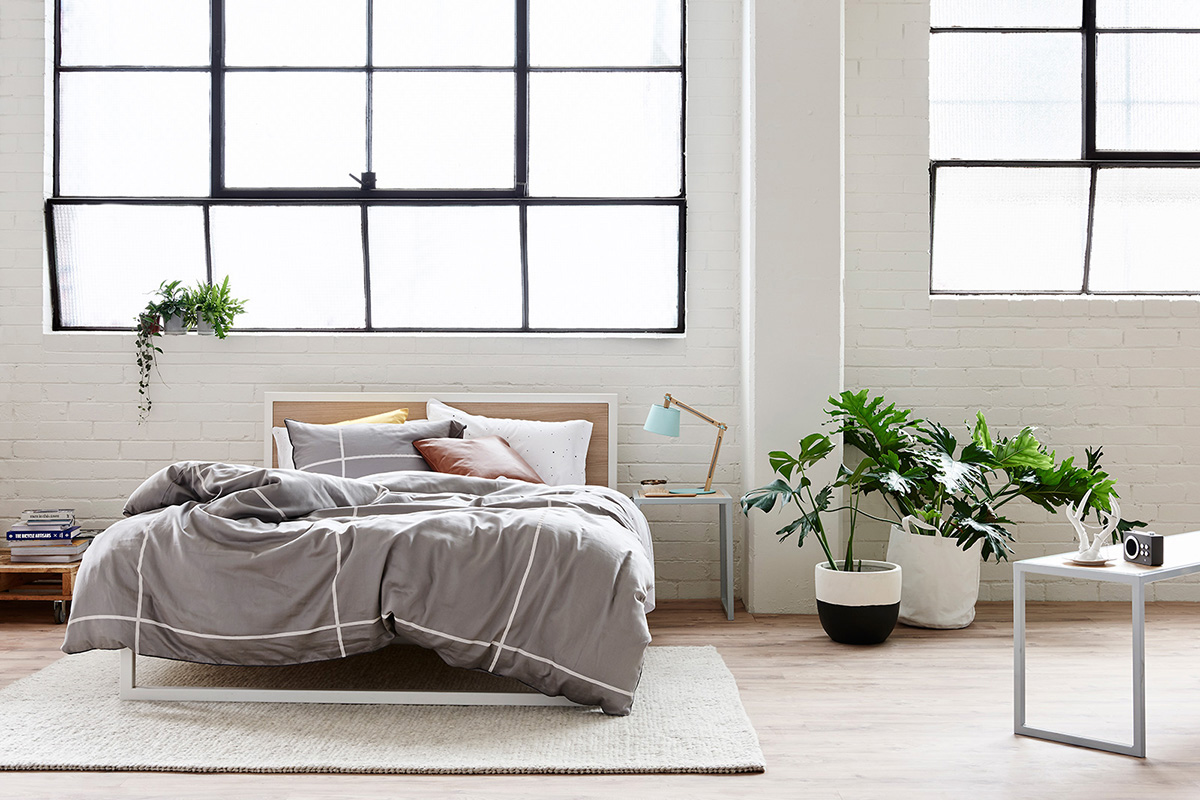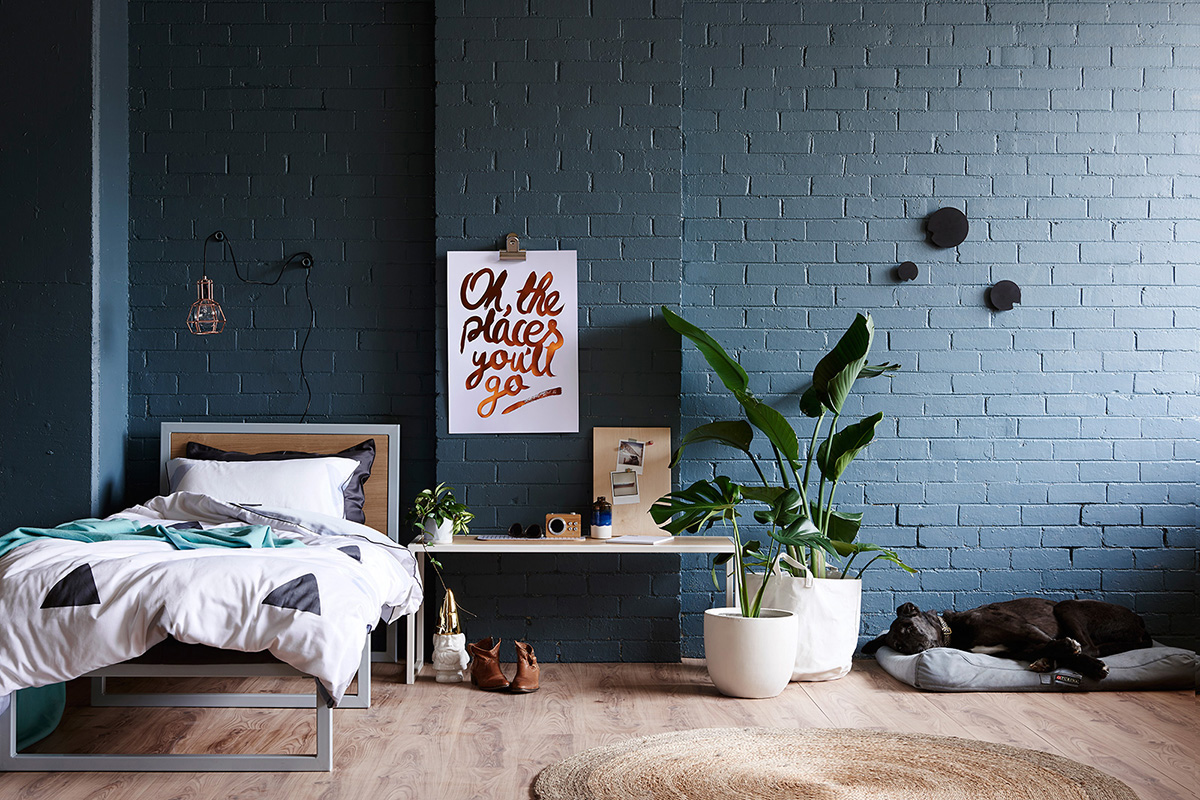 Wangaratta Street was also home to lots and lots of events!! We celebrated our 5th Birthday. Hosted the second Hunting Collective with artist's Beci Orpin, Geoffrey Carran, Otis Carey and Ren Pidgeon. Launched a collaboration and exhibition with Rowena Martinich. Put on our first ever Man Day, complete with bbq, man facials and the Bachelor! Over the years we have had many more impromptu good times!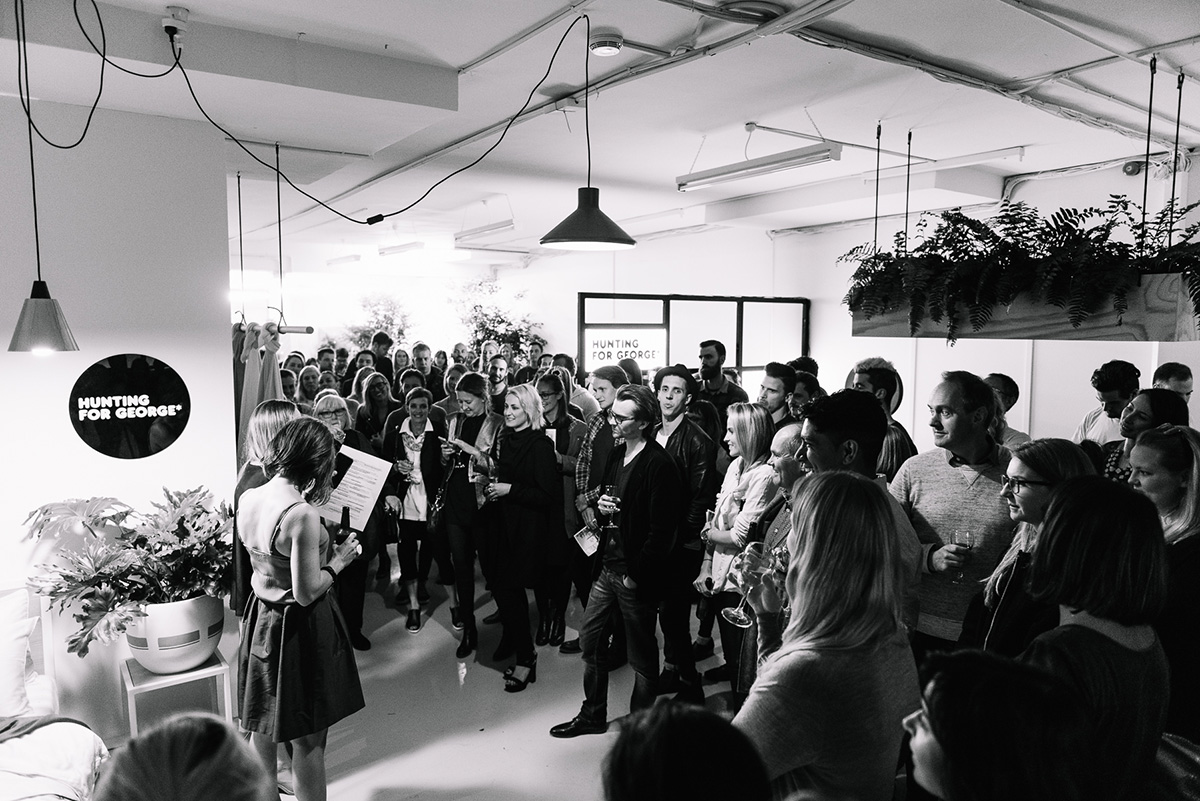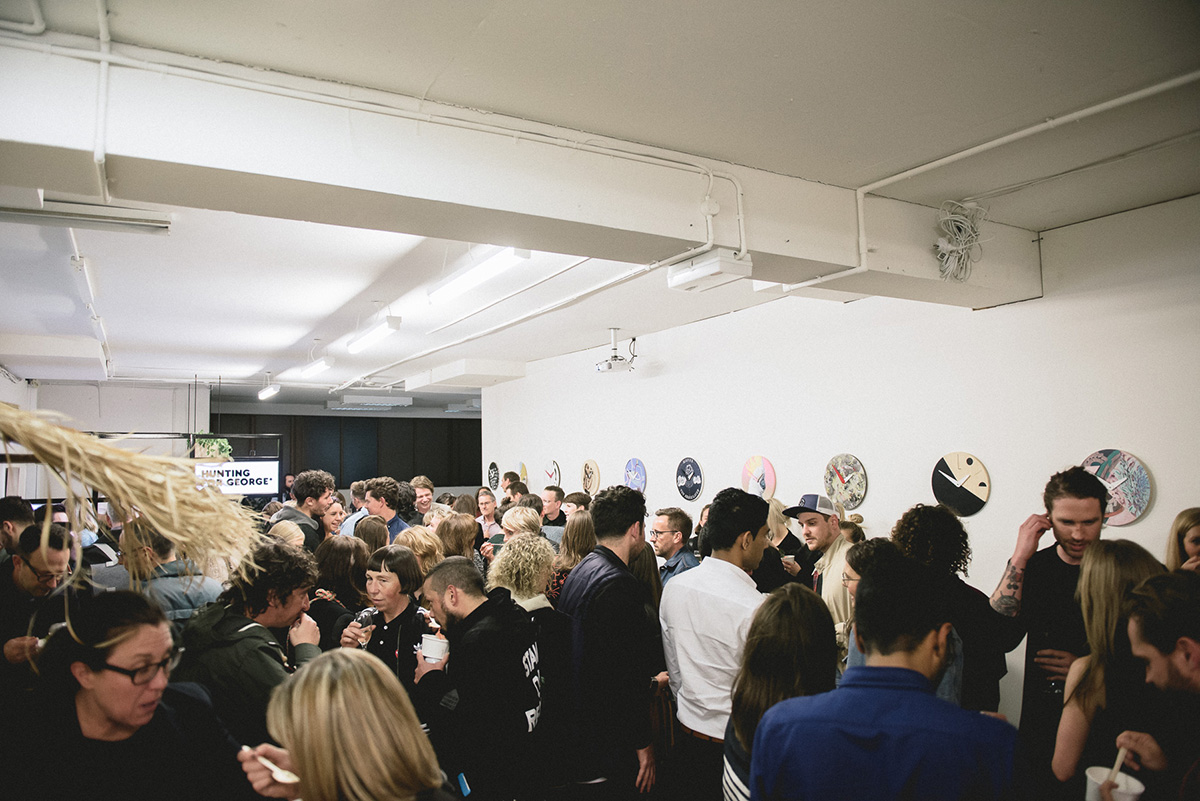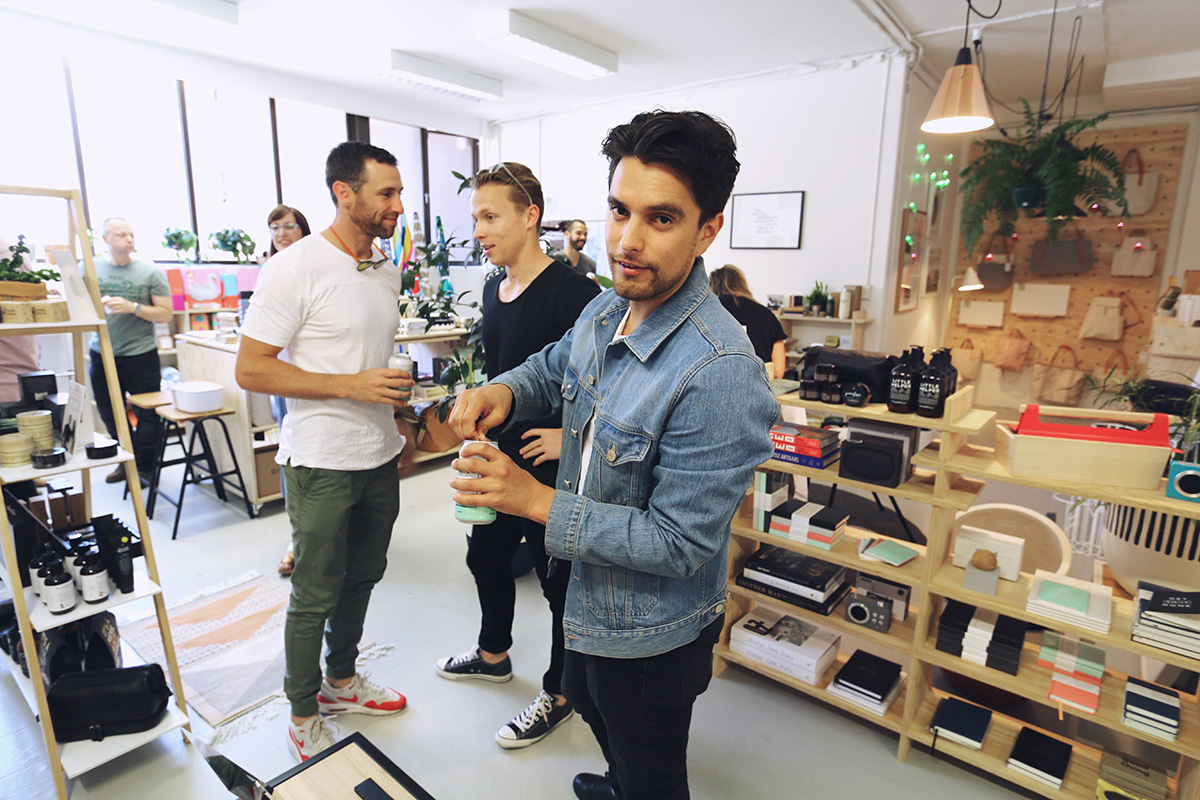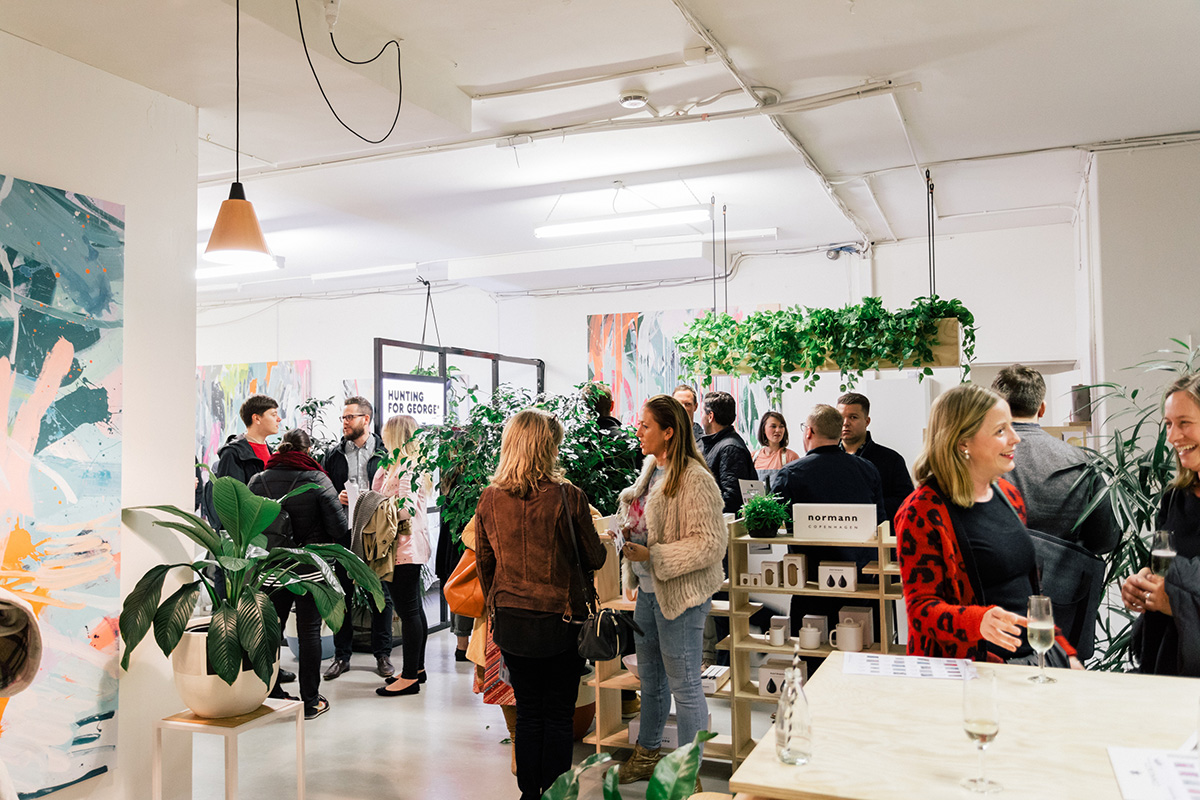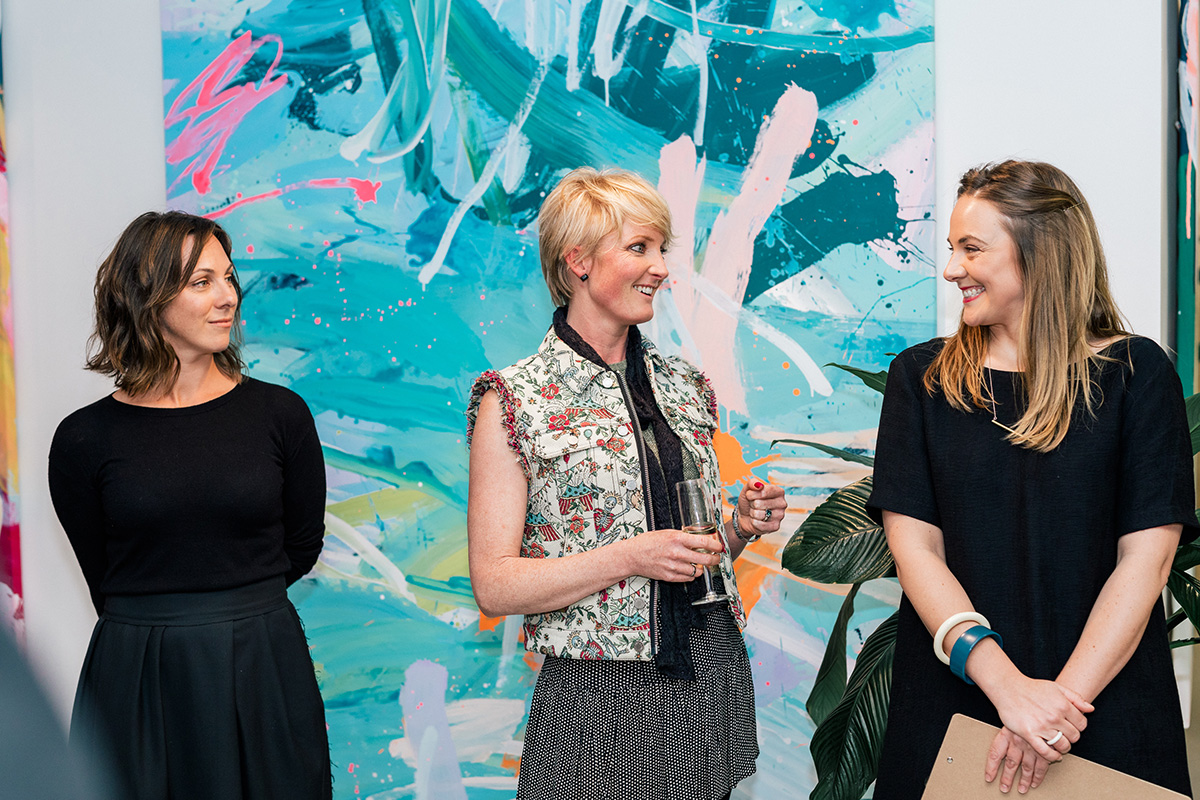 We also hosted our first ever Warehouse Sale, and it was so successful we turned it into an annual event. In its second year, it reached MAXIMUM IMPACT when the queue wrapped itself around the Corner Hotel onto Swan Street. Our mates at Botherambo thought Bruce Springsteen must have been playing at the Corner, nup, it was just Hunting for George having a sale and hundreds of legendary diehards turning up!!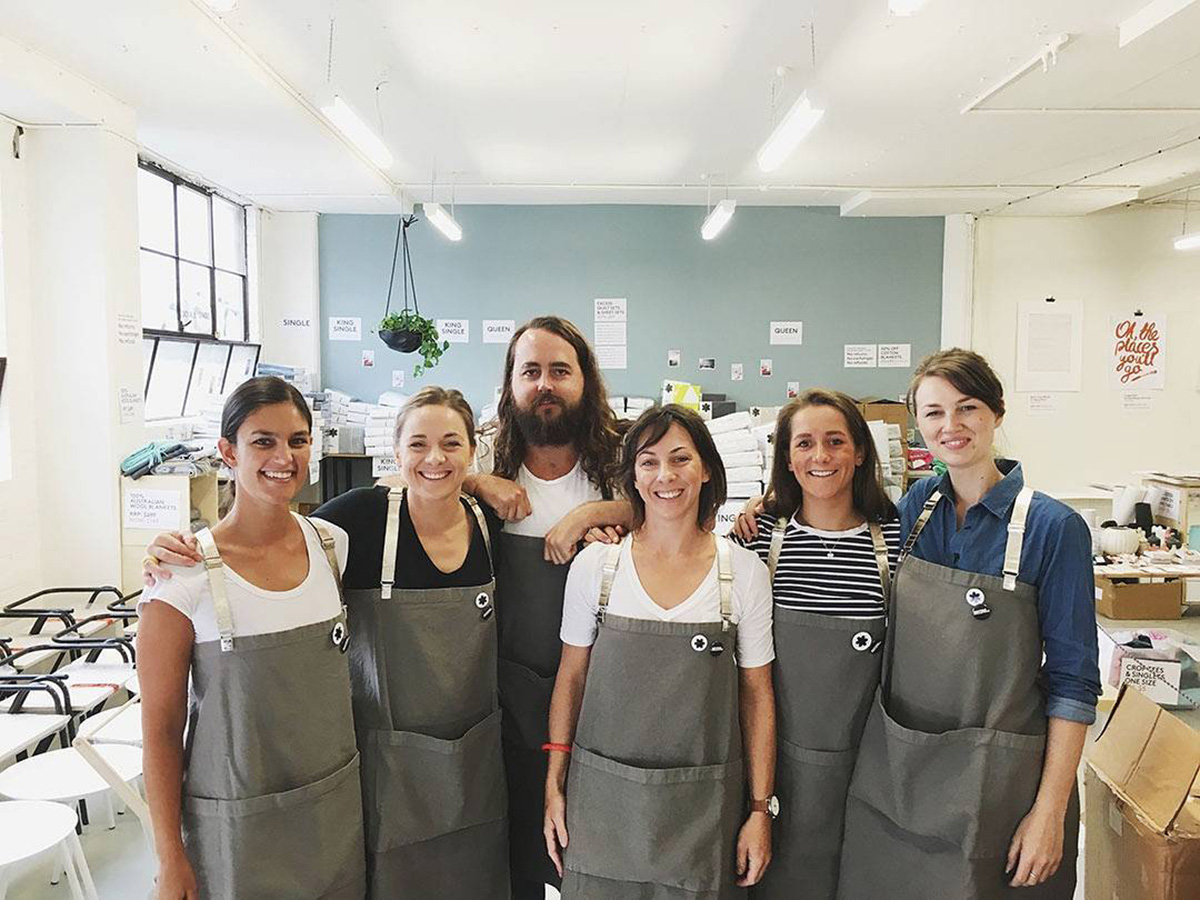 As well as our epic Warehouse Sales, Wangaratta Street was also home to the Hunting for George Showroom. The showroom began because customers began knocking on our door. We had nothing to show them, so after more knocks and more customers we decided to open up our space to public and therefore the showroom was born.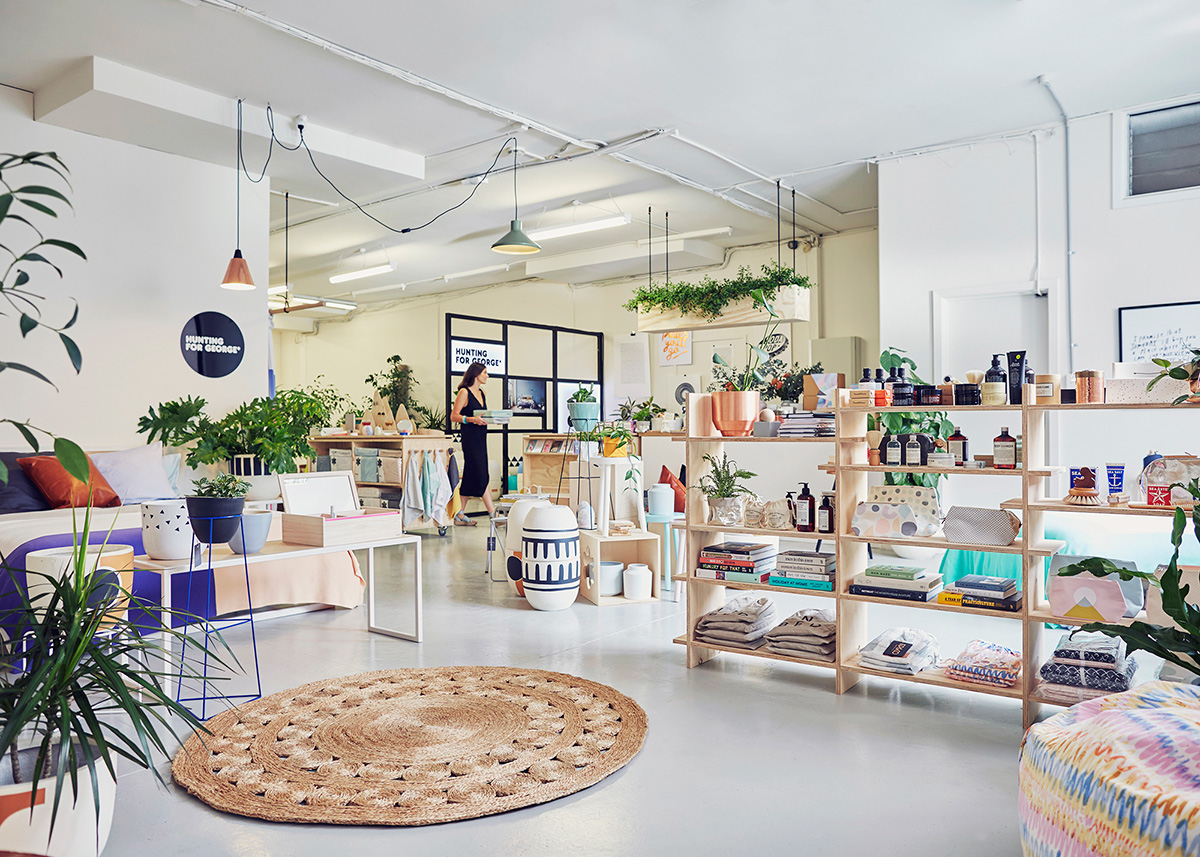 The showroom was a wonderful way for us to meet our customers face to face and sadly with our move, our Richmond showroom will close. We are currently working on our new space and whilst we will not be opening a public showroom we are working on creating a space that will play host to many more pop up shops and events. Bigger and better than we have ever done before!
Now there is one big thing that I'd also like to mention before I wrap, sorry this has been a long one, credit to you if you're still reading. We are first and foremost an online store. We pride ourselves on our brand, our e-Commerce experience and our delivery! For the last 6 years we have been in Richmond we have had the same Australia Post postie, George. I'm not even kidding you, his name is George. George first walked into our lives back in Stewart Street. He opened our door and shouted 'Don't Shoot!' … Jo and I just stared at him confused, so he said… "Cos you know, you're hunting for me!" … and from then on, we had a new mate.
George has collected our parcels since 2012. At first, we only needed him to collect a few times a week. Then the orders grew and we needed him to collect every day. When we moved warehouses to Wangaratta Street we were still on George's route. Soon our daily collection increased to three times a day. Over 6 years of business, that's a hell of a lot of pick ups. With this move we are very sad to say goodbye to George. He often told us how proud he was, to see how far we have come. And you know what, he has seen all of it. Every little step in the last 6 years. What a legend! We will miss you George, we hope our new postie is as cool as you!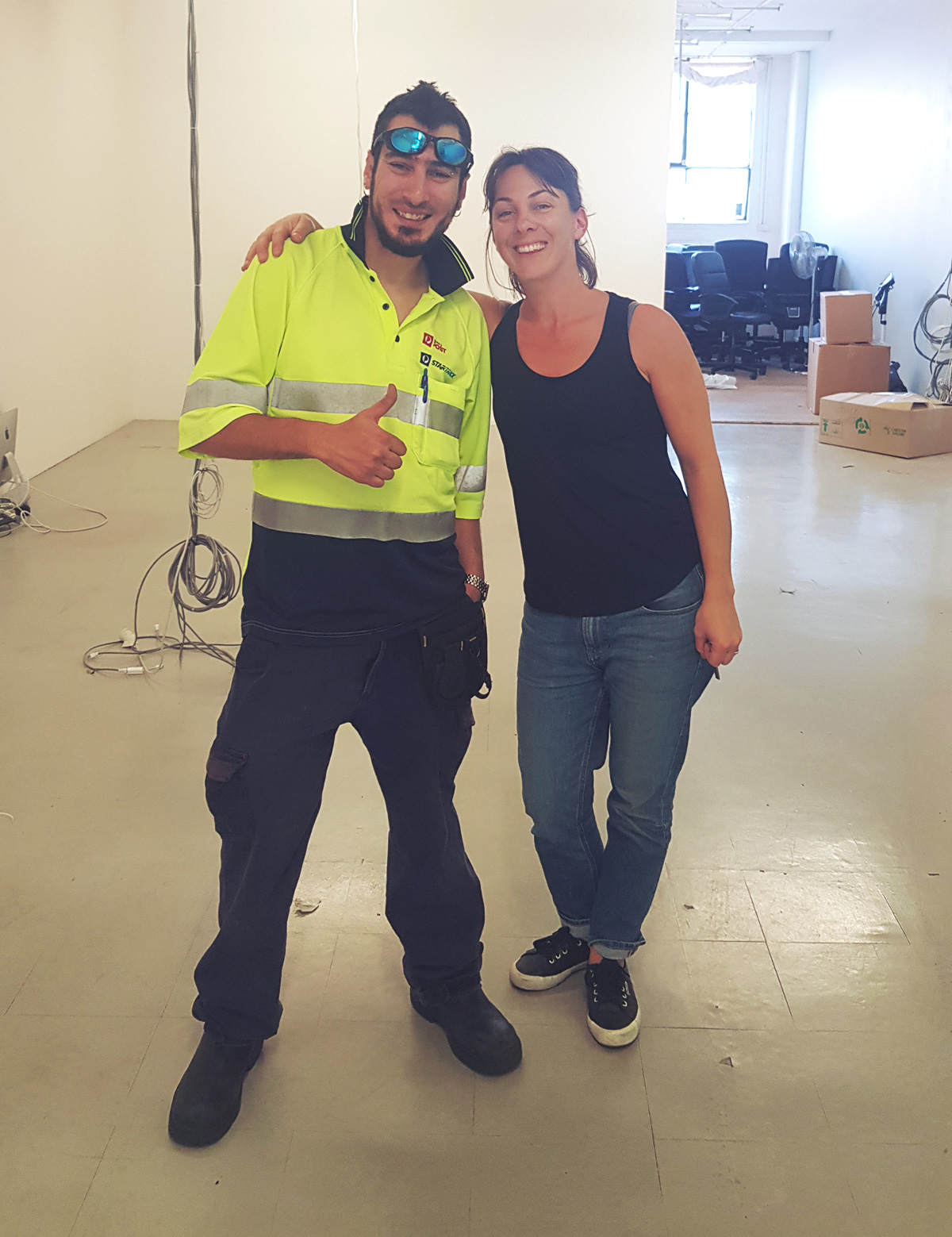 So I guess now you're wondering, where the bloody hell are ya? And the answer is, Cheltenham. Yes we well and truly outgrew our inner-city Richmond digs. We were at capacity and unable to move forward with our business as we simply did not have the space to do to so. Our new space in Cheltenham triples our size and we simply don't know ourselves! At the moment we think it's huge, perhaps way too big for us. But then again, we've said that before…