Natalie Martin is an artist based on the Surf Coast, Victoria, Australia. Originally trained in Graphic Design she's worn many creative hats in her career but always comes back to art.
Working predominantly with watercolour, Natalie exhibits her work nationally, has a line of limited edition prints and eco-friendly stationery and teaches workshops and classes. We'll hear more about that later. As for now, let's get to know Natalie a little better…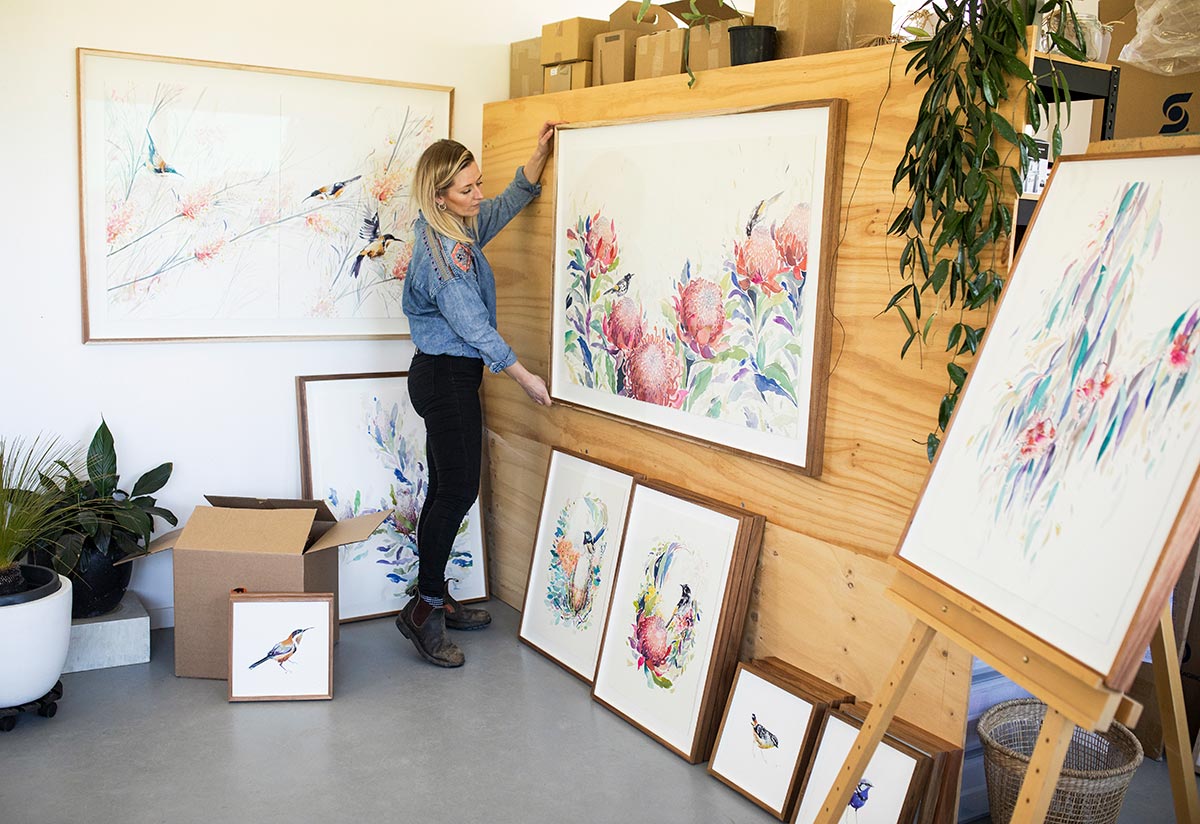 September last year saw her first Melbourne solo exhibition 'Breathe' at the Stockroom Gallery in Clifton Hill. The body of work explored what happens when we slow down, breathe deeply and reconnect with the natural environment. She recently launched her first online course 'Welcome to Watercolour', a beginners guide to contemporary botanical watercolour.
George Takes Twelve
1. Pleasantries first… Tell us about who you are and what you do?
My name is Natalie Martin and I'm an artist based on the Surf Coast in Victoria. My studio is at Ashmore Arts, a creative hub on the coast with lots of other amazing artists and makers. I work predominantly in watercolour these days and I'm super in love with our native flora and birdlife. I teach painting courses and workshops, do a bit of graphic design and art direction, have a line of limited edition prints and eco-friendly stationery, work on exhibitions and commissions and even tried my hand at curating a group show this year! I also released my first online course, 'Welcome to Watercolour' which was a tough but rewarding process. I get a real thrill watching people learn how to use watercolour and open up to play and experimentation with paint.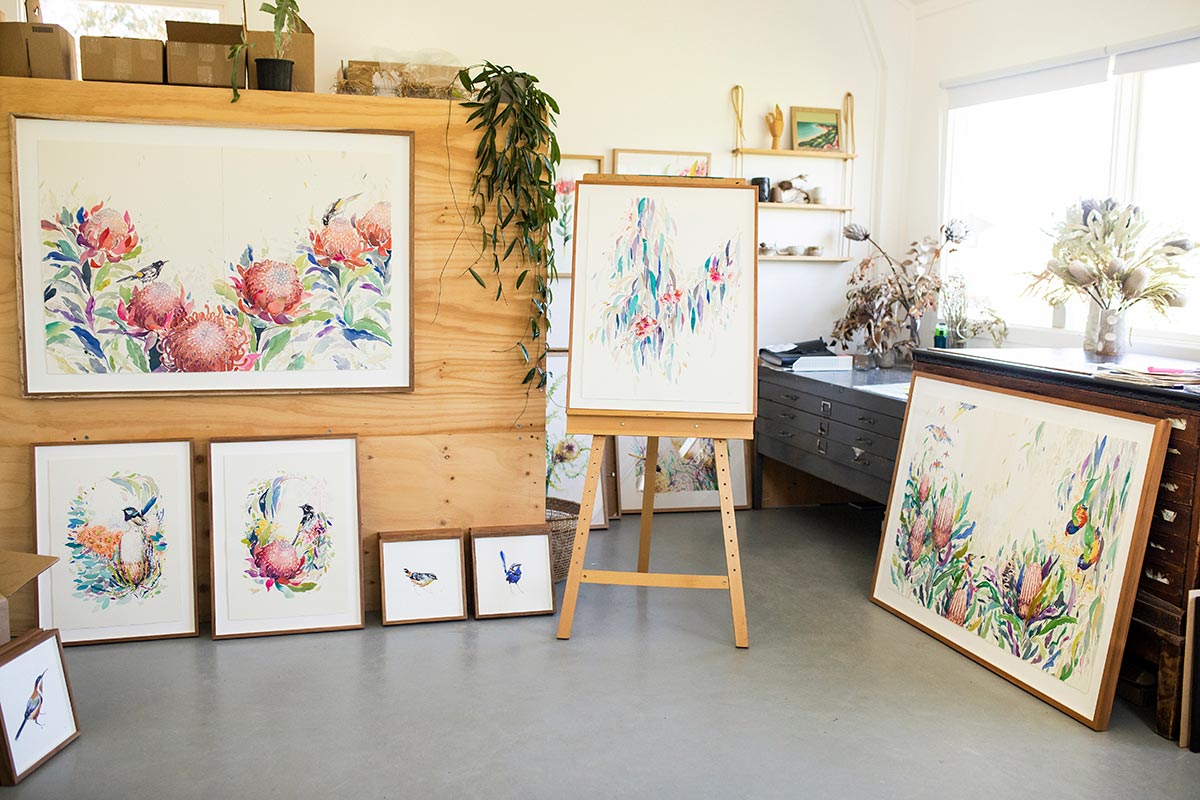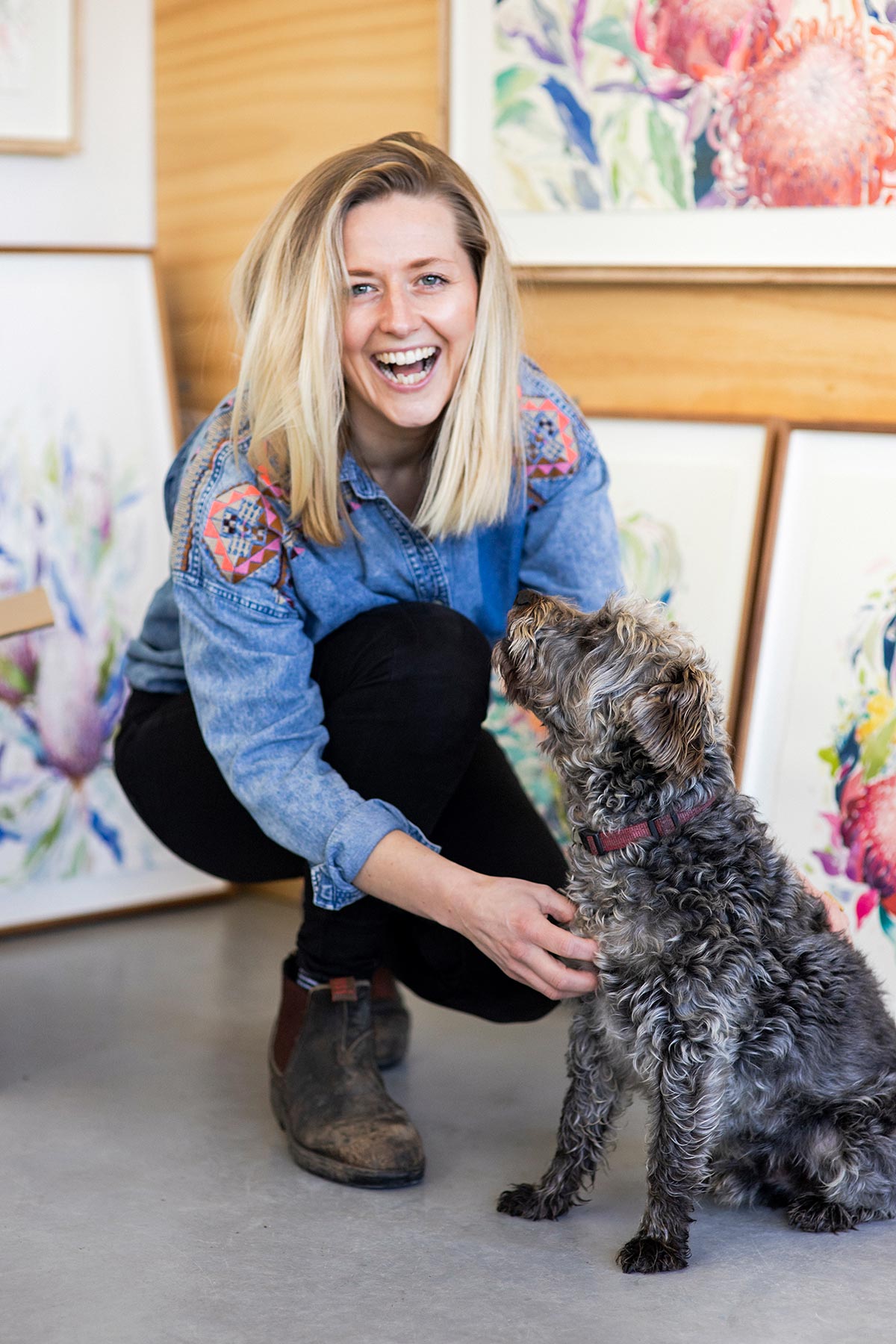 2. When I was growing up I wanted to be….
A hairdresser. I actually thought you could do whatever you wanted to people's hair though, as soon as I realised that wasn't the case then the dream was over.
3. What is the best piece of advice you've ever received?
You want it? You work hard for it.
4. What is your favourite way to get the creative juices flowing?
Spend time away from technology, a walk out and about in the sea air, spending time in the garden.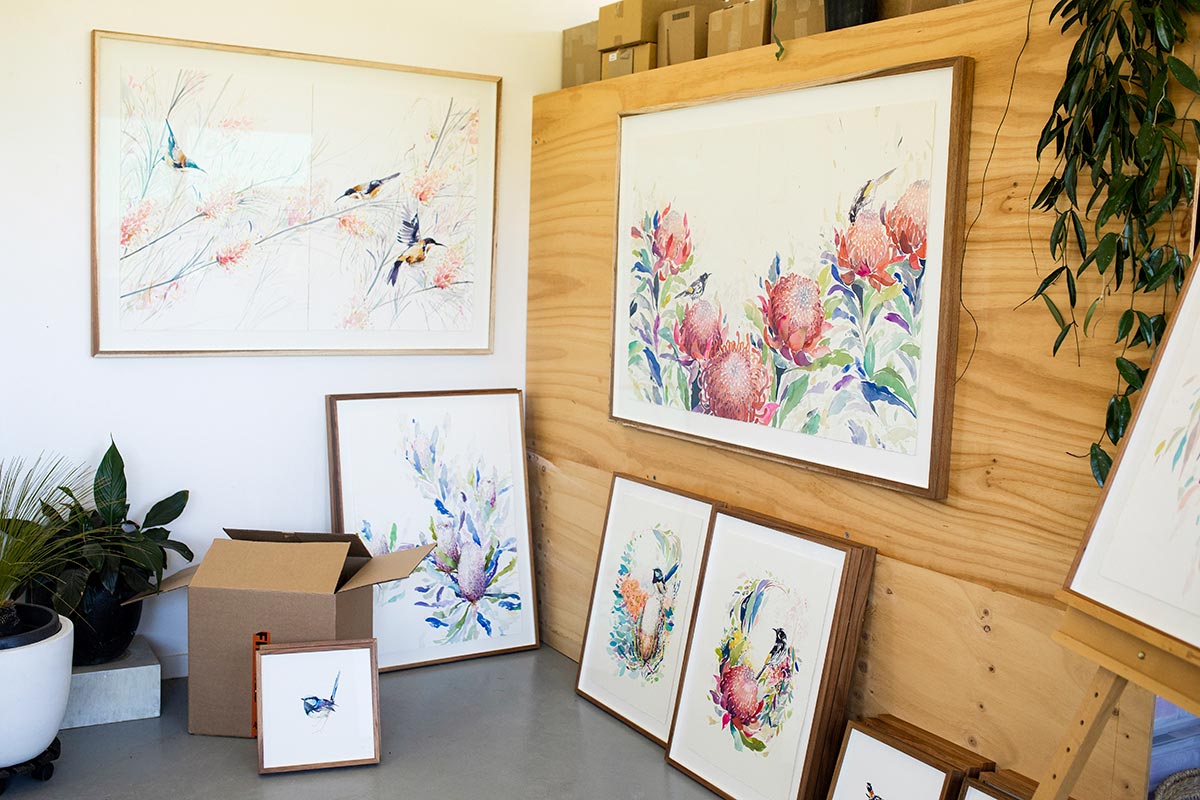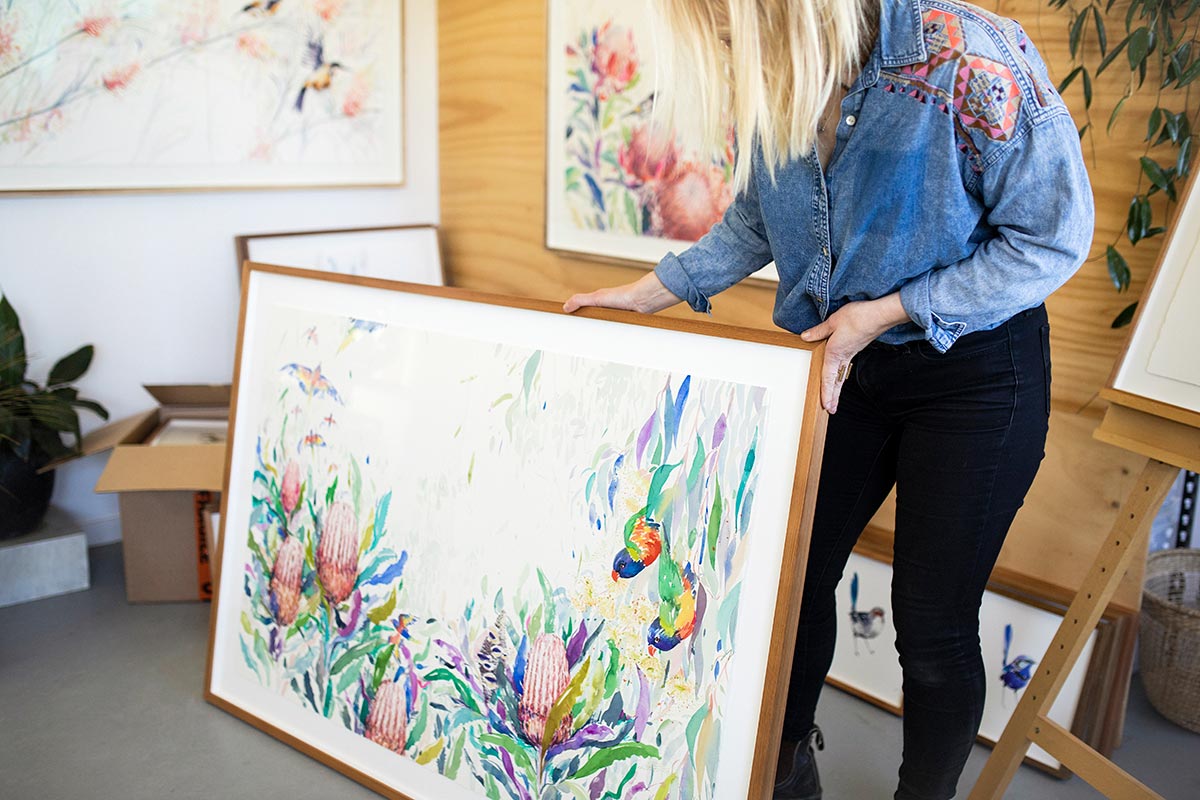 5. What does your average work day look like?
My work days vary so much, there's not much routine involved at all which suits me down to the ground. I usually start with a dog walk then a coffee and see what happens from there.
6. If you could invite any five celebrities to dinner, who's dining?
Zoe Foster-Blake, Nick Offerman, Debbie Harry, Jacinta Ardern, John Olsen.
7. What was the last rule you broke?
Driving the wrong way down a one way street.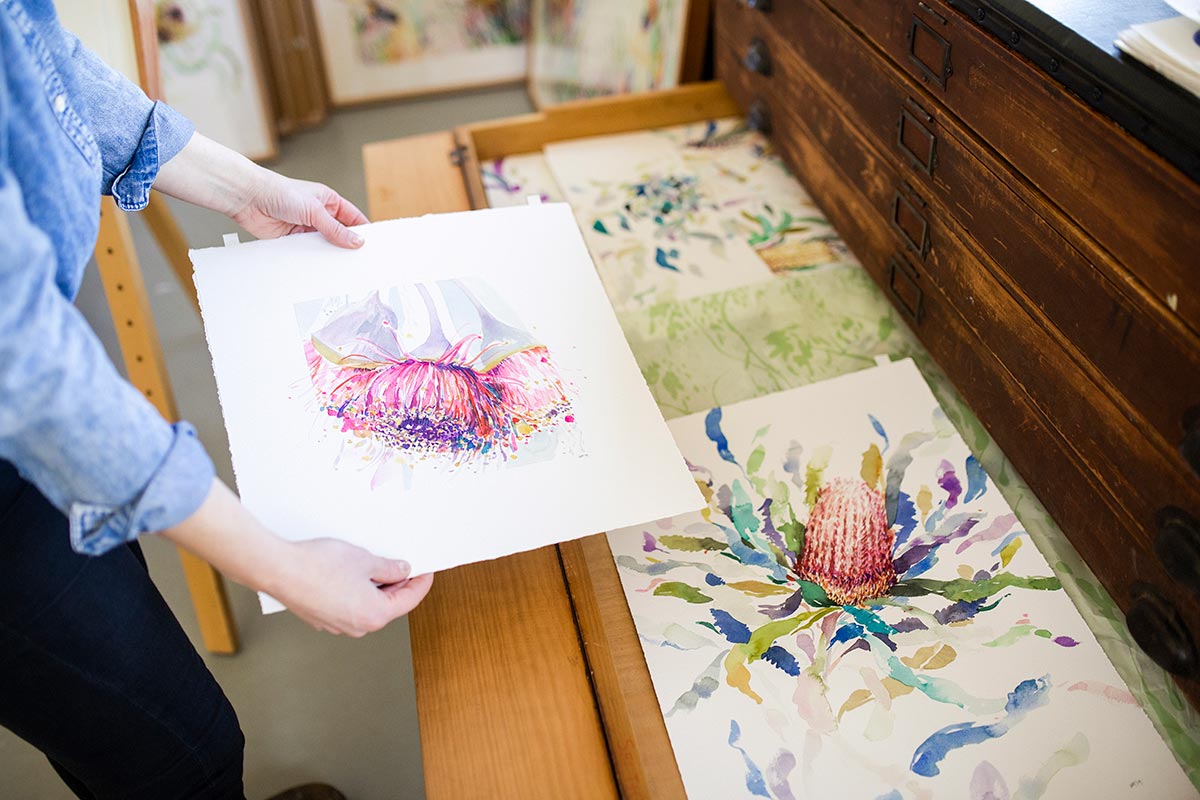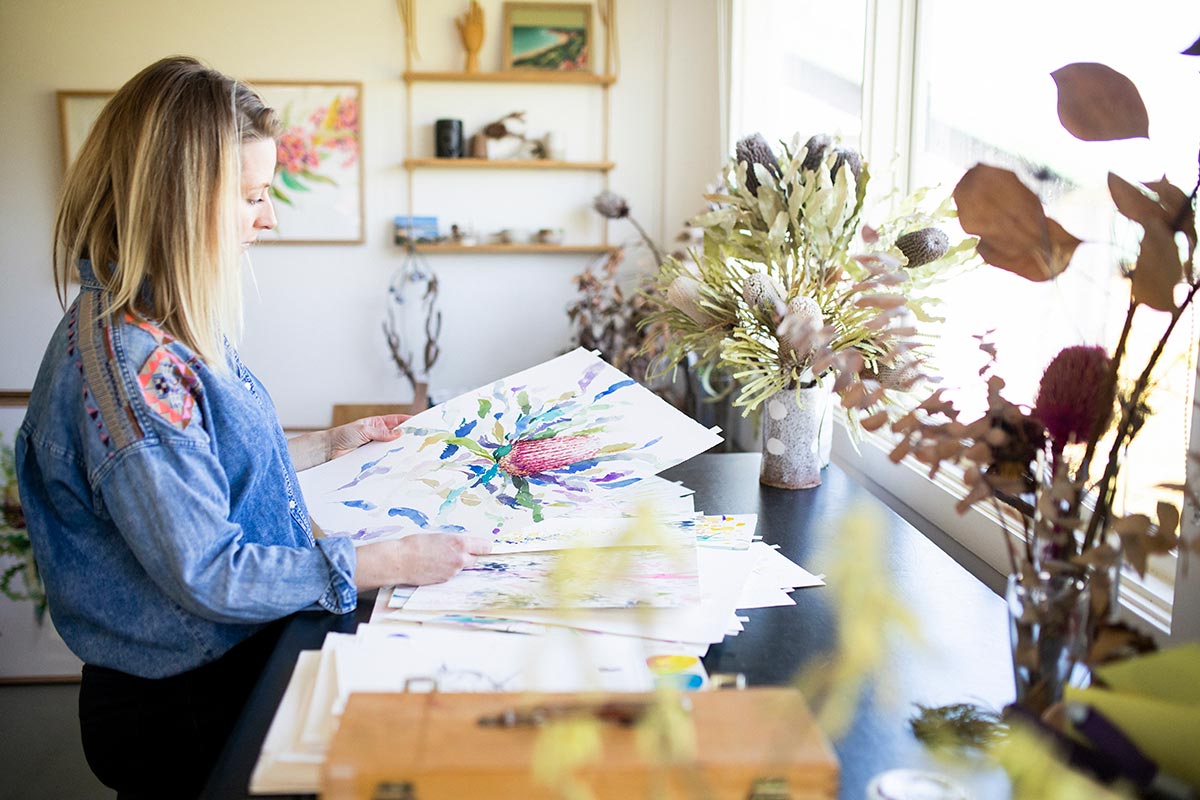 8. What's one thing people may not know about you?
I have a schnoodle called Xavier.
9. What was the last movie you saw and was it any good?
I watched the Dawn Wall on Netflix recently about rock climber Tommy Caldwell and his attempts of climbing what was thought to be an impossible face in Yosemite. It was great, I just kind of threw it on and then couldn't stop watching. I rarely sit down to watch a whole movie!
10. You've got a week off… where are you headed?
If it was in winter I'd be heading to the snow, and if in summer I'd be heading down the coast.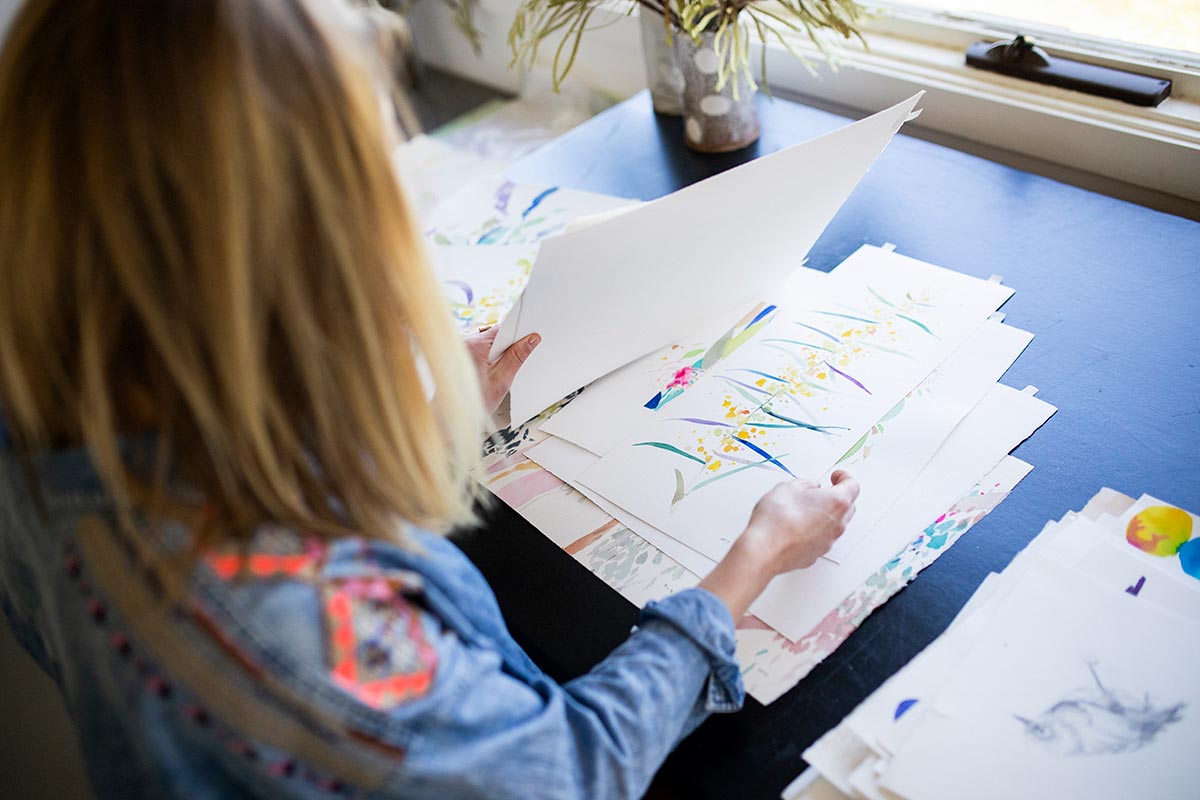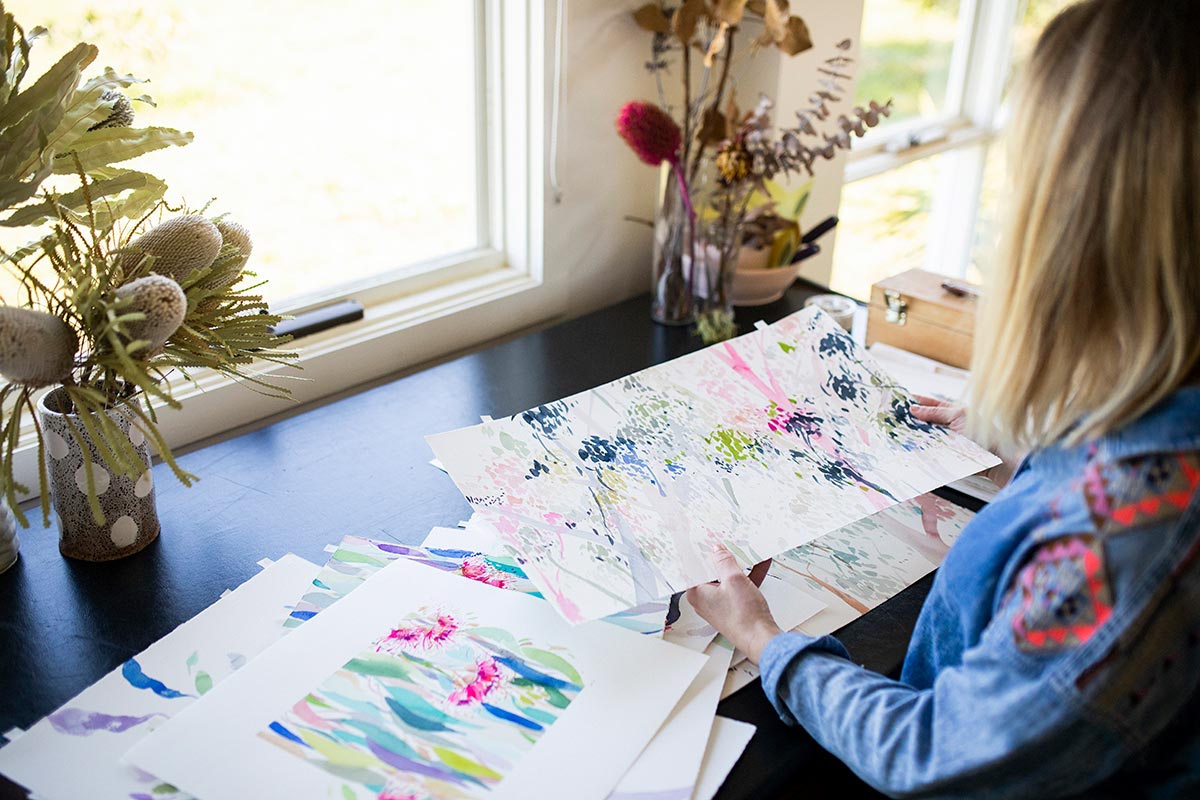 11. What's your favourite project/design so far and why?
My favourite project so far was the original 'Flower Thief' series I did in 2017. It was a real turning point for me, complete shift in approach and subject matter. I hadn't enjoyed painting for some time and on a whim started pinching flowers out of gardens to paint. At the same time, I undid a bunch of the 'rules' I had built for myself around my practice. Literally went back to the drawing board and started playing and experimenting and really enjoyed both the process and the result!
12. What's next for you? Any exciting new projects in the pipeline…
So many things!! I would like to expand on my online courses. I curated a show on the Surf Coast Easter and would like to do another. More painting of course!
Meet the Maker Radio
'The Test of Time'
"This playlist actually exists, they are all feel good songs that stand the test of time and can be enjoyed by everyone. They bring good vibes and good memories." – Natalie
Where to find her
Name: Natalie Martin
Business Name: Natalie Martin
Job Title: Artist
Website: www.nataliemartin.com.au
Instagram: @natalie_martin
Photography by Donna Nugent