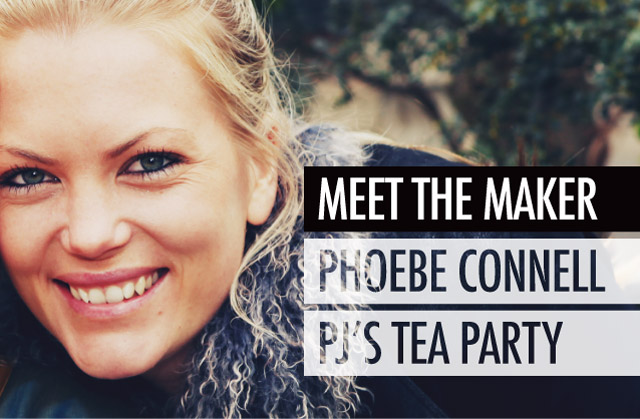 Name:  Phoebe Connell
Brand:  Pj's Tea Party
Job Title:  Full-time intellectual property lawyer / Part-time candlemaker
Location:  Melbourne, Australia
If these photos could smell! I wish this were a scratch n sniff book with all the wonderful happenings in here!! Take a look at Phoebe's quaint little studio where she hand makes all her candles from scratch. Love!

1. What did you want to be when you were a little 'un?
A vet (until I did work experience)!
2. What made you decide to start your own brand?
I was sick of spending all my money on candles so thought I would have a crack at making my own!
3. How would you describe your style of work? 
Old worldy and romantic
4. What is the best and worst thing about being a designer?
The best is having the freedom to explore new creative ideas that may or may not work out.  I have tried making my candles in all sorts of vessels – the vintage tea cups and old tins worked (others didn't)!  Experimenting with different fragrance oils and essential oils has also been a lot of fun.  There is definitely a lot of trial and error involved in the whole process and there are some scents (particularly lemongrass essential oil and a green tea fragrance oil) which my nostrils can no longer stand due to overexposure in the creation process!
5. What is your favourite creative outlet?
Going for a hike in the country with my man and talking "big ideas" – i.e. new products we could bring to the market (that may or may not serve a real purpose), places we could live one day if we spoke any language in the world, what we would do if we were millionaires etc
6. There's got to be something you're shit at? What can't you do?
Sing (at all) and wink with my right eye (I was always terrible at wink wink murder – the card game).
7. What are your top 5 websites/blogs at the moment and what makes them stand out? 
Etsy, Agendacity and The Design Files
8. Date, Marry, Kill… List any celebrity (dead or alive)
Date – Johnny Depp
Marry – Rob Pattinson (I know it is sad!)
Kill – Jim Carey
9. So in the next couple of years your brand takes off like a rocket, multi million dollar offers start coming though the door. Do you stick with it? Sell out? Start again? What and where will you end up in 10 years time?
Stick with it – but probably move my studio (which is currently the old gardening room at my grandmother's house) to the South of France for 6 months of the year!
In 10 years I will hopefully still be creating or doing something artistic (even if it is just on the side).  I would love to live in a country town and own the local florist.  I've been making hanging ball plants recently – such fun to make and they look awesome!
10. What song or album are you currently listening to and is it any good?
New Radiohead – and yes it is quite good, not too depressing!

Hunting for George HQ has never been the same since housing these candles. Each with their own distinct scent, they fill the air as if walking into a room full of fresh flowers. And what we love most about Phoebe's candles is that each one is different, each one unique … just for you! Choose your favourite here…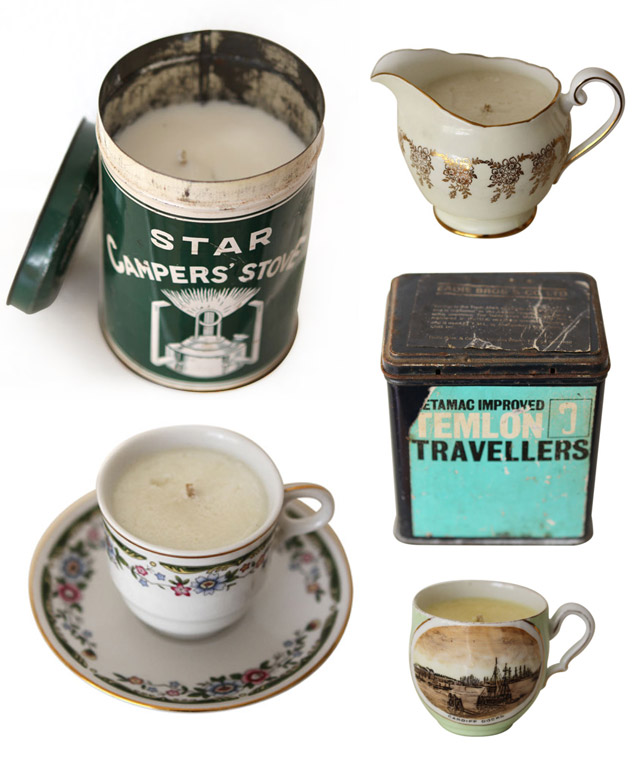 Phoebe's Chilled Classics "These are some of my faves to listen to when I am trying to get the creative juices flowing! Nothing too serious but melodic and fun"