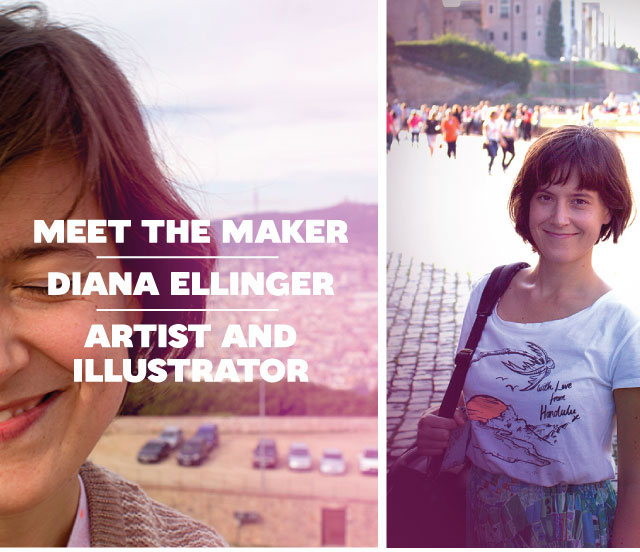 Name: Diana Ellinger
Title: Artist and Illustrator
Location: Madrid

Diana's studio space is nestled in her Madrid apartment where she lives with her very diplomatic husband. These photos (beautifully taken by Diana herself) make us wish that we were artists, living a bohemian lifestyle in a foreign land… Take a peek at Diana's cosy studio, brimming with brilliance….

1. What did you want to be when you were a little 'un?
A farmer, or an olympian. Back then I always thought if you managed to become either of those, you had really made it in life.
2. What made you decide to start your own brand?
I don't really think of my work as a brand. I think I still subscribe to the romantic idea of an artist making work almost as if it's a natural and almost holy compulsion beyond their control and if not working completely against market forces, then at least existing separately from them. It's all about the ideas man. I'm so not thinking 'if I put a bird on this canvas it will sell better', I promise I'm not! But I have to admit that I do try to straddle two worlds – like I have one pedicured and well-shod foot in the commercial art camp who likes to keep it's linkedIn page up-to-date, and another more dirty, barefoot one making a zine and vegan cupcakes with my art school buddies over in Art World. Oh how I love the smell of patchouli! Sorry, what's the question again? Oh yes, perhaps I should be starting my own brand? All I know is I belong to generation Y, and after just five years working as a graphic designer I decided I was up to my nose sick of being art directed and I wanted to make something with my hands that didn't have a drop shadow, or consist of 300 pages of neatly set Helvetica. I wanted to make Art!
3. How would you describe your style of work?
Inspired by collections of photographic ephemera, musty second-hand picture books, and the patterns on the surface of all things, and well, a little bit nostalgic, handmade and hopefully just a little bit thought provoking.
4. What is the best and worst thing about being a designer?
The best thing about being an artist, or I guess an independent creative of any sort, is having almost complete control to make and do what you love. It's the feeling of adrenalin that releases small, musky-coloured butterflies (a colour somewhere between burnt sienna and pantone 7513) into your stomach when you've made something that somehow just. works. Or when somehow five hours has past since you raised your head from whatever you were doing because you suddenly realise that you haven't eaten lunch or gone to the bathroom.
The crap thing though is that it's hard work, it takes time and is not necessarily recognised, in a commercial sense or in any other way. I'm sick to death of defending art, and artists' work and their worth in a contemporary context. Every time someone walks into a gallery and walks past a piece of art and says 'my five year old son could have done that', a musky-coloured butterfly dies.
5. What is your favourite creative outlet?
PINTEREST. I have a serious addiction.
6. There's got to be something you're shit at? 
Numbers. To me they are just abstract sounds or shapes on a page.
7. What are your top 5 websites/blogs at the moment and what makes them stand out?
www.itsnicethat.com Well, because as the tagline says at the top of the homepage, they are championing creativity across the art and design world.
www.artinfo.com I love the video section, particularly the studio tours. Plus they do great artist interviews.
www.intelligent—–clashing.com I know, weird address, but some awesomely unexpected pattern and colour combos!
www.thedesignfiles.net Hot Aussie design, art and interiors updated every weekday.
www.pinterest.com See answer number 5
8. Date, Marry, Kill… List any celebrity (dead or alive)
I don't want to date, marry, or kill Luc Tuymans but I want someone to invent a device whereby his art talents could somehow be transferred from him to me. Sort of like in Face/off but with less face swapping. Actually not like Face/off at all, bloody Nicolas Cage. Hey, he's a celebrity, maybe I want to kill him!
9. So in the next couple of years your brand takes off like a rocket, multi million dollar offers start coming though the door. Do you stick with it? Sell out? Start again? What and where will you end up in 10 years time?
Totally sellout. No, only joking – read answer number 2. I'm probably never going to make any money, but I certainly don't think I'll stop making art.
10. What song or album are you currently listening to and is it any good?
A is for Alpine, the latest (actually the internet tells me debut) album from Alpine. Seriously smooth, I particularly like Gasoline. And they're from Melbourne so they must be cool.

To say we hav a bit of a crush on Diana would be putting it mildly. Not only is she an immensely talented painter and illustrator she is also funny (far too funny), she's super good looking, humble, she can run really fast (seriously we've seen it), she's tasmanian (whoop!) and she has bravely thrown herself into the art world to do what she loves the most. We adore Diana's latest collection of Ink on Paper illustrations and we hope that you do too. Below is just a taste of Diana's work available at Hunting for George, click here to see her work in more detail.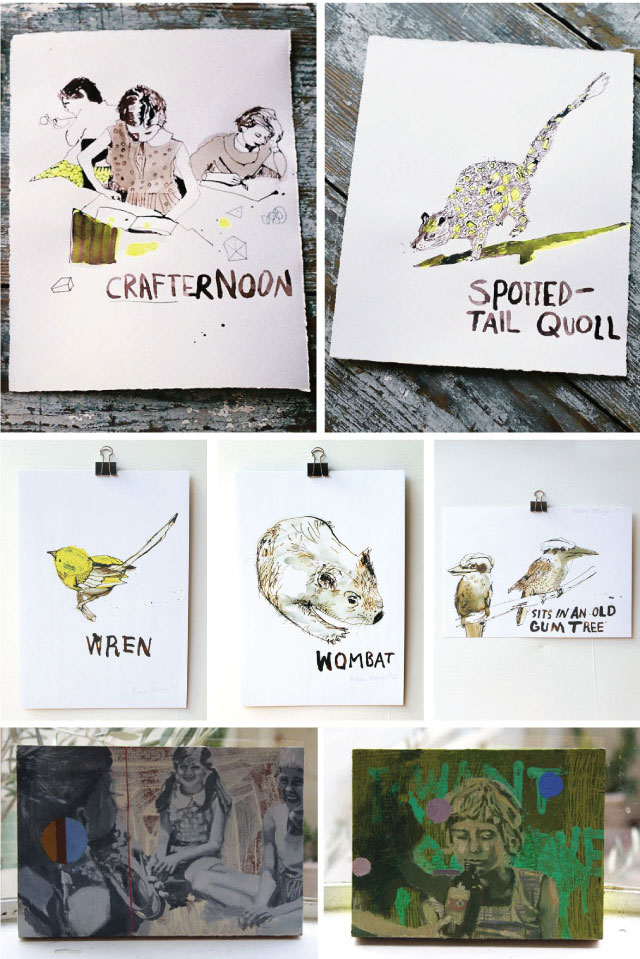 Songs for all seasons (premium edition, includes hardcase)
Shout along to these songs with your eyes closed and your brow a little bit wrinkled, while you clasp your hairbrush like a microphone. Or curl up into the foetal position and cry. This versatile little mix can be called upon whenever you need it – there's never a moment too sad or too happy to listen to Songs for all Seasons. Now available at the great price of $19.99 including postage and a set of steak knives.
1. Laura, Bat for Lashes
2. Sun, Two Door Cinema Club
3. Don't carry it all, The Decemberists
4. Yet Again, Grizzly Bear
5. Fuego, Bomba Estereo
6. Airplanes, Local Natives
7. Trembling Hands, Temper Trap
8. Holdin On, Flume
9. Furr, Blitzen Trapper
10. Lemonworld, The National