Whoever said being lazy was a bad thing? After all that's what those two glorious days at the end of the week are for. A lazy daze where sleep is king and the hours slide by whilst cosy under cover. Laze well. Daze long.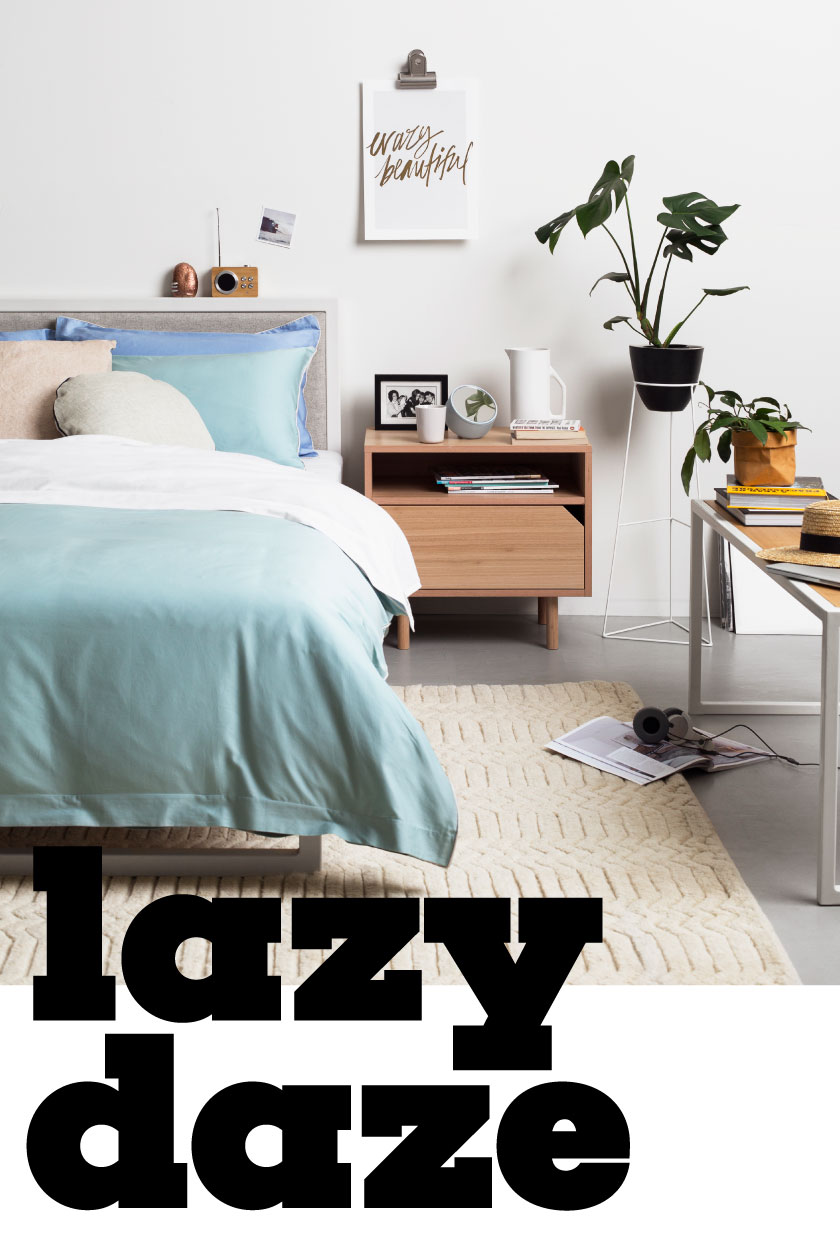 We've broken down this look to show you some clever ways to style your bedroom. We look at different options for wall art, how to maximise your cushion choice and tips for choosing the perfect rug for your bedroom. So sit back and relax, we've got you sorted.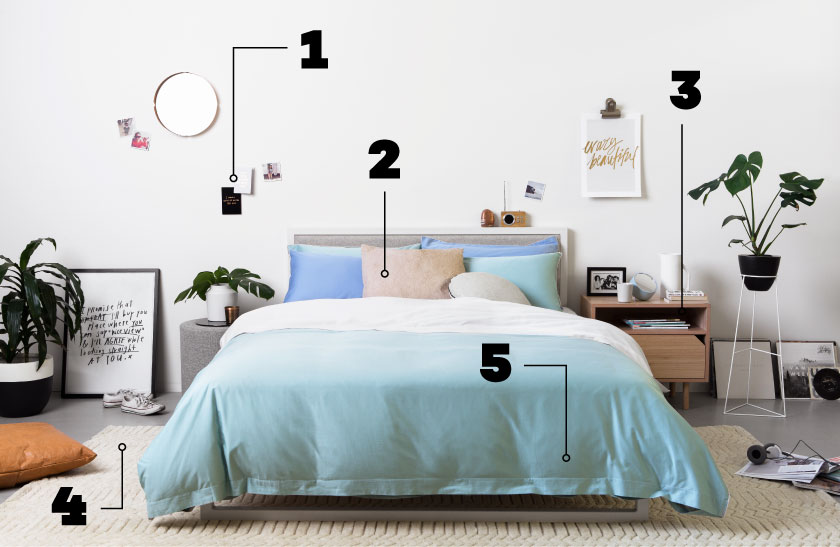 1. Personalise
You don't always need artwork to cover your walls. We love adding a personal touch by re-using gift cards. These look great clustered together with your favourite photos.
We styled the Wild Thing Card and Where You Are Card from Blacklist together with polaroids.
2. Go Big
Choose a large euro sized cushion or pillowslip for your bedroom. They are great as a feature pillow on your bed or alternatively as a floor cushion.
We chose the large Cashmere and Camel Paper Cushion from Uashmama.
3. Store
With a clever hideaway (and soft close) drawer this bedside is the ultimate for removing clutter and keeping all those bits and pieces hidden. Leaving more space to show off your books, mags and photos.
We've styled the Aliya Bedside Table by Grazia and Co.
4. Woolly
Choose a woollen rug for underneath your bed. It's like walking on a sheep…without harming it of course 🙂
We've styled the Berber Knot Savannah Rug from Armadillo & Co.
5. Flip it
Add colour rather than pattern by reversing the Wes quilt set. Pair with other solid colours for a bold and fresh new look.
We've styled with the Homeboy Pillowcase Set and Ice White Sheet Set by Hunting for George.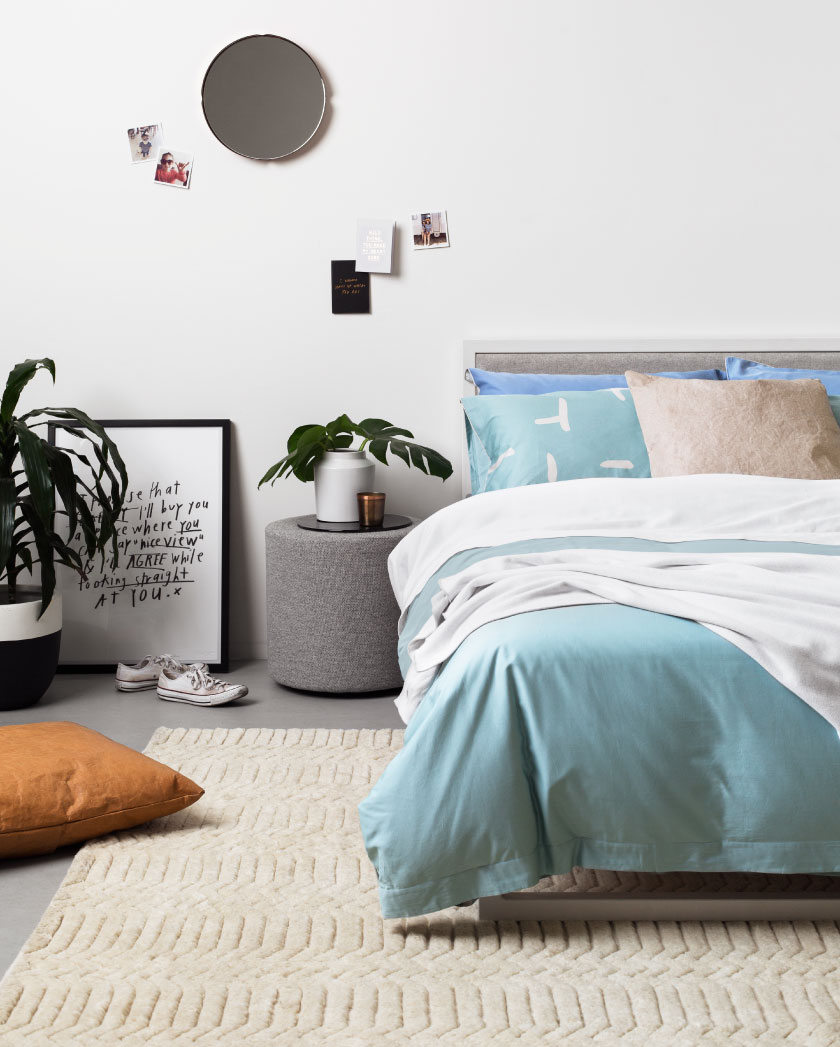 All featured items are available at Hunting for George. Shop the look.
Left to right: Pop and Scott Black Dipped Pot, Blacklist Nice View Print, Large Camel Paper Cushion from Uashmama, Tim Webber Copper Press Mirror, Wild Thing Card, Where You Are Card both cards from Blacklist, Armadillo and Co Berber Knot Savannah Rug, Grazia and Co Light Grey Rollo Ottoman, Ivy Muse Onyx Table Top, Milk & Sugar Fredrik Pot, Metal Cup Candle from Found Goods Market, Hunting For George Ice White Sheet Set, Hunting For George Upholstered Oliver Bed, Hunting For George Wes Quilt Set, Hunting For George Homeboy Pillowcase Set, Large Cashmere Paper Cushion from Uashmama, Kate & Kate The Circle Linen Cushion, Lexon Bamboo Mini Dolmen Radio, Grazia and Co Aliya Bedside Table, Blacklist Crazy Beautiful Print, Milk & Sugar Soft White Bowie Tumbler, Light Blue Edmee Jewel Box from Harto, Yield Design Co Ceramic Pitcher, Ivy Muse White Arrow Plant Stand, Ivy Muse Matte Black Calypso Pot.