We have a lot of fun styling real homes and our latest campaign Home Life was no exception. We turned an open plan warehouse into a Hunting for George poster child and one of my favourite spaces to create was the Dining area.
Our goal: To create a warm and welcoming space that would smile and say 'how was your day?' every single evening.
Our challenge: To make a warehouse feel more like a home.
To start with, the warehouse apartment had a timber table and chairs. These were on the concrete floor and the combination of timber and concrete felt a little cold. So the first thing we did was select a rug to place underneath to help to create warmth. Not only did the rug complement the timber table but it also helped to clearly identify the zone of the dining room (as there were no walls to work with.)
When it came it choosing a rug I first measured up the table, because I wanted a rug that would generously cover the chairs, even when positioned slightly away from the table. Once I knew my size (I went with a 2m x 3m) then I needed to decide on a colour. Usually I'd try and select a colour that was similar in tone to the flooring however for this warehouse I decided that it needed something stronger. I opted for a dark rug (Husk Weave Rug in Ink) which matched the strength of the steel beams throughout the warehouse. Plus, having a dark rug underneath your dining table is handy when it comes to spillage from messy kids (or adults for that matter!).
Once the rug was in place, I found that the timber chairs and table stood out quite a lot. So I decided to mix in some black dining chairs to connect more with the rug and steel beams. This helped to create an eclectic feel which added a lot more cosiness to the space.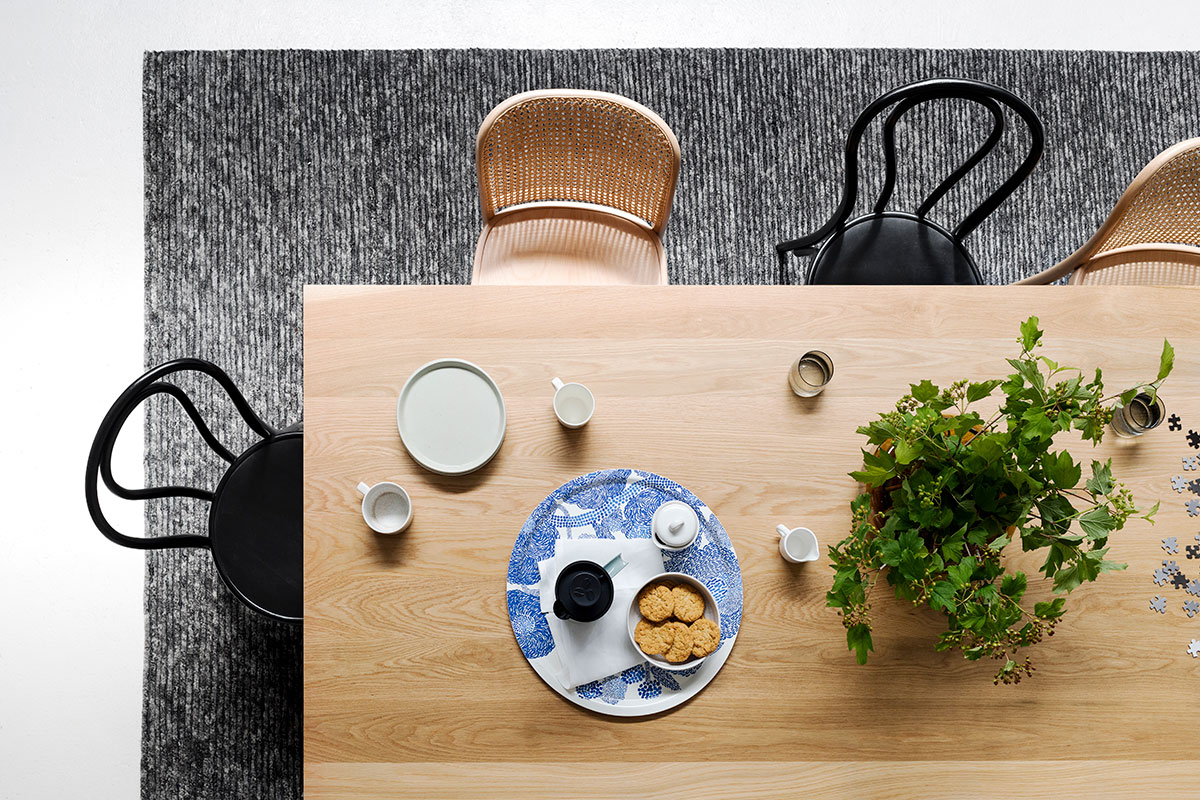 For the table setting, I wanted to keep things simple. I am not one for over-dressed dining tables. It's not really my thing (I wouldn't even know where to start!) so I kept it simple. I really wanted to create a main focal point on the table. The reason for this was to draw the attention toward the centre of the timber table, where it is warm and cosy. I choose a warm colour vase (Urna vase in Amber from Marimekko) and styled with simple greenery. Not only did the colour of the vase create warmth, but the addition of greenery made the space feel more like a home.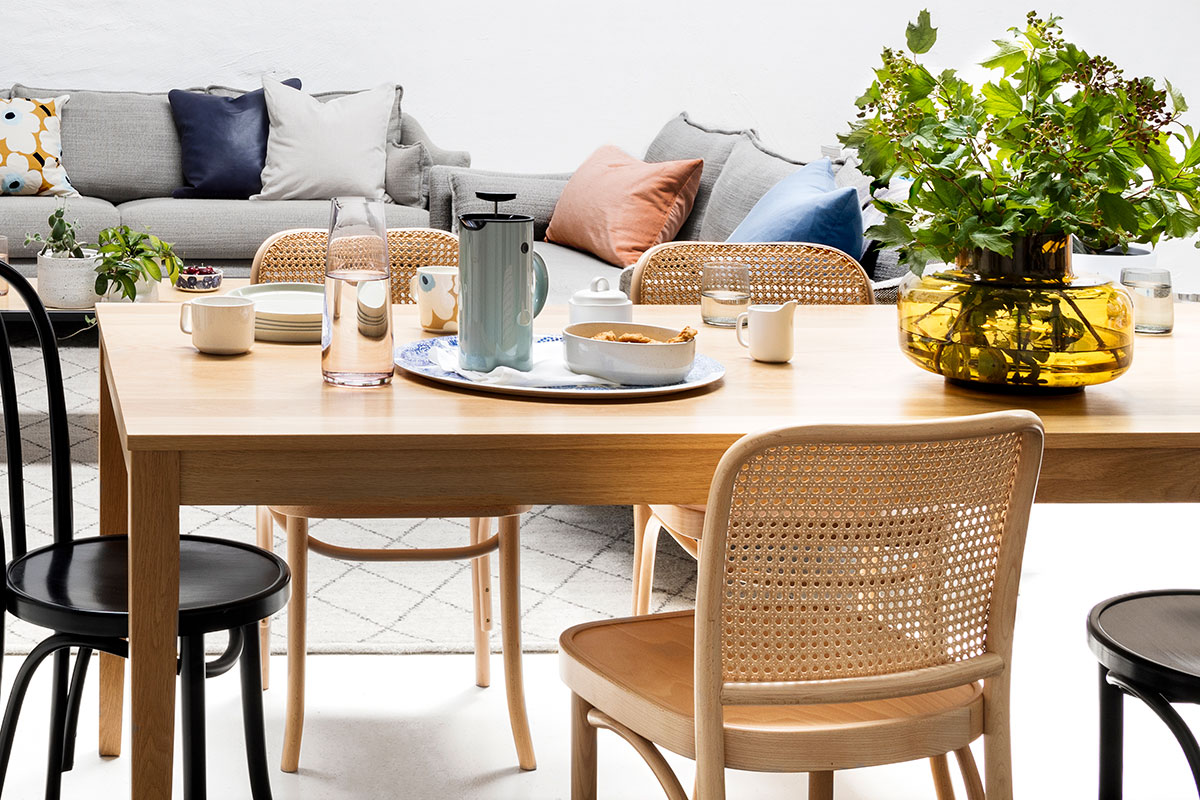 Then, the rest fell into place naturally. I styled the table setting as if it were a casual afternoon. I stacked plates, mugs and glasses. When it comes to dining room table styling make sure you do what suits you best. If you've got kids then chances are your dining room table is constantly going to be covered in 'stuff' and you can't have too many nice things on display. So how about positioning 1-2 small pot plants in sturdy vessels (that won't easily fall or be knocked). That way you can have a little bit of greenery to pretty up the space. You can also make an activity out of it and have your kids help to pot succulents or choose a vessel for the plant. That way they can also be proud of the plants on the table and not destroy them (fingers crossed!)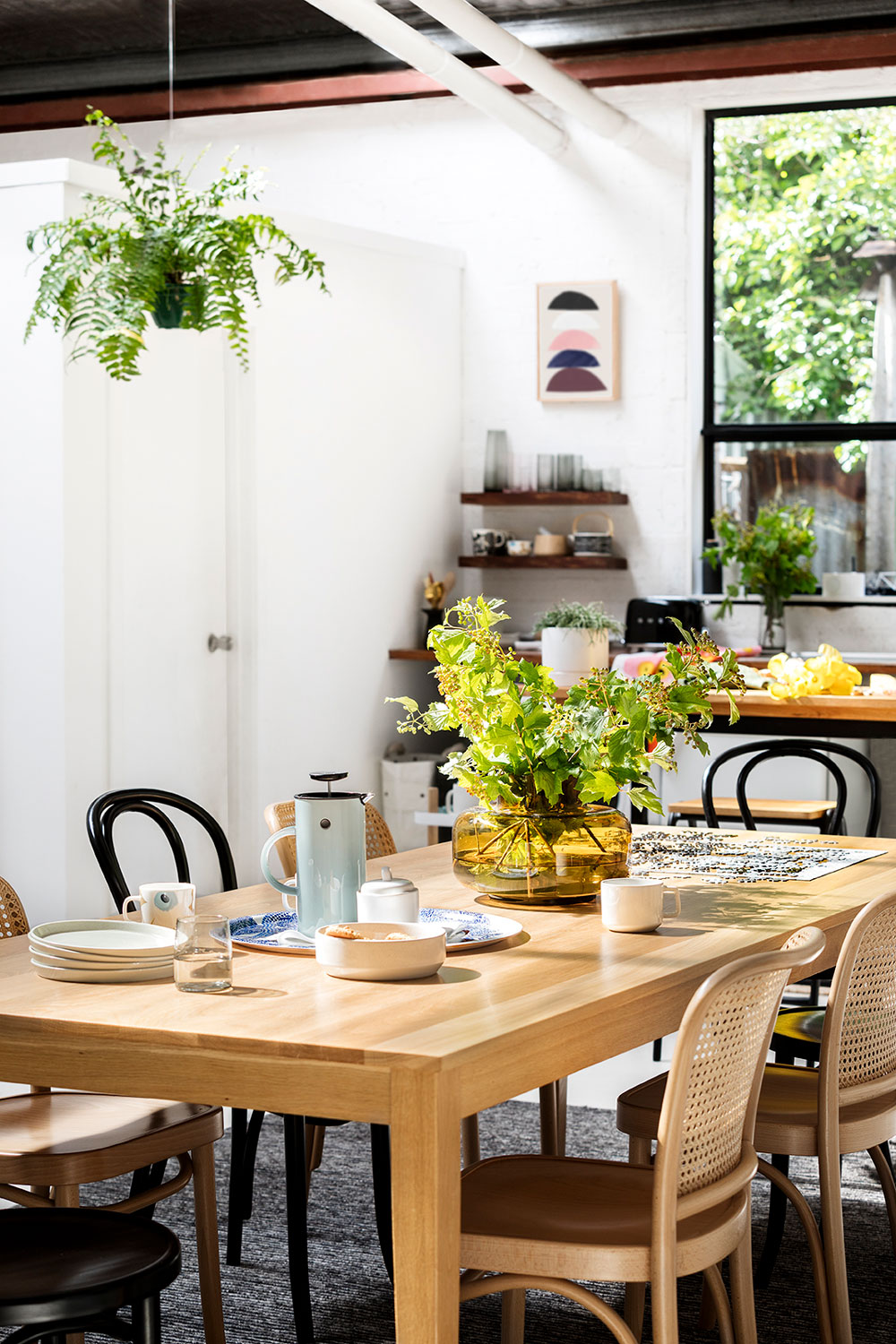 To finish off the look I added a little bit more 'life' to the table by including food and activities. If you have guests coming over, why not pop some biscuits or cherries in a bowl. It will create a very inviting area for you and your guests to hang out.
My 5 Top Tips for Styling a Dining Room:
Choose a generous sized rug that covers both the table and chairs comfortably.
Mix and Match your Dining Chairs, or even try adding a bench for an eclectic look.
Create a Focal Point on the table to draw your attention. If you're wanting to create warmth, choose warm colours.
Keep your table setting simple. Allow for your table to be seen and don't over-complicate it.
Add Greenery. Whether you opt for fresh flowers in a vase or a potted plant in a sturdy vessel. Choose what best suits your lifestyle.
Shop the Look