The humble indoor plant, a hero in homes right around the globe. Self-confessed green thumbs have been adding a plethora of plant babies to their homes for years now. Most people tend to think indoor plants are like pieces of furniture. Place the plants in a room, give them a drink when you remember and then expect the plants to survive. If only it was that simple!
Introducing greenery into your home is a no-brainer for instant good vibes. A few carefully placed plants will light up a room, freshen the air and boost your mood. Lush greenery in your home is all well and good but it's worth doing your research before you invest in a plant baby. Once you've settled on your perfect plant, finding equally handsome pants for your plants can be just as challenging! Think about creative ways to display your greenery.
We recently caught up with Naomi Savio, co-founder of Mr. Fancy Plants to chat all things green. Naomi also happens to be our resident plant expert so we were keen to get her advice on choosing a few indoor plants to match our pots. Check out the dreamy plant and pot combos below, along with some nifty tips from the lovely lady herself.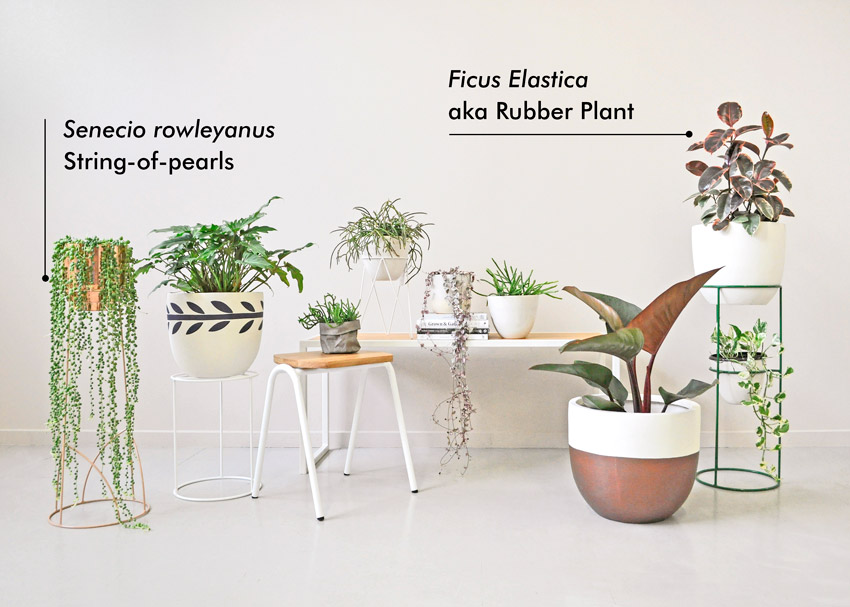 1. 'String-of-pearls' (Senecio rowleyanus) with Ivy Muse's Malia Plant Stand and Yield Design Co Spun Copper Planter 
Your string of pearls might start small but don't be fooled… those tendrils can grow up to two or three feet long! "Although this one can be a bit tricky to grow, we will always have a special place in our heart for this plant, of which the 'big balls' variety was developed by my Dad over 30 years ago!" says Naomi. The elegant Malia Plant Stand kills it in the height department, perfect for upright or cascading plants like this fella. Available in peach, black or white, allowing you to get creative with your greenery.
2. Rubber Plant (Ficus Elastica) with Ivy Muse's Comet Plant Stand and Pop & Scott Plain White Pot
You heard it here first… this guy might just be the new Fiddle Leaf. Naomi tells us "while many prefer that OTHER Ficus, (the beloved Fiddle Leaf Fig) we always recommend a good rubber plant to the novice plant owner – they're hardy, adaptable to differing conditions, and come in a dazzling variety of colour variations." Keep things simple and sweet with Pop & Scott's plain white pot, letting the Rubber Plant's true colours shine through.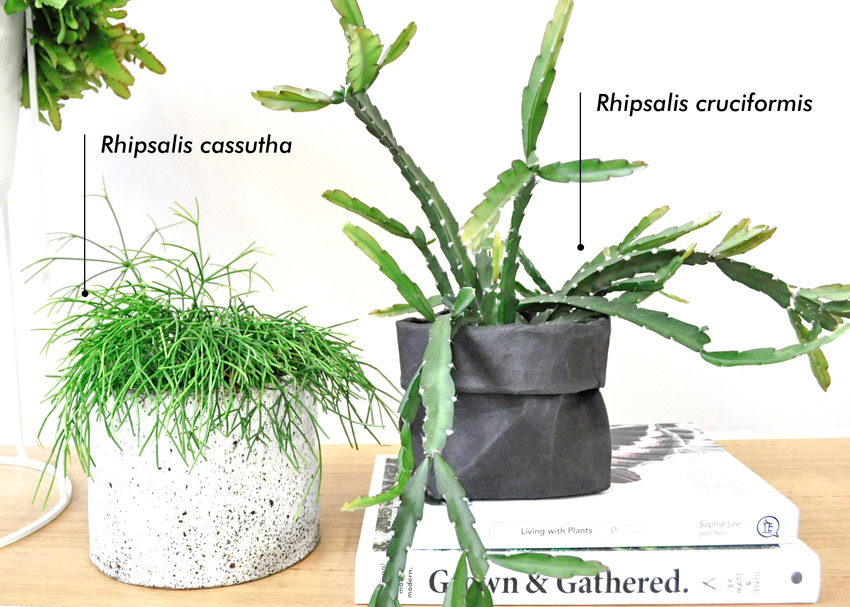 3. Rhipsalis cruciformis with Uashmama's Paper Bag
This intriguing succulent loves to wave his arms in all directions. "We love this plant for its cool geometric structure and the cute little white tufts which it produces. It grows fairly quickly in the right setting, and favours indoor conditions – all in all quite a loveable houseplant!" says Naomi. Perfectly matched with one of Uashmama's must have paper bags, designed to be rolled so you can alter the height to suit its contents. Even better, there's a colour and size to house all your plant babies!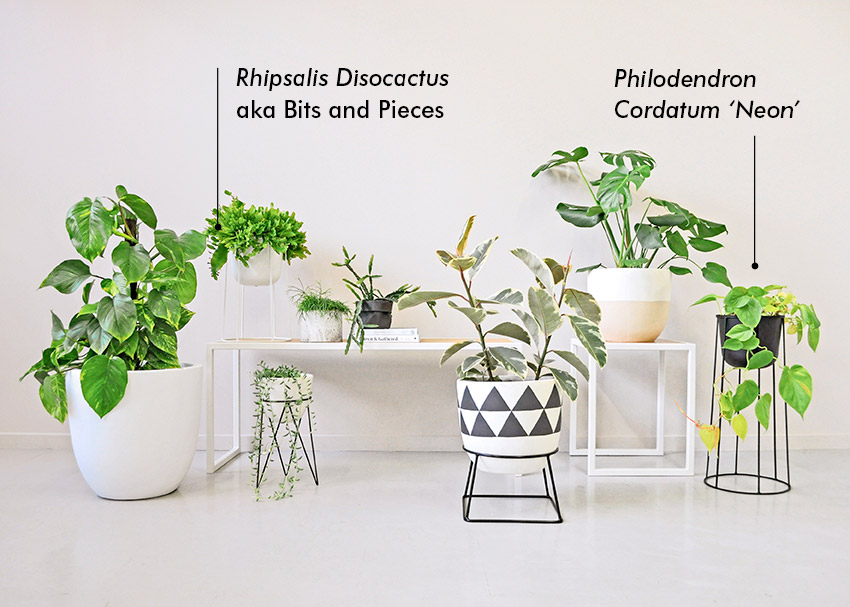 4. 'Bits and Pieces' (Rhipsalis Disocactus) teamed with Menu's Wire Base Plant Stand Medium and Wire Pot
This guy's Alien-like tentacles have a mind of their own. Naomi explains "This is the 'quiet achiever' of indoor houseplants – while other plants can be dramatic and make a statement, this little guy just keeps ticking along doing what he does best, which is to pack a lot of lush greenery into a small amount of space!".
5. 'Neon' (Philodendron cordatum) with Menu's Wire Base Plant Stand Large and Wire Pot 
What's not to love about this vining plant with its heart-shaped leaves? "If we had to choose one leafy indoor creeping plant for our home, this would be it. Devil's Ivy is great, but the neon of these 'Neon' plants are hard to beat." says Naomi.
The perfect place for your plants to perch, the Wire Series design by Norm Architects for Menu is available in three sizes for you to mix and match. Pair with the Wire Pot to create a floating floral arrangement inside the house, or outside – or maybe even both!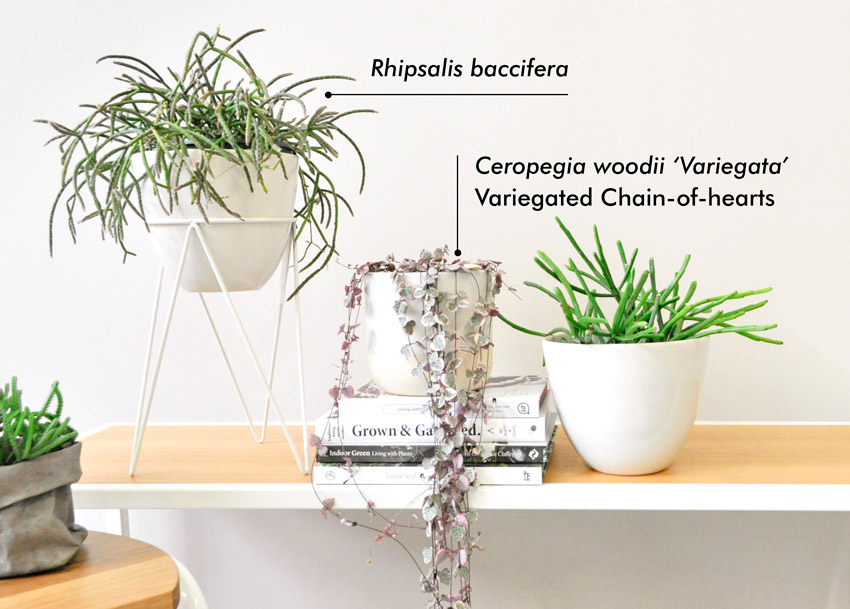 6. Rhipsalis baccifera with Bendo's Plant Stand Luxe and Ivy Muse Sanctuary Pot
Another rhipsalis that we just can't get enough of! "Like most of the rhipsalis, these guys love to hang, are fairly robust, and can grow easily indoors. They're quite interesting to look at and offer a nice juxtaposition to your average leafy houseplant – the branches of this variety look like hairy spider legs!" Naomi tells us. An elegant stand for your new friend, the Bendo Plant Stand Luxe will let those long hairy legs hang out.
7. Variegated Chain-of-hearts (Ceropegia woodii 'Variegata') with Milk & Sugar's Chester Pot
The sweetest little thing, this trailing houseplant is named after its dainty heart-shaped foliage. "Every home stylist loves a good Chain of hearts, and with good reason – they're beautiful, with long delicate (but surprisingly sturdy!) tendrils of bright pink leaves. They also flower quite reliably, which is always a nice addition to any room." says Naomi. We've popped this guy in the Chester Post by Milk & Sugar. Take it one step further and grab a Ziggy Pot Hanger if you want to hang him high and mighty.
Need more help with your plant babies?
Plants are living things which sometimes people forget. They need water, light and love just like us. Your ability to keep houseplants alive and healthy has a lot to do with putting the right plant in the right place. Even an expert can't make a shade-lover survive in a sunny window. Be sure to check out our blog posts on The 10 Best Winter House Plants and How To Care For Your Indoor Plants for a helping hand.