Need a helping hand creating the bedroom of your dreams? We love sleeping and know a thing or two about creating the perfect bedroom sanctuary. Ultimately, your bedroom is your castle; you decide if it should shine like the morning sun in glowing shades of yellow and gold or flow smoothly like the evening horizon in soothing blues, greys and whites. Whatever floats your boat, soothes your soul etc., we're here to take you through everything you need to know about styling your own bedroom sanctuary. So, start styling, get cosy then hit that snooze button!
1. The Bed
The most important element of any bedroom is the bed. If the hunt for a new bed frame already has you drifting off to snoozeville, then look no further than our mate Oliver. This simplistic bed frame will complement any bedroom and is the perfect base to relax. Made in Melbourne from Tasmanian Oak veneer and powder-coated tube steel frame, Oliver's available in single, double, queen and king sizes.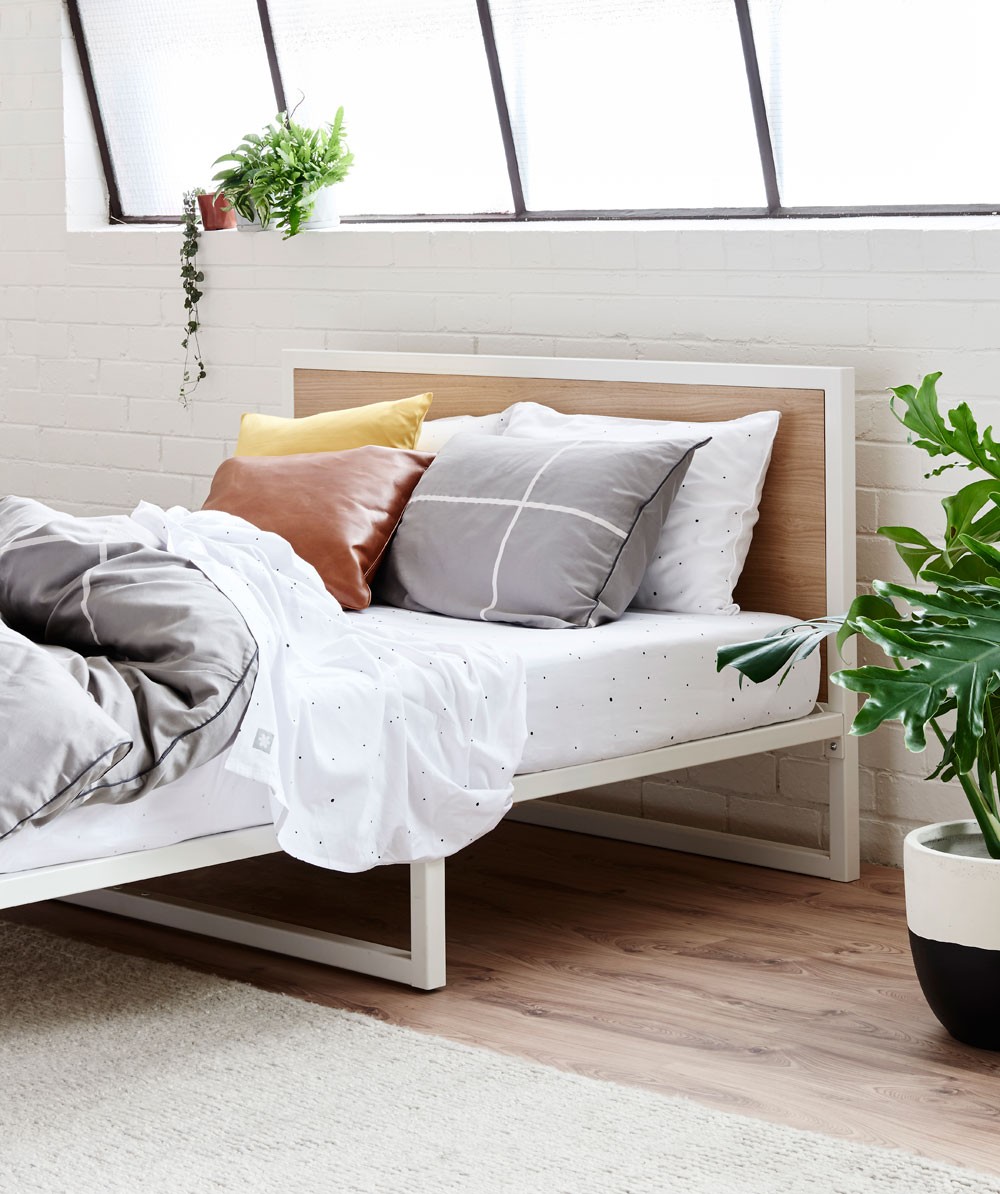 2. Dress the Bed 
The type of bedlinen you choose will dictate the look and feel of the entire space. When choosing bedlinen, the first thing to think about is what other colours and textures are already in the room. You don't want your bedlinen to clash with the existing interior such as the wall colour or floor texture. If you're unsure, then keep your bedlinen minimal and layer up neutral colours. Try to pair similar tones together for your sheet and quilt. Then add some pattern and colour with pillowcases, cushions or a blanket.
Choose your base
Think about the most comfortable bed you've ever slept in, and what comes to mind? Is it the sheets? Okay, good… we're going to get along just fine. Sheets and Pillowcases are about as important as a good quality mattress and a cosy blanket to snuggle up in. They're also a bedroom must-have so stock up and make bedtime the most exciting time of the day.
TIP: How many pillows should I have? 
A good rule of thumb is 2 or 4 but never more. However, if you're not one for following rules than add additional pillows but change the size. For Example, add a euro pillow or cushion to the mix.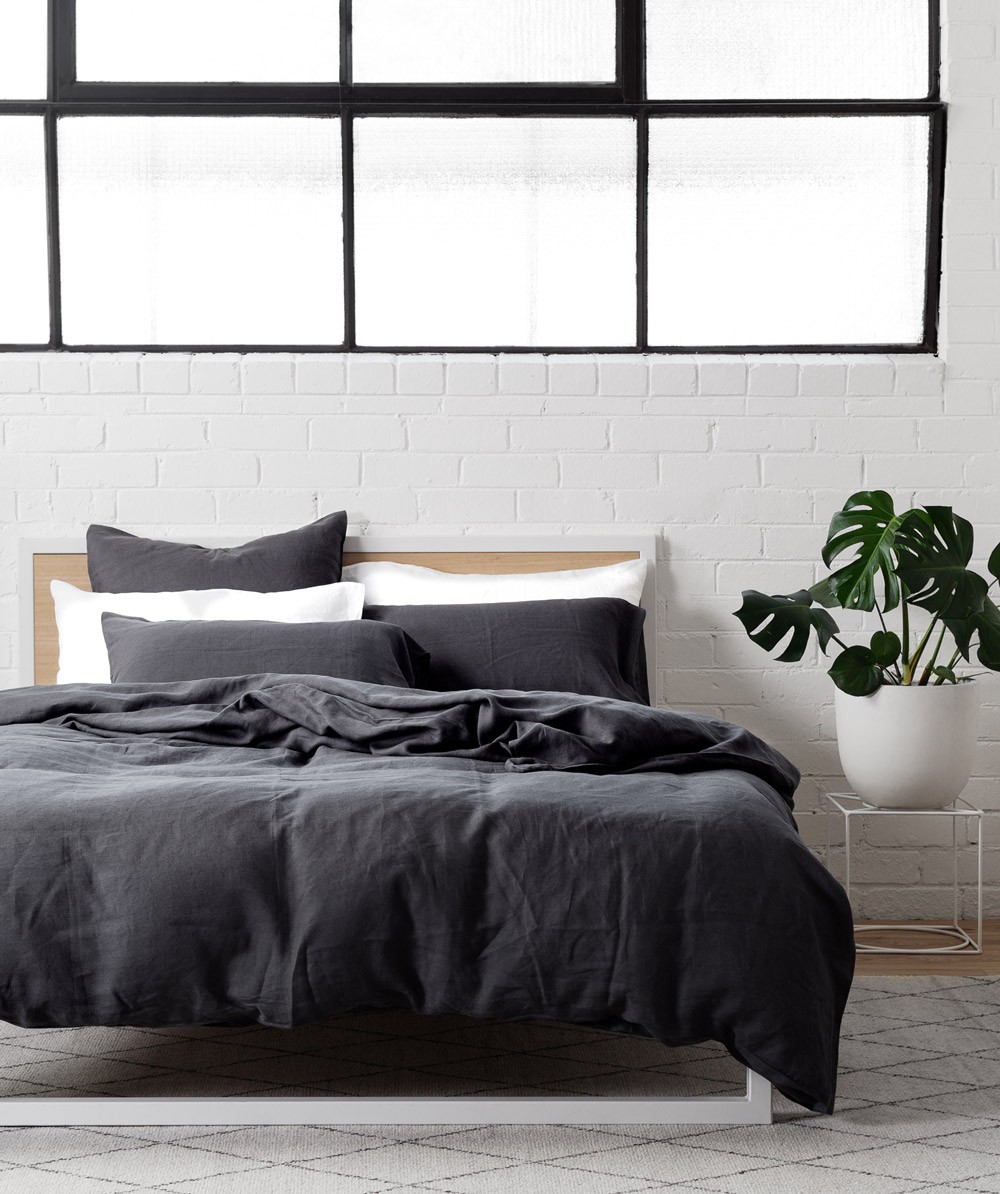 Then Add Layers
Whether you're a decorative pillow hoarder or the less is more type, cushions are an affordable way to give your space a makeover, injecting colour, texture and pattern into your space. Our 100% Linen Euro Pillowcases in crisp white and charcoal add texture and act as an anchor between your bed and the wall. Add texture and softness with the Polar Quilted Cushion, and the Chubby Checks Cushion with his mighty fine looking clean lines. Complete the look with the dreamy deep blue Leo Leather Round Cushion, it's circular shape makes it the perfect companion to its square counterparts.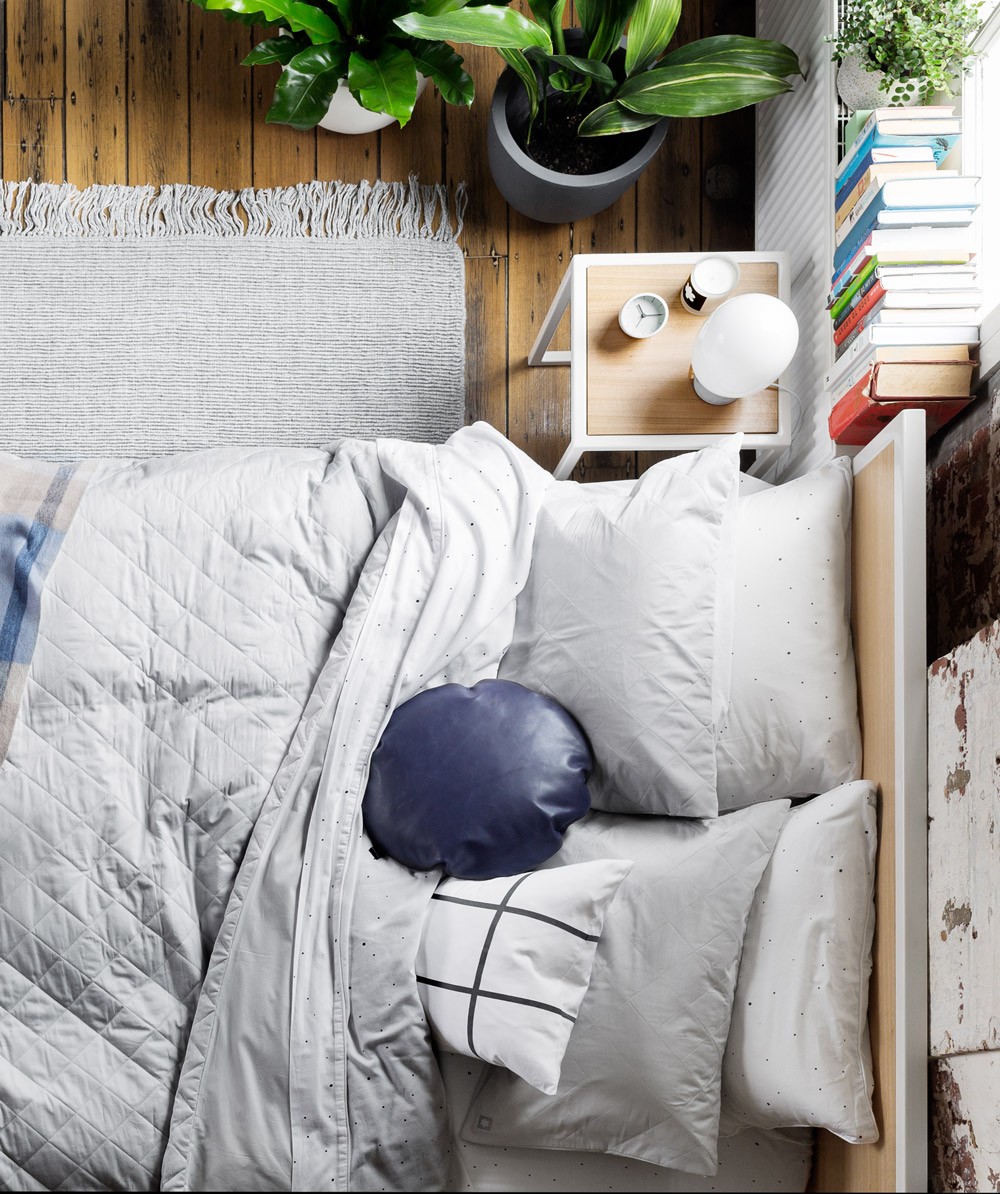 TIP: Think outside the box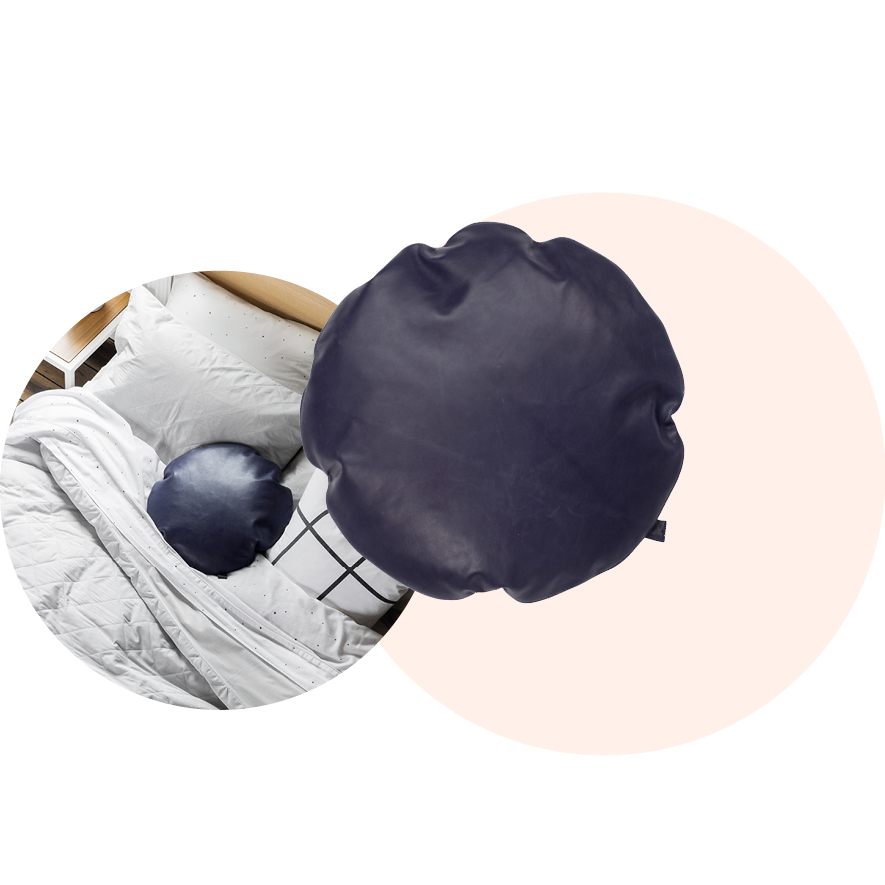 Mix things up with different shapes. A circular cushion can become a strong feature and create an interesting dynamic. Our 100% Leather Leo Navy Round Cushion features detailed leather piping that will make your other cushions blush. He also comes in tan, depending on your colour palette of choice.
Cover It Up
A quilt cover says a lot about your personality. Whether you're looking to make a statement, keep things minimal, or create a calming effect, we've got plain, pattered and textured quilt covers coming out our ears. And hey, they're all damn cosy too.
First things first, let's talk fabrics. Opt for luxurious 400 thread count cotton sateen and a good night's sleep is guaranteed. Linen is a dream to sleep in all year round, try it and you'll be as obsessed as we are. In fact, the more it's slept in, lived in and washed, the softer it becomes! And lastly, once you enter the wonderful world of velvets, you'll never look back! Thick, luscious and all sorts of cosy, velvet quilt cover sets are designed to stay plump and pretty over time. Now, all that's left is to find your favourite pattern or colour and say good night!
3. Hang It Right 
Finding the right accents, whether art prints or abstract hangings, can really help emphasise that calm energy in your bedroom. Selecting art prints in the right sizes, styles and frames can be a bit of a challenge for the untrained eye. Don't sweat it, check out our blog post on Choosing the Right Prints for Your Bedroom for a few tricks of the trade that'll keep your bedroom walls feeling calm and cosy.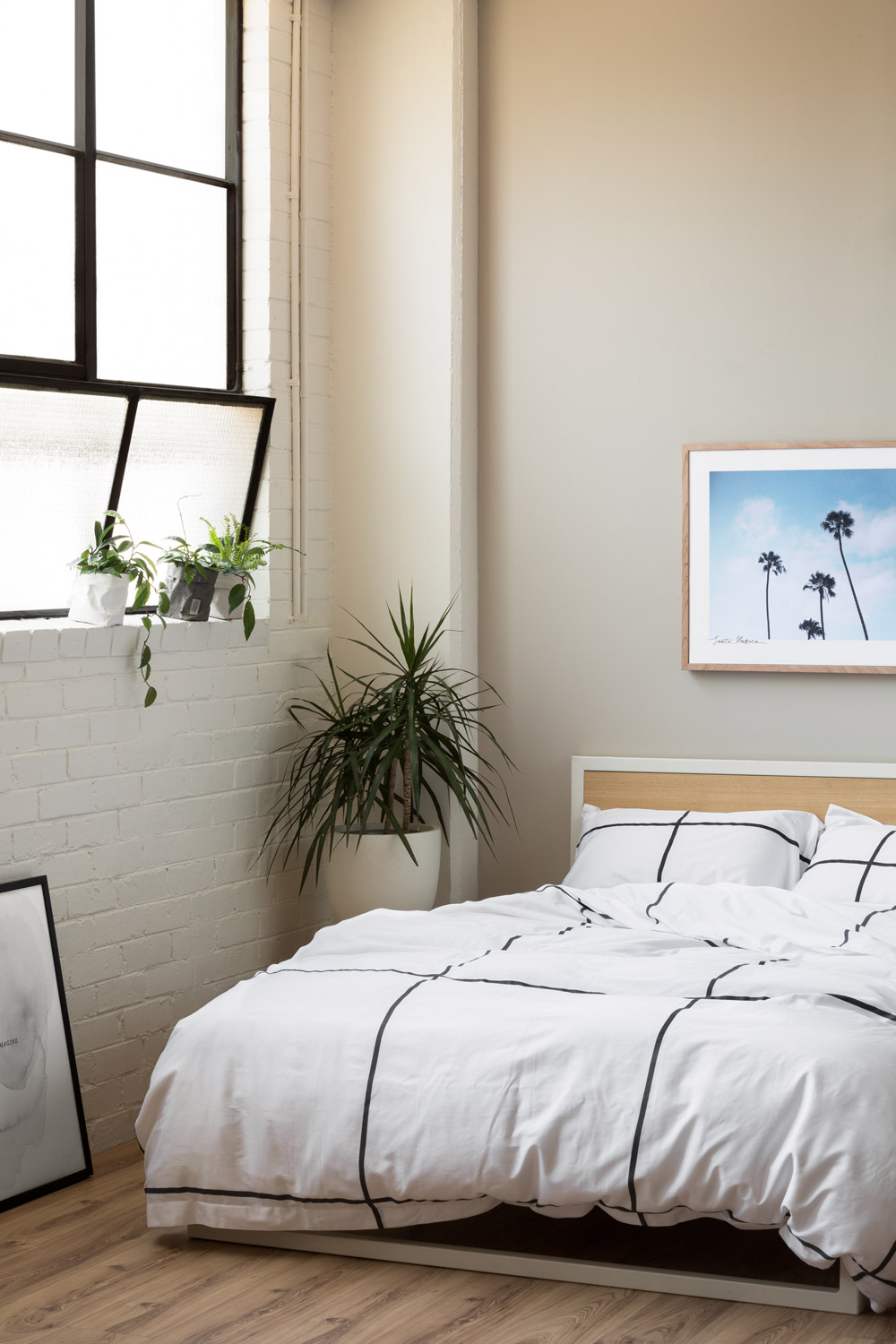 TIP: Where should I position my artwork above the bed? 
When deciding where to hang your artwork you first need to consider its shape and size. For example, if you have a large rectangular artwork we'd suggest hanging in a central position above your bed (pictured above). However, if you have a square or portrait artwork you may prefer to hang off centre to the left or right side (pictured below). Position over your bedside table and bed creating a new focal point and modern look.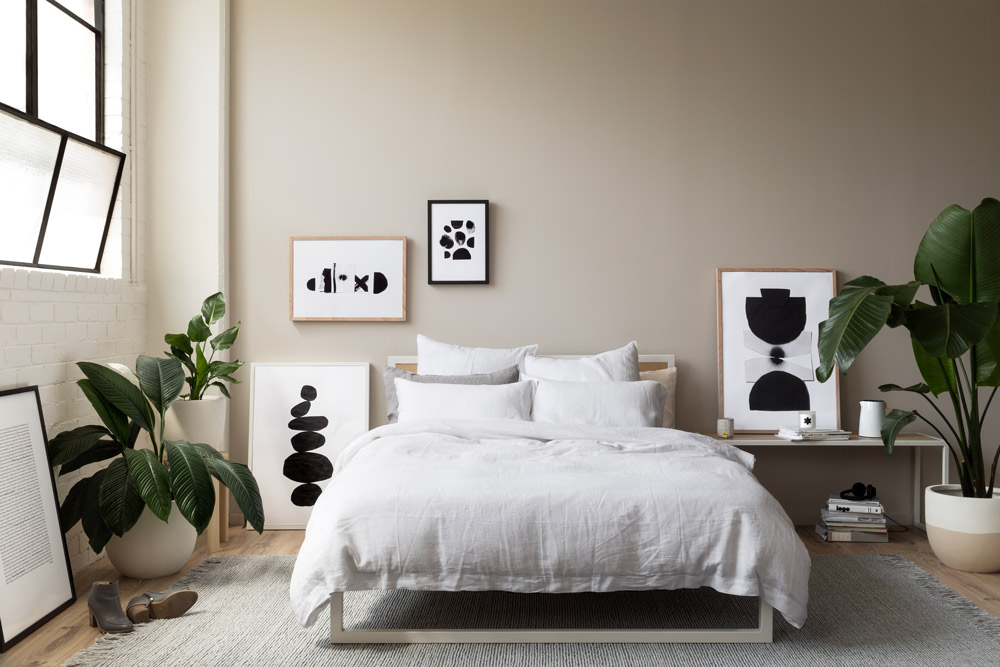 4. Rug Placement
Let's face it, a cold wooden or tiled floor is not inviting first thing in the morning, but a softly textured rug certainly is! Your bedroom is considered a low traffic area as fewer people walk across the floor (and often in bare feet) so you can opt for a plush, loose weave for a very cosy texture underfoot. Have a read of our blog post How to Choose a Rug for your Bedroom for a couple of things to consider when selecting a rug for your bedroom.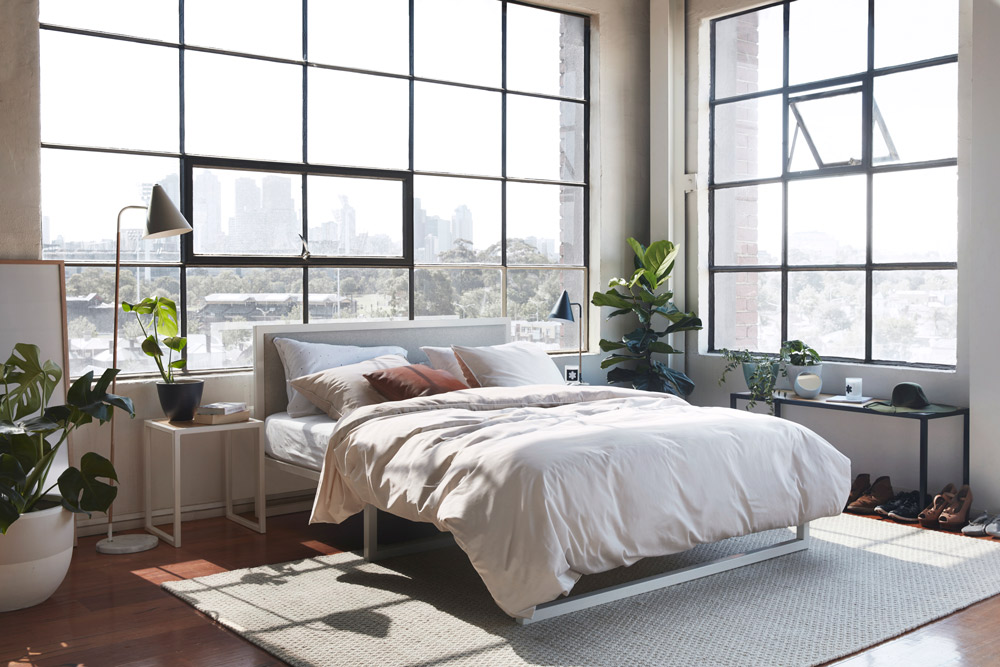 TIP: What size rug do I need for my bedroom? 
The choice of rug depends on the size of your bed. A 2x3m rug will fit most beds including a double, queen and king. However, if you what a more generous look, opt for a larger size for more of the rug to be visible. The below diagrams illustrate the size of our Oliver Bed. Be sure to check your bed frame for correct measurements.

As with all your Hunting for George shopping experiences, we'd love to be along for the ride. If you're struggling with how to make your bedroom work for you, we're happy to talk you through some bright ideas in the shop or online. Bring along some photos and we'll chat it through.