This will blow minds, watch the video at the bottom of the post to really see what goes into these amazing art rugs.  Linking art to craft Alexandra Kehayoglou draws on inspirations from topographical landscapes of her native Argentina. Working in her family's textile factory 'El Espartano' in Buenos Aires she works with leftover carpet scraps to create rugs serving as fully immersive artworks that bring nature indoors.
Inspired by the traditions of the textile industry passed down from her family Alexandra uses lengthy and unique craft techniques to create expansive carpets disguised as paddocks, green lands and mossy forest floors. Working meticulously by hand from design conception to the rolling and packing of the carpet Alexandra creates pieces that transform large spaces into unique rooms, often distorting reality and blurring the lines between interior and exteriors.
To mimic the natural textures and aesthetic of rolling pastures and mossy landscapes Alexandra begins by sketching her designs directly onto canvas before using a unique hand-tufting process to force the wool piece by piece through the canvas. Her six-step process from design to dispatch transforms waste to inspiring grassy knolls that make you want to roll around on the floor in the soft textiles. It almost brings back child-like memories of rolling down grassy hills.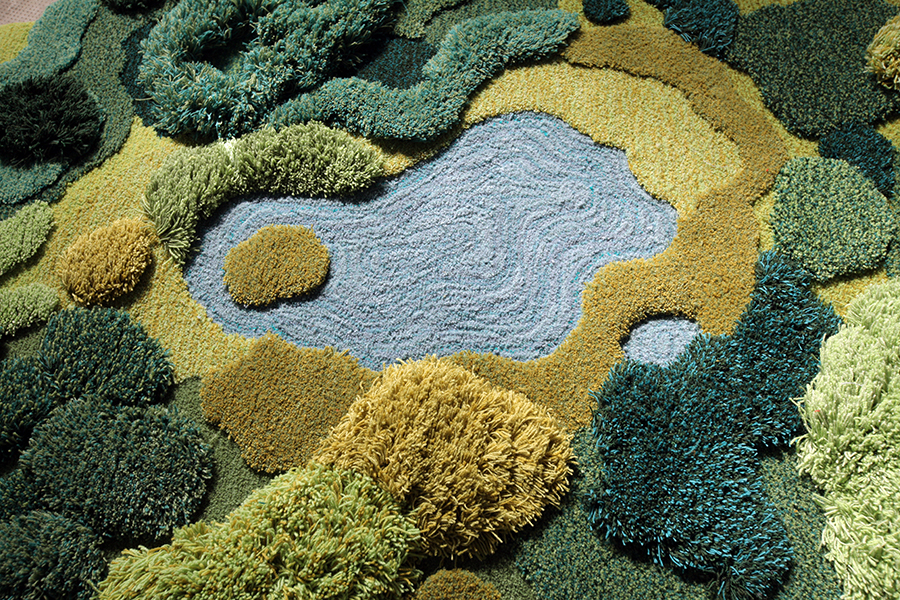 Mimicking nature so precisely her rugs become almost something of a performance piece of artwork as the lush tufts and soft wool invite viewers in galleries and homes to lie amongst nature. Her rugs are the perfect addition to a home or office space that might need a little life and warmth.