Situated along the small coastal inlet and town on the Great Ocean Road, Aireys Ramp House creates a holiday retreat protected from the suburban street and southwest conditions. Designed by Irons McDuff Architecture, the brief was to create a generous retreat for the client, with the capacity to share with friends. Located within a peri-urban setting and surrounded by greenery and native bushland, this home features a peaceful coastal lifestyle, with importance placed on privacy, sustainability, and space.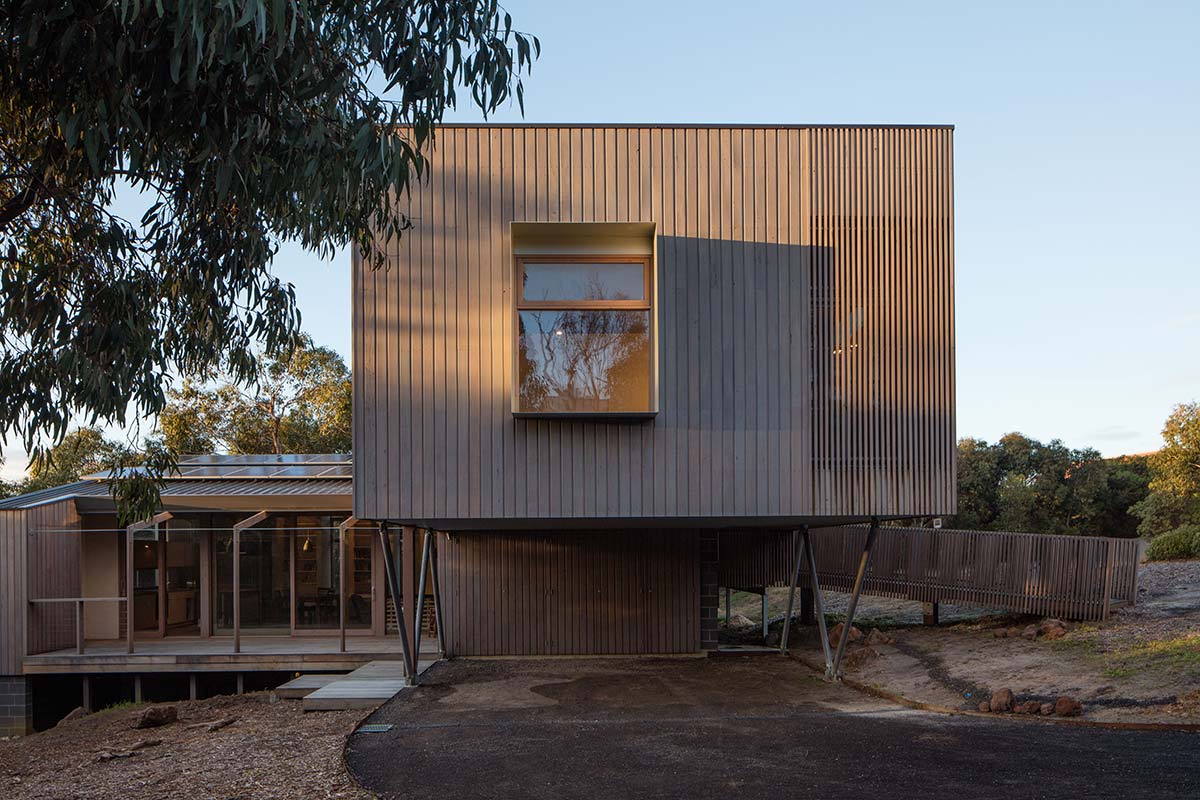 "Intent was to create a strong sense of escape to the coastal bushland, for a client looking for a spatial reprieve from their small dwelling and a timber dwelling. The challenge was its location in a bushfire prone, suburban subdivision. Simple principles of defence against cold ocean winds and hot westerly sun, maximising north light and tightly planned circulation, led to the idea of an arm of enveloping the private space within, wrapping itself around as protection against the prevailing conditions." – Irons McDuff Architecture
The design of the structure acknowledges these concerns and interacts with the elements to create natural comfort all year; inviting warming winter sun, blocking out the hot summer sun and catching prevailing cool breezes. As the house descends into the site, its tight skin of bushfire resistant timber with limited openings expands, inviting the native landscape and sunlight into the spaces.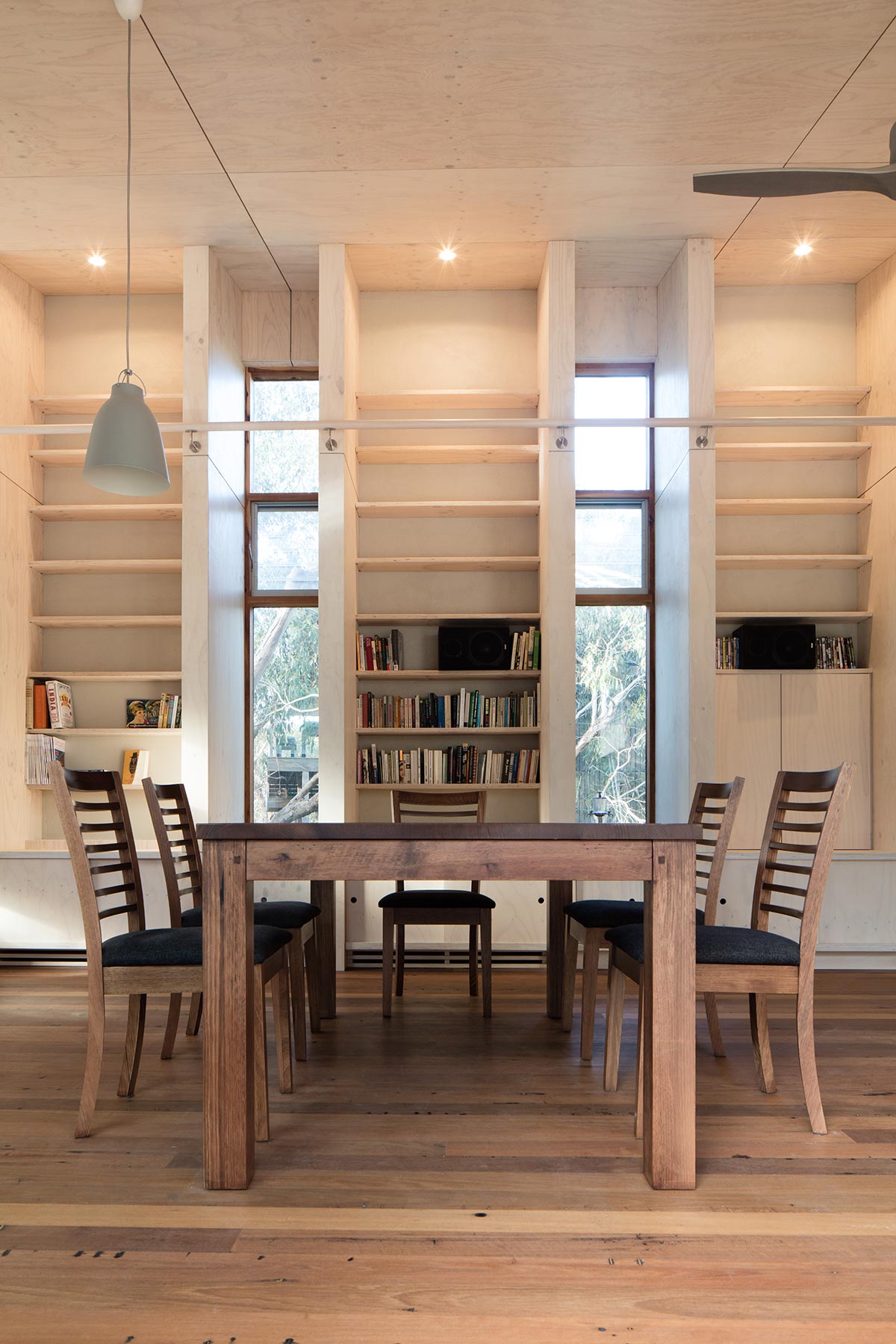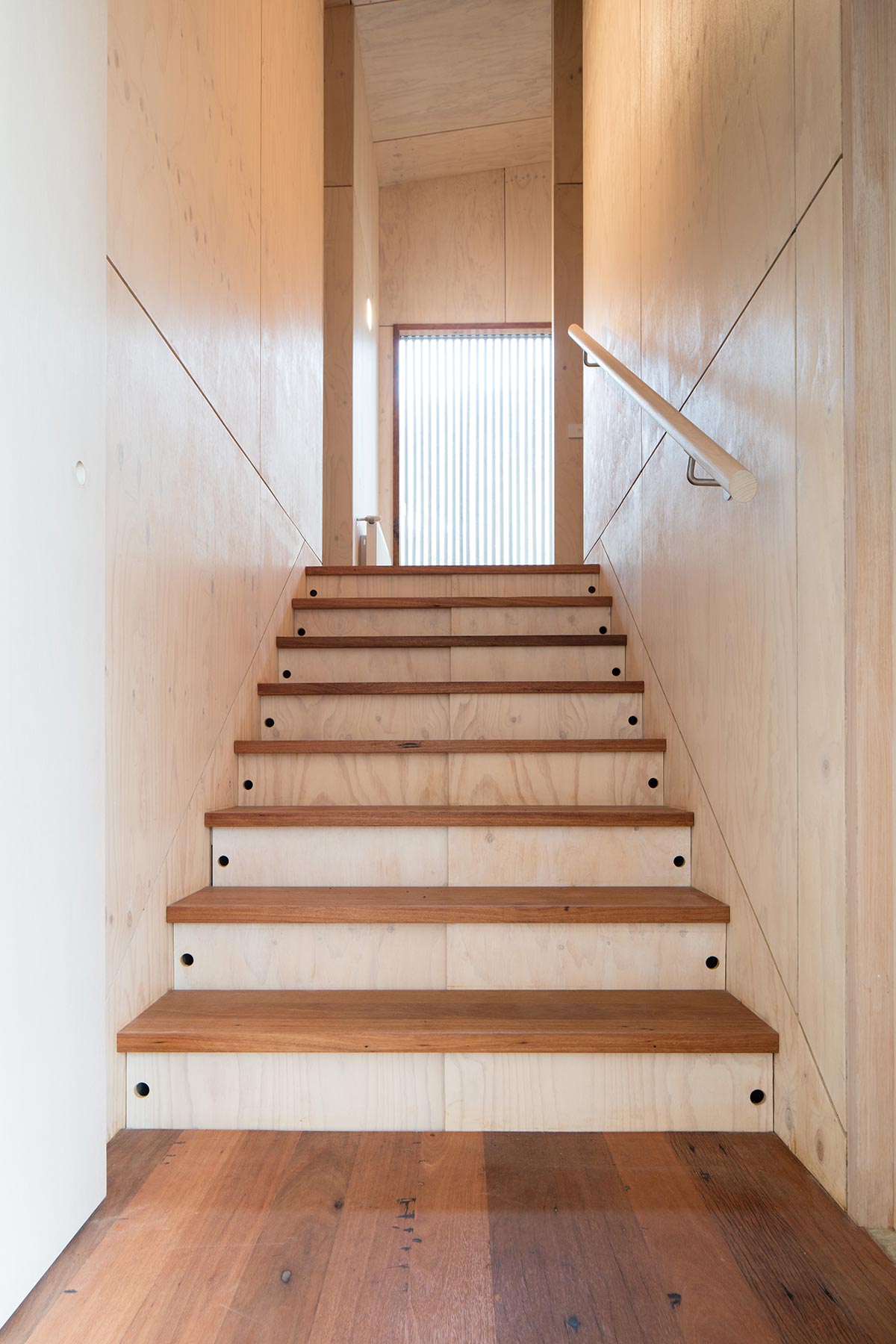 The interior of the house uses mainly natural and soft palettes for a more cosy and relaxed ambience. This interior aesthetic perfectly blends with the surrounding views outside via glazings that keeps the whole space open to the majestic views and natural light.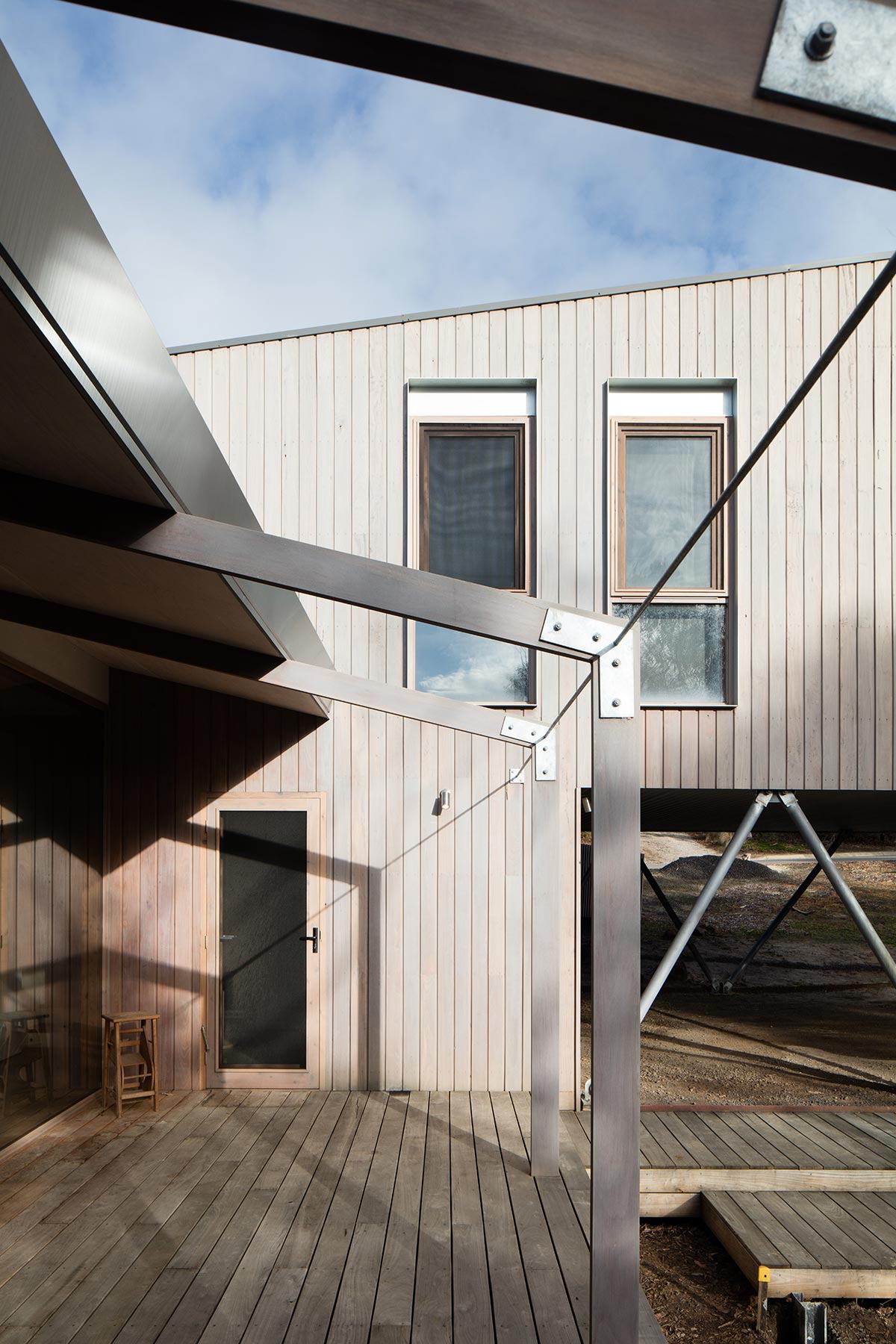 "The overall form acknowledges its location within a peri-urban bush setting. Its front responds to the street; the ramp gesturing entry for public arrival. Its overall form and materiality return to the origin of its landscape place. The simple skillion roof falls with the falls of the site. Elevated to one end, hovering itself to form a carport, it falls down to the site edge, wrapping itself down again as the lower levels embed in the ground. Materials of natural inherent texture and colour are muted within the bush landscape." – Irons McDuff Architecture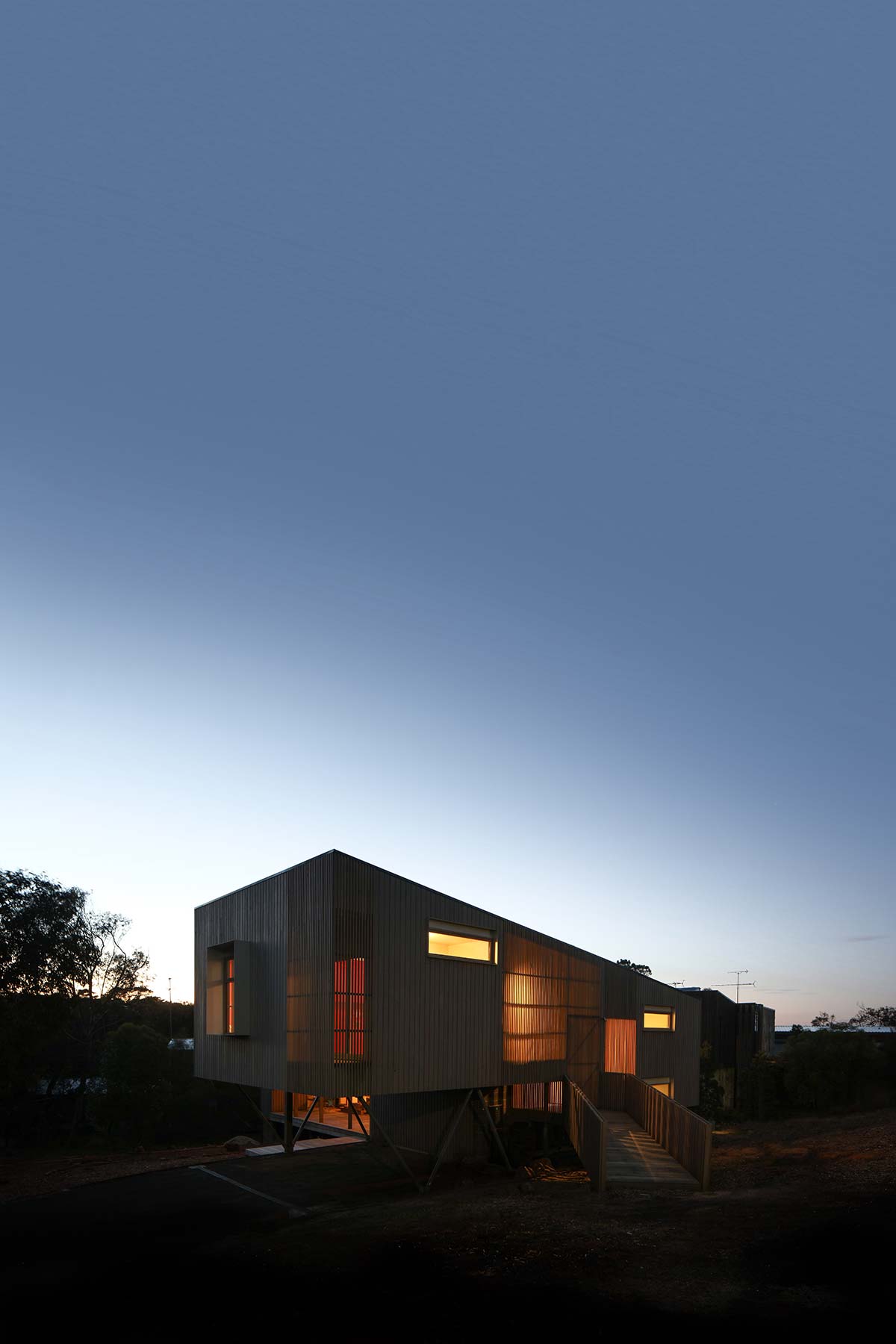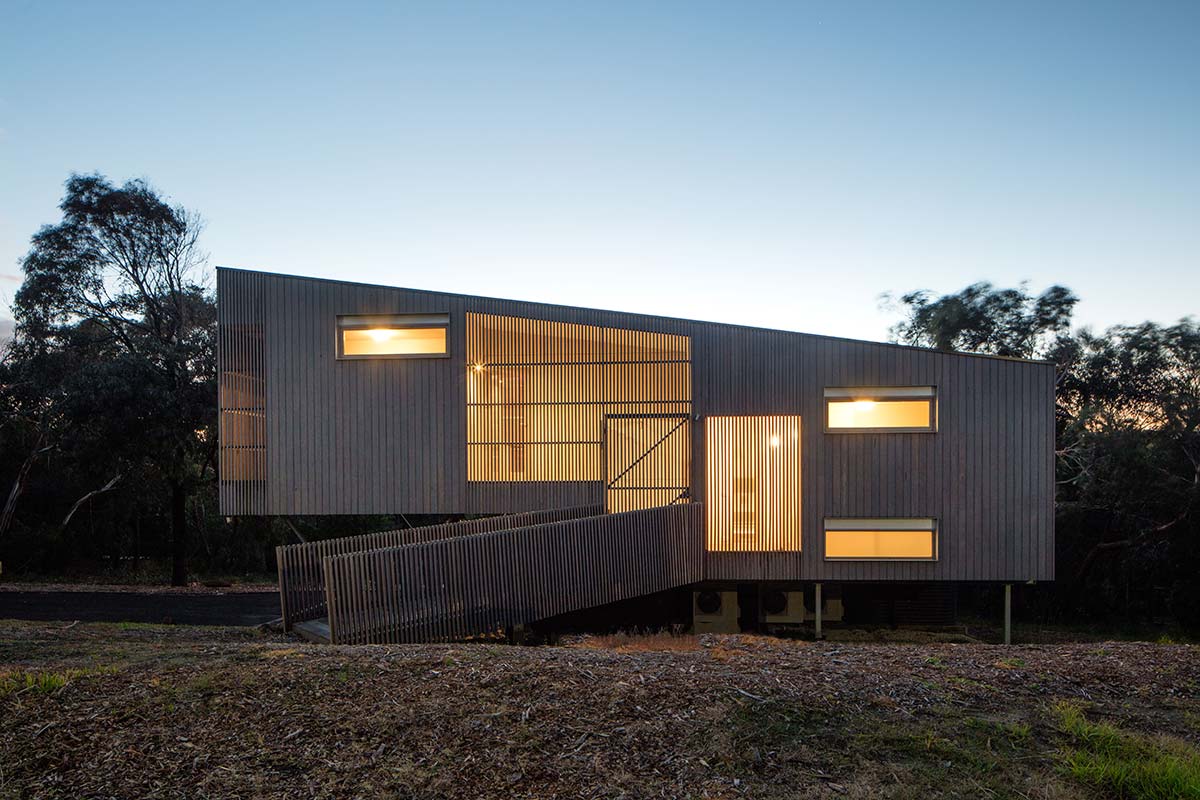 The team took full advantage of the ever-changing climate and integrated a stunning blend of contemporary design and natural living that integrates seamlessly within its surroundings and responds to its specific environmental conditions.
House Project: Aireys Ramp House
Architect: Irons McDuff Architecture
Location: Aireys Inlet, Australia
Type: New Build
Photography: Nic Granleese