Ruby is originally a mid-century war service home designed by C.C. Sainsbury in 1957 which required a much-needed addition and renovation for the client's growing family. Designed by Foomann Architects, the brief was to add two matching kids' bedrooms, a new kitchen, laundry, plus a fixture built to showcase the client's book and art collection boldly, but at the same time preserve as much original aesthetics and feel to the entire home.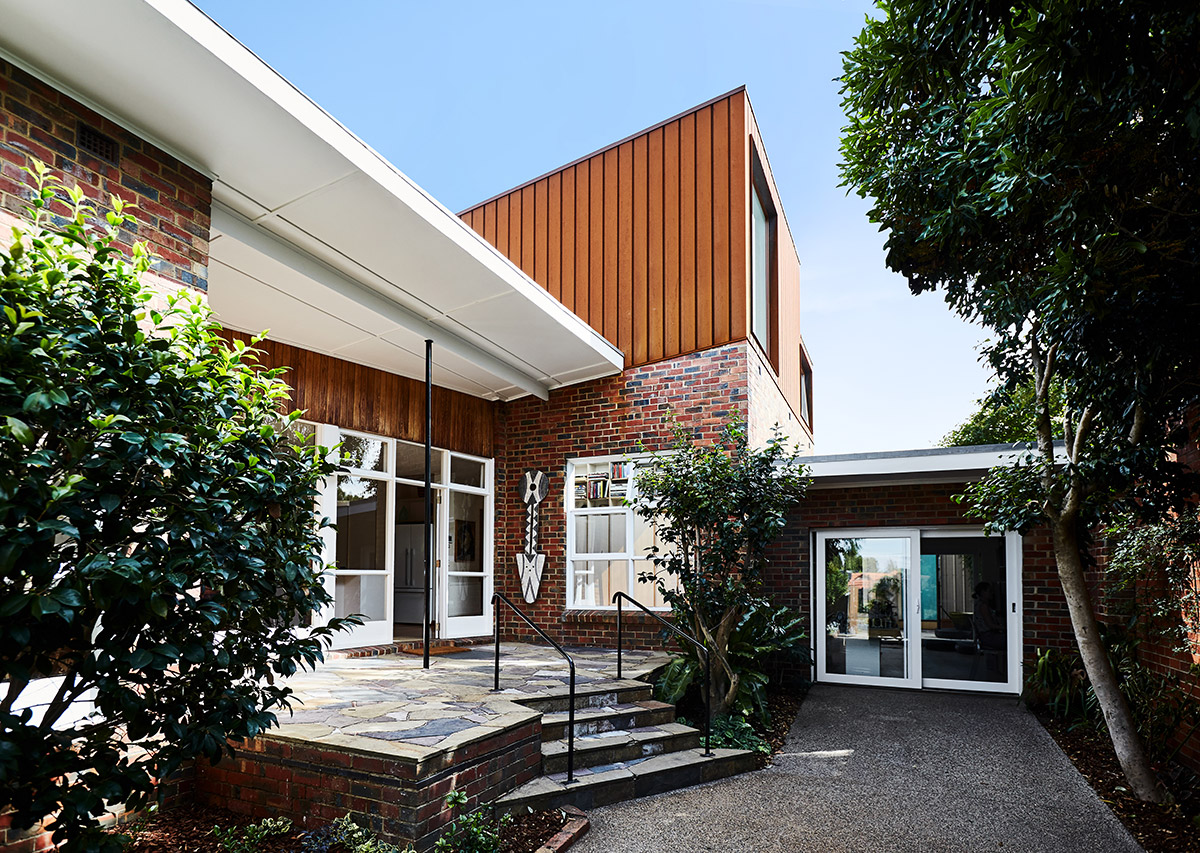 One of the main challenges that the team encountered was the addition of a second storey extension with the existing skillion roofs and deep eaves. To create a balanced structure, the same angle as the existing roofs were utilized for the volumes of the extension. Grooved corten cladding was selected to complement existing timber details and transition from the brick in a tonal manner.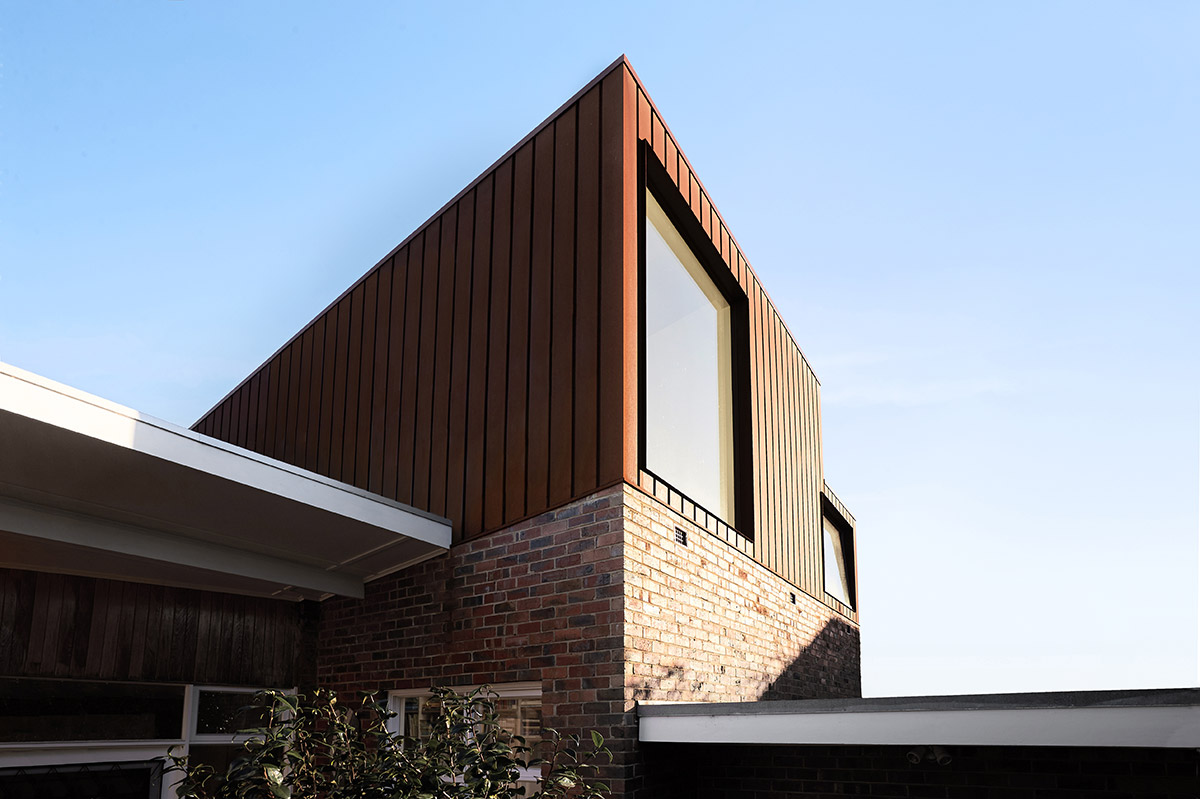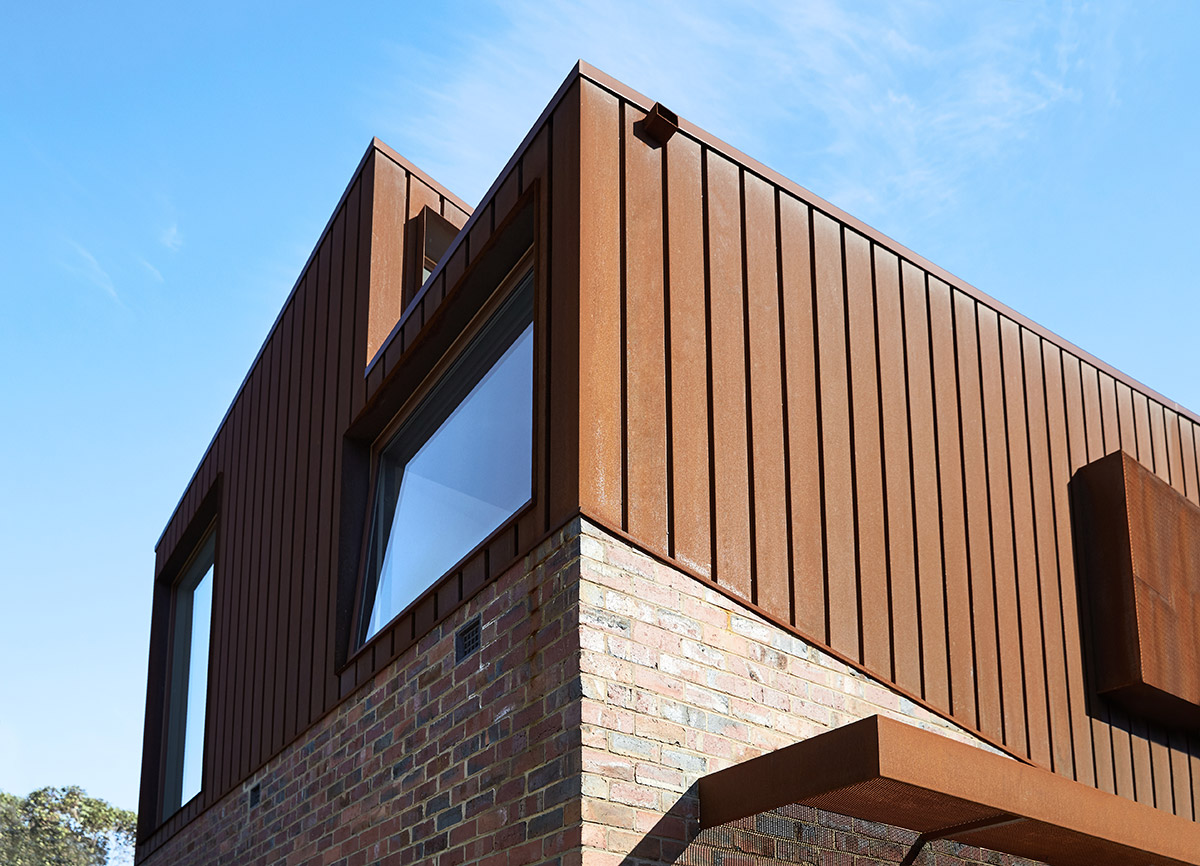 The stair window located adjacent to the entry perfectly frames the neighbour's silver birch and creates a central focus from both floors. Although the north and west are bound by overbearing homes of the surrounding neighbourhood, views are managed through window placement and perforated screens. A verdant garden sits on the east which promotes and carries on the exuberant vibe of the whole house.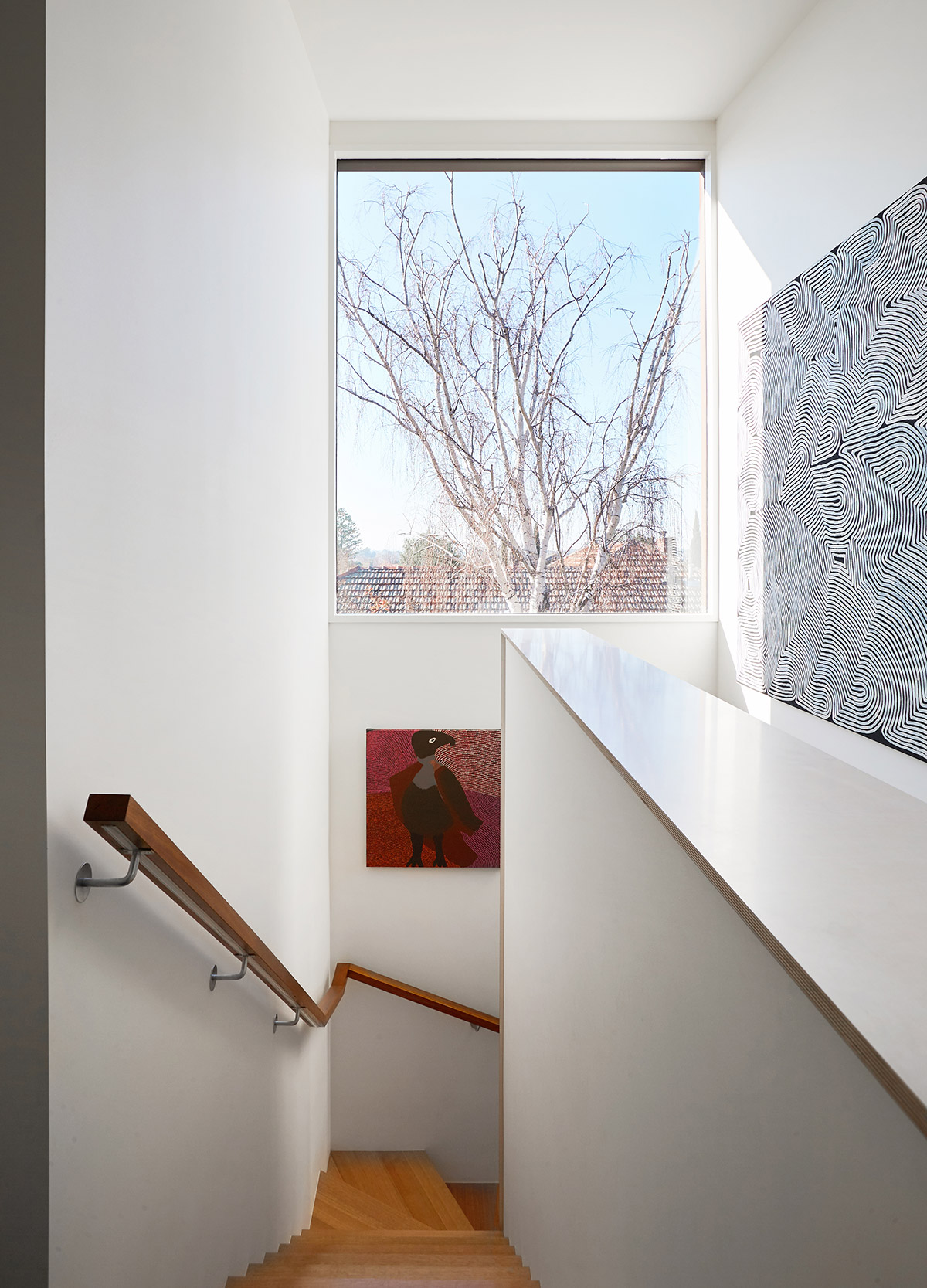 The concern of added space for the client's art and book collection was also largely resolved through the insertion of the stairs and associated joinery, along with the concealed laundry space resting directly behind. The showcase of the art created a visual interest to the space, which can be seen upon entry to the house.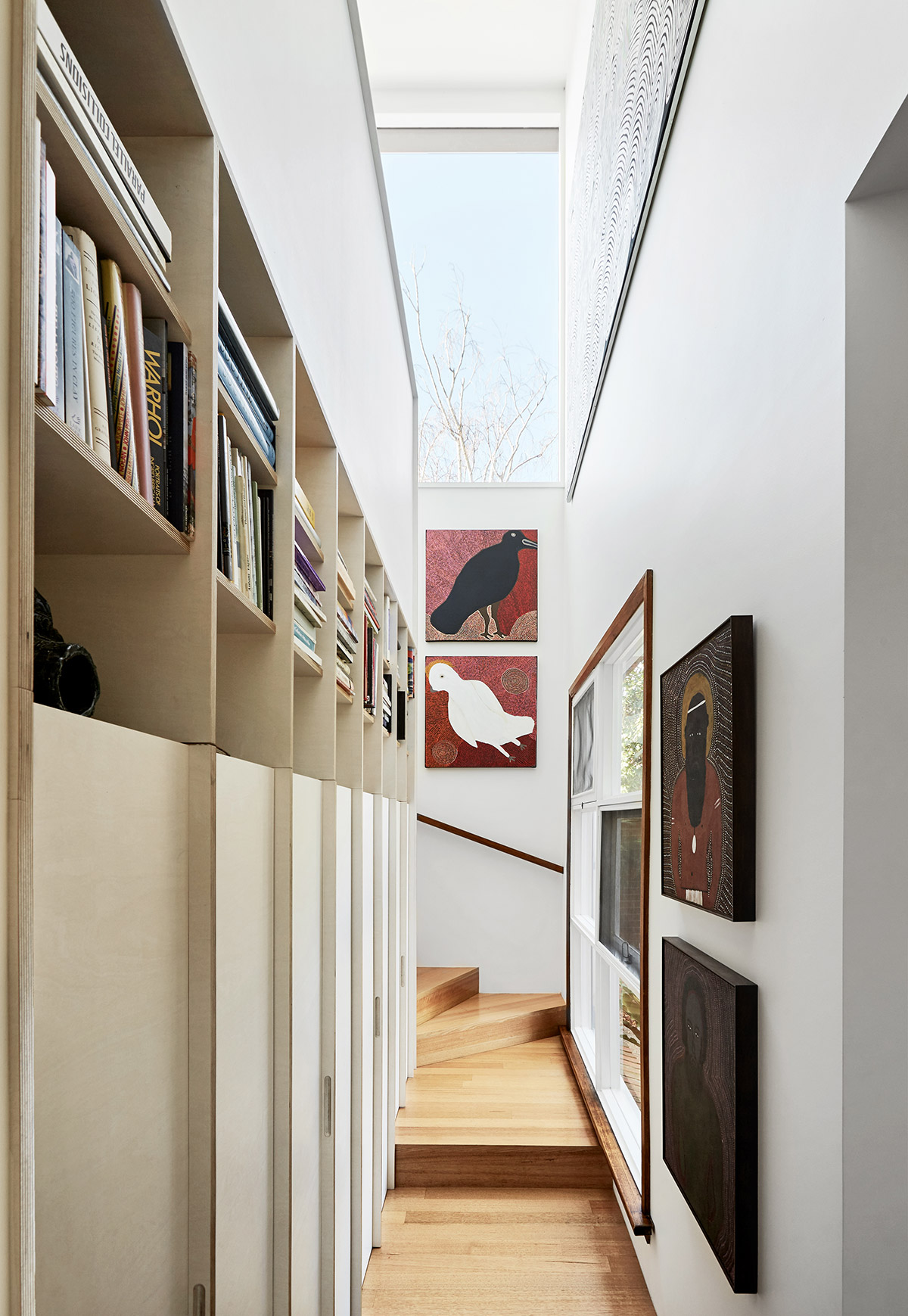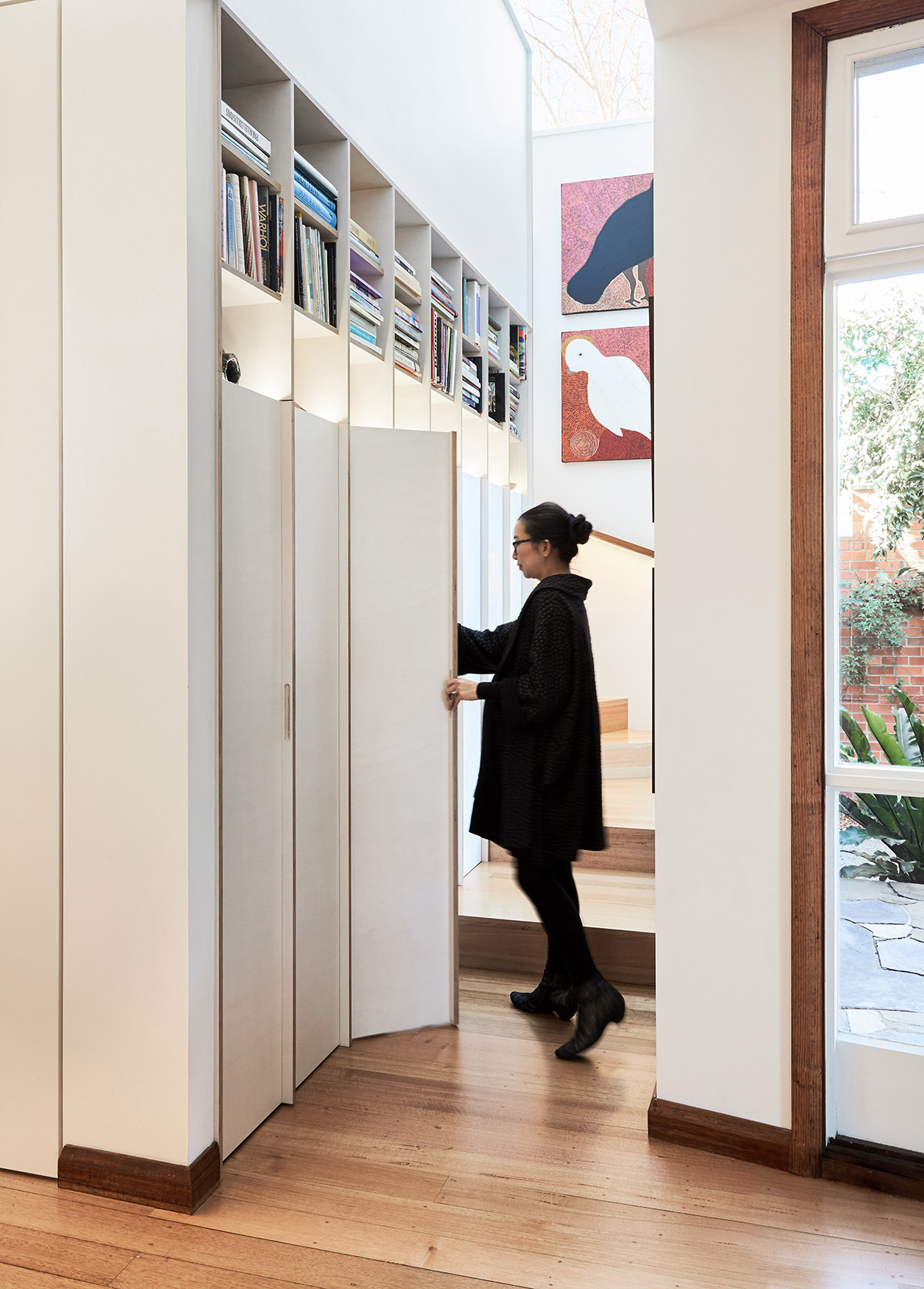 The paved entrance at the front of the house leads into the newly curated kitchen with the existing dining area. The chosen scheme accentuates a lively overall feel with the use of colourful stone walls and the abundant disposal of light tones extending throughout the whole room, including the cupboards, furnitures, and fixtures which are also adjacent to the main entrance.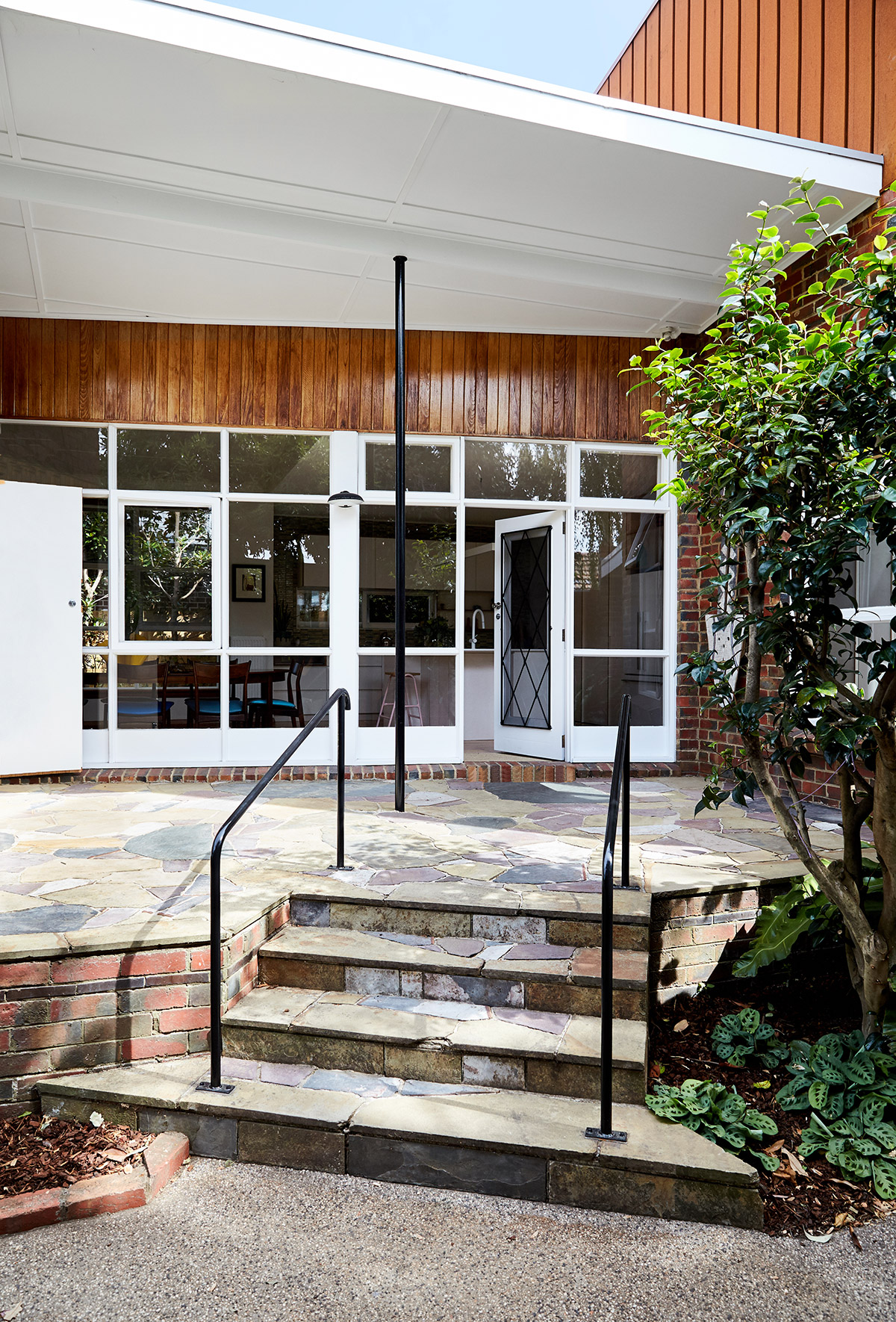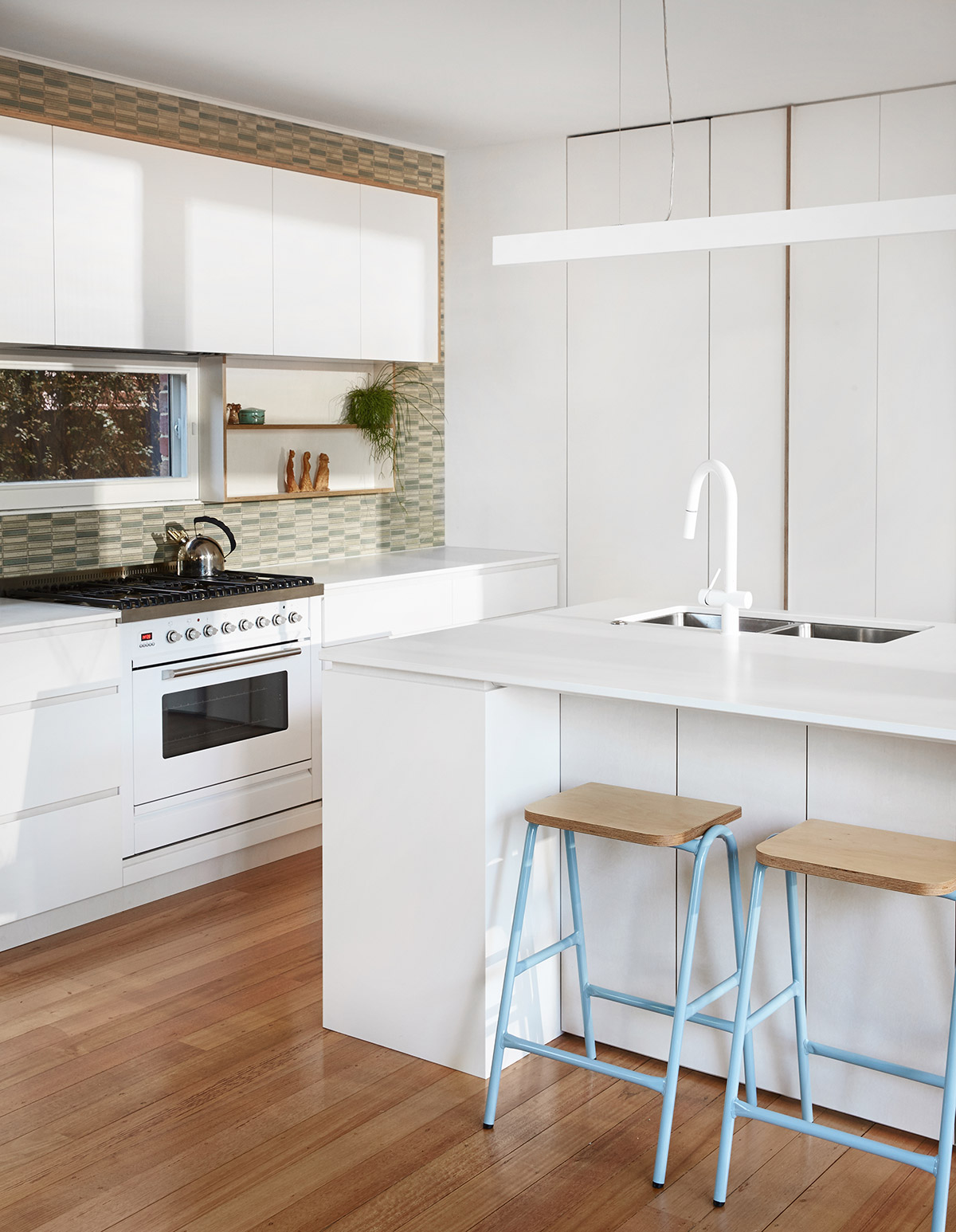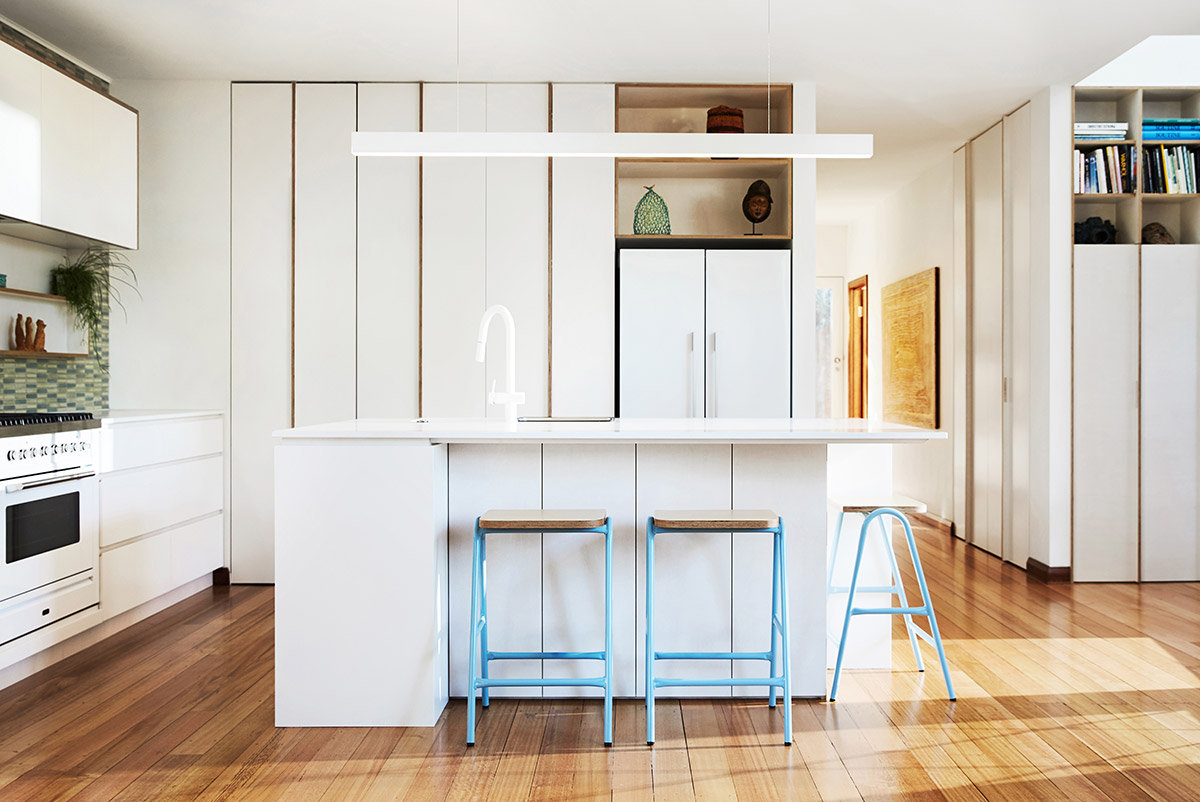 "The raked volumes of the extension overlap in the centre of the kids' bedrooms where triangular windows bring in light and sky. Passive solar design is incorporated through eaves and screens with both rooms having two openable windows and ceiling fans to allow cross ventilation and airflow." – Foomann Architects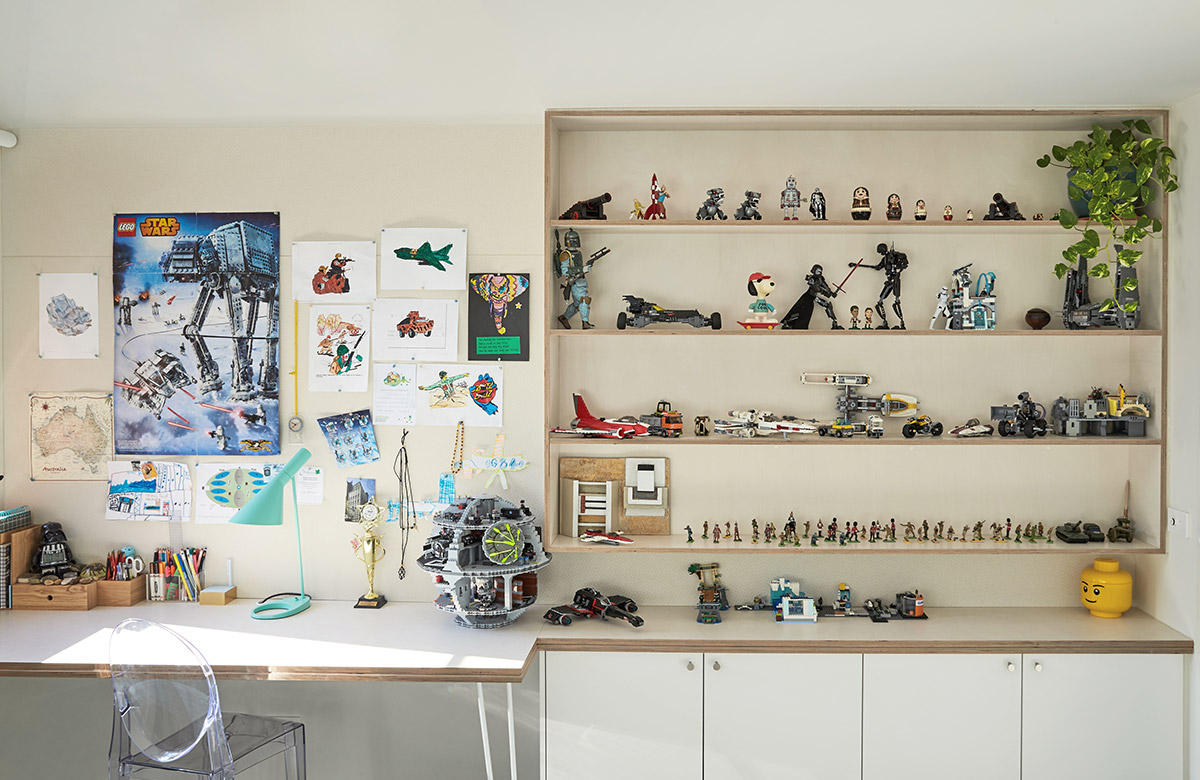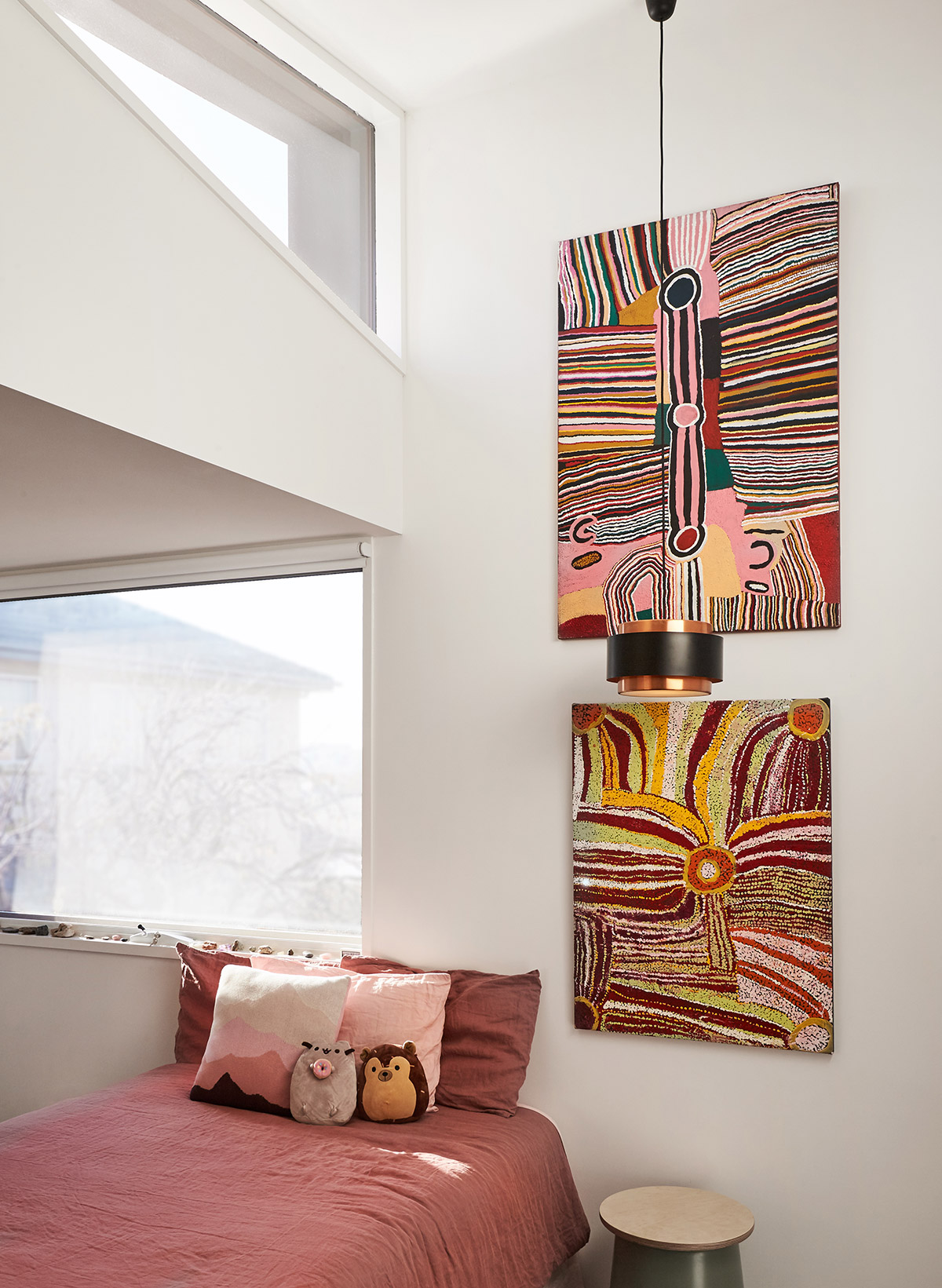 The extension is meant to carry the modernist and jubilant vibe of the original home. Although the existing forms made it challenging to resolve, Jamie and the team are particularly proud of the overall composition and the internal spaces it provides.
House Project: Ruby
Architect: Foomann Architects
Location: Ormond , AU
Type: Renovation
Project size: 175 m2
Site size: 460 m2
Photography: Willem-Dirk du Toit