Nathalia Suizu (aka NATSUI) is an emerging Melbourne based artist who strives to live and paint by the mantra "follow your bliss". Her vibrant creations draw the viewer into an uplifting world, fully charged with colour & magic. A self-taught painter with a formal background in interior design, Nathalia's creative expression reflects her love for life and widely travelled spirit. Her unique paintings are life affirming manifestations of wonder, beauty and joy. We sat down with Nathalia to discuss her main sources of inspiration for design, upcoming projects and more. Let's go…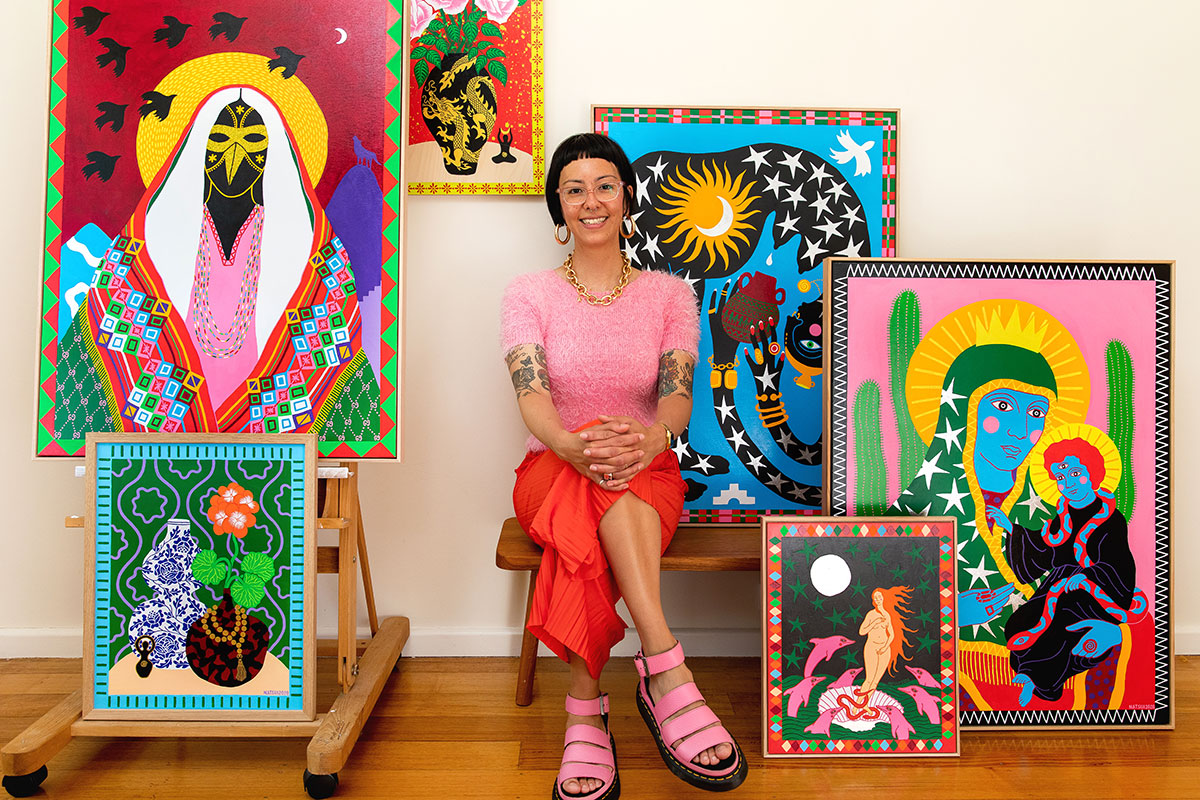 George Takes Twelve
1. Pleasantries first… Tell us about who you are and what you do?
My name is Nathalia Suizu, I'm a visual artist and designer based in Melbourne, Australia. My work is colourful, vibrant and hopefully uplifting. My creative practice is guided by the mantra 'follow your bliss', the essence of which I hope to instil in my work and transmit to my audiences.
Underpinned by a strong pop art / modern folk aesthetic, she takes influence from Latin American folk art, psychedelia, retro fashion and design, traditional tattoo culture and religious iconography. Layered with symbols and archetypal motifs, her paintings are intuited visual narratives that allude to themes of mythology, mysticism, duality, the feminine and enchantment.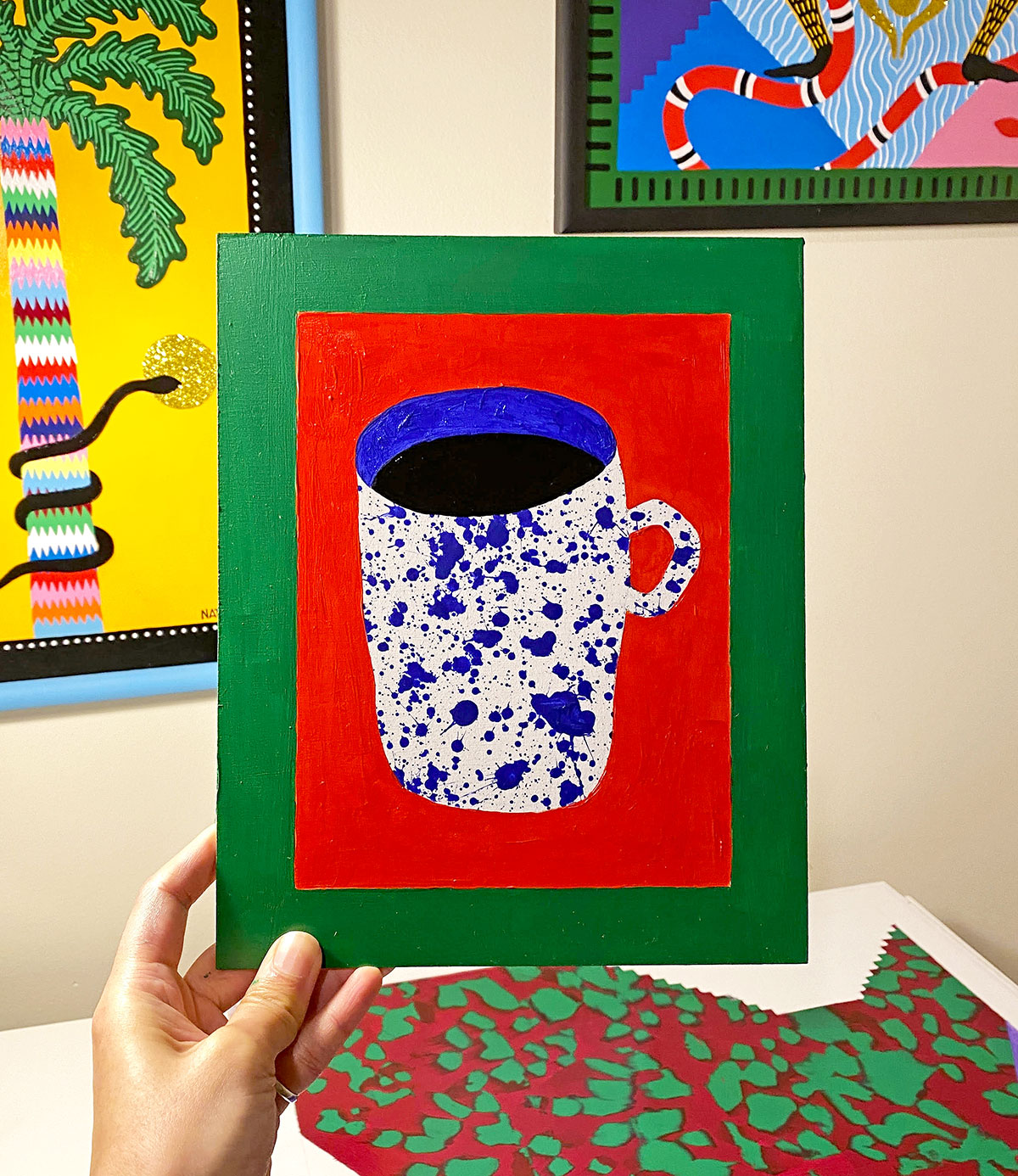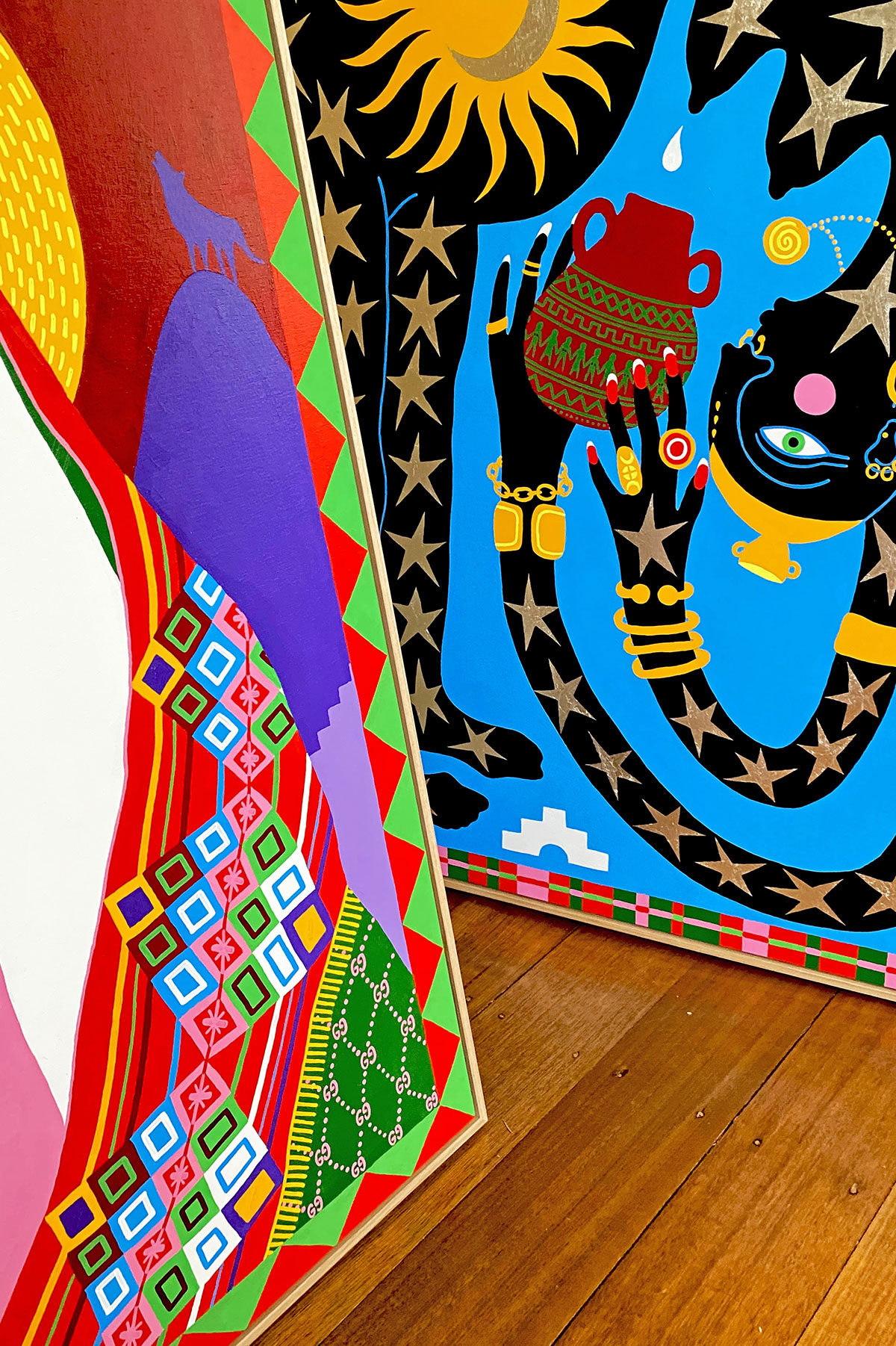 2. When I was growing up I wanted to be….
So many things! A Fashion designer, architect, an NBA superstar (specifically Dennis Rodman haha), a lawyer, a model, it's an endless list. Funnily enough, an artist never seemed like an option to me, even though I was a really creative kid and always enjoyed drawing, painting and crafting.
3. What is the best piece of advice you've ever received?
"Don't take it all so seriously" (where 'it' applies to yourself or whatever it is your doing). For me, it's a truly great reminder to not get lost in perfectionism, control, or whatever it is that takes the lightness and joy out of life. Also, all of the wisdom shared by Esther & Abraham Hicks, I fully vibe with and try to live by.
4. What is your favourite way to get the creative juices flowing?
I love taking myself out on a date to the library or to the art gallery – whether it's flipping through art books or viewing physical artworks, I go with the intent of absorbing as much creative content as I can, and it always gets my creative engines firing. Art begets art baby!
Simplified forms, rhythmic line-work and clashing patterns are signature to Nathalia's visual lexicon. Predominantly using acrylic and gouache mediums, she favours a complementary palette of richly saturated colours applied in solid, glossy swathes. Nathalia's use of glitters and metallic leaf embellishments mirror her magpie love of shiny things and inject an ethereal, shrine-like quality to her creations. Searching for balance and meaning in each piece, her approach to mark-making is a continuous dance between careful consideration and playful spontaneity.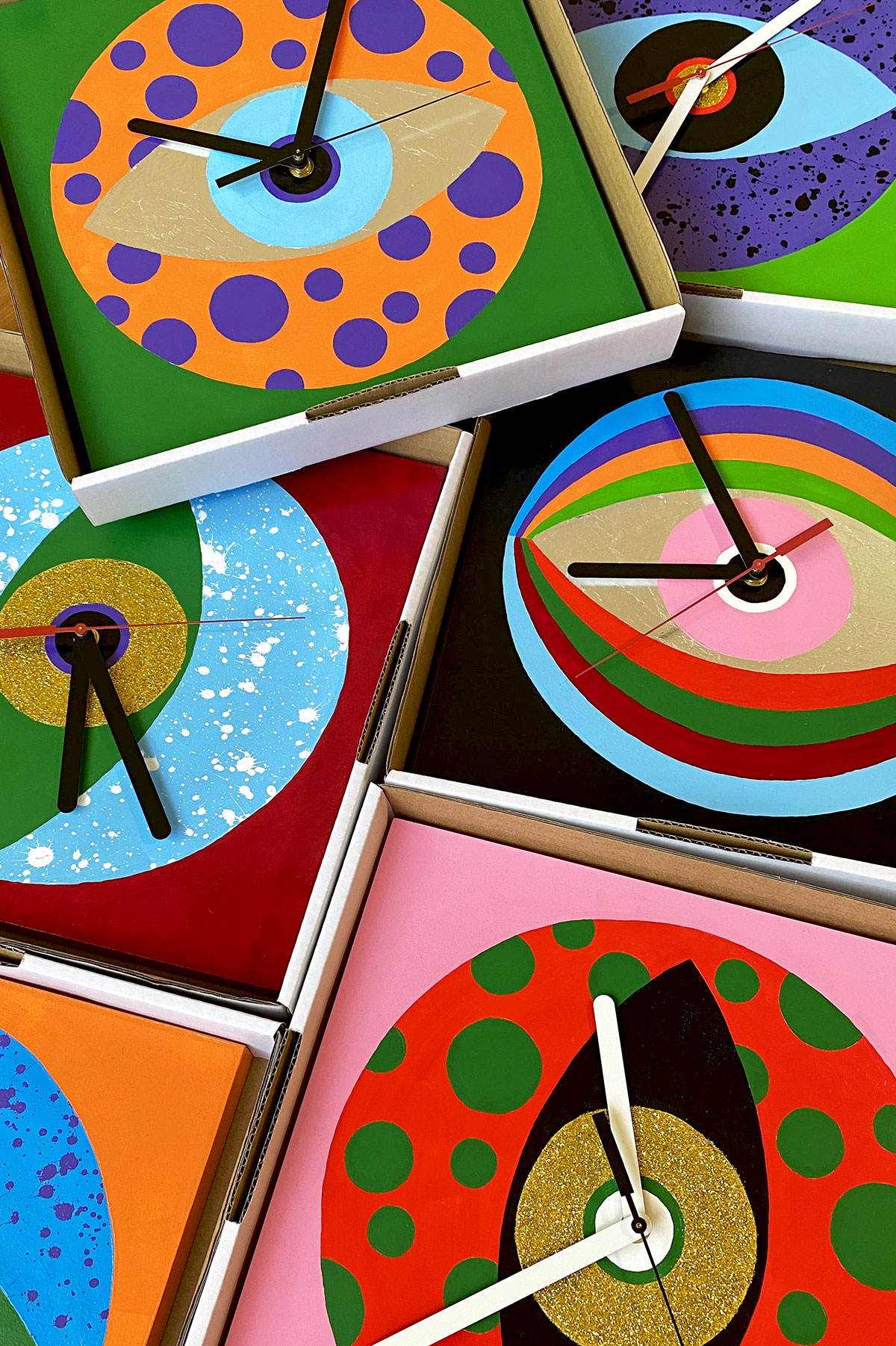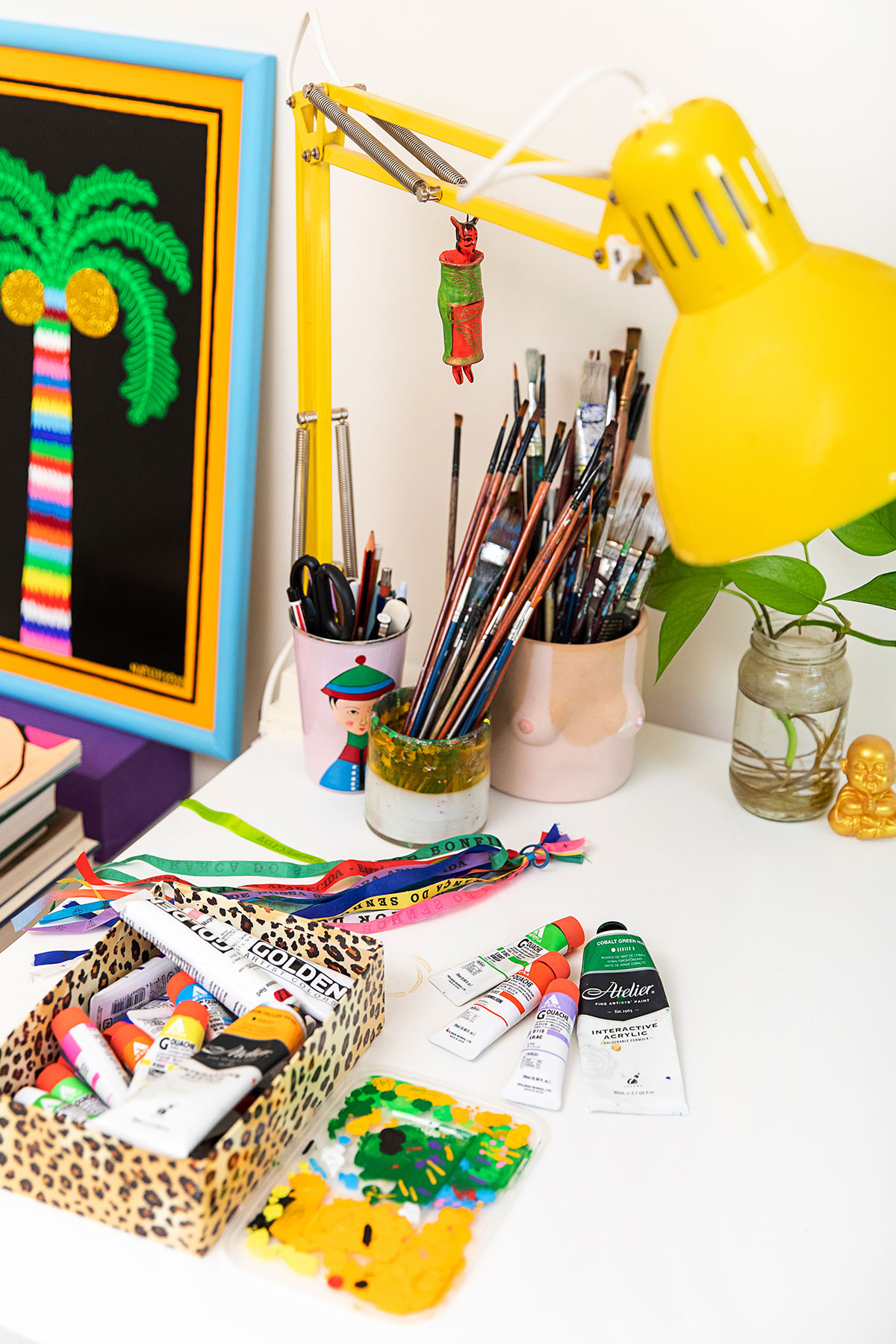 5. What does your average work day look like?
I have a fair amount of diversity in my week, but most days start with an Ayurvedic morning routine, 20 minutes of yoga, 20 minutes of meditation, breakfast and then a walk. Usually, I'm in the studio and working by 10:30 am. Once I start I'm very focused on what I'm doing and get a real thrill ticking items off my to-do list. I'll take a short lunch break around 2 pm, which is far too late and by which point I'm starving – I've typically got a fair amount of momentum going, making it a challenge to stop for basics like food. I'll usually call it a day around 6:30 pm, and go out for another walk. Occasionally, I'll get a second wind and find myself in the studio post dinner, easy to do when you work from home. Mostly I'm enjoying what I'm working on so it's really not a bad thing!
6. If you could invite any five celebrities to dinner, who's dining?
Quentin Tarantino, David Bowie, Esther Hicks, Joseph Campbell & Ashley Longshore.
7. What was the last rule you broke?
Socks & flip-flops. I don't normally break this one in public, but it may have happened last week, late one evening on an emergency chocolate dash to the shop.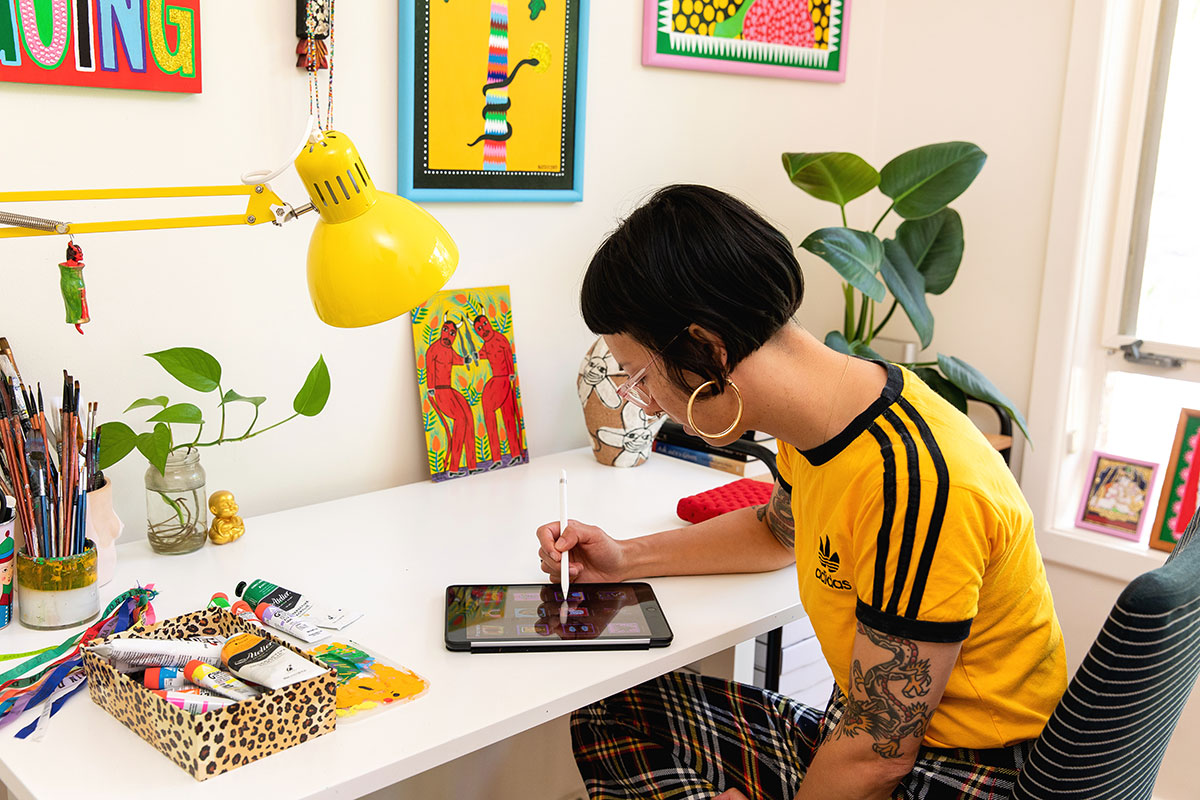 8. What's one thing people may not know about you?
I was born in Brazil, to Italian and Japanese parents, and moved to Australia when I was 7.
9. What was the last movie you saw and was it any good?
Robin Hood, the Riddley Scott version with Russell Crowe and Cate Blanchett. I liked it a lot! I love me a backstory movie and always a fan of Cate Blanchett's work. Rusty ain't too bad either.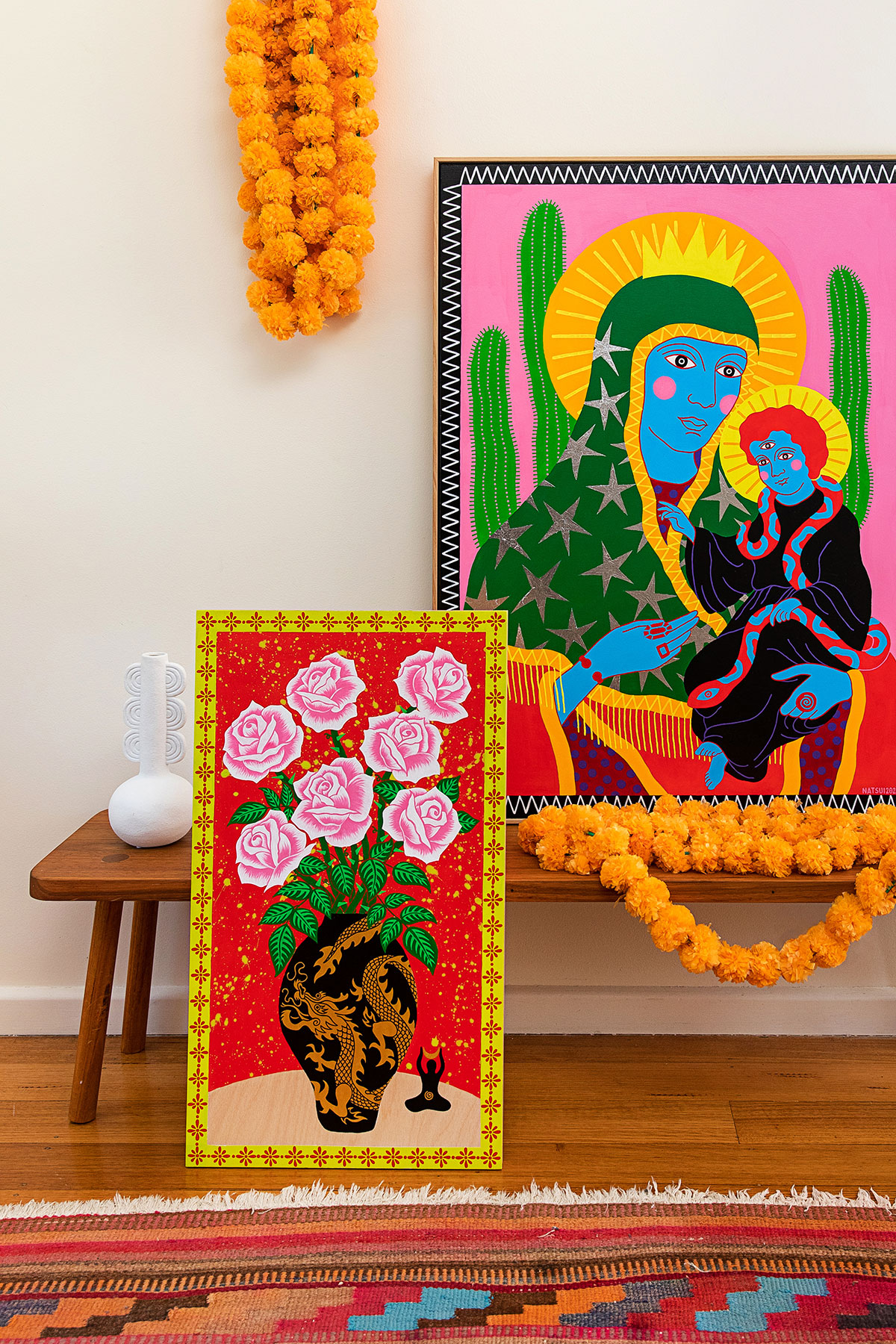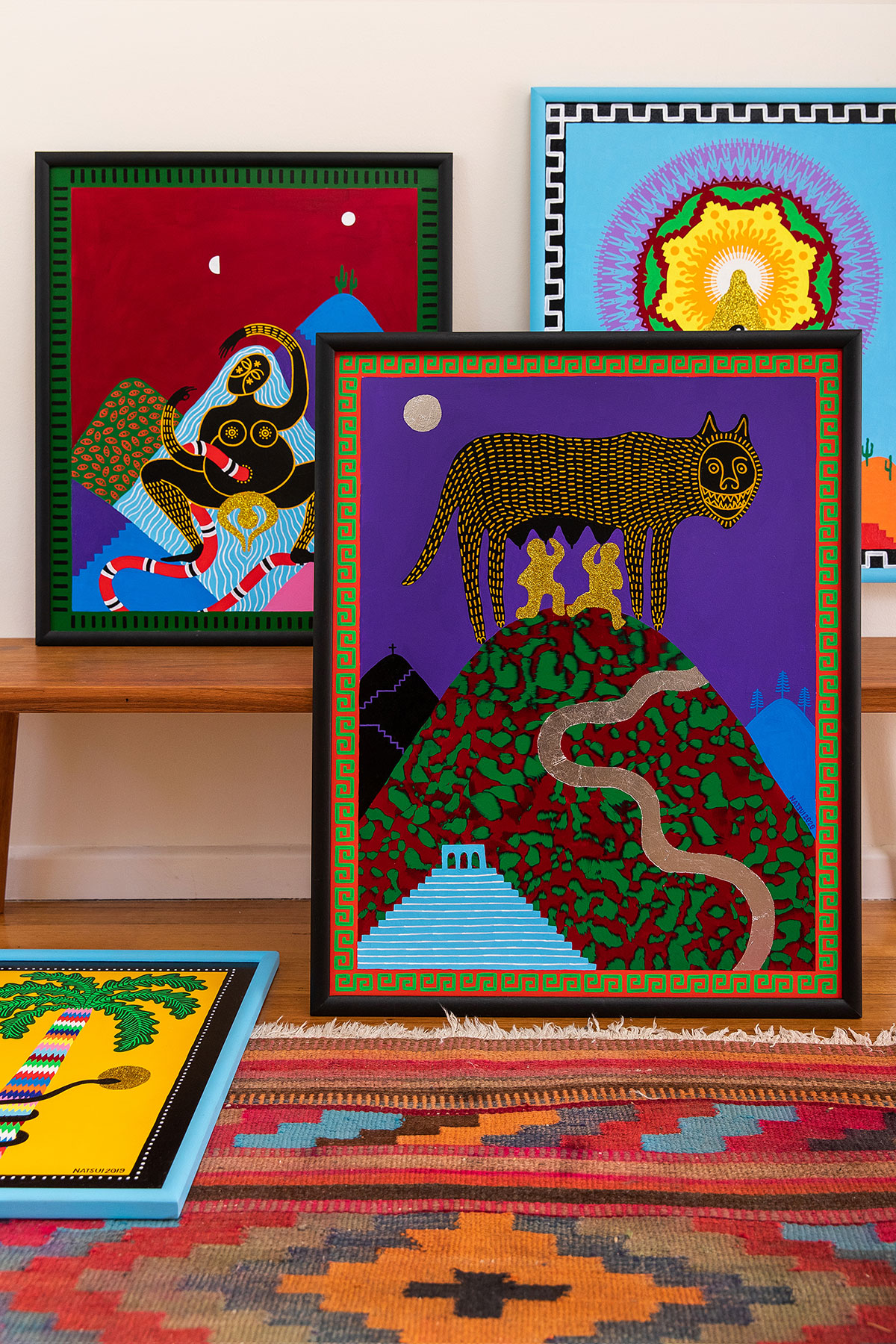 10. You've got a week off… where are you headed?
Pre-Covid I'd be considering Thailand for an island holiday. Post-Covid, I'm going to Byron Bay or if the state borders are locked down, Mount Martha or Somers in Victoria.
11. What's your favourite project/design so far and why?
A couple of projects come to mind. I created artwork for Hey Tiger's limited edition Christmas collection a couple of years ago, which was crazy good fun; and more recently a collaboration with fashion designer Erik Yvon which launched at Melbourne Fashion Week. It was such an incredible experience to watch my art come to life as a wearable fashion and mind-blowing to see it on the runway. A true dream project, I would LOVE to do more fashion collabs, thank you universe!
Nathalia has exhibited at various Melbourne galleries, including Enough Space, No Vacancy Gallery, The Stockroom Gallery and the RVCA Corner Gallery. She has lent her artistry to notable fashion and retail brands, including Erik Yvon, The Social Studio and Hey Tiger.
12. What's next for you? Any exciting new projects in the pipeline…
Yes! I'm so excited to be launching my second solo show 'Shrine' at Off The Kerb Gallery in Collingwood later this month. The show will coincide with International Women's Day and will feature a colourful new collection of paintings that are big on Goddess / femme love vibes. The show will run from Thursday, 25th of February to Thursday, 11th of March – all are welcome!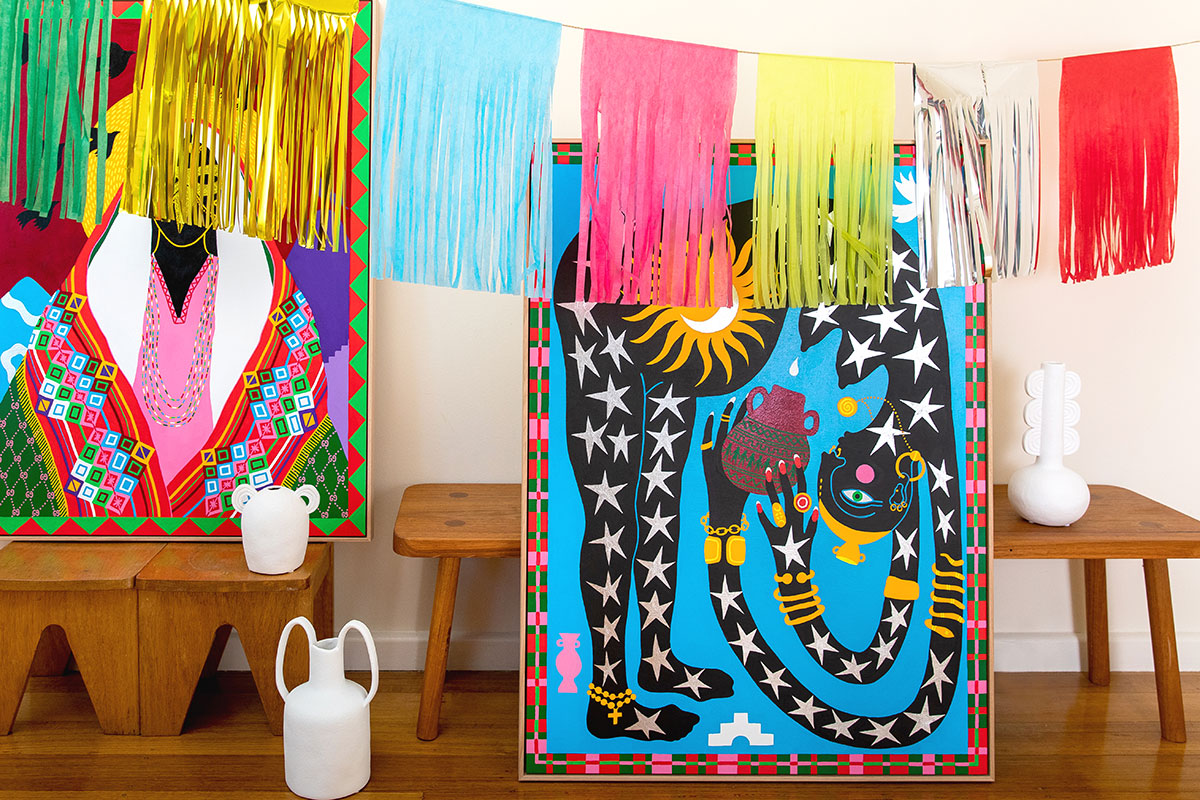 Meet the Maker Radio
'Viva!'
"Here's a taster of a very disorganised, but very uplifting Spotify playlist that I'm continually growing and constantly have on the go. I find music to be very influential on my mood and feelings, so generally I'm favouring tunes that feel happy and high vibing to me. This mix has a definitive world music flavour and beat that takes me away to far away lands. Enjoy!" – Nathalia
Where to find her
Name: Nathalia Suizu
Business Name: Nathalia Suizu
Job Title: Visual Artist & Designer
Website: www.nat-sui.com
Instagram: @hello_natsui
Facebook: @natsui.art
Photography by Tatanja Ross of On Jackson Street, Nathalia Suizu