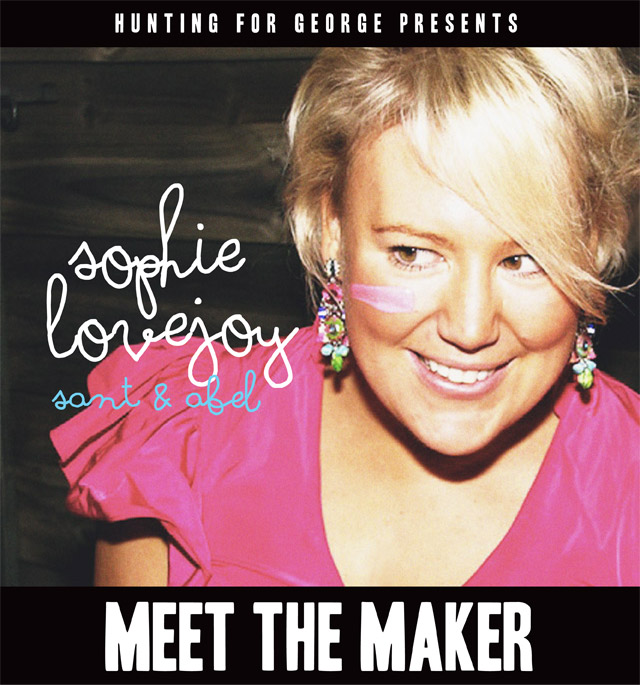 Name: Sophie Lovejoy
Brand: Sant and Abel
Job Title: Owner, Director
Location: Sydney, Bali, the farm in Finniss SA

Soph has a really hard life…. sharing her time between Sydney, her beautiful farm in South Australia and flying over to hang out in Bali. Jealous much?

1. What did you want to be when you were a little 'un?
A vet and an astronaut. And the host of my own cooking show. I still want to be an astronaut. I'd like to fly to the moon one day.
2. What made you decide to start your own brand?
I genuinely felt that there was a big gap in the market for fresh, colourful pyjamas and boxers so I came up with designs which I wanted to wear. The timing was great, my brother had moved to Bali so it was an easy transition to manufacture over there. I set up an online store which I initially thought would tick along on the side while I worked in TV full time. But it very quickly took over my life… in the best possible way! The career in telly had to go.
3. How would you describe your style of work? 
Bold, playful, colourful – loads of colour.
4. What is the best and worst thing about being a designer?
Best thing would be the male models. Worst thing, the female models. Kidding, the girls aren't too bad. Nothing is out of bounds. I love turning my crazy ideas into a reality and then getting great feedback, particularly from strangers. Hmmm, the most challenging part is trying to work the production schedule around Balinese holidays… how do they get so many???
5. What is your favourite creative outlet?
Raiding the dress up box and creating new characters. Costumes never get old.
Swimming the point to point at Bondi each morning and turning a blind eye to Great Whites circling in the vicinity.
 6. There's got to be something you're shit at? 
Singing and anything that requires a great deal of coordination.
7. What are your top 5 websites/blogs at the moment and what makes them stand out?
Business of Fashion – Really interesting global articles on designers, entrepreneurs and creatives
The Selby – Todd Selby is a creative genius with a brilliant eye for detail
Vanity Fair – Best coverage of fashion, entertainment, politics and current affairs
Best Ads on TV – Best site for a quick overview of the latest ad campaigns
Tech Crunch – Love their articles – tech talk easily explained!
8. Date, Marry, Kill… List any celebrity (dead or alive)
Date – Seth McFarlane
Marry – Hugh Laurie
Kill – Steven Richardson from E-Street (I still have nightmares)
9. So in the next couple of years your brand takes off like a rocket, multi million dollar offers start coming though the door. Do you stick with it? Sell out? Start again? What and where will you end up in 10 years time?
Stick with it absolutely… I want to make people happy in the bedroom forever. I have zero idea where I'll be in 10 years time but so long as I'm within easy reach of a beach and sun I'll be happy.
10. What song or album are you currently listening to and is it any good?
I've just downloaded You Make My Dreams by Hall & Oates. It's awesome. It reminds of the scene in Step Brothers when Brendan and Dale become best friends and they do karate in the garage.

Soph likes to make everyone happy in the bedroom (get your mind out of the gutter!) and that's why we love her!! Her gorgeously bright and fun PJ's are rocking our little Hunting for George world, especially when shown on fine gentleman specimens such as below…