A unique space that seamlessly combines aesthetics and function, the Light Corridor House illustrates exactly how old and new can work alongside each other perfectly. Sandwiched between its neighbours in Melbourne's inner-city suburb of Cremorne, this semi-detached worker's cottage has been given a new lease on life. Home to architect Michael Artemenko, co-director of FIGR, his wife Emma and their 10-month old daughter Ruby, the period home was way past its prime and in desperate need of a makeover.
Most of the time, extensions and renovations take design cues from the original house. We see additional space created to match the existing building, but it's not always the case. Take the Light Corridor House for example, where a 5m high and more than 2m long 'portal' exists to connect the existing period home to the new wing.
"I wanted to create a narrative and a journey between the old and the new". Mr. Artemenko explained. "It's a dramatic experience to step from the old corridor into this bridge element, which also holds the bathroom laundry. And then you step down into this quite open, big light-filled space with timber features and fibre cement walls."
'Getting more with less' was FIGR's mantra for the renovation, showing that a generous and livable can exist on a relatively modest-sized site. To eliminate the need for a huge house with an abundance of rooms, FIGR have made the most of the space through good design and planning. Quality not quantity people!
Having a south-facing block meant that bringing in more light was a key consideration for the design of this home, which shares a 5.4m high party wall with a neighbouring property.  The three-bedroom design features carefully considered windows and glass doors that let oodles of natural light in. There are even windows in the upper part of the walls to frame tranquil views, including a highlight window that faces a park.
The kitchen is a light and inviting space with a built in day bed that also provides storage. Sliding external timber batterns connect the kitchen with the outdoors and help filter sunlight through a large west-facing window. The blonde tones of Russian birch plywood on the walls and joinery create a warm atmosphere and are also a node to Mr. Artemenko's European heritage. Marbled benchtops add a hint of luxury and are combined with a bronze mirror splashback, cylindrical range hood and contrasting black bulkhead, for a touch of drama.
Timber is used extensively throughout the house, from the facade of vertical wooden slats and sliding screens outside to the floors, ceilings and panelling inside. Despite this, the house doesn't feel sauna-like thanks to the clever use of different types of timber interspersed with the colour black as a way of framing different areas.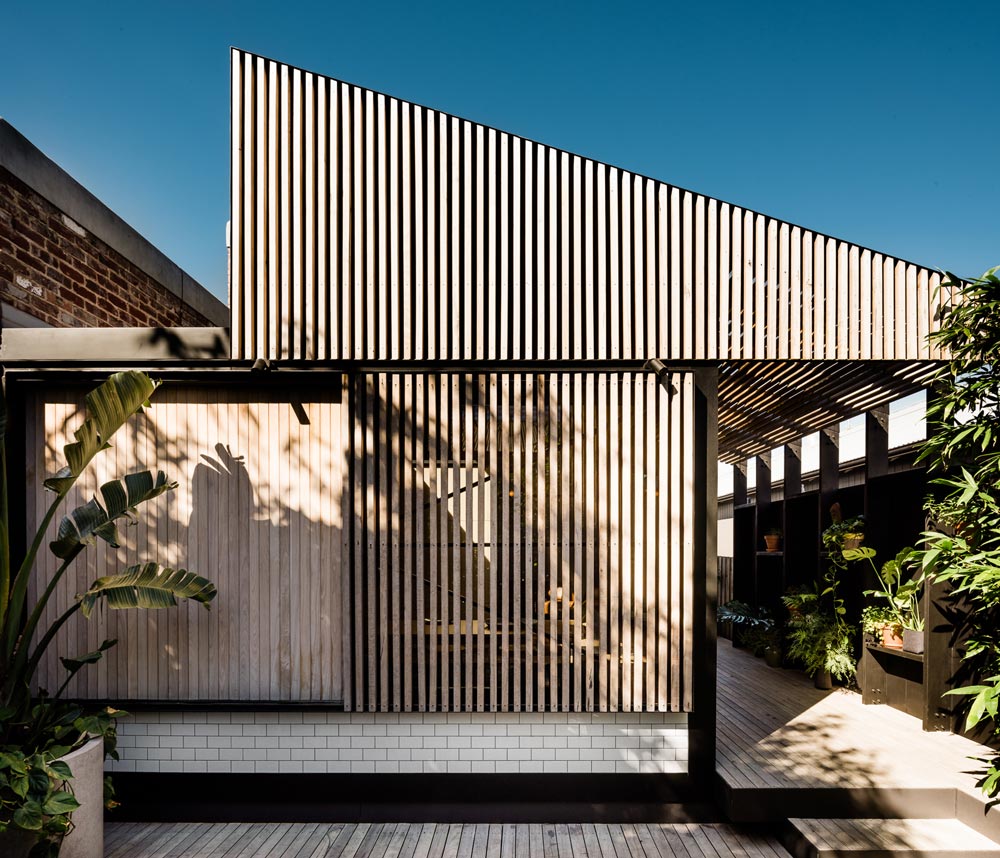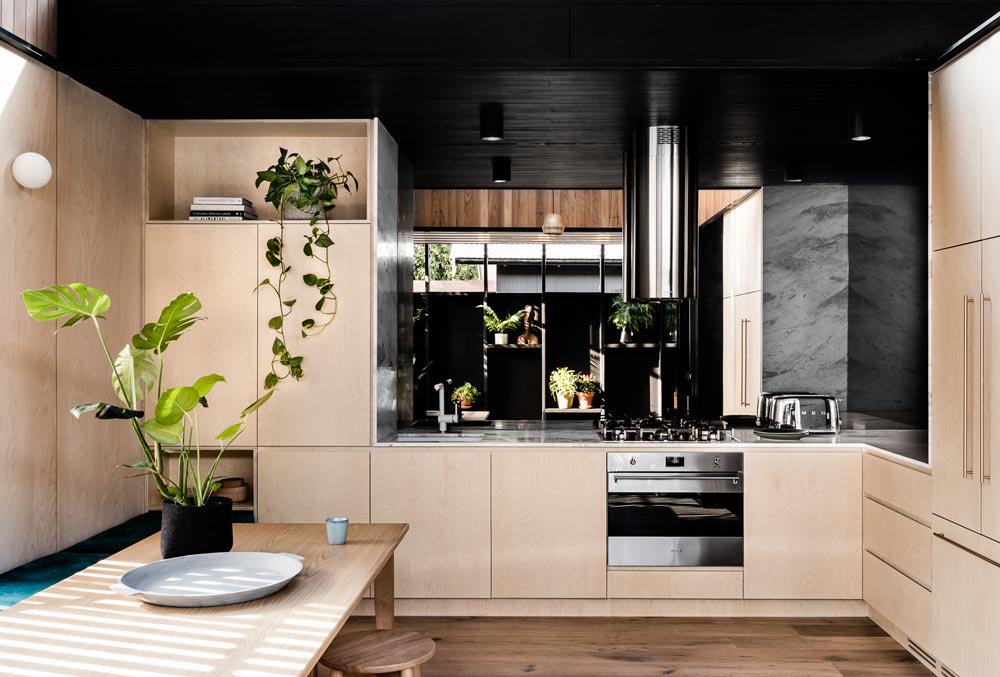 Architect: Figr Architecture, Architectural Builders: Grundella Constructions, Photography: Tom Blanchford & Kate Ballis, Landscape Architect: Mud Office, Styling: Ruth Welsby.