Located in a densely urbanised, mixed-use inner city context in Melbourne, the Kensington Lighthouse designed by Tandem Design Studio is a home that features robust exterior and distinctly beautiful warm interiors. Situated on a 160m2 strip of land between a former factory and its kitchen, the project came with constraints such as a 4m high wall overshadowing the site on the North. With meticulous spatial planning and a dab of architectural finesse, let's take a look at how this project transpired.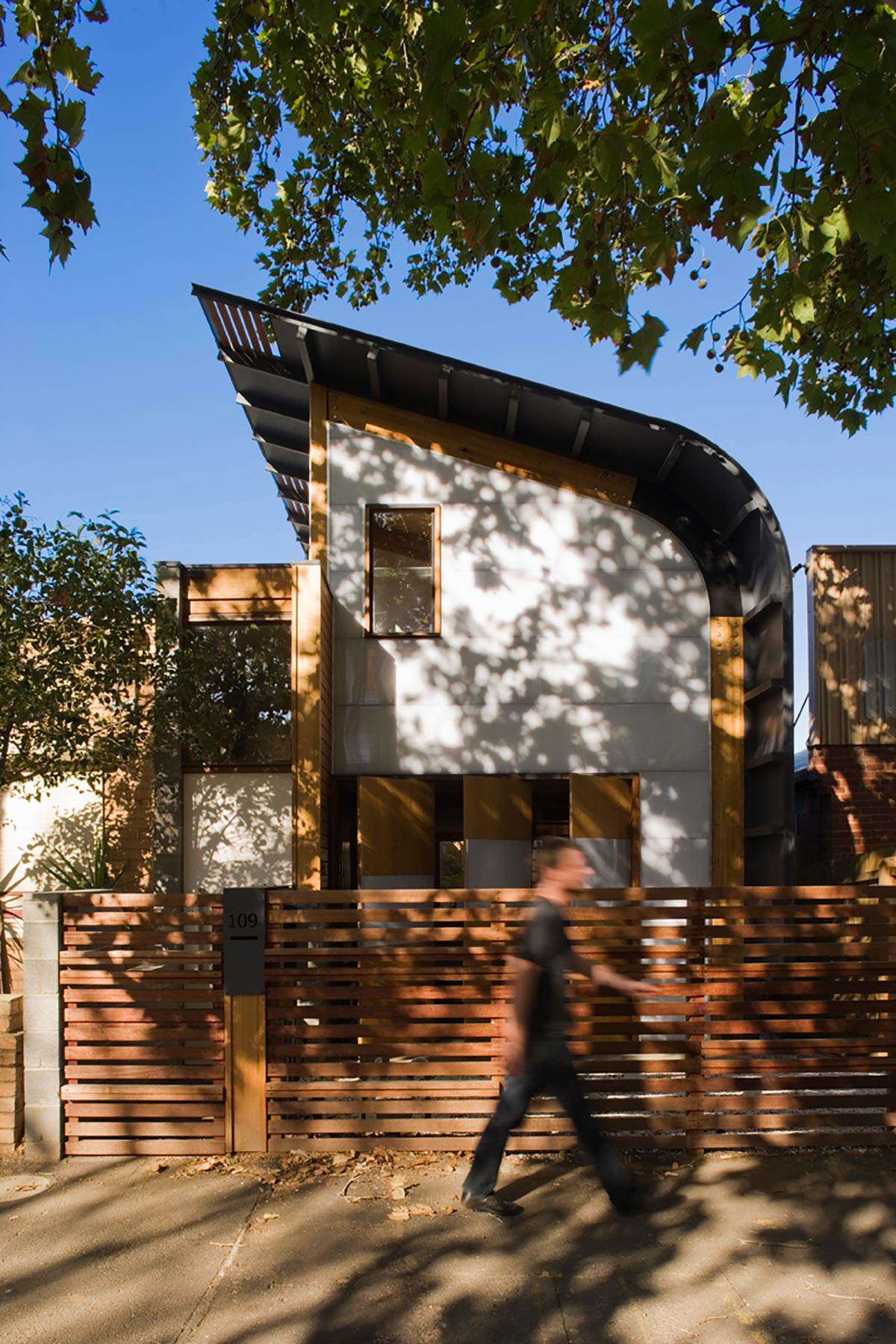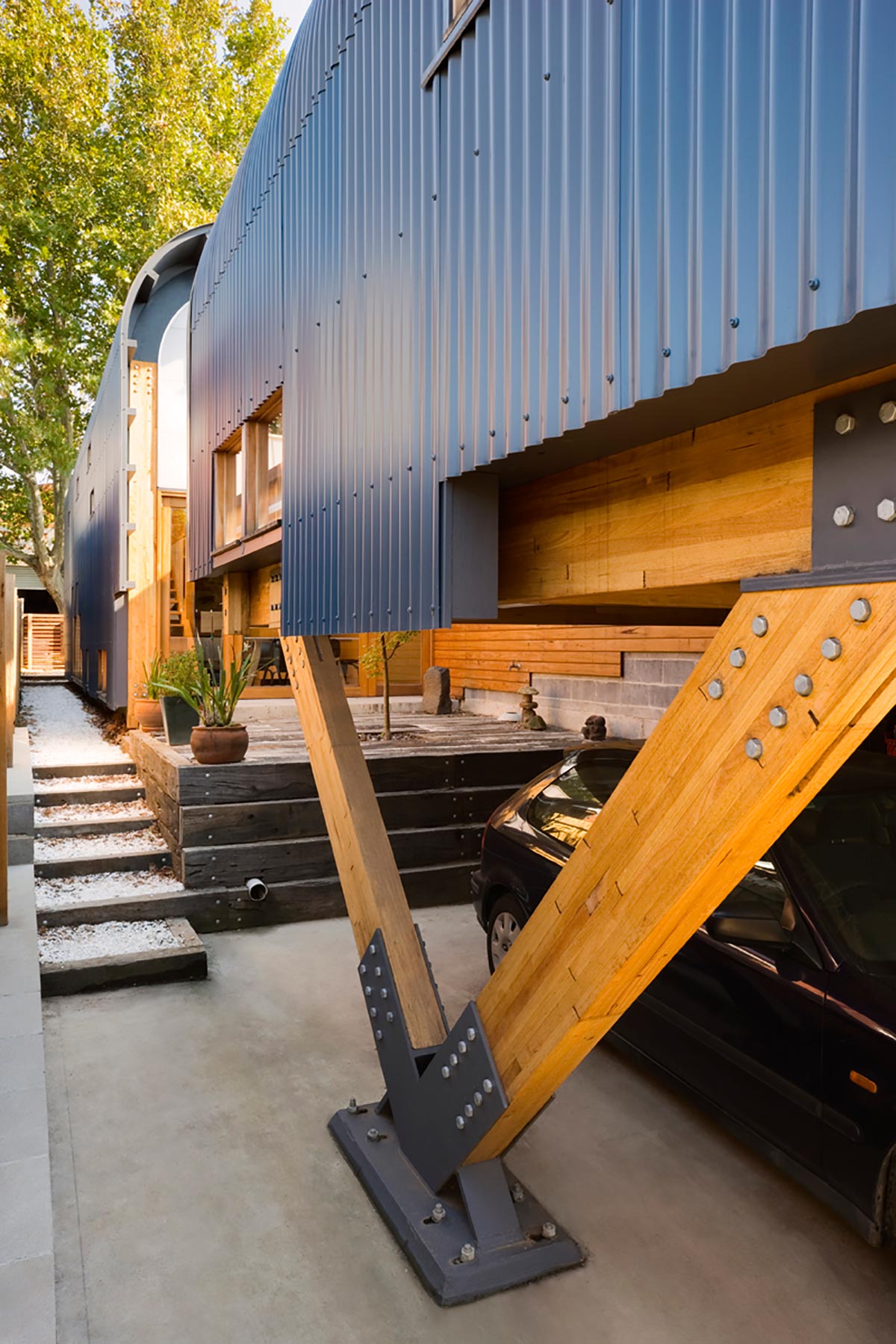 "The house is made from two sun shell forms, connected around a courtyard by the link – a rectilinear volume running the length of the northern boundary. The west sun shell contains an entry, lounge, kitchen double height dining on the lower level; and study, guest bed and bathroom on the mezzanine. The east sun shell at the rear of the site, across the courtyard and on a mid-level, houses the master bedroom and ensuite, below is a double carport accessed from the rear laneway." – Tandem Design Studio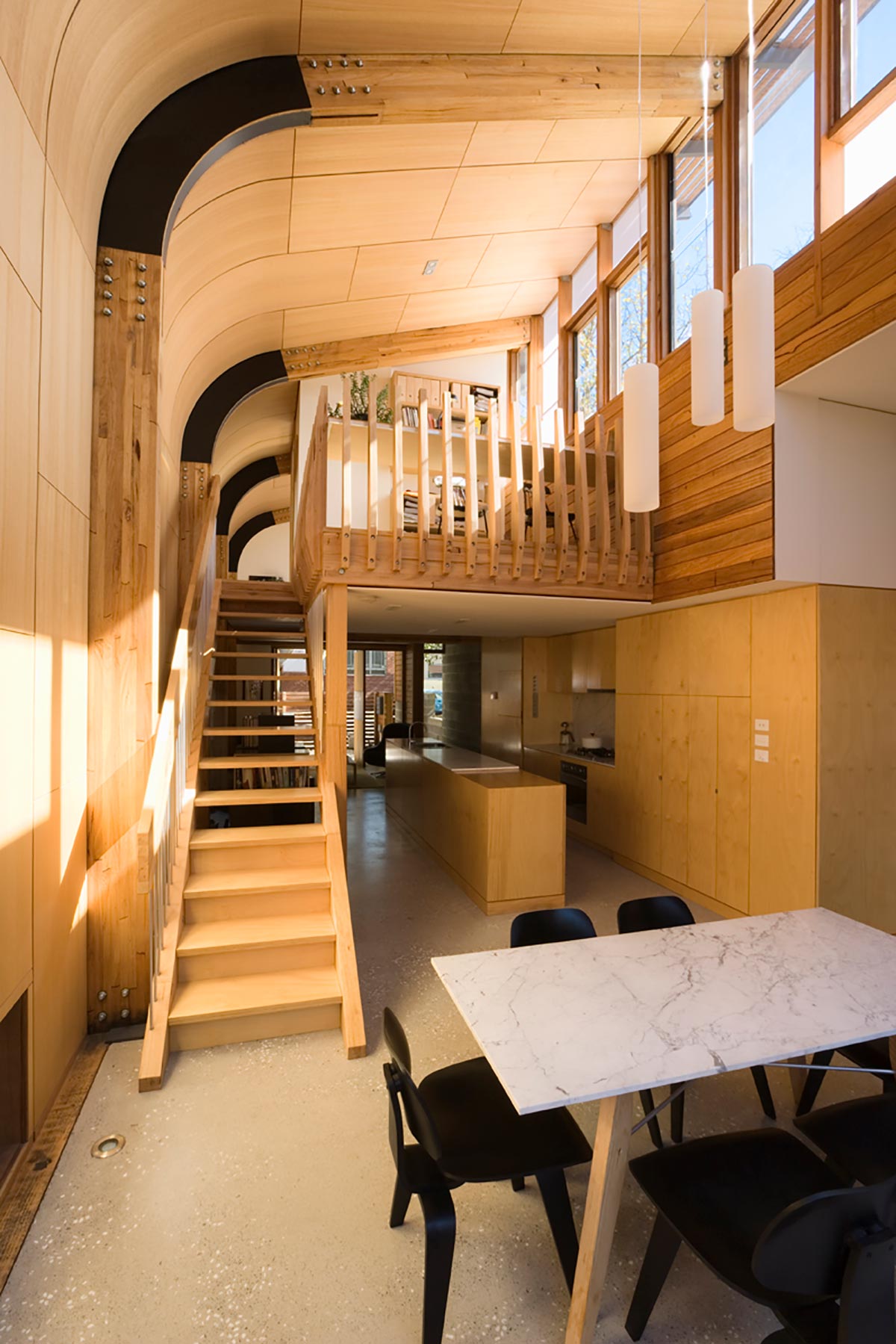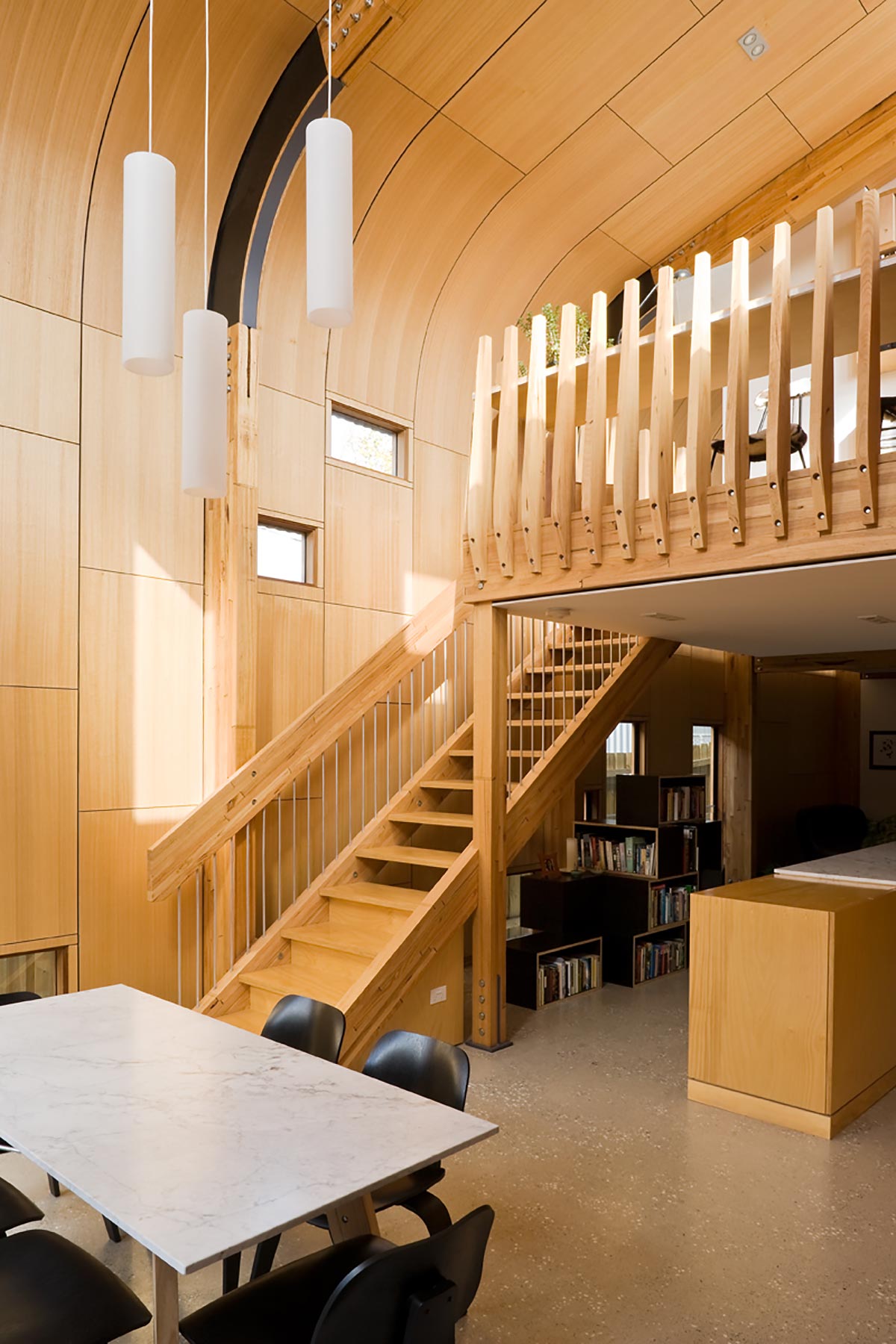 To capture and reflect sunlight, the team made use of north facing sun shells that formed the roof and southern facade. They are articulated by exposed timber portal frames lined with timber panels and clad in a lightweight skin of dark grey and deep blue corrugated metal. The north, east and west walls are clad in timber framed glass and translucent polycarbonate, framing views and admitting light while preserving privacy.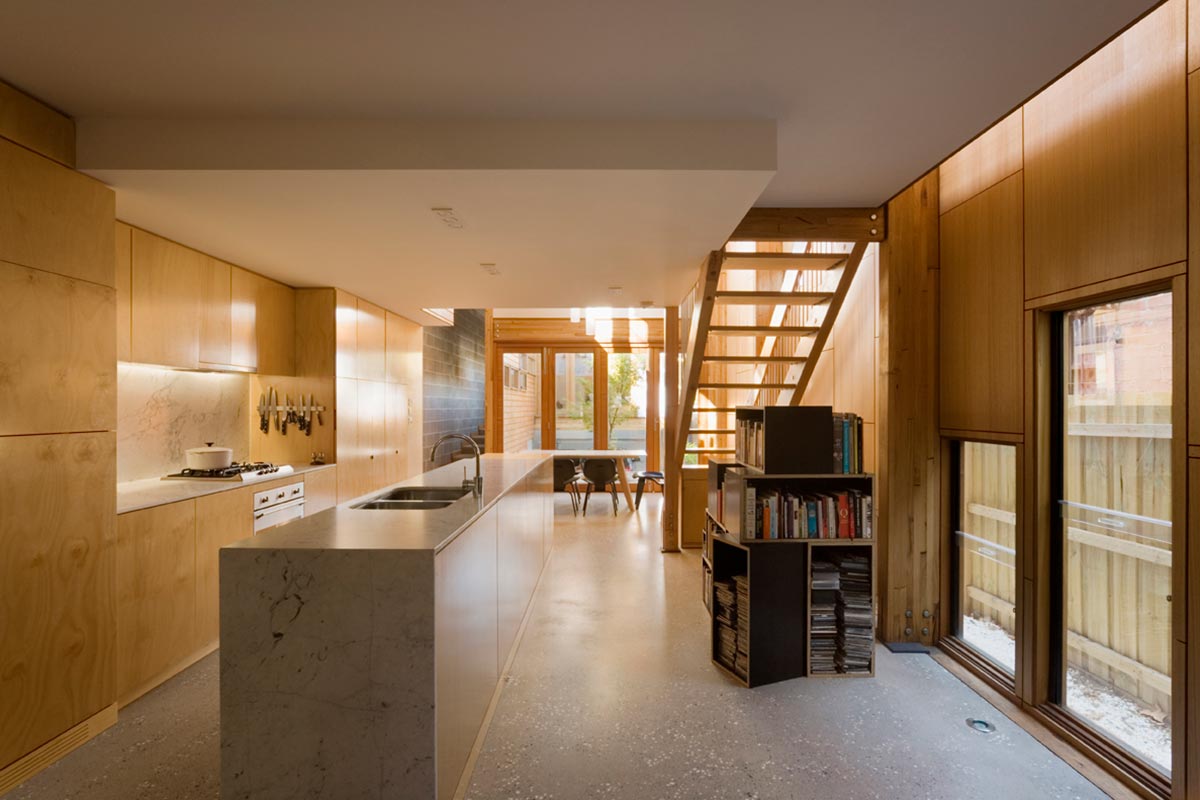 "As a consequence passive solar and thermal design principles inform the building's spatial and formal resolution. The link – a linear element matching the neighbouring wall and containing circulation and services – was created on the northern boundary, exaggerating the cliff-like quality of the northern edge. Platforms were established; some anchored on the ground, others floating up against the link. Finally, two sun shells were introduced, enclosing the platforms. Peeping over the link, the sun shells capture sunlight, reflecting it inside -and establishing the necessary temperature differential for cross ventilation." – Tandem Design Studio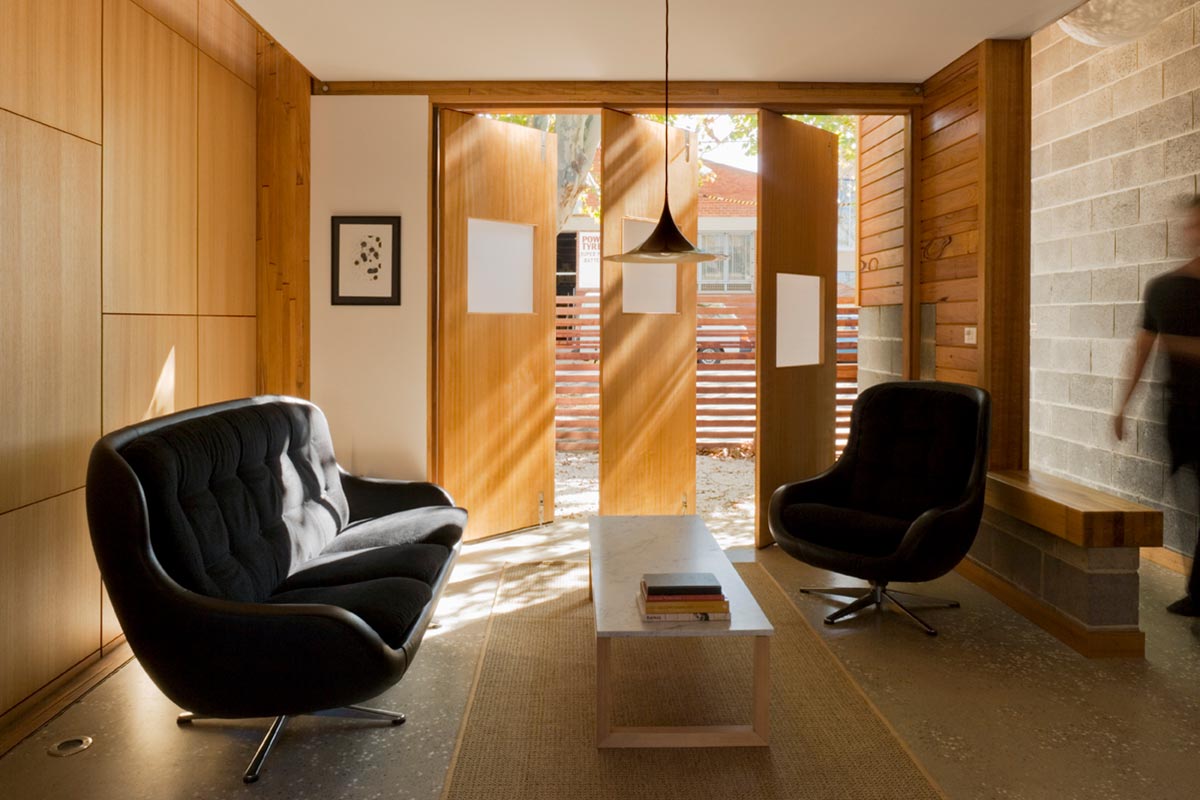 A soaring space that encapsulates the study and leading to the courtyard has been created above the dining table while contrasting low and intimate spaces are created for the lounge and kitchen. Through extensive use of large openings, outside spaces are drawn into the interior. The courtyard doubles as an alfresco dining space, the street side garden can be opened to the lounge, doors from the master bedroom overlooking the courtyard create a Juliette balcony and the windows in the southern facade draw in the fence side garden lane.
With spaces that optimise natural daylight, thermal comfort, and privacy, the Kensington Lighthouse by Tandem Design Studio proves to be a sustainable model for quality urban living.
House Project: Kensington Lighthouse
Architect: Tandem Design Studio
Location: Melbourne, Australia
Type: New Build
Photographer: Sonia Mangiapane