This week we kicked off our home renovation series and we were thrilled to share our Living Room Makeover with you on Monday night! It was an honest behind the scenes account of what it takes to renovate your home yourself – DIY style! In our Living Room Makeover we did not make any structural changes but instead focused on simple, cosmetic upgrades to transform the overall aesthetic of the room.
Before we began our renovation journey we spoke with Suncorp and they laid down a challenge to 'Transform our Home on a Budget to Make a Big Change for Less'. Safe to say we welcomed this challenge, after all… who doesn't like to save money?! So what exactly did we do and more importantly, how did we save money in this living room makeover? We managed to complete our cosmetic upgrades for under $2k in our Living Room! We break down the costs involved and share some practical tips that we did in order to save money. Hopefully this advice will give you a few ideas on how you can Make Change for Less at your place!
Our Top Tips on How To Save Money when Renovating Your Living Room
1. Don't Buy New, Update Old
Try updating your floorboards rather than buying new ones! Your floor is an integral element to any room and its appearance will have a major impact stylistically. I really wanted new light timber floorboards installed as I did not like the colour and finish of my existing floorboards. However buying new floorboards can be very costly, so instead I chose to take advantage of what I already had and update my existing floorboards.
I sanded back the timber floorboards to get rid of the existing glossy orange stain, in order to do this I hired a floor sander and corner sander to get the job done. Then once sanded I could choose from any stain I wanted: Dark, White, Natural or Clear. In the end I chose to stain the timber boards with a white wash finish to create a lighter, Scandinavian look.
All up, this project cost $294 for the hire equipment, sandpaper, white wash stain and painting equipment. That's a brand new timber floor for under $300!
Hot Tip: If you don't have timber floorboards that you can update, then take a look at different laminate flooring options… that way you can get the look you want without the price tag of the real deal.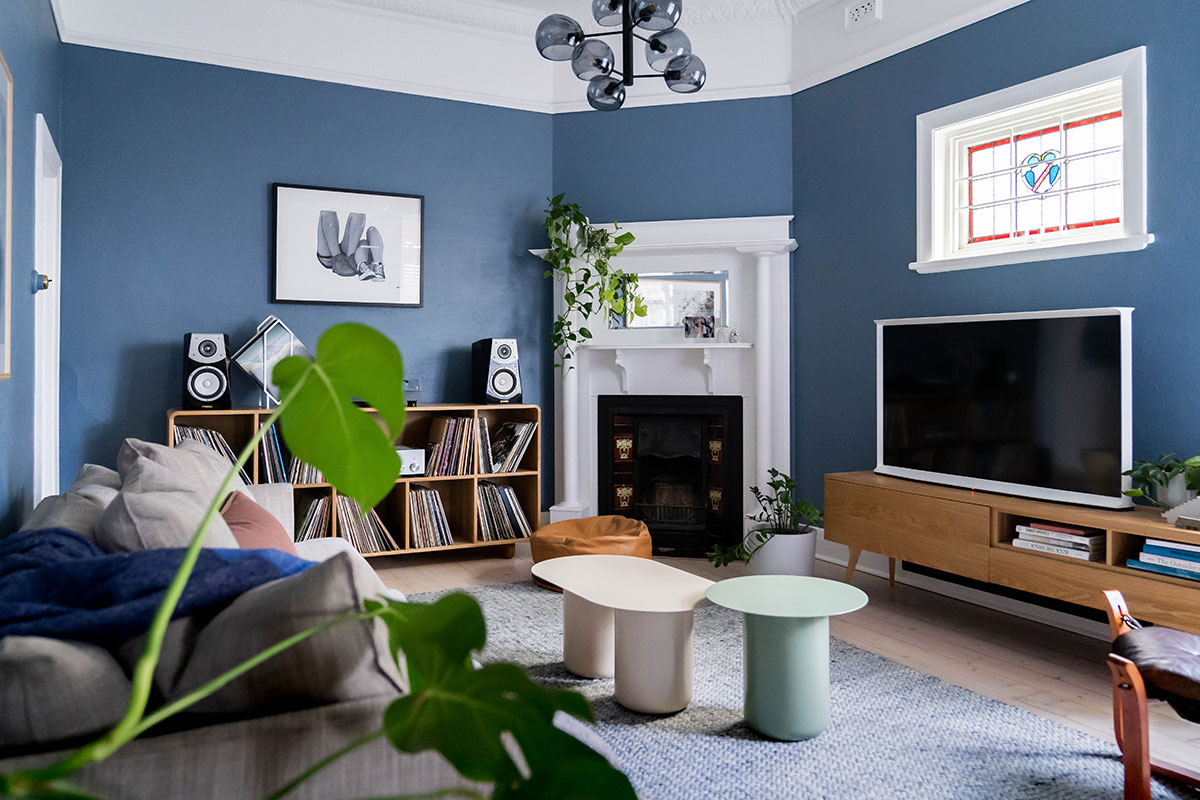 2. Paint don't Plaster
Brand new walls are great but painting over existing walls is much cheaper! For the quickest, easiest and cheapest way to immediately transform your living room… paint your walls a different colour! Don't be afraid to go bold and choose a strong feature colour for a major transformation. I chose to paint my living room walls a dusty dark blue as I wanted to create a moody and cosy atmosphere.
Hot Tip: It can be daunting painting colour on your walls, if you're nervous try painting one feature wall first. If you like it, paint the remaining walls and if you hate it… you can always paint over it!
3. Don't Move Your Lights
Lighting is crucial to creating an inviting interior and can make or break a beautiful interior. Research and think about what kind of lighting you want in your living room but if you're wanting to save money when upgrading your lights, then don't change their current position.
If you decide that you want 4 new down lights and a wall sconce that don't already exist in your space… then the cost of installing these could blow your budget. For starters you will need to pay an electrician to wire up all those additional locations and then you may possibly need to modify walls and ceilings in order to make that happen.
I only had one light in my living room, a single pendant. So I decided to simply switch it over for a brand new pendant to give it a new look. If you're like me and you've just got one pendant light, go bold and choose a design that makes an impact.
Hot Tip: If you've replaced your existing lighting and it's not providing enough light for your room then bring in some additional light with floor or table lamps. These are easy to move around and you can position in any room of the home – without needing to pay for a sparky.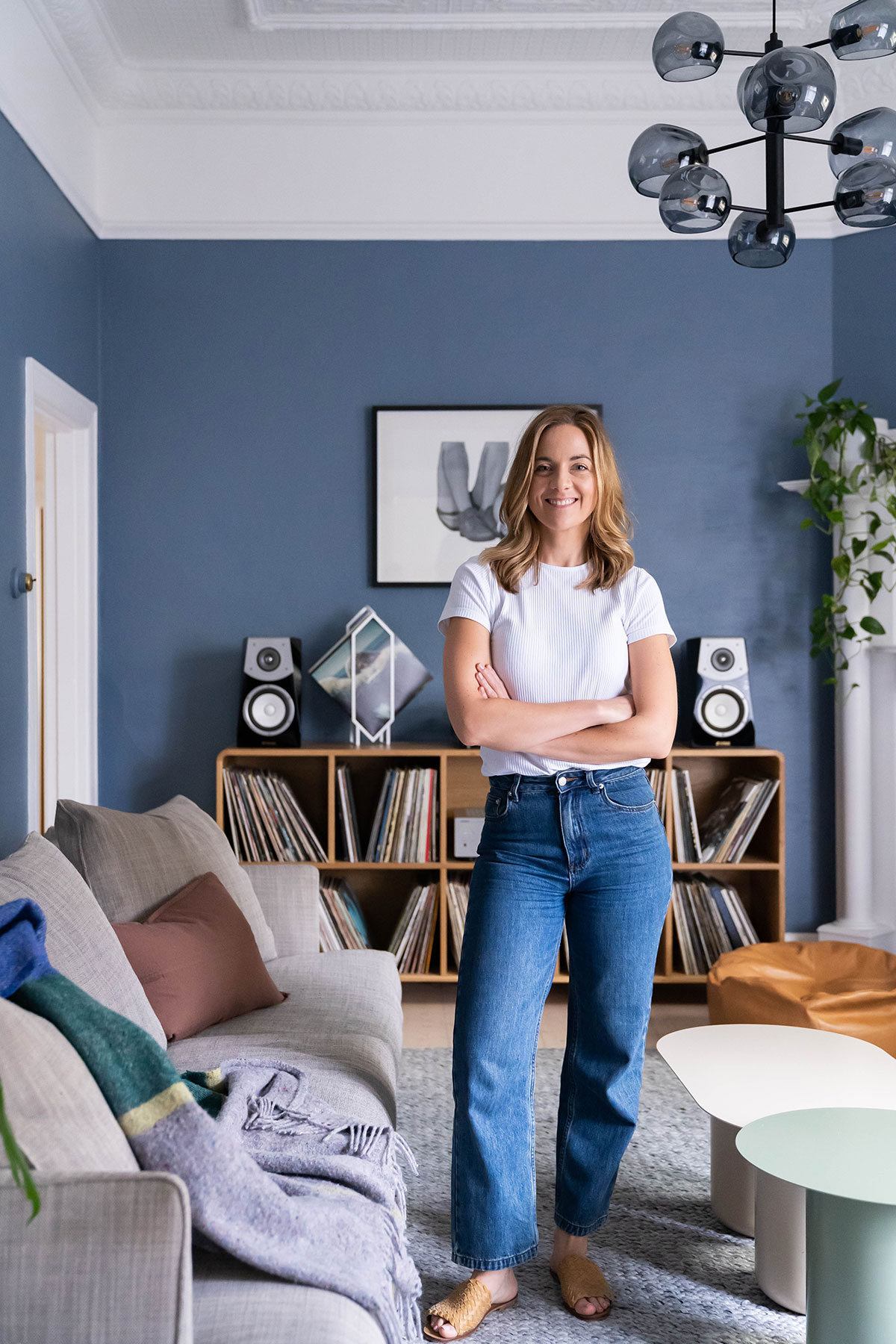 4. Fake a 'New' Couch
When it comes to furniture in the living room, your couch is arguably the most important piece in the room but you can't buy a new couch every time you want to change up your interiors. Well I guess you could but that will definitely blow your budget. So if you want a new look without tossing your furniture in the bin… just fake it.
The easiest and cheapest way to update your couch is by changing your cushion covers and other décor pieces like blankets and throws. By adding new colours, shapes and texture to your existing couch, it will immediately give your old couch a new look.
Hot Tip: When choosing a colour scheme for your new décor, first consider all the other elements in the room and make sure to choose complementary colours. If you bring in similar colours that tie into other colours in the room it will help create a cohesive look.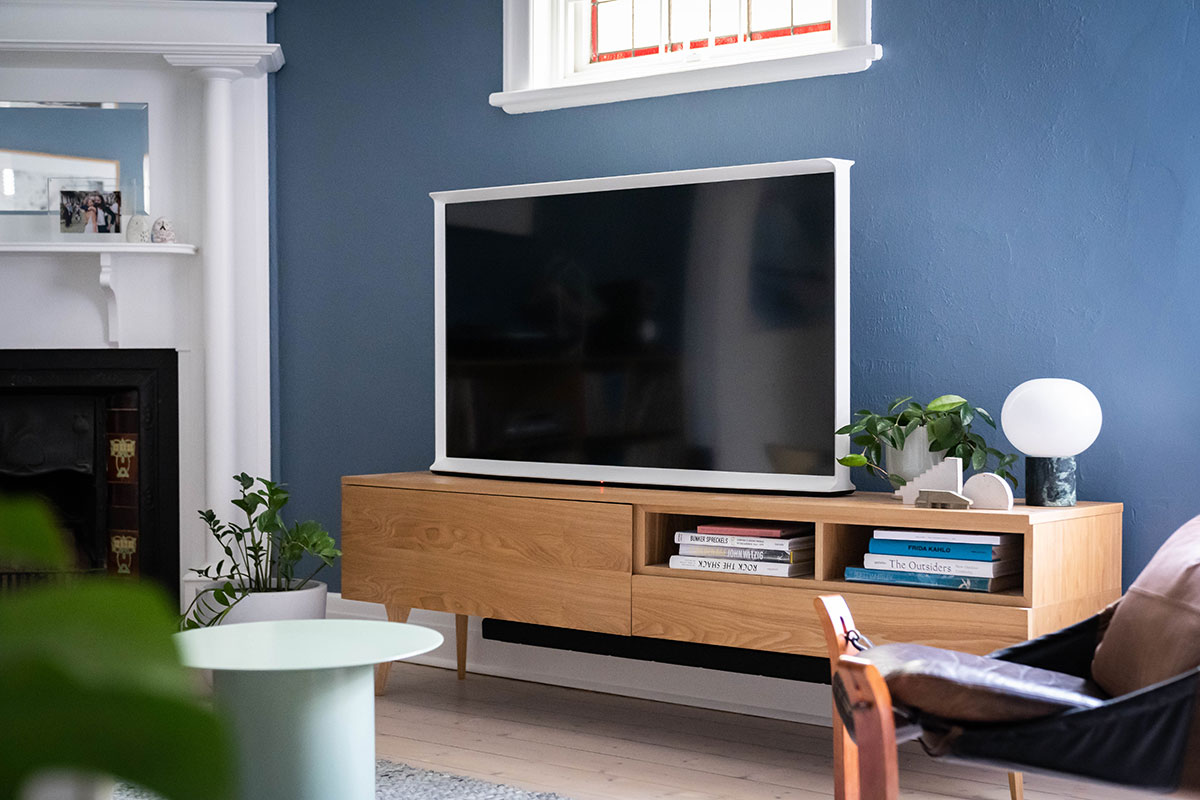 Total Cost of Living Room Makeover
Cosmetic Upgrades
$294 Floors (hire floor and corner sander, white wash and painting equipment)
$322 Paint (wall, ceiling and trim)
$702 Timber Venetians
$575 Pendant Light
Total = $1893
Total Cosmetic Upgrade for under $2k!
I also wanted to bring in some new decor pieces to complement the cosmetic upgrades and I had a few key pieces that I wanted in order to make the living room suit my lifestyle. The total cost of the new decor that I brought into the space was:
New Decor Items
$1499 Rug
$1570 2 x Coffee Tables
$1795 Samsung Serif TV, 55 inch
$180 Table Lamp
$140 Cushion Covers
$199 Block Recycled Throw
$4000 custom vinyl storage unit
Total = $9383 on new decor
Total Cost of Living Room Makeover = $11,276
Obviously I chose to splurge on a few key items, especially the large custom vinyl unit as that was something very important to me in this space, but without that you might be looking at around $5k for decor + $2k for cosmetic upgrades. So you could achieve a similar look for around $7k!
I hope you found these tips helpful. Next week, we'll be sharing our bathroom transformation with you and breaking down everything we did in order to save money in the process. While you wait, learn more about your money matters and take a closer look behind the scenes of our complete Living Room Makeover.