We love a good house snoop and today we're taking a look through the home of Hunting for George co-founder Lucy Glade-Wright. Don't worry, she's cool with it!
Lucy lives in this Art Deco apartment with her partner Jonno Rodd, who also happens to be our Hunting for George Marketing Manager. So yep, you guessed it, there's a whole lot of Hunting for George inside!
The home is a much-loved rental wedged on the border of St Kilda and Elwood in Victoria. The duo have been renting this apartment for 5 years and love its position just a few minutes walk away from the beach. Since moving in, the space has been painted and the lighting updated which gave the Art Deco apartment an immediate facelift. The home is a generous two bedroom apartment with a wide hallway connecting the rooms.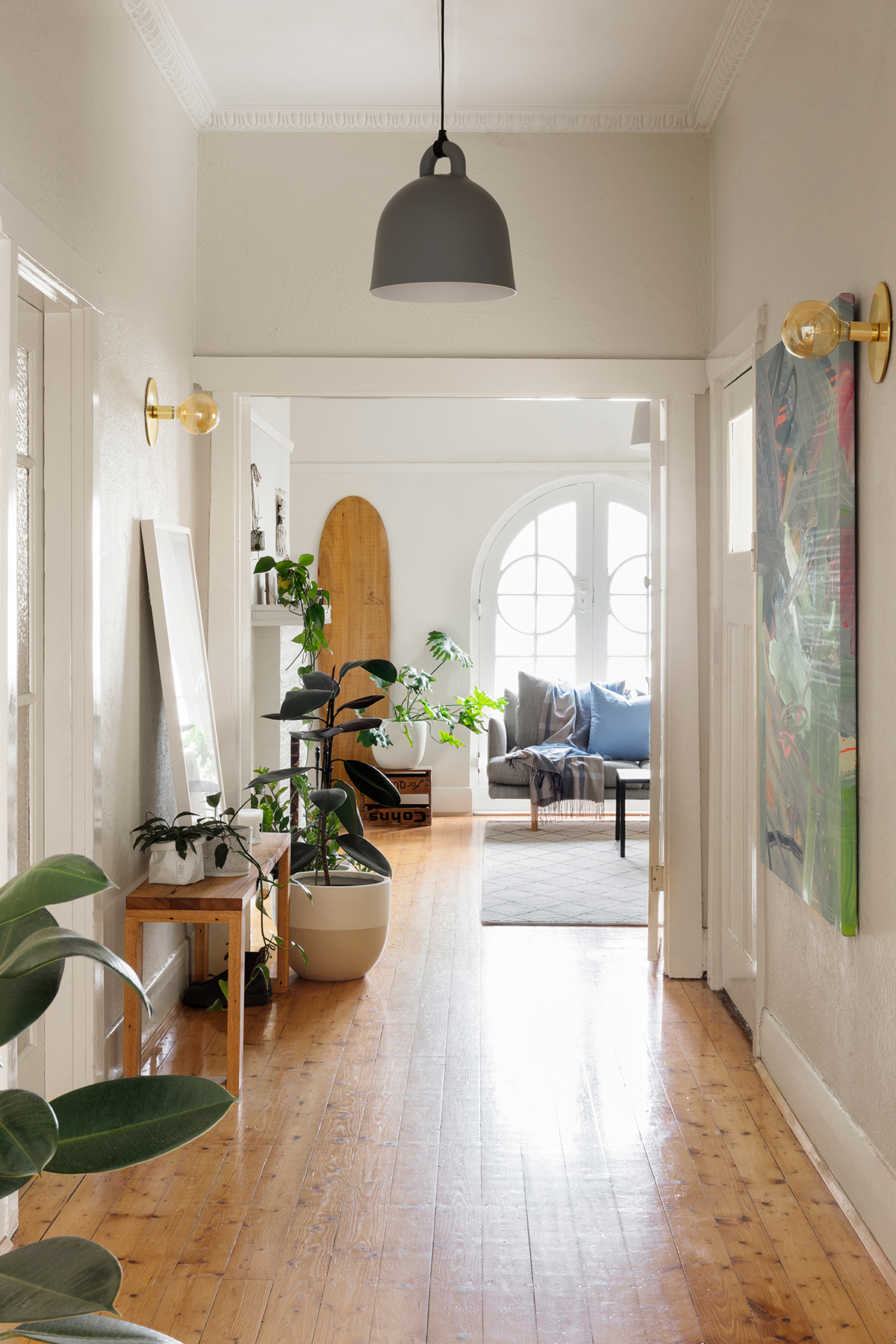 The home is adorned with indoor plants of every size. The wide hallway directs you into the living room which is dedicated to music and entertainment. "We both love music and listening to vinyl is a big love of ours. I've been collecting records since I was 19. I didn't have a turntable at the time I just loved the cover art, but as soon as I bought my first turntable and listened to them for the first time I was hooked!" Lucy Glade-Wright.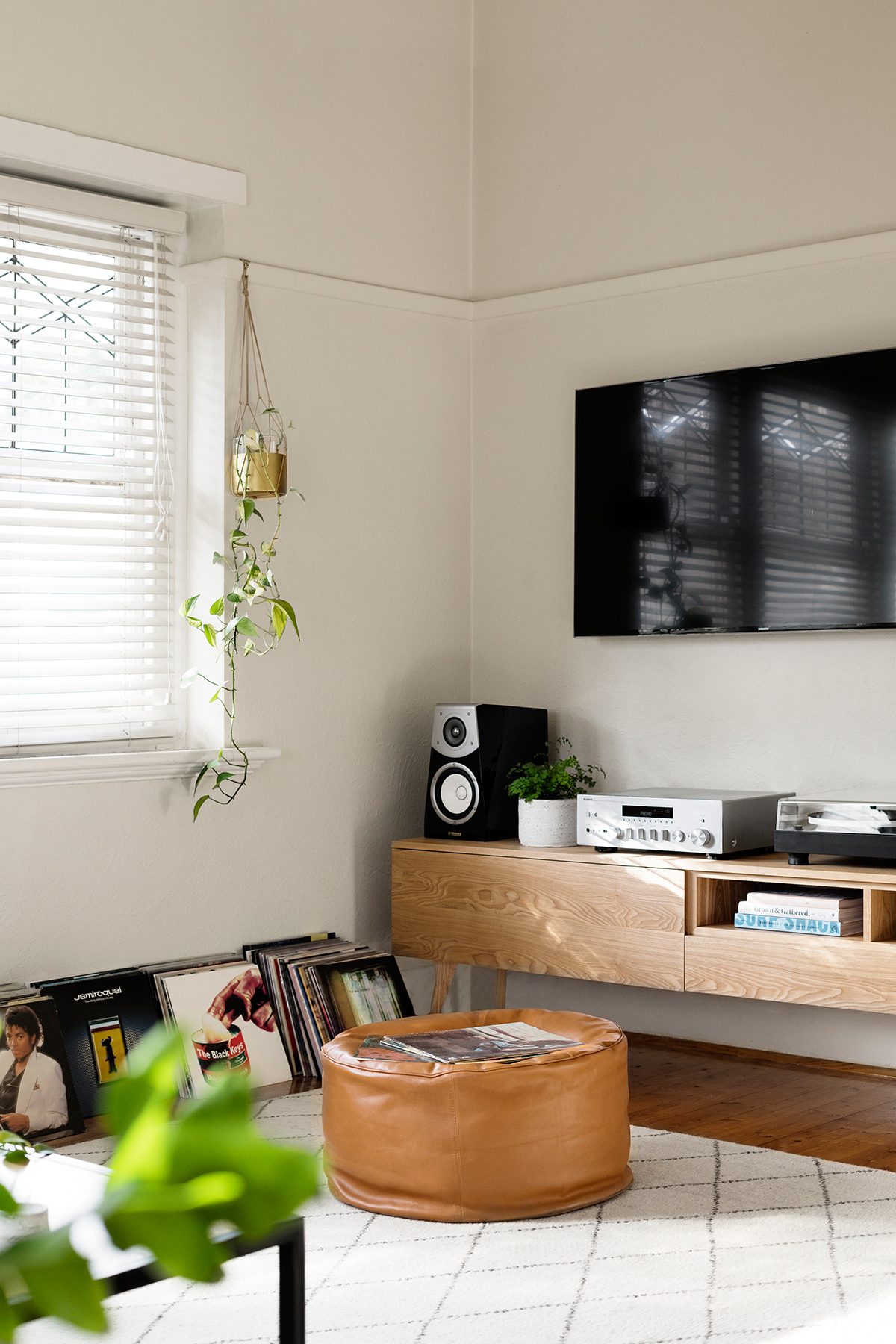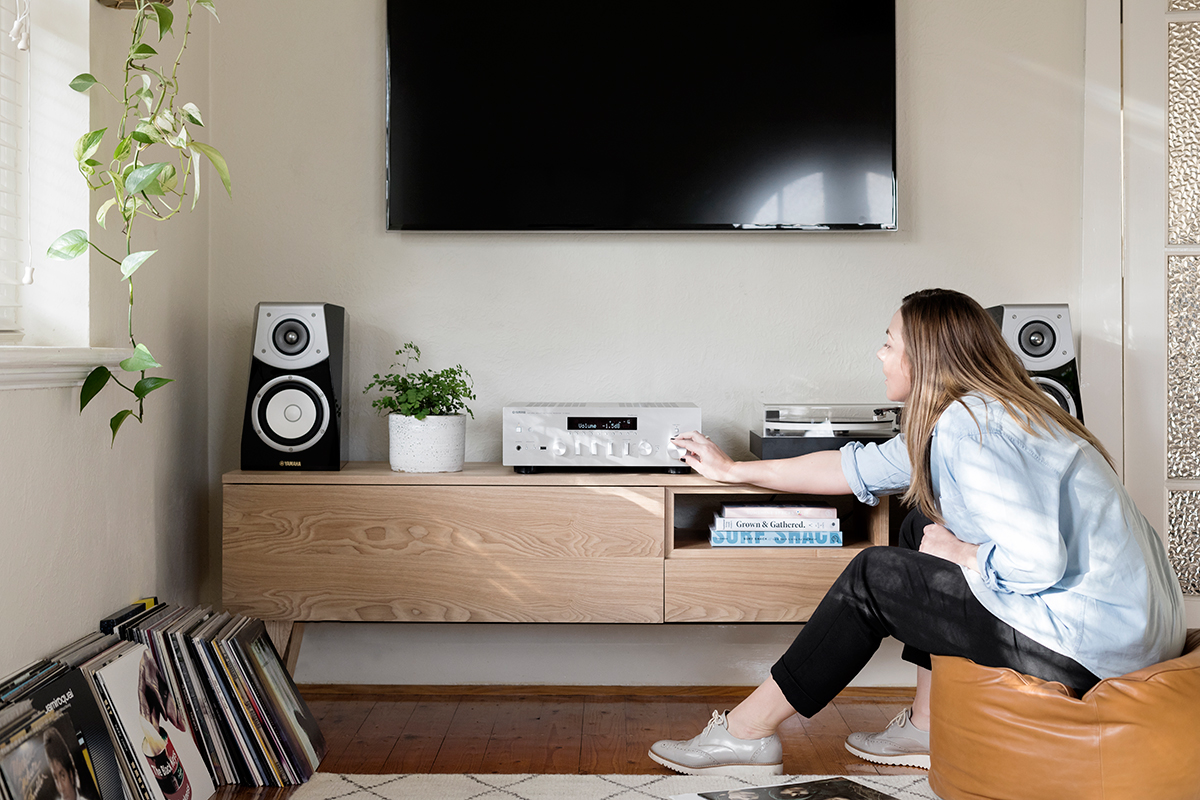 The hero of the living room is definitely the large arch window that cradles the room. "I immediately feel in love with this window, as soon as I saw it I had to have it!" Lucy recalled from her open inspection. "There were quite a few imperfections to the property given its age but we weren't phased by that. There is nothing a coat of paint and Spakfilla can't fix!"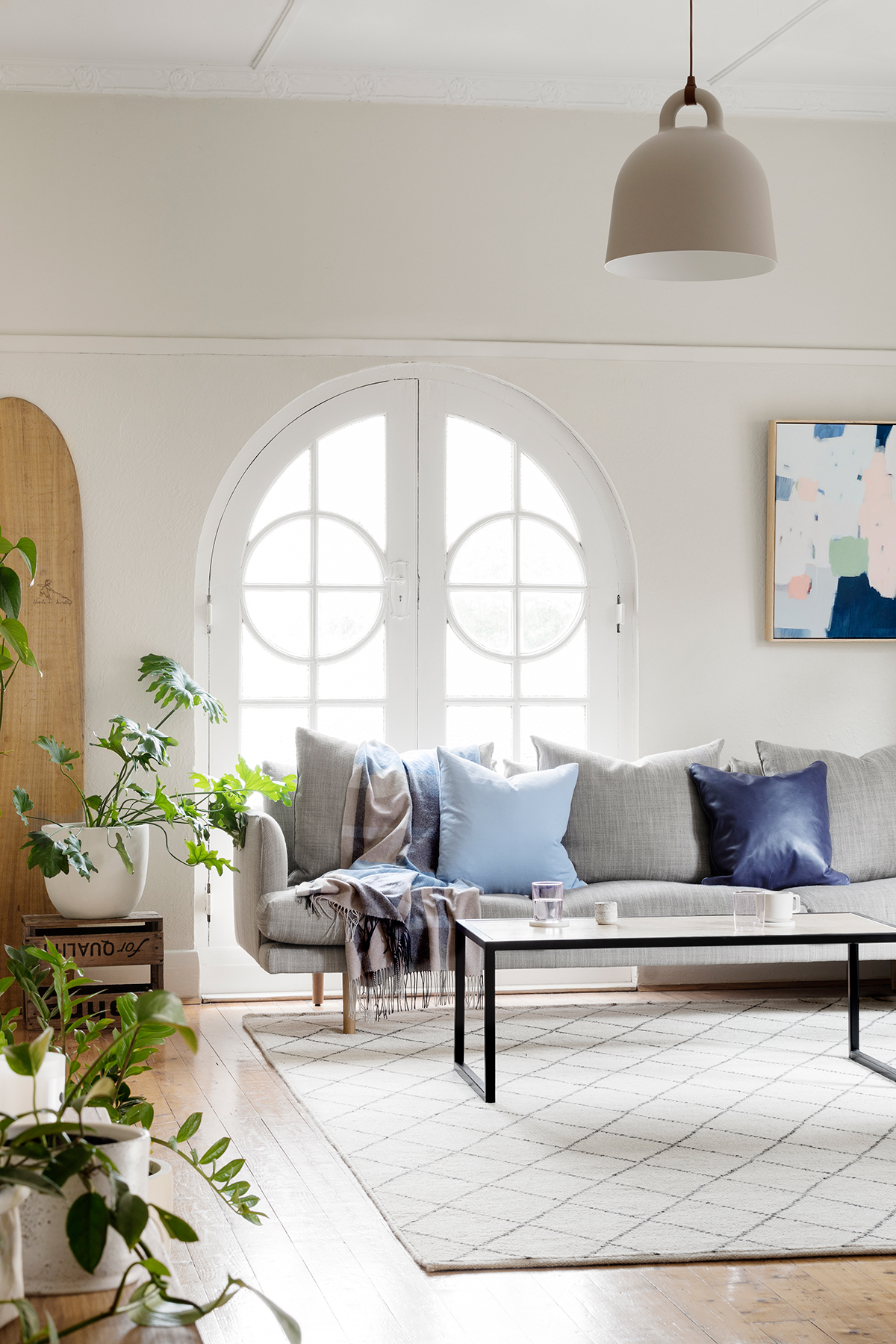 On the other end of the hallway is the formal dining room, another generous sized room.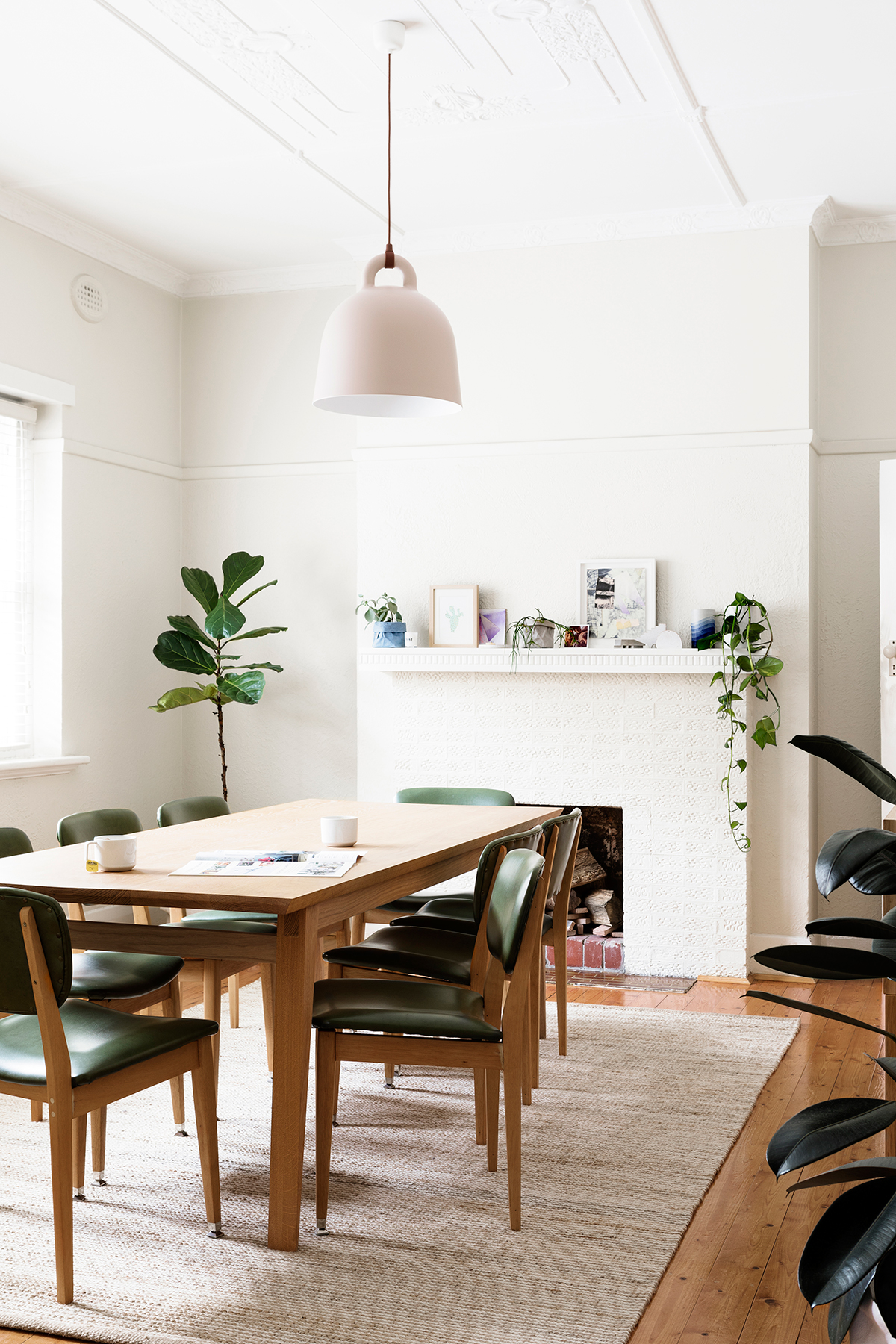 The dining table was custom built by Vince Conboy and the dining chairs were "picked up on the side of the road, they had a thick orange lacquer over them which we stripped back to its natural timber colour." said Jonno Rodd. The rug is the Drift Weave in natural "I wanted something light but hardy for the floor so I opted for the Drift Weave. Having a rug underneath the dining table also made a huge difference to the space, it made the room look bigger and it's definitely much more cosy now" Lucy said. The pendant light was a new addition to the home as the original lighting was very outdated. The Bell Lamp in the soft shade of sand complements this cosy aesthetic.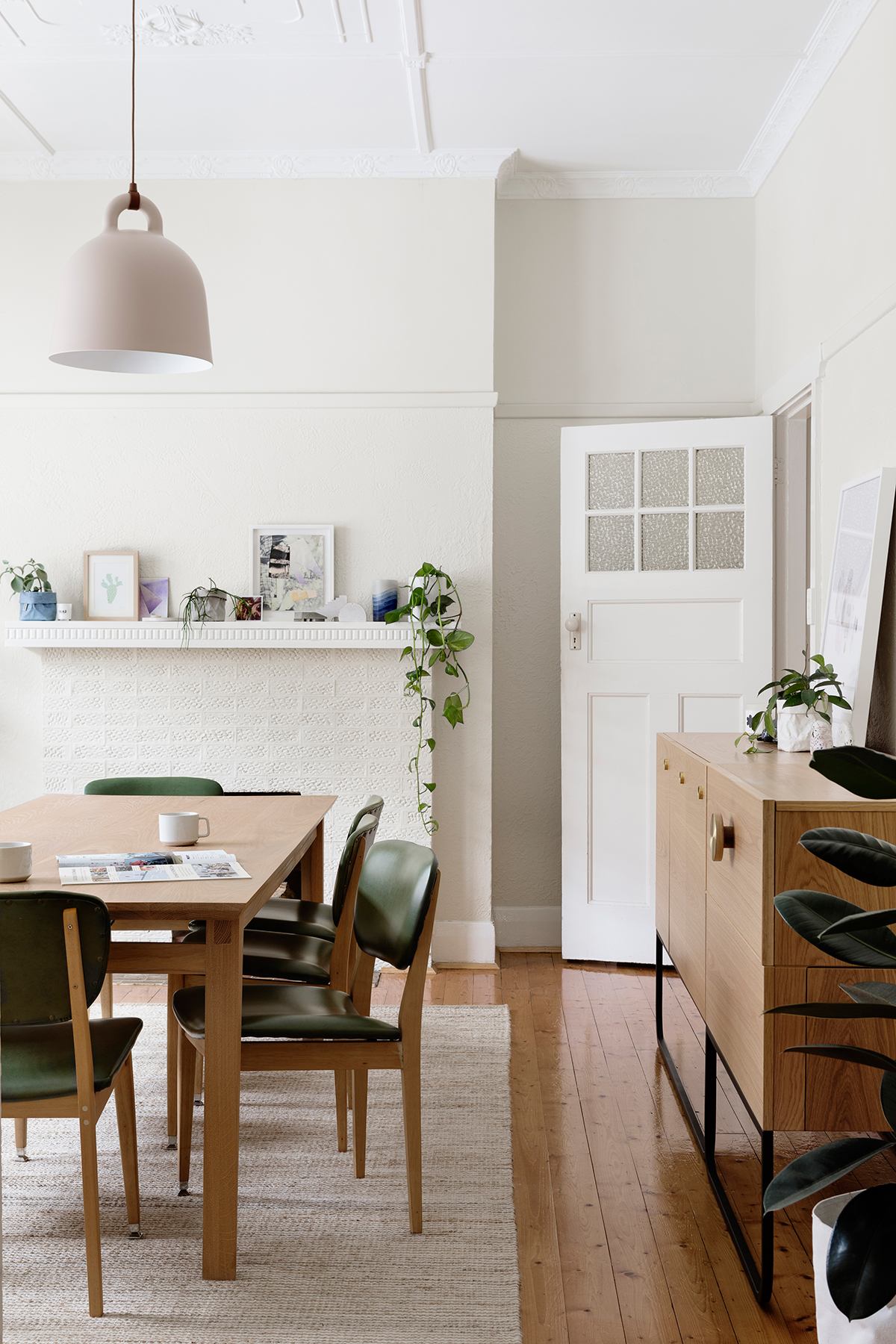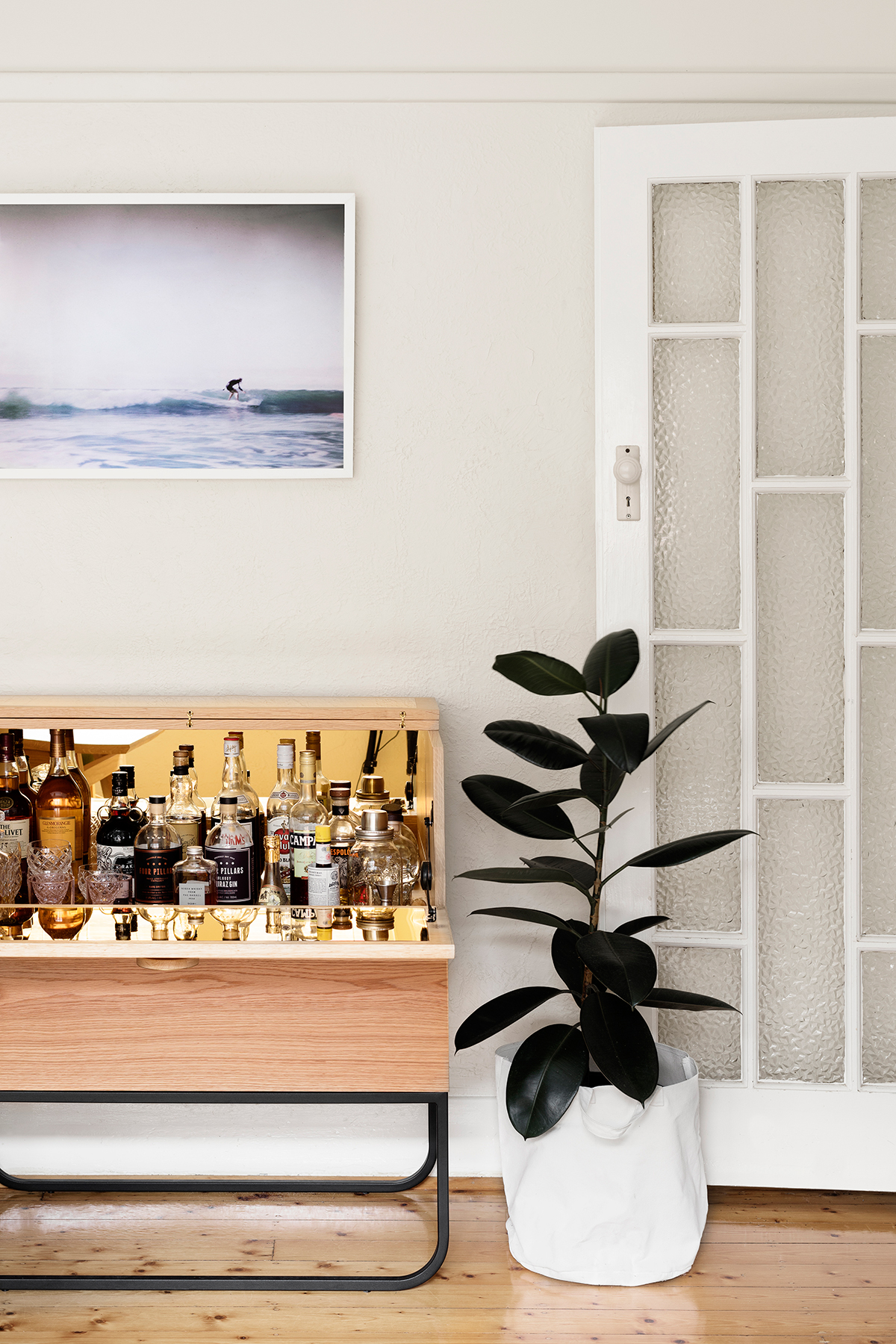 The hidden drinks cabinet was a bit of a splurge. "We have a lot of booze (no judgement!) and I needed a clever way to store these so the dining room didn't look like a bottle shop." So Lucy chose the New York Drinks Sideboard by Grazia & Co. The print hanging in the dining room is our Last Wave print. "It's actually my Dad surfing in Noosa during a road trip in the 60s,"  says Lucy Glade-Wright.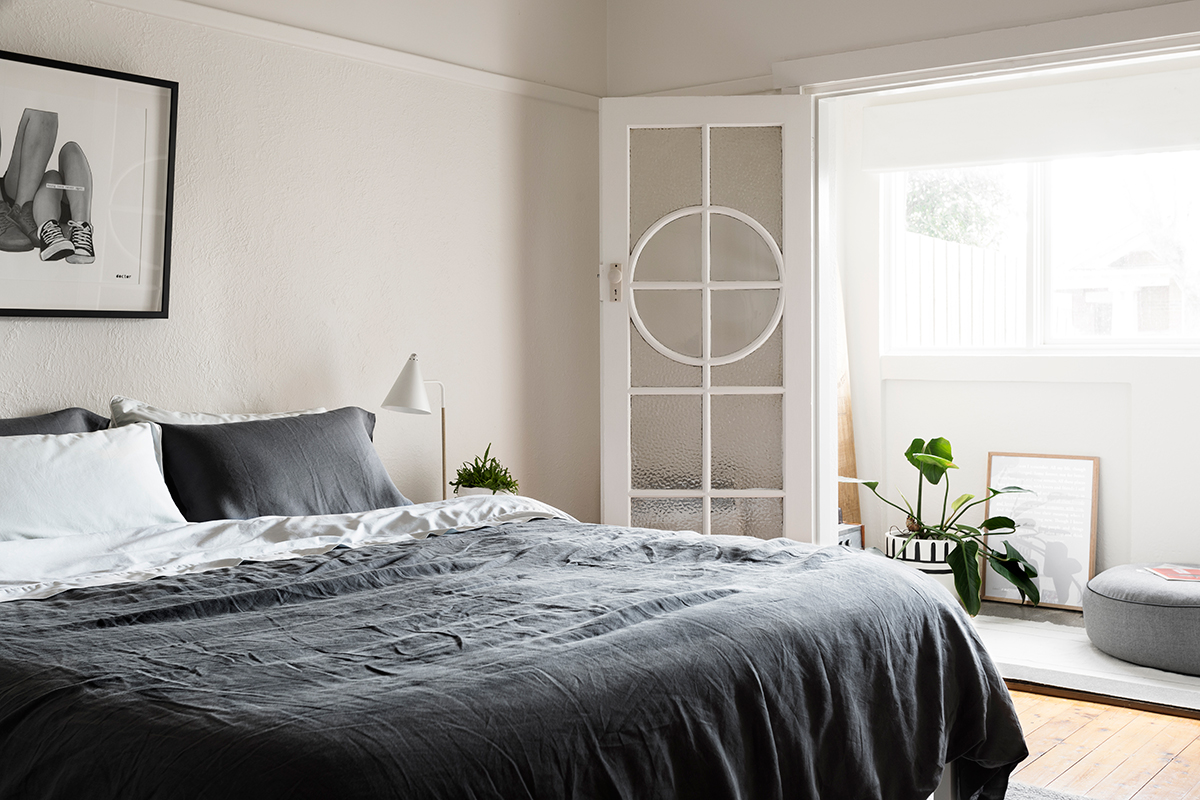 Being the owner of Hunting for George, Lucy has plenty of access to good looking bed linen. "I love testing our new season designs, I like to combine our linen and cotton together as I'm a sucker for both."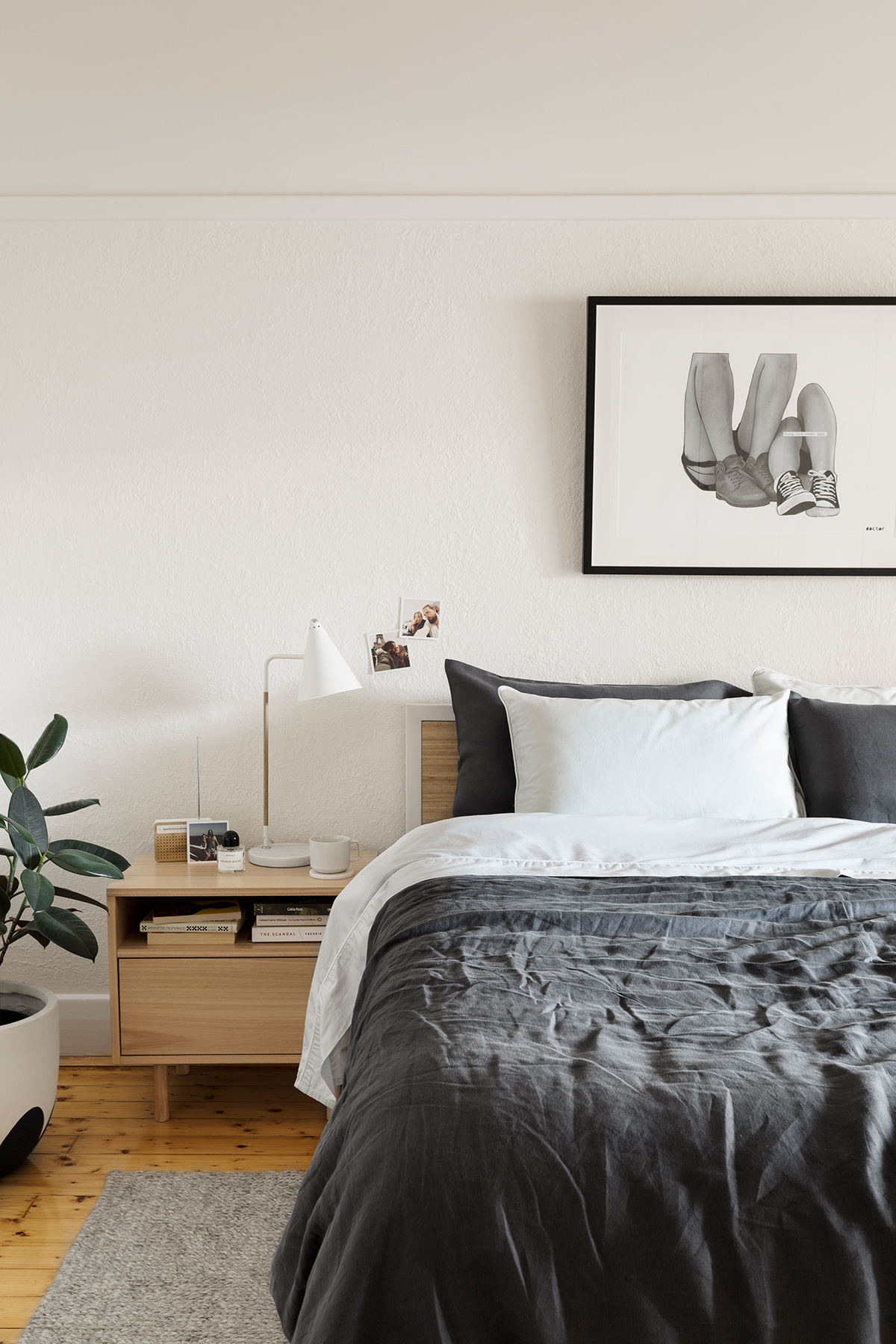 "I have styled many bedrooms during my time with Hunting for George. I'd say my style in general is relaxed which I try to emulate throughout Hunting for George campaigns. When it comes to my own bedroom I like to keep things simple and calm, to make sure I create a peaceful base for us to chill. Books and photos are my favourite bedside addition." Lucy Glade-Wright.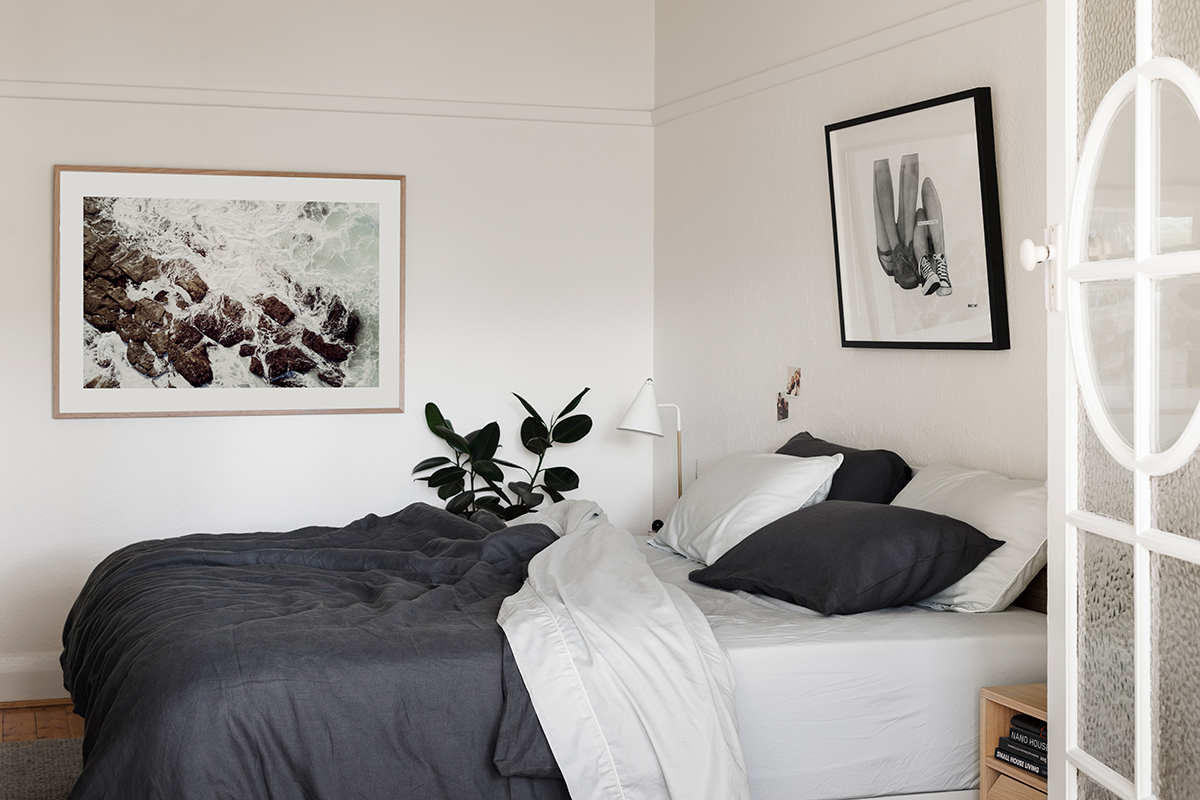 The large White Wash Art Print on the wall has sentimental value as the photograph was taken by Jonno at his favourite surf spot, Weeds. "It is a beautiful image to wake up to every morning," says Lucy.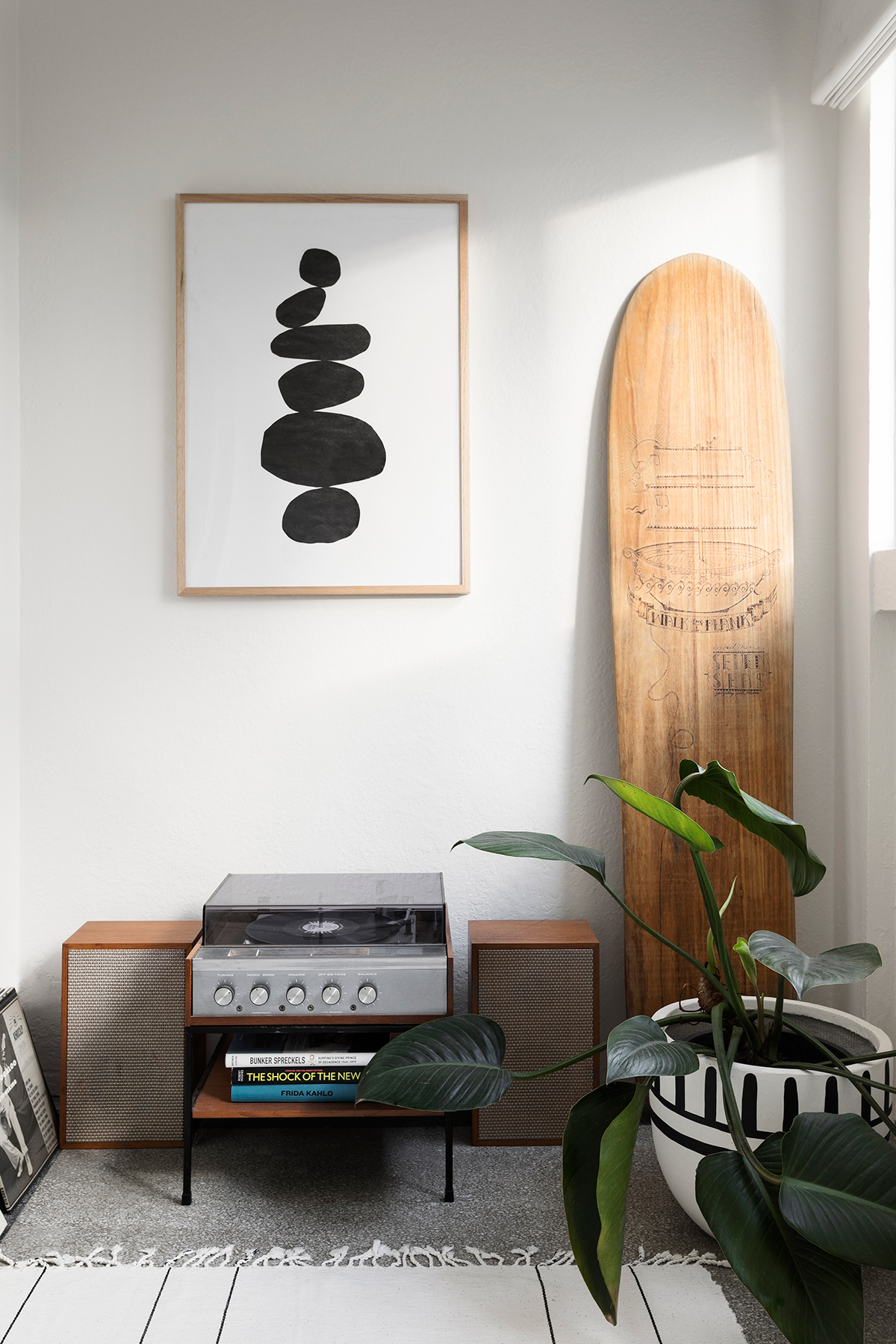 The sunroom sits just off the main bedroom. It is Lucy's dedicated 'slow room' and is home to her grandmother Mem's turntable which Lucy had restored after she passed away. "I always adored Mem's turntable and used to love playing with it in her home. When I inherited it, I wanted to bring it back to life and it now sounds better than ever. I love that I have a piece of her still with me."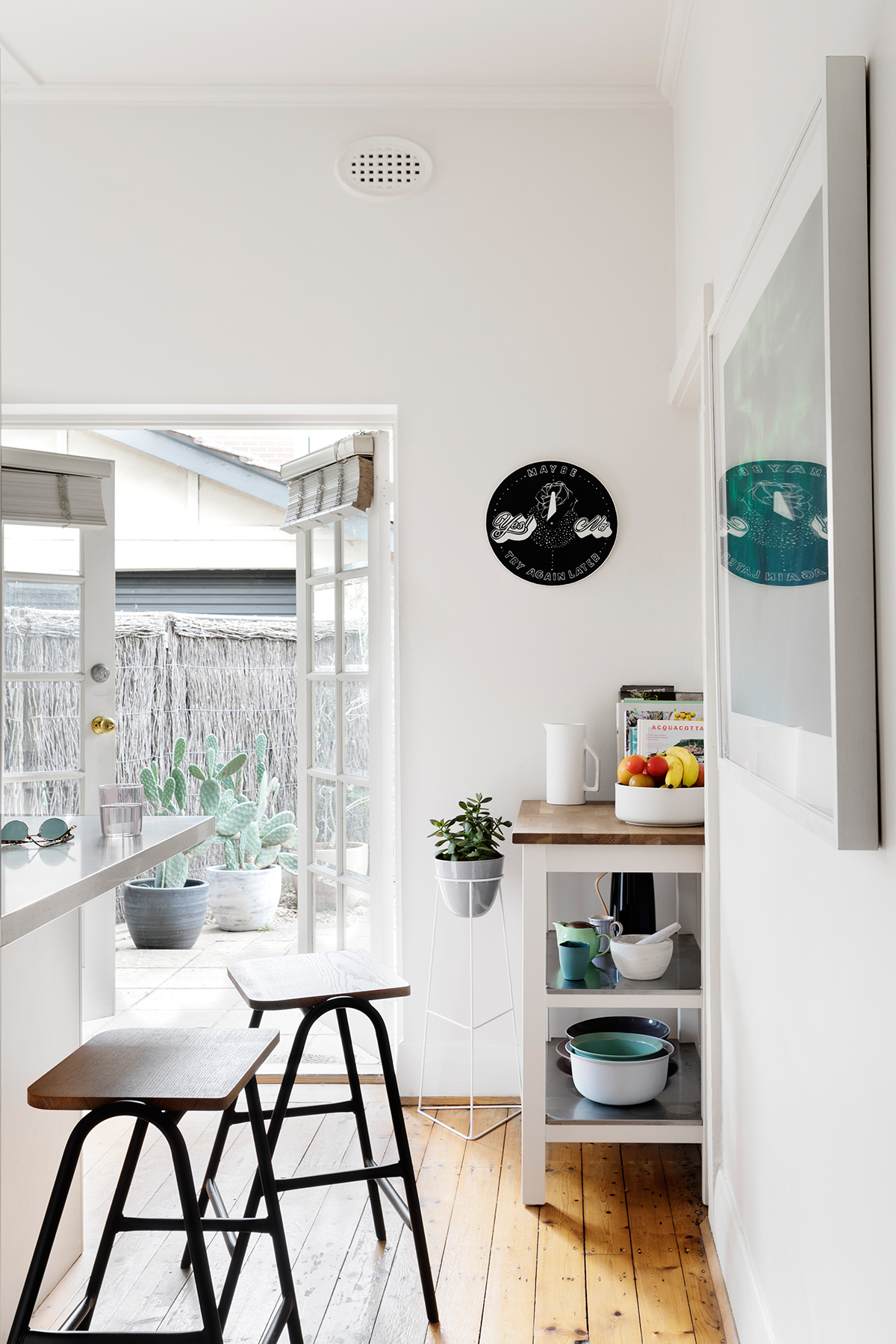 The kitchen is the smallest room in the house, which is quite standard in most Art Deco apartments. Although the kitchen leads out to a generous garden and Jonno's favourite area, his garage. "We try to keep the kitchen clean and simple as we don't have a lot of bench space. We've hung up some rails to add as much shelving and storage options as possible," says Jonno.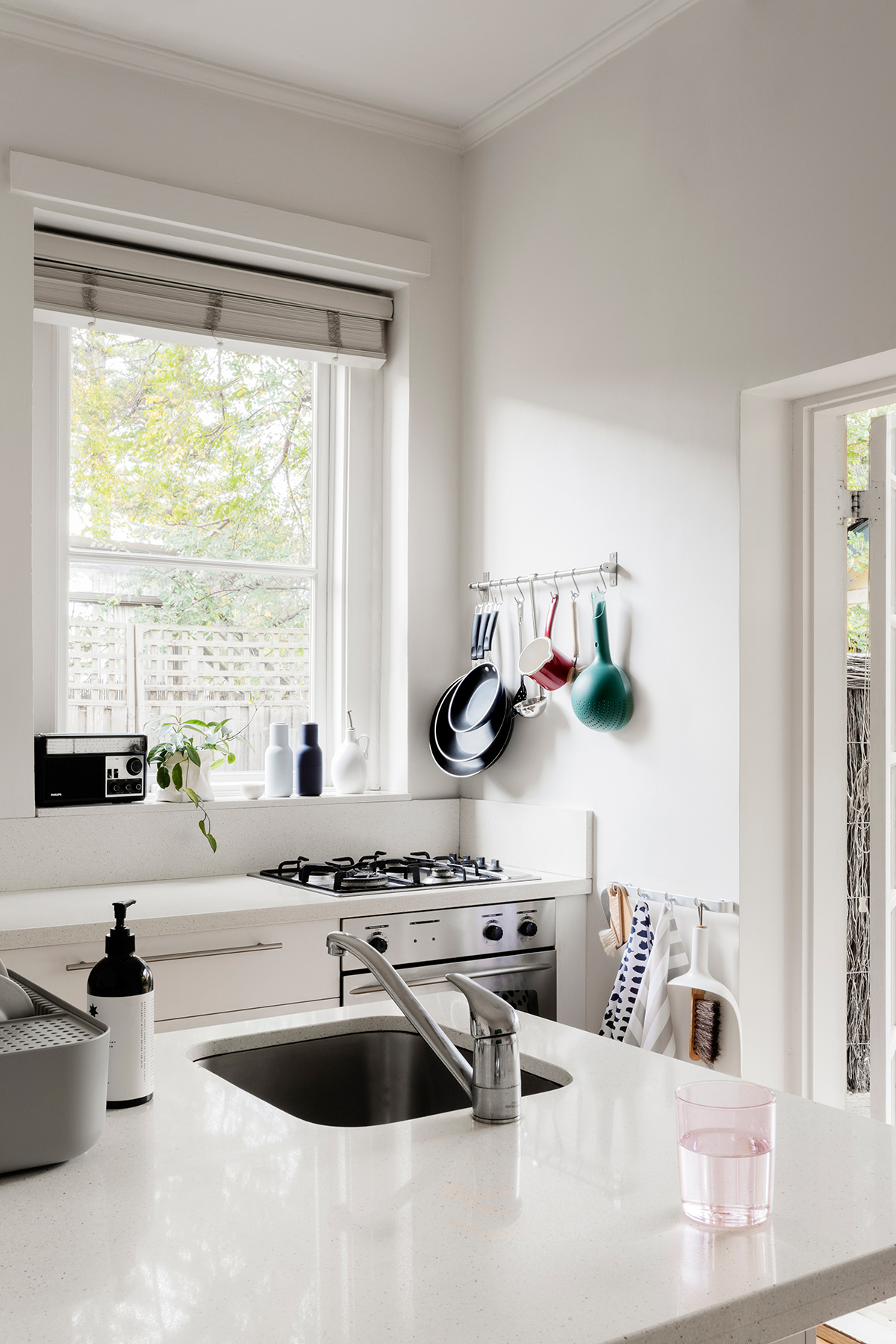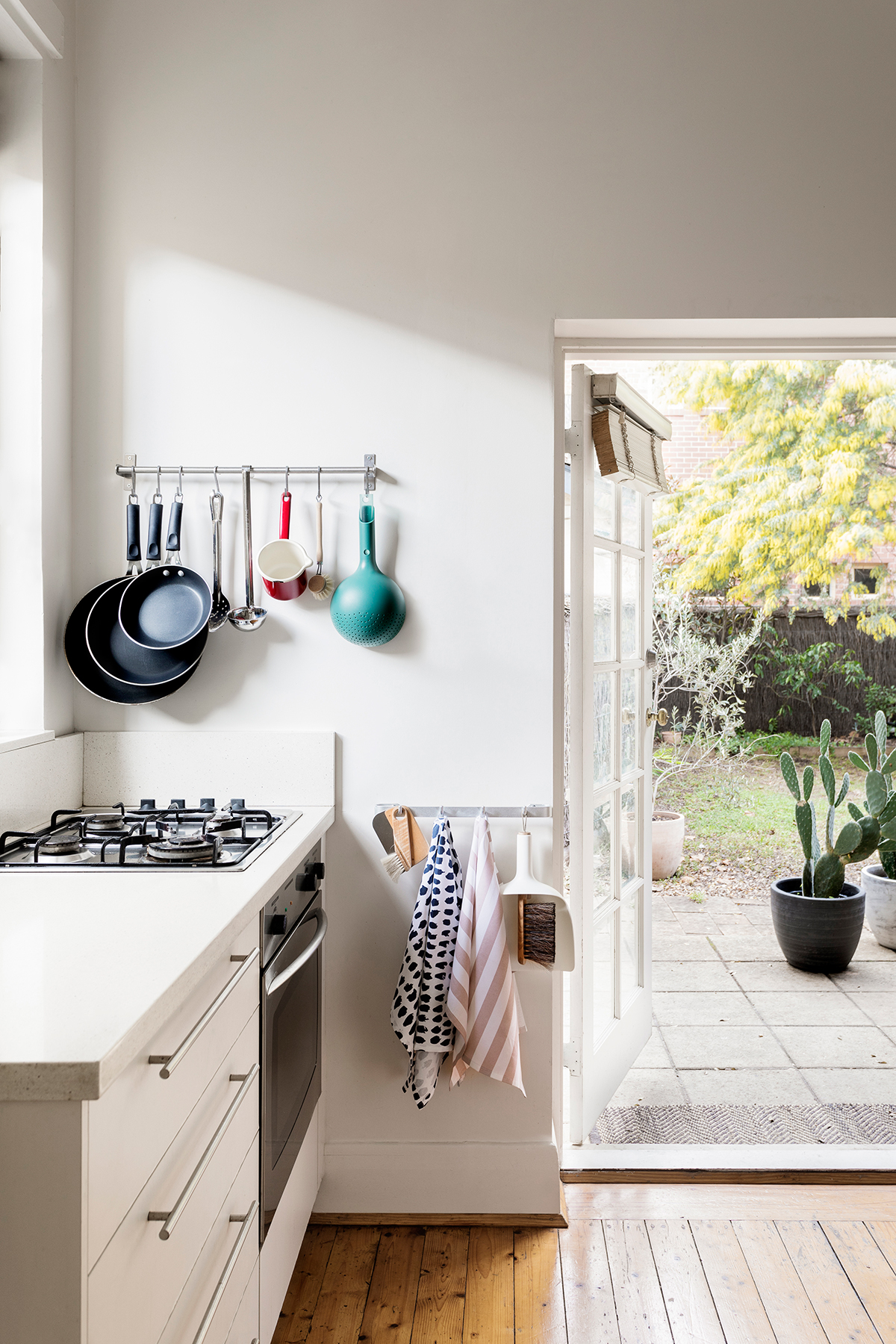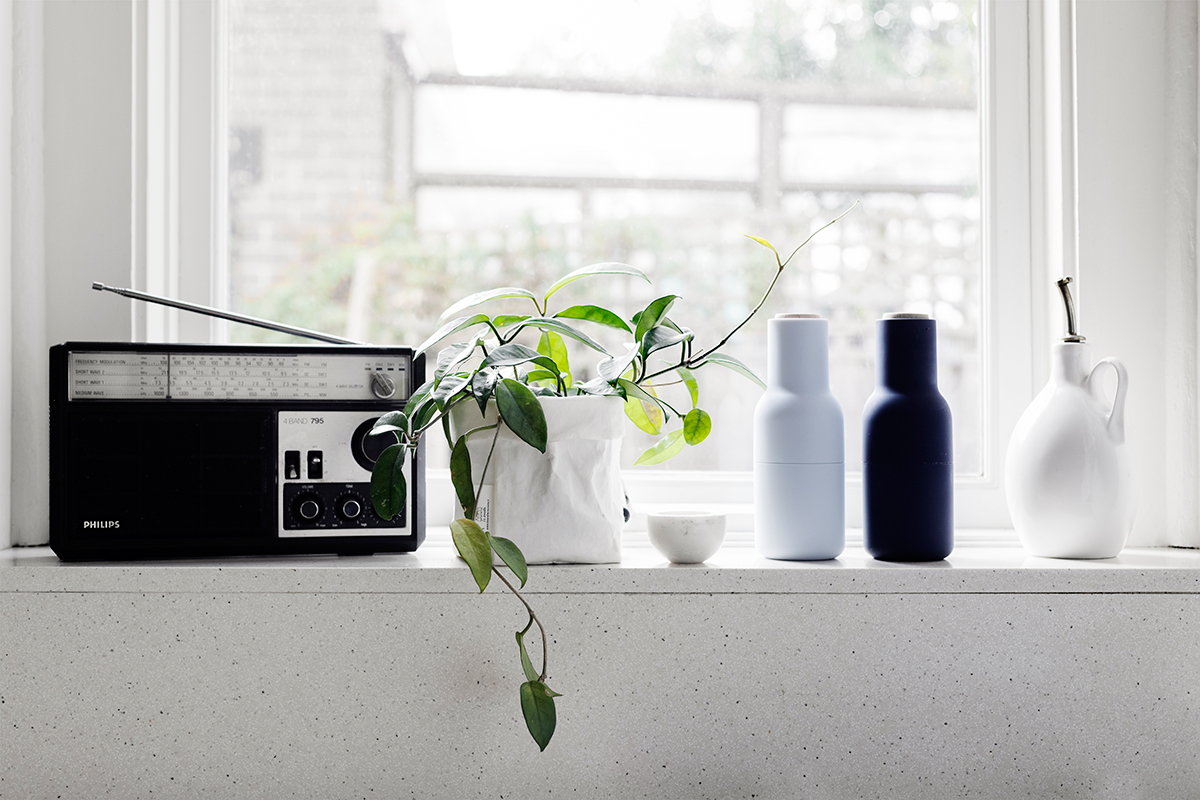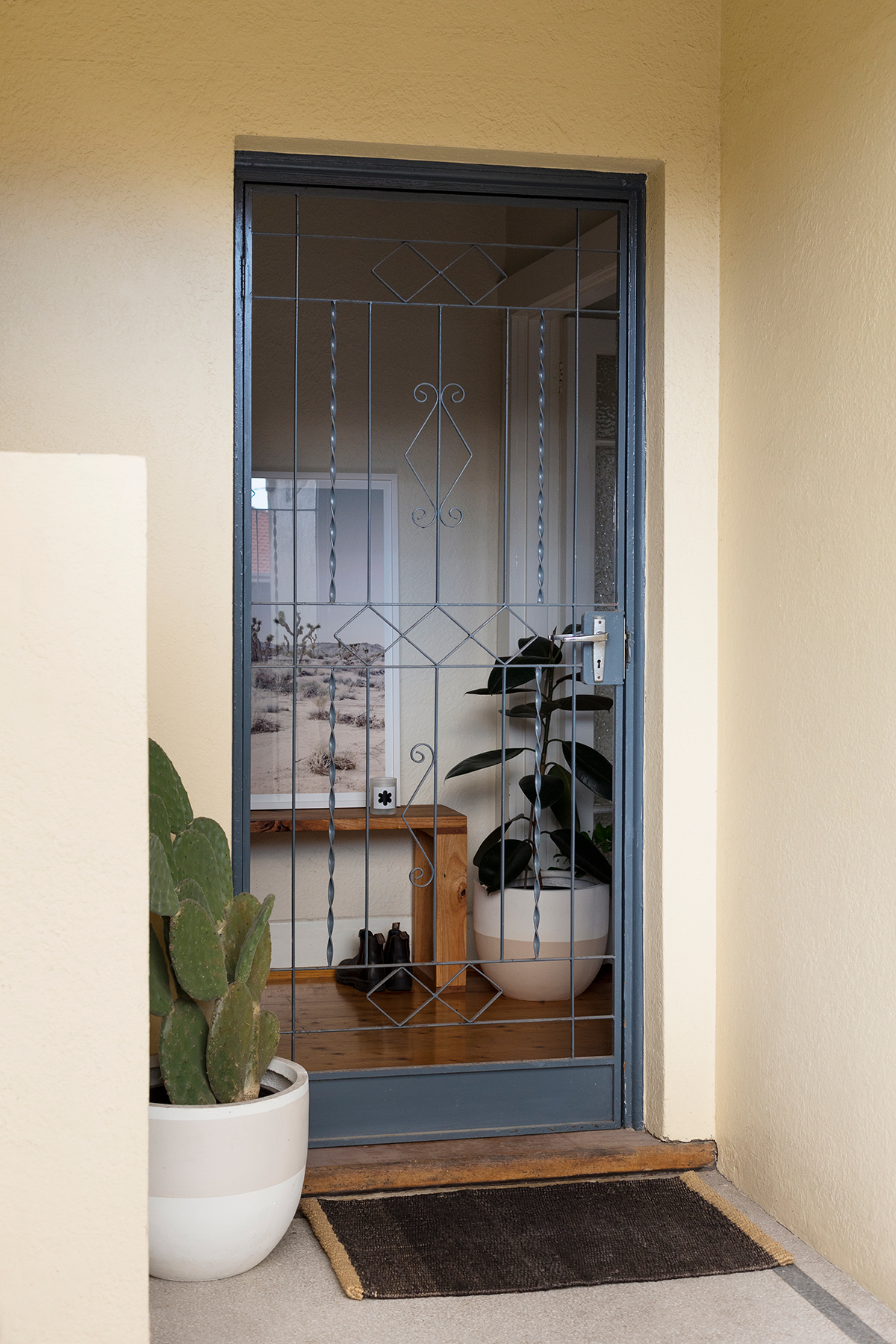 Lucy's Top 5 Styling Tips for the Home:
Freshen up your space with a new coat of paint. It will immediately give your home a facelift, plus it gives you a fun weekend project to do!
Think about your lighting. If you're renting and don't like the fixtures, ask permission to change them. Get an electrician to do this for you properly and make sure you switch them around when you leave.
Use a rug to tie your room together. A rug is a great way to create a focal point and often makes your space appear larger (and more cosy!). Always opt for the largest sized rug that you can fit, as choosing smaller rugs can often make your room appear smaller.
Get your green thumb on. Indoor plants make me happy and they look great. You honestly can't go wrong with adding greenery to your space! Just make sure you choose the right type of plant for your home.
Don't be afraid to recycle. If you're a collector like me then you will accumulate loads of 'things'. Make sure you stay on top of it by only holding onto items that you really love or that have sentimental value. I try to have a 'cleanse' every year or so to make sure my collecting does not get out of control! Don't forget that your style will evolve over time and it's ok to evolve with it.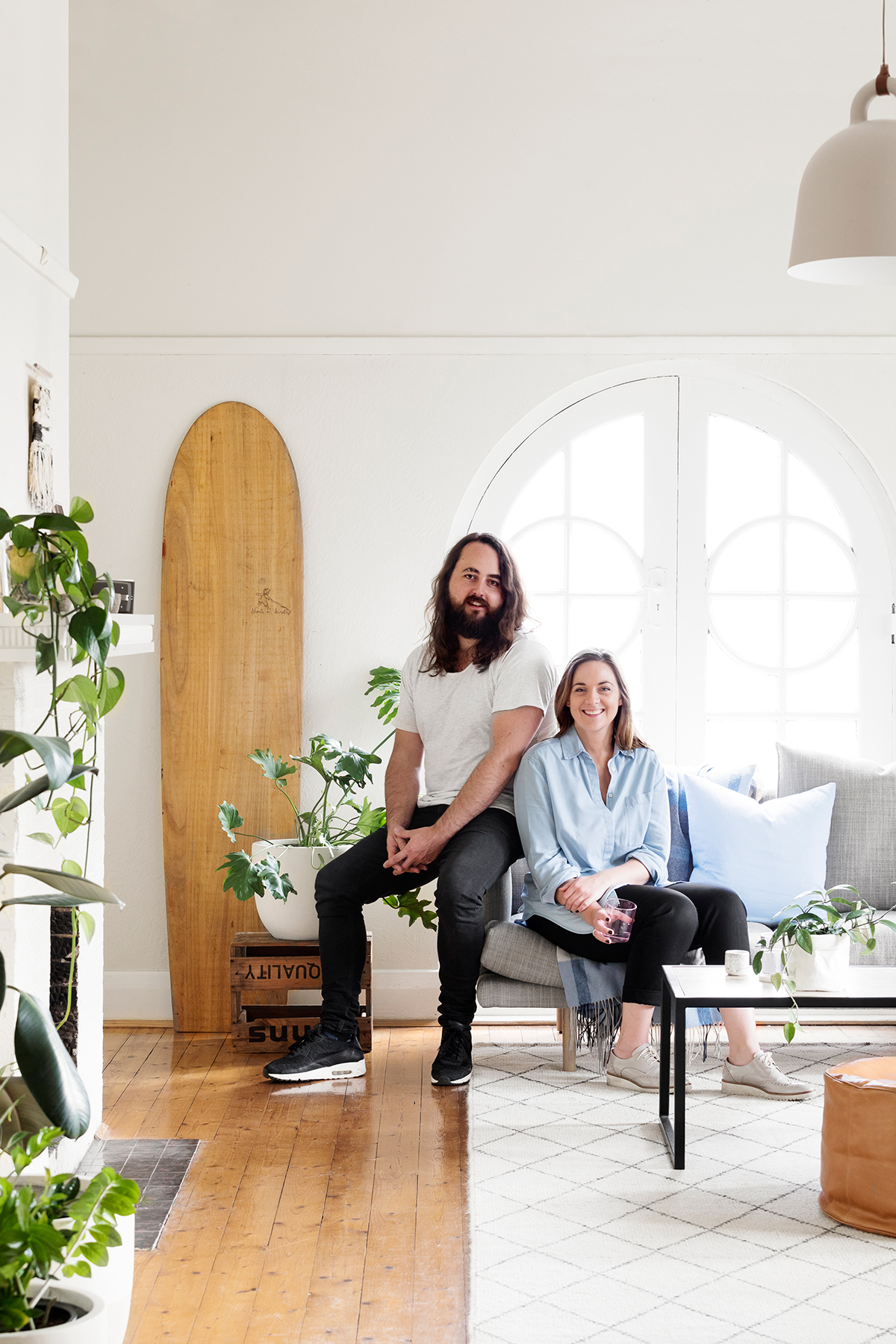 We hope you enjoyed this cheeky home snoop! If you want to see more then maybe we can twist the arm of our other founder Jo Harris to take a peek into her place. What do you think?!
Styling: Lucy Glade-Wright. Photography: Martina Gemmola.