Sydney on its sunny mood is definitely a haven for anyone who's been looking to have the best of both worlds – the free-spirited outdoor life amongst the tress and the light and mellow ways of the indoors. If there is such a house that brings that much-coveted mix, it's definitely Marston Architect's H House. A delightful piece of home that gently reminds us that a vacation need not to be anywhere but here.
It's cascading exterior of dark timber simply lures curious neighbors to wonder what could possibly unfold in the inner halls of this fine structure. With Marston Architect's recent nomination for H House in the 2018 Houses Awards for New House over 200 m2, we're mighty sure what's the inside will blow our minds off far more than what it has revealed on the outside. Come with us as go on a full house tour!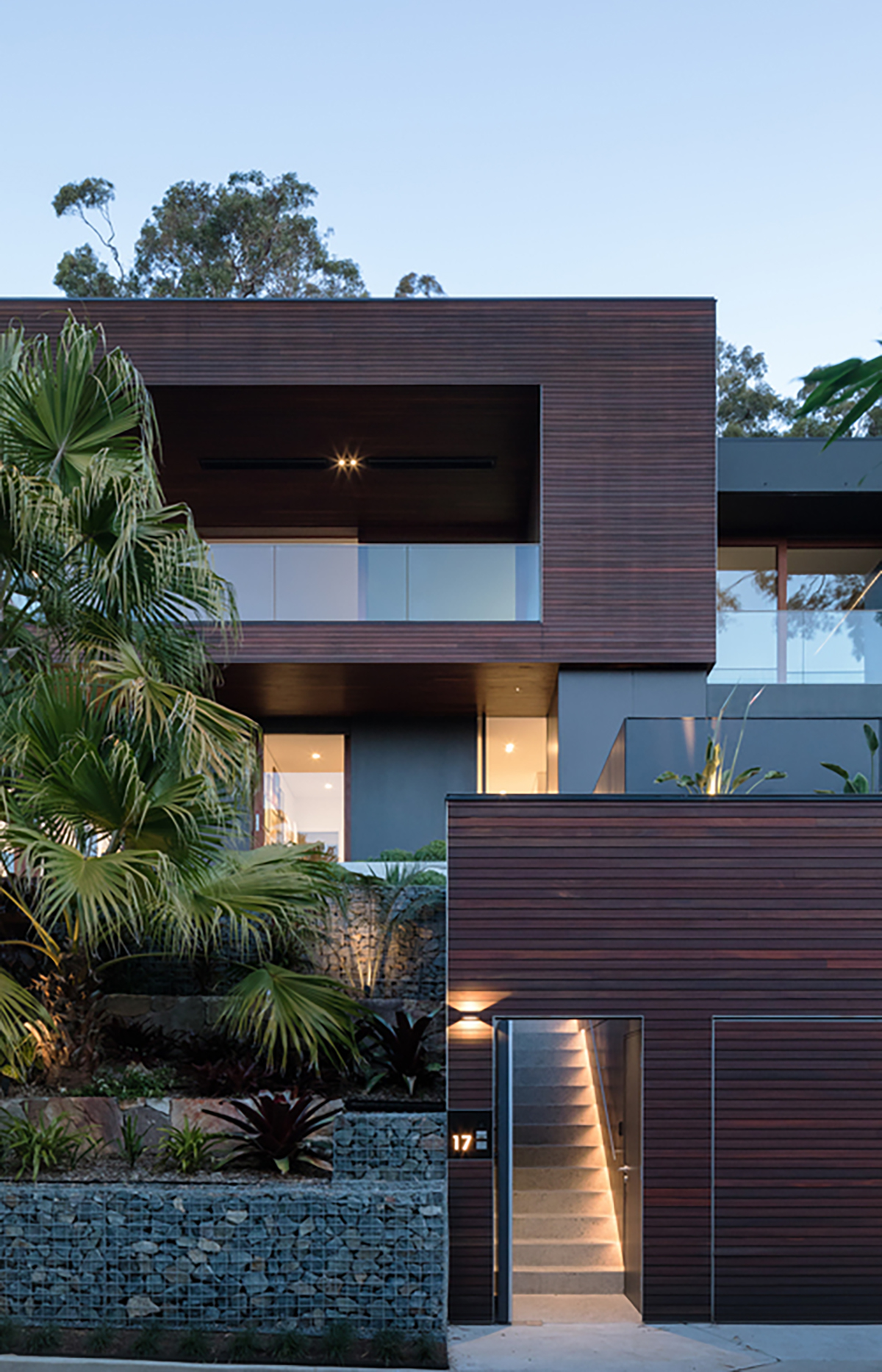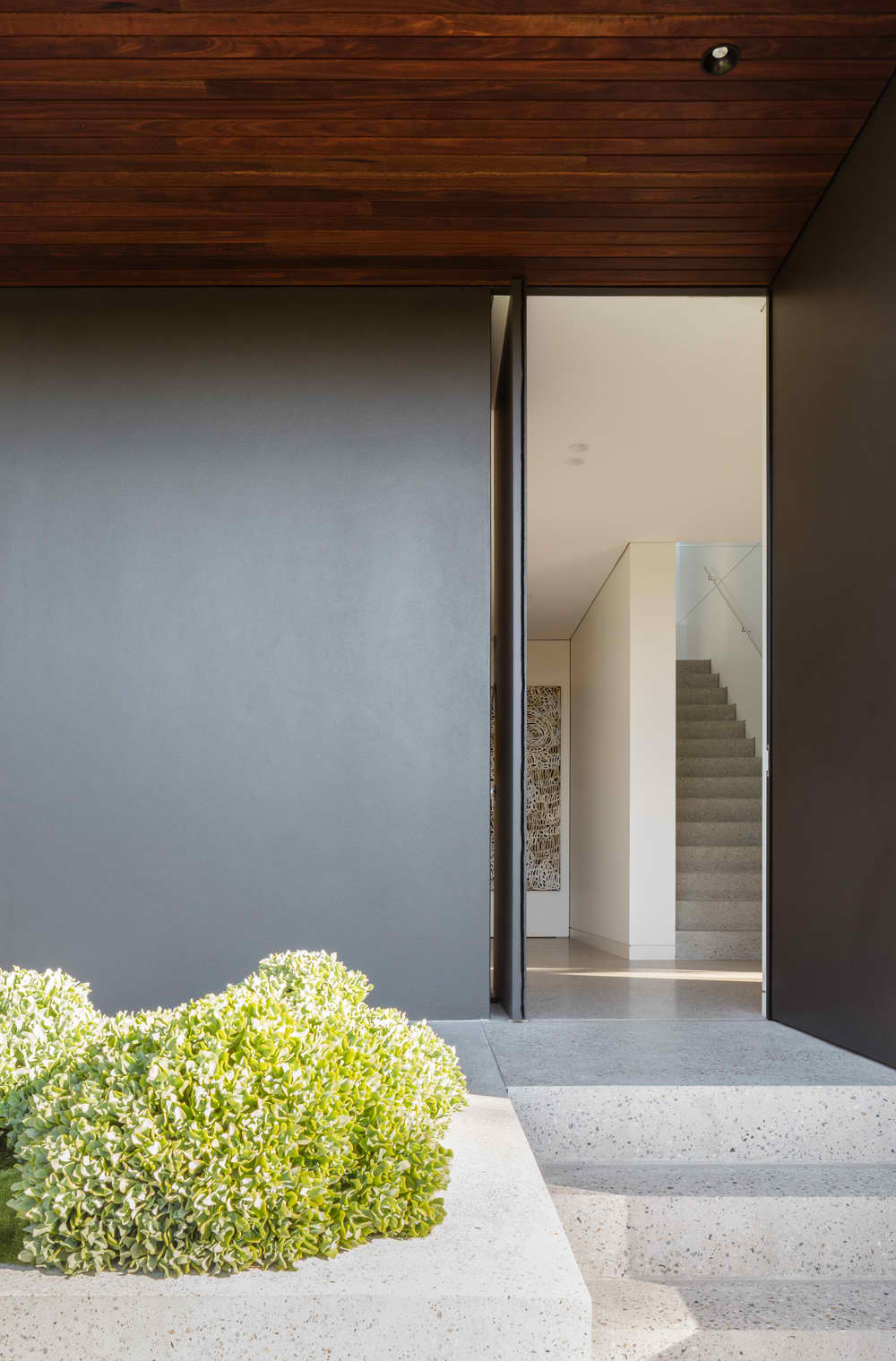 Walking through the dark timber exterior coupled with glass panels opens to a lighter interior with a low-lying ceiling that warmly welcomes you as though you live there.
H House was created with a concept to fuse a living space amongst its environment that, needless to say, is never not abundant of tress and other greens. Sliding doors are used to separate the contrasting vicinity while keeping a connection between the outdoor and the indoor areas. This also gives a glimpse into the entire living space's distinct preference for materials that resembles luxury in its simplest means.
The dining experience is divided into two as the residents have the option to have their usual meals indoors or simply go on an al fresco dinner after a long day. Dark timber encases the outdoor dining area, creating a subtle division in the open-plan sanctuary that allows for a change of mood, should anyone feel like it.
Outdoor dining experience is made more lavish with a built-in grill, sending hints to everyone that this home is built to receive guests at any occasion. A good smoked piece of meat, paired with a rich glass of vino, overlooking Sydney's vast greenery… this will be the dine-in venue by default!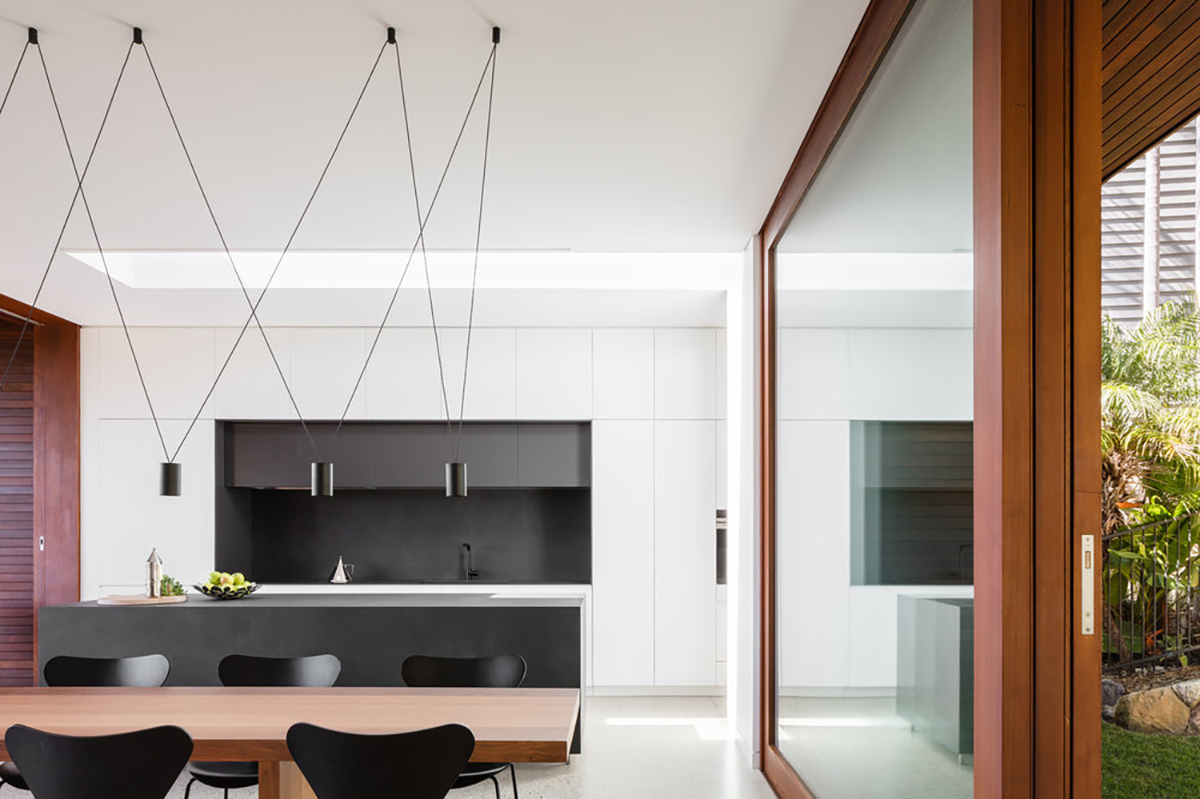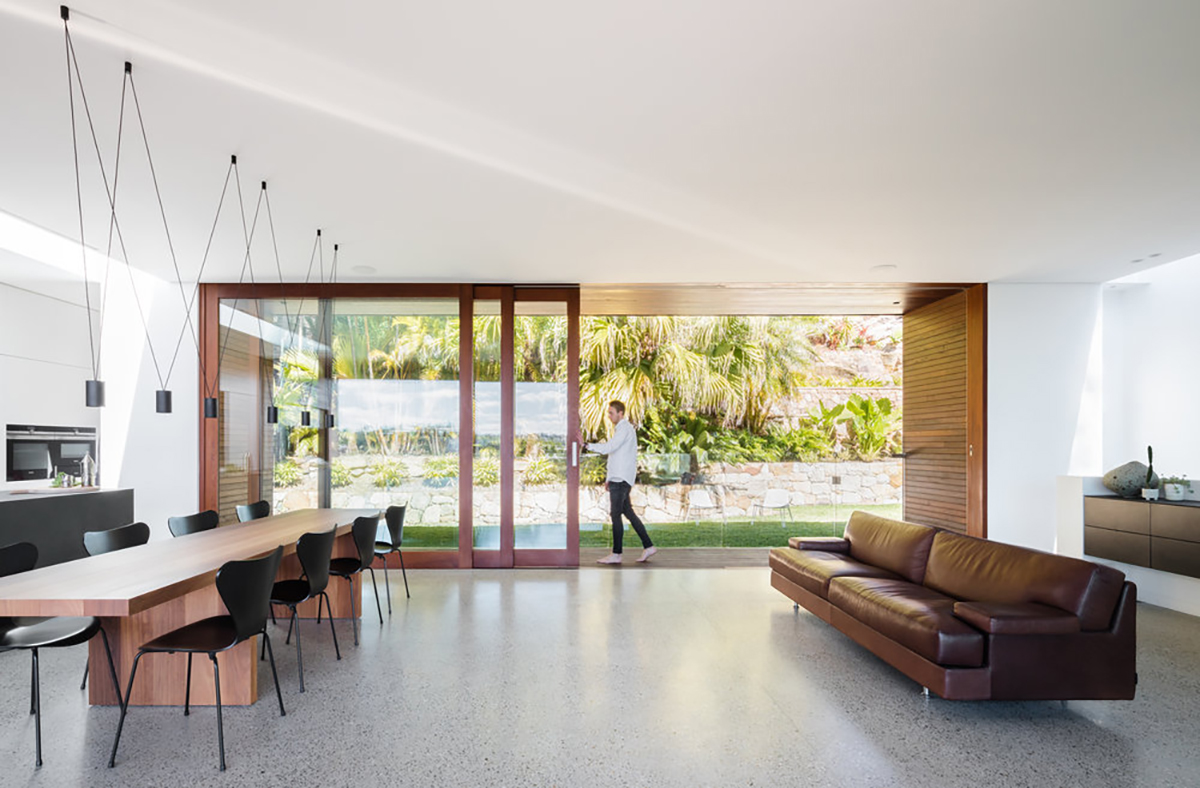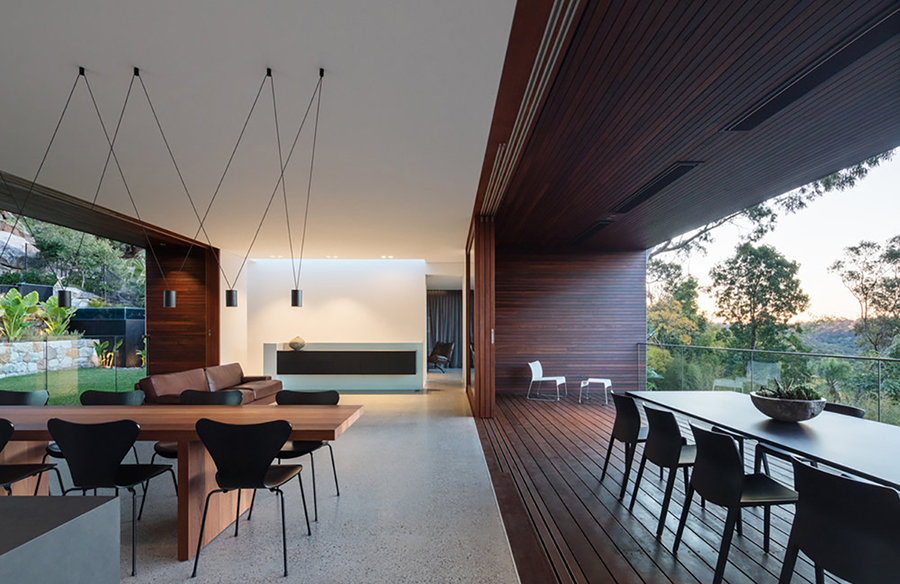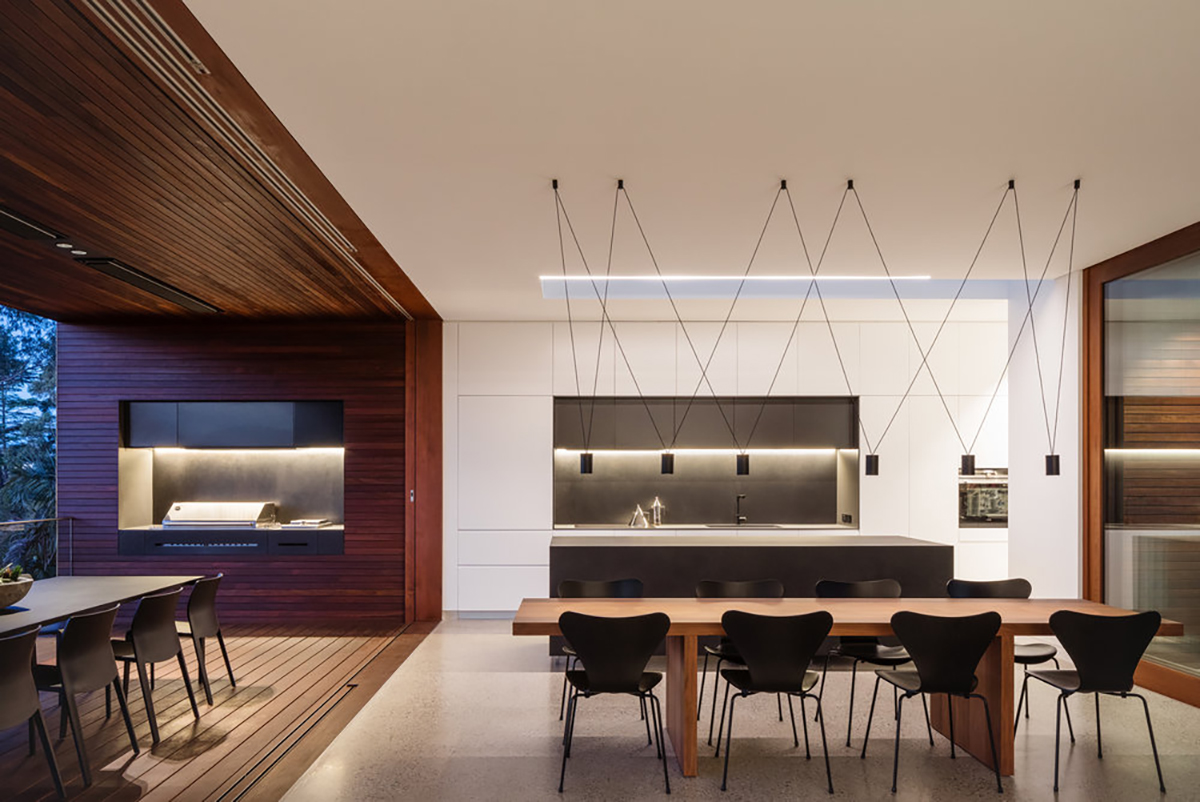 The skylight over the kitchen, extending to the stairs leading to the upper floor allow for a generous passage for daylight to flood through the entire home. White-coated walls provide a cool combination to the abundance of energy resources that creates an expansive appeal to the living space.
While some like their kitchen peppered with ornaments and decorative pieces, Marston Architects keep it simple with smart storage space throughout the cupboard to conceal any unwanted elements that doesn't contribute to the clean and minimalist look of the home.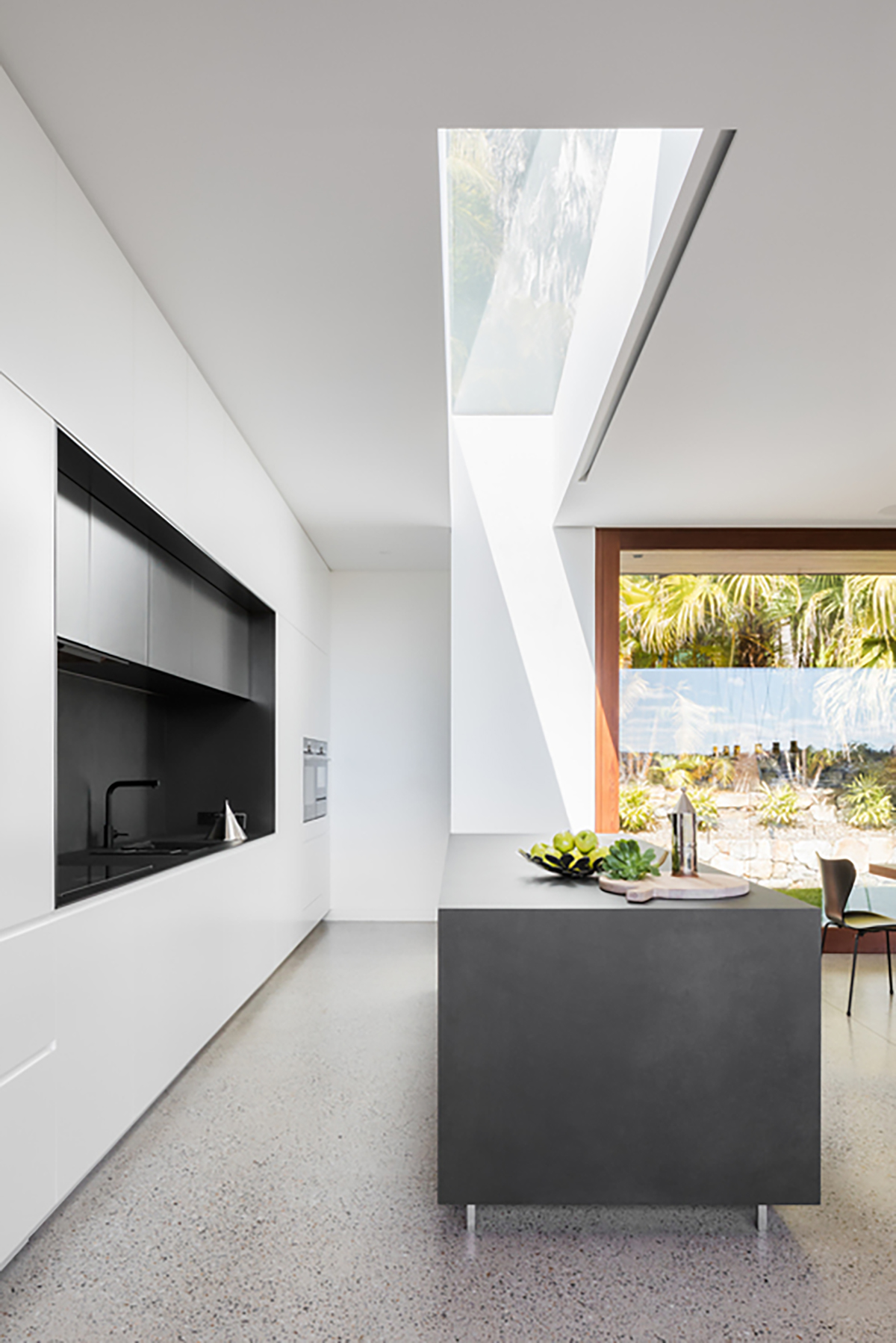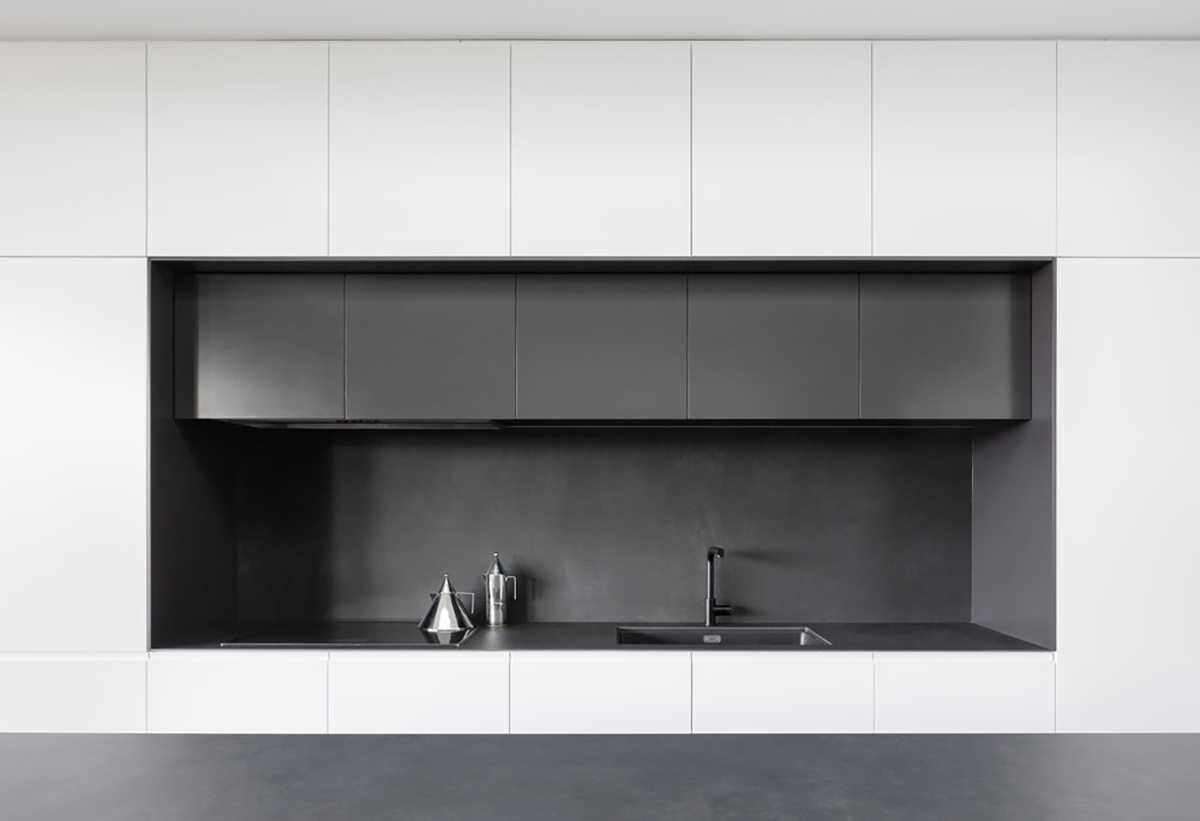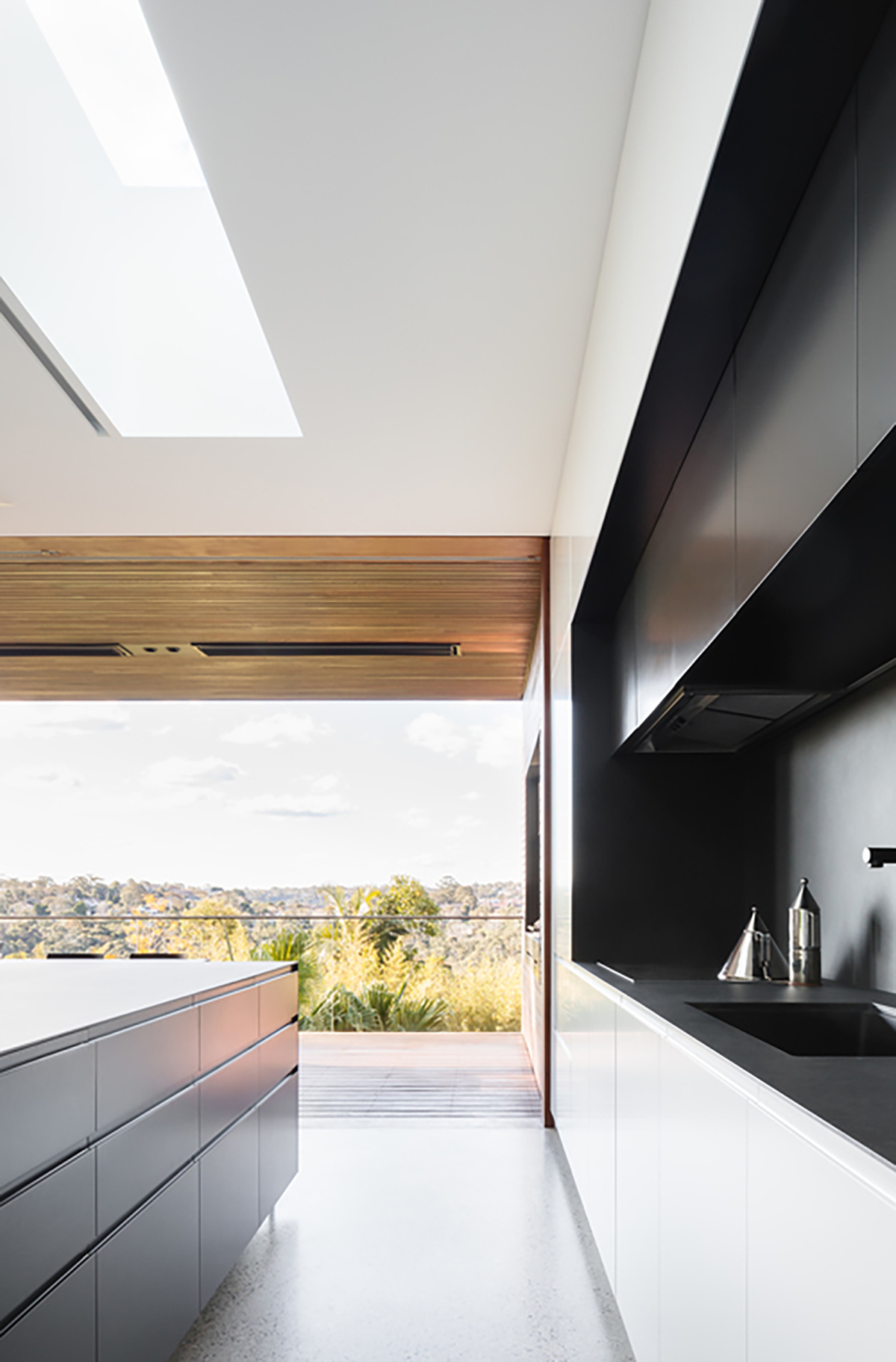 While the lower ground floor is made to seat quite a number of probably visitors, the upper floor provides a shift of energy. A calm and space environment reserved for the pure and absolutely bliss of rest and relaxation.
As the house stays true to its double life feature, the bed room is also featured with a sliding door that instantly connects you to the bedroom deck, perfect for meditation or simply a lonesome moment of silence with a good cup of coffee in tow.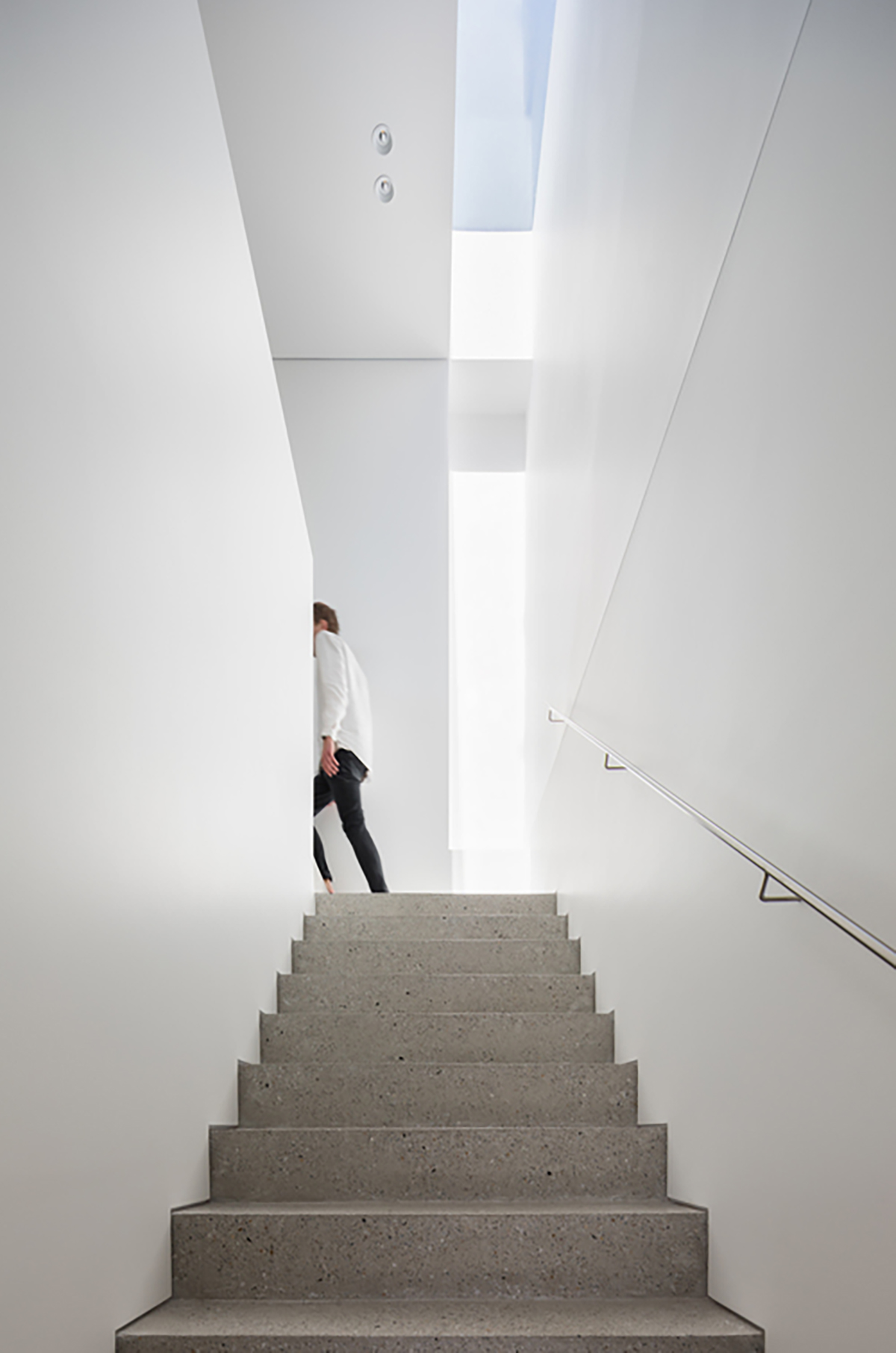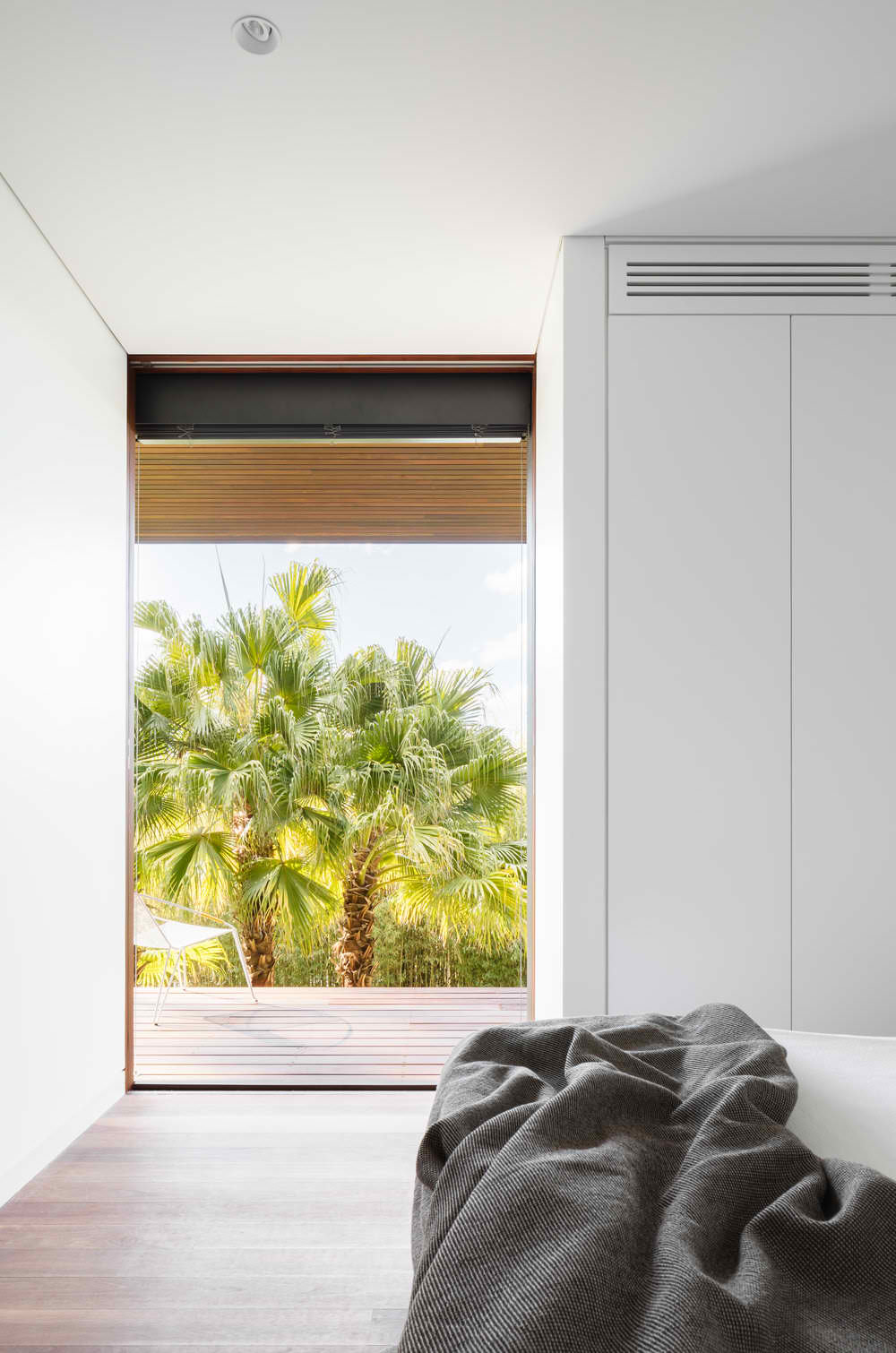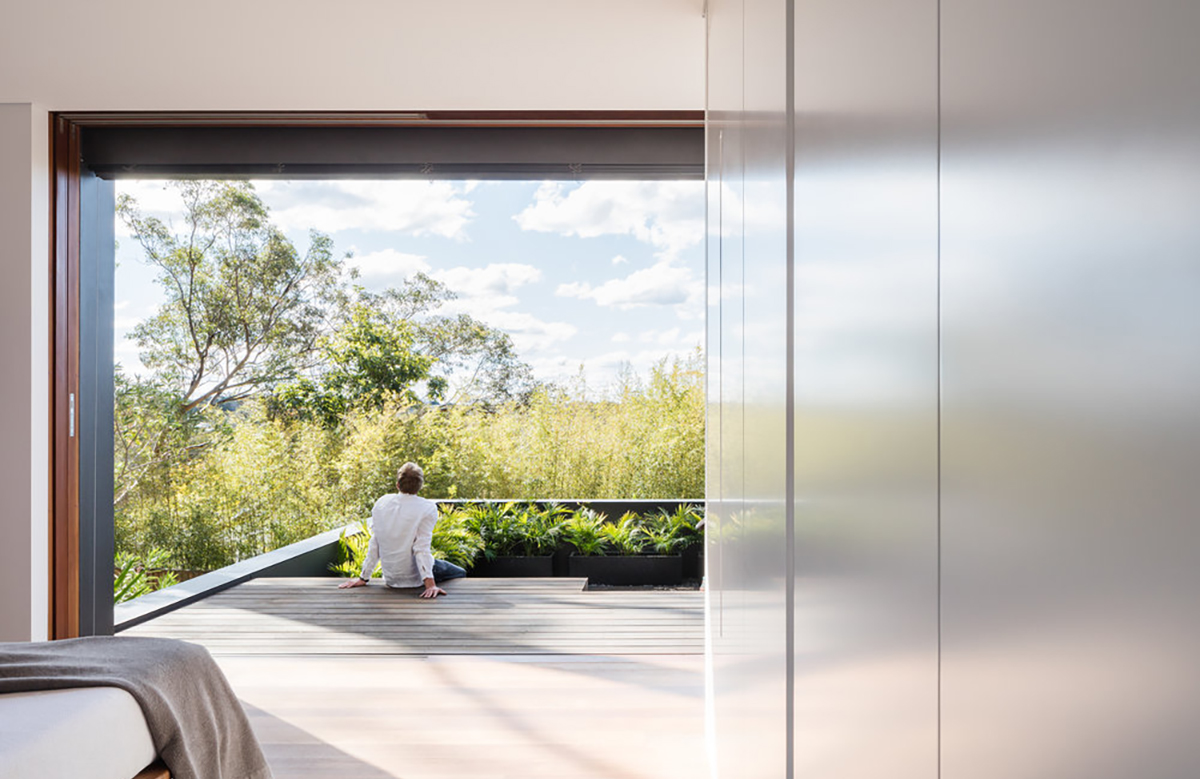 Photography by Katherine Lu.