We're thrilled to introduce you to our new blog feature, Events! We've teamed up with experienced Melbourne based stylist Tori Allen to bring you some inspiring event styling ideas throughout the year. Tori heads up a talented team at Tori Allen Events. Specialising in floristry, event styling and visual merchandising. Tori and her team love to tell stories with their visual creations and aim to delight all of your senses through their styling. Tori's first offering is an indulgent Christmas feast. Adorned with flowers and brimming with colour, learn how to create your very own special table setting this Christmas.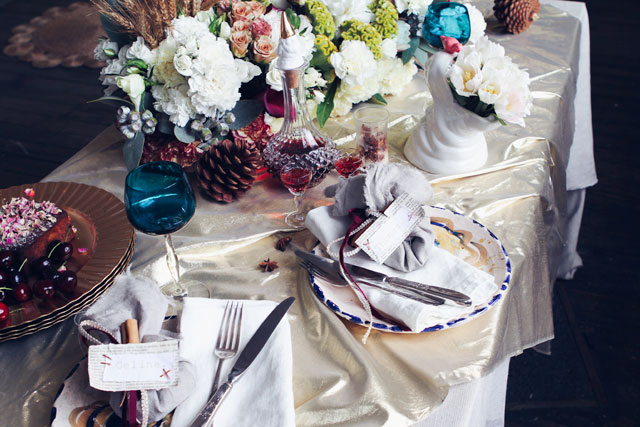 Liven up your table by mixing and matching different textures. Here Tori has combined a simple white linen table cloth with gold lame (TIP: Available from Spotlight or your local fabric outlet). Incorporate modern touches in amongst vintage pieces. Tori has used vintage wine glasses and crystal (TIP: You can pick these up at your Local Op Shop) and paired them with modern accessories such as our Gnome Bottle Stopper and Hippo Head Container (TIP: Use container as vases, for something a little different).
Not doing a pudding this year? Keep it simple with this easy adults only dessert.
Chocolate Port Bomb
– Serve a scoop of vanilla ice cream into a tall crystal tumbler or large shot glass for each guest
– Crumble a Ferrero Rocher over the ice cream (or serve to the side of the glass and have your guests crumble their own).
– Serve with a shot of port. Guests can pour this over their ice cream and chocolate or sip separately.
– Add a bowl of cherries to the table for good measure and there you have it! Easy, fun and delicious!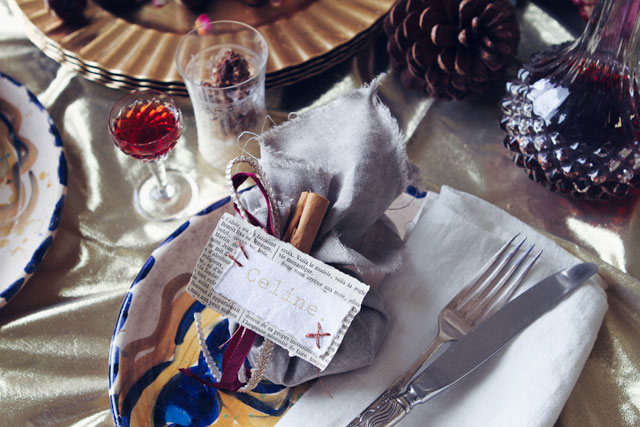 Make your guests feel like royalty with their own handmade name tag and fun twist on the classic bon bon.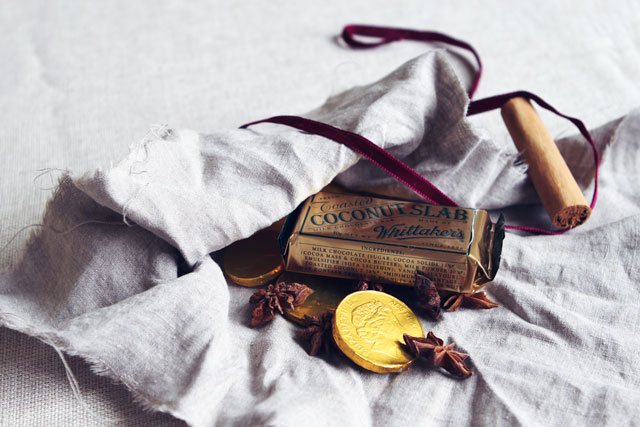 Christmas Bomboniere
Fill a square of linen with goodies for your guests. Add whatever you like! Tori has used a Whittaker Coconut Slab, gold coins and star anise. (TIP! Star anise has an amazing spicy aroma that will compliment the chocolates and enhance your senses!) 
Tie up your bomboniere with ribbon. Here Tori has combined a deep purple with an intricate light metallic ribbon and has added a cinnamon stick for an extra hint of christmas! (TIP: Cinnamon sticks are great paired with star anise and can be found at your local supermarket)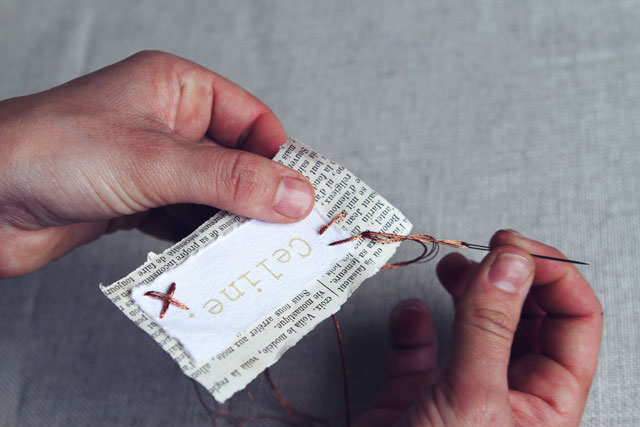 Name Tags with a difference!
– Write your guests names onto a textured piece of white card. Rip at the edges for an uneven finish.
– Find an interesting piece of backing paper. This could be torn from an old book, magazine, coloured paper or children's novel.
– Stitch your piece of white card with your guests name onto your backing paper. Use metallic thread to add a special effect. (TIP! Create different shapes when you stitch, play around with each name tag and make each one a little different)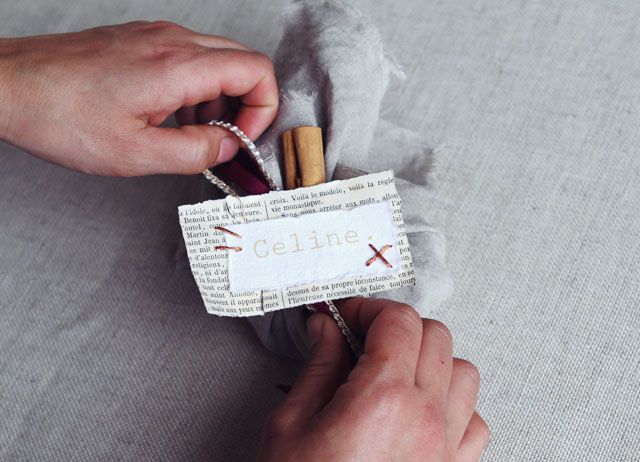 Attach your name tag to the front of your bomboniere using the thread on the reverse of the backing paper. And voilà!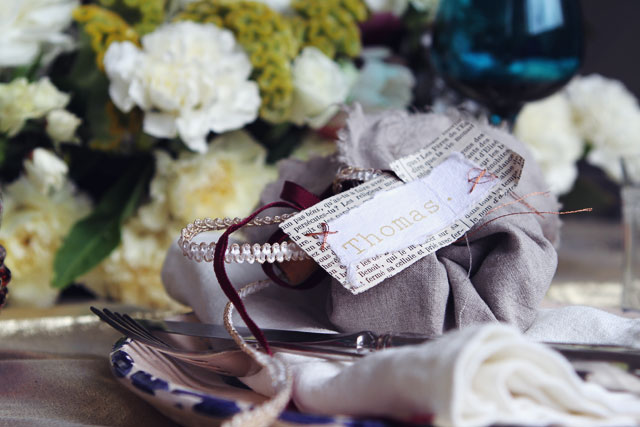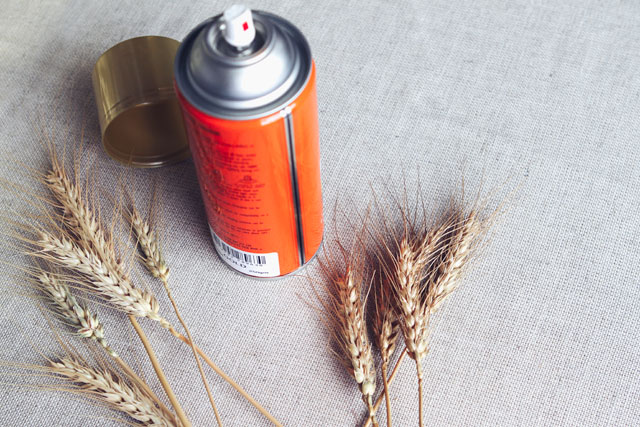 TIP! Reinvent wheat (or fake flowers) by coating them in gold spray paint to create a fun and festive effect! Mix in amongst fresh flowers.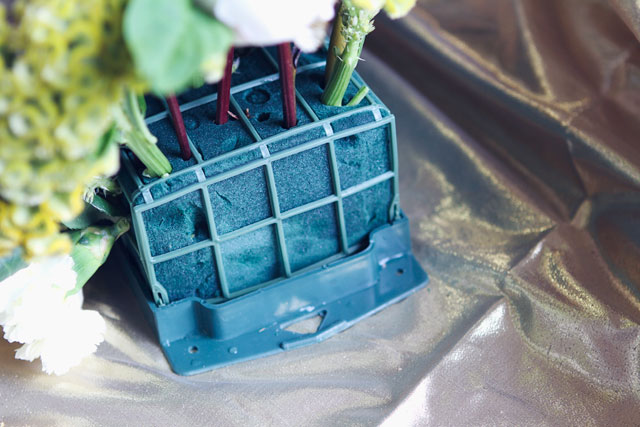 Create a floating island of flowers by placing them into a Floral Foam Oasis (TIP! These can be found at Spotlight or your local craft shop. Be sure you to cover it entirely so your guests can't see the framework underneath!)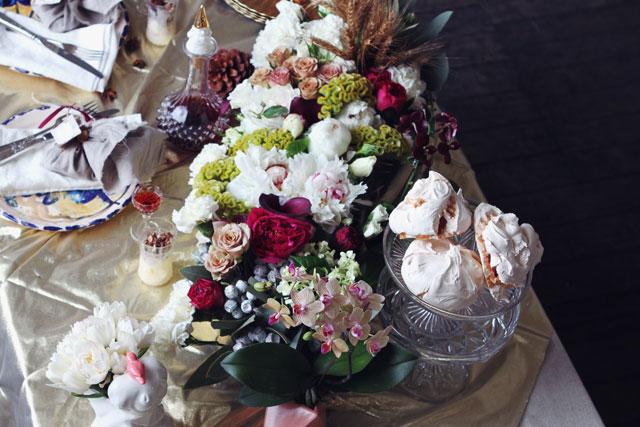 Tori has chosen a vibrant mix of roses, orchids, celosia, carnation sims and silver gum nuts which are all currently in season. (TIP! Head to your local flower market, florist, scour your garden (or your neighbours!) for homegrown fresh clippings). Top off the rest of the table with plates of beautiful food; meringues, cakes, biscuits, cherries (whatever you like!) and sprinkle with rose petals for a luxurious touch. And there you have it, an indulgent Christmas table setting ready to wow the socks of your guests! Merry Christmas!