The Deepdene House designed by Kennedy Nolan Architects is a treasure trove of contemporary design details that work together to enshrine the past. Arched doorways, sculptural chimneys and a pyramid-shaped roof are just a few of the quirky traits of this east-Melbourne home.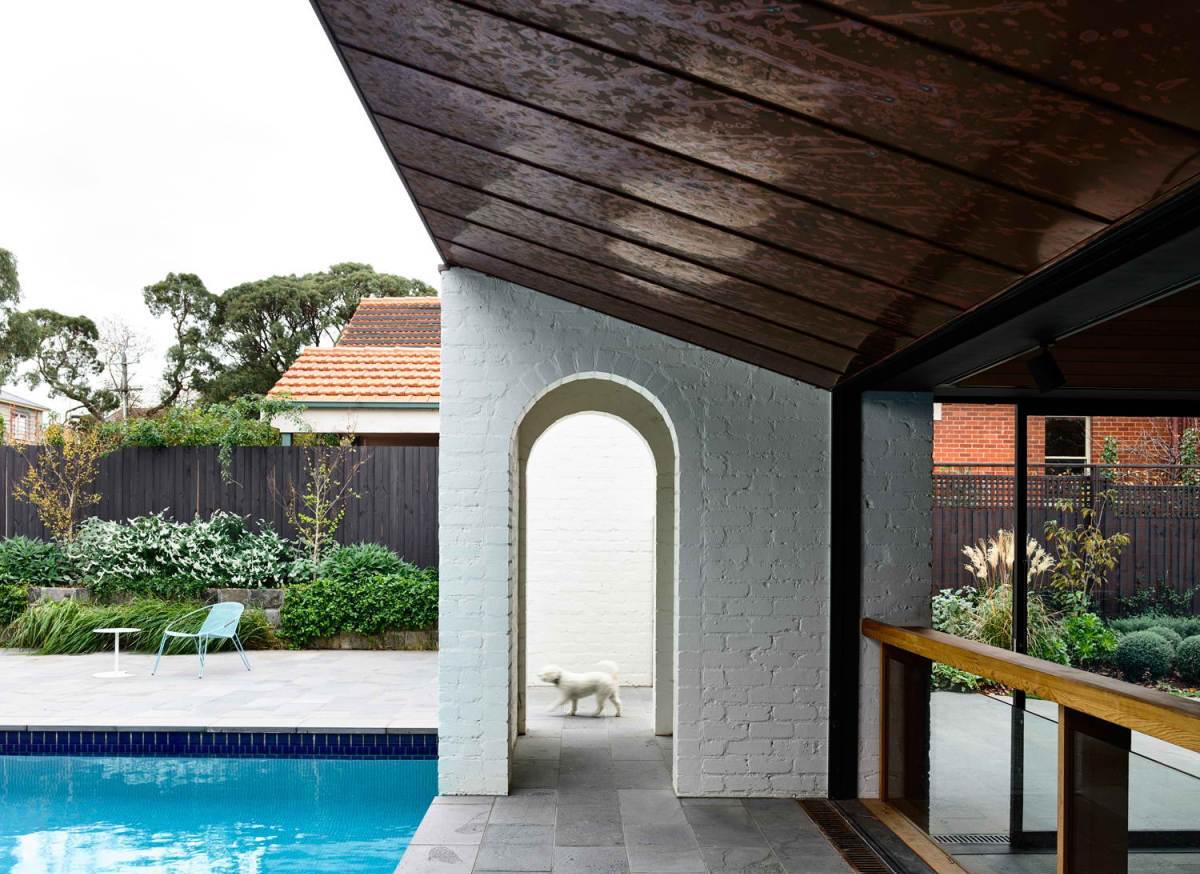 In a neighbourhood described by Kennedy Nolan as "roofs and chimneys emerging from lush tree canopies", they were conscious of the neighbours who were very attached to the Edwardian character of the street. Deepdene House draws on Arts and Crafts architecture –  a style that overlapped with the Edwardian era – through its combination of crafted materials and decorative forms. White painted brickwork, a patterned semi-transparent wall and a swimming pool lined with vibrant blue tiles help create this aesthetic.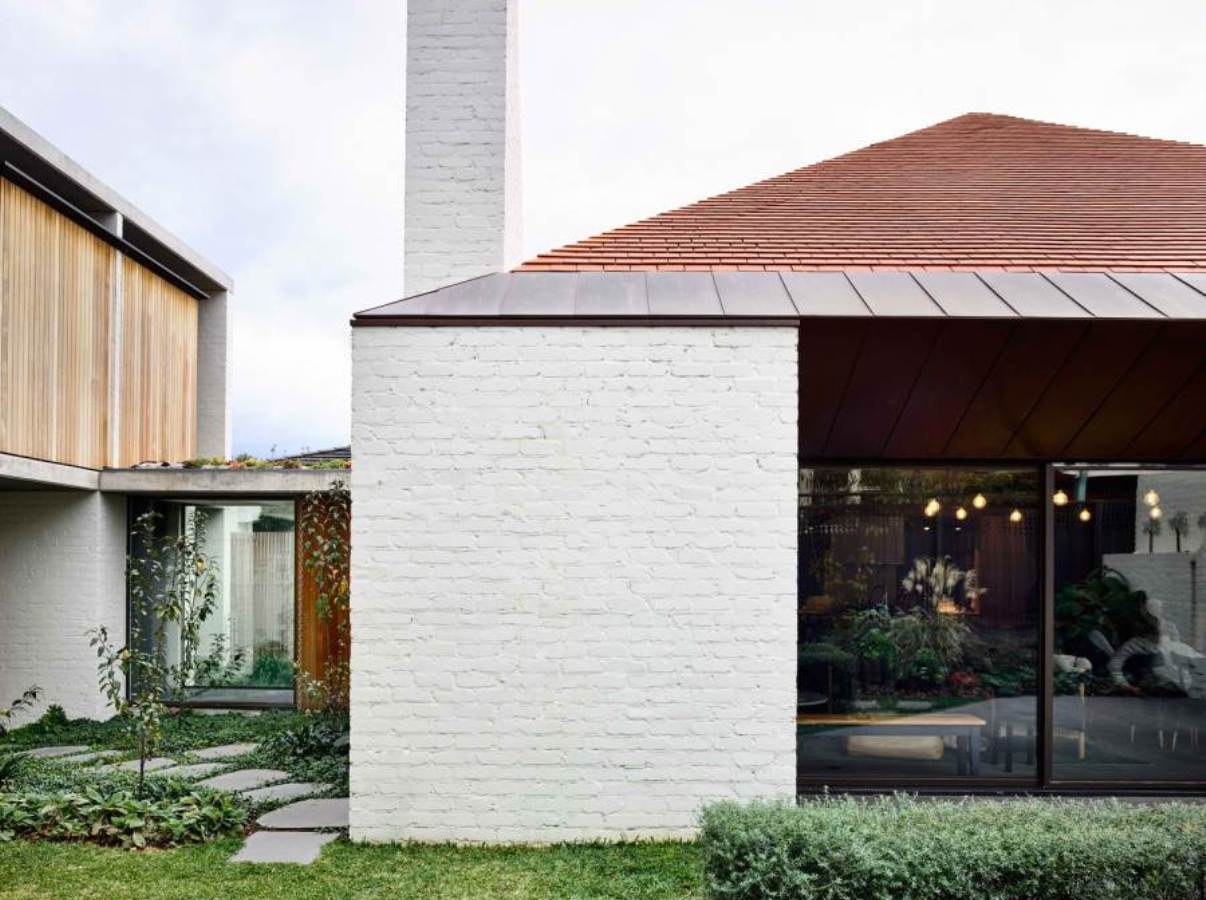 Designed for a family of seven occupants, Deepdene House replaces the client's previous home, which couldn't cope with the demands of such a large family. Sloping down towards the street, Deepdene is split programmatically into two sub-houses. Towards the front of the block, the pavilion like structure contains the main living and dining spaces, whilst sleeping quarters are housed in the two-storey block behind. A slender glass corridor connects the two structures. With a family of seven, that's probably a pretty smart move.
Keeping the neighbours happy and maybe making them a little envious too, the front house exhibits to the street a hot-to-trot ceramic shingle roof which is broken by a couple of Edwardian chimney flue details and their monolithic white stacks. One of the chimneys serves as an outdoor fireplace, taking the humble barbecue to a whole new level.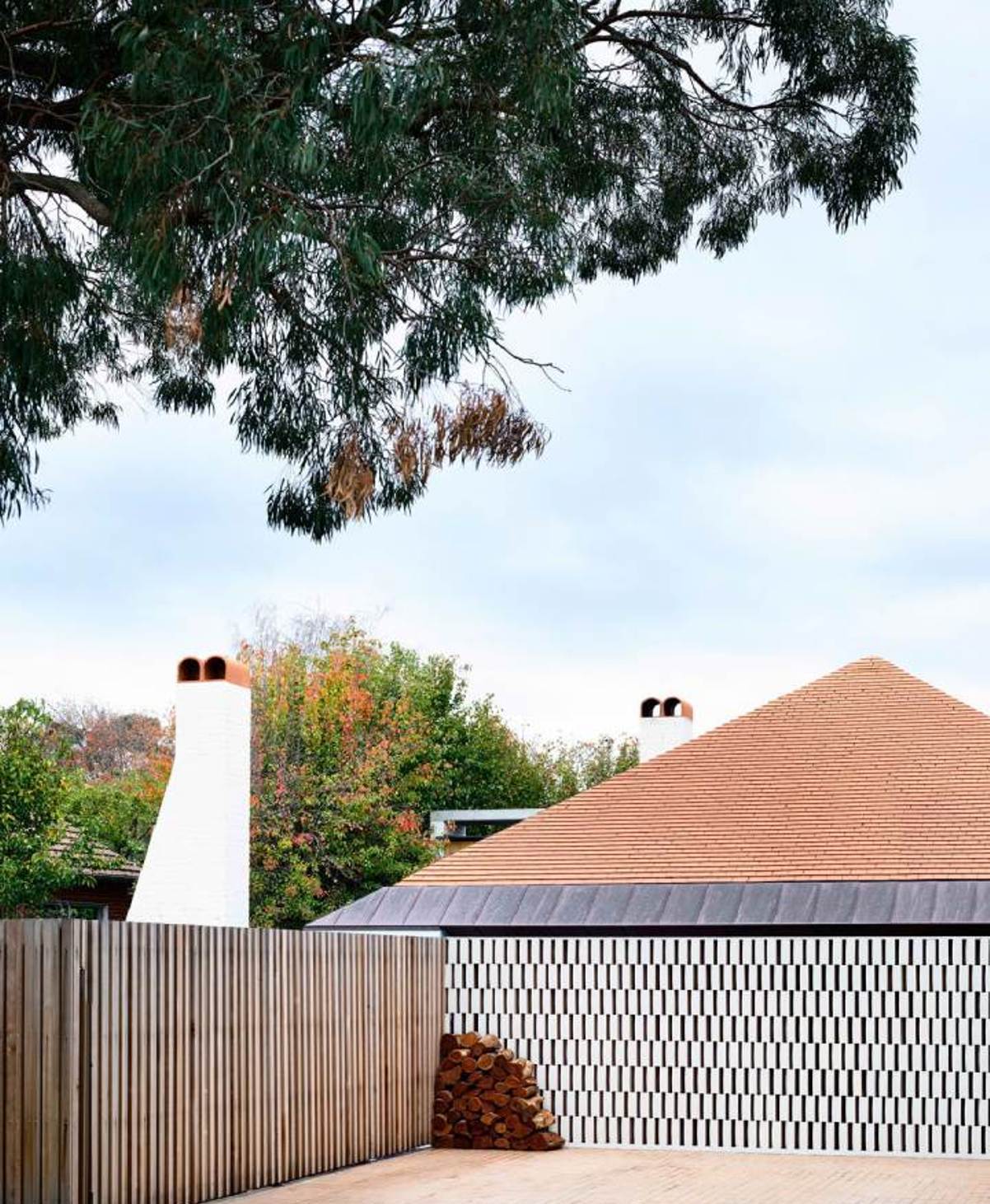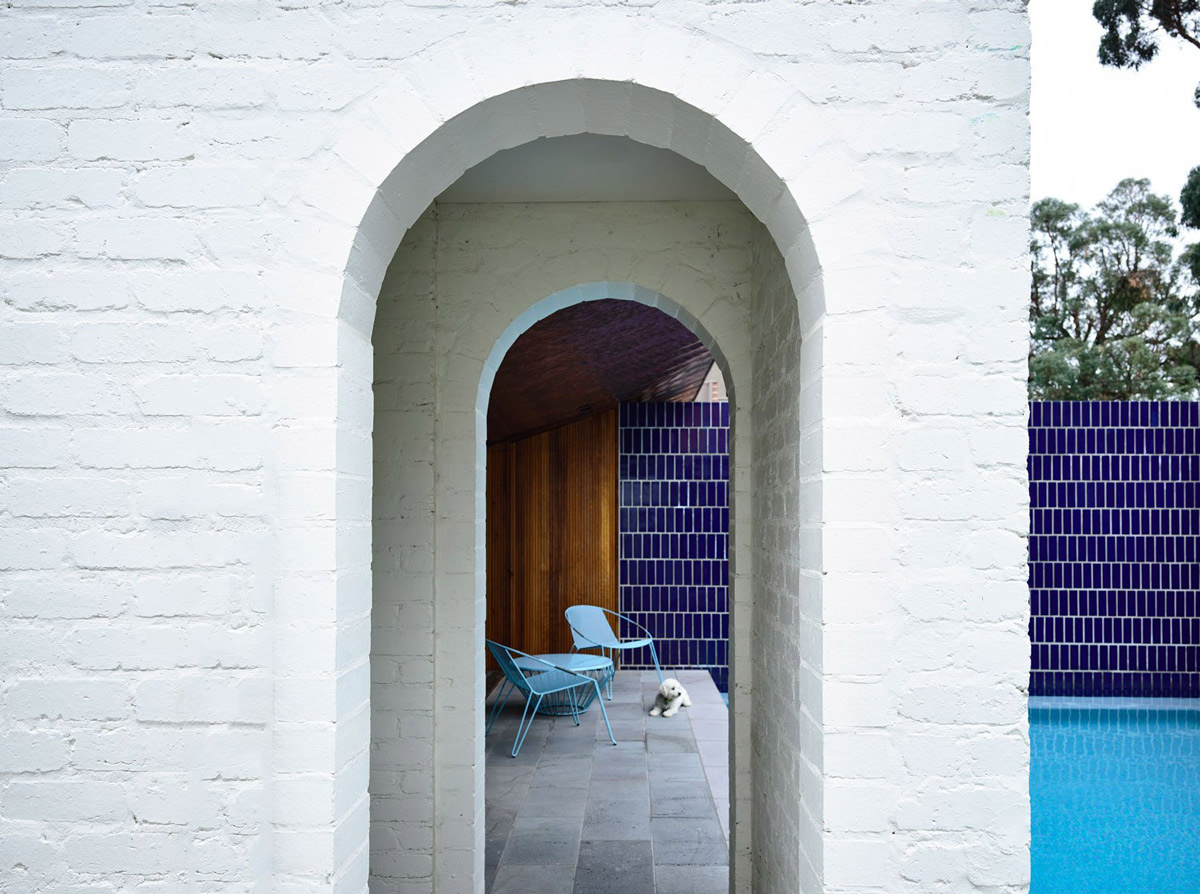 Moving beyond an impressive vertically oriented hit and miss brick wall lays a swimming pool that is tiled in a rich aquatic blue, providing a vibrant offset to the open plan living arrangement within. Surrounding the pool are a few Edwardian arches, an elegant timber solution for a pool barrier and a simple but pretty outdoor shower.
By contrast, the two-storey second house is a modern timber, concrete and brick structure that plays the simple roll of being a backdrop for the front house. With a sequence of lush landscaping elements filling the space between, the house offers a truly simple yet sophisticated way of living for that family of seven.
Located in Melbourne's inner city suburbia, Deepdene kicks some pretty mean modern-architecture ass by demonstrating how the design process can be beautifully and delicately driven by context. Because of its epic architectural design, Deepdene House won the Australian Institute of Architecture (AIA) Award in 2016 in the category for residential architecture.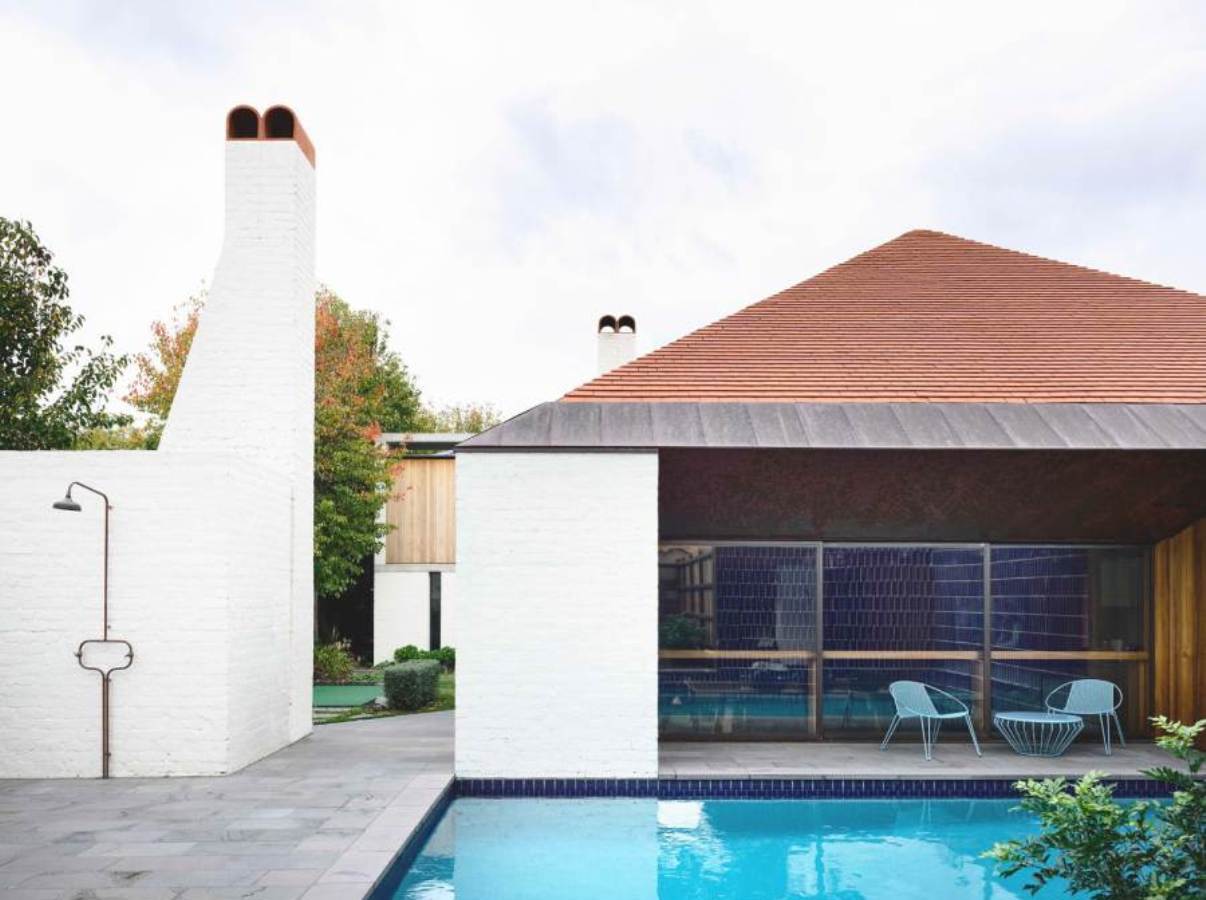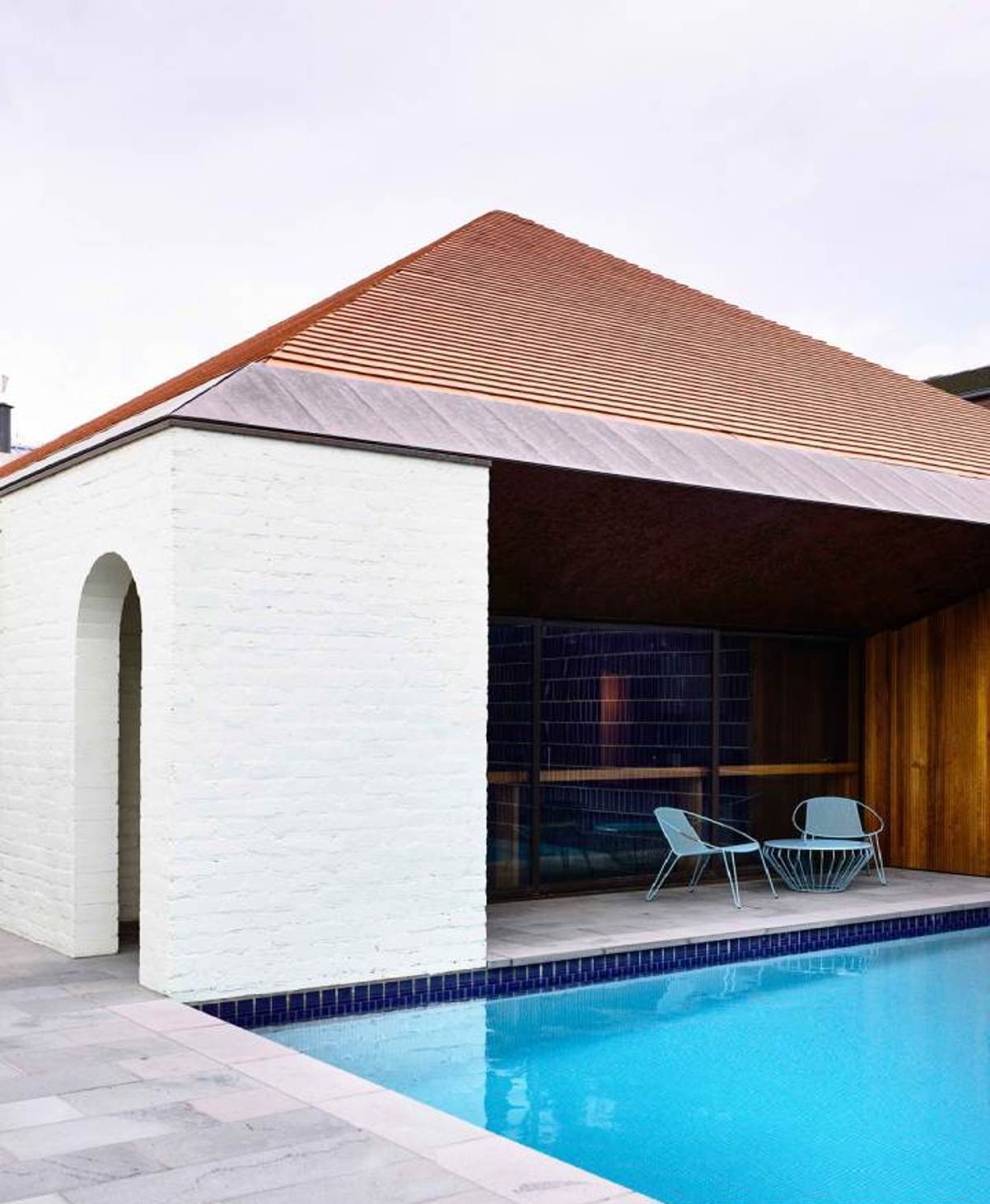 Photography by Derek Swalwell.