Born and raised in Sydney, Christopher Polly is a sole practitioner and director of Christopher Polly Architect, an award winning design and ideas-focused architecture practice established in late 2005. Prior to establishing private practice, he had previously worked with a couple of prominent Sydney firms including Tzannes Associates, Candalepas Associates, and Lippmann Associates. He also has a knack for judging having been a juror for University of Technology final architecture studio presentations and a juror for the 2017 AIA NSW Architecture Awards for Residential Architecture-Houses (New and Alterations & Additions). Well the shoe's on the other foot Christopher, because now we get to ask you the questions…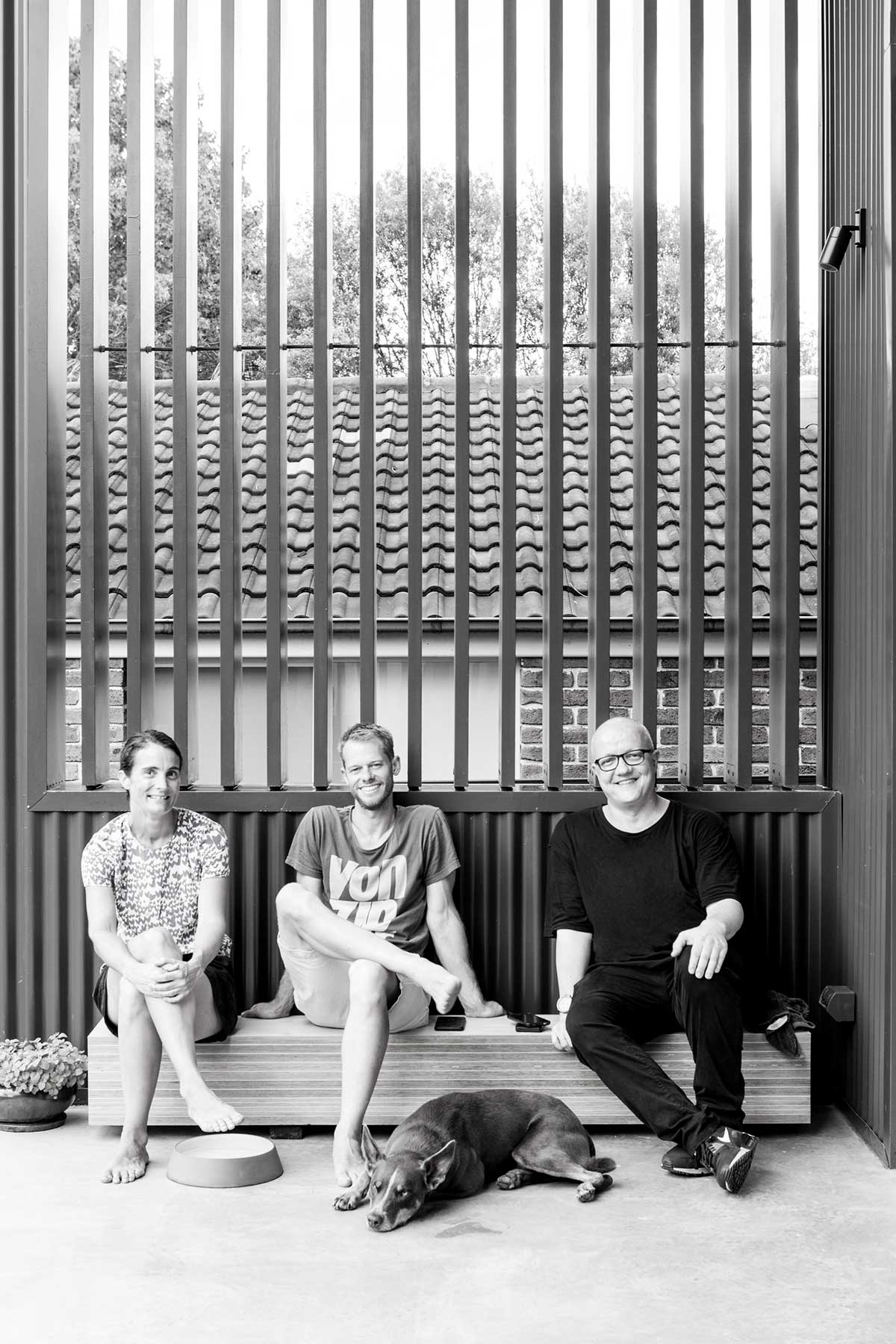 George Takes Twelve
We sat down with architect Christopher Polly to find out what makes him tick.
1. When I was growing up, I wanted to be….
Either a vet or an architect. And yes, I still get odd looks and inquisitive responses whenever this comes up in conversation. I still have an unwavering and immense love of animals, yet a strong urge to explore a creative side took hold sometime later on in high school.
2. Can you tell us a little bit about yourself and your company?
I was born and raised in inner-east Sydney, and can probably say that I'm a city person through and through. I studied architecture at UNSW and graduated with the AIA NSW Chapter Prize (best in state) and the Frank Fox Prize for my thesis on the urban design of Battery Park City in New York. I then worked for a couple of prominent Sydney firms before establishing my architecture practice in late 2005.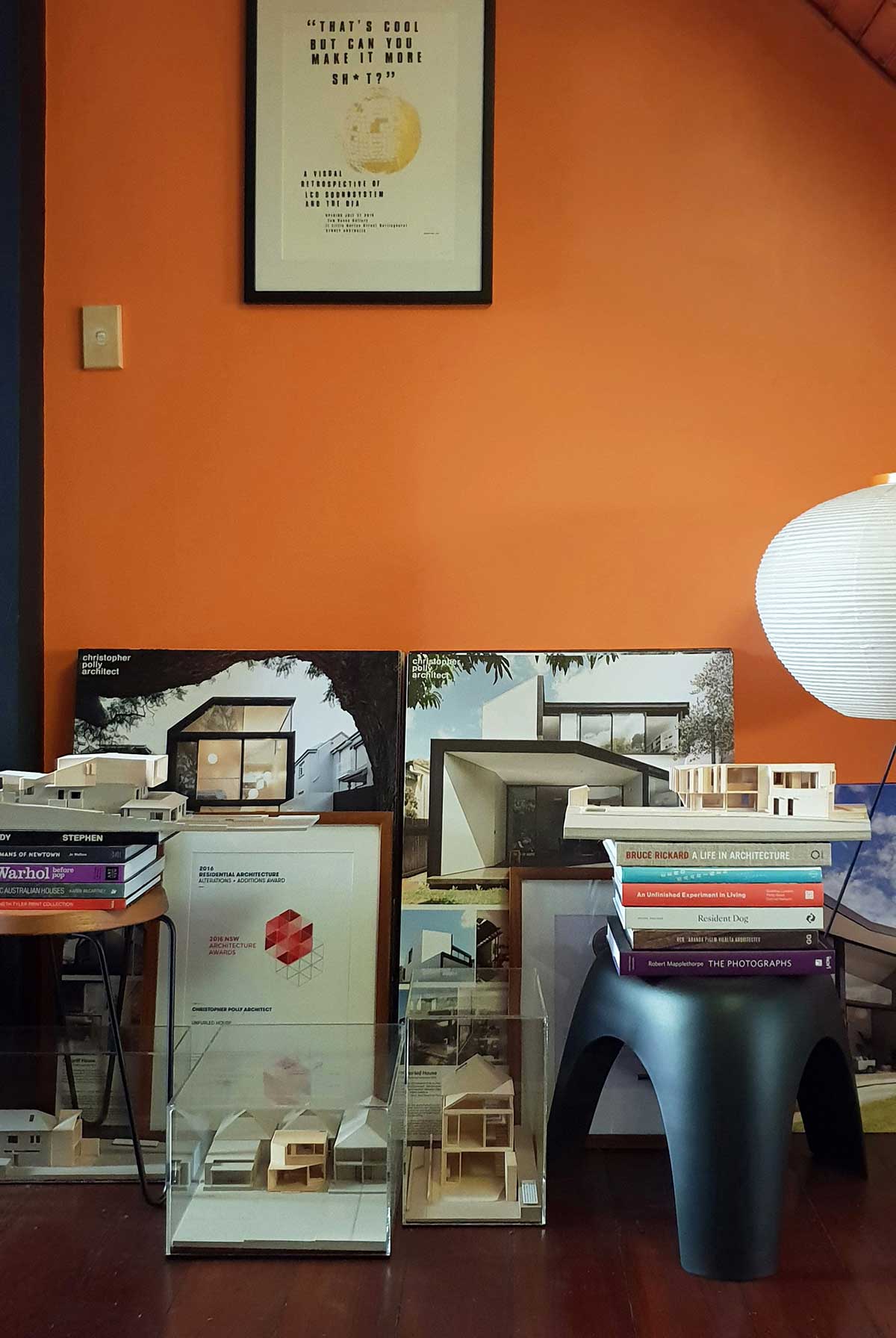 My practice distils a holistic detail design and process-led approach in the delivery of highly creative and pragmatic architectural solutions. A strong emphasis is placed on a critical synthesis of the opportunities and constraints of each site, context and client brief as a catalyst for uniquely appropriate outcomes in response to place, landscape and patterns of use.
I engage with clients who share in the reward of accomplishing bold visions to enrich their daily lives, who prioritise quality over quantity, and who place value in achieving inventive and well crafted spaces that are meticulously detailed and finished.
3. How is your studio structured? 
It is a sole architecture practice, so it only consists of me in the studio. I have chosen to remain a sole practitioner and have never drawn upon any assistance, yet have recently taken to outsourcing render work for selected projects. There tends to be 3 to 4 projects active at any time depending on their scale and complexity.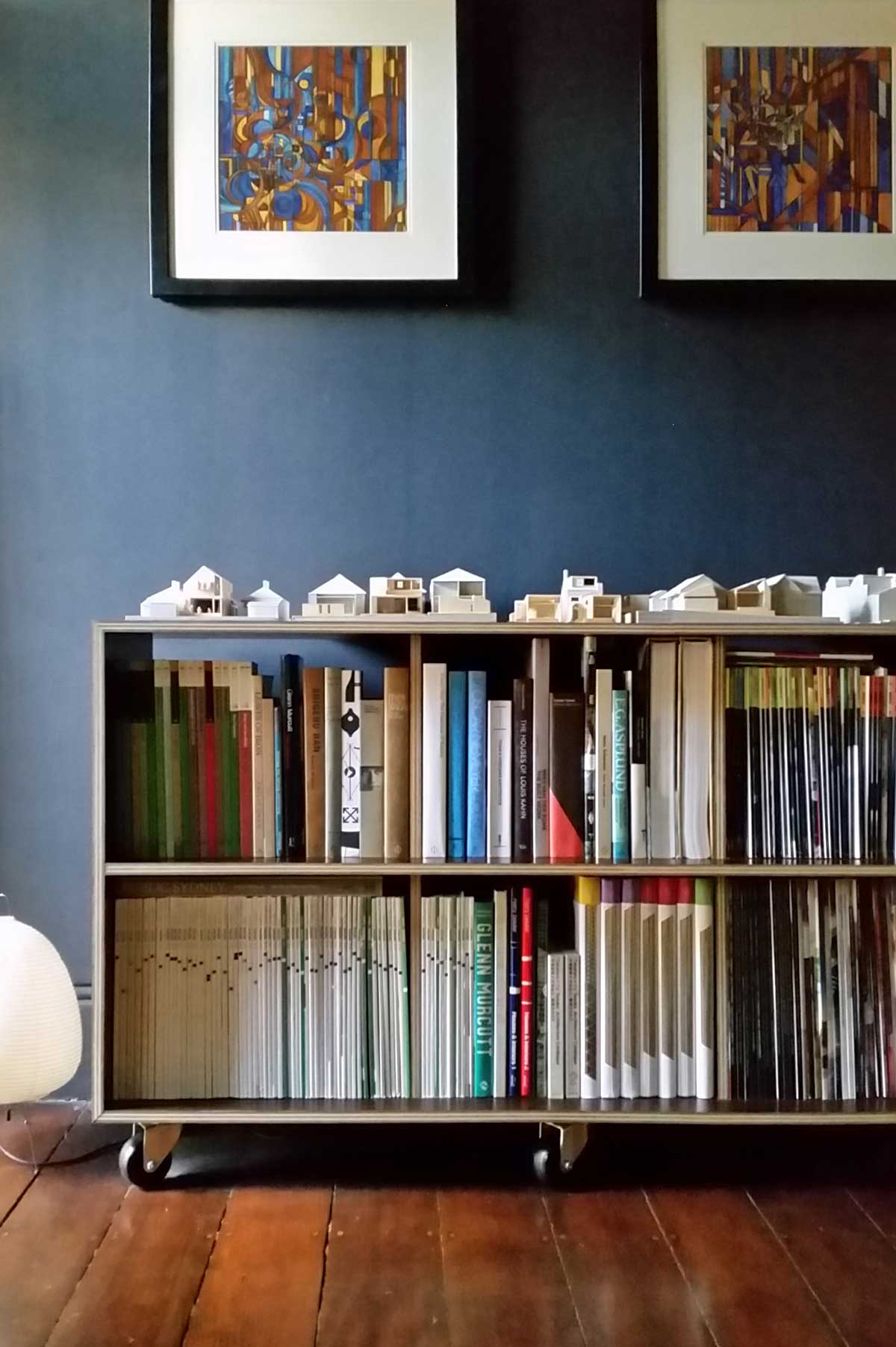 With recent larger houses requiring greater time investments, I've been tending over the last couple of years to pick and choose projects I really want to work on with like-minded clients. This might be counterintuitive to business, yet saying "No" to numbers of potential projects invariably results in the occasional great project and client coming along.
4. What exciting projects (present or past) are you proud as punch about?
I'd say I'm most proud of the two most recently completed houses that made it through unscathed – 'Binary House' in the Sutherland Shire suburb of Woolooware, and 'Unfurled House' in the inner-west suburb of Petersham.
Binary House – 2018
A new crafted pavilion is carefully connected to the refashioned rear of an original 1960's brick envelope to enact clear planning, cost and environmental values in an articulated binary composition – a cellular and private front, with an open and public rear that responds to its place.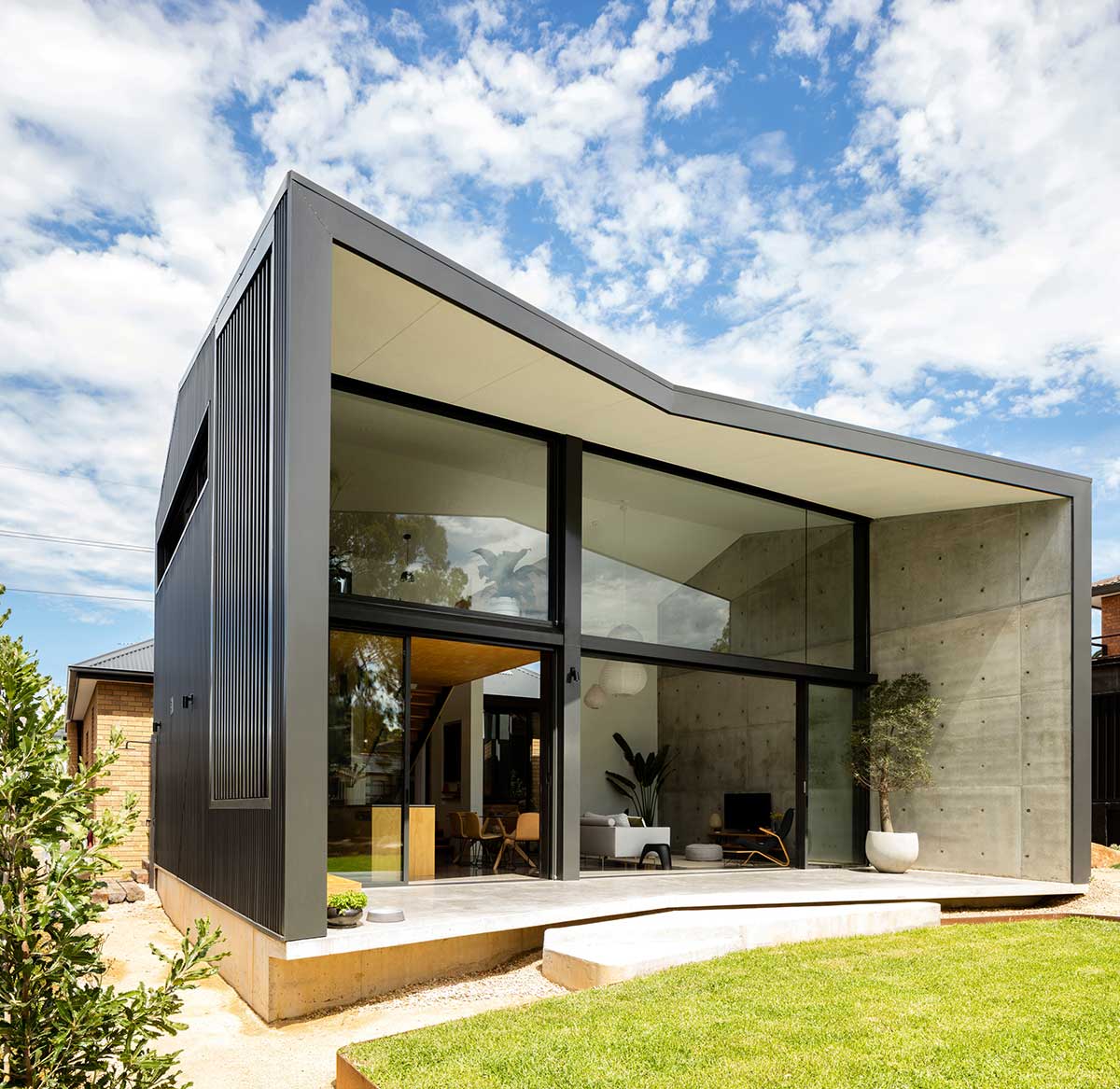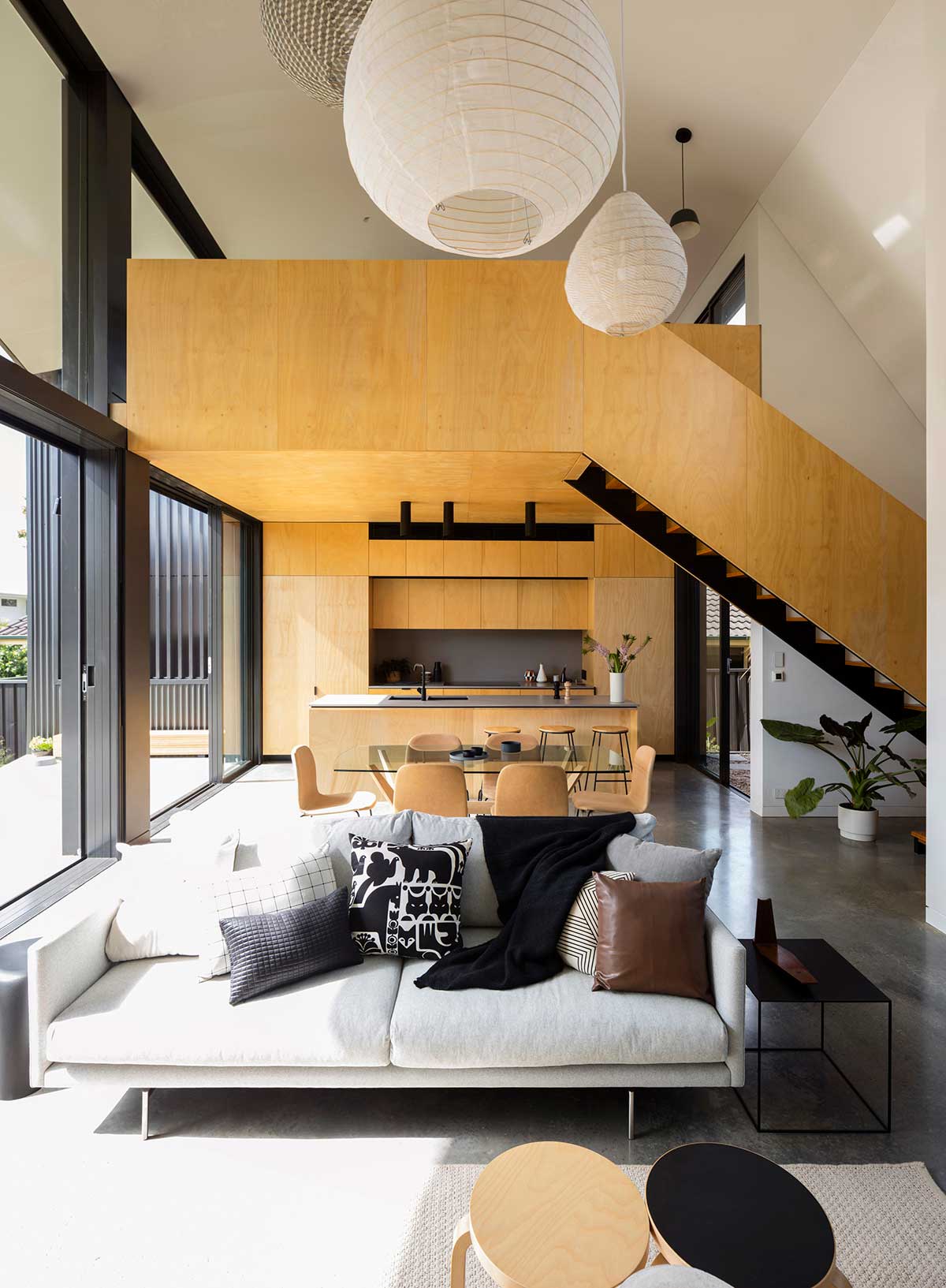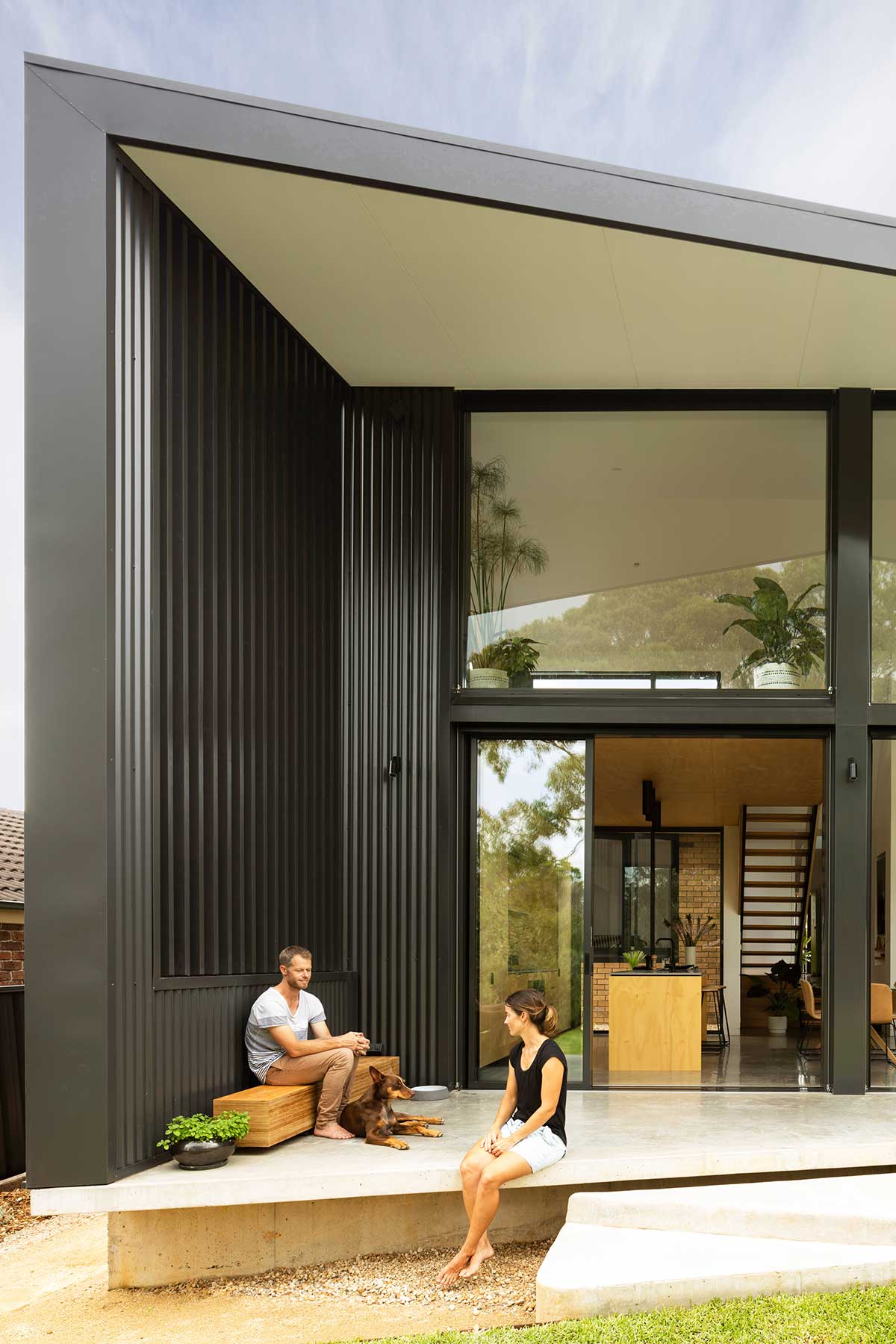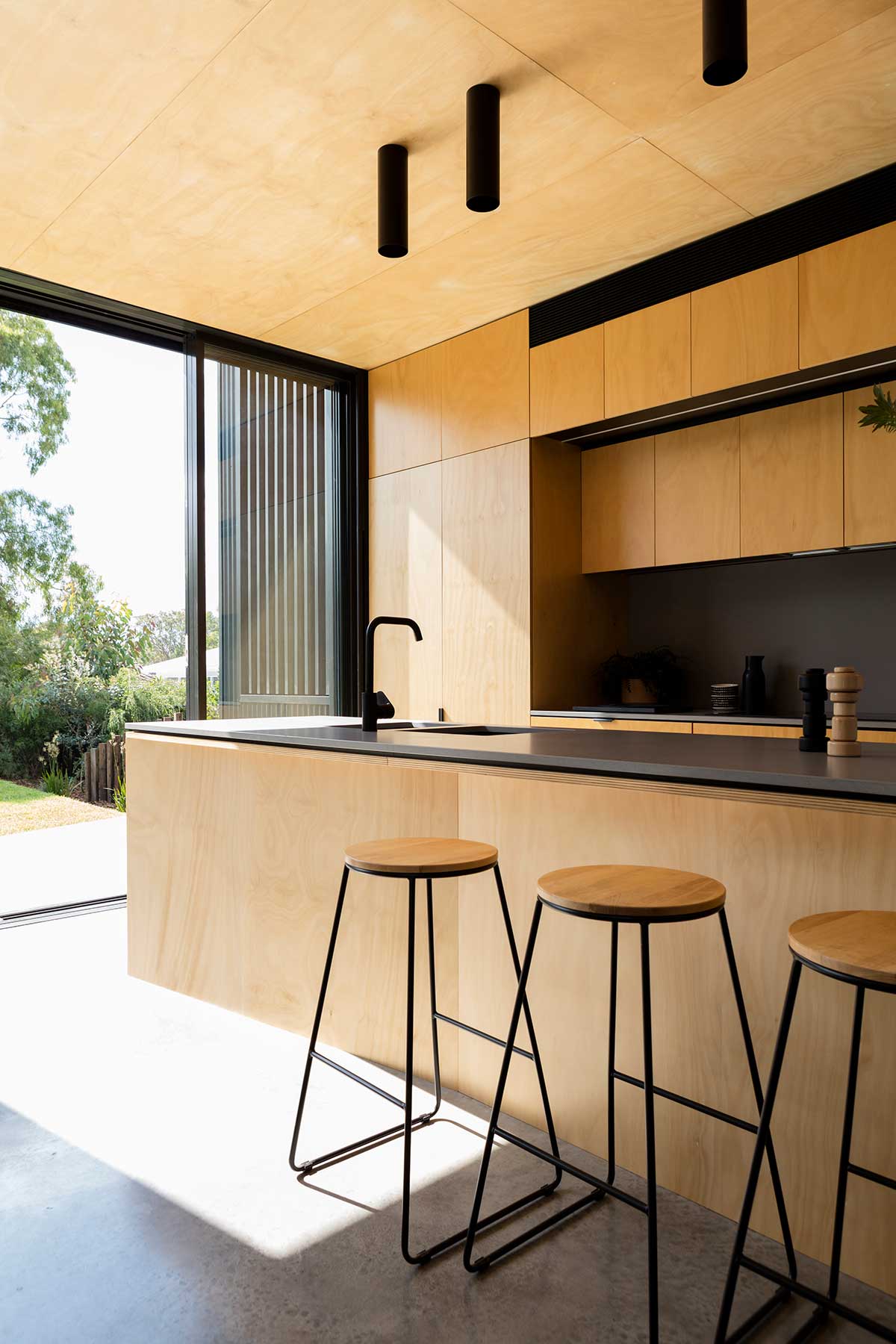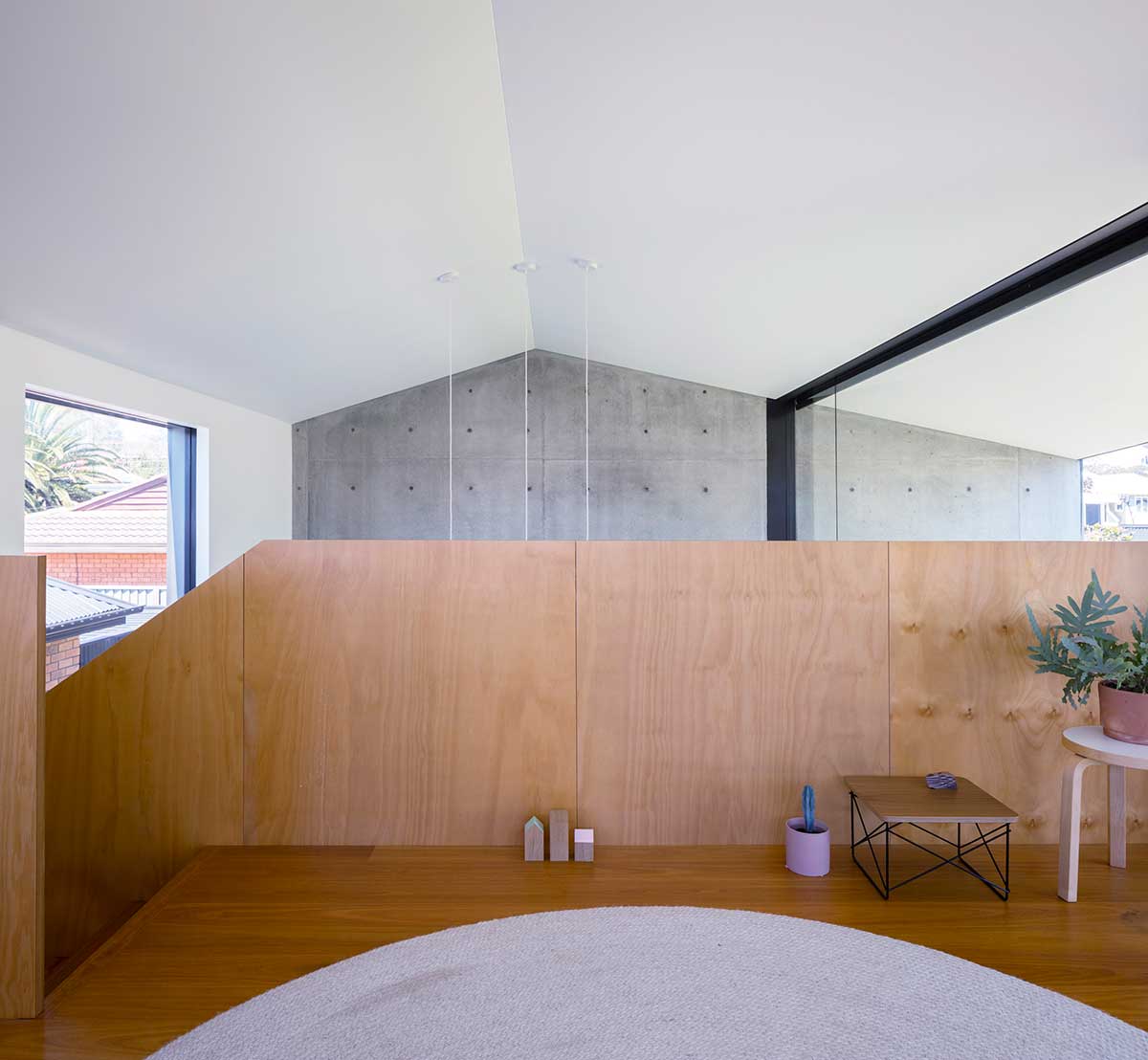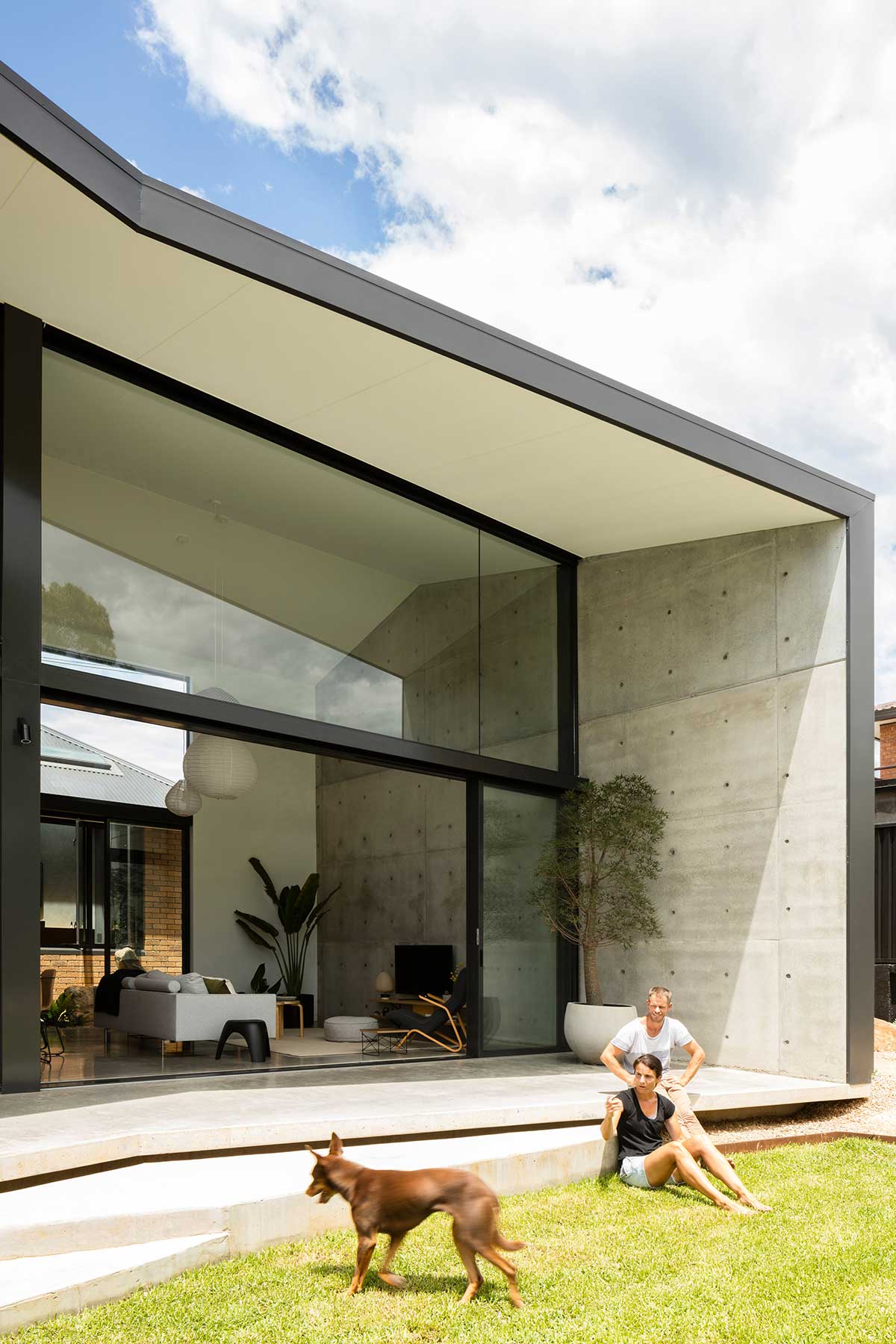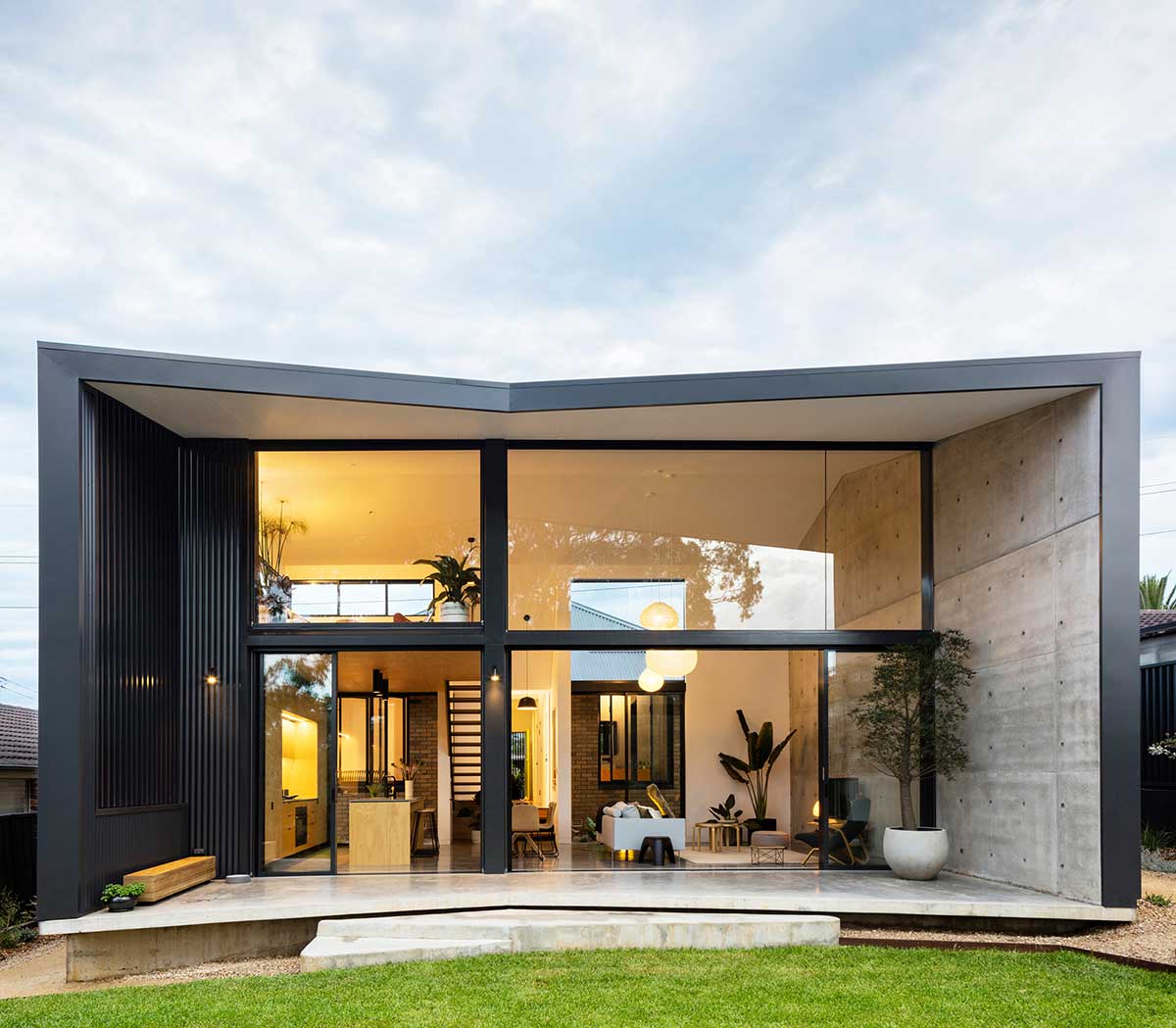 Unfurled House – 2016
This project entails an articulated lightweight volume that is sensitively stitched to the retained Federation dwelling. It has a sectional split-level relationship to the original house which harnesses the fall of the site to the rear and unfurls a constrained front plan into a series of connected interior spaces that expand to its setting.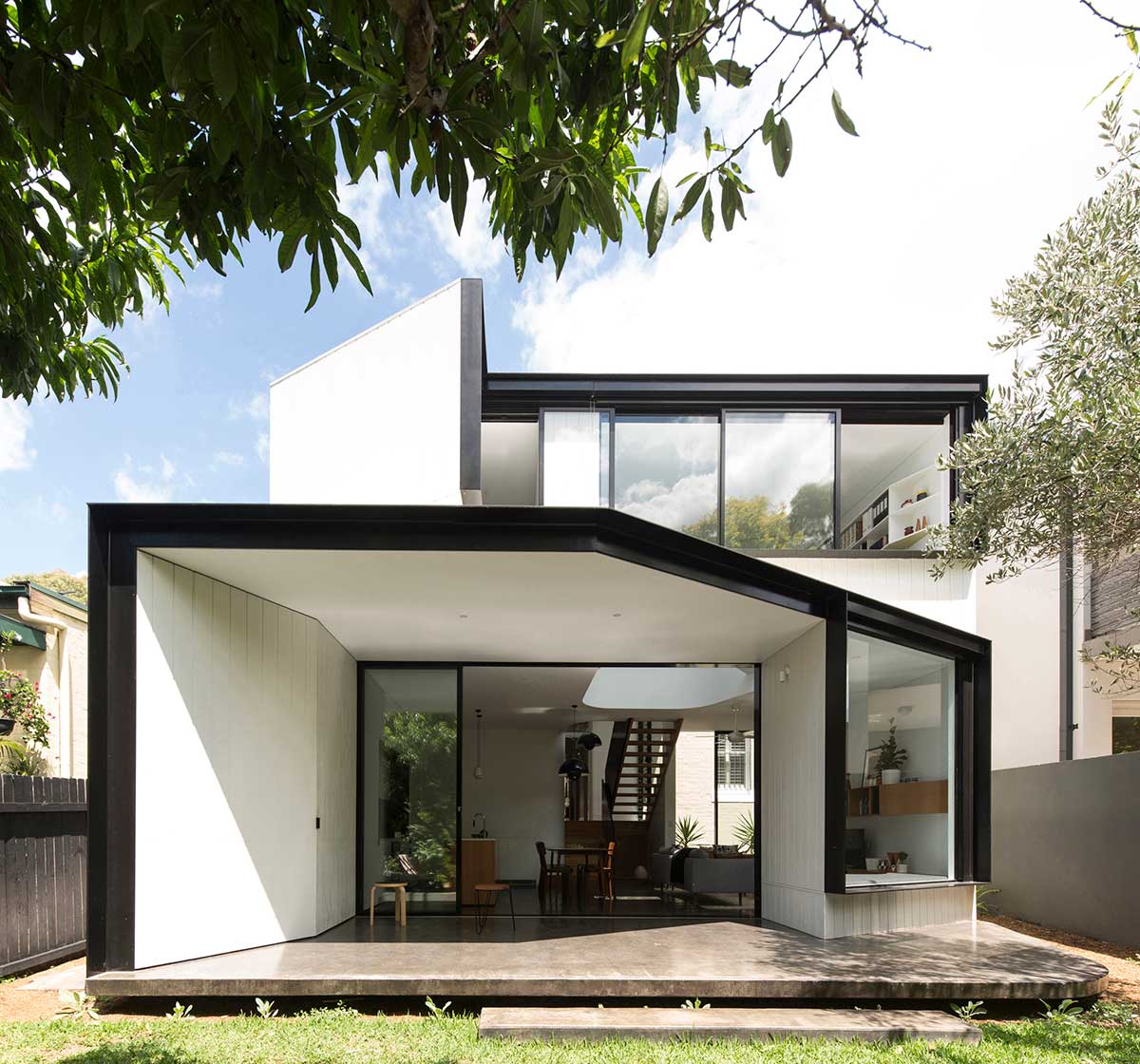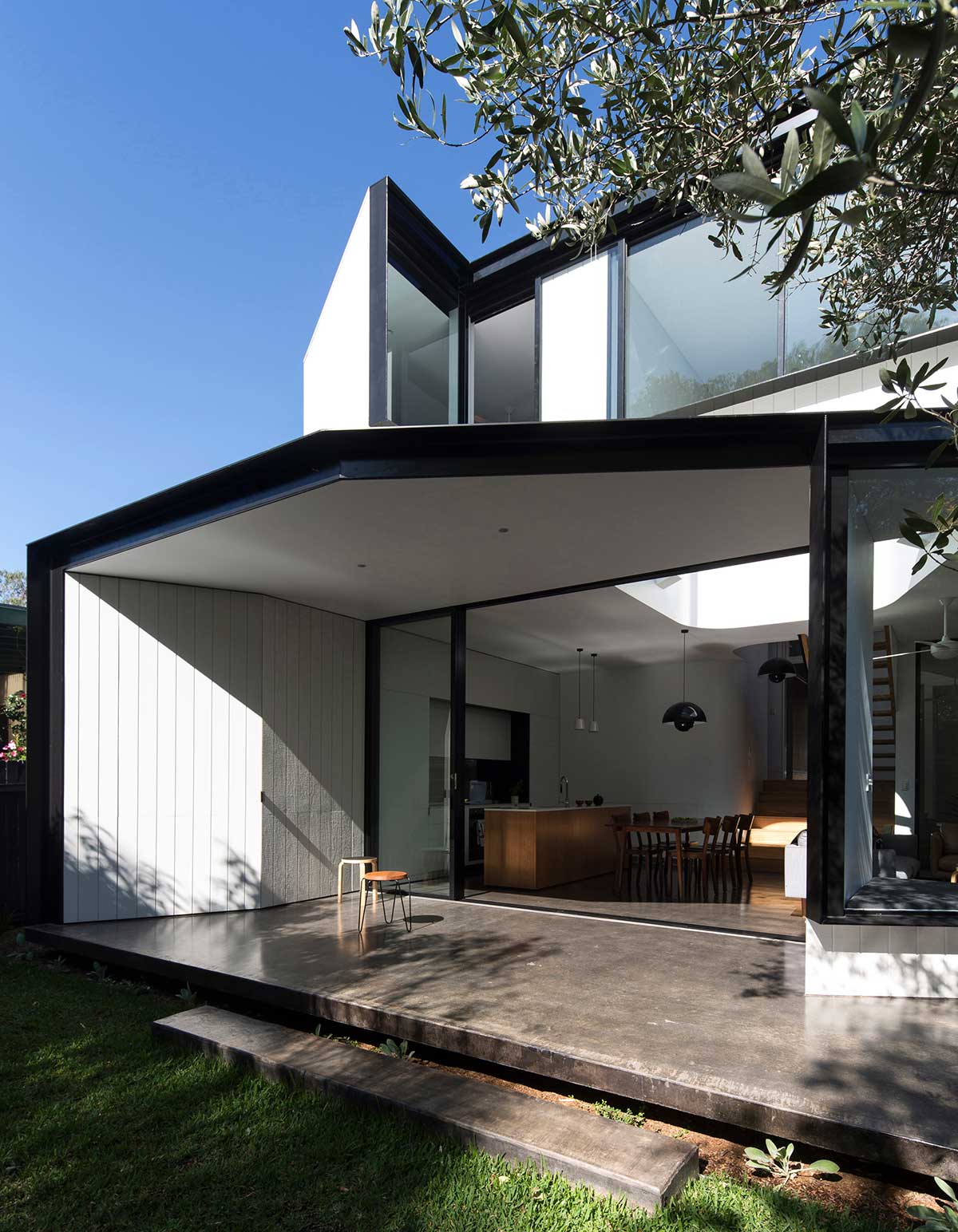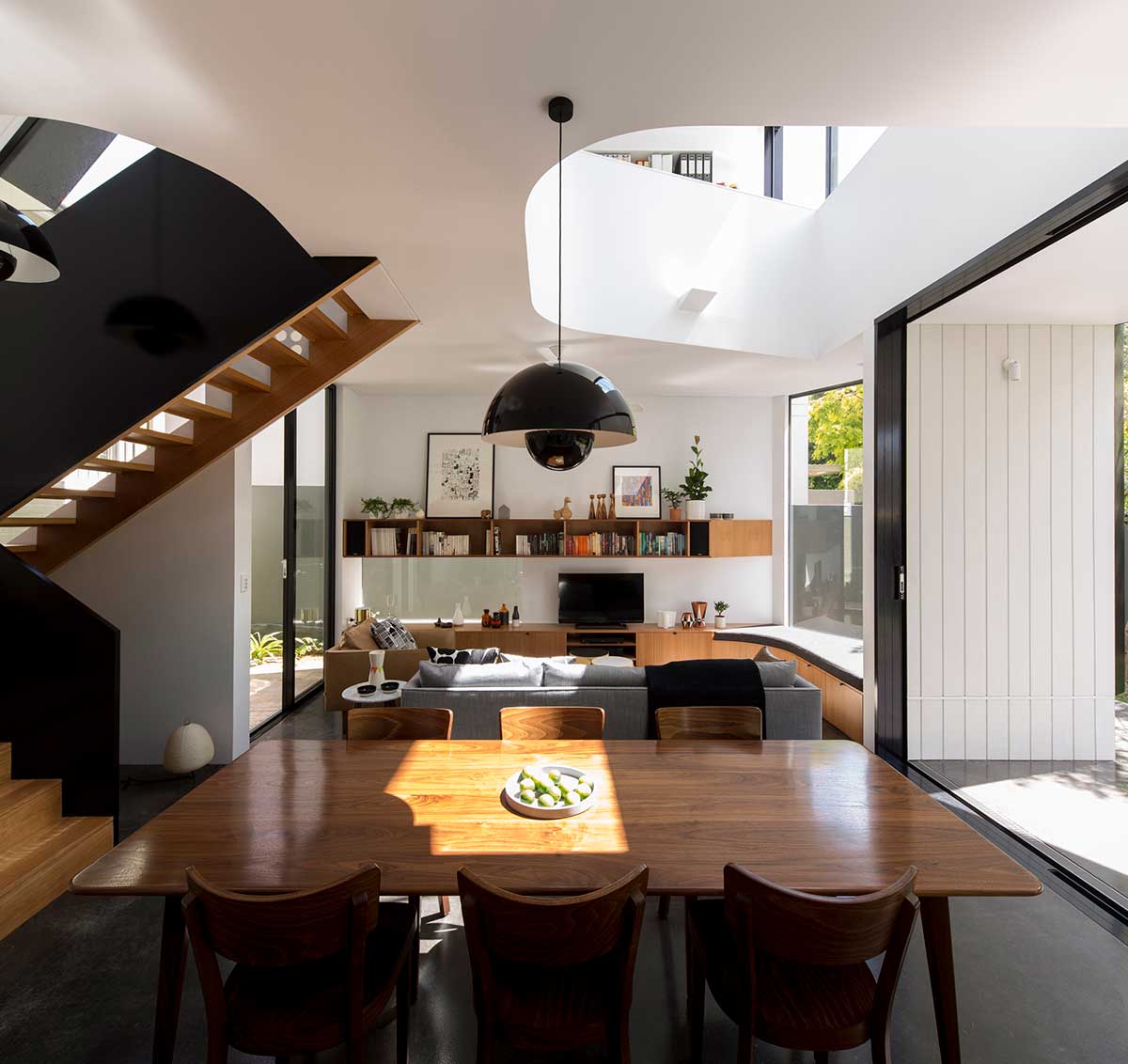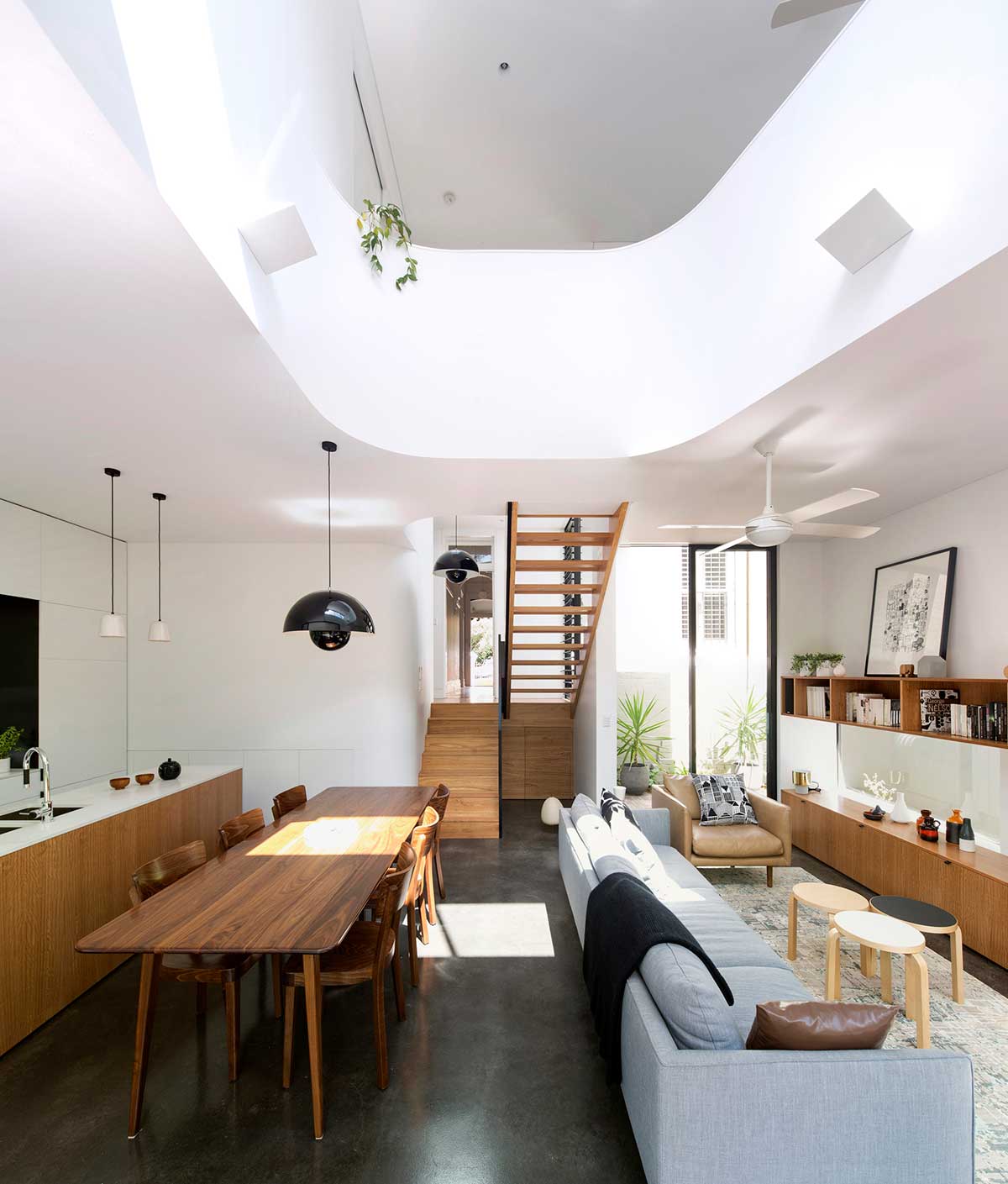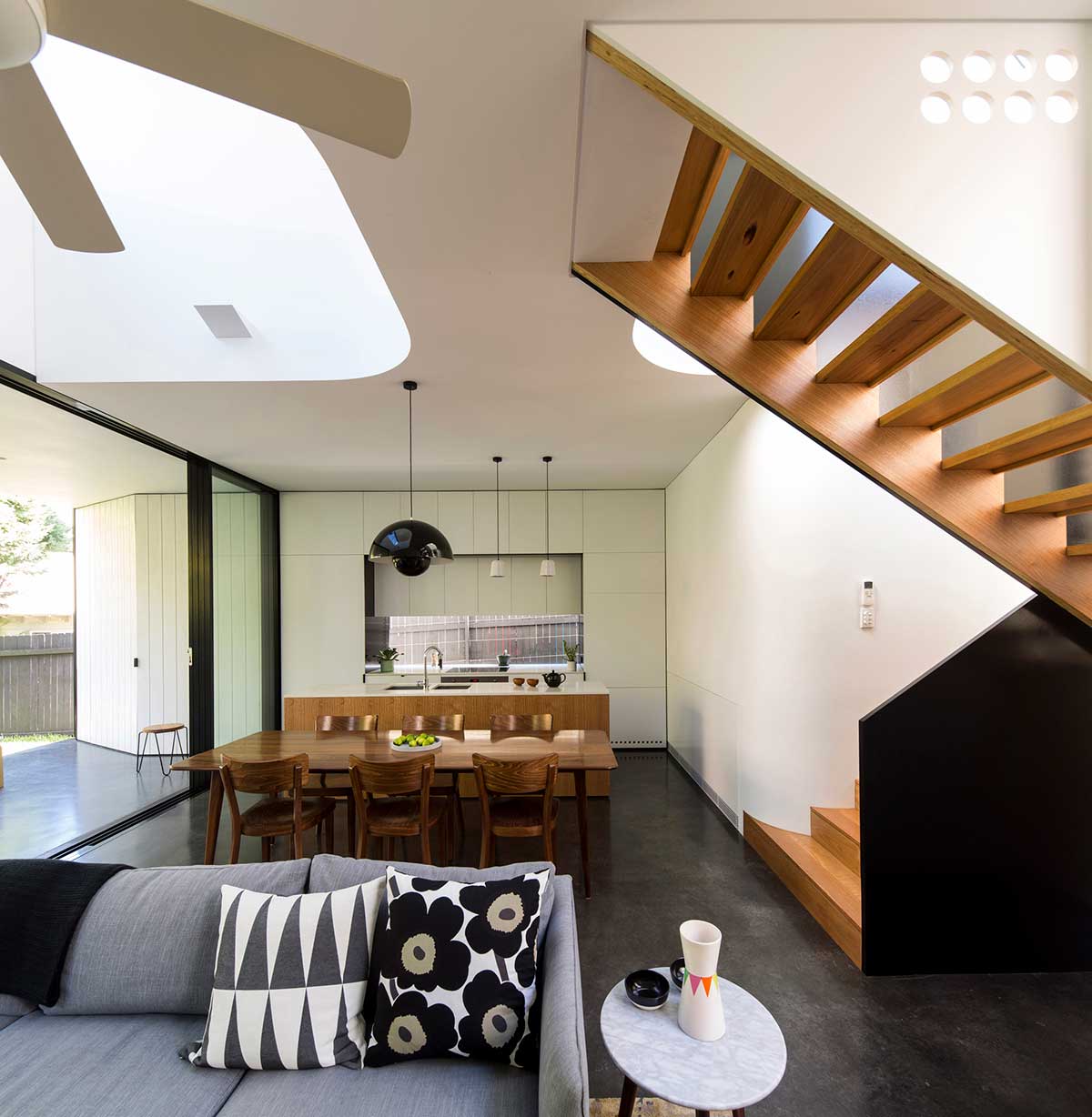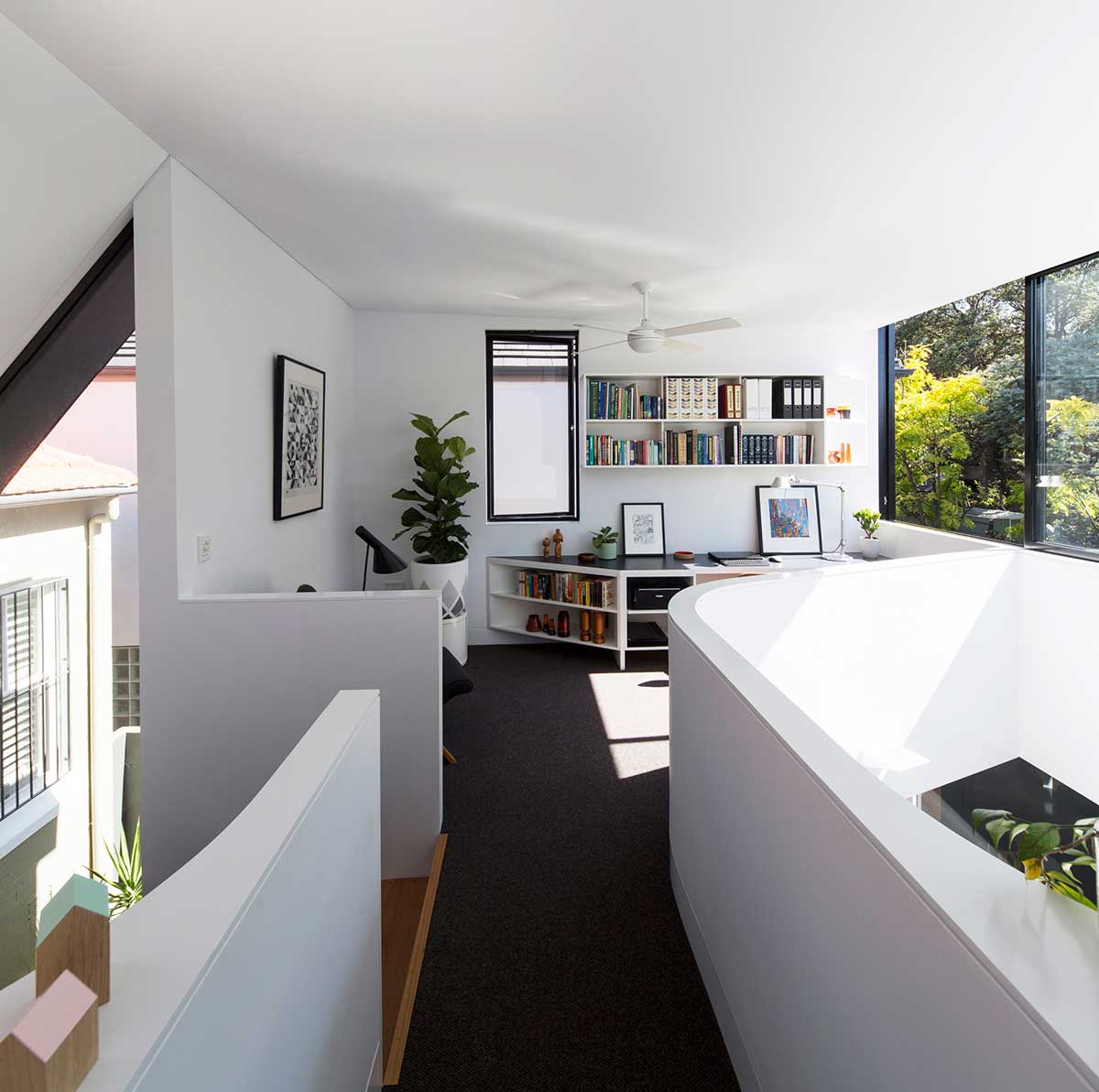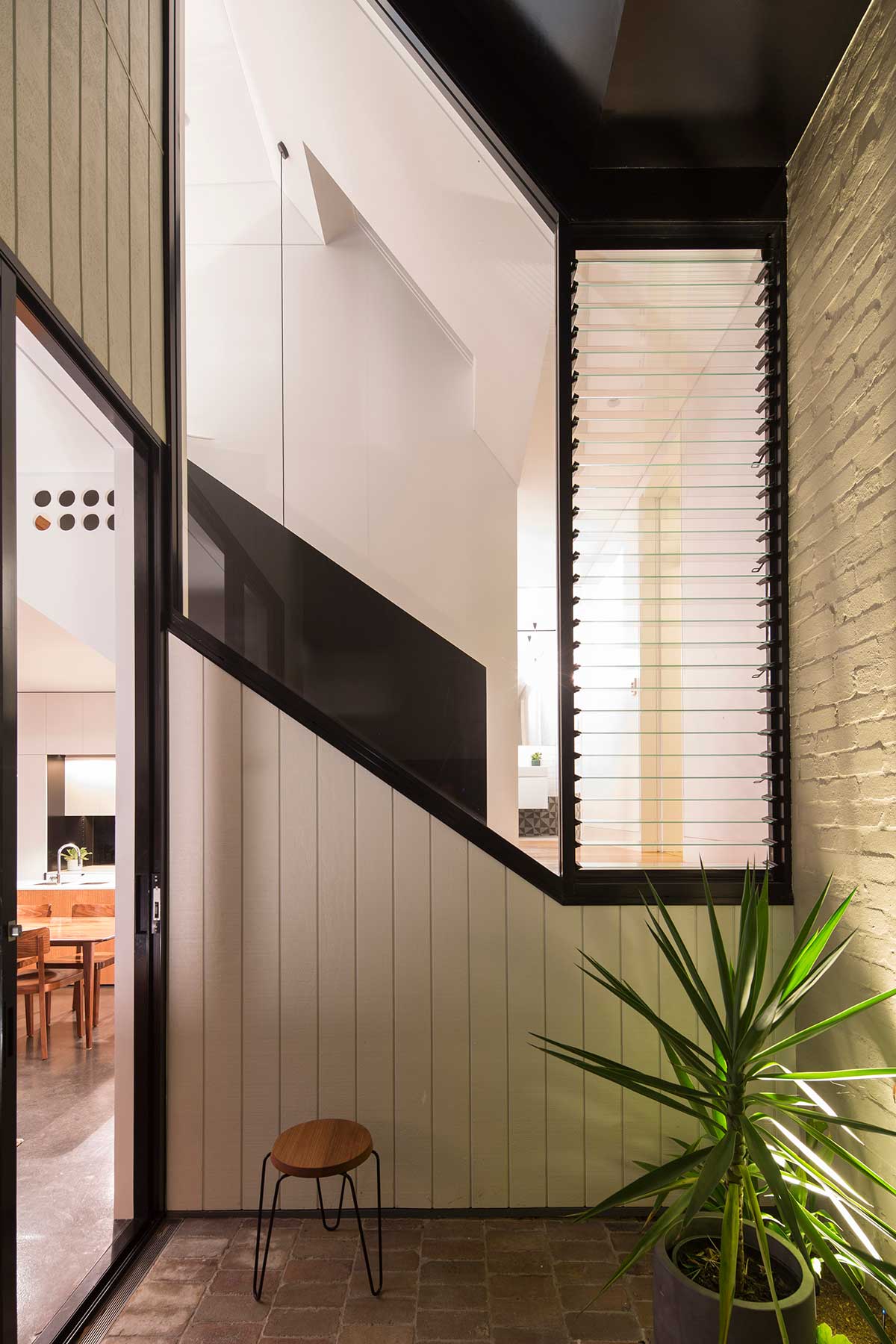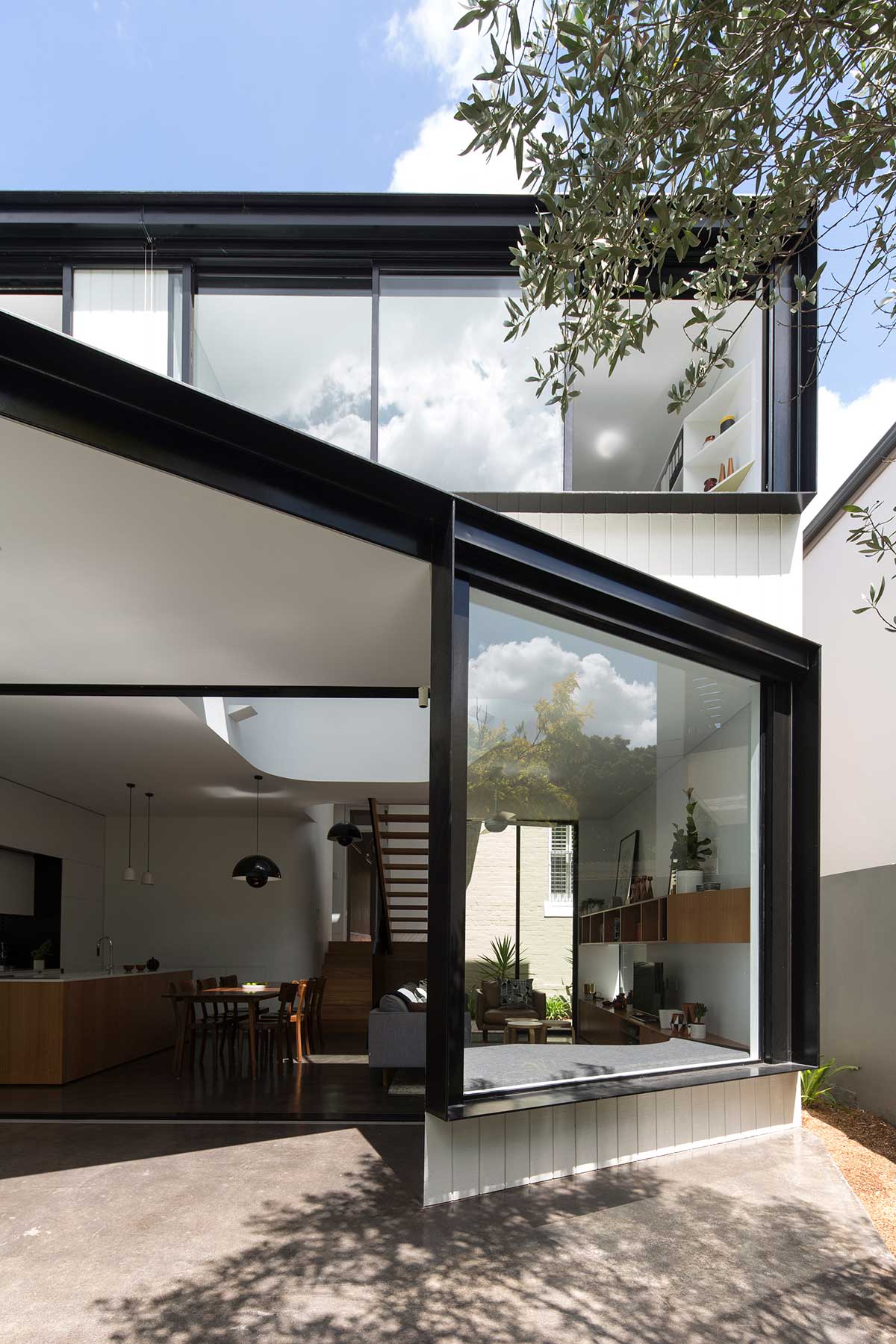 Dover Heights House – ongoing
I'm also very proud of an exciting alterations & additions project to a house in Dover Heights in progress which negotiates a series of challenging existing conditions beneath it to craft a multifocal response to its place that better engages with the street, directs views to a parkland reserve at the front and to the harbour and city skyline at the rear.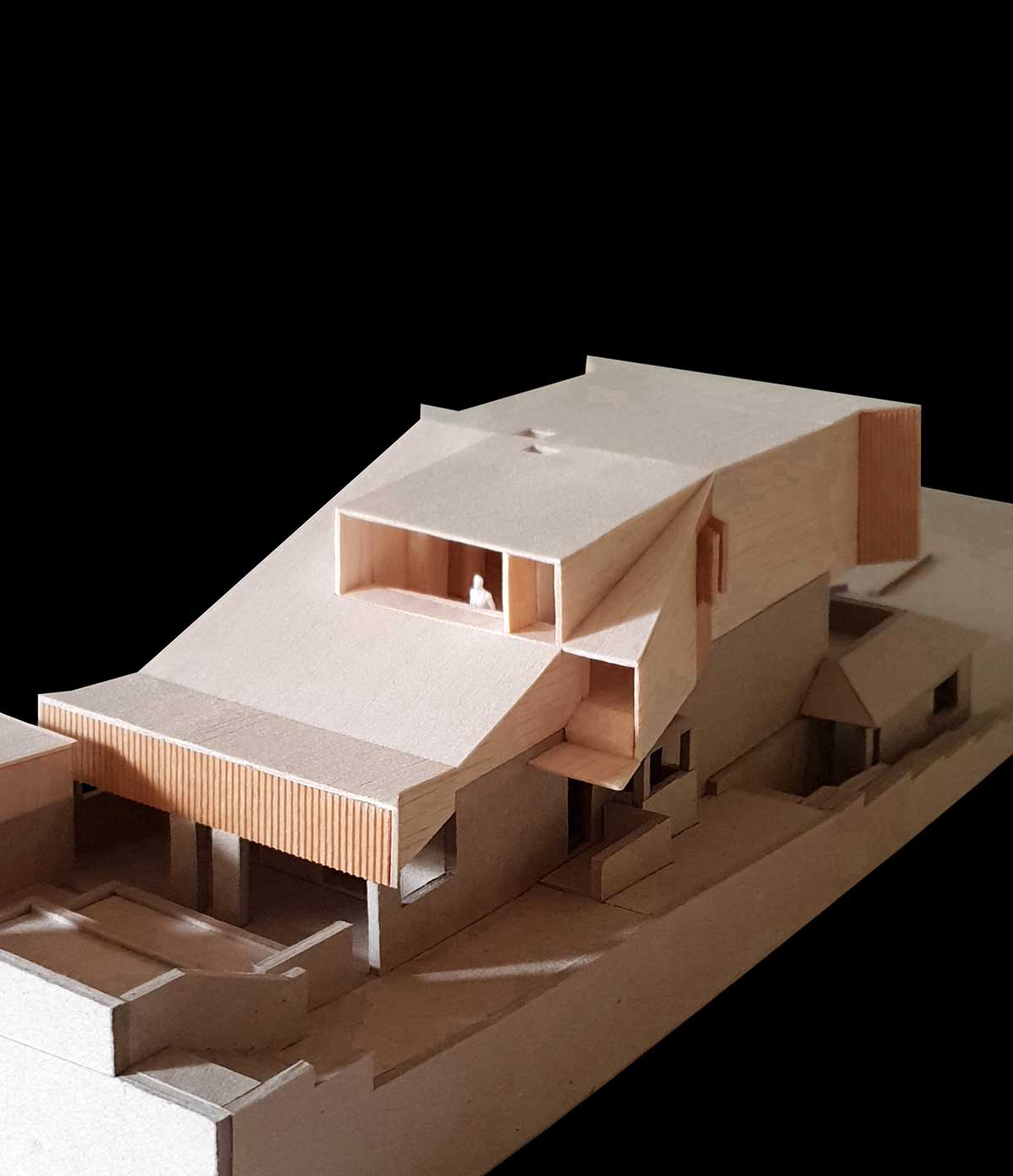 5. What's the most treasured belonging/item in your own home?
It's hard to choose, but I would say my Noguchi floor lamp and my two Saarinen Grasshopper armchairs.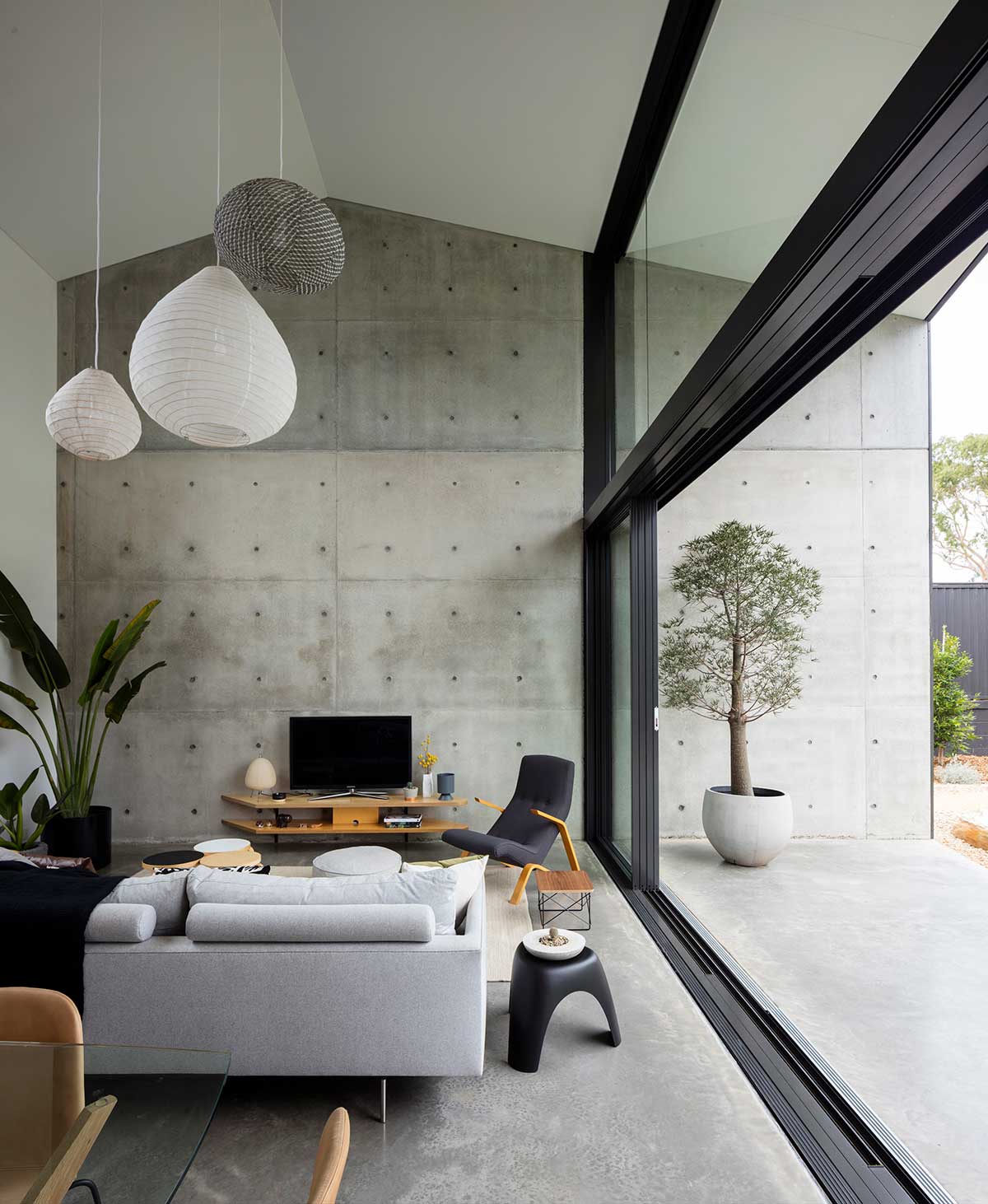 6. What's the most impressive party trick you can muster?
I don't really have one, but bending my double-jointed fingers back at 90 degrees gets a few squeamish responses. Sad, I know.
7. Are there any architectural trends you are excited about?
Not particularly at this point, although I'm interested to see how the technology and construction methods around an increasing use of CLT develops. I would however like to see the back end of an increasing appropriation of faux-arches and semi-circular and circular motifs that have seemingly no purpose other than as stylistic devices. I realise that this is a highly unpopular thing to state.
8. Tell us about a project that excited you but you never finished.
I'd say this is my 'Flexion House' which entailed a new two-storey house on an expansive site overlooking adjacent parklands and the Cooks River in Earlwood. Its form bends, extends and shifts in response to the shape of the site, program of rooms, and views to the river and adjacent landscape. It abruptly ended at the demolition of the former house on site and therefore unfortunately did not progress to the build stage.
9. What's your go-to routine to shake off a busy week?
Either a night out with friends, long walks to get some air, or taking time to view and experience even more architecture, especially if it involves visiting a locality that I've not been to before.
10. You've got a week off, where are you going?
New York City in a heartbeat.
11. Tell us about your best strategy for those dreaded uninspired moments. What gets you out of slumpville and back climbing the creative pinnacle?
Always keeping an open eye to everything, looking across at other related creative disciplines to see work being undertaken by lots of talented practitioners (especially locals), or visiting museums and galleries to experience great art.
12. Favourite architectural style from a bygone era?
Modernism is general, yet I have a soft spot for the lightness and optimism that mid-century modern houses represented, as well as a fondness for the sort of large, heroic and utilitarian concrete buildings of this time.
Meet the Stylist Radio
"This is a partial playlist of a much longer mix on my way from London to Paris on New Year's Eve 2017. I was getting into a partial alt-pop/edm mood with some bouncy belters and favourites in anticipation of a buzzy night on the streets of central Paris." – Christopher
Christopher's Top Picks
We had one last task for Christopher to complete, rounding up a selection of his favourite Hunting for George goodies for the home. Here are his top Hunting for George picks:
Where to find him
Name: Christopher Polly
Business Name: Christopher Polly Architect
Job Title: Director / Architect
Website: www.christopherpolly.com
Instagram: @christopherpollyarchitect
Pinterest: @cpollyarchitect