Four weeks ago I welcomed a brand new member into my family, of the furry variety. Dusty is a red Australian Kelpie with a handsome white chest and powder white paws… clearly I'm obsessed. At the time of driving to meet Dusty we hadn't decided we were going through with it yet and we were not prepared in the slightest. Dusty laid on the charm as soon as we met and then the realisation of bringing home an eight-week-old fur baby started to set in and a mild 'new mum' panic arose. What do puppies need? What do they eat? I don't have a bed? We don't have a lead? Omg what about toilet training?
Unprepared and with a slight case of anxiety we headed to the nearest pet shop and bought half the store. The designer in me struggled, especially when the very lovely sales assistant eagerly directed me towards the multi-coloured dog leads with comic patterns of bones and paw prints. "Is there anything a bit less…" I started to say, but struggled to find the right word… ugly? offensive? kitsch? We settled on the simplest dog bed and accessories we could find and since then, searching for good-looking pet furniture has been my number one priority. If you have a furry friend that needs some better digs or you're about to welcome a pet into your life, we've rounded up some of our favourite designs and things to consider when integrating pet furniture into your home.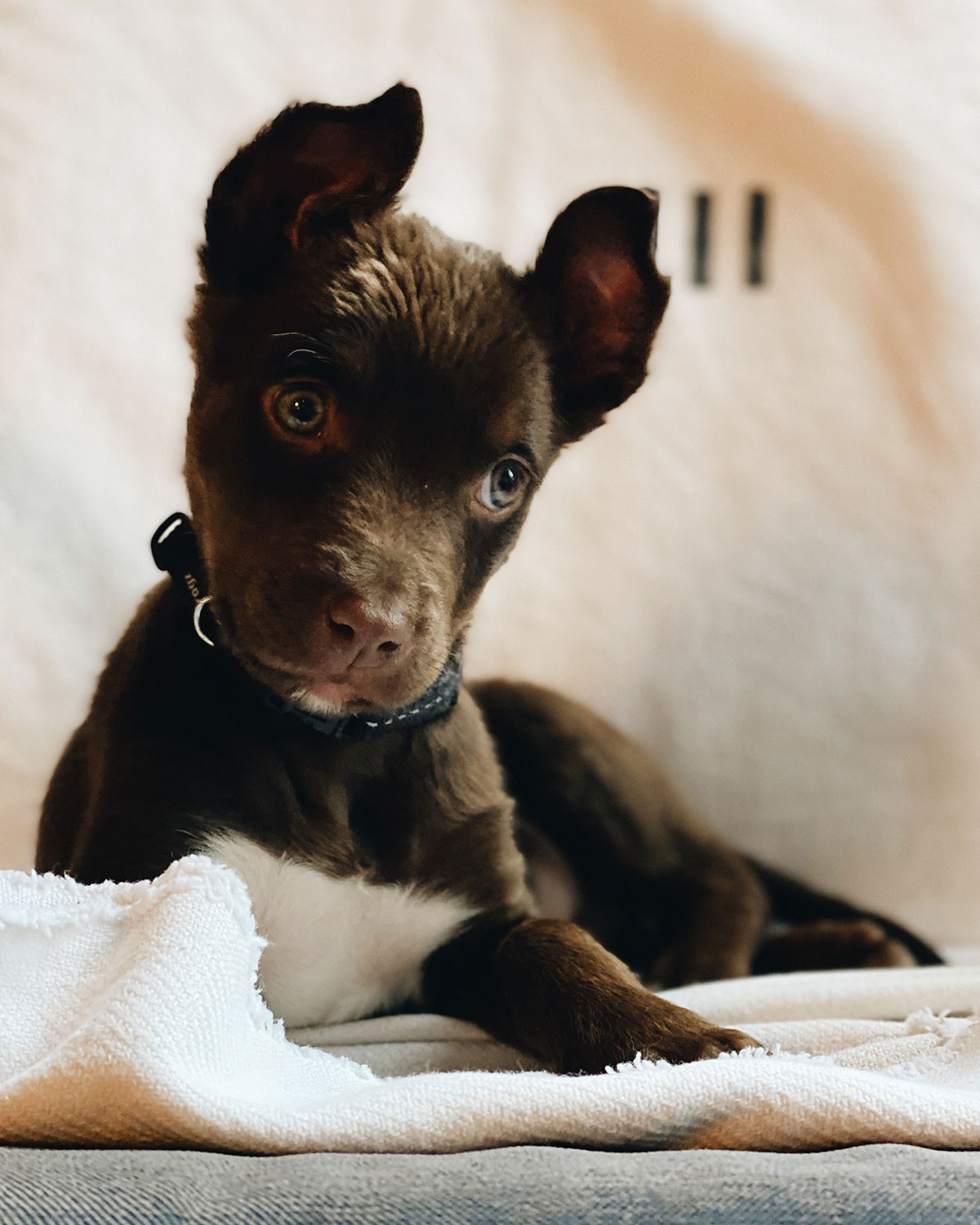 Colour palette
Take a look at colour themes that run throughout the room your pet's bed will be placed. We prefer to color match pet furniture to the rest of your decor to make sure it's unobtrusive as possible. There are plenty of options available, from muted and rustic through to bright colours
If your pet is being crate trained and you wish to have the crate in a main living area, there are a few things you can do to make them slightly less of an eyesore. Covering the crate with a blanket that fits the colour scheme of your room provides extra insulation for your pet and blends the crate with the room. Those things crates aren't known for their good looks. 
Size and shape
It's important your pet can fit comfortably in their bed, and it allows them to sleep in that very cute croissant shape, or all stretched out. Most pet bedding brands will give you a breed-specific size guide. Remember to allow room for your little mate to grow, if you've brought them into your family as a youngster. It's also worth thinking about how your pet likes to sleep; lots prefer to have an elevated edge to rest their chin on. It's also worth checking the thickness of the cushioning in the bed – think of it as a princess and the pea situation. 
Positioning
There are a number of actors to consider when choosing where to place your pet's bed. Access to sunlight so they can enjoy a warm spot from the comfort of their bed, a position where they can see family activity in the room, and a lower-traffic spot where they're part of the action but not underfoot are all essential factors. We find placing a pet's bed in a corner can address several of these issues, and has the added benefit of making your pet feel like they have a secure spot that belongs to them. 
If you're after something enclosed, we've got our eye on this architect-designed dog house… there's a sentence you didn't think you'd read!
Materials
Pets can smell. We know you love your pet, but it's the truth. Therefore, it's important you think about the materials used in your pet's bedding. Hypoallergenic, waterproof or resistant, and, most importantly, easy to throw in the washing machine, are all important top priorities. The Boucle cover by Barney is beautiful and easily washed. 
Beds That Aren't Beds 
You not bound to using a pet-specific brand as a cosy spot for your four-legged friend to sleep. While they have been specially designed for that purpose, and so there are some added benefits, don't be afraid to look at other aesthetically pleasing options such as larger floor cushions,  or covering a piece of memory foam in fabric that fits with your decor. This Nobodinoz floor cushion caught our eye, as well as the very trendy range of cord and denim designer dog beds from Nice Digs.   
Food And Water
As for water and food bowls for your pets, we love these ceramic ones from Pet Federation. If your pet is eating inside, store their bowls in a low-traffic area of your home, preferably on an easy-to-clean surface. If your pet has constant access to your laundry, this can be the perfect spot.
Shop The Article
I hope you found these products and ideas helpful! I certainly did and am compiling Dusty's wishlist as we speak. In order to prevent my personal instagram account from becoming solely dedicated to puppy spam, Dusty is now officially on the gram! If you love nothing more than wholesome daily puppy spam then follow @slimdustydog for all of his adventures.