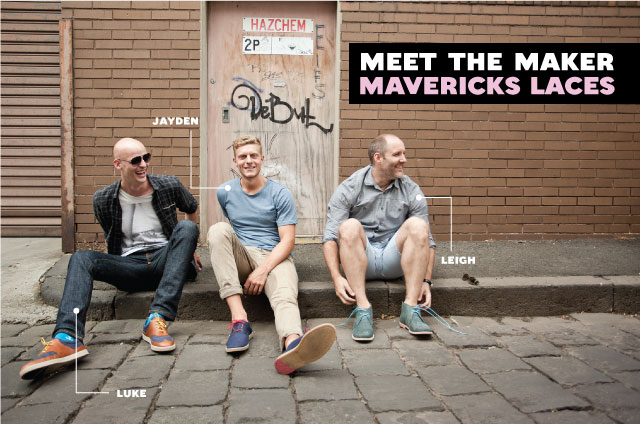 Name: Luke Schoknecht, Jayden Zernich and Leigh Scholten
Brand: Mavericks Laces
Job Title: Co-Founders & Partners
Location: Melbourne

We stock some pretty cool brands at Hunting for George, but every now and then we come across a brand that makes us do a little dance in our pants. The triple header team at Mavericks have proven to do just that. Rumour has it that wearing Mavericks laces has been know to increase your happiness levels by more than 62% and increase your chances of flying a fighter jet from zero to inevitable. Ladies and gentlemen, we'd like to introduce to you Mavericks laces, our featured Meet the Maker this week. Enjoy.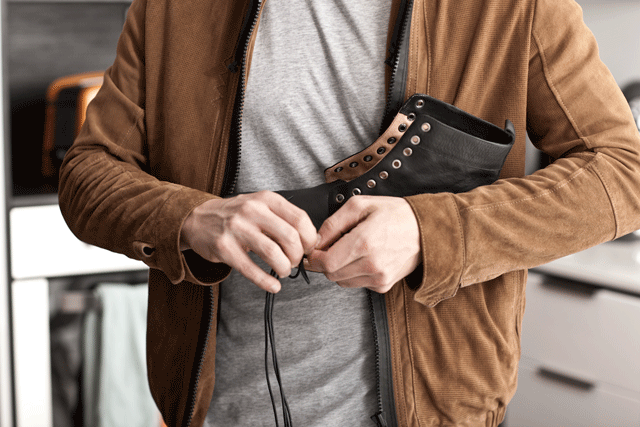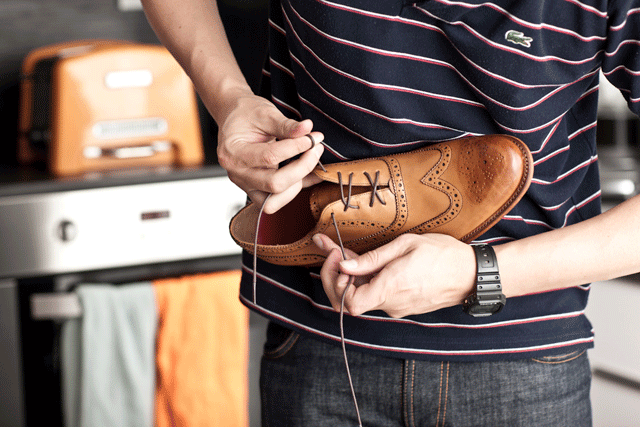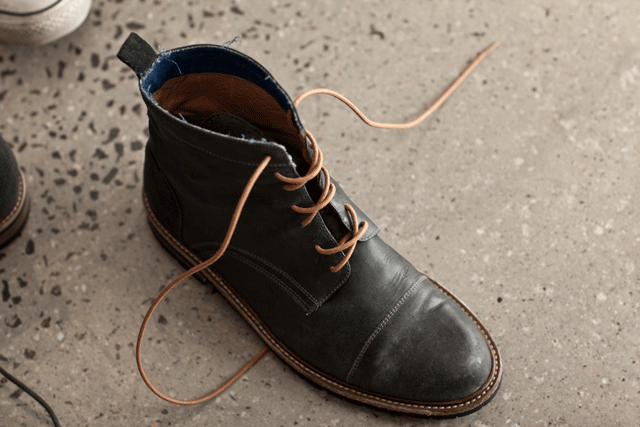 1. What did you want to be when you were a little 'un?
A graphic designer or an AFL footballer or either of the two Michaels (Jordan/Jackson).
2. What made you decide to start your own brand?
The three of us had worked together as graphic designers in the past and were looking for an opportunity to get the band back together. We wanted to launch a product that we could have fun with and push the graphic design and branding as far as we wanted. Also we wanted to fulfil our lifelong ambition of being foot models for shoelaces.
3. How would you describe your style of work? 
Passionate and fun. We really love working on Mavericks and coming up with new ideas, designs and colours. There is always plenty of laughs. We just wish there were more hours in the day. When we do get together there is a real positive energy and a sense of collaboration and possibility that we all enjoy.
4. What is the best and worst thing about being a designer?
The best thing is getting to experiment and bounce ideas around with your mates. It is a real buzz creating something and that is what keeps us coming back and trying new things. Also seeing other people enjoy and believe in what you have created. We have had so many awesome people support our brand and product and send photos in or drop us kind emails. Designers can have a very positive influence on peoples lives which is a privilege really.
The worst thing is probably the mental fatigue that comes from putting so much creative energy into something all the time. The creative burnout is pretty easily fixed with a break though and isn't that bad in itself. We are very happy to be designers.
5. What is your favourite creative outlet?
Reading books on various topics, being curious about things and wanting to learn new stuff. I think most great creative ideas come from two previously unrelated objects or topics, so I think it is important to vary your knowledge and inspiration to allow for that cross-pollination to happen. Also just visually soaking in inspiration from Pinterest, design and fashion blogs.
6. There's got to be something you're shit at? 
Of course. I am a horrendous singer and was pretty bad at learning musical instruments.
7. What are your top 5 websites/blogs at the moment and what makes them stand out?
Designspiration – Fantastic selection of design, photography and creative visuals. Love the colour search tool as well.
Design Observer – This site always provides fascinating articles and I'm always learning something new from this site. Plus my favourite designer Michael Bierut is a contributor and I always love his articles.
This Advertising Life – Gifs are awesome. This site is hilarious for anyone who has worked in a design or advertising agency.
The Design Files – Always a great site to discover new Australian products and the people behind them, also the houses Lucy profiles are incredible.
The Story Of Telling – Bernadette is just so good at simplifying good branding techniques. The articles are always inspiring and give great ideas on how to help our business stand out and tell a great story.
8. Date, Marry, Kill… List any 3 celebrities (dead or alive)
I have no desire to date or marry any celebrities. Kill on the other hand… no, all good.
9. So in the next couple of years your brand takes off like a rocket, multi million dollar offers start coming though the door. Do you stick with it? Sell out? Start again? What and where will you end up in 10 years time?
Tough question. If we were still as passionate about Mavericks as we are today when a big offer came in I think we would possibly knock it back, although multi millions is a lot of money which we could do plenty of fun and creative stuff with. In 10 years time we will be doing what we enjoy and still spreading the Mavericks way of life hopefully.
10. What song or album are you currently listening to and is it any good?
Daft Punk – Random Access Memories. I'm loving this album, these robots always explore new directions for their albums and this is no different. It needs to be listened to from start to finish, there are so many different types of songs and instruments and styles in the one album but I think on a whole it works well and is an intriguing listen.

Daft Punk Feat Pharrell Williams & Nile Rodgers – Get Lucky (Official Reworked by Claudio Vizu) from Claudio Vizu on Vimeo.

Meet Jordan. Jordan will challenge you to 9 holes of golf, bet you for it and will still kick your ass even if he has the flu.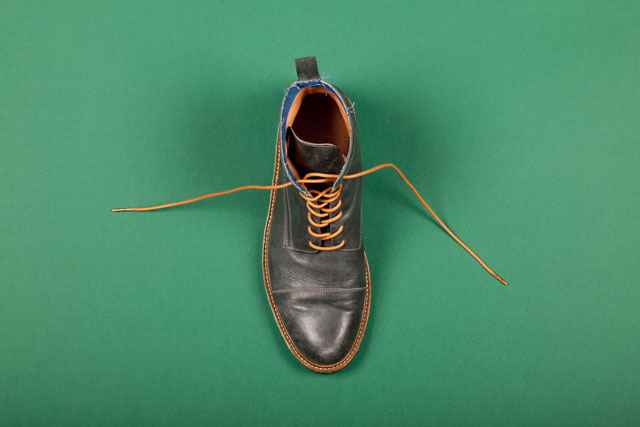 Meet Ollie. Ollie is the baby brother of Dylan. Like all babies, Ollie gets plenty of attention when out in public. he goes 'goo-goo' for tan, black and navy shoes. You are his father – just kidding.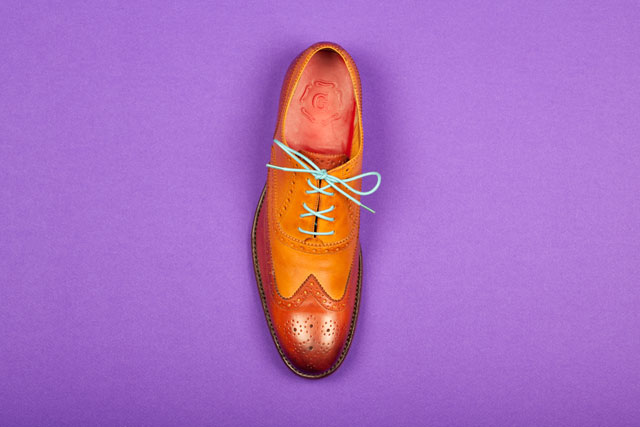 Meet Charlie. Charlie is a regal character with the cheekiness of a Maverick. He is just as comfortable hosting a dinner party for esteemed guests as he is knocking about at the pub with the blokes. In Charlie's mind nothing beats versatility. Introduce him to black, blue, chocolate or maroon shoes often.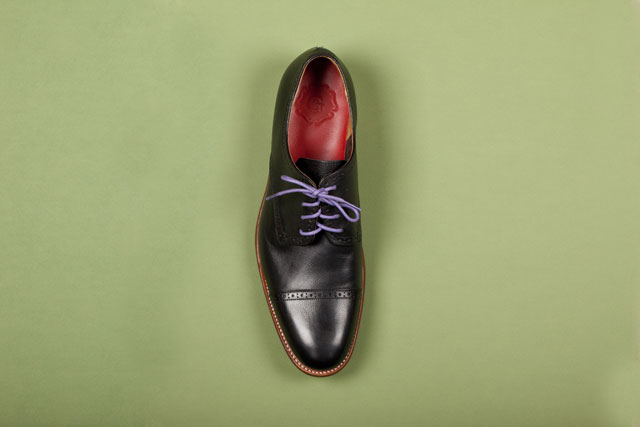 Mavericks Megamix
This playlist is to get you up and about, imagine you are in an 80's movie montage scene training the house down. These songs are a fine mix of awesome and hilarious at the same time. Struggling to get your day going? Get dressed, strap on your mavericks laces, put your headphones in, hit Mavericks Mega Mix on your ipod, walk out your door like a champ – imagine you're in a slow motion movie scene and you are the hero, the maverick – sort of like the film clip for Bitter Sweet Symphony, just don't go knocking over randoms.
1. Kenny Loggins – Danger Zone

2. Europe – The Final Countdown

3. Queen – Another One Bites The Dust

4. Survivor – Eye Of The Tiger

5. Baywatch Theme Song

6. Scarface – Push It To The Limit

7. Joe Esposito – You're the Best

8. Van Halen – Dreams

9. Pat Benatar – Hit Me With Your Best Shot

10. Journey – Don't Stop Believin'