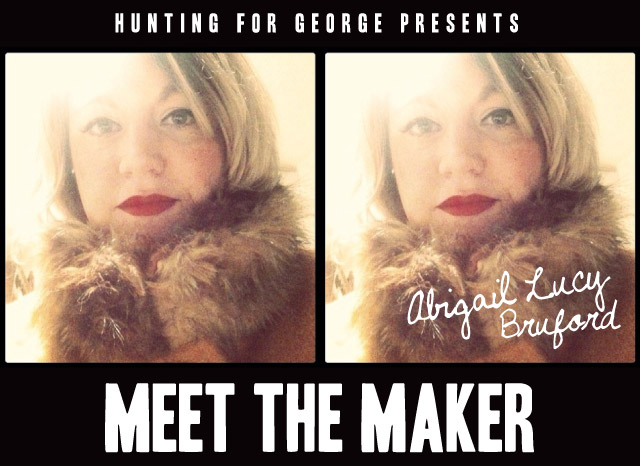 Name: Abigail Lucy Bruford
Brand: Abilu Creations
Job Title: Designer/Owner
Location: Hackey, London

We just adore the sparkly, colour filled clutter that is the world of Abi! Take a look below at Abi's home studio in Hackney and her market stall set up at 'Vintage at Southbank'… oh we wish we were in London!

1. What did you want to be when you were a little 'un?
Own a sweet shop
2. What made you decide to start your own brand?
I wanted to be creative and I trained in fine art which was harder to sell, so I made them smaller and wearable.
3. How would you describe your style of work?
Wearable artwork with an eclectic feel, always had a love affaire with old things too and the sense of mystery behind them.
4. What is the best and worst thing about being a designer?
Best is definitely doing something you love and coming up with new ideas. The worst is you don't always just get to do that there are so many other sides of the business that eat away your time and have to be done! One day I can get someone else to do those bits.
5. What is your favourite creative outlet?
I love sketch books always have done used to fill them till they would not close and mood boards for getting the juices flowing, now I don't have quite so much time for that but have loved using pinterest as it is more accessible with a busy lifestyle: https://pinterest.com/abilucreations/
6. There's got to be something you're shit at?
Sport, I am so rubbish at sport. I have poor co-ordination and balance and no matter how hard I try I am just no athlete.
7. What are your top 5 websites/blogs at the moment and what makes them stand out?
Things British A great site that celebrates British craft, you can hire a shelf in there shop and sell on there website which creates great opportunities for businesses when starting out.
Pinterest I love it and I'm addicted to it, great inspiration site when feeling a little uninspired
The Style Scout London Street Style to keep you up to date on what is actually happening on the street
PitchUp  Cool camping website for the UK
RetroChick The Lovely Gemma for all your vintage updates or Kate at Your Vintage Life
8. Date, Marry, Kill… List any celebrity
Ooh… Date Johnny Depp, might be fun!
Marry – I am married to the best husband in the world so would not have it any other way! (I know pass the bucket if you must but true!)
Kill  – The wicked witch of the west…… I'm melting!
9. So in the next couple of years your brand takes off like a rocket, multi million dollar offers start coming though the door. Do you stick with it? Sell out? Start again? What and where will you end up in 10 years time?
I will always be creating it's in my blood, I would like to develop my range however. Originally I called myself Abilu Creations so if I wanted to include my art work or other things I could and did not want to be dictated to by the name specifically just to jewellery and accessories so you just never know.
10. What song or album are you currently listening to and is it any good?
My husband works in the music industry and is also in the band Infadels. I am very proud of everything he has achieved, he works really hard and a constant reminder to never give up. Plus although you may call me biased, but it's a top tune

 Because of Abi we've had some pretty serious debates about which one is better… coke or pepsi? We just love these little cans hanging round our necks although I'm secretly hoping she'll make a Dr Pepper version! Take a closer look at the fun, affordable jewels from Abi online at Hunting for George.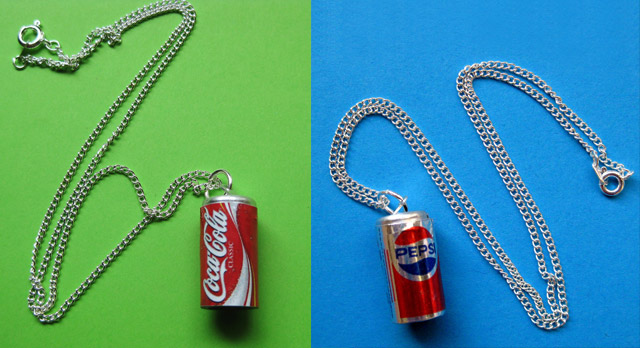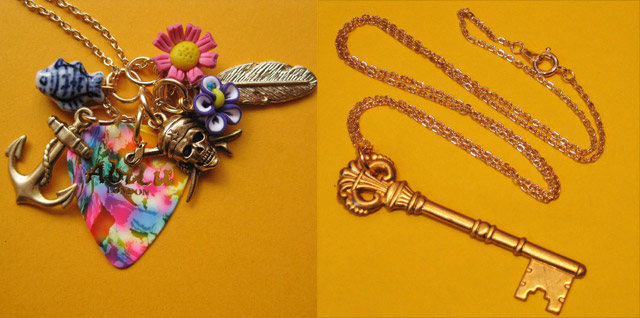 Abi made her "Happy Go Lucky" Playlist whilst sitting at her desk with Chunky Monkey designs all around her – in a good mood listening to itunes. And oh my is it a playlist! Enjoy!