Kieran, the resident DJ at Hunting for George has been a busy man. Not only is the man in charge of bringing you the best beats every Friday to power you through the weekend, he's also up to a hell of a lot more mischief/kickin' goals every other day of the week. We took 5 with Kieran, the man behind the decks to find out a little more about him and his latest project, The Midnight Social.
1. What did you want to be when you grew up?
I entertained dreams of being a famous artist for a LONG time as a child but always had this element of doubt about the financial viability of such an endeavour. I grew up in a working-class household where the priority was always on 'having a paying job' and 'paying your way'. Job satisfaction was a distant second to those two. I'm very fortunate that I now get to do the things I do, Make a living (just) from them while really enjoying what I do.. my parents even like it. I think.
2. Can you tell us a little bit about yourself and all of the rad things you do for a living?
I don't know If they're rad, but they certainly keep me busy.
Since I was 17 I've been DJing and working full time. It's only been the last couple of years I've been able to solely live off creative projects. I currently run a fun Pub Trivia night on Tuesday's at The Windsor Castle Hotel. I also play in Australia's greatest/only Oasis cover band, Shakerfaker.  I have also recently begun MCing a lot of events and have done a couple of surprisingly successful Melbourne International Comedy Festival shows.  On the side, I do a little bit of Freelance writing which also means I have the pleasure of helping out with Hunting for George & their blog. If that wasn't enough I'm currently in the process of developing a business aimed at getting kids involved with Music.
3. Tell us about your latest project, The Midnight Social! 
This Friday, the 20th of January, is the launch of an exciting new late night party at Ding Dong Lounge called The Midnight Social. Like many others, I've always had really eclectic tastes and the music policy at The Midnight Social reflects that. We'll be playing Pop, Soul, Rock'n'Roll, Disco, Funk, Punk, Hip Hop, RnB and everything in between. I want people to have somewhere they can hear the songs they love in a safe, inclusive, eclectic, party environment that place the focus primarily on Fun. There's no theme, just a fun party for anyone and everyone.
It all kicks off at midnight, after the bands finish. Just to make completely sure our launch is awesome, I've invited one of Melbourne's best party DJs, ZZ Flamingo to join me on selecting duties! It's gonna be really fun. P.S. Use the password 'BERLIN' at the door for FREE ENTRY on the night.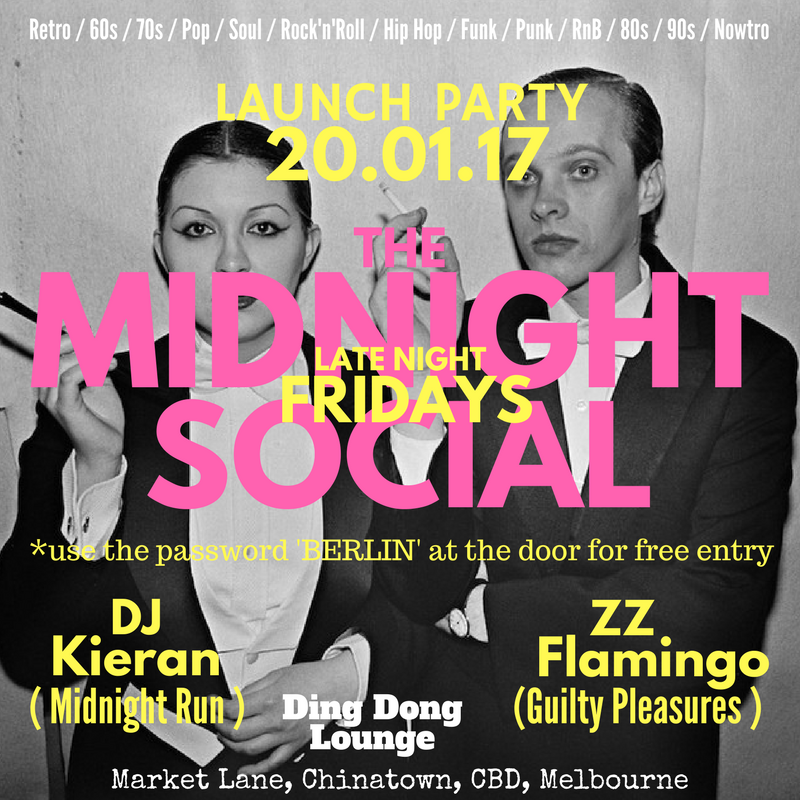 4. If you could invite any five celebrities to dinner, who would be on the guest list?
Ooooh, umm… Most of the famous people I'd like to invite over are dead (and living guests would probably make for better conversation) so ALIVE guests might include…
Liam & Noel Gallagher. Oasis have been one of my favourite bands for as long as I can remember and I'd be interested to see what happens when they're in the same room together (and If any of the plates survived).
80's cricketer, David Boon can come purely 'cos I think he'd be super funny and have heaps of weird stories. I'd probably have to stock up on Booze, though.
Designer/DJ/Producer Trevor Jackson would be great to chat with. He's so talented in all facets of art & design and he's created so many wonderful things across so many mediums. Check out his Electro project, Playgroup. It's great…
A finally, maybe Aziz Ansari, the Comic? I love him.
5. Have you got a favourite trivia question to ask? If so, can you share it with us?!
Which four sports, played at the Summer Olympics have Goalkeepers?
Soccer, Water Polo, Hockey and Handball (most people say Netball but while Netball has been sanctioned by the Olympics, it has never been played at an Olympics)… it's all in the wording haha!
Kieran likes hats, beards, art, more than one doona at a time and denim but most of all he LOVES music. You can listen to his Friday Beats playlist on the Hunting for George Spotify here.