King Island off the North-West coast of Tasmania is a remote and raw landscape where the cattle and wildlife population far outweigh that of the local community. On a secluded 96 acres of ancient dunes and rolling landscape overlooking the pristine Tasmanian coastline lies Kittawa Lodge. Totally off-grid these bespoke lodges aim to create a luxurious living experience that not only embraces its surroundings but that can also withstand the harsh coastal environment. Let's take a look inside…
Aaron Suine and husband Nick Stead were once a busy corporate couple living in Sydney's Paddington, when they felt it was time to pursue a long-held passion to create their own hospitality business. Five years ago, as they sat down watching Landline on the ABC, a story about King Island caught their attention. 
"We knew of King Island, of course, but primarily from our love of its cheese. As we watched the story, we looked at each other with that knowing look, that perhaps the place and community we had been looking for was right in front of us. We booked a trip to King Island two weekends later and, a few months after that trip, we purchased our property." Aaron Suine
The initial brief for the project was to create bespoke lodges, which were completely private to one another and which sat seamlessly into their environment. The main goal was to ensure that the design enabled the lodges to age gracefully, with minimal ongoing maintenance, in the harsh coastal conditions. Also, the design of the lodges needed to run completely off-grid.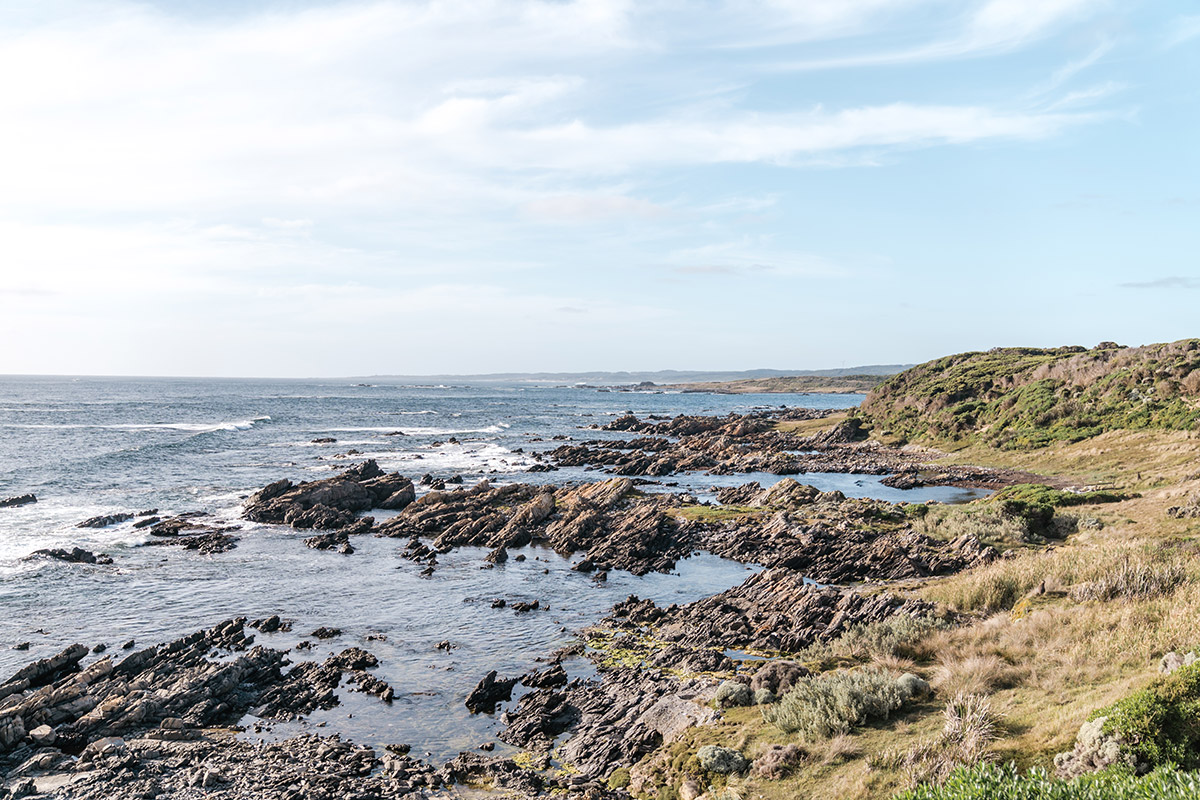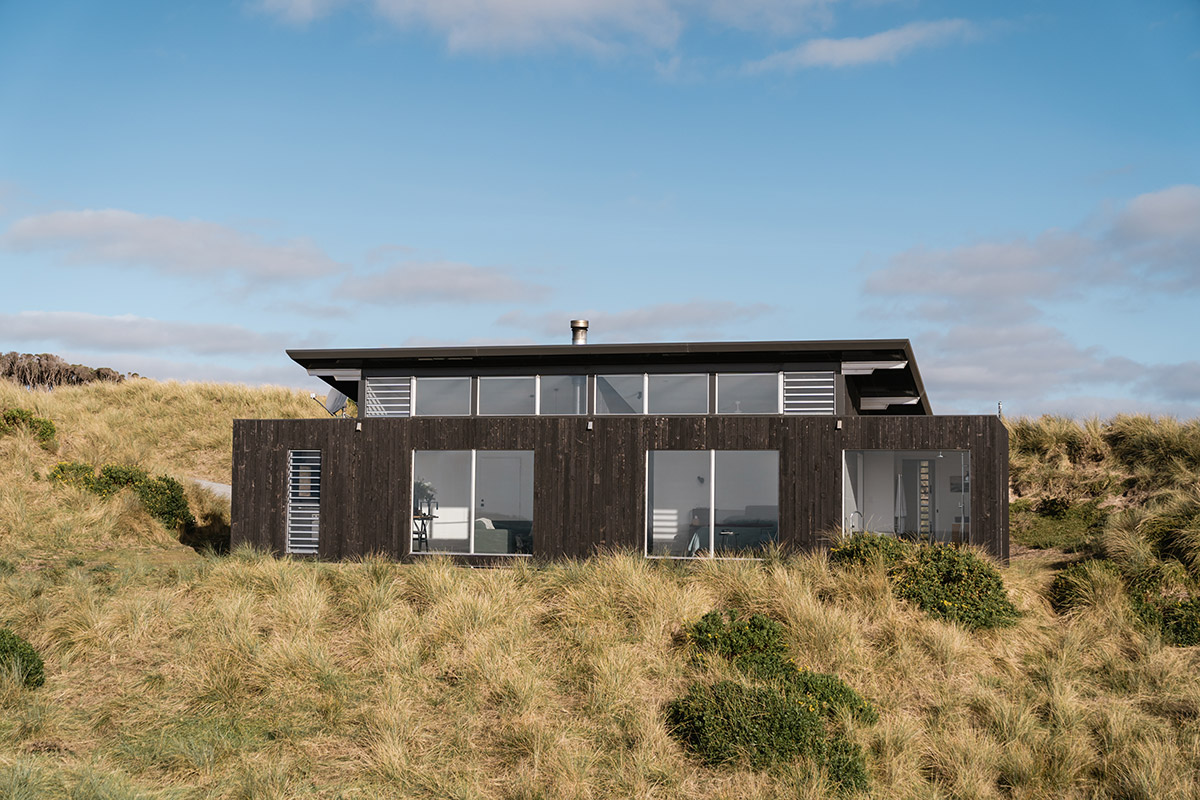 Totally off-grid, Aaron and Nick wanted to uphold a strong commitment of sustainability, while not compromising on the comfort and experience for guests. The comfort and luxurious of the interiors contrast the wild exterior wonderfully. Aaron Suine worked on the interior design and focused on creating special sensory moments throughout. Key living spaces centre around the large floor to ceiling windows, each one celebrating the unique view. Separated into three sections, the prefabricated design is sectioned first with a large open plan kitchen, living and dining. Then the bedroom and bathroom are revealed as you move throughout the home. Arguably saving the best til last is the custom made concrete bath tub that rests at the end of the lodge.
The exterior features charred timber cladding that has already begun to age beautifully in its windswept environment. The interior features Italian porcelain tiles, hand-made concrete baths and basins, custom vanities and dining tables. Australian-designed and made pendants and French-designed fireplace. Artwork was sourced directly from local artists, chiefly Dianne and Andrew Blake.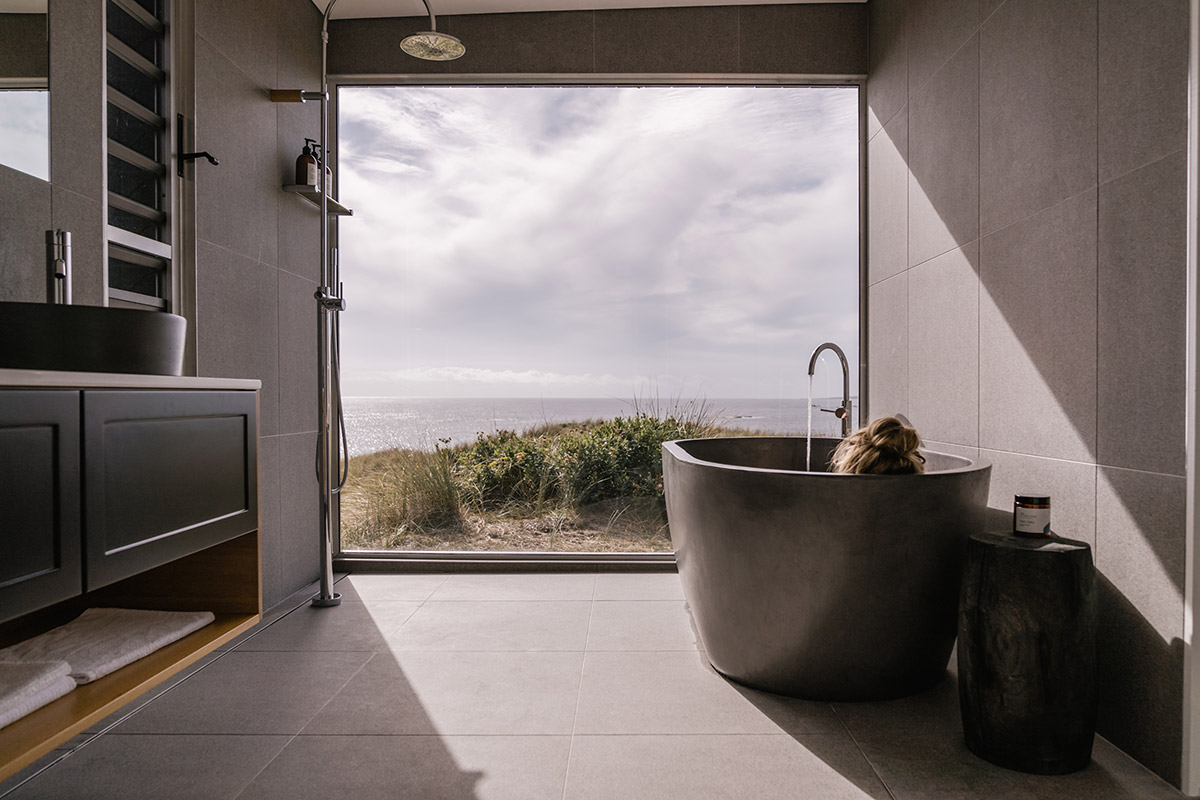 Kittawa Lodge
Presented by: Lucy Glade-Wright
Cinematography & Photography: Jonno Rodd
Location: King Island, Tasmania / Lutruwita