We're all adults here, right? Gone are the days when plastic utensils were your weapon of choice and a cheap and cheerful meal in the microwave was your signature dish. Those days are well and truly gone… Well, at least we hope so!
Cooking can be a downright nightmare when you're working with the wrong tools. If your sauces are stickin' or Grandma's pots are still kickin', it might be time to consider upgrading your cookware. Whatever your skill set, cookware is something you use daily and should last for years. Sure, you're going to pay more for quality cookware but it's a worthy investment. Rather than filling your cupboards with pots and pans of all shapes and sizes, owning a set of good quality, key pieces will give you the flexibility to cook what you need, only bigger and better.
The world of pots and pans can be incredibly overwhelming, so we thought we'd tell you a little bit about our cookware brand of choice, Eva Solo.  Welcome to the wonderful world of pots and pans friends, consider the days of food sticking to your saucepans well and truly over!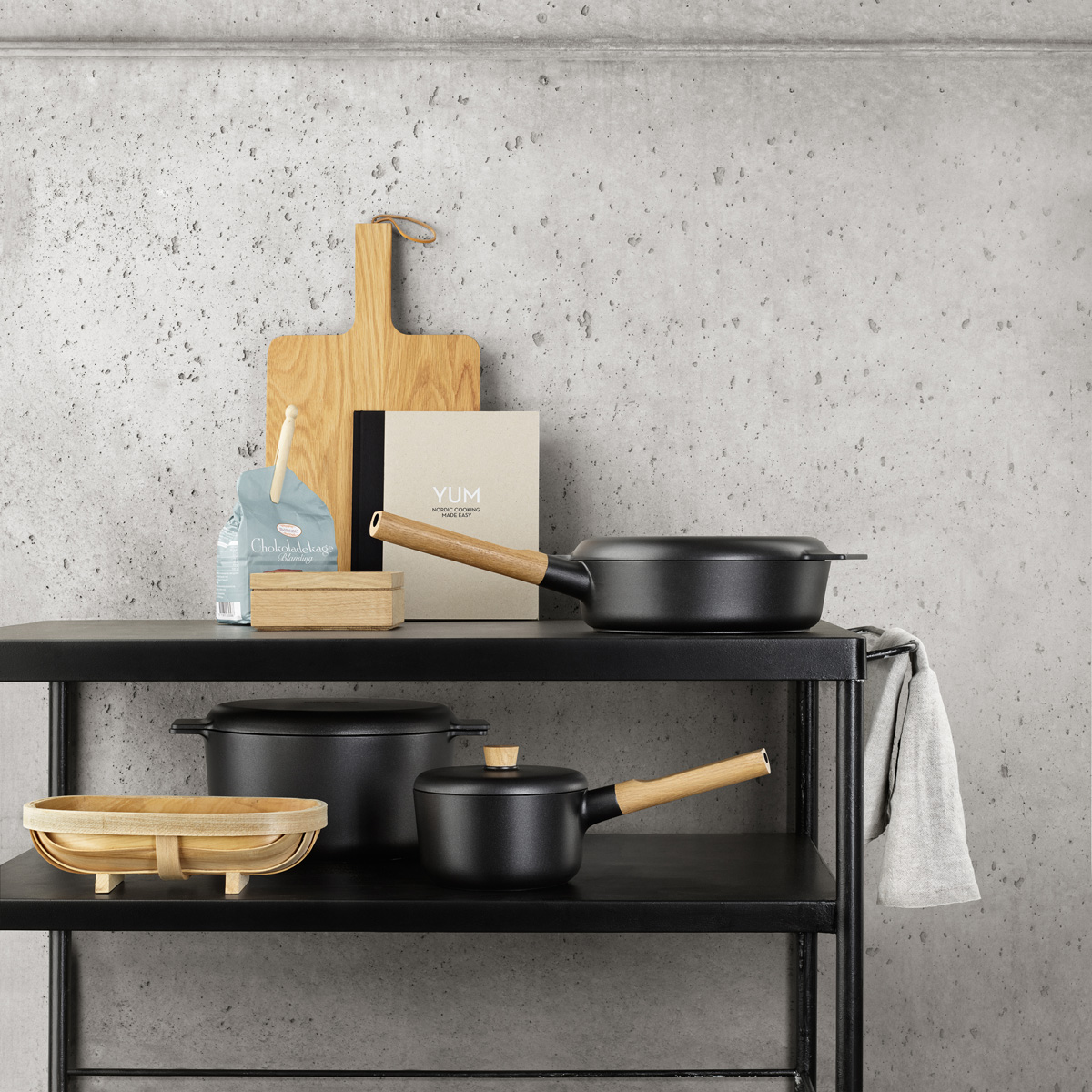 Who is Eva Solo?
Established over 100 years ago, Eva Solo creates exclusive, Danish-designed furnishing accessories and kitchenware characterised by aesthetic appeal, functionality and high quality. Today, the company is managed and owned by Jan Engelbrecht, who represents the fourth generation of the founder's family. Jan's mother is called Eva, and her father, i.e. Jan's grandfather, is one of the company's three former CEOs. It was Eva's name that inspired the company's name.
Their distinctive designs have in many ways reflected the developments which have taken place in the modern home. Their starting point was functional, high-quality kitchen utensils for the Scandinavian housewife – as exemplified by their bread and meat slicing machine from 1952. As women entered the workforce, they developed tools to make life easier in the kitchen. In the 1970s, when open-plan kitchens became all the rage, they were the first company to produce kitchen equipment that was sufficiently stylish to leave out on display.
In keeping with its history, the company is today known for the functional and high-quality design of its products. Despite being a fourth-generation family business, they are always looking to take the next evolutionary step in the development of the next generation of Eva Solo products.
What's so great about their Pots & Pans?
Cast iron is a raw, rustic and durable material which is perfect for the simple Scandinavian lifestyle – but cast iron is heavy. Consequently, the new and exclusive Eva Solo Nordic Kitchen series – comprising pots, frying pans, a saucepan, a sauté pan and a grill frying pan – is made of aluminium with a stylish black finish and a cast-iron look to match the new Nordic kitchen to perfection. The pots and pans in the series resemble solid cast iron and conduct and distribute heat extremely well. The cookware boasts a PFOA-free PTFE four-layer non-stick Slip-Let® coating, which is easy to clean while requiring very little fat when cooking.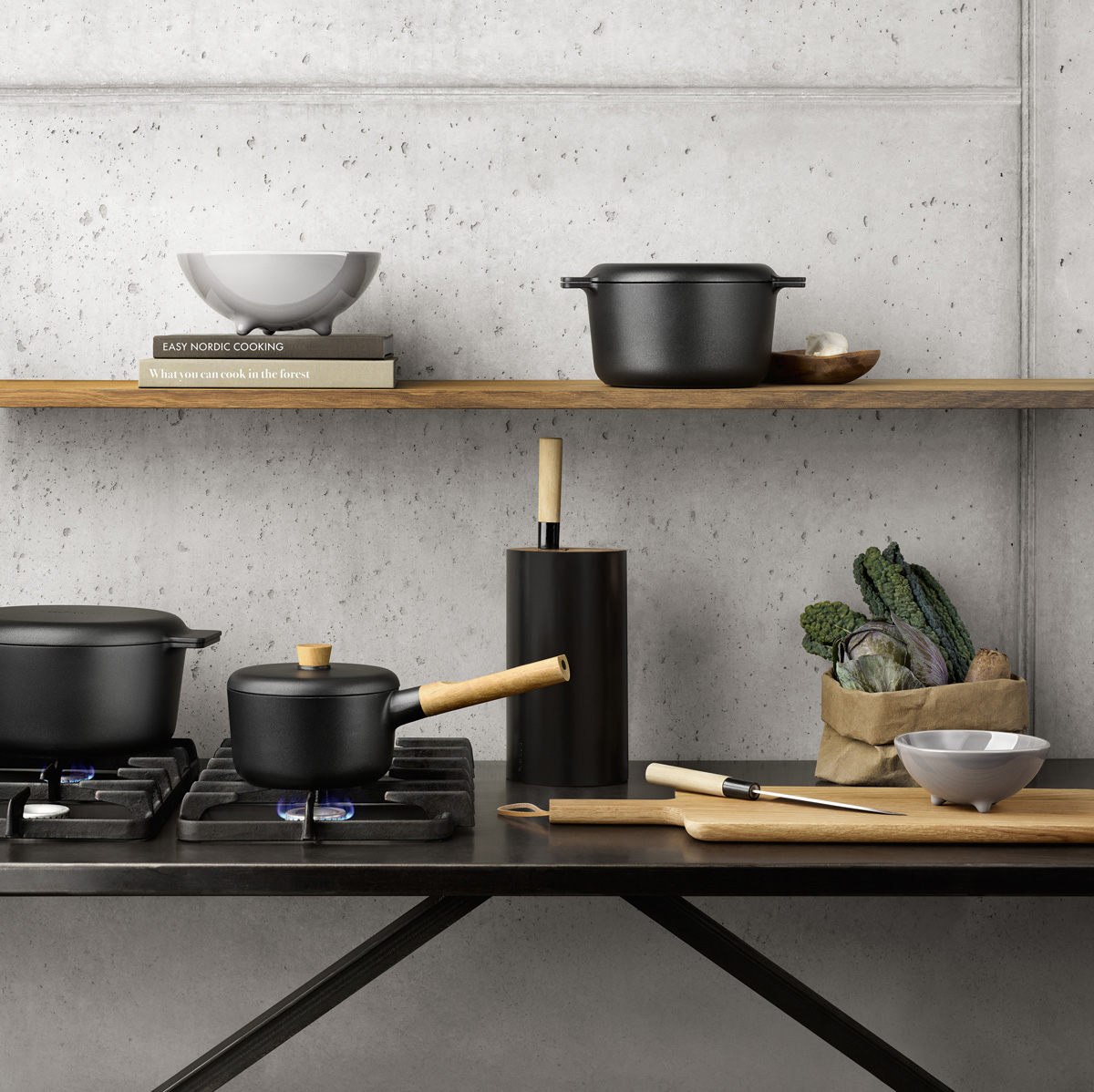 1. They're Versatile
The great Cookware Conundrum, will it work on induction? You betcha boots it will! Eva Solo's Nordic kitchen cookware can be used on all heat sources, including induction. The items in the series which do not have wooden handles are dishwasher-safe making them incredibly easy to clean and maintain. Nothing Sticks to these bad boys thanks to the PFOA-free, PFTE 4-layer non-stick Slip-Let® coating on the inside.
2. They're Light
Made from lightweight aluminium, all the items are a piece of cake to handle. So, if you love the look of cast iron but are not a natural weight-lifter, the new Eva Solo Nordic Kitchen series of pots and pans are for you. Aluminium is also a A+ conductor of heat, meaning your cookware will heat quickly and evenly. Win win!
3. They're Damn Sexy
We can't all be good looking Danes with dark features but now our kitchenware can be! The oak handles on the frying and sauté pans are both rustic and elegant. The oak handles also contrast beautifully with the sexy black aluminum pan.