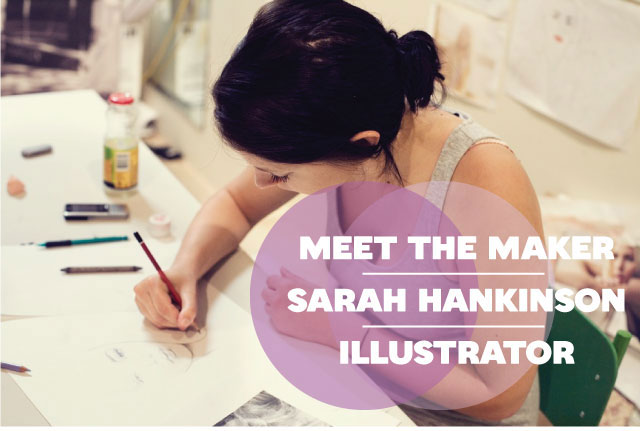 Name: Sarah Hankinson
Brand: Sarah Hankinson Illustration
Job Title: Illustrator
Location: The Windsor Workshop, Melbourne

Sarah works in THE most beautiful studio in the world – so beautiful in fact that it even has it's own name, The Windsor Workshop. (We may be a little bit biased, as we are lucky enough to share this gorgeous space with Sarah). The studio lives in the renovated shell of the Paterson Cakes Building in Windsor and was started by Sarah and her sister Bree. They both wanted to create a warm and fuzzy space where people collaborate, share ideas, work hard, slack off, be productive, get crafty and share a wine or two. Who could ask for anything more?!


1. What did you want to be when you were a little 'un?
A marine biologist.. didn't everyone??2. What made you decide to start your own brand?
I floated between fine art and graphic design until i discovered illustration. I don't know if its a good or bad thing but there are next to no full time jobs as an illustrator so i have been freelancing for the past few years which i do love. Making my own prints and products gives me a chance to be creative and have a break from clients briefs3. How would you describe your style of work?
Feminine girly illustrations with a combination of light and dark lines and a burst of colour4. What is the best and worst thing about being a designer?
I love the freedom of working for myself and sometimes when im sitting drawing i am reminded of how amazing it is that this is my job! The worst thing is the financial stress that comes with freelancing

5. What is your favourite creative outlet?
As most of my work is quite controlled i love being more experimental with watercolours and paints.

6. There's got to be something you're shit at?
Im a terrible terrible singer

7. What are your top 5 websites/blogs at the moment and what makes them stand out?
Pinterest – because its awesome! I cant believe no one had thought of it before.. I'm a very visual person so its great to have all the images i love in one place with easy links back to their original sites.

Ilovewildfox.com – as im often looking for cool photographic references and this site features some great fashion shoots.

The Design Files – Im sure everyone says that one!

fellt.com – I love tuula and harper and harleys pages – they always wear such great clothes.

Wolf and Willow – A new discovery but looks lovely

8. Date, Marry, Kill… List any celebrity (dead or alive)
Marry Louis Theroux as he seems really sweet/smart and witty!

9. So in the next couple of years your brand takes off like a rocket, multi million dollar offers start coming though the door. Do you stick with it? Sell out? Start again? What and where will you end up in 10 years time?
Wouldn't that be nice! I will still be doing the same thing i imagine.. maybe from a little studio in the country..

10. What song or album are you currently listening to and is it any good?
Passion Pit – Constant Conversations.. yep a good happy song

Aside from Sarah being the loveliest person in the world… seriously she's text book lovely. We adore her for her amazing illustration talents. We're lucky enough to have a limited range of Sarah's A4 prints for sale as well as Sarah's stunning 2013 calender, which features 12 of her most popular illustrations. Take a closer look…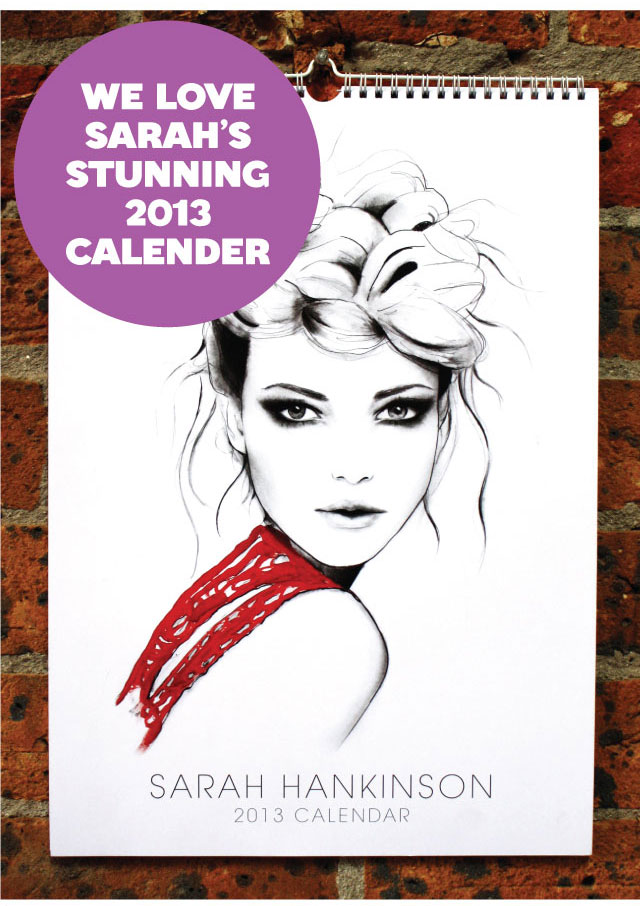 This playlist is actually featured in an illustration from my 2013 calendar. It makes me think of summer beach house getaways, relaxing in the sun and drinking cocktails!