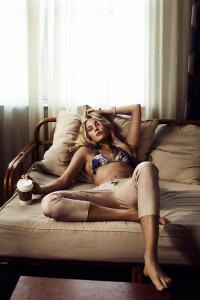 Where did the inspiration for the Loft collection stem from?
We often draw inspiration from fashion. The East Village quilt for example was inspired by a photograph of Elsa Hosk taken by Eric Josjö for Elle Norway. We feel in love with the simplicity of the image and the subtlety of colours. It was calming but at the same time extremely powerful and I really wanted to reflect that feeling in a design.
How important is colour to you?
Colour is like music. It can trigger an emotional response that prompts memories and ideas. When designing a new collection, colour is often the first thing that we look towards for inspiration.
What advice would you give to those wanting to invest in new bed linen?
Choose something that you love and will continue to love years later. Always look at the fabric and how it's been made. Don't be afraid to mix and match colours and textures, you don't always need to play by the rules.
Why do you think bedlinen is so popular?
I think there's more people taking time with your homes and wanting to create a beautiful space to live in. It's so important to be able to switch off when you get home and when you're surrounded by the things that you love it becomes a whole lot easier to zone out.
What's on your bed at the moment?
Wes. I'm so in love with him. We laboured over that green for a long time and I'm really happy with it. I've styled him with a mix of Smoke and Ice White sheets and East Village pillowcases (I get to raid the warehouse so I'm a little spoilt for choice!)
You often give your designs genders and personalities. Is this important to you?
Absolutely. Our inspiration often stems from a certain personality or style so we love to continue that persona with the end product. Plus we spend so much time developing these products that by the end of it they do seem to take on their own individual personality.
What's your favourite room in your home?
The living room. It's home to all my records, the comfiest couch in the world and has an awesome arch window (thanks art deco!) looking out towards the street.
What other designers do you admire?
Louise Olsen and Stephen Ormandy for their knack with colour and form. Stefan Sagmeister for being an unpredictable genius and CJ Hendry for her ridiculous patience and attention to detail.
When styling a room what you do focus on?
I like to think about the person inhabiting the space. What type of music they like, what do they like to do, where do they go out, who are they friends with. Once I can familiarise myself with the person that lives in the space it's a lot easier to style. Often that person is a far better version of myself that I like to live vicariously through, so there is often a continuing aesthetic that runs throughout Hunting for George.
How would you describe the Hunting for George aesthetic?
Relaxed and real, with a healthy dosh of awesome.
What's next for Hunting for George?
We have a few more exciting product collaborations in the pipeline with local designers and makers. For our own signature collections we are really interested in experimenting with different textures and techniques. I want to challenge the way people see Hunting for George and explore new areas within the industry.
This season we collaborated with Melbourne furniture designer Grazia Materia. We first met Grazia a few years ago after loaning one of her pieces for a photoshoot. To say thank you we asked her in for coffee and she blew into our studio like an outrageous old friend. Since then she's started her own label Grazia & Co, with furniture designs that are uncomplicated, elegant and exceptionally made. It was a pleasure working with Grazia on this Australian made collaboration that includes a range of wool and leather ottomans as well as a new upholstered addition to our Hunting for George Oliver bed.